The Husqvarna 460 Rancher is a popular chainsaw for a wide range of applications.
While it's not part of Husqvarnas XP series of chainsaws, it's only one step down as a Farm and Rancher.
It is good for use with up to a 24-inch bar on it (and that's what it's usually sold with) and has no trouble going all day.
All Husqvarna chainsaws are good, and so it just depends on exactly how much power you need.
This saw is great for tidying up around the home, hobby farm, or farm, but if you work using chainsaws every day, it's not the best primary chainsaw.
By the end of this 460 Rancher review, you'll know if it's the best chainsaw for you.
The Husqvarna 460 Chainsaw
The 460 Rancher is much loved by hundreds of Husky fans.
Some Husky fans prefer the Professional XP series for everything, and they are better (more power, higher spec components, better features), but you have to pay a lot more.
The Husky 460 is an affordable saw that can handle a long bar and be used for most tasks.
The downside of it is that it's only a 3.62 horsepower chainsaw with a 60cc engine.
This means it can sometimes feel a little bit slow and lacking in power.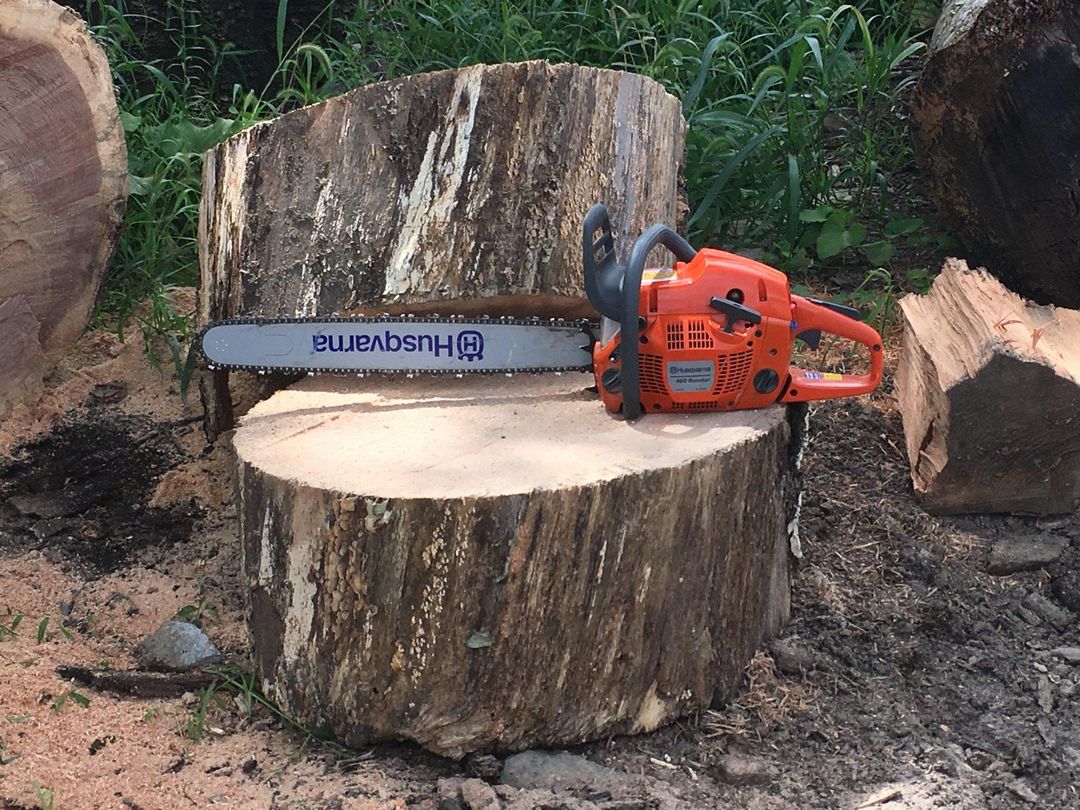 The Husqvarna 372 XP is often cited as a preferable alternative to the 460, but you can expect to pay another $400 – $500 on top of what the 460 costs.
One idea is putting a smaller bar on the 460 – a 20 inch one, for example – and this will help the chainsaw to have a bit more power.
Here's where the Husqvarna 460R falls on the charts.
The 465 is one notch above the 460 in power and capabilities, but the saw we're focusing on here sits nicely as the mid-range Farm and Ranch model.
Chainsaws with a bit less power and a smaller bar, check these out:
The Husqvarna 445 is also a very popular homeowners chainsaw that is not part of the Rancher line.
As I said before, they're all good saws, it just depends on what you're using it for and how often.
Husqvarna 460 Specs
The guy in this video should really be wearing good chainsaw chaps at least, and a decent pair of chainsaw gloves wouldn't go amiss either!
Here are the Husqvarna 460R specs:
Gas-powered (obviously!)
Powerhead dimensions are 10 x 10 x 10
60.3 cc
3.62 hp
Max power speed 9,000 rpm
Idling speed 2,700 rpm
Chain pitch 3/8″, .325″
Weighs 13.2 lbs (without fuel)
Sound power 112 dB(A)
Bar oil tank 0.7 pint
The recommended bar length is a minimum of 13 inches and a maximum of 24 inches.
However, the sweet spot for this chainsaw seems to be a 20-inch bar (here on Amazon).
This keeps in mind the lower power output with high ccs.
Husky 460 Rancher Features
The 460 Rancher has most (if not all) of the features common to modern Husqvarna chainsaw models.
Here are the features you will find:
Air Injection – For fewer filter cleanings and improved engine life
X-TORQ – For lower fuel consumption and reduced exhaust emission levels
LowVib – For reduce vibration levels on the operator that reduces fatigue
Adjustable oil pump – This lets you control the bar and chain oil flow
Quick-release air filter – Easy access for cleaning and changing
Felling marks – Clear marks for improved felling precision
Combined choke/stop control – For easier starting/reducing the likelihood of engine flooding
Side-mounted chain tensioner – For quick and easy access to tighten loose chains
Smart Start – Designed so the chainsaw starts quickly with minimum effort
Air Purge – Removes air from carburetor and fuel system for easy starting
Front handle ergonomics – For improved grip the 7° offset handle reduces fatigue
Inertia activated chain brake – For better protection against chainsaw kickback
With so many features it's easy to feel a little bit overwhelmed, but all of them really are doing something important to improve ease of use, safety, or performance.
To pick on one feature, for example, an adjustable oil pump is excellent.
This lets you control the flow of bar and chain oil to the bar.
You want this control because the amount you need can depend on the climate and season you are working in or even the type of wood you are cutting.
You'll sometimes need more oil when processing hardwoods like oak, as opposed to softwoods like pine.
Some people have complained that they go through what seems like a lot of chains using the 460 Rancher.
It's possible their bar isn't getting enough oil and it's wearing the chains out faster.
If you did want to buy a Husqvarna 460 Rancher with spare chains, I did spot this well-reviewed listing on Amazon that includes 3 spares.
Husqvarna 460 Rancher Review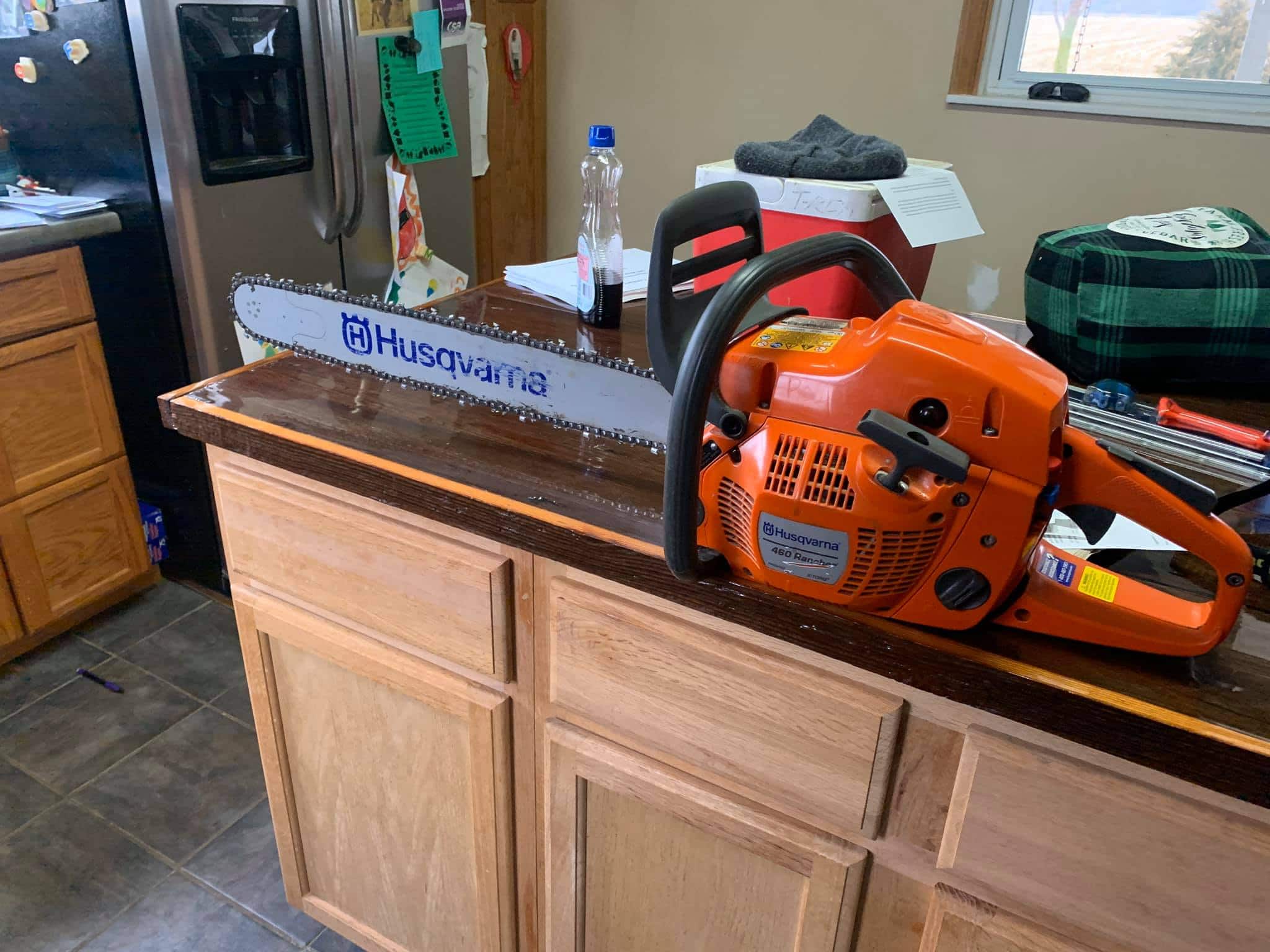 The Husqvarna 460 Rancher is an excellent chainsaw for the price.
You can get cheaper chainsaws with the same or similar power, but they won't come with the same Husky features that make using these saws such a pleasure.
You can't really beat the specs and features of the 460, unless you were thinking of going with a Stihl chainsaw.
You would find a comparable saw at a similar price in their range.
I'm personally a Husqvarna guy though, so I'll always choose them over the Stihl chainsaw alternative!
Here are the pros and cons of the Husqvarna 460 as I see them.
Husqvarna 460 Pros:
Great features
Decent specs
Durable chainsaw
Works hard
Takes a long bar
Plenty of power
Suitable for many tasks
Husqvarna 460 Cons:
Lacks power with 24″ bar
Could have a better power to weight ratio
Anyone looking at getting this chainsaw is onto a good thing.
Read more Husqvarna 460 reviews here on Amazon.
Husqvarna 460 Price
The Husky 460 is an affordable saw for homeowners and others who process a good amount of firewood each year.
It's great to have on hand to help tody up after storms, hurricanes, and other weather events.
If you're able to use your chainsaw to help out others as well, that's a real benefit to the community.
Compare Husqvarna 460 Rancher prices:
You can also pop down to your local dealer to see if they have any on hand – there is a bit of a Husqvarna chainsaw shortage going on at the moment though!
460 Rancher Parts
The 460 Rancher is another quality chainsaw from Husqvarna.
The final benefit of choosing one of their chainsaws is that there are lots of them out there.
This means that finding parts is easy, as well as finding people to do the maintenance (if you can't do it yourself).
Here are 2 places you will find parts for the 460 Rancher:
You will also find parts here on eBay, even whole chainsaws that can be purchased for parts (given the part you want isn't damaged).
I hope this has helped you to learn more about this chainsaw, but if you have any further questions, let me know down below.
Lastly, do you know the origins of the Husqvarna logo?