The Husqvarna 460 Rancher is a popular 60 cc chainsaw for a wide range of applications.
It's not part of Husqvarna's professional series of chainsaws, but the Rancher chainsaws are the "top" of the Farm and Ranch range. Mostly this just means they are more powerful than the homeowner series, but they're built similarly.
The Rancher saws (2023 version here on Amazon) are good for those who want a good chainsaw from a good brand but who don't want to spend a fortune. You get a powerful saw that's good for firewood, storm clean-up, and that sort of thing. However, it probably goes without saying, it's not a "Loggers chainsaw" – you won't find it being used by tree-care professionals.
One of the best summaries of the 460R was from Gene in an FB thread on the saw:
They are not trash! Probably one of the most reliable saws I've owned.

However there is a reason for that; they are very under powered for the weight. If you want a somewhat slow saw for its weight that will chug along for-freaking-ever, then get one! If you're trying to make money with your saw and are always in a time crunch, then get an XP.
Amen Gene.
Is the 460R the right chainsaw for you? By the end of this 460 Rancher review, you should know the answer to that question!
*Images sourced from Acme Tool's 460 Rancher listing.
Husqvarna 460 Versions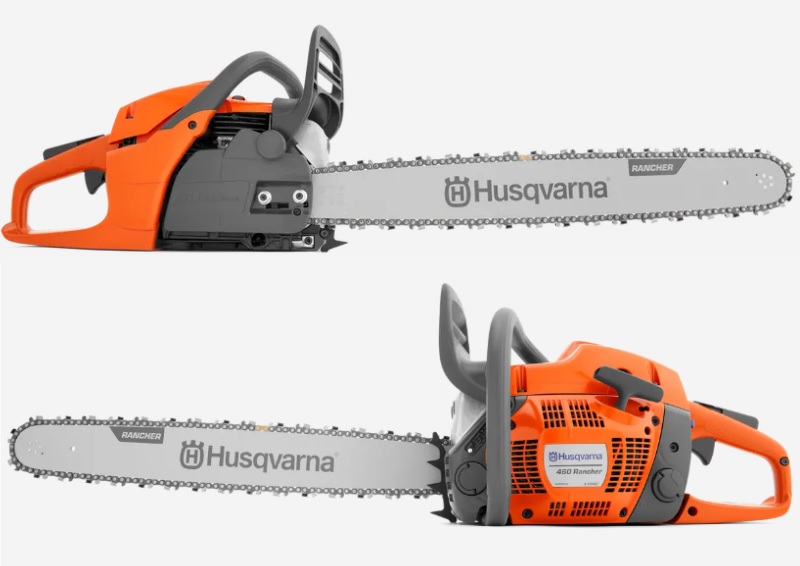 As with all Husky chainsaws, there are different versions of the 460. The saw first came out in 2007 and has seen some changes over the years. Plus, there is both a Husqvarna 460 and a Husqvarna 460 Rancher.
While the 460 isn't marked Rancher, the differences between it and the saw marked Rancher are not significant. They are basically the same chainsaw, so if you are buying a used 460 and wondering 'Is it as good as the Rancher?' you can rest assured that it is.
I don't think there is a 460 e-series like there is with the 450 e-series Rancher and 455 e-series Rancher, but I could be wrong! Let me know if you have an e-series 460 in the comments below. The e-series saws are just another common version of these saws.
Today, there are different versions of the 460R for sale from different retailers. As we switch over to the new 2023 version, old stock with the old cosmetics are still being sold. The best way to get the 2023 version is probably to go to a local dealer rather than a big box. However, Northern Tool is showing all of the new Rancher chainsaw versions for sale on their website.
Some Husky fans prefer the Professional XP series for everything, and they are better (more power/torque, higher spec components, better features and build), but you have to pay a lot more. The Husqvarna 372 XP is often cited as a preferable alternative to the 460, but you can expect to pay another $400 – $500 on top of what the 460 costs.
460R Specs And Features
| Engine | |
| --- | --- |
| Cylinder displacement | 60.3 cc / 3.68 cu in |
| Power Output @ 9000 rpm | 2.7 kW / 3.62 hp |
| Cylinder bore | 49 mm / 1.92 inch |
| Stroke | 32 mm / 1.25 inch |
| Idle speed | 2700 rpm |
| Weight | 6 kg / 13.2 lbs |
| Spark plug | Champion RCJ 7Y/ NGK BPMR 7A |
| Electrode gap | 0.5 mm / 0.02 inch |
| Fuel and lubrication system | |
| Fuel tank capacity | 0.44 liter |
| Oil tank capacity | 0.32 liter |
| Type of oil pump | Automatic |
| Chain/bar | |
| Standard bar length | 24″ / 61 cm |
| Recommended bar lengths | 13 – 24″/ 33 – 61 cm |
| Pitch | 3/8″; .325″ |
| Gauge | 0.058; 0.050″ |
| Type of drive sprocket/number of teeth | Spur / 7 |
| Chain speed at max. power | 26.6 m/sec |
*Exact specs and features will vary depending on the version, year, and location made.
The Husqvarna 460 is at the top of the homeowner range before you get into their professional saws (unless you count the discontinued 465 Rancher). The other Rancher saws (450, 455), and saws below them like the Husqvarna 445, are also very popular homeowner chainsaws that are good for light firewood duties, pruning jobs, and construction work.
The 460 R is usually sold with a 24″ bar, which is really too big for it (in my opinion). Better to put an 18 or 20″ bar on it and you'll get a lot more out of it. 24-inch bars should be reserved for higher-powered professional chainsaws. The 460 is well-known for being too sluggish and prone to bogging down with a 24 on it.
Two comments on this… Cody said:
Mine came with the 24″ bar, put a 20″ bar on and it does much better. The 24″ was just a touch too much for the power it produces.
And Jason said:
Mine came with a 24″ and it's too much… it's reliable but under powered.
You might be able to buy the 460 Rancher with a 20″ bar from some retailers or dealers, so if you have this option, I recommend getting that one. Or there's no harm in getting the 24″ if you have a spare 20″ you can swap onto it. Amazon sells a 20″ bar for the Rancher as well, if you'd like to buy one separately.
The 460 Rancher has the features common to other current Husqvarna chainsaw models:
Air Injection – For fewer filter cleanings and improved engine life
X-TORQ – For lower fuel consumption and reduced exhaust emission levels
LowVib – To reduce vibration levels on the operator that reduces fatigue
Adjustable oil pump – This lets you control the bar and chain oil flow
Quick-release air filter – Easy access for cleaning and changing
Felling marks – Clear marks for improved felling precision
Combined choke/stop control – For easier starting/reducing the likelihood of engine flooding
Side-mounted chain tensioner – For quick and easy access to tighten loose chains
Smart Start – Designed so the chainsaw starts quickly with minimum effort
Air Purge – Removes air from carburetor and fuel system for easy starting
Front handle ergonomics – For improved grip the 7° offset handle reduces fatigue
Inertia-activated chain brake – For better protection against chainsaw kickback
These features are improving the ease of use, safety, environmental impact, or performance of the chainsaw.
To pick on one feature, for example, an adjustable oil pump is nice. This lets you control the flow of bar and chain oil to the bar. This is good because the amount you need will depend on the climate and season you are working in, and even the type of wood you are cutting.
You'll sometimes need more oil when processing hardwoods like oak, as opposed to softwoods like pine. Some people have complained that they go through a lot of chains using the 460 Rancher and it's possible their bar isn't getting enough oil and it's wearing them out faster. A bit more oil to the bar could resolve this problem.
460 Rancher Review
The Husqvarna 460 Rancher is a good chainsaw for the price. You can get cheaper 60 cc chainsaws from other brands, but they won't come with the same Husky features that improve the ease of use or longevity of the saw.
This saw has sold tens (if not hundreds) of thousands of units over the almost two decades it's been produced and it remains popular and comes highly recommended because it performs well for the price. It's not the best saw ever, but for the price, it's good.
In the large Husqvarna Chainsaw FB group, someone recently asked 'Are the Husqvarna 460 Ranchers good?' and he got a lot of replies from owners and users, both positive and negative.
Kayne replied:
Owned a 460 for few years. Pretty solid firewood saw. Super reliable and always fires up on 3 pulls or less. They can take a serious beating.
JP said:
Yes, I've put many chains through it and it is one solid saw! Never had 1 issue with it other than the oil pump gear. And yes! that thing will cut some wood!
Bill said:
460 is a good saw, Echo CS-590 Timberwolf is a better saw, and it has a 5 year homeowner warranty. The CS-620P is even better yet, and it's the same price as the 460R.
And Ron said:
It's good for what it's good for. Lightweight compared to professional saws and it's reliable. It's an "around-the-property-doing-chores saw". Power is a little lacking, and it will bog down if you are pushing it too hard. 20-inch bar is best. I like mine, but it's my firewood/limbing saw. Drop trees with my 395.
Caleb said:
Had mine since 2004. Have worked the dog mess out of it almost every year, selling firewood. Just did the first tune up last year that it has ever had. Still cranks within 3 pulls.
Mark said:
I looked at the 460 Rancher but decided to go for the 550xp for better power/weight ratio. Also the XP is pro rated (although I am only a home user).
Chris said:
They are a horse as far as power. I don't know how the early models were but the new ones are phenomenal. They are powerful, user-friendly, and will always start immediately.
And Steve said:
Have had mine for 7 years.

Bought it at Lowes at the time for $459.00… now its $600.00.

Very good reliable home owner saw… and a little more.
Pros (shorter comments from experienced chainsaw users):
They're not terrible for a clamshell saw. If taken care of they'll get some work done, just heavy and slow.
I have had mine for 2 years. It serves me well. Starts every time and cuts everything out under the chain.
Decent saw had mine 12 years zero issues all original down to the spark plug
They're decent.
Cons (shorter comments from experienced chainsaw users):
Buy a used XP over a Rancher! I don't want to be the end sufferer for cheap price point engineering.
Heavy, underpowered, and slow. Mediocre at best if you are used to fast saws. They'll last if taken care of though.
A little underpowered compared to the 550s and 562.
Spend the extra money and buy a pro saw.
There are better options for whatever you are doing.
Will a Stihl MS310 pull a 24″ bar? [ie. if a 310 can't, neither can a 460R].
They cost too much, spend a little more for a pro saw; 545, 550, or 562.
They get a B-
Price And Parts
The Husky 460 is an affordable saw for homeowners and landowners alike. It's often used by farmers, orchardists, and even by those who sell firewood (occasionally).
It's great to have on hand for clean-up after storms, hurricanes, and other weather events. And if you're able to use your chainsaw to help out others as well, that's a real benefit to the community.
Compare Husqvarna 460 Rancher prices in the table above, though most will have it listed for around the same price. Shipping prices may or may not be included so be sure to factor that in, along with state and local taxes.
Also check on eBay here for both new and used 460 Ranchers, as well as good alternative Husqvarna saws (as one of the comments said above, "a good used XP is better than a new 460R" – determine yourself if that's true or not).
Other retailers for 460 Rancher parts:
You will also find parts here on eBay – even entire chainsaws can be purchased for parts (if the part you need isn't damaged).
Husqvarna 460 Rancher Chainsaw
Have you discovered whether or not the 460 Rancher is the right saw for you? We hope so! But if not, let us know if you have any questions in the comment section down below.
I read many hundreds of 460 Rancher reviews, and those who own and use the saw overwhelmingly like it. Most of the negative comments come from those who don't actually own it, and never will, because they simply prefer XP chainsaws instead. And that's fine if you want to spend a bit more, but not everyone does.
The Rancher chainsaws have been running for well over a decade now because they do fill an important gap in the market for an affordable and powerful chainsaw that's suitable for bucking a household's worth of firewood each year. The 460R is very good for this. It might not do it as quickly or smoothly as other chainsaws like the Husqvarna 357XP or the Stihl MS261, but it will do it!