If you are in the market for a good electric chainsaw you'll already know there are a ton of options.
You'll also probably already understand what corded and cordless electric saws are capable of and not capable of.
Just in case, though, let's say this right up front: if you are wanting to do tough work, live on a ranch, or need a chainsaw that will run all day long, you probably need to stick with a gas-powered unit like the Husqvarna 460R.
Battery and corded electric chainsaws are limited in what they can do. They're best for light tasks.
We'll look at 7 of the best electric chainsaws and see what makes them tick, but also what makes them great choices.
Best Electric Chainsaw Reviews
There are many, many saws out there: some are great, and some are garbage.
Some will not meet your needs at all, so even if they're great products, they won't be right for you.
We looked at several saws and have tried to find the best ones in several categories.
Just be sure to remember that one size does not fit all.
Instead, the best electric chainsaw will largely depend on:
How big a job you have lined up
How often you use it
You budget
Mini chainsaws for pruning are another good option if you only need something for light work (though even these still have a bite as I found out when one hit my hand)!
1. Black + Decker Electric Chainsaw: Best All-Around
Chain Bar Length: 10 inches
Battery Included: no
Weight: 7.2 pounds
Black + Decker is a well-known name in outdoor power equipment, which explains why this cordless chainsaw sits on the top of the heap.
Black + Decker lists the battery's runtime at five hours, but since this is a saw with a 10-inch bar, it's not a saw intended for super heavy-duty use, so five hours may be more time than you'll ever require of your saw.
This one is for pruning trees, not felling them. And it does a great job at it.
Since it's a shorter saw, it's even easier to move around, so you can get to all sorts of angles of branches. Also, since it's lighter, you'll be able to use it longer before your arms start getting too tired.
It's got a clear window for the oil level and it features a tool-free tension adjustment system.
Its 20V battery is compatible with all the Black & Decker cordless tools. If you've already got some of those, you'll want to consider this saw pretty seriously.
It's the same with a lot of these battery-operated electric outdoor tools. The Milwaukee M18 tools are the same, as with EGO Chainsaws.
Pros
Five hours of run time
Easy to use and maneuver
Lightweight
Cons
Only 10 inches for chain bar length
---
2. Greenworks 48V Cordless Chainsaw: Longe Lasting
Chain Bar Length: 14 or 16 inches
Battery Included: Yes
Weight: 16.27 pounds
This Greenworks saw is available with 14- or 16-inch bar lengths, and its electric motor can drive longer chains and cut thicker stuff because of the 48V power.
The way that works is that either side of the saw houses a battery. One 24V battery on either side gives you a 48V saw that cuts and cuts and cuts. With two batteries, that's a long stretch of running time.
This is a more maneuverable saw than a gas one of the same size. While you do lose a little power moving away from the gasoline-powered engine, I feel like it's more than made up for by the benefits.
That is the fact that:
You don't have to mix gas and oil
There aren't any fumes
It's a lot quieter
Another great feature of the Greenworks saw is the opaque oil tank, so you can monitor your bar oil levels without having to turn off the saw and unscrew the reservoir cap.
Check out our full Greenworks Cordless Chainsaw review for more details.
Pros
Powerful dual battery model
Long chain means more power
Good maneuverability despite weight
Cons
---
3. Oregon CS1500 Electric Chainsaw: Best Corded
Chain Bar Length: 18 inches
Power: 15 amps
Weight: 12.6 pounds
Okay, if I were a lover of Broadway musicals, I would sing "Wonder of Wonders" from "Fiddler on the Roof" about this saw because it—get this—is a self-sharpening chainsaw. (Full disclosure, I am a huge Broadway nerd, perhaps the only chainsaw-wielding one in the world.)
Anyway, what's the worst part of running a chainsaw?
All the time you spend sharpening while pointedly not sawing. So even if this saw was a piece of garbage, the fact that its PowerSharp chain allows for the chain sharpening in about three seconds would make this saw a glorious piece of technology.
It's got an 18-inch bar, which requires a good amount of power, so this saw is corded. That means it's a lighter saw (no battery) and runs forever (again, no battery), but it also means an extension cord to monitor.
With a 3/8-inch chain pitch, you've got an average pitch chain.
Pitch, by the way, is determined by the spacing between cutter lengths on the chain and dividing that by two.
A bigger pitch (say, 3/4-inch) is for heavier-duty cutting jobs, so a 3/8-inch pitch is a bit of a Goldilocks pitch for your average suburban yard.
You can learn more about chainsaw chain terminology here or check out the rest of the Oregon chainsaw range.
Pros
Convenient instant start feature
Self-sharpening in three seconds
Quiet when running
Cons
---
4. Worx WG305.1 Electric Chainsaw: Best Budget
Chain Bar Length: 14, 16, or 18 inches
Power: 8 amp
Weight: 7.94 pounds
Another corded saw, this Worx chainsaw is for smaller jobs, like around the yard, maybe some post-storm cleanup, that sort of thing.
You're not going to go logging trees with this saw, even if you had a football-field-length extension cord – in fact, even cutting down a small tree with it isn't a great idea.
This one comes in 14, 16, and 18-inch bar lengths.
The 14-inch bar saw weighs almost seven pounds, which, compared to a gas-powered saw of the same size, is next to nothing.
The saw has an auto-tension chain system, which means no more searching for the chainsaw tool, unscrewing nuts, and adjusting tension.
The 8-amp motor packs a good amount of power, which it draws from a cord, so you don't have to worry about a battery running down.
Worx makes good products, and while, again, this is not a heavy-duty saw for your annual job at the Christmas tree lot, this is great for around your home and yard.
For more info see our complete WORX chainsaw review.
Pros
Lightweight and easy to manage
Great price point
Easy auto-tension adjustment
Cons
Not as much power as other models
---
5. DeWalt Cordless Electric Chainsaw: Best Selling
Chain Bar Length: 12 inches
Battery Included: No
Weight: 9 pounds
With a bar length of 12 inches, this saw shouldn't be used on trees with diameters larger than 10 inches.
Still, cutting down trees isn't likely on your weekly to-do list if you need a saw like this one.
DeWalt makes a good product, and many of us already have a collection of their cordless tools. In that case, all the batteries in the DeWalt 20V MAX series of tools are interchangeable.
Those 20V MAX batteries are lighter than average, as well, so this saw ends up weighing right at nine pounds, which is not bad at all.
That, coupled with the 12-inch bar, means this saw is maneuverable and easy to wield around your bushes, shrubs, and tree-pruning projects.
For more info see our complete review of DEWALT chainsaws.
Pros
Light and easy to maneuver
Low kickback
Quiet with easy tension adjustment
Cons
---
6. Makita Electric Chain Saw: High-Quality
Chain Bar Length: 16 inches
Battery Included: Yes
Weight: 21.8 pounds
How could we have a list of electric tools of any kind and not include a Makita?
We couldn't because that would be madness.
Makita has built a brushless motor the company claims delivers the same power you'd get from a 32cc gas chainsaw.
I didn't get to make a head-to-head comparison, but I do know this saw was more powerful than I expected it to be, and since I already live in Camp Makita, I had high hopes for this one from the start.
Two 18V batteries power this one, so while you get a 36V saw, you can still use the 18V Makita batteries with your other cordless Makita tools.
Like all these electric chainsaws, it's quiet, doesn't emit fumes, and requires virtually zero minutes of maintenance. And this is another saw with tool-free adjustment, another technological wonder that makes the chainsaw life so much less of a hassle.
For more info, check out the full range of Makita gas and electric chainsaws.
Pros
Compact handle makes it easy to move
Extra power from four batteries
Power-protection system prevents overcharging
Cons
One of the heaviest models on the list
---
7. Husqvarna 40V Cordless Chainsaw: Best Premium Electric Chainsaw
Chain Bar Length: 14 inches
Battery Included: Yes
Weight: 8.2 pounds
The 120i is intended for pruning or for cutting a few errant limbs, that sort of thing.
While it's got a 40V electric motor to give it some oomph, it's still a 14-inch battery-powered saw, so let's not get carried away thinking we can use this to drop all the trees we need for our log cabin.
I mean, you could, but you'd just need to charge the battery a lot, or if you have other Husqvarna cordless tools, those batteries are compatible, which is always handy. However, for regular, average jobs, this saw will be more than enough.
Plus, it has what Husquvarna calls savE mode, an energy-conserving system that allows you to opt for getting more power or longer running time from your battery.
That's a great feature, especially since you can bump up the power with an onboard keypad, cut that stubborn whatever, then drop the saw back down to energy-efficient mode.
At ten pounds, this one is a bit on the light side for a 40V cordless unit, but it's solid, and it feels good in your hands whether it's running or not.
Husqvarna Chainsaw models are known to perform well and last the distance.
Pros
Batteries work with any of Husquvarna tools
Able to increase power or use power-save mode
Not too heavy, but steady and easy to use
Cons
---
Gas Vs Electric Chainsaws
This is your first decision, and even though we've touched on the main differences between these two options a few times above, they bear mentioning again.
Before you jump in and buy something, you want to do your research, which is why you've navigated to this page in the first place.
So let's look at some aspects of chainsaws you need to consider other than the brands or specific models.
Electric Chainsaws
Run quietly compared to gas saws
Require precious little maintenance
Offer less power behind the chain than gas saws
Weigh less than gas saws (even with cordless units that have the added weight of a battery)
Need no gasoline
Are intended for smaller jobs
Gas-Powered Chainsaws
Are loud and produce fumes
Need a particular gas-and-oil mixture
Provide unparalleled power in cutting
Never run out of power as long as you've got fuel on hand
Require maintenance fairly regularly
Are what you bring to a big cutting job
Only you know which is best for your situation unless you are a professional lumberjack, in which case, electric saws will do you little good.
Obviously, go for one of the best professional chainsaw brands if you're going to be doing heavy-duty work.
Battery Vs Corded Electric Chainsaws
We have five cordless and two corded saws on this list, but that doesn't mean that cordless saws are more than 50 percent better than a corded one.
Corded saws have their place.
Since they don't depend on a rechargeable battery, you never have to worry about running out of charge or finding a spare battery when yours is out of juice.
But you have that extension cord to contend with.
It's going to trail behind you as you traverse your yard, it may catch on this or that, it may pull free and get unplugged, and you may saw through it.
All of these are potential issues, and that last one can be dangerous.
However, your battery-powered chainsaws won't have the same power behind them – at least not for the entire job.
After some time, the battery's charge will wane, as will the saw's power. It will run slower, get a little softer, and eventually become unable to push the chain around the bar.
But their go-anywhere portability is hard to complain about. Since most cordless tools of any kind these days have batteries compatible with other tools from the same brand, you likely have additional batteries on hand.
Provided you keep them charged, running out of juice in one battery won't be a huge issue for you.
How To Choose The Right Power
Your electric saw options present you with lots of numbers – 8 amp this, 20 volt that – and let's be honest, most of us don't know what that means.
However, when the guy at the hardware store tells you it's eight amps, you don't want to seem dumb, so you go, 'Oh, yeah? Eight amps. Cool.'
Amps refer to how well an electric motor can cool itself.
"Amp" is short for ampere, which is a unit of measurement for electrical current. The more amps an electric motor has in it, the more current it can handle.
The motor shuts down if it gets more than it can handle– meaning enough current to heat the motor up faster than its ability to shed that heat.
So no matter how many volts you have, it's wasted power if you don't have the amperage to handle it.
Volts measure voltage.
Voltage is analogous to water pressure in your home plumbing.
The more water pressure you have, the more power you can get from your faucet, right?
The more volts a motor has, the more power you can get out of it, so a 40-volt (40V) electric motor is roughly twice as powerful as a 20V.
Top Handle Chainsaw Vs Wrap Handle
This is a personal choice, but I prefer a wrap handle because I'm mostly working on the ground.
Top handle saw chainsaws are definitely better for working with in trees.
Here's the difference: a top handle chainsaw has the throttle trigger above the saw's body in a handle that also sits above.
A wrap handle has the throttle trigger behind the body, and toward the front of the body, the saw has a handle that encircles (wraps around) the body of the saw.
Wrap handles give you more options when you're cutting.
For example, if you need to turn the saw so that the bar sits parallel to the ground, you can hold the wrap handle on what was the side of the saw but, now that you've rotated the saw 90 degrees, is now the top.
Brushed Vs Brushless Motor
Inside a brushed motor are carbon brushes that send an electric current through the mechanism of the motor and keep the electromagnetic field supplied with power so it can turn the motor.
A brushless motor has no brushes, relying more on an electronic controller to distribute the electricity.
While both motors work great, the advantage goes to a brushless motor for one simple reason: friction (or lack thereof).
When you have brushes, they generate friction as the motor turns while they touch it. This puts an extra burden on the motor and the battery.
A brushless motor can run longer, all other things being equal, because it doesn't have the added drag of the friction from the brushes.
Bar Size
Your decision for bar size depends exclusively on the size of the things that you plan to cut.
Generally speaking, the bar of your chainsaw should be, at the very least, two inches longer than the diameter of the tree or limb you plan to cut.
You can cut a three-inch branch with a chainsaw with a 24-inch chainsaw. It is unsafe and not recommended to attempt cutting a 24-inch branch with a saw sporting a 10-inch bar.
Know how long your bar is, and know the diameter of what you want to cut. Remember that chainsaws are inherently dangerous, so taking chances just adds to the likelihood of injury.
Safety Features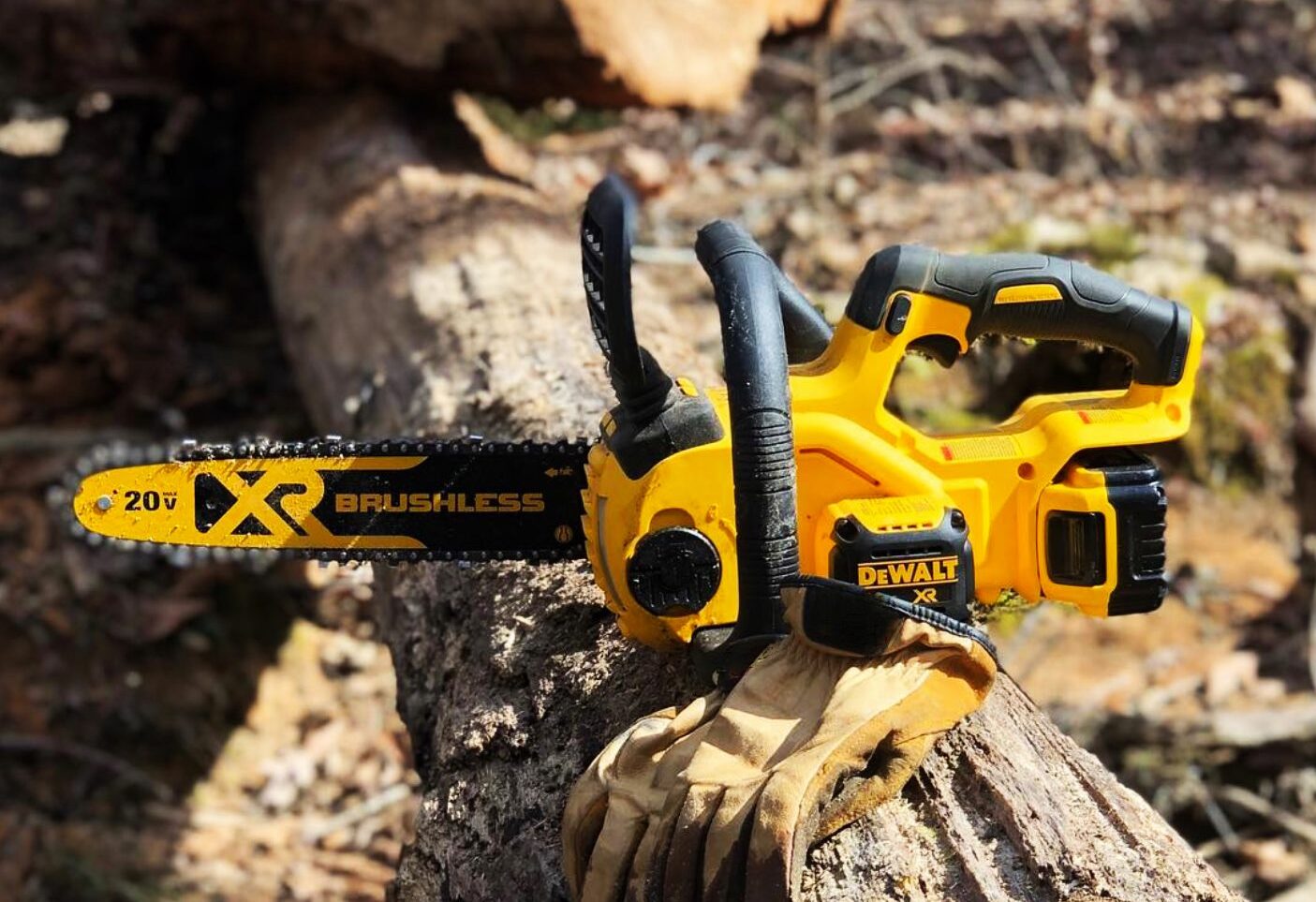 Some brands and models have more or fewer safety features, but nearly every chainsaw has a few of them.
The Stihl electric chainsaws have very good features, for example. Since I just mentioned the inherent danger of chainsaws, safety features seem like a good next step in our time together.
Most saws have a chain brake, a mechanism to stop the chain in its tracks if it encounters certain situations.
Most saws also have a throttle lock, the button you have to push in before you can squeeze the throttle. This prevents accidentally revving the saw and unwittingly unleashing a row of sharp metal teeth on something not intended for such an encounter.
Handguards sit in front of the handle and the engine. If your chain slips off or breaks, the handguard protects your fingers and hand from any parts of the chain that sling backward and toward you.
There are many other possibilities for safety features as you get into fancier and fancier saws, but these are the basics. If you're looking at a saw without all of the above-named safety features, stop that right now and find a saw from a reputable manufacturer.
Most modern electric chainsaws will have all the basics covered.
Make sure you wear chainsaw chaps and consider getting a pair of good forestry gloves as well.
Best Electric Chainsaw
Our overall winner has to be the Black + Decker 20V MAX Cordless Chainsaw.
It runs long and well, and it's got a short bar so it's a very nimble saw. That short bar isn't a liability, because if you plan to cut giant pieces of wood, you're not looking at an electric chainsaw.
Any one of these saws would be a terrific addition to your workshop. For me, the things that put the Black + Decker over the top as the winner are the five-hour runtime and the tool-free adjustment.
I hate having to nearly disassemble a saw when I need to adjust the tension. That's not an issue here, and I love Black + Decker for it.
Also, with batteries that can power all the Black + Decker tools you already have, and vice versa, you can have multiple batteries at the ready to increase your cutting time to more than five hours, which sounds terrific and awful at the same time.
A final cheap but good electric chainsaws recommendation not mentioned yet is the Ryobi chainsaw range – if you already have tools in that line it makes more sense to go with one of those!