Do Stihl Chainsaws ever go sale?
Whenever I'm making a big purchase I wonder if I should wait for a sale – I think we're all like that.
And chainsaws can be just the sort of purchase.
The good news is that the homeowner-level Stihl products, including chainsaws and other power equipment, do sometimes go on sale. However, pro-level saws, brush cutters, blowers, etc., usually do not.
I got my Stihl FS45 Trimmer (pictured above) at a discount, for example. It depends on where you live as well, but here's a bit more info about Stihl sales.
Stihl Sales
Many people ask, 'does Stihl ever have sales?'
The answer is yes, in some countries they do!
And the next question is WHEN?
Here's what Stihl says:
As a rule, trimmer and blower promotions are in the spring and early summer and chainsaw and blower promotions are offered in the late summer and fall.
So that's when Stihl chainsaws go on sale.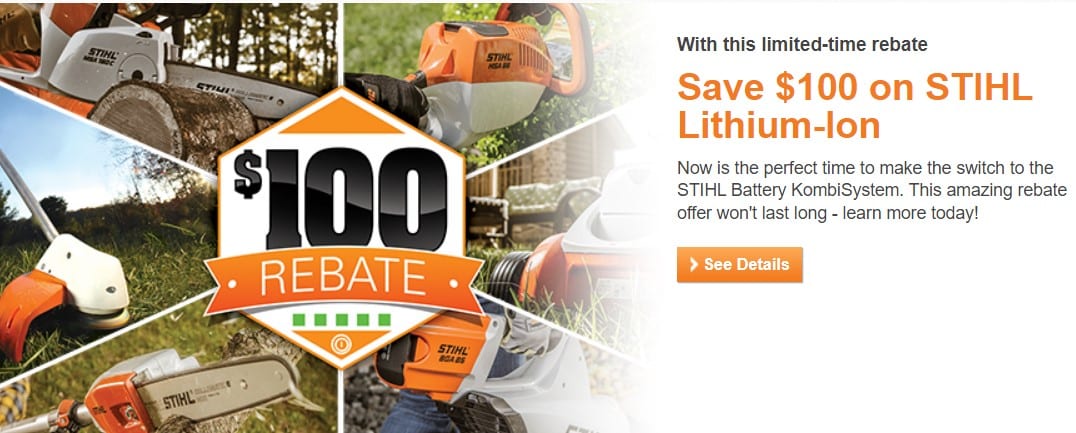 However, before all the supply issues caused by manufacturing shutdowns and shipping delays, Stihl held more frequent sales than they do now.
Ever since the Covid responses were rolled out, chainsaw surpluses have dwindled and sales and discounts have all but ceased in some states or countries.
Husqvarna even recently applied a 6.5% surcharge on all their products because of the increase in shipping prices.
In previous years, Stihl would run promos on a handful of chainsaw models each year, or they would sell them at the regular price but with a free case, chain, or other benefit.
However, these sales happen a lot less now, and some sales have dried up altogether.
On Stihl's FAQ page they state:
STIHL Inc. does not offer specials or discounts.

We sell to 11 different distributors throughout the country who in turn set up and supply dealers within their respective territories. These distributors offer promotions throughout the year.

You will need to check with your local authorized STIHL Dealer for any specials or promotions.
You can read more here.
In New Zealand, where Stihl sells saws online which are then shipped or picked up from local dealers, there are sales where you can get 10 – 15% off. They run these sales multiple times per year.
Stihl Dealer Discounts

In the US where you can only buy Stihl saws at the dealers, you can sometimes get a discount through your store.
Some dealers accept trade-ins, some will drop the price slightly if you're a loyal customer, and some might give you a discount if you're buying multiple products.
Another offer that is seen in some states is, for example, where the dealer will give you vouchers back for every $100 you spend. If you buy a $1000 saw, you might get a $100 – $200 voucher to spend at that store.
You might then wonder why there are different prices from place to place.
For example, compare the price of a Stihl 250:
And this often has to do with state and local taxes in an area.
Also, you need to compare the same exact models, as there can be a few different versions of the same saw.
There's always the base model, but then there are often models with C – comfort designations that offer further features and cost more.
Stihl Chainsaw Deals
One of the best ways to get a cheap Stihl chainsaw is to buy a used or refurbished saw.
Check out these examples on eBay, for example.
At the time of writing, I can see older Stihl models that are very reasonably priced, from the 009 to the MS241.
I can also see unboxed new Stihl chainsaws like the electric GTA 26 or the gas-powered MS170 that are also pretty cheap.
And remember to only buy from reputable sellers on eBay so that you're not stung by a scammer. Use PayPal goods and services to pay.
So while you won't find Stihl on sale for Prime Day, you may see it for sale on Black Friday.
Let me know in the comments below your experiences with Stihl sales in the UK, Australia, Canada, South Africa, Europe, Asia, South America, and everywhere else you can buy a Stihl chainsaw.