Whenever I'm using my chainsaw I ALWAYS wear chainsaw chaps.
I have a pair of Forester brand chainsaw chaps (the pair pictured above and below) that have served me well. I've never had my chainsaw slip or accidentally touch my pants, so they're still in good condition.
However, I've seen the chaps of a number of friends who have had their chainsaw cut their chainsaw chaps, and let's just say they were very happy to have been wearing them!
Here are some of the best chainsaw chaps that you can buy in order to protect your legs.
Chainsaw Chap Reviews
Husqvarna is one of the best chainsaw manufacturers in the world – they put the same care and attention into these very popular chainsaw chaps.
These Husqvarna chaps are affordable but, more importantly, they offer great leg protection, which is why we rank them as the best.
They have an adjustable waist of up to 42″, 1000 denier polyester with PVC coating with Tek warp protective layers, and have a felling wedge pocket.
There have been many thousands of pairs of these best chainsaw chaps sold. They have a very high star rating and have received hundreds of positive reviews.
These are my Forester chainsaw chaps (here on Amazon).
They are not the most comfortable pair I've ever worn, but they do the job. The only downside with them is that they don't sit that nicely on my waist. They have a tendency to pull my jeans down – though perhaps I just need a better belt!
I have a number of chainsaws but have recently been mostly working with the Husky 450. It's a good chainsaw that has plenty of power, and I want to be protected at all times.
Chainsaw safety equipment is a must – check out this list of recent chainsaw accidents for inspiration on why you should always protect yourself.
Besides chainsaw chaps, it's good to also have or wear:
Earmuffs
A chainsaw first aid kit
However, chainsaw pants are among the most important items that you should never operate a chainsaw without.
What Are Chainsaw Chaps?
Chainsaw chaps are a protective cover for your legs for when you are using a chainsaw or other tool that might endanger your legs.
'Chaps' just means that they have leggings and a belt and are designed to go over top of your regular pants. You cannot simply have your underwear on underneath them.
You can also buy 'chainsaw pants' (here on Amazon, for example), but that's not what this article is about! Chainsaw pants cost more but are probably a better solution if you have the budget for them.
Finding the best chainsaw chaps can help keep you safe and give you some peace of mind. Even the safest chainsaw use is still inherently dangerous, so we need to take full advantage of what we can.
Here are 10 of the best pairs of chainsaw chaps available today.
1. Husqvarna Apron Wrap Chap
These Husqvarna chaps have everything you could want for a reasonable price, making them my top choice for the best chainsaw chaps.
When it comes to stopping fast-moving metal, it doesn't get much better than Kevlar. The fact that Husqvarna designed these Kevlar chainsaw chaps by blending the material with polyester is no surprise. These are incredibly durable chaps.
Kudos go to the asymmetrical design, too. Statistics show that most chainsaw injuries occur to the left leg, so Husqvarna (and, to be fair, other manufacturers) created this set of chaps with a longer left leg for extra protection against errant bars.
This pair also offer a calf wrap to protect the backs of the lower legs, which seems unnecessary until they save your calves from a chainsaw laceration.
See the range of other Husqvarna Chainsaw Chaps here.
Pros:
Durable 1,000-denier fibers on the outer make for a sturdy covering for the Kevlar protection
The Kevlar protection
Asymmetrical cut
Calf-wrap that you didn't even know you wanted
Cons:
Those 1,000-denier fibers can get hot on an August day in the Texas sun
---
2. Labonville Protective Leg Chaps
Labonville uses the same Kevlar in these chaps in a sturdy polyester blend. These are highly durable chaps.
They also offer a statistically safer asymmetrical design. Multiple straps allow you to anchor the chaps over your pants and ensure they won't shift on you as you work.
While these pants are in the same price range as the Husqvarna chainsaw chaps, they are slightly more expensive. Husqvarna is also a brand with a better name and logo recognition and, in my experience, has always offered excellent customer service.
Either of these Best Overall choices will serve you admirably, so choose one without fear of being let down by it.
Pros:
Kevlar-blend construction
Asymmetrical length
Available in three lengths
Cons:
1,000 denier material can make for a hot day in the chaps
---
3. Notch Chaps For Chainsaw
Sometimes the extra safety of having your calves covered is a lifesaver.
Notch gives us these chaps that wrap around at the bottom but still leave breathing room for the upper half of what they cover and protect.
These are heavy-duty chaps. The inner protective fabric is an 8-ply polyester blend designed to jam the chainsaw to a halt if the material gets sucked into the blade, and the 6-layer outer fabric is designed to be rugged and durable.
No fewer than six closures keep the calves covered and the chaps where they're supposed to stay – up on your waist and in place.
Pros:
Durable and heavy-duty
Extra protection for the lower legs
Cons:
Some people think Kevlar is a necessity; if you're one of those, the absence of Kevlar is a con
Cost– like the Labonvilles above, they're just barely under $100
---
4. Labonville Full Wrap Chainsaw Chaps
Naming one of these calf-wraps the best was tough enough, but I couldn't bear to leave either one of them off altogether.
Sure, you've already read about a pair of Labonville chainsaw chaps, but these need to be part of the calf-wrap discussion.
Like the Notch chaps above, these chaps provide extra lower-body protection. Unlike the Notch chaps, these are made with Kevlar. The two-inch nylon waist belt will hold under strenuous conditions, and the other closures are solid, as well.
The trade-off between these and the Notch chaps is Kevlar for money. These are more expensive, but if Kevlar is a thing you need in your chainsaw chaps, the Labonvilles would be the ones for your calf-wrap needs.
Pros:
Calf-wrap for lower-leg protection
Kevlar construction for saw-stopping power
Solid closures and fasteners
Belt adjustable to 48"
Cons:
Cost– you already paid for the chainsaw and the gas; $100-plus may be pushing it
The legs above the calf wrap could be a little wider to offer a bit more thigh protection
---
5. Stihl Premium Chainsaw Chaps
Stihl is a solid brand of chainsaw, and they have produced some quality protective gear. These chaps are concrete proof of that.
No, they do not contain Kevlar. Instead, Stihl gear uses a cut-retarding material called Avertic Pro by Engtex.
Engtex is a Swedish textile manufacturer that Forestry.com says makes the world's strongest fiber and recommends it over Kevlar for chainsaw gear.
These are pricey, but the most common complaint about Kevlar chainsaw chaps is their weight, and these chaps are light. It may be worth the extra money to stay a little cooler during summer and early-fall workdays.
There is no question these chaps will serve you well and protect your soft tissues from the bite of a chainsaw. Had these chaps been under $100, they'd be sitting in the number one spot on this list, as their price is the only con I can see.
Pros:
Engtex technology makes a lighter chap
Highly durable
Stihl is a highly reputable brand; that's reflected in this product
A big cargo pocket on the left leg holds files, bar oil, and the like
Cons:
---
6. YARDMARIS Saw Safety Pants
There are less expensive chainsaw chaps out there, but the Yardmaris chaps offer more bang for the buck than some of its budget counterparts.
With an adjustable waistband that can accommodate up to a 52" waist, these can fit just about anyone who can wield a chainsaw.
They boast eight layers of chainsaw-resistant material, and the outer layer is 100% polyester, making these chaps lighter than most. The polyester also helps with durability and lends waterproofing properties, as well.
With a 3M reflective stripe and ample pockets for gear and a dedicated one for a wedge, these offer convenience and safety in one piece.
Pros:
Probably the lightest chaps on this list
Cost– these are significantly more under $100 than some of the other under-$100 choices here
Reflective stripe provides added safety for cutting at dusk and later
Cons:
Chainsaw enthusiasts may balk at a relatively unknown brand
Polyester makes them lighter but does not make them more breathable, so these may be just as hot as heavier, thicker chaps
---
Alternative Chainsaw Chaps
No chainsaw chaps review is complete without additional choices with features and aspects to appeal to more readers.
Therefore, I will round this out with four more quality chainsaw chaps.
Despite every item on this list having cons at the end of its evaluation, these are solid options for quality chaps to protect you like they're supposed to.
7. PGI Original Saw Buck Chainsaw Chap
Okay, so this is an expensive item. Let's just get that out of the way.
They are a sturdy pair of pants and offer something we've not seen before on our list – a urethane coat. This makes them more than just waterproof. Anyone who's ever tried to get tree sap out of a pair of pants will value the fact that the urethane makes these liquid-proof.
An available extension adds up to 10" to the waist for burlier woodsmen, and a pocket sewn into the waist belt may be handier to some than the more common cargo pocket on the legs of a lot of pairs of chaps.
These are thick, durable chaps that should be able to take most of what you dish out. For the money, they ought to.
Pros:
Asymmetrical cut
Urethane coating
Snap-close pocket prevents files and chainsaw tools from tumbling out
Cons:
Price
Lack of bells and whistles and Kevlar may make the price seem not worth it to some
---
8. Clogger's Zero Light and Cool Chainsaw Chaps
Clogger is a New Zealand brand.
Since New Zealand isn't a particularly hot country, it is surprising the chaps Clogger produced are effective at easing the high temperatures of hard work in hot climates.
These are pricey, but what you're paying for.
In addition to chaps that protect your legs from chainsaws, you also have light fabric that stays cool.
Using a chainsaw-stopping material called Arrestex HP, which is significantly lighter than the Kevlar, these Clogger chaps allow for better air circulation around the protected areas.
If you're logging in a hot area on a hot day during a hot summer, these are the chaps for you. The breathable fabric is still tough and durable.
They fit waists up to 49" and cover enough of your legs that they are better described as the best chainsaw pants. They have a soft inner lining that helps with breathability while still offering 360-degree calf protection.
Pros:
Extremely lightweight material
You'll have a hard time overheating in these
High-visibility panels on both legs for safety in lower-light situations
Cons:
It's sometimes tough to spend so much money on something that feels so light and airy
They may feel flimsy if you're expecting big, thick, heavy protective gear
---
9. Forester Chainsaw Safety Chaps
These chainsaw pants are the closest things to pants on this list.
In safety green, they will make you look like a chainsaw-slinging firefighter. These zippered chaps offer a full wrap– not just of your calves, either. Instead of buckles and straps, the zipper makes less likely to shift around on you during use.
The Oxford polyester outer material is water- and oil-resistant, so they somewhat resemble rain slicker pants.
Other than the full wrap and the zipper feature, these are bare-bones basic chaps that get the job done without a lot of fanfare.
Pros:
These are the least-expensive chaps on the list
Polyester outer will keep your legs clean (of oil and stuff like that, not sweat) and dry longer than most other chaps
If they fit you, they'll cover nearly every inch of your legs
Cons:
If you're taller than 6'4", these will not give you full protection
No pockets or other extras
---
10. WoodlandPro Kevlar Chainsaw Chaps
On the market since 2014, these chainsaw safety chaps have quietly made a name for themselves for their durability, which is mainly due to the Kevlar blend they use.
As Kevlar chaps go, these are a no-frills, no-nonsense choice, offering two layers of the stuff under a 400 denier nylon outer.
They don't come in an asymmetrical cut, and they don't offer calf-wrap, but they'll get the job done, and those two Kevlar layers will stop all but the meanest chainsaw.
The 2" waist belt is somewhat adjustable. For the average-sized chainsaw user who maybe doesn't cut for a living, these are a good, solid choice.
Those using professional logging chainsaws will probably want something a little heftier, but other people use saws, too.
Pros:
Two layers of Kevlar
Affordable price
Cons:
You may want heavier-duty chaps
Adjustable waist goes to 44", almost a foot less than some others on this list
No calf-wrap
No asymmetrical cut
---
Best Chainsaw Chaps For Comfort And Safety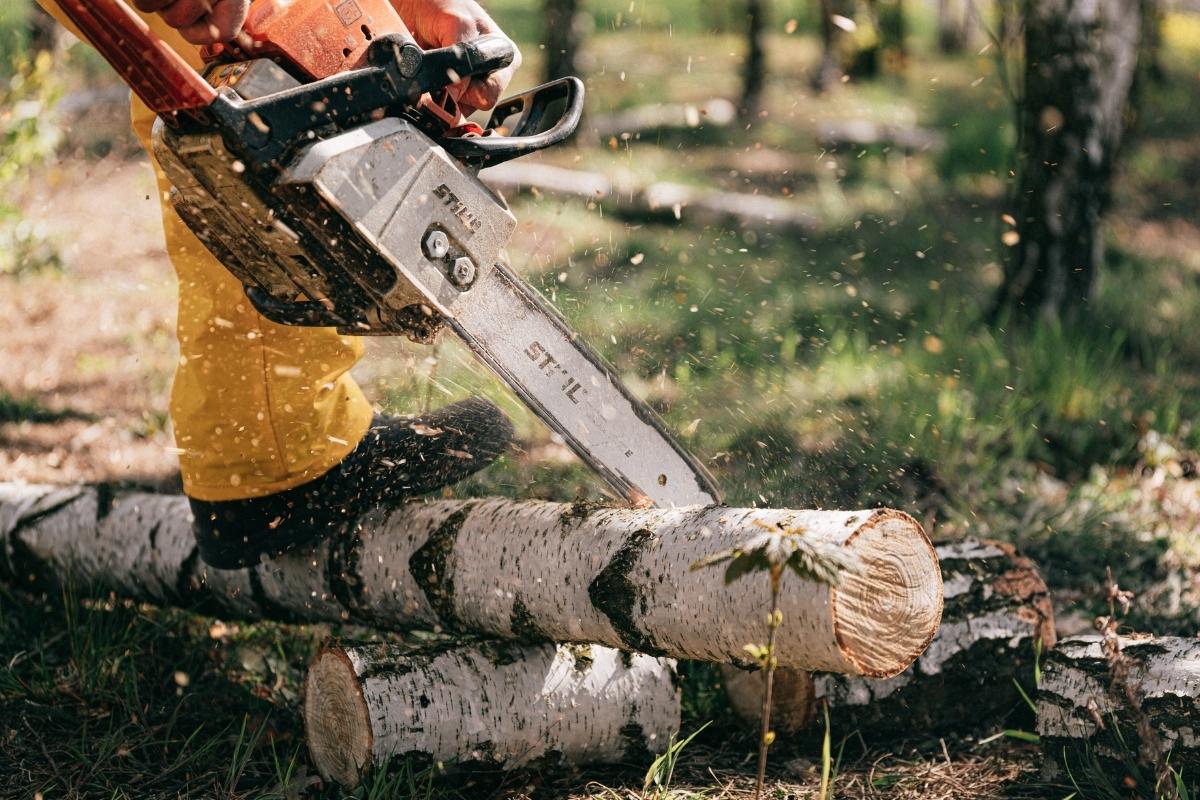 After all the research into chainsaw chaps that I've done, my preferred pair is the Husqvarna's (which you can find here). They have many pairs in their range, but they all offer great protection and maximum comfort.
At the end of the day, I prefer Husqvarna chainsaw models over all the other chainsaw brands (even Stihl), so I might be a little biased in preferring their chaps as well.
Read the chainsaw chaps reviews on the listings to make sure I haven't missed anything out here.
If you're new to chainsaws I also recommend you learn about chainsaw kickback before you start to use your new machine. It's good to be aware of what can go wrong before it does.
There are other things you can do to keep safe with a chainsaw as well.
This includes:
Keeping your chain sharp – use a good chainsaw sharpener for this
Always work with a partner – even if your wife is just reading a book in the distance
Don't work with kids or dogs around – you need to focus on the task at hand
Because I've heard too many stories of people getting hurt or killed while using their chainsaws.
Chainsaw chaps or pants are not going to solve every problem – they won't help you if a tree turns on you, for example – but they're one important ingredient in the staying safe recipe!