Mini chainsaws like the popular Milwaukee M12 are ideal tools for working on light-duty pruning projects around the yard.
Mini saws generally have a chain bar measuring less than 10 inches long, and most commonly 4 or 6 inches long. They can be held in one hand and usually weigh between 2 and 3 lbs.
On the other hand, small chainsaws (as I define them) are slightly larger, with chain bars measuring 10 – 16 inches long. Though heavier, they are more powerful than mini saws and are perfect for climbing trees or simply pruning thicker branches.
But what are the best small and mini chainsaws?
I've been trying and testing a lot of them, and these are my recommendations.
Best Mini Chainsaws
For those just wanting to know my top picks, there they are!
Before making your decision, determine whether you need a mini pruning chainsaw or a small chainsaw that can be used for light tasks.
Or perhaps you need something that might be good also for more demanding tasks. These larger homeowner chainsaws are less for light pruning and more for light firewood duties.
Here are the small and mini saws that I have and use almost daily – they really are great!
We have a few acres of land with a lot of trees, shrubs, and bushes that are requiring constant maintenance.
The mini saws that I personally own and use are (links to my full reviews):
Except for the DEWALT, they're all cheap models, but I haven't been disappointed by them.
No, they're unlikely to perform as well as the Milwaukee Hatchet M12 or the Stihl GTA 26 which are obviously better, but they're sufficient for my needs right now (and cost less than 1/4 of the price).
I use my mini chainsaws almost every day, and I'm not even kidding.

We have acres and acres of shrubs and small trees that I am constantly pruning and trimming whenever the sun's out!
As you'll have noticed, most small chainsaws are battery-operated. This is perfect for cutting back small branches.
The small gas chainsaws are better for more demanding jobs or for when you need to use something all day.
Here is more info about these top small and mini chainsaws.
---
1. Kimo Mini Chainsaw
Chain Bar Length: 6 inches
Power Source: Battery
Weight: 3.1 pounds
The KIMO Mini Chainsaw is our bestselling model in this category.
It's very similar to many of the other options in this price range, but for whatever reason, it sells the most units.
I think that's because it's often quite a bit cheaper than comparable models, it has well over 1500 reviews, and it's one of the top results in Amazon search for 'mini chainsaw'!
The KIMO saw comes with two 20v 2 amp hour batteries, which is really good. You always want at least two batteries so one can be charging while you're using the other.
It only comes with a single chain, but you'll also get a bar cover, screwdriver, charger, and oil bottle (without any oil/lubricant).
Personally, I prefer the Denqir Mini Chainsaw that I've put in position 3 on this list, and which I own myself.

That's because it comes with 2 different-sized bars and multiple chains. Other than that it's very similar, but I like being able to swap out the different bars.
Nevertheless, the KIMO mini saw wins the first position because it's what the people think is the best!
Pros:
A bestseller that has been well tested in the field
Comes with two batteries
Bar cover included (which you don't get with other models)
Lightweight and easy to use
Cons:
Only comes with a single bar and chain
4 star average review not as good as some other options
---
2. Milwaukee M12 – Best Mini Chainsaw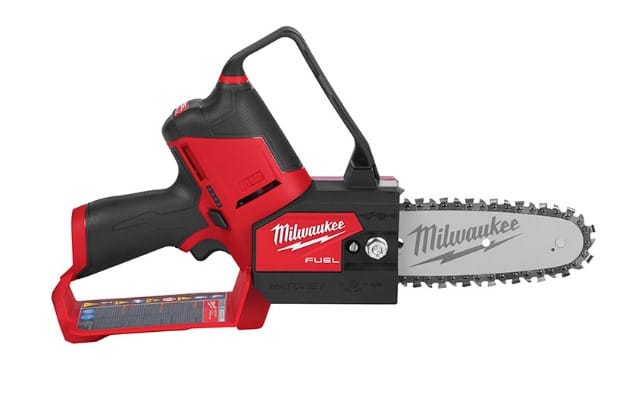 Chain Bar Length: 6 inches
Power Source: Battery
Weight: 4.1 pounds
Milwaukee's M12 FUEL Hatchet is the ultimate mini electric chainsaw due to its ergonomic design, high-performance motor, and durable casing.
With its compact and lightweight 4.1-pound construction, the saw gives you better control, access, and maneuverability in hard-to-reach areas, such as when landscaping.
Under the hood is a PowerState brushless motor that delivers enough power to cut through hardwood. RedLink Plus intelligence keeps the motor and battery in communication to give you unmatched performance and productivity.
As a result, the tool cuts 3-inch hardwoods up to 120 times on a full charge.
In addition to that, the saw features a variable speed trigger with instant throttle response for better control and cutting performance.
An automatic oiler keeps the chain lubricated to maximize durability and productivity. It has a translucent oil reservoir for easy monitoring of the fluid level so that you keep your tool oiled at all times.
Cheap mini chainsaws do not have bar and chain oil tanks like the M12 and need to be manually oiled from time to time.

Having an oil tank will give you better performance and the saw will last longer.
However, some users complain of a short-lived battery, but you can solve this by buying more to interchange as you work.
The Milwaukee M18 Chainsaw is also worth checking out. It's the next size up with a 16″ bar.
Pros:
The automatic oiler is a top feature
Compact and lightweight
Powerful and efficient brushless motor
RedLink Plus intelligence
Variable speed trigger with instant throttle response
Cons:
Short-lived battery
Costs more than the cheap models
---
3. Denqir Mini Chainsaw
Chain Bar Length: 4 and 6 inches
Power Source: Battery
Weight: 2 pounds
This is the Denqir Mini Chainsaw that I think is one of the best deals.
For the price, you end up getting a few more goodies.
It comes with a 4″ and 6″ bar, plus a chain for each (two chains in total), safety gloves (which are nothing special), safety glasses, 2 batteries and a charger, a wrench and screwdriver, and a solid case for keeping everything together.
I've used this small saw for cutting down small trees (like those with trunks that are 2 or 3 inches wide), pruning fruit trees, cutting suckers of trees quickly, and general pruning tasks.
I even used this saw for cutting back a lot of catnip that was overhanging from the garden onto the lawn – a job that would have taken me half-an-hour manually, but only took a minute with this saw.
Compared to the KIMO saw above, it has a slightly different look, and I think it might be a bit smaller. Sometimes it's hard to know whether the weight listed on Amazon includes the battery or not!
But if all you want is a cheap mini chainsaw, I can recommend this one. It won't last forever, but it's still pretty good in my opinion.
Pros:
Comes with two different bars and chains
Two 21v batteries keep you pruning for longer
The case makes transporting everything very easy
For the money, it does a really good job
Cons:
Might be smaller than other models
Gloves that are included are not as good as real chainsaw gloves
---
4. BEI & HONG Tree Trimming Saw
Chain Bar Length: 6 inches
Power Source: Battery
Weight: 2 pounds
This BEI & HONG Mini Saw is one of the other best sellers that is worth taking a look at.
When it comes to what you get, it's similar to the Denqir model above. However, this one comes with 2 6-inch chains and only the single 6-inch bar.
Also, it doesn't have the case (which I do appreciate) but it has the tools, gloves, and glasses. The batteries on this saw should also last a little longer as they are 3 amp hours rather than 2.
Besides those minor differences, it's very similar and basically the same as the other models. Its listed weight is very light at 1.65 lbs, but I really think that's either because it's not counting battery weight or it's just plain wrong.
If you buy this saw put it on the scales and let us know its true weight!
Pros:
Very light listed weight
Comes with 2 6″ chains
Longer life batteries
Cheap and often on sale
Cons:
The listed weight may be wrong
Gloves are not real safety gloves
---
5. Torryza Mini Chainsaw – Best Cheap Tiny Chainsaw
Chain Bar Length: 4 inches
Power Source: Battery
Weight: 3.7 pounds
If you are on a tight budget, this chainsaw is another option to consider due to its affordability.
Aside from that, the tool is the smallest chainsaw in our review because it only has a 4-inch chain bar.
Overall, the tool measures only 12.9 inches long, which improves maneuverability when pruning orchards, cutting bamboo, trimming yards, etc.
Such a short size makes it a highly portable chainsaw too. On top of that, the tool weighs only 3.7 pounds, making it one of the best lightweight chainsaws.
With the compact and lightweight construction comes a one-hand design for easy operation. The handle has a soft, anti-slip surface that gives you a grippy and comfortable hold over the tool when in use.
An efficient pure copper motor runs the chain around the bar, and it features overload protection to safeguard its circuitry. The battery has a few safety features as well, like over-current and over-temperature protection to maximize durability.
The only issue is that the package does not include a chain cover for safe storage and transportation.
Pros:
Affordable
Compact and lightweight
Soft, anti-slip handle
Multiple battery/motor protection features
Cons:
Chain cover not inclusive
---
6. DEWALT 20v MAX XR – Best Small Electric Chainsaw
Chain Bar Length: 12 inches
Power Source: Battery
Weight: 9 pounds
As one of the best small electric chainsaws, the DCCS620B delivers up to 90 cuts on pressure-treated 4×4 wood using a fully charged 20V, 5Ah battery.
Several factors make this kind of performance possible. First of all, it has a durable and efficient brushless motor that maximizes runtime by consuming less power. There is also the low kickback bar and chain, which enhance productivity.
The tool is perfect for construction work (demolition, cutting beams, etc.) and outdoor cutting.
I've been using this saw primarily for pruning trees, and even took down an entire horse chestnut tree with it recently.

I climbed the tree and took off all the branches before dealing with the trunk. I only had to use one of my larger saws to finish off the last few rounds of the trunk.
A tool-free chain tensioning and bar tightening knob makes it easy to optimize the bar clamping force for every cut, and if there is a kickback, a chain brake will automatically activate to stop the spinning.
Even though the battery and charger are not inclusive, the 12-inch chainsaw is part of the 20V Max tools system. Therefore, you can install a 20V battery from your other DeWalt tools.
Pros:
Durable and efficient brushless motor
Low kickback bar and chain
Tool-free chain tensioning & bar tightening
Chain brake for kickback protection
Cons:
Battery and charger not inclusive
---
7. Makita XCU06Z – Small Top Handle Saw
Chain Bar Length: 10 inches
Power Source: Battery
Weight: 6.6 pounds
Makita's XCU06Z is also a high-performance electric chainsaw that's good for builders and other construction workers.
It delivers up to 175 cuts on 2×2 cedar when using an 18V, 5Ah battery. On top of that, it features a torque boost mode to cut denser material.
If you leave the chainsaw on and inactive for more than 60 seconds, an auto power-off function shuts it down automatically to conserve battery power.
Extreme Protection Technology (XPT) enhances dust and water resistance to protect the circuitry inside when working under harsh conditions.
While using the tool, a rubberized upper handle gives you a soft grip with minimal vibrations for better control. At the rear end is a climbing saddle attachment point that makes it easy to carry the tool up a tree.
It can be purchased with or without a battery, the same as most battery-powered saws. The batteries are compatible with other Makita power tools in the same line.
Check out the entire range of Makita Chainsaws – they have both gas, battery, and electric chainsaws.
Pros:
Delivers up to 175 cuts
Torque boost mode
Auto power-off function
Extreme Protection Technology
Cons:
Bare tool only
Requires a tool for chain tensioning
---
8. Husqvarna 120 Mark II – Best Small Gas Chainsaw
Chain Bar Length: 16 inches
Power Source: Gas (38.2 cc engine)
Weight: 10.7 pounds (excluding cutting equipment)
If your project requires more heavy-duty cutting and you need a small gas-powered chainsaw, the Mark II is the best of its kind.
It features an exclusive X-Torq 38.2 cc engine that minimizes gas consumption and exhaust emissions.
Considering it has a long 16-inch chain bar, the tool is ideal for tree pruning (thick branches), cutting firewood, light felling, and limbing.
A combination of choke/stop control enables easier starting, and it gets a boost from AirPurge, which removes air from the carburetor for faster starting.
Anti-vibration dampeners on the handle attachment points absorb vibrations from the engine to spare your hands from intense shaking during long periods of use.
You can attach an 18-inch bar to the saw if you have thicker branches/firewood to cut. You need to buy this component separately.
You can see the whole range of Husqvarna homeowner chainsaws here.
Pros:
Efficient X-Torq 38.2 cc engine
Easier to take out away from the house as you don't need to charge batteries
Easy start design
Anti-vibration dampeners
Compatible with an 18-inch bar
Cons:
No chain bar cover
Fumes
Much louder than battery
---
9. Echo CS-271T – Runner-Up Small Gas Chainsaw
Chain Bar Length: 12 inches
Power Source: Gas (26.9 cc engine)
Weight: 11 pounds
The Echo CS-271T features a slightly smaller professional-grade 2-stroke engine compared to the Mark II, but this matches its shorter 12-inch chain bar length.
As a top-handle pruning chainsaw, it is more compact and recommended for use by arborists/tree service professionals.
A lanyard clip at the rear end enables you to attach the saw to your belt for easier climbing when pruning multiple trees.
Once you get to the trees, the tool features an i-30 starting system that makes it easy to start the engine and get right to work.
When running, a throttle lock prevents accidental acceleration for safety purposes, and if the chain loosens, there is a side access tool-free chain tensioner for quick adjustments.
However, a few users complained of starting problems, but these are isolated cases.
Read our ECHO CS-2511T review to learn more about the lightest gas chainsaw out there.
The Stihl MS 200T is another excellent small, lightweight, top handle saw (and is considered the best of the best, but it's hard to find).
Pros:
Professional-grade 2-stroke engine
Lanyard clip
Throttle lock
Tool-free chain tensioner
Cons:
Might have starting issues
---
10. Husqvarna 450R – Best Alternative To A Small Chainsaw
Chain Bar Length: 18 inches
Power Source: Gas (50.2 cc engine)
Weight: 14 pounds
With an 18-inch chain bar and a large 50.2 cc gas engine, the 450R is not a mini/small chainsaw.
It is a large and powerful tool for heavy-duty cutting that is the perfect alternative to the best small chainsaws.
Although the 3.2 HP engine is relatively big, it is a super-efficient X-Torq motor that minimizes fuel consumption and exhaust emissions. However, it creates more vibrations, but a LowVib anti-vibration system reduces shaking on the handles for comfortable use.
I've been using this chainsaw regularly for over 3 years now, and I really love it.

This is one of my primary firewood chainsaws that I use for cutting gum, pine, and macrocarpa wood.
The tool uses spring assist and quick spark injection to get the motor running in a flash. After use, a quick-release air filter makes it easy to clean out the dust or replace the component if worn out.
However, these features and size make the tool relatively heavy and more expensive than these other mini saws, but it is worth the money.
Read my Husqvarna 450 review to learn more about this great Husky saw.
Pros:
Powerful and efficient X-Torq gas engine
LowVib anti-vibration system
Easy starting system
Quick-release air filter
Cons:
---
Uses For Mini Chainsaws
You can check out this video to see some of the different uses for mini chainsaws. Check out my YouTube channel for other videos as well.
I really do use mine for a wide variety of tasks around my immediate yard but also the hobby farm at large.
Mini chainsaws are suitable for light-duty work, such as:
Pruning small branches
Cutting back suckering limbs
Trimming bush undergrowth
Cutting bamboo
Limbing small trees
Pruning fruit trees
Cutting back dense/wooded shrubs
They are very versatile tools, though I haven't tried them out on butchering yet, as I did this Black + Decker reciprocating saw.
Small chainsaws, such as my DEWALT 20v or the Husky 120, are better at pruning thicker branches and can even be used for light firewood duty.
Small, light top handle chainsaws are perfect for arborists when climbing trees to prune thick branches. They can also cut down small trees and do a bit of firewood as well.
Small saws always find a happy home on construction sites and farms as well – especially for fencing posts and those sorts of things.
Hand-Held Chainsaws Vs Small Chainsaws
Design-wise, handheld chainsaws have a single handle for one-hand use.
Since they are compact and lightweight, it is easy to handle them using a single hand. That said, some like the Milwaukee M12 2527-21 have a front and rear handle to give you a firmer grip when cutting.
On the other hand, small chainsaws have a top handle that extends to the side, enabling you to hold it using both hands. As such, you get better control and maneuverability when cutting using the slightly larger and heavier tool.
Electric Vs Gas Chainsaws
Electric chainsaws are clean to use (no gas/oil mixing) and don't produce harmful emissions.
They also have fewer mechanical parts, making them compact, lightweight, and easier to maintain. Mini chainsaws are usually electric because they must be tiny and weigh very little.
On the downside, this electric type is not as powerful as the gas engine type. As the battery runs out, it delivers less power to the motor, minimizing its cutting power.
However, with the gas-powered chainsaw, you get on-demand optimum cutting power, making it perfect for handling large projects involving thick branches. However, such tools are heavier, noisier, messier, and emit exhaust gases.
Therefore, the best saw for you all depends on the project.
Some small chainsaws, such as the Husqvarna 120 Mark II, feature gas engines to help you work on more heavy-duty projects, while others like the DeWalt 20v have electric motors for less intensive work.
The Risks Of Mini Chainsaws
Though they are tiny chainsaws, these tools can cause injury, which is why they should have multiple safety features.
Be sure to check your purchase for the following features:
Chain brake – stops the chain automatically when there is a kickback
Throttle lock – prevents an accidental acceleration
Lock lever – keeps the chain from engaging accidentally
Handguard
Chain catcher
Make sure you are using the best pair of chainsaw gloves that you can get your hands on when using these things.
I recently cut my hand using a mini chainsaw – you can see the pictures here if you really want – and I now always use my pair of VGO chainsaw gloves.
Mini Chainsaw FAQs
What is the smallest chainsaw?
When comparing small and mini chainsaws, the latter is smaller, with some having chain bars as small as 4 inches.
The Denqir Mini Chainsaw which I've shared above is one of the smallest models you can buy, coming with both a 4 and 6 inch bar.
What is the best mini chainsaw?
It all depends on your project.
If you are cutting thick branches, you need a powerful tool with a long chain bar. Otherwise, a tiny one will do.
The Milwaukee M12 is certainly one of the best out there, but it comes at a price!
Is a 12-inch chainsaw too small?
No, depending on your project, it's not.
It is somewhere in the middle of the size scale when considering small and mini chainsaws.
However, size is relative here because it depends on the project requirements. I like my 12-inch chainsaw for light work.
What do you use a mini chainsaw for?
It is ideal for light-duty work, such as landscaping, pruning small branches (orchards), trimming trees in your yard, cutting bamboo, etc.
Are mini chainsaws pointless?
No, definitely not!
If your project requires a light-duty tool that is easily maneuverable among tiny tree branches, a mini chainsaw is perfect for the job.
Can you throw mini chainsaws?
No, they are not like throwing axes in this regard.
You will most certainly damage your chainsaw if you throw it.
Best Small Handheld Chainsaw
In conclusion, if you are looking for the best mini chainsaw for small projects, Milwaukee's M12 FUEL is the ideal tool if you have the budget.
Otherwise, the KIMO saw is a good cheap alternative.
With their small and compact construction, these saws come in handy when dealing with light pruning and landscaping work.
However, if you need a more powerful chainsaw for large projects, the Husqvarna 120 Mark II has an efficient, high-performance gas engine that will get the job done.
Additionally, its 16-inch chain bar is perfect for light felling, pruning thick branches, and limbing.
Lastly, if none of these options have suited what you need, check out this selection of the best battery-powered chainsaws for some more alternatives.