What is the best chainsaw helmet?
Or, to put it better, what is the best chainsaw helmet for you?
A homeowner who uses their chainsaw a few times a year for pruning some tree branches doesn't necessarily need a $300 arborist helmet. Nor, do they necessarily need the cheapest $20 helmet either.
Just because you don't use a chainsaw for a living doesn't mean you shouldn't stay as safe as possible.
Wielding a chainsaw is no joke. Debris can be flung towards your face, tree branches can fall where you don't want them to, and sawdust can get into your eyes.
Many things can go wrong when using a chainsaw, and you don't want to be unprotected if they do. Check out these top helmets for head, ear, and face protection and weigh up which would be best for you.
Chainsaw Helmet Guide
TR Industrial Forestry Helmet

Best low-priced helmet for homeowners
Includes helmet, earmuffs, and visor
26 dB protection

View On AmazonView On Home Depot

Husqvarna Chainsaw Helmet

A quality helmet that meets standards
Includes helmet, earmuffs, and visor
25 dB protection

View On AmazonView On Northern Tool

Pfanner Protos Arborist Helmet

An extremely high quality climber's helmet
Includes helmet, earmuffs, and visor
26 dB protection

View On AmazonView All Styles & Colors

STIHL Pro Chainsaw Helmet

A good professional forestry helmet
Includes helmet, earmuffs, and visor
25 dB protection

View On AmazonView On Ace Hardware

Oregon Helmet W/ Visor

A basic, cheap hi-vis visor
Includes helmet, earmuffs, and visor
25 dB protection

View On AmazonView On Acme Tools
For your average bloke using a standard chainsaw, the TR Industrial Chainsaw Helmet is a good choice.
Like basically all the helmets on our list, it's 3 in 1 hard hat. It has a helmet, earmuffs, and visor (both mesh and plastic).
This is a lightweight helmet that can be adjusted to fit on most head sizes (possibly even my uncle's, who has the nickname 'melon head').
It's a great all-in-one solution for keeping your noggin safe while using a chainsaw, pole saw, or other scrub cutters.
For those who use their chainsaw more regularly, the STIHL Helmet is a better choice, or the Pfanner Protos Arborist Helmet is even better yet.
It is essential to ensure your personal safety before you work with a high-powered, dangerous piece of equipment like a chainsaw.
Not only do you need to protect your limbs with a good pair of chainsaw chaps while sawing, but your head is also a critical place needing protection.
Thankfully, high-quality helmets that protect your skull, eyes, and hearing are available from several reputable companies in the forestry business.
Even if you intend to do simple yard work, having yourself protected by a certified logging helmet will keep everyone at ease.
I put together a list of the top ten helmets available on the market today. They will be linked to Amazon, so you can browse and make the best choice for your needs.
All of these options are all in the same range of quality and personal preference factors as to which one you'll end up choosing.
*If you're a professional arborist, check out our round-up of the best tree-climbing helmets instead.
1. TR Industrial Forestry Safety Helmet
This helmet is widely seen to be one of the safest and most affordable on the market.
It's made from recyclable plastics and is a 5-in-1 safety tool that will keep you protected while doing various types of forestry work.
Here are the features:
Adjustable and completely removable ear muffs
Adjustable dial knob to change the circumference between 20-24.5 inches
Sturdy and lightweight design
ANSI and CE approved
Interchanging mesh and plastic visors
The TR Industrial is a safe and effective helmet that won't break the bank. It can be purchased at an affordable price, and that makes it a great starter helmet.
If you intend to do a lot of tree care on your own, this helmet can keep you safe and comfortable.
---
2. Husqvarna ProForest Chainsaw Helmet
The Husqvarna brand produces a lot of quality gear for the forestry business. This helmet is no exception.
The ProForest is a solid helmet that'll keep you protected and shielded from the weather and the hazards of working.
The addition of a rain guard allows you to keep working when the weather turns sour and not have rain running down your back. It is a helpful and often overlooked feature that can make a big difference.
Features include:
Earmuffs absorb up to 25dB of sound
Adjustable mesh and plastic visors
Six-point suspension system
UV Protected hard hat
Rain guard for the back of the neck
ANSI approved
Once again, a great option for someone who will be using equipment moderately.
And, if you have a Husqvarna Chainsaw, it's going to match it nicely!
---
3. Ptfanner Protos Integral Arborist Helmet
This is one of the more expensive helmets you can buy, as well as the most comfortable and safe. It was created by arborists who knew exactly what components made up a quality helmet.
The bright colors keep it visible from far away and increase safety. It is a snug fit that can be adjusted to fit different head sizes. The mesh on the inside of the helmet is designed to minimize impact from a tree branch or fall and keep the helmet securely in place.
The Ptfanner helmet has the ear muffs and visor built-in seamlessly to the design. They can be adjusted and removed for different projects in different locations. The ventilation lets you stay cool even in hot weather.
You are getting a fantastic quality helmet for the price. The materials are built to last and keep you safe for extended periods. If you are currently or intend to become a professional arborist, this helmet is a significant investment.
Check out our complete Protos Helmet review to find out everything you need to know about it.
Benefits include:
High-quality design
Great ventilation
Safe for different environments
Compliant with ANSI and EN regulations
---
4. Stihl Woodcutter Helmet System
The Stihl company provides the construction world, keeping safety and quality in mind as they provide equipment. It's no wonder the Stihl helmet makes the list as one of the top chainsaw helmets on the market.
The Woodcutter Helmet is comfortable, affordable, and well-made. It offers ear protection and a sturdy visor that'll stop anything flinging up while you work with a chainsaw or other equipment.
If anything breaks, the parts are replaceable, and the design is user-friendly to assemble and upkeep.
You can expect:
Full helmet protection system
Comfortable
Breathable
Earmuffs protect 22DB
The Stihl brand gives you confidence that you're buying a helmet that will keep you safe. Many Stihl products are made in the US, and are highly durable and reliable.
---
5. ERB 14371 Chainsaw Hard Hat
The ERB helmet offers a sturdy helmet with versatile features.
It's bright orange for safety while working out in the field – no one's going to miss you in the woods!
This brand isn't loud about their logging helmet, but nonetheless, it'll keep your head safe and shield your eyes and ears from discomfort or injury.
Main features include:
Anti-fog goggles are included
The steel mesh visor prevents glares
ANSI rated
The frame is made of polycarbonate and it has a helpful face strap to keep it in place.
---
6. Stens Protective Chainsaw Helmet
The Stens Protective Chainsaw Helmet is another solid and affordable purchase.
It's not a bestseller, because I believe there are better options out there (such as those listed above). However, it still maintains standard quality and will keep you safe while you work.
It has excellent adjustability and ANSI-grade ear muffs to protect your hearing.
Features include:
High-grade ear muffs
Affordable
Adjustable
ANSI rated
It's not the hardiest hard hat but it will be sufficient in a jam.
---
7. VonHaus 4-in-1 Forestry Helmet
Aptly named, the VonHaus chainsaw helmet has a 4-in-1 safety system.
Equipped with a hinged visor, neck cape to flick away rain, sturdy hard hat, and hefty hearing protection, this helmet is an affordable all-in-one deal.
There is a 6-Point adjustment system that allows the headband to be fitted to your exact size for the best long-wear comfort.
It has fairly standard features and specs:
Highly adjustable
All in one system
Affordable price
Hinged Visor
Neck cape
---
8. Petzl Vertex Helmet
This helmet is number 8 on the list not because of quality but because it is better suited for forestry professionals who will be scaling trees or working in the ground intensely.
Petzel is a French company that has specialized in climbing helmets for decades.
They are trusted with their rock climbing gear, and their helmets are safe to use while high up in a tree doing precarious work on the ground where falling limbs are a hazard.
Add ons can be purchased to fit into this helmet to make it optimal for forestry work. The face shield and earmuffs blend with the sturdy hard hat to create a breathable and safe piece of equipment.
Benefits include:
Breathable hard hat design
Visor and ear muffs must be purchased separately
Highly adjustable
Shock absorbent
Sturdy chin strap
---
9. Oregon Professional Forestry Safety Helmet
The Oregon helmet is a breathable, lightweight, yet protective helmet.
Unlike many of its peers, this helmet features a stainless steel mesh visor that can be flipped up or down as needed for vision allowing visibility and solid protection from stray debris.
The Oregon company is well known for its chainsaw gear.
Oregon bars and chainsaw chains are the obvious ones, but you can also find Oregon chainsaw sharpeners and/or the Oregon self-sharpening chainsaw.
Their helmet has:
Six ventilation holes for breathability
Wide, stainless steel mesh visor
Impact-absorbing
Earmuffs block 22dB of sound
Lightweight design
ANSI approved
This Oregon helmet comes in a standard bright yellow color.
The price varies and isn't as low as several past options; it's still affordable and fair for the quality you receive.
---
10. Tuffmaster Forestry Chainsaw Helmet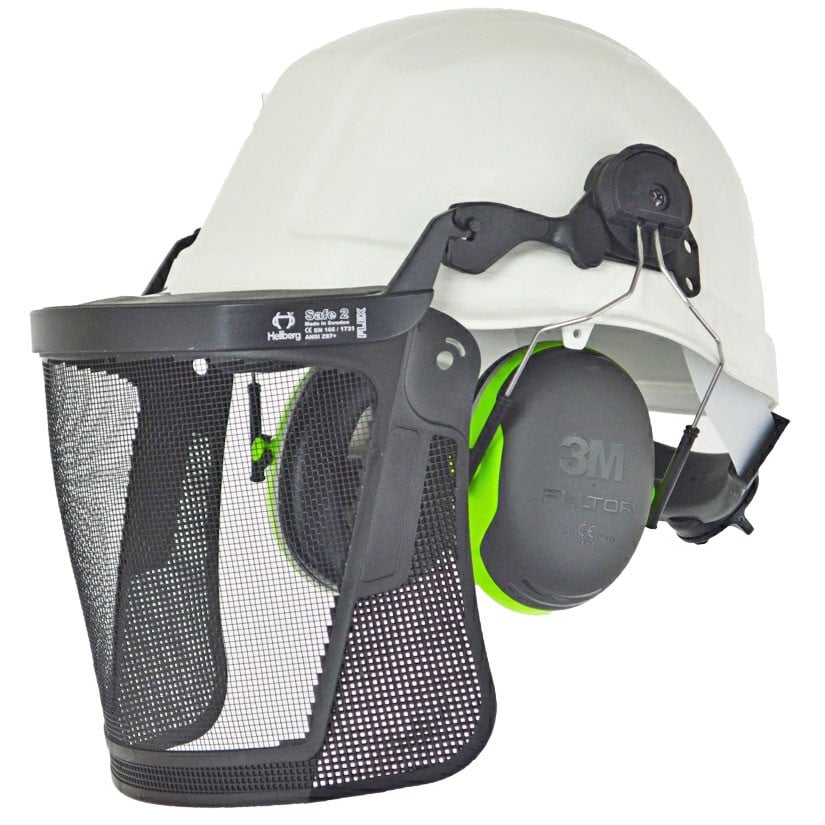 The Tuffmaster helmet has a simplistic design and muted color scheme without minimizing the protection.
The earmuffs protect against high decibels that can wear down your hearing over time. They are practical and lightweight, like the rest of the helmet.
The adjustability and visibility on this helmet are noteworthy, allowing many types of foresters to wear and stay safe in this helmet.
Lightweight design
High visibility
Protective ear muffs
Simple design
Fair price
---
Home, Logging, And Forestry Helmet Features
Here are the things you need to look out for and consider when choosing a chainsaw helmet.
There are many good options out there, but comfort, fit, and level of protection are key to keep in mind – also consider our list of the best chainsaw gloves for hand protection.
Visors
Moving machinery and the debris flying every which way is always a hazard for your eyes.
Sawdust and sticks aren't things you want in your face, so make sure to find a helmet with a shield to keep your eyesight intact.
A double visor is common, with a clear plastic base then a mesh made of plastic or metal to add another layer of protection over your eyes. If you want to see clearer, look for a visor that can be removed or lifted.
Adjustability
Helmets tend to come in 'one-size-fits-most.'
An adjustable band around the circumference is preferable to make sure the hard hat sits right on your head.
Earmuffs
Chainsaws are loud and can leave a ringing in your ears; consistent use can wear your hearing out without protection.
Using ear muff cuts the noise and keeps you comfortable for working extended periods.
Weight
A sturdy and protective helmet is a requirement.
However, it doesn't need to be so heavy that it weighs you down while you work long hours. A headache is the last thing you want, so make sure you take note of the weight to determine what your neck can handle.
Certifications
The standard certifications for chainsaw helmets are ANSI, CE, and EN.
A helmet with these ratings has been put through testing to ensure safety and quality; it isn't just slapped on the market.
A helmet that ANSI and CE approve will have different ratings based on its specific strengths, but generally, you know you're being protected if there's a rating.
Best Stihl Helmets
Stihl Helmets like the ProMark Forestry Helmet are among the best if you have a little more money to spend.
Alternatively, the chainsaw hard hat that we have in position one is a good option that is more affordable.
Keep in mind your lifestyle and how often you'll be donning the helmet to work on your forestry projects. Your safety is the most crucial aspect, and you will want to choose the helmet based on the safety ratings and how much you'd like to spend.
A chainsaw helmet is an excellent addition if you plan to work out in the elements with potential safety hazards. It will keep you healthy and free of concussions as you tame the wilderness—in whatever capacity that might be.
If you are a chainsaw newbie, consider taking a chainsaw safety course and have a chainsaw sharpener on hand to keep your saw running smooth.