I recently picked up a Stihl 011 AV from eBay and have really enjoyed testing it out. This 41 cc saw was in OK condition, cost me $70, and I got to meet an interesting chainsaw enthusiast in the process. The guy selling it was a chainsaw restorer who absolutely loves the old Stihls.
I've used the 011 AV a few times now for pruning trees and bucking small logs. It sounds amazing, is light and maneuverable, and has that awesome 1980s Stihl chainsaw style. It's not my go-to chainsaw because it is less reliable and comfortable to use compared to my newer saws, but I still like having it for light use here and there.
In this Stihl 011 review, I'll share the different versions, specs, features, and prices for buying and selling, along with everything else you might need to know about this popular and useful Stihl chainsaw (see the latest prices here on eBay).
Stihl 011 Versions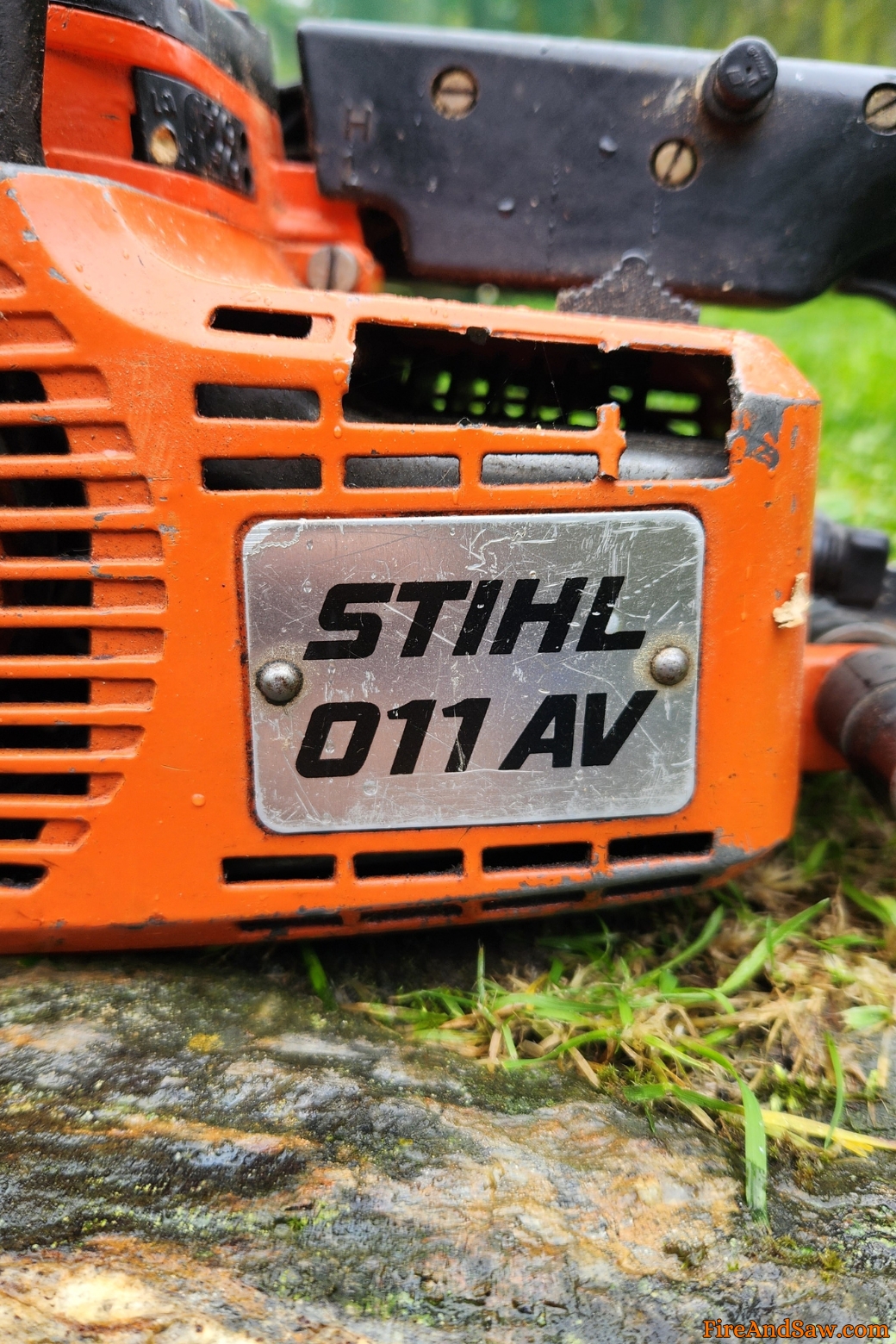 The 011 had a long production period from 1980 to 1996 and there were many versions – find out more about the model production years here.
These are the different 011 models and designation meanings:
All 011s are AVs, which stands for Anti Vibration system. When this system was new to Stihl and while there were some saws without it, they always had AV in the model name. This was phased out in time. I don't think there are any non-AV 011s. I think the 011 AV was standard (but let me know in the comments if I'm wrong).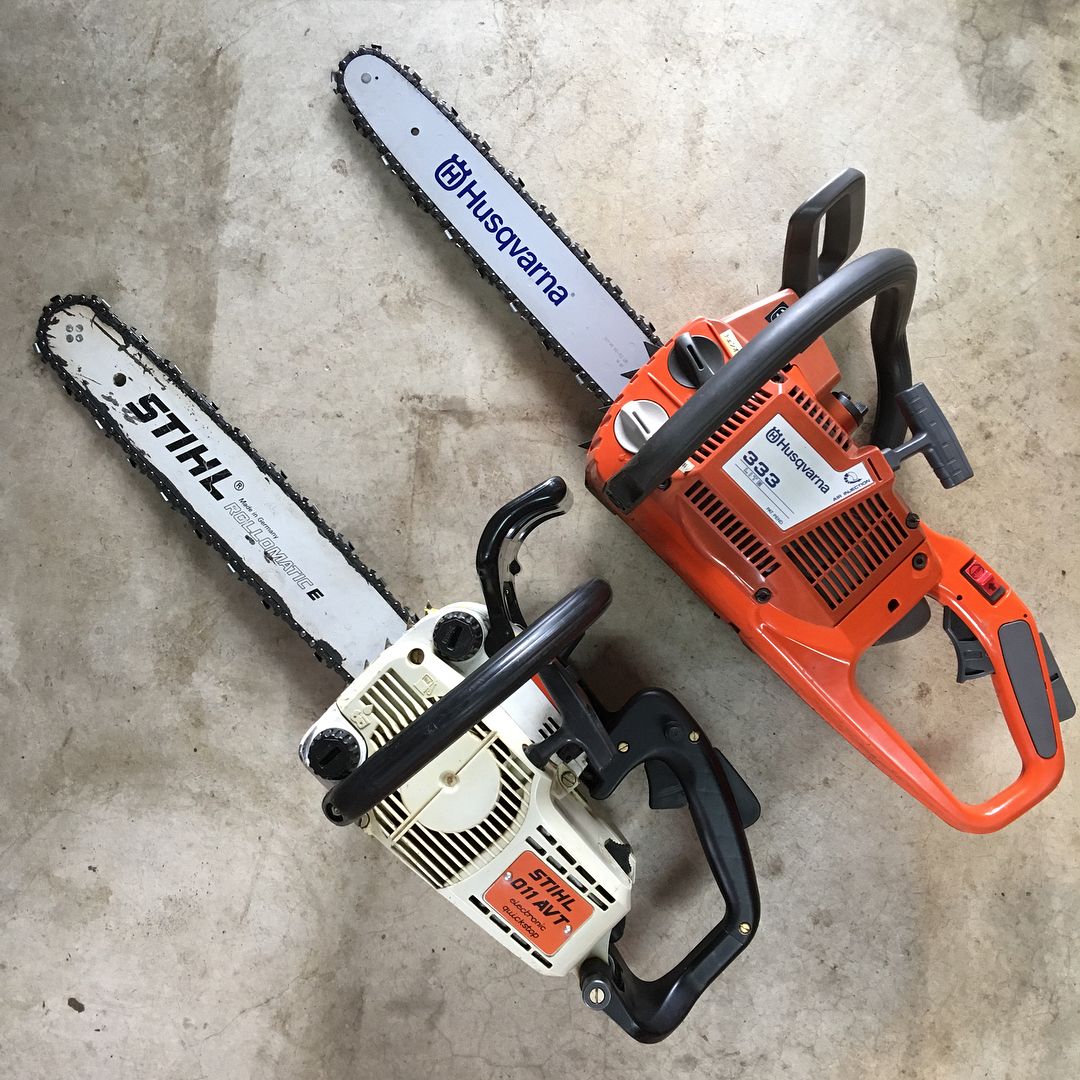 The T on Stihl saws means top handle (as you'll have guessed). The 011 is interesting because it's one of the very few STIHL chainsaws that has both a back handle and a top handle version. The STIHL 015 is another such saw made in the same era. With the 011, the top handle saw is the harder-to-find or rarer version.
The 011 is designed for:
Light pruning and limbing tasks
Felling small trees
Bucking small logs for firewood
Light clean-up tasks
And the top handle version is good for climbing. While many old Stihl chainsaws are quite heavy and cumbersome to use, this one is not bad at all. I cut up this 20 ft gum log with the 011 AV in about 15 – 20 minutes.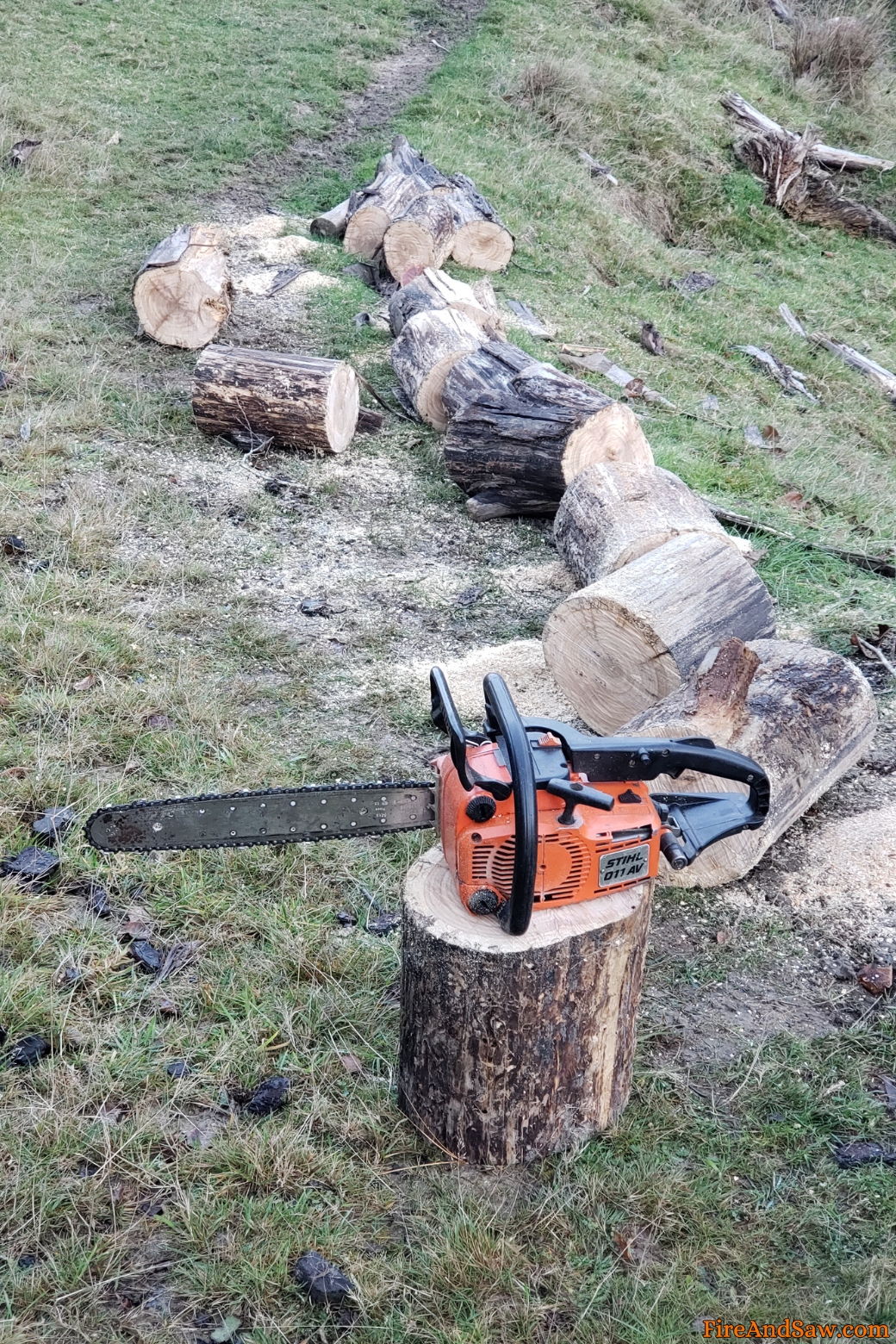 The saw didn't hesitate and got through it even better than I was expecting. However, I would have got the job done a lot faster if I were using one of the other, bigger saws!
Stihl 011 Chainsaw Review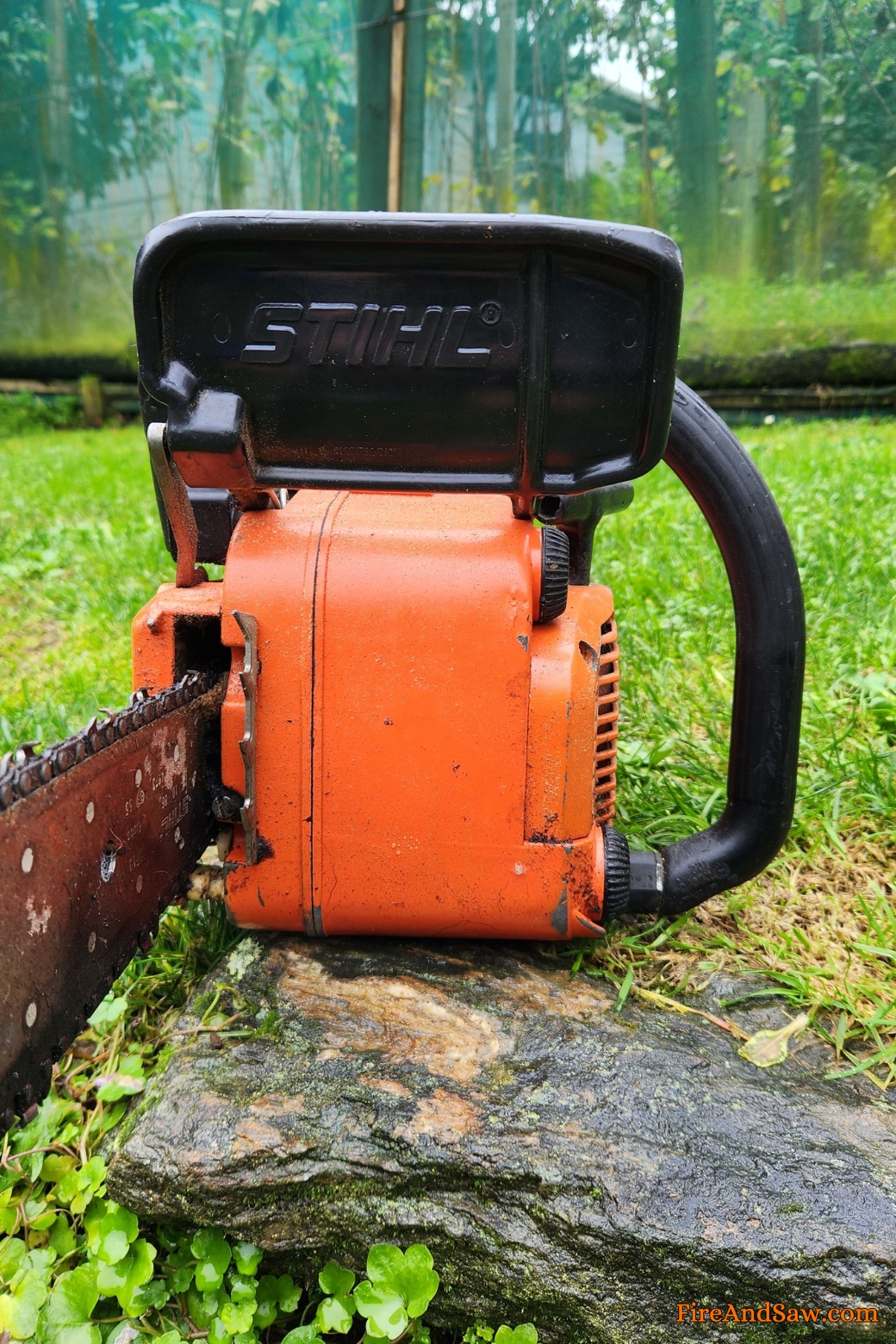 I've been happy with this Stihl 011 AV as a novelty, but as a serious chainsaw, it's a bit lacking. It's light and maneuverable and can stand up to light work, but it's not an amazing beast of a saw by any means.
It's an old homeowner chainsaw that is designed for light tasks around the home, and it is good for that. But you would want something a lot better for regular or bigger work. The 011 is fun to play around with, but she's a bit slow compared to a new MS 180 or Husqvarna 450 Rancher (two other small saws I use).
Other than that, the only downsides I'd mention are that it's prone to leaking oil (I need to work on this) and it emits a lot more fumes than newer models. The emissions are also pretty standard for a saw of this age. When you compare the aroma from one of the 30 – 40-year-old chainsaws with that of a brand new modern chainsaw, there's a difference.
I bought a new DEWALT 20v Max XR chainsaw a while back, and as you can imagine, there's a big difference there with the zero emissions. The McCulloch 610 I acquired, which is a similar era to the 011, weighs a ton and also puts out a decent amount of stink! However, all that's beside the point. If you see a tidy Stihl 011 for sale, I'd grab it. It's a good little chainsaw that goes hard and performs well!
Positive comments and reviews of the STIHL 011:
"Great saws if it oils, if it doesn't it's basically a decoration. Diaphragms are hard to find."
"The 011 AVT is a great quadding chainsaw"
"The 11 is cool but they are getting hard to find parts for."
"I love mine as well but it developed a case leak. Does anyone know where a guy can get parts? Can't really find anything"
"I love mine. If it runs, cuts, and oils [$75 is] a great deal"
"Depending on the condition. If they have been well cared for and maintained, the 011 is a great little saw."
"I love my 011 AV. Great little saw for limbs and small stuff."
Matt said:
The 011 and 012's aren't bad saws. They are known for air leaks under the carburetors with the gaskets. And they don't make the diaphragm for the oil pump whatsoever anymore. So if one of them doesn't oil good luck finding a oil pump diaphragm. I have rebuilt many of these saws, and they will always be close to my heart since we had one growing up that I learned to run as a boy. If you end up having to pull the piston be very careful with the rod as the crank side of the rod has hand set bearings and aren't caged. All in all they are great saws. Resell value is low even in running condition. $100-$175 max
And James said:
I dont see how people have so many problems with the 009 and 011 oilers. Run quality bar oil and they last a long time. I have 3 of these saws and never had an issue.
Negative comments on the 011:
"Mine leaks all the gas into the bar oil tank. Not sure it's worth putting a new gasket in it."
"Not worth fixing to sell. They are actually worth more in parts."
"Mine has never run well. I've given up on it."
Robert said:
Mines junk because nobody can keep it running. Despite premix ethanol free fuel like all my saws, the things a pile and I grab my Homelite if I need a light saw.
And Taylor said:
I'm at a loss with this 011 it's so hard to start (until it's at operating temperature it will fire right up) it will rev to the moon and cut but won't idle. I have rebuild the carb completely new fuel line and fuel filter air filter is clean plug is good exhaust is clear. Cylinder is perfect. I don't get it adjusted the carb every witch way I can. So frustrating…
The comments come from the STIHL Chainsaw Fans FB Group – join it to find more info and ask any further questions.
Specs And Features
| STIHL 011 Specs | Details |
| --- | --- |
| Cylinder displacement | 41 cm³ / 2.5 cu. inch |
| Power | 2 kW / 2.7 hp |
| Cylinder Bore | 38 mm / 1.5 inch |
| Piston Stroke | 36 mm / 1.42 inch |
| Max RPMs | 10,500 |
| Idle RPMs | 2,400 |
| Powerhead weight | AV: 10.1 lb/4.6 ks; AVQ 4.7 kg/10.3 lb |
| Fuel tank volume | 0.25 l / 0.53 US pint |
| Oil tank volume | 0.24 l /0.51 US pint |
| Oil pump type | Automatic, fixed flow |
| Chain gauge, pitch | 0.043″ / 3/8″ |
| Bar length | 30, 35, 40 cm / 12, 14, 16 inch |
*Exact specs will depend on the chainsaw version and year made. See the 011 manual for more information (download here).
The 011 is a 41cc chainsaw that weighs around 10 lbs – the 010 AV is almost identical to the 011 but it has a smaller 36 mm bore making it 37cc.
One of the things I like about it is the magnesium casing, something that isn't commonly found on low-powered saws anymore. Today's homeowner chainsaws are plastic, which is tough enough, but metal is better.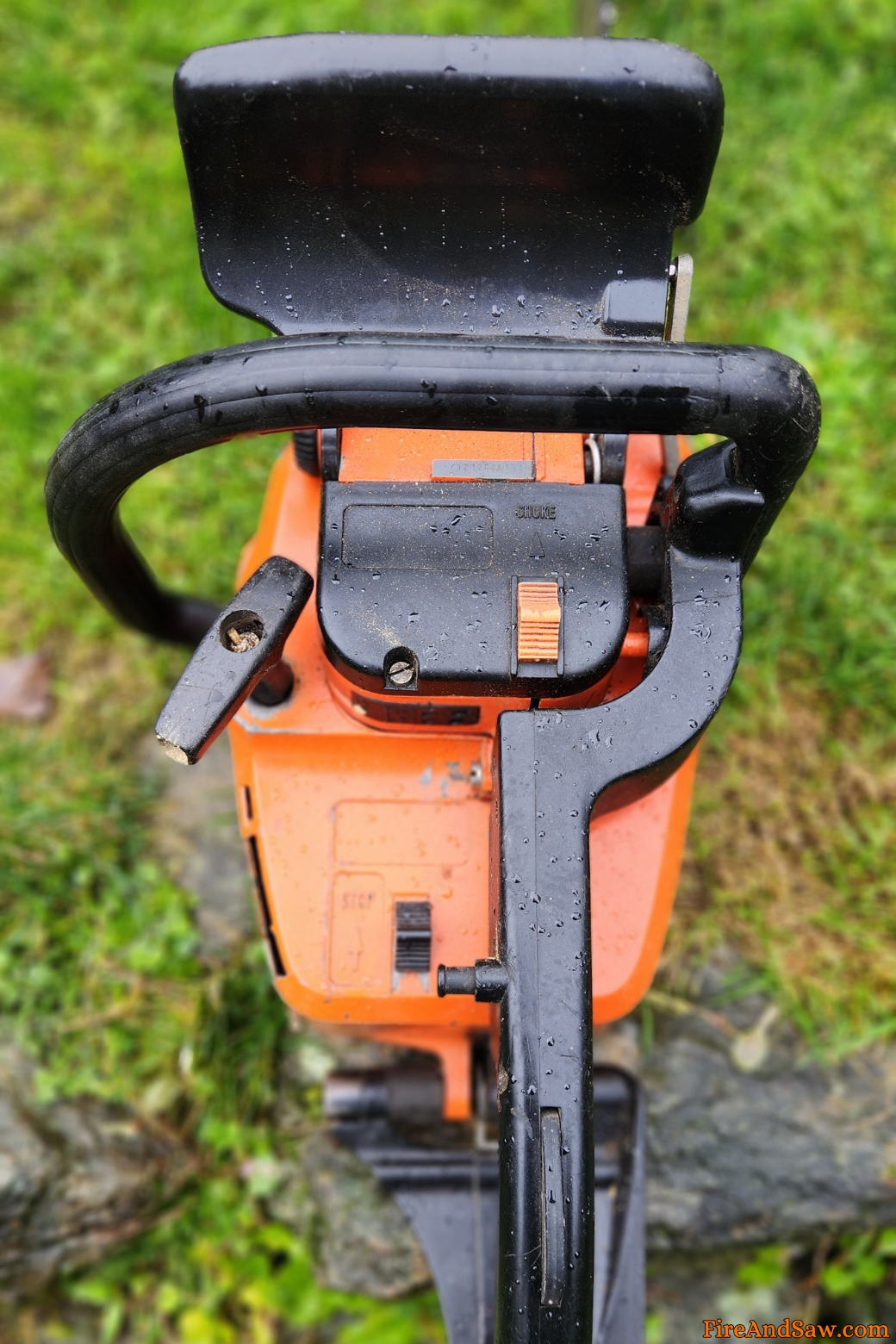 The 011 has a choke switch on top and the power switch is below that. It has a trigger lock which comes in handy for starting the chainsaw as well.
The 011 has a chain brake and can be used with a 12 – 16 inch bar. It has a felt air filter and an automatic diaphragm-style oiler. STIHL recommends Bosch WSR6F or Champion RCJ7Y spark plugs.
Stihl 011 Price
I paid about $70 for this saw, and wouldn't have paid much more than that. It's not in the tidiest condition, and I didn't actually need it, I just wanted to try it out.
I've seen 011s listed for as low as $20 for parts and as high as $200, depending on the condition of the saw and your location. Some parts of the world command higher prices than others. The top handle version is known to sell for more because it's less common, but the parts problem is still an issue.
011 prices and parts:
EBay – whole saws and parts
H L Supply – OEM and aftermarket parts
Amazon – aftermarket parts, chains, spark plugs, etc.
Price comments:
"Depends on the physical condition of the saw and what it needs. They can bring some decent money on eBay if they are in good-great condition."
"Not worth much. Once the oilers go that's it."
"Some guys like collecting them and might pay a bit more"
Stihl 011 Chainsaw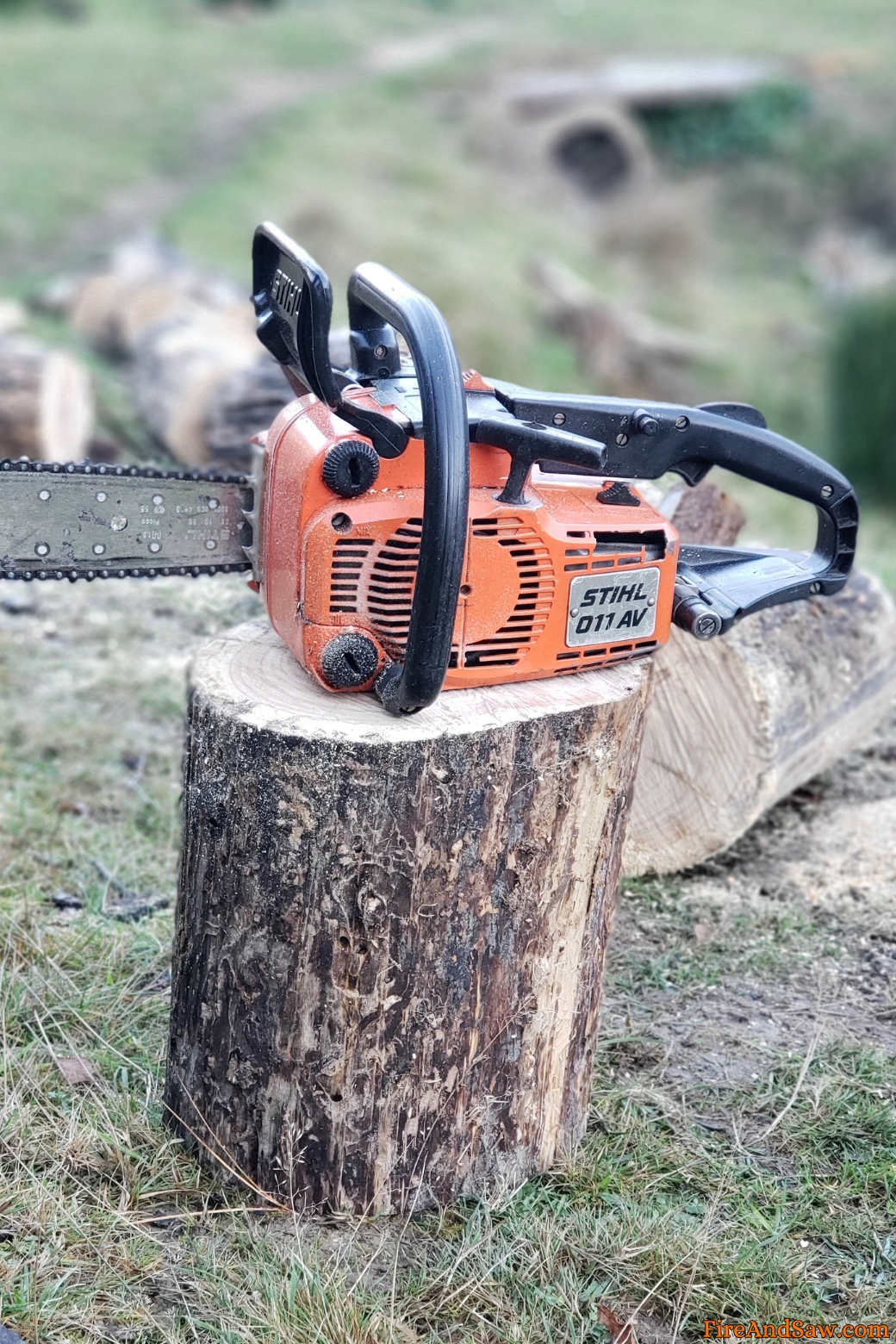 The 011 AV isn't a bad STIHL chainsaw, nor is it one of the best. It's a nice little pruning and light firewood saw, and it will be especially liked by those who are into vintage chainsaws.
The professional vintage chainsaws are a lot more popular and pricey. Saws like the 044, 056, or 075 will fetch a lot more money compared to these small chainsaws, but it's good to keep the little fellows going as much as possible as well. The 011 is as much a part of Stihl history as any other saw so if you get the chance to buy or restore one, go for it!