I picked up a Series 1120 Stihl 011 AV off of Marketplace recently and have really enjoyed testing it out.
It cost less than $100, was in good condition, and I got to meet an interesting chainsaw enthusiast in the process!
I've used the 011 AV a few times now for pruning trees and bucking small logs. The chainsaw sounds great (video to come), is nice and light, and has that awesome old Stihl chainsaw style.
Stihl 011 Chainsaw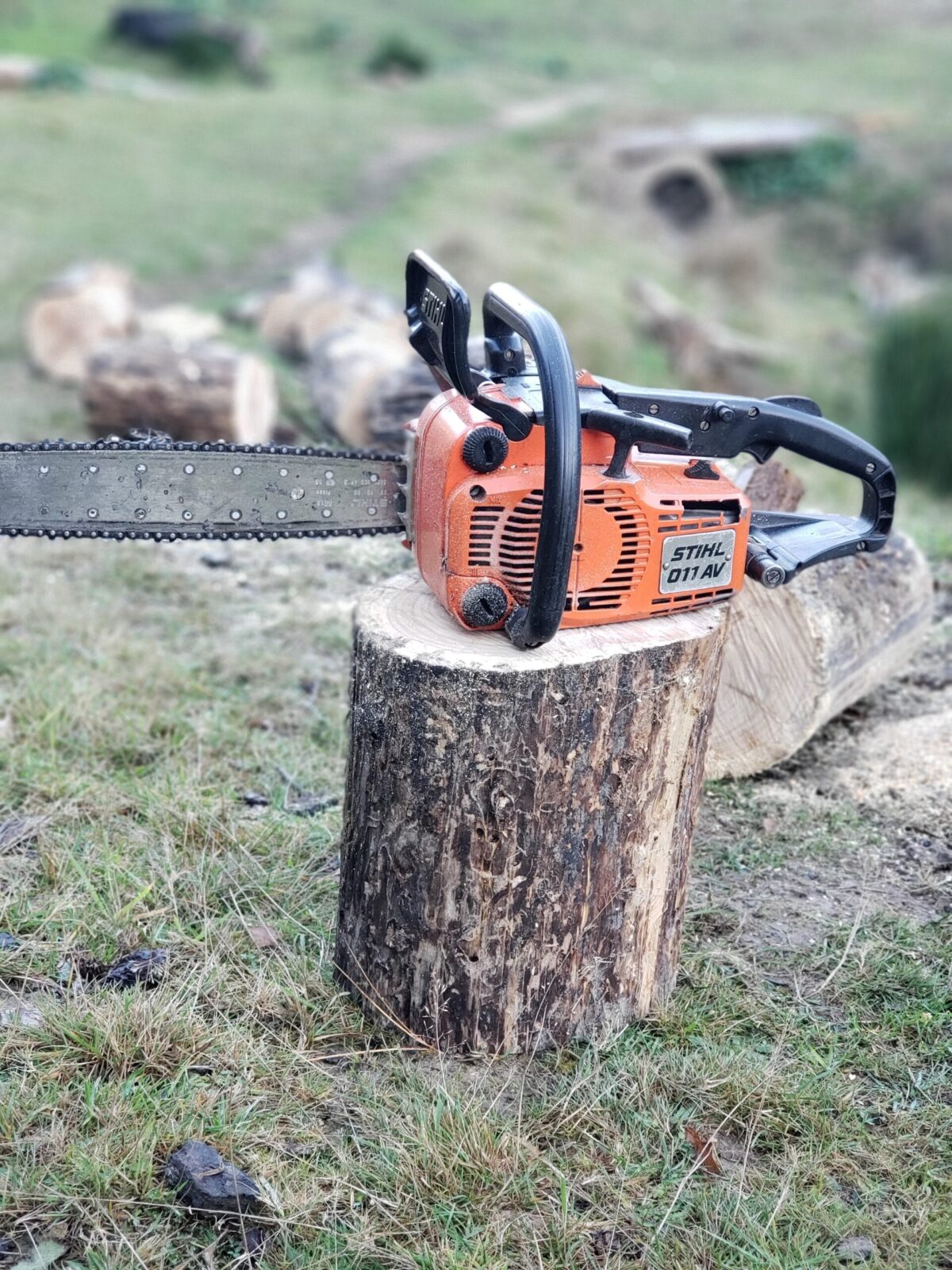 The 011 had quite a long production period from 1980 to 1996, but there were a few different versions over the years (AVEQ, AVT, and AVET) – find out more about the model production years here.
It's a 41cc chainsaw that weighs around 9.7 lbs – the 010 AV is an almost identical saw that is a 37cc saw.
One of the things I like about it the most is its magnesium casing, something that isn't commonly found on low-powered saws.
The saw is designed for:
Light pruning and limbing tasks
Felling small trunk width trees
Bucking small logs for firewood
Light clean-up tasks
And while many old Stihl chainsaws are quite heavy and cumbersome to use, this one is not bad at all.
I cut up this 20 ft gum log with the 011 AV in about 15 – 20 minutes.
The saw didn't hesitate and got through it even better than I was expecting.
It's going to be a good little firewood saw!
Stihl 011 Specs And Features
The 011 choke switch is on top and the power switch is below that.
It has a trigger lock which comes in handy for starting the chainsaw as well.
The 011 has a chain brake and can be used with a 12 – 16 inch bar.
It has a felt air filter and an automatic diaphragm-style oiler.
Other specs:
41cc, 2.5 cu in
9.7 lbs
Centrifugal clutch
Magnesium casing
38 mm bore, 36 mm stroke
12 – 16″ bar
Bosch WSR6F or Champion RCJ7Y spark plugs
My 011 has been well maintained and runs really smoothly. It starts quickly every time. No problems yet.
Well… other than that it leaks bar oil if stored flat!
Stihl 011 Chainsaw Review
I've been really happy with this Stihl 011 AV.
It's light, maneuverable, reliable, and looks like it would stand up to some hard work.
My only two complaints are:
The leaking oil
Insane emissions
The guy I bought the saw off had done some work on the oiler and I haven't had a chance to see what's going on there yet, but if I store it on its side it doesn't leak at all.
It does still oil correctly when the saw is running, so it's not a big issue at this stage.
The emissions are also pretty standard for a saw of this age. When you compare the aroma from one of the 30 – 40-year-old chainsaws with that of a brand new modern chainsaw, there's a difference.
I also bought a new DEWALT 20v Max XR chainsaw, and as you can imagine, there's a big difference there with the zero emissions.
However, I also just acquired a McCulloch 610 which is a similar era to the 011. It weighs a ton and also puts out a decent amount of stink!
However, all that's beside the point. If you see a tidy Stihl 011 for sale, I'd grab it!
It's a good little chainsaw that goes hard and performs well.
Pros:
Light but powerful
Easy enough to work on
Most parts easy to find
Cons:
Stihl 011 Price
I wouldn't hesistate to recommend this saw if you see it listed for a fair price.
As I said, I paid a little under $100 for this saw, and wouldn't have paid much more than that.
However, you might see it listed for as low as $50 and as high as $200, depending on the condition of the saw and your location.
Some parts of the world command higher prices!
I'll use this saw for a month or two and then I'll sell it on so I can pick up a different model. I could keep it, of course, but I'm starting to run out of room.