There are plenty of large chainsaws and bars out there, but only one that takes the cake.
We'll get into some real info on the largest and longest chainsaws that are fit for cutting trees and logs, but first, we've got to tell you about Big Gus.
Big Gus is the Guinness World Record holder for the title of 'the world's largest working chainsaw' – but's it's not going to be milling logs or dropping a tree anytime soon!
Longest Chainsaw
Big Gus is a working chainsaw measuring 22 ft 11 inches long and 6 ft high.
It was made by Moran Iron Works, Inc. of Onaway, Michigan, in 1996. It is on display at Da Yoopers Tourist Trap at Ishpeming, Michigan, USA, alongside the world's largest working rifle.
I don't have any measurements on the bar length, but it certainly looks longer than any of the others we have featured below.
From watching the video, it looks like that chain can pick up a bit of speed, so hopefully not just anyone can crank it up and get it going!
So that is the world's biggest chainsaw, but as one commenter in the YouTube comments states:
Now that we've got Big Gus out of the way, let's take a look at some of the longest chainsaw bars you can actually use on your chainsaw. Or, if you like records, find out the record for juggling chainsaws!
Longest Chainsaw Bar
The Stihl chainsaw pictured above has a 72-inch bar on it.
A 72-inch bar is the longest bar that is commonly found for chainsaws, though they are not readily available.
Amazon, for example, has only one 72″ chainsaw bar for sale as I write this – though Amazon isn't necessarily the go-to store for specialist chainsaw equipment. This listing is for a Forester chain and bar for use with a Husqvarna XP chainsaw.
Other large chainsaw bars include:
Oregon chainsaw bars are kept in stock up to 42″, but you can special order larger size bars
Cannon Super Bars are another option for a 72″ chainsaw bar which can be run on Stihl or Husky saws
Cannon bars are made in Canada by Cannon Bar Works and are well known for being of excellent quality. They are said to have the hardest-wearing bar rails compared to any other chainsaw guide bar manufacture in the world.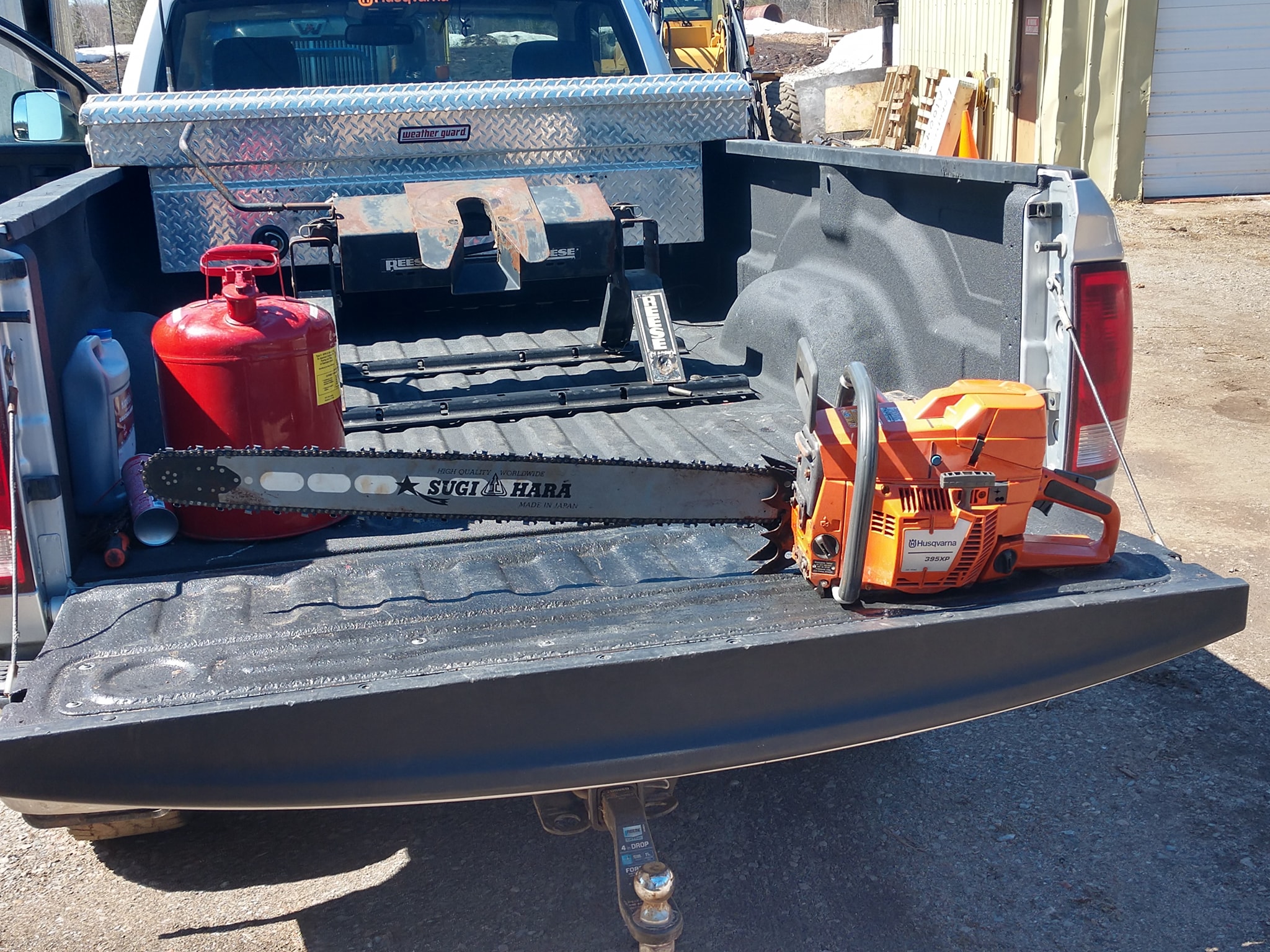 There are also long chainsaw bars going up past 100 inches, but they are few and far between. After 72″ they tend to be double-ended bars (for use with two chainsaw powerheads), which are another beast altogether.
The most common long chainsaw bar lengths are 36″, 42″, up to 60″. The chainsaw pictured above has a 59-inch bar on it.
Long Chainsaws Uses
One of the main tasks people buy long chainsaws for is milling wood – as demonstrated in this video.
Chainsaw wood mills have the chainsaw lying on the side held in place, so you are not having to hold the entire weight or maneuver such a large bar.
Besides slabbing great pieces of wood, large chainsaw bars are used by loggers for felling large trees and stumpwork.
Buy Long Chainsaw Bars
There are plenty of long chainsaw bars for sale on Amazon, like the 42″ Oregon bar pictured here.
Amazon stock many in the 32″ – 42″ chainsaw bar range, but have limited options for bars that are longer than that.
We've mentioned Cannon Bar Works already for bars 72″ and above. Granberg bars are another option. They make single-ended bars up to 84″, alongside much longer double-ended bars.
Biggest Chainsaws
Those are the longest and largest chainsaw bars!
You can find out about the world's biggest chainsaw here – it's the Stihl 090 which is no longer in production. The biggest Stihl chainsaw currently in production is the MS881.
We hope you've learned something and found what you're looking for, but please leave a comment down below if we've missed something. Make sure you have your chainsaw safety gear on (helmets, gloves, chaps, etc.) whenever you're working with these serious chainsaws.
While I haven't personally used one of these monster chainsaws, I have a good friend with a very large chainsaw bar and it is on my to-do list to try it out.
For those who aren't sure how long theirs is, here's how to measure a chainsaw bar.
Keep safe and happy sawing!