This is my new favorite tool… it's a chainsaw on a pole!
The Imoumlive Mini Chainsaw and Pole Saw Combo is a 2-in-1 battery-powered pruning tool. The company sent me one test out, and so I've had the pleasure of using it for a few hours, both as a mini chainsaw and as a pole saw.
They have a 6-inch version and an 8-inch version – I have the larger one (pictured throughout this post). The two versions have slightly different designs and I personally prefer the bigger one for reasons I'll share throughout. These are some of the things I've used it for and what I like about it.
ImoumLive Mini Chainsaw And Pole Saw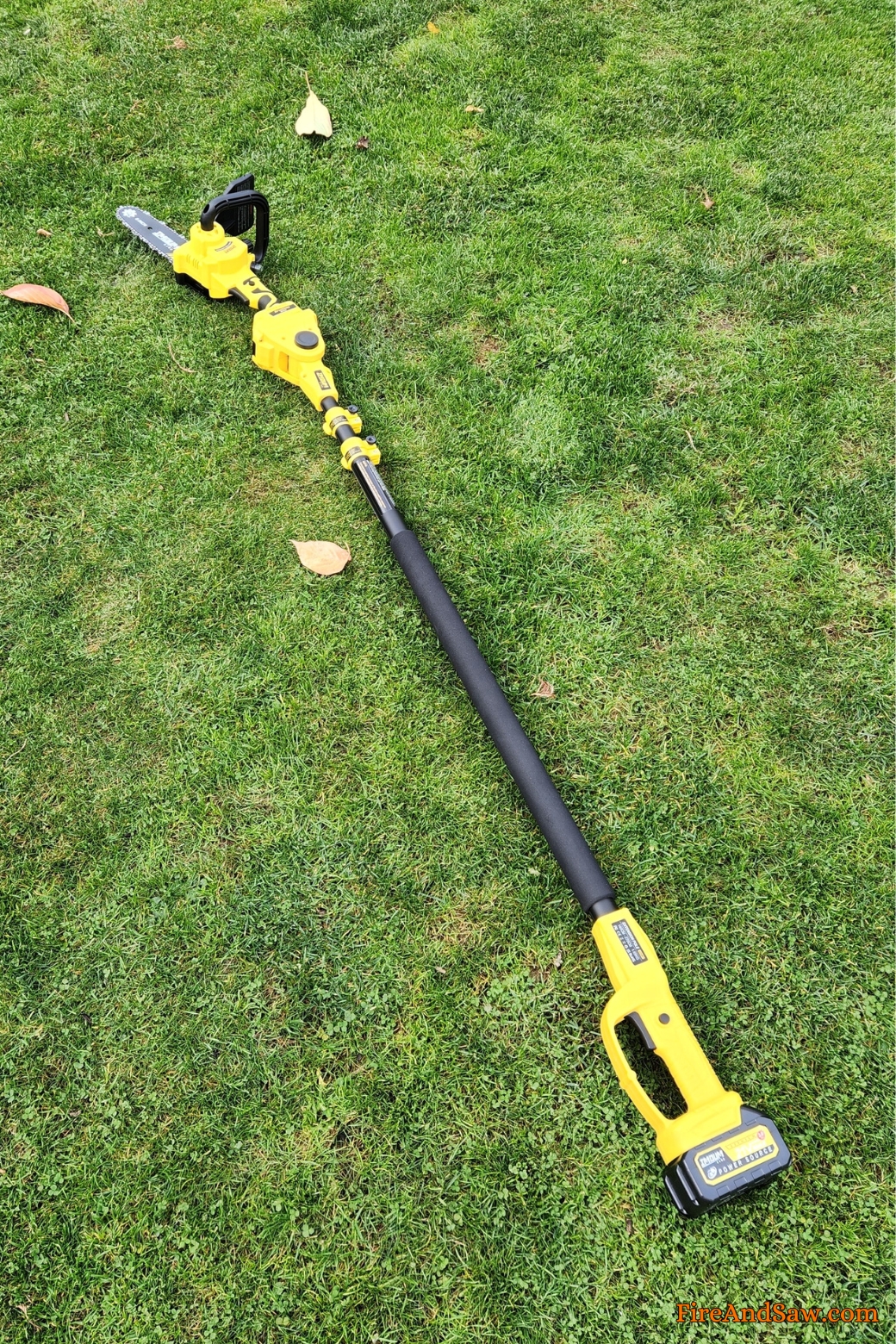 When using the Imoum Tool as a pole saw, you can alter the length to suit the height of the branch you are cutting. The pole has two extendable sections which can be extended to 15.2 feet.
The trigger with the safety button is pressed with your right hand while the left supports the pole with a comfy cushioned grip that runs up the first section of the pole.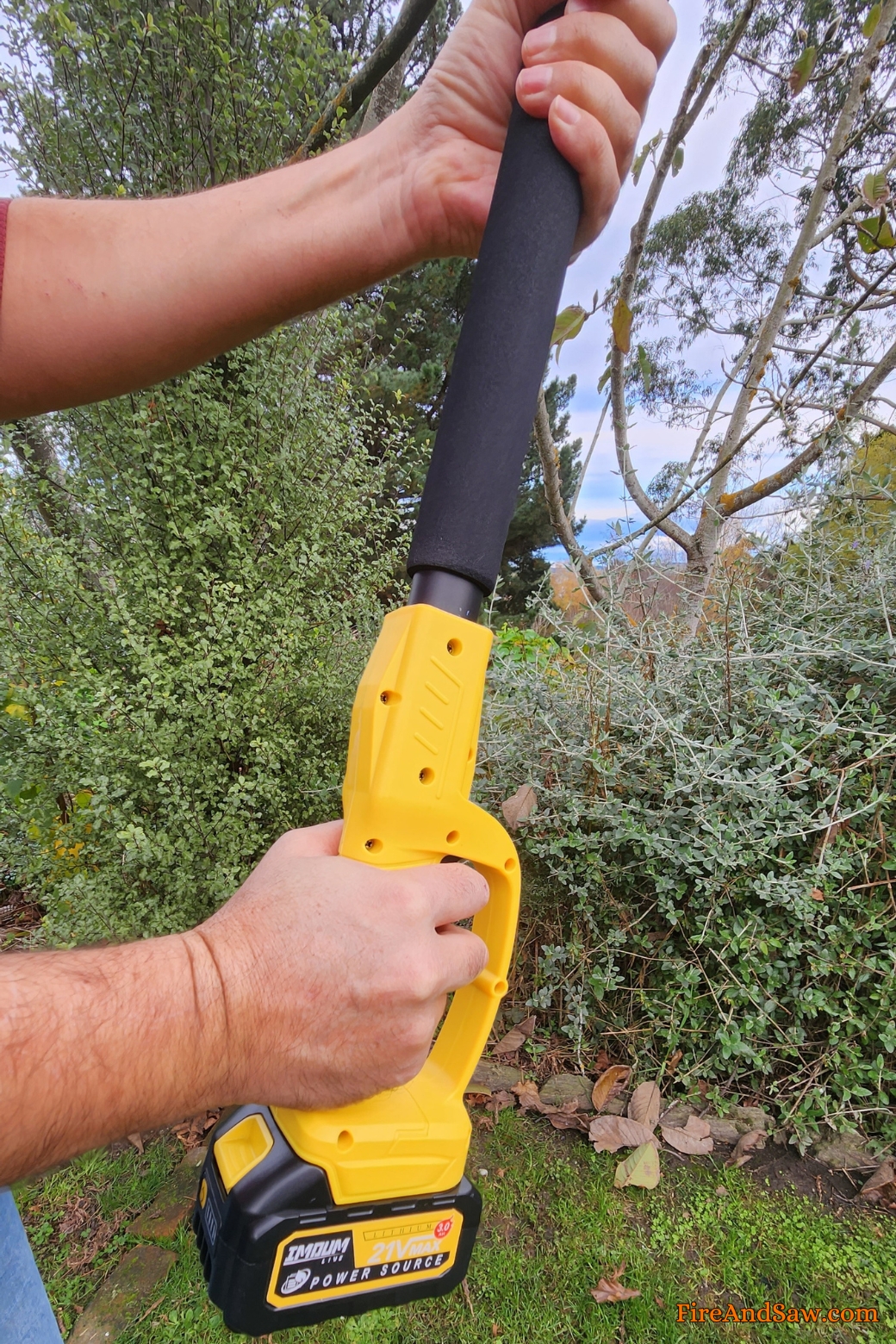 This saw also comes with a number of accessories as you'll see in the Amazon listing.
My chainsaw/pole saw arrived with:
Safety glasses
A chain file
3 Ah 21v battery and charger
A small brush and small funnel for filling bar oil, though I didn't need it)
Screw driver tools for attaching handle and guard)
And a strap for taking some of the weight of the pole saw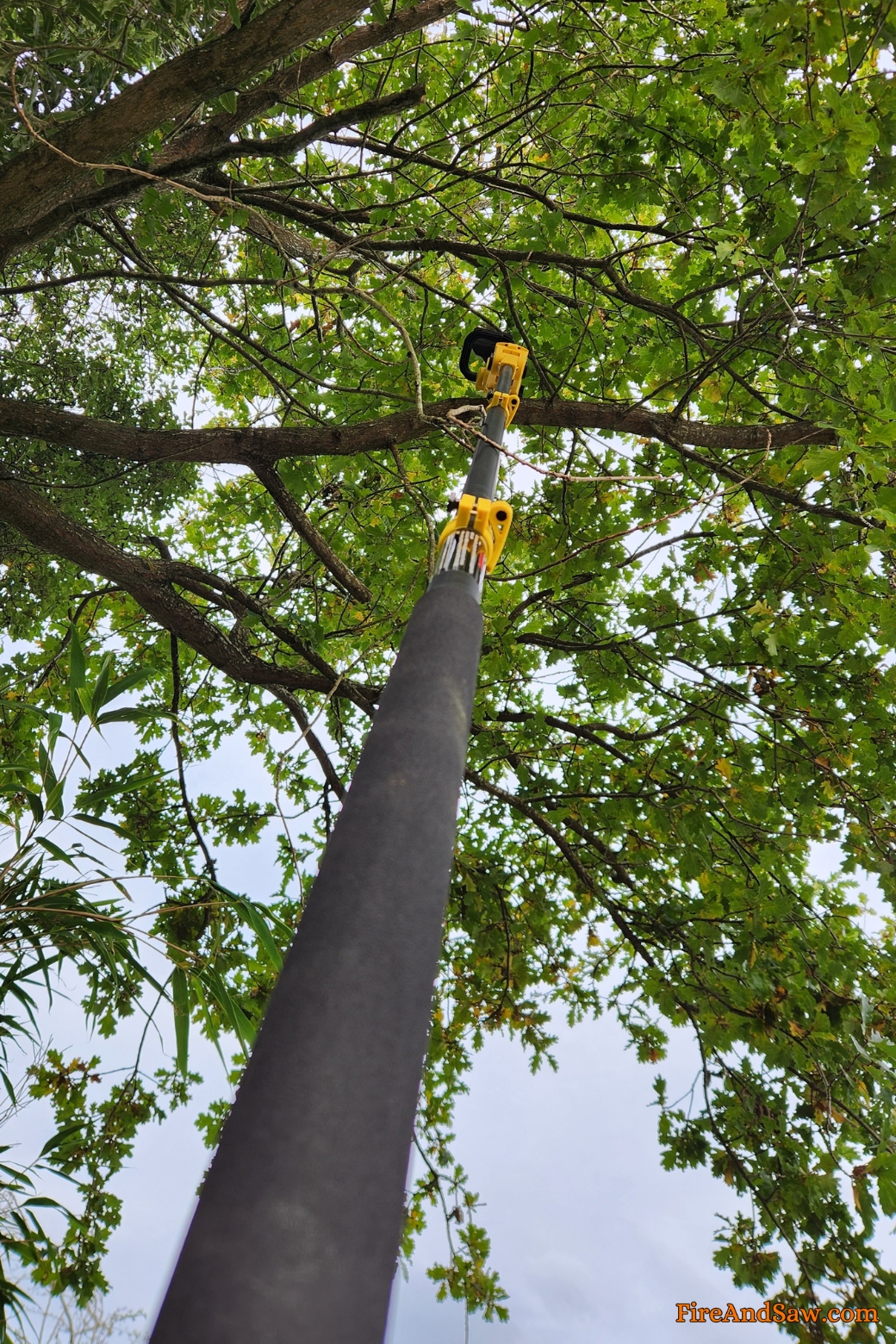 When pruning the lower branches of this oak tree with the pole at full extension I thought the pole handled the weight well. It wasn't difficult to lift and use the saw, and it cut through reasonably thick branches quickly and cleanly.
The pole is made from aluminium, so it's very light and most of the weight is in the chainsaw itself. The whole thing weighs 7.9 lbs but the when the pole is up it's very easy to manage.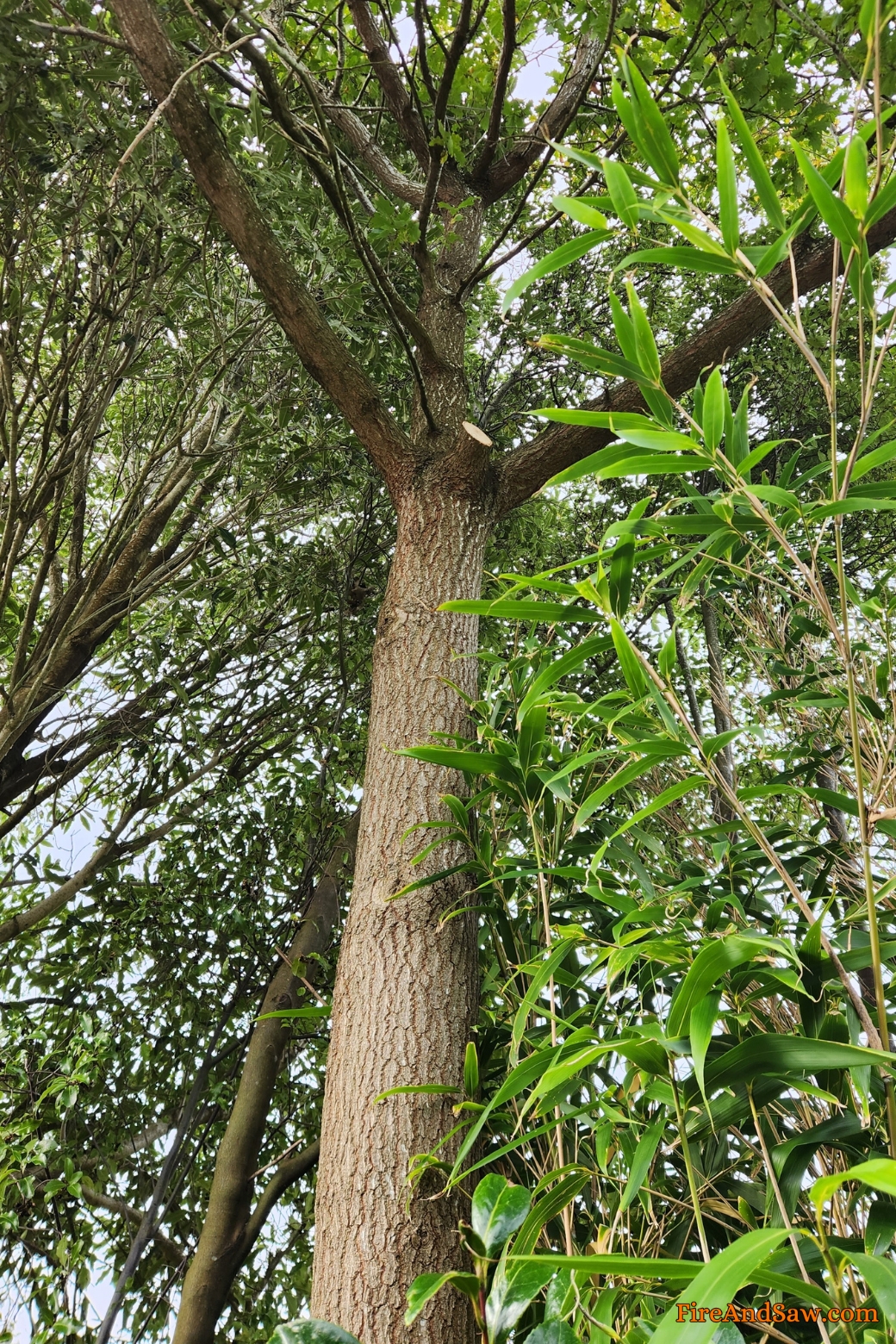 This oak hangs over some of our greenhouses and compost bins. It drops thousands of acorns every fall, hundreds of which end up in the compost. Then I get little oak trees coming up everywhere in my garden. So that's why I decided it was time for a trim.
I pruned away quite a number of branches which will make a big difference to the acorn drop. I think I'll take down many more – if not the whole tree – as I've transplanted a lot of oak seedlings in better locations around our property.
I love how this tool is not just a pole saw or not just a mini chainsaw – it's both! That meant I could remove the pole, slip the battery onto the mini chainsaw, and then start to break down the branches that I'd just cut down from the tree. The transition from mini chainsaw to pole is that simple as well.
The 8-inch blade was really good for cutting up the thicker branches, especially compared to 6-inch blades. I have many other mini chainsaws and I much prefer this larger model. It's designed better than the smaller ones and feels safer and stronger.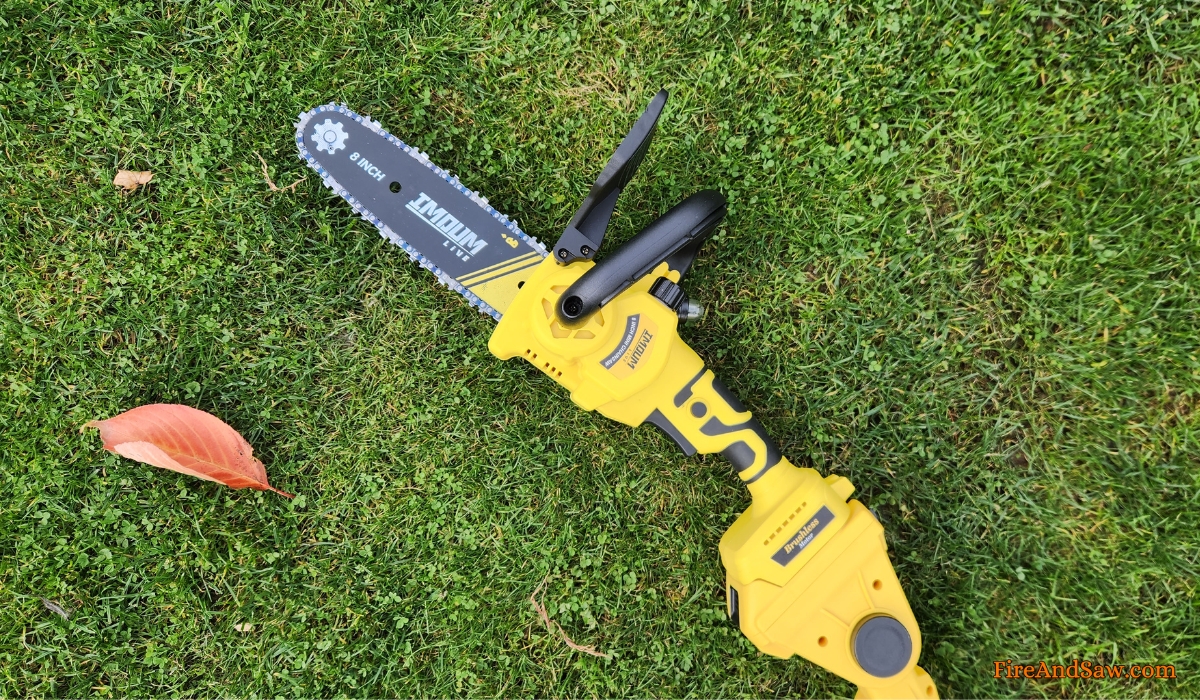 The other thing I really like about the 8-inch Imoum mini chainsaw is that it has a better hand guard and a handle for the left hand. You can use the saw with a single hand if needed, but it's better to have it with two hands. I cut my hand with a mini chainsaw a while back through one-handed use – and I should have been wearing chainsaw gloves, but when you hold the saw with two hands this can't happen.
The bar on the 8-inch chainsaw is also better or more like a real chainsaw bar rather than the pointy ones you find on many mini chainsaws. I think this design is better.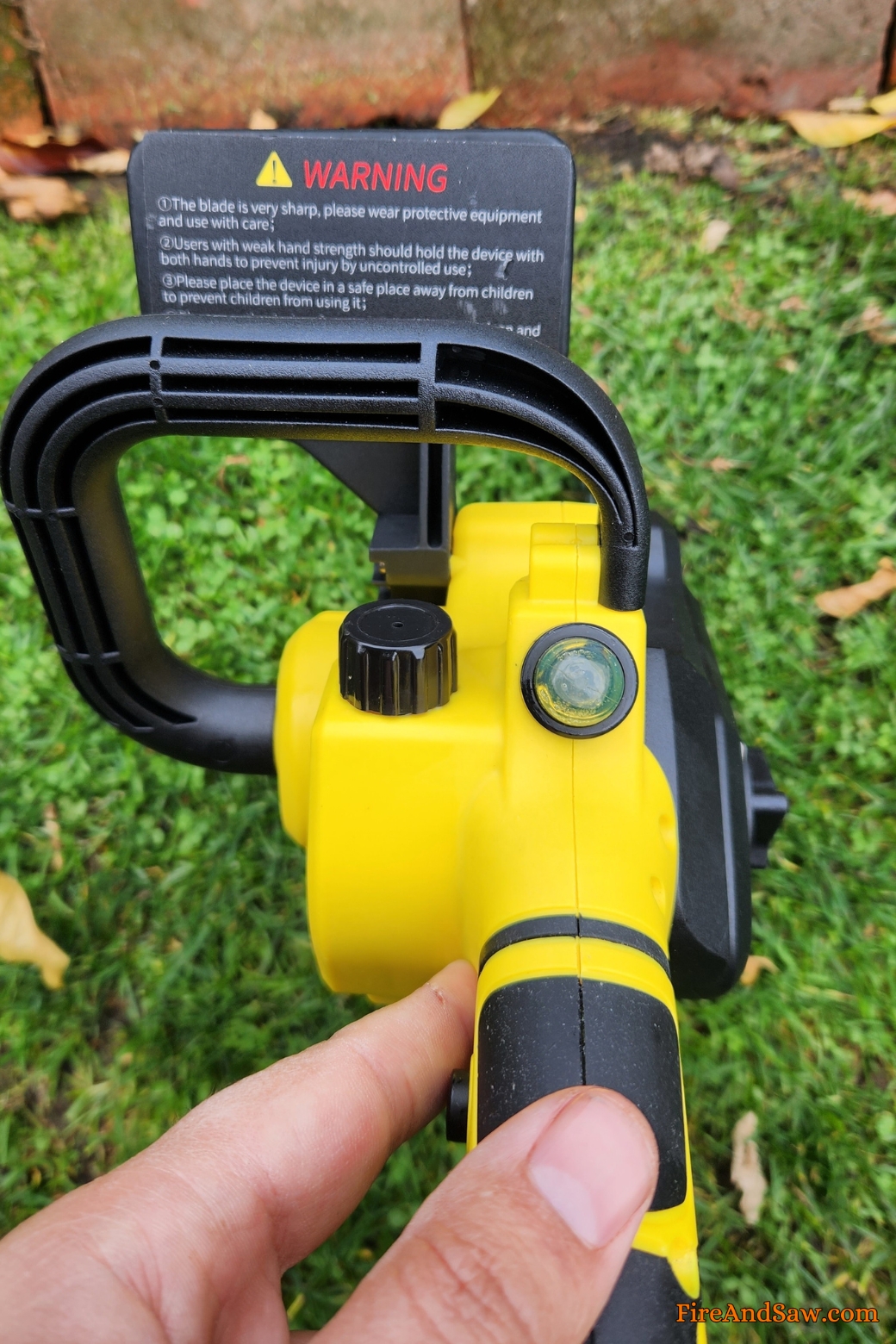 Another benefit of the Imoum Mini Chainsaw is that it has a tank for bar and chain oil with a manual oiler. Most mini chainsaws don't have an oiler at all and you need to put oil directly onto the bar and chain at regular intervals. It's much better to have this option instead.
On top of this, the Imoum batteries have an indicator to tell you how much power is left. When you push the power button the lights show 1 to 4 how much power remains. They say each battery gives 50 minutes of continuous use, but when you're actually using it, the saw is never continuously on, so it feels like you get hours of use out of each battery.
We took a large black maple tree down last year as it was overhanging our house. There was a large stump left behind, which I should have cut down by now, that grew some exceptional suckers. Mini chainsaws are great for these kinds of jobs. Usually, if you use regular pruning shears a job like this will take ages, but with a mini saw, everything comes off quickly.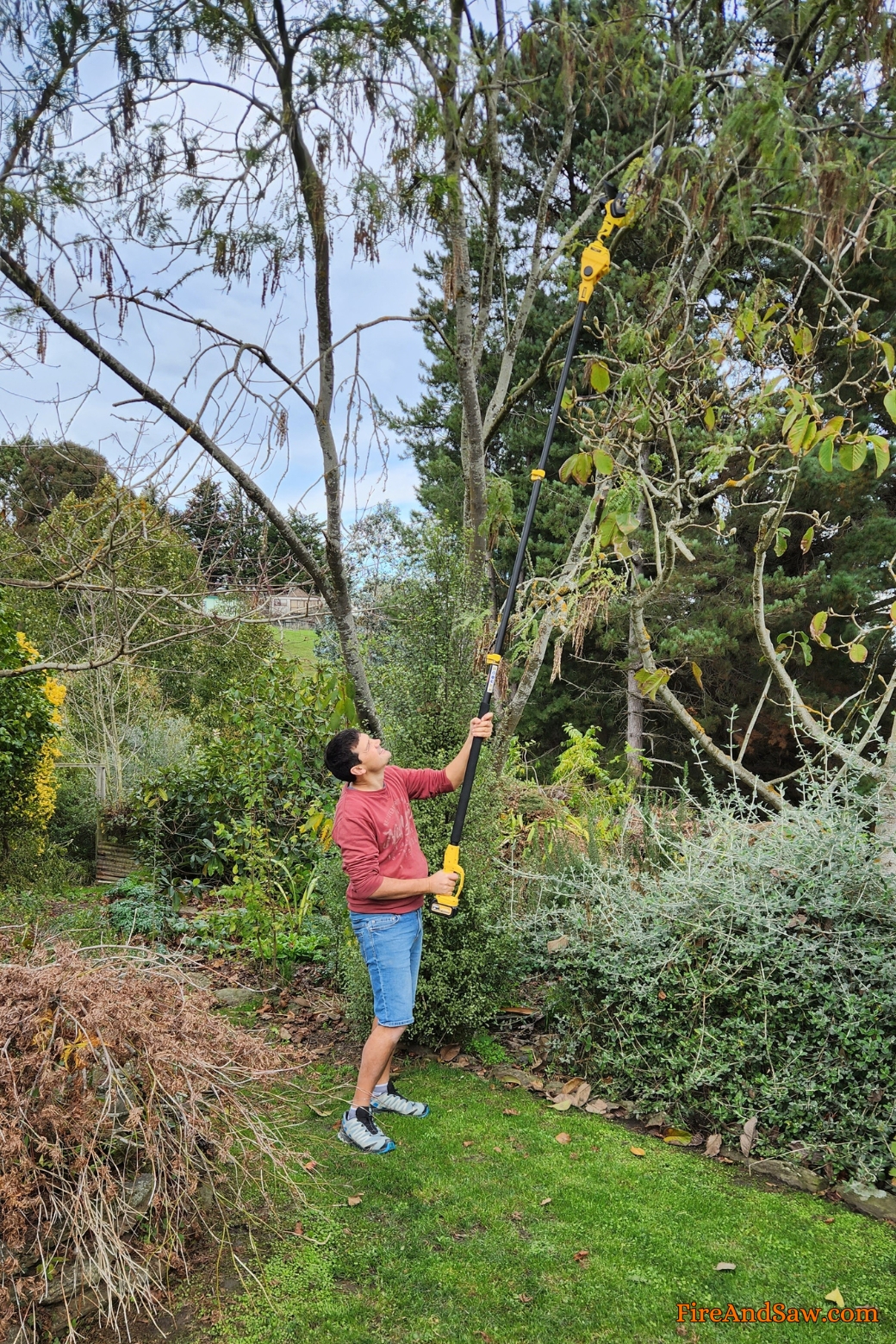 These pole saws are really good to use for pruning back dead branches before they fall naturally – especially if it's in an area where people walk, as were the dead branches on this Kowhai Tree. I don't know how else you could prune these branches other than with a pole saw!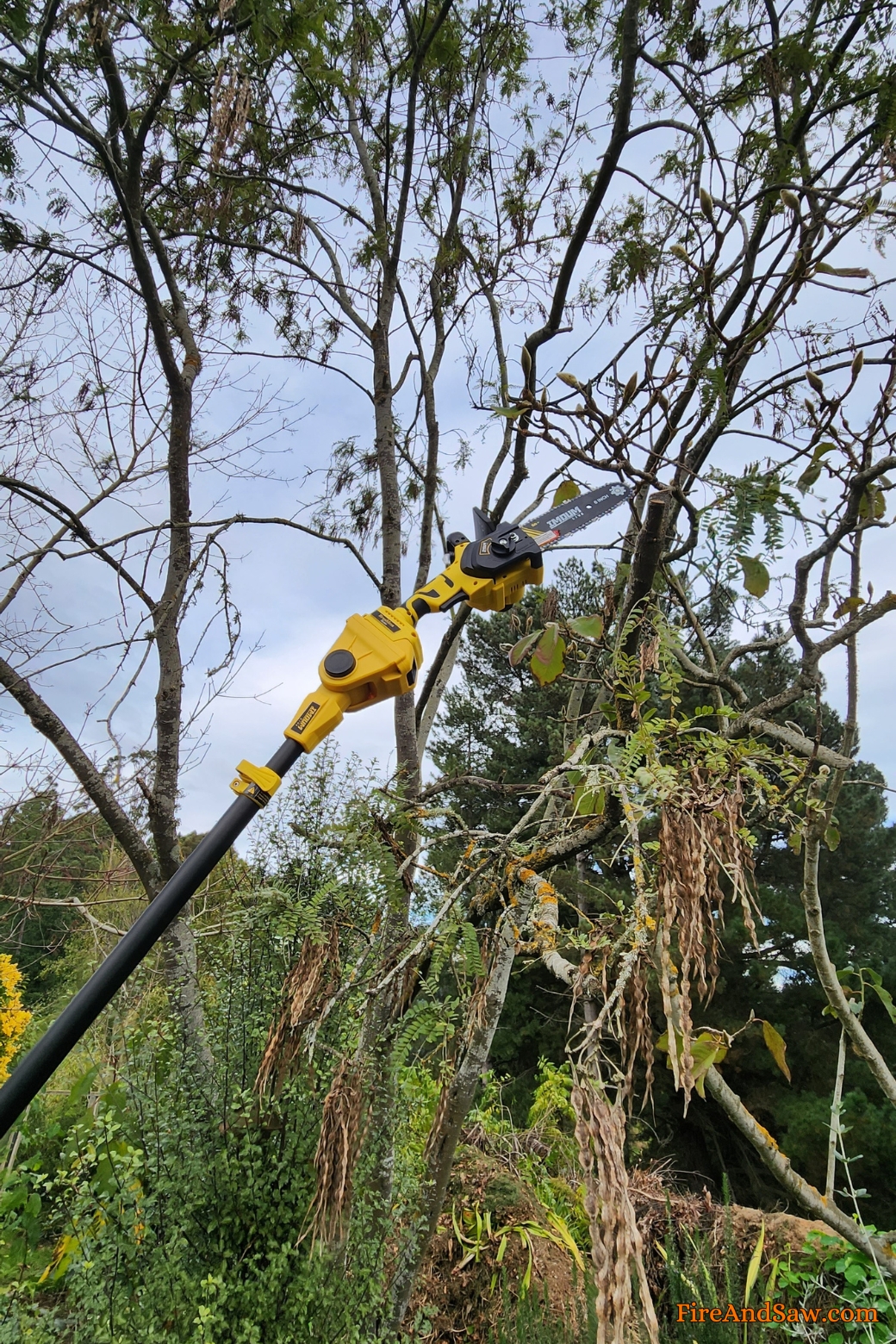 Much of the chainsaw/pole saw is adjustable, from the pole length to the angle of the mini chainsaw when it's on the pole. The chain can be tightened and loosened and the chain speed is variable depending on your trigger pull.
Imoum Tools Mini Chainsaw/Pole Saw Review
This whole thing has been a review but to sum up, I really like the Imoum Mini Chainsaw and Pole Saw combo. It's a neat tool that I will get a lot of use out of.
I think it has some very good features that set it apart from alternative mini chainsaws, like having somewhere for a second hand to hold, a hand guard, an oiler, battery indicator lights, and so on. The 8-inch bar is a good length for pruning sizable branches high up in the trees.
The fact that this is a small chainsaw with an extension pole is the real bonus. You're getting two tools in one, and both are very useful. I got this saw for free in exchange for this review, but I think the price on Amazon is good for what you get. While I've only used it for a couple of hours so far, the Imoum Mini Chainsaw seems like a tough and well-built tool for pruning and yard clean-up.