The Husqvarna 455 Rancher is a popular 55 cc chainsaw that is suitable for firewood, pruning, light-felling, and yard clean-up.
It's usually sold with a 16 or 18″ bar, though it can handle a 20″. I have a 20″ on my less-powerful 450 e-series and it runs well. The Rancher chainsaws are reliable, durable, hard-working chainsaws that are good for homeowner or landowner-type use. They are not professional chainsaws and aren't all that suitable for commercial or heavy-duty use.
Here's everything you need to know about the Husqvarna 455, including the different versions, specs, features, and user reviews.
*Images sourced from Northern Tool's 455 Rancher II listing.
Husqvarna 455 Versions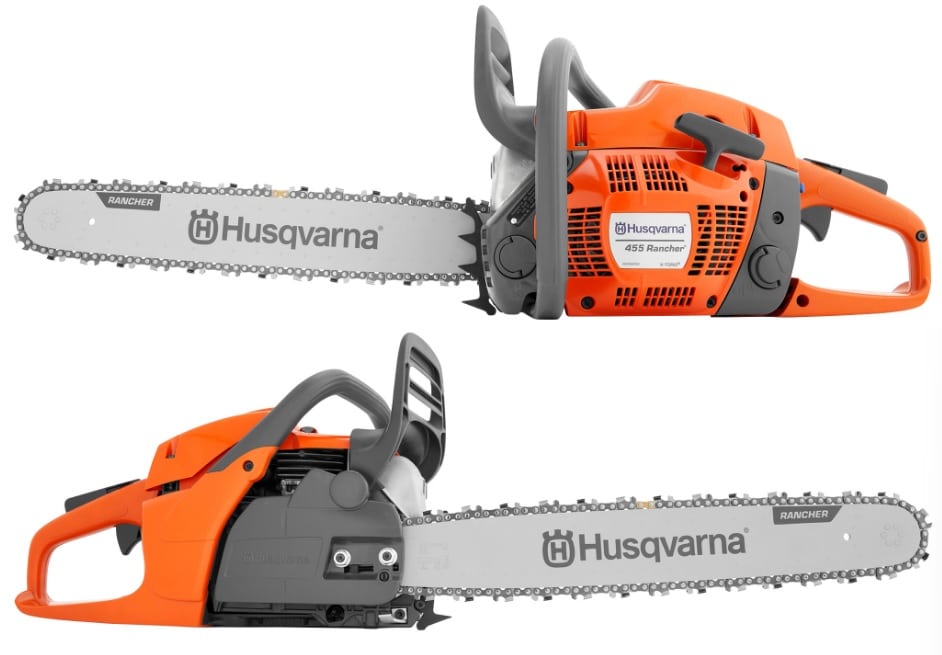 There have been a great many versions of the 455 since it first came out in 2004, replacing the Husqvarna 55. The version pictured above is the NEW 2023 Husqvarna 455 Rancher.
Other versions include:
455
455 e-series
455 e-series II
455 Rancher
455 Rancher e-series
455 Rancher II
Whatever Husqvarna 455 version you have or are looking at buying, know that they're all decent chainsaws. But keep in mind there are 20 years between the first models and today's models, so there are definitely some differences in how they look, perform, and feel.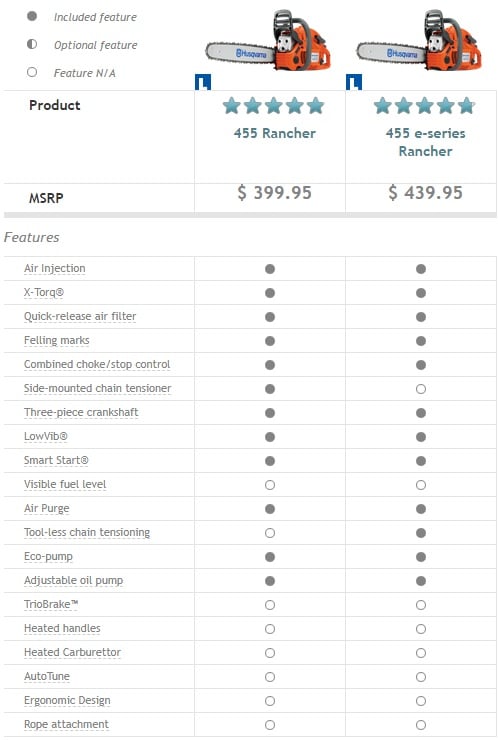 The differences between the versions are nominal. Usually, it means an extra feature that doesn't really affect the use of the saw. Often, there are minor differences that improve engine emissions and efficiency, or changes to the cosmetic look of the saw.
For example, the difference between the 455 Rancher and 455 e-series Rancher is that the latter has a toolless chain tensioner. That's the only difference between the two saws and what we assume e-series means. However, if you have a 455 e-series Rancher that has regular bar nuts, that just means it was produced once this designation stopped meaning anything (my Husky 450 e-series is an example of this).
455R Specs And Features
| Engine | |
| --- | --- |
| Cylinder displacement | 55.5 cc / 3.4 cu in |
| Power Output @ 9000 rpm | 2.6 kW / 3.5 hp |
| Cylinder bore | 47 mm / 1.85 inch |
| Stroke | 32 mm / 1.25 inch |
| Idle speed | 2700 rpm |
| Weight | 6 kg / 13.2 lbs |
| Spark plug | Champion RCJ 7Y/ NGK BPMR 7A |
| Electrode gap | 0.5 mm / 0.02 inch |
| Fuel and lubrication system | |
| Fuel tank capacity | 0.44 liter |
| Oil tank capacity | 0.32 liter |
| Type of oil pump | Automatic |
| Chain/bar | |
| Standard bar length | 20″ / 50 cm |
| Recommended bar lengths | 14 – 20″/ 35 – 50 cm |
| Pitch | 3/8″; .325″ |
| Gauge | 0.058; 0.050″ |
| Type of drive sprocket/number of teeth | Spur / 7 |
| Chain speed at max. power | 26.6 m/sec |
*Exact specs and features will vary depending on the version, year, and location made.
As already stated, this is a 55cc chainsaw and it is usually sold with a 20-inch bar. However, Husqvarna states it can be used with anything from 14 – 20 inches. Many users have found the sweet spot to be a 16 or 18-inch bar. This combo "really rips," as they say.
Adam said in an FB group:
Went from a 20" bar to a 16" on my 455. Noticeable difference in performance. Don't really need the longer bar if cutting 12 to 14″ rounds and the saw seems much peppier.
455 Rancher features include:
A good chain break to help prevent injuries from kickback
Easy access side-mounted chain tensioning system
A quick-release air filter for easy cleaning
X-torque engine lowers the fuel consumption
Great anti-vibe systems for better ease of use
Really easy to start up and use
Some versions have an adjustable oiler and decompression valve. They have bucking spikes and a decent anti-vibe system. It's best to run the 455 with ethanol-free fuel (as with all chainsaws). The 455 does not have AutoTune like the short-lived 465 Rancher.
The Husky 455 Rancher has all the standard features you would expect on a Husky chainsaw. You can expect one of these saws to last for many years of faithful service when you look after it right.
455 Rancher Review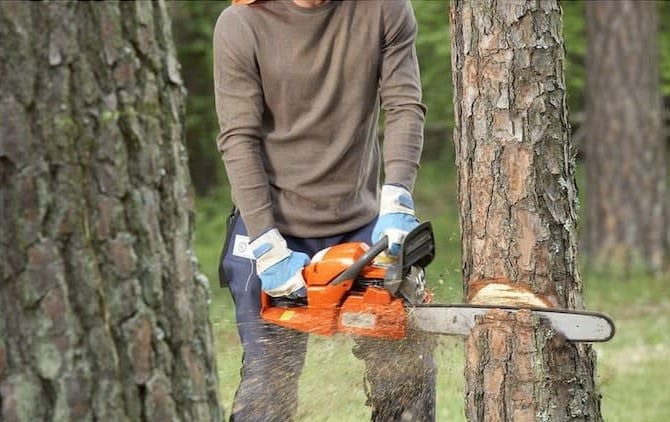 As with the Husqvarna 460R, the 450R has a lot of fans among its users.
Personally, I'd recommend the 460 over the 455 because you get that extra bit of power for a little more cost, but both saws weigh the same giving the 460 a much better power-to-weight ratio. But if your budget only stretches as far as the 455R, there's nothing wrong with it for a homeowner firewood saw.
There are better Husqvarna chainsaws out there, including pro models like the 372 XP, but not everyone needs or wants a pro-level saw. And the 455 isn't the worst Husky chainsaw – that title is reserved for the 240!
Well share some inciteful and helpful user reviews from the Husqvarna Chainsaw FB group, but you can also check out the 2023 455 Amazon listing here, or the previous version Amazon listing here – both are available for sale currently.
First up, the positive reviews…
Erik said:
My first love was a 455 Rancher, I've also got a 440e, plus some other saws we won't talk about.

A few years ago I committed the ultimate sin, I loaned out my 455 to a friend in need, it's never ran right since. I couldn't pass up a lightly used 2009 455 for $250 today off Marketplace.

I'm happier than a pig in the mud to have another one on the rack. These 455s are just unreal cutting machines.
Morgan said:
They get dogged on and I think it's a little unfair. It's a dependable saw that can pull a 20″ bar. For every ten saws I service locally, 8 of them are 450 series saws and they've all been rode hard. The 550 XP is better in every way, but the 455 was a definite improvement over the 350 and it's great at what it's supposed to do.
Walter said:
Those 455 and 460s are the most underrated saws ever. A modern saw in the class of the venerable Homelite s-xl of the 1960s that ran well. I prefer the 460 version for the extra power but have owned a couple of 455s over the years. Had one whose job was to ride on the back of a snowmobile dragging a sled to get firewood… was always completely packed in snow and usually that year the temps were in the teens. Always started. Never let me down.
Maxim said:
The 455 Rancher was design with lower RPM higher power…they did a good job for using the old style plastic chassis…wicked land saw she cuts but…the cheap plastic handle is strong but would be better off with a pro model.
And Allen said:
If it's gunna be a heavy use saw I'd spend the few extra dollars on a 550 or 562 XP. Or find a used XP on marketplace or something. If you already have the 455 run it. They are great saws for firewood. Just won't stand up to the abuse like like an XP.
Shorter positive user reviews:
My 455 is the easiest starting saw I own. Not super powerful but a good all-around saw to have.
I own a 455 Rancher, 2010 model. Has always been a good reliable saw!
They're definitely good saws. Like a Timex, just keeps on ticking.
Have had a 455 R for about 14 years now and have beat the hell out of it and it has never once broken down.
Put a 16″ bar on mine haven't been happier with it saw really impressed me.
I love my Rancher! Does what I need it to, and it's light!
Some 455s had carb issues but it is a strong saw.
Perfect for a beater saw. Its good for firewood and is pretty reliable.
Love mine. Cut a lot of wood over the years. Never a problem.
I own three of them. Great saws.
I didn't like mine until I put a ported muffler on it, really woke it up.
And the less-positive reviews…
Brett said:
I don't understand the following of those plastic, cheap constructed, overpriced pieces of s**t. If you think you have a good saw with a 455, you've not ran a good saw.
Caleb said:
If you are looking for a budget semi-pro type saw check out the Echo 590. Husky doesn't really offer anything similar in construction for that price. Or, for basically the same price, the Echo 620 is even better.
Kaven said:
I had a 455 Rancher. Upgraded to a 562 XPG. Game changer.

After running a 550xp, 562xp, or higher, you will never touch a homeowner saw again. Power-to-weight ratio, and mostly, hand vibrations are the major factor for me.
Shorter negative user reviews:
If you think a 455 is fast try a 562xp. It'll blow your socks right off.
I have two 455 Ranchers and haven't run them in years. Much better options out there.
The weight-to-power ratio is pathetic with that saw… 372 XP best all-around saw.
Buy yourself either a 550, 562, or 572, and thank me later
Not a fan of them myself.
The 455 is heavy and lazy.
The main pros of the Husky 455 are that it's affordable, durable, and runs well. The saw is good for a range of tasks from limbing to bucking firewood, and with the right care should last a decade.
The cons are that the power-to-weight ratio isn't great and the saw can't be compared to a professional chainsaw. Most true Husky experts would prefer a used 357 XP over a new 455 Rancher, for example. But then you need to know what to look for in a used chainsaw.
Price And Parts
Most good chainsaw retailers will stock the Husqvarna 455 Rancher. This table shows our recommended retailers and it's worth comparing prices to get the best deal on the day (remember to factor in shipping, if any).
Also, check on eBay here for new or used Husqvarna 455 Ranchers, as well as parts for the 455. Depending on where you buy from, you might also be able to buy or get a hard case as well. Husqvarna sometimes runs promos in which they give out a free chainsaw case.
Some other buying options also include Husqvarna oil and other chainsaw accessories like chaps, gloves, and visors. The 455 is always sold with a new bar and chain (when bought new).
Husqvarna 455 Rancher Chainsaw
The Husqvarna 455 Rancher is a good all-rounder saw. No, it's not the 550 or 562 XP, but it's a decent homeowner chainsaw.
It's good for processing firewood, cleaning up downed trees, felling small to medium trees, and other general home and farm work. It's also been used in orchards and on construction sites, though again I think there are better saws for those settings.
Husqvarna is one of the two best chainsaw brands which usually makes it easy to find parts and service. The other benefit is the Husqvarna chainsaw communities on FB and forums. If you ever have any issues, there are thousands of other people with the same saw that can help you solve them.
If you have any other questions about the 455 chainsaw (or any other), let us know in the comments below. We'll get back to you asap!