Vogelzang is known for producing dependable wood stoves.
The company was founded in 1974 and was taken over by the well-known wood stove brand US Stove in 2010.
Vogelzang appliances combine the classic wood stove appeal with efficiency and warmth. The popular stoves have excellent features and precision parts that last.
The more modern versions include high-tech features, like ceramic glass and touchable handles. Each model has airtight construction that endures for years to come.
We'll discuss some of their top products and establish why you should consider adding a wood stove to your home for warmth and comfort.
Best Vogelzang Wood Stoves
Vogelzang Fireplace Insert

Perfect for an old fireplace space
Heats 1800 sq ft
Can be bought with or without vent kit

View On Northern ToolView On Tractor Supply

Vogelzang Wood Stove

A freestanding wood stove in 3 sizes, small, medium, large
Heats between 1500 and 2500 sq ft depending on model
Includes a blower

View On Northern Tool

Vogelzang Pellet Stove

For those who don't want to deal with firewood
48,000 BTUs for heating up to 2200 sq ft
60 lb pellet capacity

View On Amazon
We chose these models based on their various features. Regardless of which stove you purchase, you'll get a distinctive style and great functionality. All of these wood stoves perform well.
While we can't elaborate on every wood stove or accessory in this article (like Vogelzang barrel stove kits), we'll help you determine if these wood stoves fit your needs. This Vogelzang review will give you a better idea if you want to look more into this brand.
Each model below is durable, can function with pellets or wood, and is certified by the EPA (Environmental Protection Agency). While they differ in features and appearance, every Vogelzang stove is high-quality.
1. Vogelzang Deluxe Wood Burning Insert with Vent Kit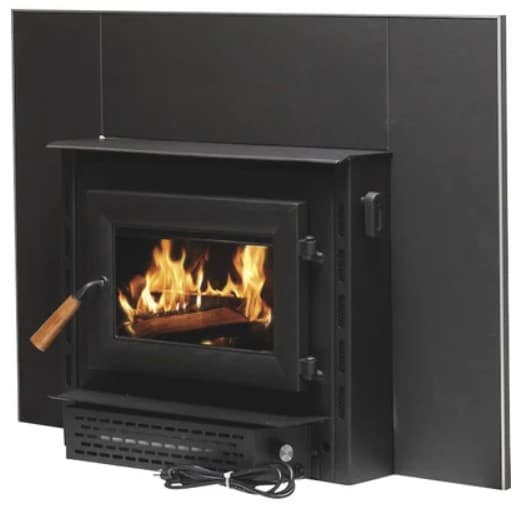 The Vogelzang Deluxe wood-burning insert is an excellent option for those looking to update their hearth but not purchase a standalone unit.
It fits perfectly into the wall as a fireplace replacement or as a new addition to your home.
Some specifications for the Vogelzang Deluxe wood-burning insert stove are that it weighs 315 lbs, holds logs up to 18 inches, and has a BTU of 69,000. The Deluxe model heats 1800 square feet and includes a stainless steel ventilation kit.
This wood-burning stove suits almost every household aesthetically and practically. Most users report that the unit takes about 2 to 4 hours to install, depending on the number of people involved.
DIYers love the insert unit, as it requires minimal effort and spruces up living rooms effortlessly. However, if your home is above 1800 square feet, you may want to consider a larger model.
Pros:
Easy installation
Stay-cool handle helps prevent injury
Includes a 100 CFM blower
Cons:
It does not suit mobile homes
The fan can become loud during extensive use
---
2. Vogelzang Plate Steel Wood Burning Insert with Blower
Similar to the deluxe model mentioned above, the Vogelzang Plate Steel wood-burning stove is a fireplace insert that's small but mighty.
The unit fits 18-inch logs, slides into most fireplaces, and weighs slightly above 300 pounds.
The primary difference between this wood-burning stove and the deluxe version is that it does not come with a ventilation kit. You must purchase the vent separately (it's required for the stove to function adequately).
Most reviewers state that the unit heats their home effectively and cuts down on gas bills.
The stay-cool handle helps you add logs and adjust the stove without burning your hands, but some users report even the wooden handle becomes too hot to touch without gloves.
If you need a fireplace insert and already have a ventilation kit, this Vogelzang wood stove will suit your needs well. Like the other inserted model, you cannot install the unit in RV, campers, and mobile homes.
Pros:
Small but effective
Lower price than the deluxe fireplace insert
Works for heating individual rooms or small homes
Cons:
Door pins can be flimsy
It may not burn as long as other models
---
3. Vogelzang Plate Steel Wood Stove with Blower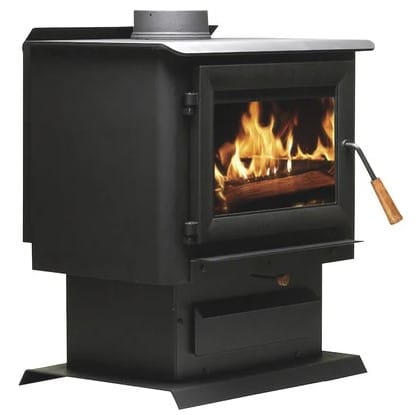 If you want options, the Vogelzang plate steel wood stove is for you.
This standalone unit has a modern-yet-vintage look and comes equipped with the classic Vogelzang features. The model heats up to 2,000 square feet and has a BTU output of 89,000.
The Vogelzang standalone stove comes in three sizes:
The first product (mentioned above) is 23.5 x 22.5 x 28 and weighs 335 lbs
There's one more substantial unit that weighs in at 390 lbs and most likely requires professional installation
Finally, there's a petite version that heats 1,200 square feet and weighs slightly under 300 lbs
While most users report positive results from this unit, it still has its pitfalls. Below are the pros and cons of the three standalone Vogelzang models.
Ideal for a backup unit during power outages or reducing electric bills, the Vogelzang freestanding wood stoves work well for a variety of households, but particularly for houses with high square footage – the biggest unit heats up to 2,500 square feet.
Pros:
Covers multiple home sizes
Mobile home-friendly
No challenging installation or additional parts needed
The large model fits up to 21-inch logs
Cons:
You can only insert wood in one direction
Some reviews say it does not heat their entire home
---
4. Vogelzang Slimline Pellet Wood Stove
While the Vogelzang Slimline may be a bit of a splurge, most people find the cost worth it in the long run.
The pellets allow for a longer burn time and mean you don't have to worry about refueling the stove every few hours.
The Slimline holds up to 60 pounds of pellets and heats up to 2,200 square feet. Other convenient features include remote control, an LED thermostat display, and an included 200 CFM blower.
Using wood is authentic and traditional, but you may want a longer-lasting unit to heat your home.
If you want something that lasts and rarely needs refueling, the Slimline will suit your needs – but it won't give you the crackling wood aesthetic as some of the other Vogelzang stoves on this list.
If the Slimline sounds like your ideal wood stove, check out the pros and cons of the model.
Pros:
Accessible top controls make it easy to adjust your heat settings
Permitted for use in mobile homes
48,000 BTUs
Cons:
It may be challenging to assemble
You have to take the unit apart for cleaning
---
5. Vogelzang XL Wood Stove with Blower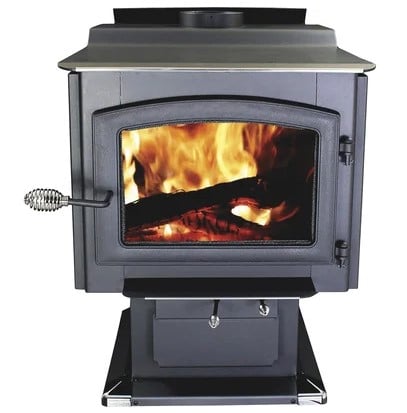 The Vogelzang XL lives up to its name – this powerful model heats up to 3,200 square feet and lasts up to 14 hours per fuel load.
Its elegant and antique-inspired design provides a cozy aesthetic that fits any decor.
This wood stove is fire brick-lined and holds up to 22-inch logs. The 14-hour burn time makes for powerful heating throughout winter nights and keeps you from having to fill the stove every hour.
The Vogelzang XL works for most large homes and heating needs, but it has its downsides. It's not as big as these good wood cook stoves, for example.
This wood stove has excellent ratings, with the primary complaint being it can be challenging to clean and may be overpowering for small homes. If your home is below 3,200 square feet, you may want to try a Vogelzang stove made for less expansive spaces.
Pros:
6-inch flue collar
Includes a 100 CFM blower
152,000 BTU
Cons:
---
6. Vogelzang Cast Iron Wood Stove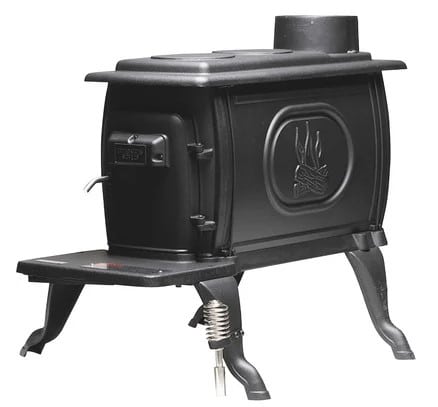 Are you looking for an efficient wood stove without a high price tag?
The Vogelzang cast iron stove is the perfect fit. Designed like the wood stoves of yore and with lightweight-yet-durable materials, this unit suits cabins, garages, workshops, or 900 square foot or below homes.
It holds 19-inch logs and weighs 125 pounds. Other features include a 6-inch flue collar and 54,000 BTU output.
Remember, this wood stove is relatively bare-bones and does not have the technology that other Vogelzang stoves may have, but it's still efficient and heats well. Overall pros and cons are below.
If you need something to heat your garage or workshop, the Vogelzang cast iron stove is an excellent choice. However, households in need of something to heat their entire house may want to try another model.
The Pipsqueak Wood Stove is another good alternative that is very similar (especially if you're in the UK).
Pros:
Traditional wood-burning stove look
Under $500
Simple installation
Cons:
Not suitable for large houses
It does not work for mobile homes
---
7. Vogelzang Cast Iron Boxwood Stove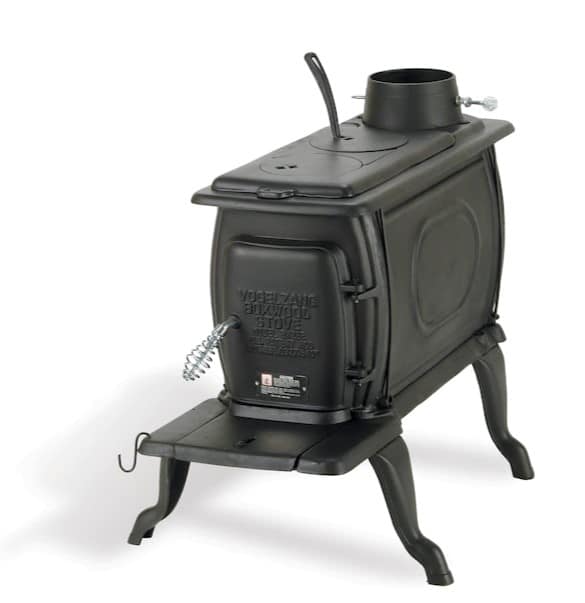 The Vogelzang Boxwood stove is similar to the cast iron model above but has a few features that differentiate it from its counterpart.
Its unique traditional design is eye-catching without causing damage to your wallet. The Boxwood has an easy-open lid for convenient refueling and works well for small spaces (like hunting cabins or garages).
The high-quality cast iron provides heat naturally and holds logs up to 23 inches. Its 96,000 BTU and included damper make for simple setup and fuel reloading.
Some reviews state that the Boxwood stove has a short burn time (about 2 hours similar to the Cubic Mini Grizzly). That may work for workshops or garages, but not for long-term heating. If you need a heater with ample burn time, try the Vogelzang XL.
This model keeps your place warm during the cold season, whether you want this Vogelzang in your garage or small home.
The cast-iron stove is small, with the following dimensions: 32" x 26" x 21". It's similar to these pot belly stoves.
The Vogelzang boxwood stove still manages small pieces of firewood, heating up to 800 square feet. The BTU rating is 162, which is impressive considering the size. The 100% cast-iron construction helps the entire stove absorb heat.
The stove radiates warmth into the room, even when the fire burns out. If you want an effective stove, look no further than the standard boxwood.
This boxwood stove is unique and has a personality, mimicking the features of an old-fashioned stove without the large, unwieldy size.
The multi-purpose stove is ideal for those with no cooking facilities. The cooking outlets are removable, so you can place cast-iron skillets on top to make delicious meals throughout the day. See these other tips for using small wood stoves.
Finally, the top slides off, so you can tend or load firewood into the stove. The door remains the easiest way to reload wood. You don't have to wear gloves when grabbing the spring handle.
The 6-inch venting system is customizable, opening and closing when you need to make adjustments.
Pros:
Cool-touch spring handle
Includes 2 cook lids
Heats up to 800 square feet
Cons:
---
8. Vogelzang Performer
The Performer is no longer being produced and sold new, but you'll still hear about it from time to time.
This wood stove earned its name because it does just that: performs. You get a lot of heat for a long time.
The Performer burns up to 12 hours on one load of wood. The firebox is large and can fit logs up to 20 inches in length. Cast iron constructs the feed store, and the handle locks to ensure heat stays where you want it: inside.
The large 17" x 9" ceramic glass window gives you a great view of the fire. Additionally, this stove features air wash technology, similar to the Dwarf Mini. In other words, you don't have to waste as much time cleaning up the soot.
The design ensures you can dispose of the coal remnants with an ash drawer that slides out.
Also, the Vogelzang parlor stove has refractory fire brick, meaning the unit will last for future years and can handle high temperatures. The 6-inch venting system and high-speed blower quietly push air into the room, keeping your place warm and cozy.
The stove heats up to 2,200 square feet with 119,000 BTUs and a 75% efficiency.
---
9. Shiloh Wood Stove
The Shiloh wood stove is an attractive unit with pewter accents and is another model that is no longer widely available.
Once more, this stove is EPA certified and meets regulations for use in the states.
The cast-iron door allows for easy wood replacement. The 14 ½" x 8" window lets you watch the fire without awkward maintenance.
Similar to the previous model, the Shiloh uses air wash technology.
The combustion air stays between the flame and glass, meaning you won't get soot on the viewing window. The feed door locks securely, and you can easily remove the ash drawer. The refractory fire bricks mean higher burn temperatures, and you can put up to 17-inch logs inside.
The Shiloh ensures heat for several hours after one filling, meaning your home has added comfort and warmth. The 100 CRM pushes air outward, and the flat surface is ideal for boiling water for tea or hot cocoa on cold winter nights.
Use a good wood stove fan on top of the appliance to help push hot air around the house.
---
10. Defender Wood Stove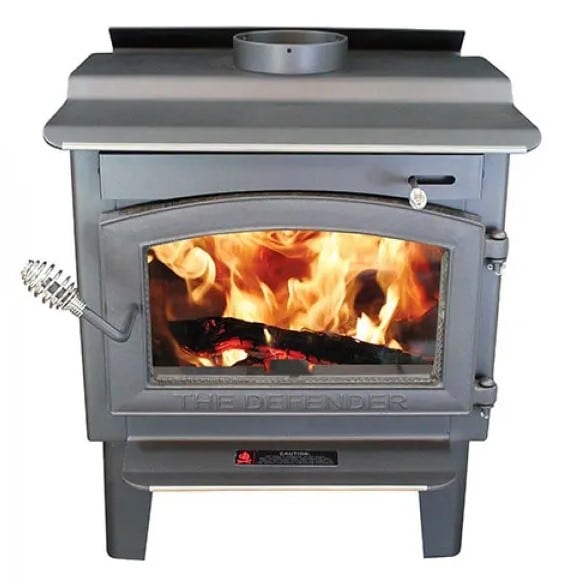 The Vogelzang Defender wood stove features the same qualities as the previous two, including a pewter trim with a charcoal black surface.
You can watch the blazing flames through a large 14.5" x 8" ceramic glass window, giving your home a comfortable and inviting feel.
The air inlet ignites the wood easily, using an efficient method to burn fire, create heat, and save energy. You only have to fill the stove once to last several hours, so you can sleep through the night without freezing.
17-inch logs do well in the Defender, and you can adjust the legs as you see fit. The blower is optional, but the Defender includes firebrick lining for 75% efficiency.
The Defender is safety tested and EPA certified. This Vogelzang wood stove heats up to 1,200 square feet with 68,000 BTUs.
---
11. Ponderosa Wood Stove
The Ponderosa is the most substantial Vogelzang wood stove they make.
The unit produces 152,000 BTUs per hour. It can heat up to 2,600 square feet and can fit 22-inch logs. The total width is 26 inches, meaning you can put more wood inside; the unit can hold up to 30 pounds.
You can go the whole night without shivering in the morning because the stove went out. The cast-iron door has a large 15" x 9" window and shares all the typical Vogelzang wood stove qualities like air wash technology.
The combustion air between the flame and glass prevents dirt buildup. The fire brick makes clean-up easy and can endure higher temperatures.
This wood stove operates more effectively with an ashtray you can dump conveniently. You don't always need an ash bucket handy.
The Ponderosa wood stove is 87% efficient and includes a mobile fresh air kit. The 100 CFM blower pushes warm air outwards to make your living space more comfortable.
The large black surface area is fantastic for kettles and steamers, keeping your air humidified during the dry and cold winter months.
Ashley Wood Stoves are another good alternative brand that creates stoves similar to this model.
---
What To Look For in a Vogelzang Wood Stove
Let's go over some basics when shopping, so you'll know what makes Vogelzang stand out amongst its competitors.
Then, we'll elaborate more on the stoves themselves to give examples of the top Vogelzang products that countless people rely on during the colder months for cooking and heating.
Size
The size influences how much space wood stoves heat.
Some Vogelzang wood stoves can warm up to 2,500+ square feet. A few variations can fit 18-inch logs, while others can manage 21-inch pieces. Consider the area you need to heat before purchasing.
BTUs
British Thermal Units measure the amount of heat from fuels or energy sources.
Vogelzang wood stoves pack a punch, with some going past 100,000 BTUs. Vogelzang wood stoves get designed to produce the most energy possible. The firebrick design means that each unit will have a long life and efficient combustion.
Vogelzang wood stoves have outstanding heating capabilities. The stove increases burn time while decreasing the refueling time.
Additionally, Vogelzang doesn't impact the environment negatively with a low carbon footprint. Each model meets modern certification requirements, acting as America's oldest sustainable resource.
Appearance
The standard airtight stoves include a black charcoal finish.
The heavy cast-iron door and air-washed ceramic glass ensure your safety while enhancing the appearance of your house. The sturdy design has a primary air inlet at the front, meaning the wood ignites quickly upon startup.
You can purchase the blower separately, and some handles range from natural wood to cool-touch metal. The larger design makes it easy to load logs efficiently. The integrated ash pans limit the amount of clean-up time.
Reasons To Get A Wood Stove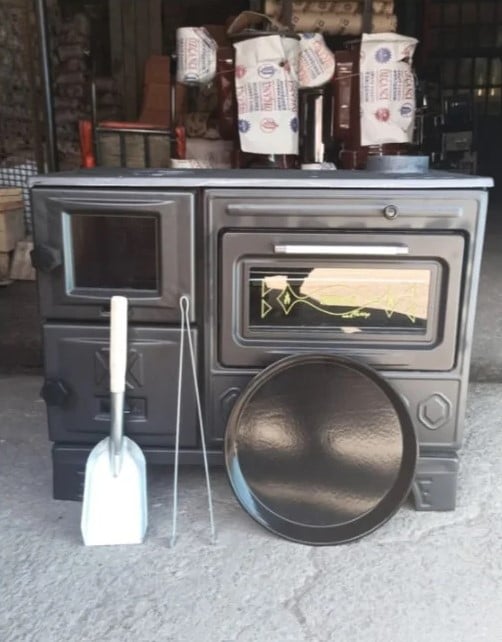 Wood-burning stoves are a long-term solution to expensive home heating bills, making a great addition to your household.
These appliances have become increasingly popular due to their lower costs and striking appearances.
Vogelzang wood-burning stoves are a renewable heat source, helping the environment. Furthermore, Vogelzang meets EPA (Environmental Protection Agency) standards. In other words, these appliances surpass clean air requirements.
This brand is conscientious of the air we breathe while reducing energy consumption.
You can use it as a substitute cook stove and an alternative heat source. You can heat water for coffee or take a portable wood stove to heat your tent during a camping trip.
Hunters frequently rely on small wood-burning stoves in their cabins to keep them comfortable during outdoor excursions.
Three Types of Wood Stoves
The standard categories for Vogelzang wood furnaces are small, medium, and large.
Small stoves heat 600 to 1,000 square foot areas. Medium stoves can reach 2,000 square feet, while their most sizeable models can heat up to 3,000 square feet.
Consider the area you need to heat and understand the layout and characteristics of your home. For example, think about whether or not your home is well-insulated.
How many windows does your place have?
Does your home have a high ceiling?
Also, the location and climate are important factors when purchasing a wood stove.
Vogelzang Heating Product Types
The two primary Vogelzang wood stoves are the standalone wood stove and the inserted fireplace. Below is a comparison of the two.
Fireplace Insert vs. Freestanding Wood Stove
Each product has its benefits and downsides, but the principal difference between the fireplace insert and freestanding wood stoves is the installation method.
The fireplace insert models essentially take the place of a fireplace and attach it to a chimney. Freestanding models do not require a fireplace or chimney to function and stand alone.
Installing a fireplace insert can be challenging, and most individuals suggest hiring a professional to assist with installation. Freestanding wood stoves, however, weigh more and can be cumbersome to move around.
Wood Stove vs. Pellet Stove
Wood stoves require firewood and logs to work, while pellet stoves function using wooden pellets.
Wood-fueled stoves work well if you don't mind purchasing firewood and re-kindling the fire every few hours, but pellet options may suit you if you don't want to deal with firewood and want longer burn time.
Pellet stoves can be more expensive than wood stoves, but the overall runtime and convenience factor of inserting pellets suit most households. If you have to buy logs often, the price may end up balancing itself out.
Wood Stove Vs Pellet Stove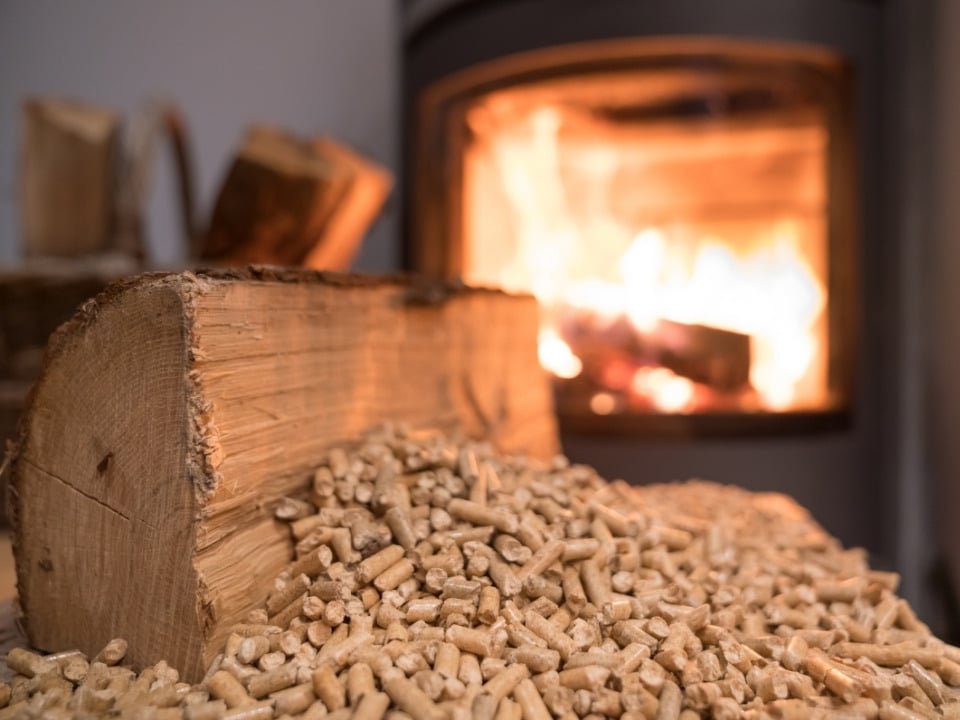 What's the difference?
Here's a quick Vogelzang pellet stove review. A wood stove requires more maintenance; however, you can better control pellet stoves with automatic and programmable features.
Otherwise, Vogelzang pellet stoves look very similar to their counterparts. You can get standalone or insert models that include a glass window. Pellet stoves can go up to 90,000 BTUs. The downside to pellet stoves is that they require ash removal and more clean-up.
Some users complain of noise or motor problems with pellet stoves. Also, pellet stoves require energy for their operation instead of loading up logs to burn like wood stoves. Pellet stoves are pricier than wood stoves and don't last as long.
Nonetheless, Vogelzang sells both types of stoves, so you can look more into pellet stoves if interested.
Vogelzang Wood Stove FAQs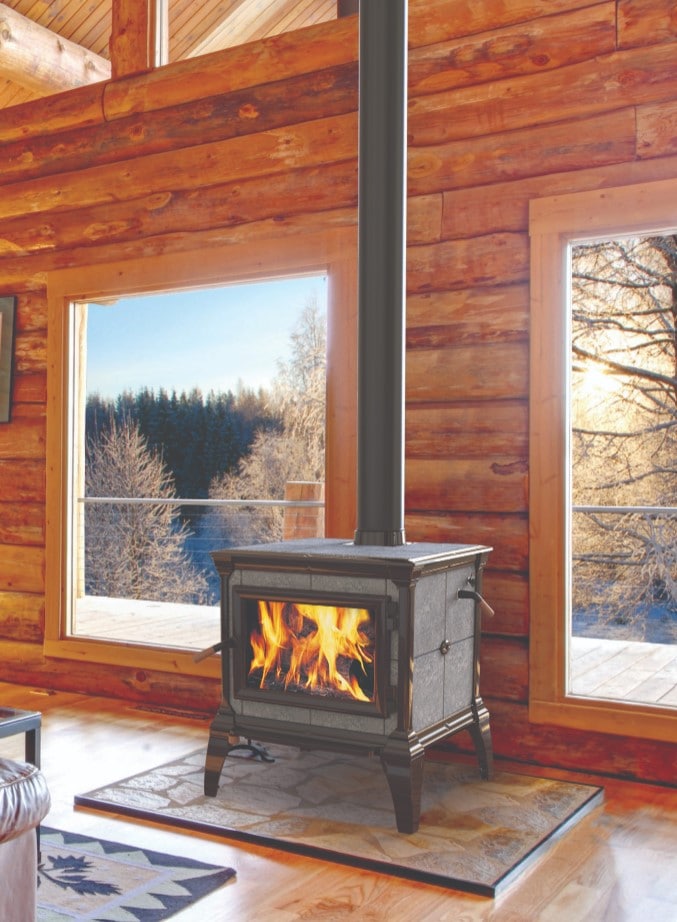 Are you still wondering which Vogelzang wood stove will work best for you? Below are a few common questions from other curious buyers.
Where Are Vogelzang Wood Stoves Made?
Vogelzang wood stoves use German techniques for the overall look of the units, but the products are manufactured in China.
They are not made in Europe or the United States, which deters some buyers.
Are Vogelzang Wood Stoves Reliable?
Most reviewers state that Vogelzang wood stoves are quite reliable and last through several winters with little to no maintenance required (outside of the expected cleanings).
Some report having issues with installation and parts upon delivery. If you notice missing or broken parts, Vogelzang wood stoves come with a limited lifetime warranty (confirm with the retailer) and will replace the unit or missing items.
What is the Useful Life of These Wood Stoves?
Vogelzang does not specify a lifespan for these stoves, but most wood stove units need changing once every 10 to 20 years, depending on how much it gets used.
If you clean it regularly and keep its parts in check, you can extend the life of your Vogelzang stove by several years.
Is Installation Easy or Does a Professional Need to Do It?
Vogelzang wood stoves are relatively easy to install compared to other models, but some are more challenging than others.
Fireplace insert units may need a professional as the chimney is involved, but the freestanding stoves (like the Boxwood) do not connect to your walls or fireplace and therefore typically do not need professional installation.
If you do not have experience with wood stoves, you should consider hiring a professional to ensure everything functions well and is safe to use. They have specific regulations and rules to follow to prevent dangerous mishaps.
What Else Do I Need Besides the Wood Stove Appliance?
You will need a damper, blower, and flue to accompany your wood stove.
You may also need a stovepipe, chimney, and fireproof floors. During installation, consider purchasing a heat-resistant wall covering and floor mat.
Additionally, have the required codes and policies for your state on hand to ensure your unit is up to par. Make sure you baby proof your fireplace if there are kids around.
Vogelzang Wood Burning Stoves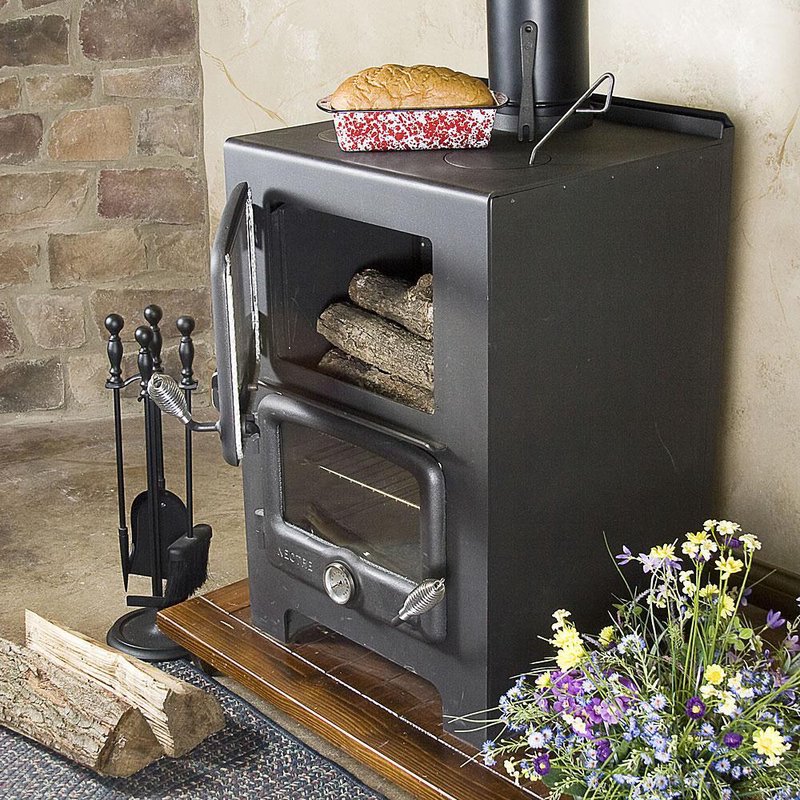 Vogelzang combines affordability and commendable standards with a one-year guarantee.
Vogelzang produces several wood stoves that suit a variety of needs and households. Whether you need a fireplace insert to accompany your modern farmhouse aesthetic or prefer an antique-inspired cast iron model, your home will be warm and cozy regardless of which stove you choose.
This company is going strong, so you can easily find replacement Vogelzang wood stove parts if something happens to your stove. You can order well-made units that will improve the look and feel of your home.
Carefully evaluate the options before buying a new wood stove. Compare the costs and features. Regardless, you're making a good investment in your home with a company that cares about the environment. Your family and friends will appreciate the look and added heat when they come over.
Hopefully, after reading this Vogelzang wood stove review, you now have a better idea of what this company offers. Research more about the previous products or look at their website to learn more if you have any questions.
For a completely different option, check out this round-up of the best electric fireplaces – they're the next level in hands-off home heating!