The Vermont Bun Baker is popular for a number of good reasons.
These unique wood-burning stoves are high quality and are multipurpose. They can be used for heating your home and water, and they have both an oven and cooktop. Great for those wanting to be more self-sufficient.
When first looking at the Vermont Bun Baker line-up, it can be confusing to understand the differences between models.
To put it simply, there are 2 different models – the standard base model and the XL. After that, these two base models can be customized with different amounts of soapstone surrounds. The image and table below make it easy to see the differences between Bun Baker stoves.
*The Vermont Bun Baker is the same as the Nectre Wood Fire Ovens.

They are made by the same company in Australia, but are branded Nectre in Australia, and Vermont Bun Baker in the Us (and the US gets the soapstone options).
Vermont Bun Baker Versions Explained
On the far left, you have the base model Vermont Bun Baker and the Vermont Bun Baker XL.
It probably goes without saying that the XL is the larger wood stove. It has a larger stove and cooktop, and it puts out a lot more heat. We'll cover more of the differences shortly.
As you look at the listings from left to right, you'll see they progressively have additional features. The second image has the basic 1 ¼" soapstone surround, the next one also has a base. The fourth and fifth buying options have a thicker 2 3/8″ soapstone veneer.
The final option on the far right has the complete 2 3/8″ soapstone surround, plus the wood storage pedestal underneath.
When you go looking to buy a Vermont Bun Baker wood stove, it feels like there are so many options to choose from, but as you can see, it's more simple than it initially appears.
There are 2 different sized stoves, but you can buy each in 6 different ways with more or less soapstone.
Here's a table to further demonstrate the differences between the models – compare prices between retailers. You might get a discount code from Lehman's and Fire Pit Surplus after signing up for their mailing list.
Vermont Bun Baker Base Model

The base model without any soapstone
Smaller model: 30,000 BTUs; larger model: 65,000 BTUs
Models: BB0350 & XL0550

VIEW ON LEHMANSView On Fire Pit Surplus

1.25 inch Soapstone Veneer

Soapstone veneer helps to retain and radiate heat
Also a really nice design feature
Models: BB0650 & XL0850

VIEW ON LEHMANSView On Fire Pit Surplus

1.25 inch Veneer and Base

Comes with a soapstone base
Looks good & radiates more heat
Models: BB0750 & XL0950

View On HVAC Direct

2 3/8 inch SoapStone Veneer

A thicker soapstone veneer
Provides even more radiant heat as fire dies down
Models: BB1000 & XL1600

View On HVAC Direct

2 3/8 inch Veneer and Base

A thicker base matching the veneer
Also protects your flooring under stove
Models: BB1200 & XL2000

View On HVAC Direct

2 3/8 inch Veneer, Base, and Pedestal

Top of the range with wood storage
Raises stove off the ground
Models: BB1500 & XL2500

View On HVAC Direct
Note that things like installation and flu kits may be an additional expense.
Before buying, remember to add up the cost of all the additional things you will need for the wood stove. This will include, accessories, flu, chimney tops, hot water boiler, installation (if you're not doing it yourself), and so on.
Neither of the Bun Baker ovens is a small wood stove, but the smaller version can be quite good for cabins or other small homes.
Vermont Bun Baker Specs And Features
First, we'll take a look at the smaller Vermont Bun Baker, also known as the Nectre Bakers Oven.
We've already established that the same stove can be bought in 6 different ways from NO soapstone through to a complete soapstone surround with a pedestal.
This model is suitable for heating an area of 700 – 1000 square feet with a heat output of 30,000 BTUs, and it goes without saying that it's a freestanding wood-burning stove.
It is a radiant wood stove and does not contain a fan (you can buy a wood stove fan to put on top for better heat circulation).
Here are the specs of the base model:
Dimensions: Height – 32 1/2″; Width – 21 1/2″; Depth – 21 1/2″
Weight: 350 lbs
Cast iron doors
Steel and iron construction
Ash pan
Built-in thermometer
Spring handles
Removable cook rings
Oven rack
Bypass damper
It also comes with a 10-year limited warranty.
Vermont Bun Baker Review
This is a good review of the Vermont Bun Baker and Nectre Bakers Oven.
Pros:
A good heat source
Good for cooking and baking
Great as it has cooktop and stove
Two removable surfaces if you need more heat
Can be used to heat your home's hot water (additional cost)
Cons:
Thermometer not accurate
Small firebox
May rust a bit if you get water on it
It's a good idea to get a heat thermometer gun to be able to accurately get the temperature of the oven.
Vermont Bun Baker XL Specs And Features
And this is the Vermont Bun Baker XL or Nectre Big Bakers Oven.
This model can heat up to 2500 square feet with a heating capacity of 65,000 BTUs. As you can see, it is a lot larger.
Specs are basically the same as the smaller option, this one's just bigger.
Specs:
Dimensions: H – 27 3/16″; W – 22 1/2″; D – 33 3/4″
Thermometer readings in Celsius & Fahrenheit
Ash Pan
Ceramic glass and cast iron doors
Glass door for the oven and firebox
Direct radiant heat cooktop with 1/4″ top plate
2 removable cook rings
Built with long-lasting steel and iron
10 year limited warranty
This model puts out more than twice the heat of the smaller Vermont Bun Baker, so it's best for larger spaces.
Vermont Bun Baker XL Review
You can see the larger baker wood stove in this review – note that it doesn't have any of the soapstone.
Pros:
An effective wood heater
The cooking feature is awesome
Lots of happy customers
Quality construction
Cons:
Inaccurate temp gauge
Bo blower (can buy separately)
Top rack in the oven can get too hot'
It will take time to learn how to cook in the Vermont Bun Baker wood stoves – the first few times you might have some accidents, but it doesn't take long to learn how to use it well.
Soapstone Pros And Cons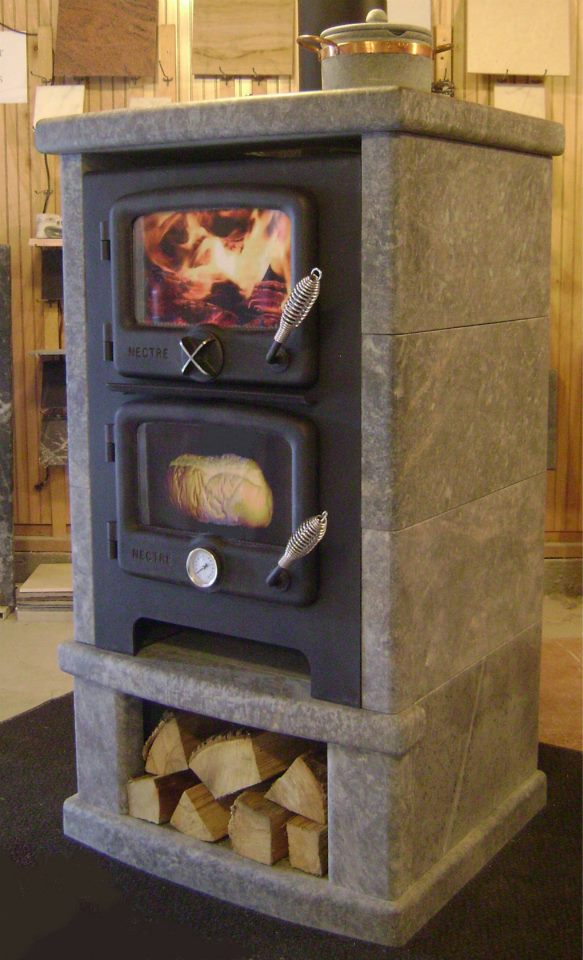 Is it a good idea to buy the Vermont Bun Baker with the soapstone veneer?
Generally speaking, if it is within your budget, it's definitely worthwhile. You will receive many benefits from having the soapstone on top and sides at least.
The bottom soapstone layer isn't as necessary, and neither is the pedestal. The pedestal does not hold a lot of wood, but if your wood was damp or wet, it would dry out extremely quickly in that space.
The lower and/or pedestal option is good for those with the extra money to spend and in whose home it would suit. Also, if you have trouble bending down for whatever reason, having the wood stove higher will also be a benefit.
And as for the soapstone width, either the 1 ¼" soapstone surround or the thicker 2 3/8″, it all depends on your budget. The thicker option is obviously much more expensive, but if you can afford it, go for it.
Pros:
Fire burns more efficiently
You will need to burn less wood
Won't need to clean the chimney as often
The stove will stay hotter for longer
The stove will put out more radiant heat
Cons:
Significantly more expensive
Additional weight
Not always necessary
Baker Wood Stove
The Vermont Bun Baker is the perfect stove for many who are seeking a wood stove to bake bread, muffins, roast meats, and everything else.
Pizza is another popular meal to make in this baker wood stove (however, check out the Ooni pizza oven range for a dedicated pizza cooker)!
It's extremely versatile, and you can basically do anything in it that you can do on a regular electric or gas oven.

Especially in the event of a power outage, it's going to keep your house warm and allow you to keep on cooking.
From time to time, you will also find second-hand or used Vermont Bun Baker Stoves on eBay here.
It's also worth checking Facebook Marketplace, Craigslist, and all those usual places as well. I've heard of a number of people who picked them up in good condition extremely cheaply.
The Pioneer Princess Wood Cook Stove is another great option that is also slightly cheaper than the Bun Baker.
Shop around and get the best deal.
For those who want to cook outdoors on a fire, have you heard of cooking on a chiminea?
They're another fun alternative outdoor cooker.
Let us know if you have any comments or questions about anything we've mentioned in this post in the comments below. Thanks!