The Solo Stove Grill is a separate appliance from the Solo Stove Fire Pits.
The grill is specially designed for cooking, and while you can cook over the fire pits using a grate, the experience isn't quite as good in comparison.
Personally, if I could only buy one of the two, I'd probably choose one of the fire pits, because they put out a lot more heat and are better to sit around.
However, if my main desire was for a new grill, the Solo Stove Grill would be the obvious choice.
The Solo Stove Grill
You can see the design difference between the Solo Stove Grill and their fire pits.
They are quite different, though you can still tell that the grill is a Solo Stove creation!
The grill was released in 2020 and it is used with charcoal briquettes rather than wood, so it's great for those who love that charcoal flavor on their grilled food.
Here is the Solo Stove Grill promo so you can see what they say about it (in dramatic slow-mo fashion)!
It's on a sturdy raised stand, has a stainless steel grill, and looks extremely easy to set up and get going.
They also state that it's easy to clean, and it certainly looks that way – much easier than cleaning cast iron grills at least!
For a less hyped video, check out this next one on how to cook wings on the Solo Stove Grill.
The chef states that you can add wood chips into the charcoal grill as well, as this can add some more flavor to your food.
Solo Stove sell the briquettes on their site, but not wood chips – you can find hickory, pecan, apple, etc., smoking chips on Amazon.
Smokeless fire pits (including Solo Stove's 3 models) are good for sitting around, but you do want some smoke when grilling because it adds flavor to the meat and vegetables.
Solo Stove Ultimate Grill Bundle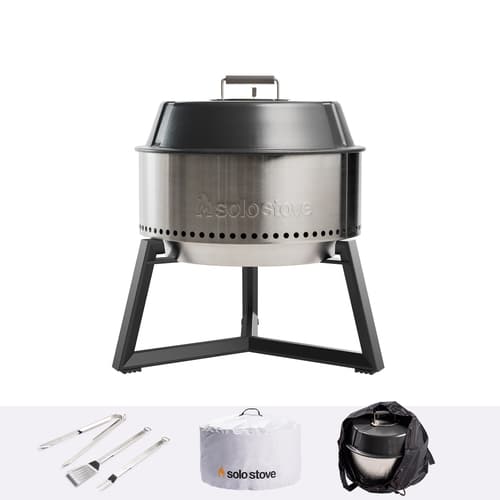 The Solo Stove Ultimate Grill Bundle really is the ultimate grill bundle!
You get everything in the picture, including:
Solo Stove Grill and Stand – really easy set-up
Grill Tools – large spatula, tongs, and fork
Grill Shelter/Cover – protects grill from the weather
Grill Carry Case – makes it simple to transport
All Natural Charcoal briquettes – 4lb pack
Fire Starters – get going even faster
It's almost everything you need to get started – you just need the food!
Overall, the grill bundle is quite expensive (unless you get it on sale), but it's a better quality product than many that you find out there.
Many people want to know if it's better than a Weber Grill or other charcoal camp grills, and I think it is, but you've got to pay for it!
Solo Stove Cooking Grate
For those who already have one of the Solo Stove Fire Pits, either the Ranger, Bonfire, or Yukon, you can still cook over them as well.
The company sells these 'hubs' which sit on top of the fire pit and allow you to place a raised cook plate over the fire.
You can't simply put a cooking plate over the top without the hub to raise it because this would put the fire out pretty quickly.
Not only are there cast iron grill tops as pictured above, but you can also get a griddle or a wok instead.
Specs and features of the hubs:
Stabilizes cook plates
Easy to clean
Lightweight and portable
Easy set-up
Helps with even cooking
They are well designed and look great atop your Solo Stove Fire Pit.
As far as fire pit grills go, these are very good.
Which Solo Grill Is Best?
Whether you go with the Solo Stove cooking grate or instead opt for the Solo Stove Grill, they're both really good for cooking outdoors.
They're all reasonably light and easy to transport and can be taken camping, to a friend's place, or to the beach. But, at the same time, they're just as good for use in the backyard.
The 'official' grill is the best for grilling, but the fire pit set-up isn't bad either – it may come down to whether you prefer charcoal-cooked food over wood-fire-cooked food.
Personally, I prefer the wood-burning fire pits because they're more multifunction.
You can't all hang out around a charcoal grill in quite the same way – if you know what I mean?
However, if you're in a position to grab both – the fire pit and grill – then you'll be getting the best of both worlds!
Chiminea cooking is another alternative – I've just bought a traditional clay chiminea and it's fantastic (though not at all portable)!