Did you know there are wood-burning stoves for sale on Etsy?
I didn't!
I just stumbled upon them and was surprised by the great range and variety of wood stoves.
I shouldn't be surprised, as you can find a bit of everything on Etsy.
There are the expected handcrafted goods and printable worksheet downloads, but there are also the likes of throwing axes and ax-throwing targets.
Let's check out the Etsy wood stoves in this post!
Etsy Wood Stoves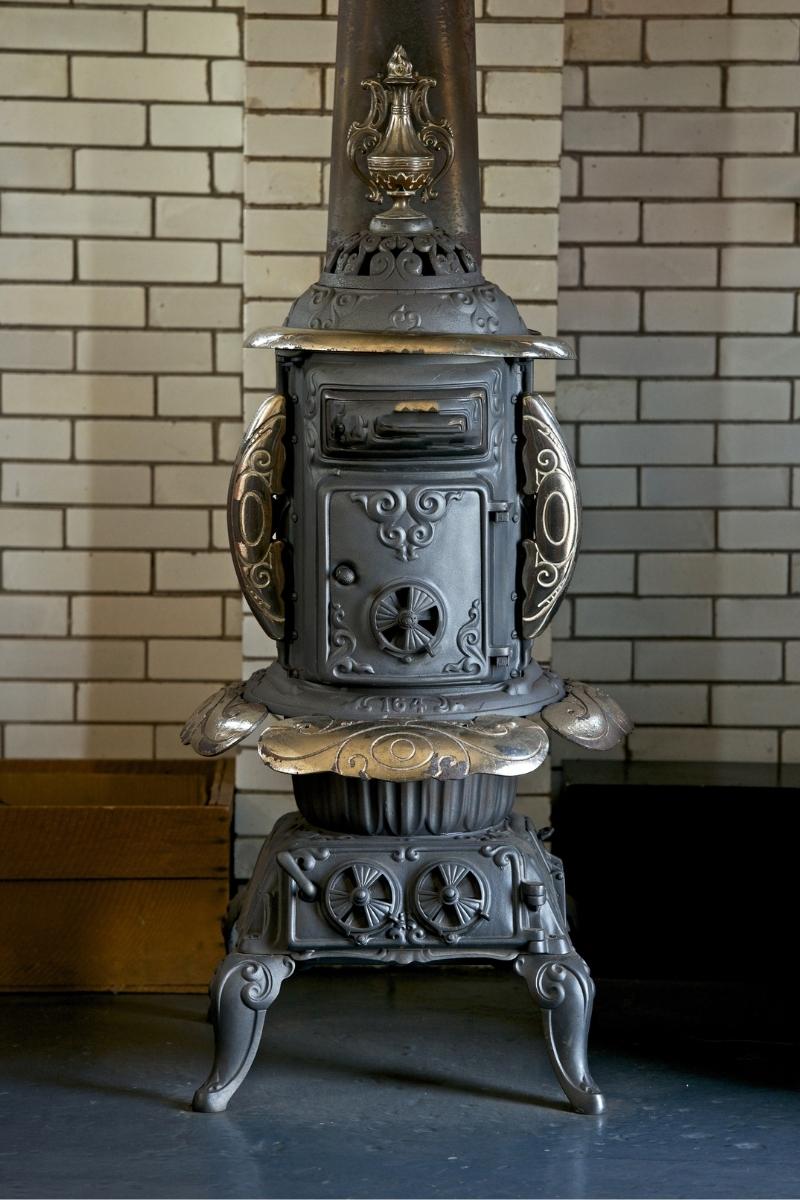 The wood stoves on Etsy are quite different from what you will find elsewhere.
Compared to the picks in our best wood stove round-up, these ones are much more unique and often have more features.
For example, on Etsy, you will find a lot of wood cookstoves, small and mini stoves, and rare antique wood stoves.
Here are 7 of my favorite!
1. The Woodsman Stove
20,000 BTU output
12 x 15 x 13.5 inches
37.8 lbs
USA
The Woodsman Stove is one of the bestselling models on Etsy.
It's a mini wood stove that is similar to the Dwarf mini stoves – designed for use in spaces that are between 200 – 400 square feet.
This makes it ideal for tiny houses, campers, RVs, and those types of living arrangements.
It's made of 1/8″ thick laser-cut steel and requires a 6-inch stove pipe.
Check out The Woodman Stove's Etsy Store to see this stove in other sizes.
You will find:
The Mini Woodsman Stove
Explorer Wood Stove
Base Camp Wood Stove
The Woodsman XL Stove
There is even a propane burning option if you prefer that type of fuel.
In their Etsy store, they also sell the other parts you will need. This includes flues, wall elbows, rain caps, etc.
---
2. 214-3D Wood Cook Stove
18,000 BTU output
33 x 33 x 20.5 inches
220 lbs
USA
This is more than I expected to find on Etsy.
The Stove 214-3D is a full-on wood cookstove, and it's a lot cheaper than the alternatives like the Vermont Bun Baker (though the Bun Baker is excellent).
This wood oven is made of iron, has a number of glass windows, and has an inbuilt thermostat, an important feature for a cook stove.
It has some really nice detailing in the iron, a stainless steel rail, and a great ash tray.
Check out the seller, Northshire Wall Decor, on Etsy, and you'll see they have other wood stoves, fire pits, and heating appliances for sale.
---
3. Etsy Rocket Stove
Handmade in Canada
4 X 4 square tubing
1/8″ wall thickness
17.5″ high, 14″ long
There are not a lot of details to be found in this handmade rocket stove listing on Etsy, but that's because these devices are fairly simple.
Rocket stoves are great for outdoor use at a campsite for boiling water for a cup of coffee or cooking up a feast.
This particular model appears to be very well made by someone who's enthusiastic about the task and enjoys the process.
It's finished with a black heat-resistant paint and has good legs for stability.
---
4. Vintage French Wood Stove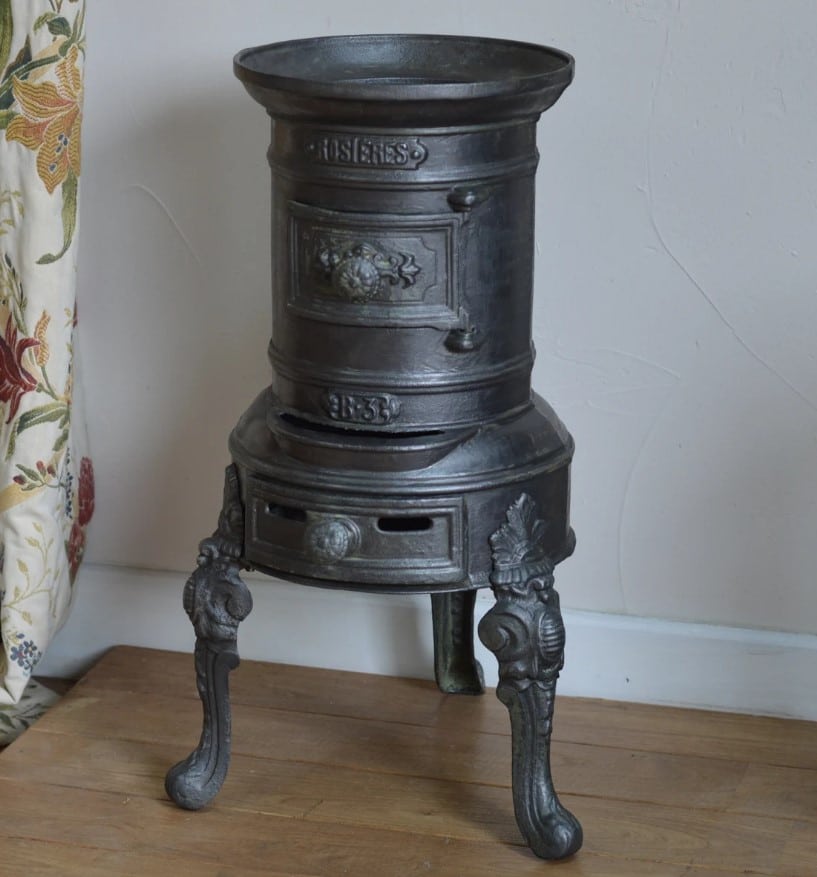 21″ high x 10″ wide
28 lbs
Requires 3.5″ stove pipe
This next wood stove is more like what I'd expect to find on Etsy (or Ebay).
It's an old vintage, antique wood-burning stove made from cast iron. It has stunning details and would look great in a camper, van, boat, or tiny home.
I've linked to the Etsy seller AntiquesCordiale because this exact vintage wood stove may no longer be available at the time you're reading this, but they will likely have other antique stoves.
If not, check out the Pipsqueak mini wood stove which is a new option with the same feel.
The Rosiers No. B3 1900s woodburning stove, pictured above, is from France in the 1910s and is highly sought after.
These models are pricey to buy, but it's hard to find anything else quite like them.
---
5. Tango Wood Stove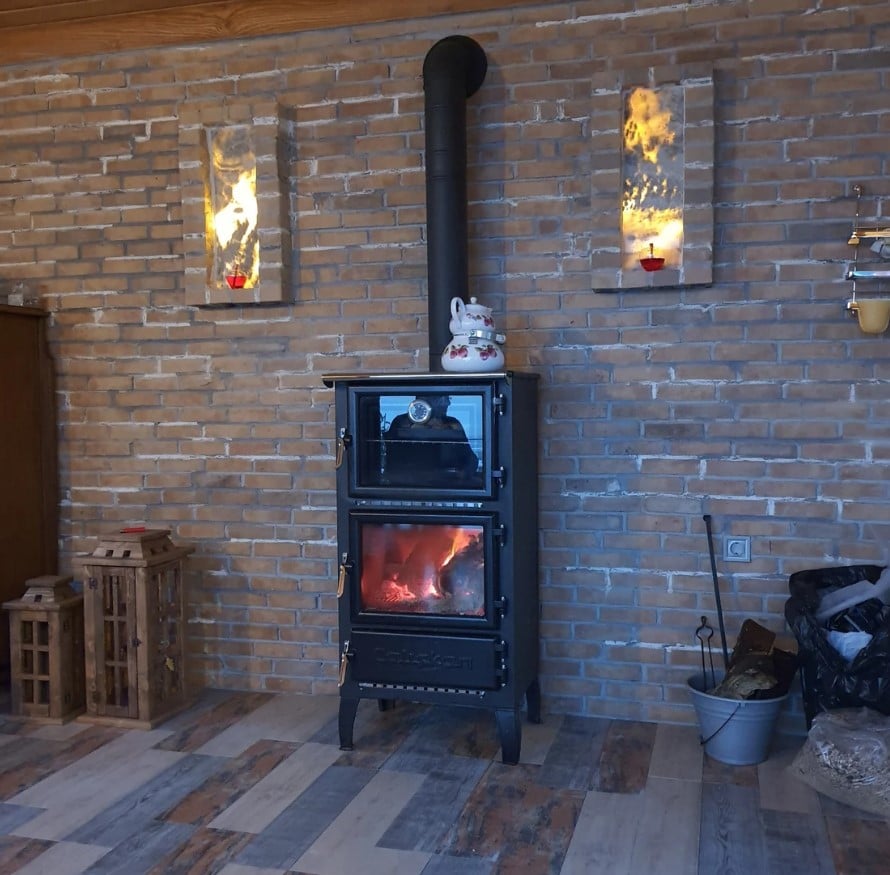 40,000 BTU output
44 x 22 x 20″
286 lbs
The Tango Wood Stove from MetaWooArtDecor is another top-selling product on Etsy.
It's another wood cook stove, but this time the oven is above the firebox.
This is a heavy-duty product, made from steel and enamel casting. The stove and ashtray handles are nickel-plated.
I'm unsure where this stove is shipped from, as usually the seller's location is stated. This might be something you want to find out before deciding whether or not to buy.
---
6. Camping Wood Burning Stove
11 lbs
Made of steel
Comes from Turkey
This is another very little wood-burning stove, and this one reminds me a lot of the Cubic GRIZZLY or the Cubic CUB.
All three are great for tiny houses, campers, RVs, sheds, and other small spaces.
This camp stove is very lightweight, making it somewhat portable.
The sheet metal is 1.5 mm thick, so it's not as thick as alternative models, ultimately making it a bit cheaper.
---
7. Turkish Cooker Stove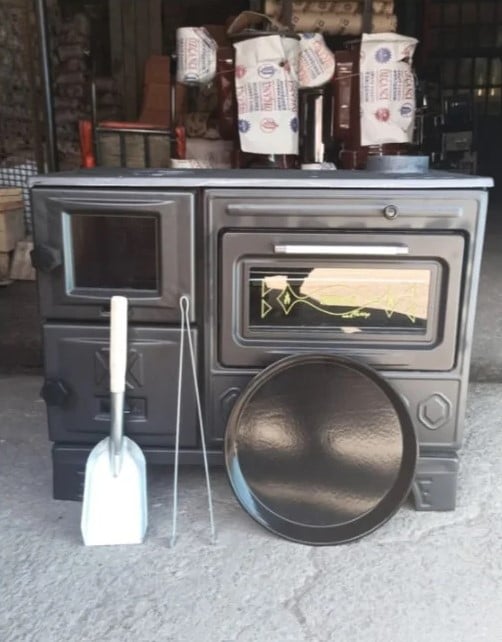 23,000 BTU
31 x 25 x 18″
121 lbs
The seller of this wood cookstove, MoonMarket08, also has a lot of other types and styles of wood stoves for sale.
They are based in Turkey, as the previous seller, so you'll have to consider the price and time of shipping depending on where in the world you live.
This cookstove, reminiscent of the Pioneer Princess Cook Stove, is great for those wanting to live a little more off the grid.
Wood stoves are a good step in this direction. If the power goes out you can continue to cook and keep your house warm.
Etsy Wood-Burning Stoves
If you search Etsy wood stoves on any given day, the range does tend to be a combination of small and mini wood stoves, wood cookstoves, and vintage wood stoves.
There are not many full-sized log burners for heating entire houses. However, definitely, plenty to keep a lot of people happy.
And while Etsy isn't the number one place most people think of to go and buy a new wood stove, perhaps for those looking for types, it should be!
Let me know if you have any comments below, or, for fun, check out the smallest wood stove in the world.