Finding the perfect small wood stove for a tiny living space doesn't have to be challenging.
It might have been the case some years back, but not anymore. With the improvement of mini wood stoves to provide energy-efficient and clean heating solutions for tiny spaces, much of the hassle has been sorted.
For instance, the Grizzly Cubic Mini is a perfect wood stove with ideal features for small space heating.
Nonetheless, mini wood stoves are not made equal. Some are ideal for cabins, others for RVs, while others are capable of heating much larger areas. In this review, we will do a roundup of different picks to help you choose one that matches your needs.
Best Small Wood Stove Reviews
GRIZZLY Cubic Mini Wood Stove

A really good tiny house wood stove though made with thinner steel than the Dwarf or Caboose
Output: 8,000-18,000 BTU
Dimensions: 13" W x 15" H x 12" D

View On Cubic Mini Wood StovesView Other Sizes

Dwarf Tiny Wood Stove

High quality stove for tiny homes, RVs, etc. - 3 kW, 4 kW, or 5 kW models
Output: 75,00 - 20,000 BTU (across all sizes)
Dimensions: 17" H X 10.25"W X 8.5" D (smallest)

View On Tiny Wood StovesView Other Sizes

Caboose Tiny Wood Stove

Another great mini wood stove - only one made in the USA
Output: 8000 - 20,000+ BTU
Dimensions: 25" H x 10" D x 22" W

View On Flame InnovationView Other Models

Drolet Deco Nano Wood Stove

A modern looking small stove that's made in Canada and suitable for 900 - 2300 ft²
Output: 90,000 BTU/h (26.4 kW)
Dimensions: 32" H x 30" D x 19" W

View On Fire Pit SurplusView On Northern Tool

Englander Small Wood Burning Stove

Rated for mobile homes
Output: 80,000 BTU
Dimensions: 22" W x 30" H x 27" D

View On Fire Pit SurplusView On Amazon
If you also want to consider larger wood stoves, check out our round-up of the best wood-burning stoves for homes.
While the focus of this post is small and miniature wood-burning stoves, that one has options for larger spaces as well. See-through fireplace inserts are another option for those not needing or wanting a freestanding wood burner.
But, I think you're more likely into your compact wood stoves, so here's 10+ of the best!
1. Grizzly Cubic Mini Wood Stove – Best For Tiny Homes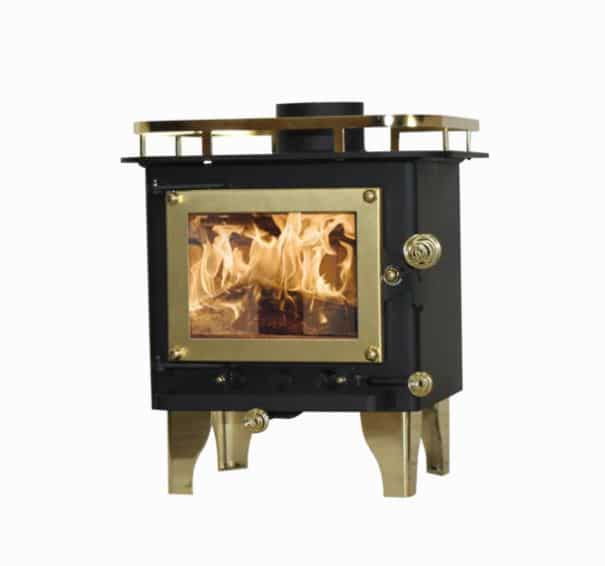 Specs:
Measurements: 13" W x 15" H x 12" D
Fuel: Wood (6 ¾" long)
Output: 2.3 – 5.2 KWh (8,000-18,000 BTU)
Material: Steel, firebrick insulation, and Robax glass
Well-constructed, portable, and fuel-efficient, the Grizzly Cubic Mini Wood Stove is an ideal winter heating solution that comes with a bagful of unique features. Designed for heating smaller spaces like cabins, tiny homes, and RVs, the stove can heat spaces up to 400 square feet in size.
With secondary combustion to channel smoke and fumes out and improved energy efficiency, the Grizzly is simply perfect for its size and price. Managing temperatures in a small home is pretty much a challenge, especially during winter. But with this Cubic Wood Stoves model, your heating needs will be sorted.
Check out our complete Cubic Grizzly Wood Stove review for more info.
Pros:
High quality
Superb performance (great airflow)
Eliminates humidity effectively
Easy to install
Energy-efficient (consumes less wood)
Cons:
Very small cooktop
As with all mini wood stove, requires very small pieces of wood which take more work to prepare
Have to frequently put wood on the fire
Requires frequent emptying of ashes
---
2. Cub Cubic Mini – Runner Up Wood Stove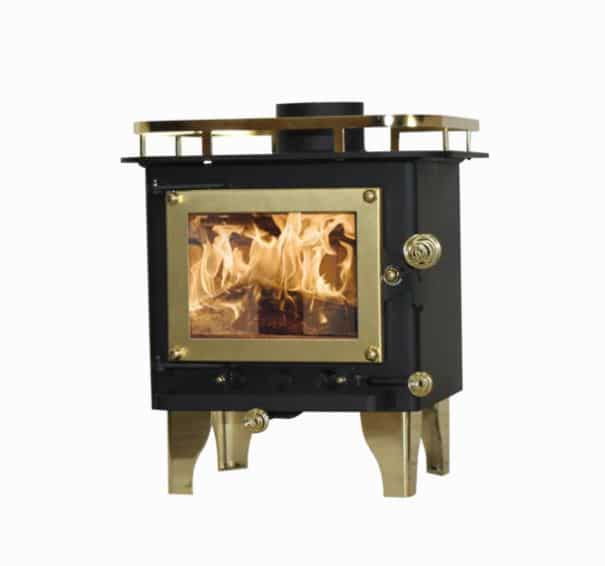 Specs:
Measurements: 11" W x 12" H x 10.5" D
Fuel: Wood (5 ¾" long)
Output: 1.75 – 4.1 KWh (6,000-14,000 BTU)
Material: Steel, firebrick insulation, Robax glass
Another one from Cubic Mini Wood Stoves, the CB-1008 burner takes our runner-up position.
This stove is pretty similar to the Grizzly, only that it's a little smaller, and is designed for heating areas of 100 – 200 square feet.
It's a good solution for smaller spaces with less than 200 sq. ft. and low ceilings. The stove is ideally designed for spring and fall weather, so it's not great for the middle of winter in a very cold climate.
See our complete CUB Cubic Mini Wood Stove review for all the details.
Pros:
Longer burn time
Energy-efficient
Cons:
Not ideal for winter
Takes only very small pieces of wood
---
3. Timberwolf – Best Small Wood Stove
Specs:
Measurements: 26" W x 31 ½" H x 21 5/8" D
Fuel: Wood (18" long)
Output: 52, 000 BTU
Heat capacity: 500-1,500 sq. ft.
Weight: 227lbs
This Timberwolf stove wins the best small wood stove category for a good reason.
It's a high-quality EPA-approved model that's highly energy-efficient. With an 85.5% efficiency, the Timberwolf EPA2100 delivers superb performance even during the coldest of days.
With the capacity to heat up to 1500 sq. ft. this stove is suitable for larger cabins and small homes – not for tiny homes and RVs. It comes in various designs – legs or pedestal, ash pan or blower, etc.
Pros:
2020 EPA-approved for high energy efficiency
Long burn time (6 hours)
Large glass window
Easy empty ash pan
5-year limited warranty on firebox
Cons:
Doesn't have the best heating capacity
---
4. The Dwarf – Top Quality Small Stove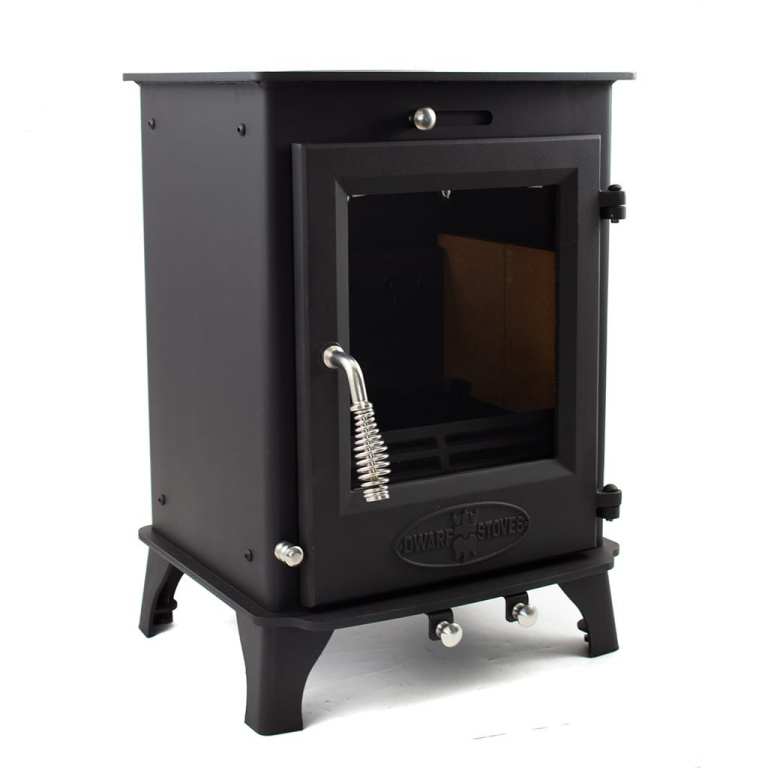 Launched out of a passion for small space living, Tiny Wood Stove has grown into a line of high-quality mini stoves that provide convenient and reliable energy-efficient heating.
The Dwarf is one of their popular brands, which is under constant improvement. Featuring a cast iron door with a spring handle and a large window for monitoring the fire, a Dwarf makes an elegant addition to your small space.
Tiny Wood Stoves have gone out of their way to create a Dwarf for every size of space. Currently, available models include Dwarf 3kw, 4kw, and 5kw.
You can hear more of the story and compare the different Dwarf stove sizes in this video – plus you'll get a really good overview and explanation of all the features. You can also check out our complete Dwarf wood stove review.
You can see that there is a bit more space in the firebox as compared to the Cubic Mini Grizzly and Cub. Therefore, you don't have to have such small pieces of wood which means you're not adding wood to the fire as often.
As stated in the video, the Dwaft Wood Stove ' uses tri-burn technology with primary and secondary air controls and ceramic firebricks for hot and efficient fires.'
This mini wood-burning stove series gives you a lot of airflow control that allows you to build and maintain the best fire for your wood and comfort level.
Specs:
| | | | |
| --- | --- | --- | --- |
| | Dwarf 3kw | Dwarf 4kw | Dwarf 5kw |
| Measurements | 17" H x 10.25" W x 8.5" D | 19.5" x 12" W x 9" D | 22" H x 11" D x 14" W |
| Fuel | Wood and coal | Wood and coal | Wood and coal |
| Output | 7500 – 11500 BTU | 11000-15000 BTU | 14500 – 20000 BTU |
| Heat Capacity | Less than 300 sq. ft. | Less than 500 sq. ft. | Less than 500 sq. ft. |
| Weight | 75lbs | 100lbs | 150lbs |
| Material | Cast iron and steel | Cast iron and steel | Cast iron and steel |
| Ideal for | Vans, RVs, Campers | RVs, travel trailers, skoolies, yurts, tiny houses on wheels | RVs, travel trailers, skoolies, yurts, tiny houses on wheels |
And in this next chart, you can see the BTU range of each of the stoves.

The customization options for the Dwarf stoves are pretty cool as well.
You can add soapstone slabs to the side, colored enamel doors, a wood storage stand, cast iron legs, or a top baking stand (only for the 5kW model).
All in all, it's a great option if you're wanting a miniature wood stove for your small space!
Pros:
High-quality stove (sturdy steel body and cast iron door)
Easy ash cleanout
Great air control
Variety
High output
Cons:
Because they're so popular, there are sometimes delays in delivery
---
5. Dickinson Newport – Best Cheap Wood Stove
Specs:
Measurements: 7.88" W x 15.63" H x 10" D
Fuel: Wood, charcoal briquettes, and coal
Output: Up to 8,000 BTU
Since 1932, Dickson Marine has been supplying quality appliances to the marine industry.
The Dickson Newport 00-NEWSF is one of their amazing innovations that stands out for its affordability. Designed for casual use, mainly boats 20-25 ft. (although it can provide sufficient heat for a 400 sq. ft. space), this heater delivers decent performance for its price tag.
With a detachable ash drawer for easy cleaning, the wood/charcoal briquettes/coal burner is efficient at countering humidity inside a vessel.
Pros:
Affordable
Preinstalled fire shield
Cons:
Fire can be extinguished quickly
---
6. Englander Wood Stove – Best For Mobile Homes
Specs:
Measurements: 22" W x 30" H x 27" D
Fuel: Wood 18" long
Output: 80,000 BTU
Weight: 365lbs
Material: Steel and cast iron
Heat capacity: Maximum 2,000 sq. ft.
If you're shopping for a heating solution for your mobile home, then the Englander 2,000 SQ. FT. is a perfect choice. This EPA-certified wood stove comes with a sturdy build, which makes it ideal for hauling along whenever you're on the move.
Not only does the stove burn clean, but it consumes less fuel and burns longer. With a full load of wood, it can keep your home warm throughout the night. Besides, the integrated wrap-around heat shields provide safer operation and versatility in placement options.
Pros:
EPA-certified for high efficiency and low emissions
Longer burn time (10 hours)
Integrated wrap-around heat shields for increased safety
Cons:
The stove is also available in a larger size – the Englander 2,400 SQ. FT. provides an even more convenient heating experience.
With the capacity to take up to 22" long logs, the stove burns even longer, up to 14 hours. It also comes with a huge ash pan, making it less messy and easy to clean.
Specs of Englander 2,400 SQ. FT:
Measurements: 27" W x 36" H x 26" D
Fuel: Wood 22" long
Output: 85,000 BTU
Weight: 400lbs
Material: Steel and cast iron
Heat capacity: Up to 2,400 sq. ft.
---
7. US Stove – Best For Cabins
Specs:
Measurements: 22.2" W x 25.8" H x 33" D
Fuel: Wood 19" long
Output: 54,000 BTU
Weight: 128.7lbs
Material: Cast iron
Heat capacity: Up to 900 sq. ft.
This rustic heavy-duty stove is another great small space heater from US Stove.
It's a cost-efficient EPA-certified heating solution ideal for log cabins, shops, and large garages. With proven durability, this cast iron stove can take in up to 19" long logs, providing long burns with great heat output. Rated at 54,000 BTU, US1269E can heat up to 900 sq. ft. while dabbling up as a cookstove.
Pros:
EPA-certified for high energy efficiency and
Adequate clearance
High output
Cons:
---
8. Ventis HES140 – For Small Spaces
Specs:
Measurements: 26 ¾" W x 32 1/8" H x 26 3/4" D
Fuel: Wood 17" long
Output: 45,000 BTU
Weight: 225lbs
Material: Steel
Heat capacity: Up to 1200 sq. ft.
Our top selection for small spaces is the Ventis HES140.
This is a metallic freestanding pedestal stove with premium features that justify its cost. With the capacity to warm up to 1,200 sq. ft., providing an output of 45,000 BTU, HES140 burns with decent efficiency. 2020 EPA-certified, this stove is a cost-efficient solution that you can rely on for overnight heating of your small space.
Pros:
Energy efficient with EPA certification
Longer burn time (8 hours)
Cons:
---
9. Osburn 2000 – Stylish For Small Spaces
Specs:
Measurements: 27" W x 33.125" H x 29" D
Fuel: Wood (20" long)
Output: 75,000 BTU
Weight: 390lbs
Material: Steel, glass, clay firebrick
Heat capacity: Up to 2100 sq. ft.
Traditional fireplaces have not always been an interesting feature in the home until recently.
Modern designs have seen the transformation of fireplaces into aesthetically appealing centerpieces that complement room décor.
Fortunately, you can still achieve the same effect even with portable heating solutions. Modern wood stoves are coming in stylish designs that can raise the appeal of a dull room while providing adequate heating.
If that's what you're looking for, then look no further than Osburn 2000 OB022015. The stove is a powerful model that combines beauty with functionality, delivering up to 8 hours of burn time at 75,000 BTU.
Pros:
Attractive design
Longer burn time (8 hours)
EPA-approved for efficiency and low emissions
Cons:
---
10. Drolet DB03111 – For Larger Areas
Specs:
Measurements: 25 5/8" W x 32 5/8" H x 25 3/4" D
Fuel: Wood 20" long
Output: 75,000 BTU
Weight: 383lbs
Material: Steel, ceramic glass
Heat capacity: Up to 2100 sq. ft.
Last on our list of top picks is the Drolet DB03111, which takes the trophy for small wood stoves for larger areas.
A pedestal model with a heat output of up to 75,000, Drolet DB03111 is a mini stove with impressive performance even across larger spaces.
Drolet has a lot of very good wood-burning stoves, see our complete Drolet heating appliance reviews. They also sell nano wood stoves, pellet stoves, furnaces, and fireplace inserts.
Pros:
Longer burn time (8 hours)
High output
Cons:
---
Small Wood Burning Stove Buying guide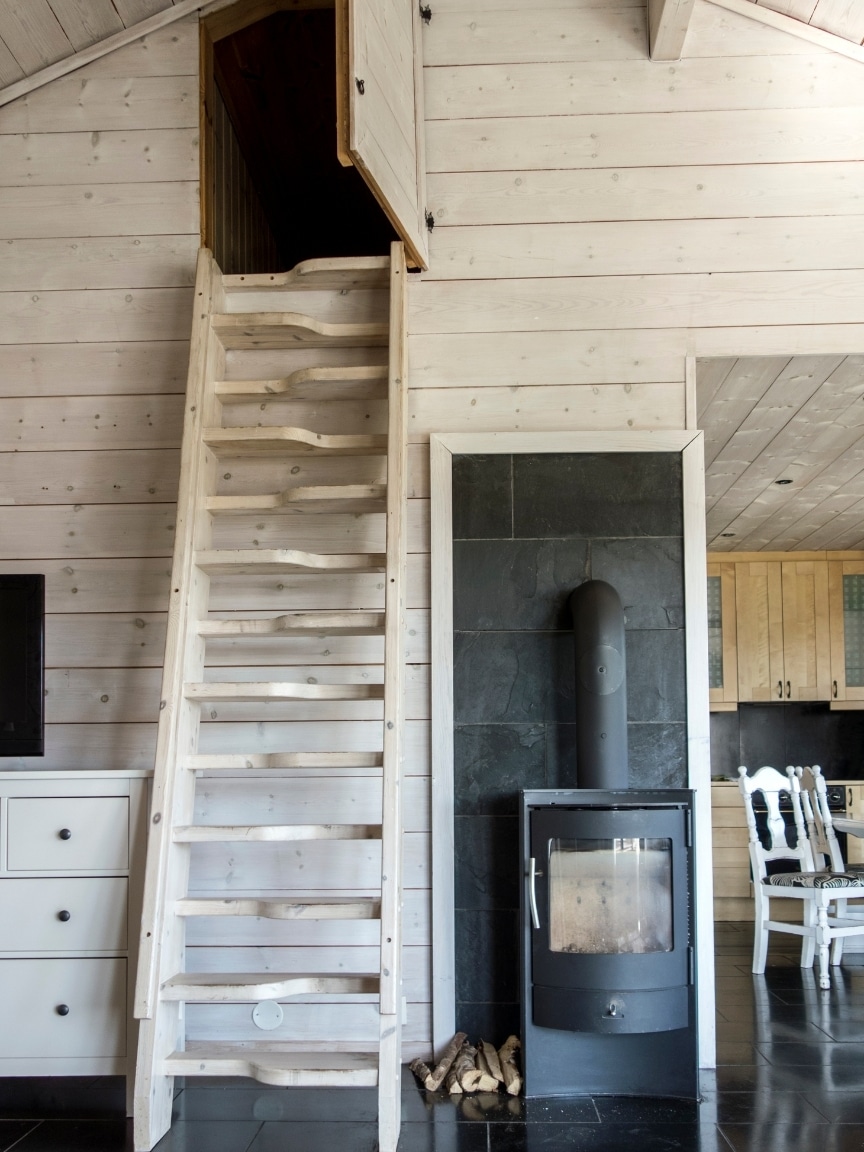 BTU Meaning
BTU is an abbreviation for British Thermal Unit, a measure of energy or heat production, in this case.
Essentially, a stove that has an output of 75,000 BTU can heat a larger area than one with 15,000 BTU. However, when choosing the ideal stove for your space, you also need to consider its efficiency.
For instance, if it has an efficiency of 80% with a BTU rating of 70,000, then its ultimate output will be much lower, i.e., 80% x 70,000, which is 56,000 BTU.
Small Wood Stoves Are Best For…
While some small wood stoves are primarily for heating small areas, some are versatile, serving as cook appliances alongside dehumidifying the spaces.
It goes without saying, that compact wood-burning stoves are best for compact spaces!
2020 EPA Certified Meaning
EPA stands for Environmental Protection Agency, a U.S. agency mandated to protect environmental and human health. The 2020 EPA rating is a certification for products awarded to energy-efficient manufacturers.
A March 2021 news release by EPA announced that 95 manufacturing plants had earned the 2020 ENERGY STAR certification for being the most efficient players in their industries.
Together, the plants saved almost $400 million in energy bills, cutting down on 80 trillion BTUs of energy, thereby preventing more than 5 million metric tons of greenhouse gas emissions.
Efficiency
Efficiency measures the amount of energy a stove preserves.
For instance, if it has a rating of 80%, this means only 20% of the heat escapes through the chimney. In the case of traditional fireplaces, their efficiency rating is usually 10%, meaning 90% of the heat goes up the chimney.
Pros And Cons Of Wood Burning Stoves
When compared with other types of heating solutions, wood-burning stoves have some distinguishing merits as well as downsides that set them apart.
Some of them include:
Pros
High energy efficiency
Lower emissions than traditional fireplaces
High output
Longer burn time
Not affected by electricity outage
Cons
High purchase and installation cost
Represents a hazard in small spaces
Requires custom bits of tiny firewood
Woodstove smells
The smells from a wood stove can be covered up, removed, and/or prevented to some degree, but especially in a tiny home, it doesn't take much escaped smoke to create a bit of a stink.
Gathering firewood for a mini wood burner might actually be a lot easier than collecting it for a larger wood stove.
You can usually buy bags of small wood and kindling from gas stations, big box stores, or grocery stores. Even Amazon can deliver small lots of firewood to your door as well.
Different Types of Construction
The type of construction material for wood stoves varies from one manufacturer to the other.
However, the main materials used for the body are either steel or cast iron. Doors are usually made of glass, while the firebrick is, in most cases, clay.
Standard Features of a Small Wood Burning Stove
Stove features vary from one model to the other.
But these are the standard features you should look out for when buying a wood-burning stove:
Steel or cast iron body
Ample-sized ash bin
Secondary combustion
Decent heat output
High efficiency
Ideal stove size for your space
Longer burn time
Special Features of a Tiny Wood Burning Stove
Some stoves also have special features, which may or may not escalate their cost.
These may include:
Dual-use (Heating and Cooking)
Certification
All-season use
Small Wood Stove FAQs
What is the most fuel-efficient small wood-burning stove?
Manufacturers are constantly improving their stoves' performance, and more energy-efficient models are continuously hitting the market.
Most of the brands (Cubic Mini Wood Stove, Drolet, Osburn, US Stove, Englander, etc.) are all energy efficient. To determine a stove's efficiency, simply check its rating, plus burn time and output.
Can a mini wood stove heat an entire tiny home?
Yes. A mini wood stove can heat an entire tiny home, but this largely depends on its capacity. Every stove indicates its heating capacity, so you may want to buy one that suits your home's square footage.
See our dedicated post on thebest tiny house wood stoves for more info.
See this list of the best wood stoves for RVs and campers if you have one of those structures.
Can you leave a wood-burning stove burning overnight?
It depends. Some stoves have higher safety standards than others. But even with such, you should step up your safety measures, e.g., stacking all the wood inside. Choosing a catalytic model for enhanced combustion can also go a long way in guaranteeing your safety while you're asleep.
What are the best brands?
There are several leading wood stove brands, most of which we have already mentioned such as;
Cubic Wood Stove
Englander
Tiny Wood Stove
US Stove
Osburn
For those in the UK, the Pipsqueak wood stove is another good option for small spaces.
The Little Hottie Wood Stoves include the smallest wood stove ever in their line up, though it's only for fun and not actually suitable for heating.
Does a wood-burning stove need a flue?
Yes. Installing a flue is necessary to channel fumes and smoke out of the home for a clean, burning experience.
What else do you need to purchase for a fully functioning stove?
When budgeting for a wood stove, there are additional components that you need to consider for it to become fully functional. These include items such as;
Flue (stovepipe)
Fire shield (to protect floor and walls), etc.
Is installation easy?
Installation is a crucial process when planning for a wood stove.
Since it poses such a high safety hazard to your home, care should be exercised when installing it to guarantee your safety and peace of mind.
Can you do it yourself in a tiny home, cabin, mobile home, or do you need a professional?
You shouldn't install a wood stove on your own unless you have the expertise.
The risk is usually too high; hence you should hire a certified professional to install it. A professional will choose the right location, add appropriate floor and wall protection, and help with conducting regular maintenance.
One of the other big issues with not having a certified pro install a wood burner is that it can affect insurance claims in the event of damage.
Best Mini Wood Stove
There you have it! Your complete guide to choosing a mini wood stove for your home.
Clearly, summing up the list hasn't been easy. As you have seen, every stove has unique characteristics that stand out.
But since there has to be one winner, the Grizzly takes the trophy, thanks to its miniature size that doesn't compromise its efficiency. Its ability to keep your home warm during winter, despite its humble features, is what wins for us.
If you would like to enjoy a similar experience at an even lower cost, but in the milder spring or fall weather, then Grizzly's sibling, CB-1008, will do just fine. Again, with its ideal size for a tiny space and decent output, the stove shines for its price.
Englander twins Englander 2000 and 2400 are also a win for us if you don't mind spending a little more and carrying extra weight on your mobile home. However, if you're on a budget and in search of a lesser load for your camper, then the Dwarf models will be ideal for you.
Has any of the other models won your heart? We wouldn't be surprised. Let us know which ones in the comments below!
For your outdoor space, check out these great outdoor fireplaces, or for something more portable, these cast iron fire pits (I just bought one and I love it!). Meanwhile, we hope you'll enjoy shopping for your next mini wood stove.