Wood stoves are great for making a home warm and cozy – however, having a wood-burning stove start a fire in your home is not.
The question is, 'What to put behind a wood-burning stove that will protect you and your home?'
There is a range of options to choose from that will protect both your home and your family.
Woodstove heat shield styles can range from rustic to modern and vary from looking purely utilitarian to being an elegant design element that enhances your home.
Why Install A Wood Stove Heat Shield?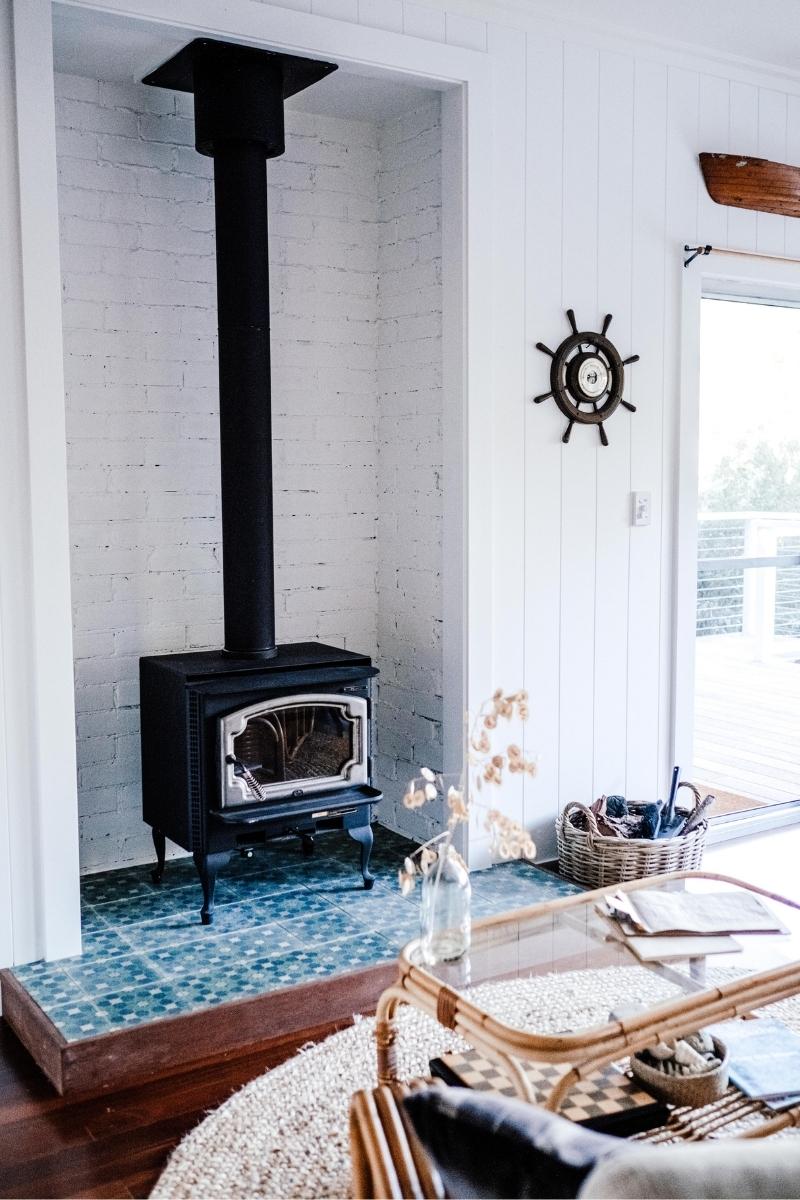 Safety is the biggest issue surrounding a wood stove.
For residential wood stoves, laws or safety procedures might require you to install a heat shield.
Whether they are essential or not, the shield can bring peace of mind. The best heat shields help provide warmth into a room from the wood-burning stove. They also can give the design of a room more style and distinction.
Another benefit is they reduce the amount of clearance you need between your wood-burning stove and a wall or other surface. This type of thing is especially important for tiny house woods stoves or wood stoves for RVs and campers.
Stoves And Flue Pipes Get Hot
Both the stove and the stove's flue pipe, which carries the smoke outside, can reach surprisingly high temperatures.
The flue pipe can reach temperatures around 300 degrees when you use the stove to heat your house. With a raging fire, they can become even hotter.
With such high temperatures, the last thing you want is the stove or flue pipe anywhere near a material that might ignite.
So, fire prevention is a key reason to make sure combustible materials are far away from the stove and to install a heat shield.
Homeowners must have to have a heat shield in a tight space.
Heat Can Make Nearby Materials More Combustible
The tricky thing about the heat from a wood-burning stove is that it does not always cause immediately visible damage.
Over time, through a process called pyrolysis, a wall near the stove with no signs of heat damage, but which the stove heat still impacted, can burst into flames.
Combustible materials will break down if they get hot and cold again and again from the heat of a wood-burning stove.
The repeated change in shifting from hot to cold can harm the materials and cause their autoignition temperature to become much lower than it otherwise would be.
While you might notice a wall discolored from heat, there is also the chance you might never realize the damage pyrolysis causes until a combustible material near the stove bursts into flames.
At that point, you risk far greater loss than if you maintain a safe distance between combustible items.
How Far From The Wall Should A Heat Shield Be?
The wood-burning stove manufacturer should include instructions on the specifics of how far a heat shield should be from the stove and any other specifics.
If a stove is Underwriters Laboratories (UL) listed for residential use, the manufacturer's instructions in the manual should cover everything you need to know.
Often, installation in residential spaces requires adhering to specific codes.
For those wood-burning stoves not on the UL list, you might have to follow any mandated practices for unlisted stoves. In most instances, a homeowner must install a heat shield with space for air between the shield and the wall.
Do not hesitate to call the manufacturer if the instructions are complex or you have any questions. It is better to call the professionals instead of potentially installing the shield incorrectly.
The National AG Safety Database says wood-burning stoves and combustible materials, including furniture and other flammable items, need 36 inches of buffer space/clearance.
You can reduce the amount of necessary space between the stove and combustible materials by installing a heat shield.
The shield can reduce the total to about 12 inches. If a UL-listed stove comes with a built-in heat shield, the homeowner can adjust the clearance as noted by the manufacturer.
One example is the 4-inch stove pipes from Tiny Wood Stoves. It requires 18″ clearance if you do not use a heat shield, but this can be reduced by 66% with a heat shield.
Types Of Heat Shields
Heat shields can be a unique design element for your space.
From local stone or brick, industrial steel, or decorative wood stove tiles, they can be both interesting and functional.
Usually, homeowners install heat shields that have tile and metal using fire-resistant wall spacers.
The air between the spacer and the wall blocks heat from moving from the shield to the wall. There are a vast array of premade heat shields to purchase.
A quick internet search will provide several sites with instructions if you want to create and install one yourself.
1. Brick And Stone
Exposed brick and stone are possibly the materials people most often think of as heat shields.They last for ages and are eco-friendly.
A stone wall behind a wood stove can add a cozy and lived-in feel to a home.
Both brick and stone function beautifully as shields. Brick and stone absorb heat and release it slowly, unlike other materials like metal, which heat fast and retain the heat.
The downside to brick and stone is that they can be more expensive and labor-intensive to install.
2. Metal
People commonly use stainless steel as a heat shield. It looks great and cleans easily.
Sheet metal is a great choice because it conducts heat easily and is inexpensive. Copper's golden tone can create a serene atmosphere. It is both easy to buy and to assemble on your own, and there are many ready-made choices to choose from.
It is important to ensure you use ceramic spacers with metal heat shields. Sheet metal attached to a wall with no air space will conduct heat right to the wall.
3. Tile
Tile shields may be the simplest option of all.
They are easy to find and come in many styles and patterns that can enhance a living space.
Tiles will also need ceramic spacers between the wall and tile. Installing the tiles directly to the wall in the space will result in a heat shield.
The spaced tile will conduct heat to the combustible material behind it.
Putting in a heat shield with tiles can be a do-it-yourself project or professional job.
Heat Shield Style
Heat shields can be anything from a sheet of metal, as pictured above with the Pipsqueak Wood Stove, to a stunning design element.
A copper-backed shield can evoke a cozy cabin. A tiled mountain landscape with a quiet moonrise backing a wood-burning stove can convey a night camping outdoors and can function as a focal point in a room.
Heat shields can even bring a modernist, sculptural vibe to a fire nook, as a polished, hanging rectangle behind the stove.
Any homeowner can browse Amazon or Pinterest for inspiration. Whatever design you choose, the heat shield can be more than a necessary safety element. It can truly be a reflection of your style.
Heat Shields Can Save Lives
Heat shields can keep people safe – they reduce the risk of fire, and prevent costly damage to essential spaces in our lives.
Whether they are installed as a do-it-yourself project or by professionals they are important. Besides this, they can help tie a room together through the choice of style and material, making a cozy fire even more beautiful.
Homeowners can maximize their investment if they discover a stylistic function for their heat shield.
There is such a great range of different wood stoves, from something like the Cubic Mini GRIZZLY to the Pioneer Princess, that you really need to keep safe and refer to manufacturer's instructions.