Electric fireplace inserts are a big deal because they provide efficiency and aesthetics without contributing to air pollution.
These smokeless heating options can add to the ambiance of any home year-round, thanks to heat-free options.
A fireplace insert is an appliance that homeowners place inside an existing fireplace. The self-contained fireplace insert provides heat and aesthetics to any living space.
Although fireplace inserts can get fuel from gas and wood, an electric fireplace insert plugs into an outlet to obtain electricity.
So today, we are here to answer the question: "What is the best electric fireplace insert?"
Best Electric Fireplace Inserts
Electric fireplace insert enthusiasts looking for the best appliance can choose from one of the following options.
Fireplace inserts are desirable for people who want year-round fire, without the heat and wood ash that a traditional fire brings.
The newest electric fireplace inserts are almost impossible to tell from real fireplaces, thanks to innovations by engineers.
Some features to choose from include:
Thermometers
Brightness options
Battery capabilities
No-heat options
There is something for everyone on this comprehensive best electric fireplace insert list.
1. Dimplex Deluxe Electric Fireplace Insert
VIEW ON AMAZON →
Heat output: 4692 BTU
Power: 1500 W
Installation Dimension: 23.25" x 10.75" x 19.75"
Dimplex is a well-known name in the world of electric fireplace inserts.
The first entry by Dimplex is the easy-to-install, deluxe 23" electric fireplace insert.
LED glow logs provide the illusion of glowing embers without the required cleaning and pollution of traditional fire logs.
Dimplex Deluxe adds to the ambiance of any home, with or without heat, depending on homeowner preferences.
Pros:
Easy to install
Flames display with or without heat for year-round enjoyment
Built-in fan allows heat circulation
Cons:
Some complain it runs loudly, especially compared to other fireplace inserts on the list
---
2. Dimplex Realistic Fireplace Insert
Heat output: 5118 BTU
Power: 1500 W
Installation Dimension: 24" W x 14" D x 22" H
The second entry by Dimplex is this easy-installation electric fireplace insert from the "Revillusion" line.
Users can enjoy flames with or without heat for year-round fireplace enjoyment.
The Revillusion features 360-degree light creating the illusion of flickering to enhance the effect of the flames.
The frosted acrylic panel increases the illusion of the fire by making the flames seem brighter and larger.
It contains Realogs Plus, which are life-size, hardwood-cast logs that add to the ambiance and create a realistic look.
Pros:
Realistic looking fire
Easy installation
Cons:
Insert can be unsturdy
Simple design leaves something to be desired aesthetically
---
3. ClassicFlame 3D Infrared Fireplace Insert
Heat output: 5200 BTU
Heat area: up to 1000 sq ft
Installation Dimension: 27" x 8.86" x 17.7"
Fans who prefer infrared heat to fan-forced heat will love the ClassicFlame 3D infrared fireplace insert.
It includes good overheating technology and is easy to install.
Homeowners can enjoy the 3D flame effects behind the security of tempered glass.
The 5200 BTU provides heat for spaces up to 1,000 square feet, making this a powerful option in an electric fire insert.
Pros:
Easy installation
Safer Plug technology turns off fireplace insert at the desired temperature
Infrared heat does not dry out skin or cause static electricity
Cons:
The glass shows reflection, taking away from the realistic feel
---
4. Masarflame Large Electric Fireplace Insert
Heat output: 5000 BTU
Power level : 750/1500W
Installation Dimension: 8.84" x 40" x 23.32"
The Masarflame 40" is the choice for the best large fireplace insert.
Features three-color ambiance light and five different flame intensity settings, this retro fireplace insert goes with any style of home.
There are resin logs that increase the realistic look of this large fireplace insert.
Built-in speakers add to the atmosphere, allowing crackling sounds to permeate through the air.
Energy Saving Heating Options with a high and low levels are available for enjoyment.
Comfortably heats a room to 400 square feet.
This Masarflame appliance features overheat protection as a safety device.
Pros:
Easy to install
Overheat protection is a safety feature
Aesthetically pleasing with large flames
Cons:
Crackling sounds require a good speaker
---
5. TURBRO Cheap Electric Fireplace Log Insert
VIEW ON AMAZON →
Heat output: 4777 BTU
Power level: 1400 W
Installation Dimension: 13H x 23W x 9D in.
TURBRO is a relatively new name in electric fireplace inserts; the popular company has been in production since 2013.
The 'Eternal Flame' offers convective heating and a timer so that users can enjoy the flames for a predetermined amount of time.
The electric fireplace insert features lemonwood resin to add to the ambiance and illusion of realness. The Eternal Flame comes with a remote control to allow cycling between low, medium, and high flame brightness.
It made our list of the best electric fireplaces because for the price you get a lot!
Pros:
Three levels of brightness for customizable enjoyment
Comes with overheating protection for safety
Features a timer
Cons:
Some find the bright orange and red colors look unrealistic
---
6. Modern Flames NO HEAT Insert
VIEW ON MODERN BLAZE →
Heat output: N/A
Power level: Lithium battery / 120V
Installation Dimension:

20″ Model: 10.5″ H x 19.5″ W x 9.75″ D
26″ Model: 12.25″ H x 25.5″ W x 13.5″ D
This unique "smart" fireplace insert is battery-operated, meaning there is no need for unsightly cords as long as the lithium battery has charge.
The Flames Sunset Charred Oak is available in sizes 20″ and 26″ and is a great modern insert – especially if you're wanting a white electric fireplace.
Some features of this convenient battery-operating electric fireplace insert are available without heat.
The smartphone and Wi-Fi connectivity options increase the possibilities of functions that fireplace owners can enjoy.
Pros:
Batteries last 10 to 12 hours
Wi-Fi capability makes this a high-tech, high capability option
Six settings
Smart fireplace insert, with Google Home and Alexa connectivity
Cons:
---
7. Modern Flames Smart Redstone Fireplace Insert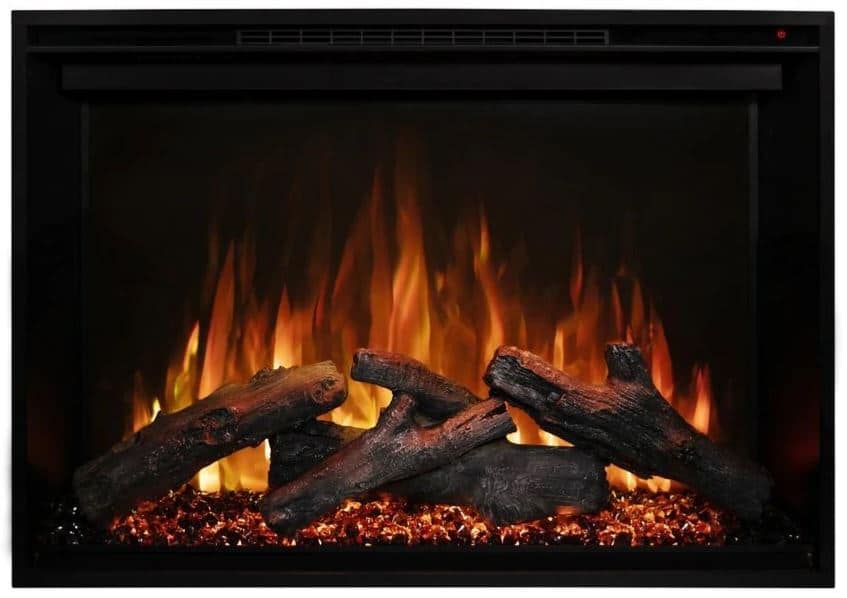 VIEW ON MODERN BLAZE →
Heat output: 5000 BTU
Power level: 750 W/1465 W
Installation Dimension: 18 1/2″ H x 29 1/4″ W x 9 7/8″ D
The Modern Flames Redstone features a sleep-timer, easy installation, and flames that operate independently of the heater.
This powerful electric fireplace insert can comfortably heat a space of 400 square feet.
The Redstone model comes with two trims and Hybrid-FX™ Flame Technology to regulate the flame, ember bed, colors, and thermostat.
Pros:
Flames work with or without heat for year-round enjoyment
Easy installation
Cannon balls are a unique aesthetic that some appreciate
Cons:
Requires a breaker with 15 Amps or higher, may be difficult for some to power electrically
---
Best Electric Fireplace Insert Features
The best electric fireplace insert features include noise and heat functions that make the flame effects appear more realistic.
Remote controls are fireplace insert features that allow the enjoyment and alteration of fireplace settings from the comfort of the couch.
Advanced fireplace inserts have heat and no-heat options, providing the opportunity for year-round enjoyment. A sleep-timer is a popular feature that triggers an electric fireplace insert to begin or stop at a designated time.
Aesthetic features allow the user to control brightness, flame color, and flame size. Other new innovations include access to Wi-Fi which enables the user to get more effects.
Bluetooth audio features provide listening variations such as crackles, campfires, and roaring fire sounds.
Types of Electric Fireplace Inserts
There are two main types of electric fireplace inserts:
Fireplace Inserts
Electric Logs Inserts
1. Fireplace Inserts
Fireplace inserts resemble a built-in fireplace; buyers match the size of the insert with the size of the existing fireplace and plug it in.
An electric fireplace insert uses technology similar to that of an electric log insert.
Fireplace inserts feature a steel box, a textured log set, and a flame projection.
Additional features are available including, brightness, color, and heat variations.
2. Electric Log Inserts
Electric logs for a fireplace are the most prevalent type of electric fireplace insert marketed today.
An electric log set displays artificial logs on top of a metal grate.
Log inserts feature a built-in heater and fan that forces warm air into a room.
An electric log set is the most affordable choice for an existing fireplace but looks less realistic than an electric fireplace insert.
Another alternative is a corner electric fireplace if you want to shut off an existing vent.
Infrared Vs. Fan-Forced
Two types of heating that electric fireplace inserts use are infrared heating and fan-forced heating.
Both infrared heating and fan-forced heating have pros and cons, depending on the desires of the owner.
Infrared electric fireplaces heat larger rooms, generally in the 1000 square foot range.
Infrared technology provides quicker heating than fan-forced heating, although the heating is short-lasting. Conversely, fan-forced electric fireplaces heat a range of up to 400 square feet.
Fan-forced electric fireplaces feature a heating element and a fan to circulate the newly hot hair.
Fan-forced electric fireplaces take in cool air and blow out warm air. The technology involved in fan-forced electric fireplaces leads to warmer room temperatures.
Heating Power Required
Electric fireplace inserts use a standard 120-volt outlet (15-amp circuit) to power the internal heater.
Many inserts have two settings to save on electricity costs.
Some electric fireplace inserts are 240-volt units that provide 8,500 BTU heat output and heat 1,000 square feet of space.
These more powerful units are often used in place of heating systems and still use less electricity than other methods of heating.
Installation Requirements
The majority of electric fireplaces inserts feature easy installation that plugs into a standard household outlet.
They're not as easy to install as a wall-mounted electric fireplace (which usually just needs to be hung on the wall), and some may require a professional installer.
Owners must ensure that the outlet is on a dedicated circuit breaker or fuse and not shared with other electronics.
Electric fireplace inserts should not plug into extension cords, as the extension cord can become overloaded and cause an electric fire.
Electric Fire Insert FAQs
There are several frequently asked questions about electric fireplace inserts, including, are they worth it?
Another common misconception is that electric fireplace inserts are more expensive than gas inserts.
Here you will find the answers to all of your questions about electric fireplace inserts.
Are Electric Fireplace Inserts Worth It?
Electric fireplace inserts are known for being low-cost and highly efficient.
Fans of electric fireplaces tout low pollution as a reason for purchase.
The clean air and low maintenance are two reasons why electric fireplace enthusiasts love the convenient appliance.
Heat-free electric inserts allow electric fireplaces to add to the ambiance of a room year-round.
Do Electric Fireplace Inserts Use a Lot of Electricity?
Electric fireplace inserts use a standard 120-volt outlet (15-amp circuit) to power the internal heater.
This translates to an output of about 1500 watts.
Electric fireplace inserts do not use a lot of electricity and operate with less electricity than a dishwasher or laundry machine.
Electric fireplace inserts are highly efficient because they convert electricity to heat at a 99% efficiency rate.
Can You Put an Electric Fireplace Insert in an Existing Fireplace?
Yes, you can put an electric fireplace insert in an existing fireplace.
In fact, that is the point of electric fireplace inserts, to offer unrivaled convenience!
Electric log inserts are on a metal grate that owners place into an existing firebox.
Electric inserts are self-contained boxes that fit inside existing fireplaces.
What Are the Most Realistic Electric Fireplace Inserts?
Dimplex fireplaces consistently top the list of the most realistic electric fireplace inserts.
The manufacturers at Dimplex pride themselves on creating innovative features that fool guests into believing that the flames on an electric fireplace insert are real.
Is It Cheaper To Run a Gas or Electric Fireplace?
The key difference between gas and electric fireplaces is how each operates.
A gas fireplace emits heat, produces flames, and consumes gas whenever it is on.
An electric fireplace insert is different because many are ambiance boosters that do not emit heat.
Electric fireplace inserts have a heating unit that is independent of the flame unit, unlike gas fireplaces.
This unique feature allows electric fireplace owners to enjoy the ambiance of fire year-round without the cost and heat involved in gas fireplace inserts.
Without heat, the operational costs of electric fireplace inserts range between 0.003 to 3 cents per hour.
The price increases to 9 cents an hour in electricity if the heating elements are in use.
Are Electric Fireplace Inserts Difficult to Install?
Electric fireplace inserts are known for their universal nature and ease of use.
One of the perks of electric fireplace inserts is the easy installation feature. Prospective buyers measure existing fireplaces for length, width, and height dimensions.
Compare the dimensions of the fireplace with the dimensions of the electric fireplace insert. The electric fireplace insert should fit seamlessly into the fireplace.
If you have a huge fireplace space you could even consider a small electric heater like the Duraflame Infrared Heater – it has the look of a little wood-burning stove.
What Do You Need to Do to Prepare a Fireplace for an Insert?
Electric fireplace inserts are known for easy installation and low preparation requirements.
There are a few steps to take before plugging in and enjoying the electric fireplace insert.
Place a Cover Plate on Your Chimney
Homeowners should install a cover plate in the chimney before installing an electric insert fireplace. The cover plate will stop water from entering the chimney and causing damage.
Measure the Fireplace
Obtain length, width, and height measurements so that an electric fireplace insert will fit into the existing fireplace.
Clean the Fireplace
Clean the fireplace of existing ash, soot, and remnants from previous use. The electric fireplace insert needs a clean space to operate efficiently.
Dedicate an Outlet
If the electric fireplace requires a plug, dedicate an outlet specifically to the insert.
An outlet dedicated to the insert will prevent tripping the breaker and overpowering the circuit.
Always get the help of an electrician for installation if you are unsure how to install an electric fireplace insert.
Top-Rated Electric Fireplace Inserts
Electric fireplace inserts are growing in popularity because they do not contribute to pollution.
These inserts provide clean air and high efficiency.
Unlike traditional fireplaces, electric fireplace inserts can be enjoyed year-round, with heat and no heat options readily available.
As technology advances, fireplaces emerge that function with:
Smart phones
Google Home
Alexa
This new era of fireplaces promises to be the most exciting yet.
Gone are the days when electric fireplace inserts were considered cheesy and tacky.
Manufacturers are currently perfecting electric fireplace inserts that are indistinguishable in appearance from real fireplaces.
Lastly, check out the range of Walker Edison Fireplace TV Stands as another completely different type of alternative.