A summer campfire is a fantastic way to relax and enjoy the outdoors.
Even if you don't like camping itself, you can get the same joyful feeling from a steel fire pit in your backyard.
We've put together a list of seven of the best steel fire pits to help you choose the right one for you.
Through our findings, the best steel fire pit in this list is the Solo Stove Bonfire Fire Pit. It's efficient, burns well, and looks great while doing it.
To get an idea of which steel fire pit would work best for you, take a look at the seven choices below.
Steel Fire Pit Reviews
1. Solo Stove Bonfire Stainless Steel Fire Pit
Height: 14 inches
Width: 19.5 inches
Weight: 20 pounds
Material: 304 Stainless Steel
Fuel: Firewood logs
For all your barbecue needs, this round steel fire pit is more portable and less bulky than any competitor.
A bonfire stand allows this fire pit to sit on smooth or rough surfaces with ease.
The Solo Stove uses a double-wall structure for optimal airflow. Oxygen reaches the bottom of the fire through small vents in the outer wall and flows upward towards the main pit.
The gap between the two wall layers directs oxygen for more efficient burning – they're known as a smokeless fire pit.
Breeo Fire Pits are very similar, coming in both corton and stainless steel, so it's worth comparing prices.
Pros:
Reduces smoke
Secondary burn
No setup needed
Cons:
Difficult to clean
Needs a protector for outside storage
---
2. Sunnydaze Cauldron Metal Fire Pit
VIEW ON AMAZON →
Height: 23 inches
Width: 30.75 inches
Weight: 20 pounds
Material: Alloy Steel
Fuel: Firewood logs
This steel fire pit bowl provides the perfect atmosphere for any backyard barbecue.
Its cauldron shape is both heavy-duty and portable.
You can move it to any section of your yard without fear of it rusting or becoming unsteady.
Made from alloy steel and coated with a bronze finish, this fire pit is rust-resistant and the ultimate addition to your outdoor decor.
With a built-in wood grate and a spark screen for safety, this fire pit has optimal airflow for a bigger flame without added danger.
It also comes with a poker and a one-year warranty from Sunnydaze – all in all, it's a good wood-burning fire pit.
Pros:
Rustic appearance
Comes with fire safety tools
Resilient and durable
Cons:
Spark screen handle is hinged (could be removed)
The surface can rust if not taken care of
---
3. Sunnydaze Large Outdoor Steel Fire Pit
Height: 24 inches
Width: 36 inches
Weight: 29 pounds
Material: Alloy Steel
Fuel: Firewood logs
If you want a heavy-duty steel fire pit, this second product from Sunnydaze is both one of the sturdier and largest products on this list.
Its alloy steel is 1.7mm-gauge, for increased durability from weather, time, and general wear and tear.
The pit features a cross-weave pattern that serves as a large airflow vent and a charming decoration piece.
A metal spark screen keeps the fire contained on all sides, and the interior wood-burning grate provides enough oxygen for a strong flame.
Sunnydaze is one of the most popular fire pit brands, along with the likes of the Titan Great Outdoors fire pits.
Pros:
Comes with custom cover and poker
Rust-resistant
One-year warranty
Cons:
Expensive
Mesh isn't rust-resistant
---
4. AmazonBasics Small Steel Fire Pit
Height: 35 inches
Width: 27.8 inches
Weight: 16.6 pounds
Material: Alloy Steel
Fuel: Firewood logs
This tall metal fire pit stands above the rest at a height of 35 inches, allowing you to pile on fuel faster than other pits.
With its lattice steel appearance, your fire will be easy to view from any angle. Wire mesh allows through ample amounts of oxygen for a larger flame.
This fire pit comes with a spark screen and poker, so you can easily control and tend to your fire without fear of getting burned.
The ring handles on either side make it easy to move the pit to any section of your yard.
Use a good fire pit mat underneath the product if you're putting it on the deck, patio, or lawn. If it's on stones, concrete, or woodchips, you should be alright without one.
Pros:
More affordable
Attractive appearance
Height makes it easier to stack logs
Cons:
Can be too large for some
Top screen is a little flimsy
---
5. Hampton Bay Metal Gas Fire Pit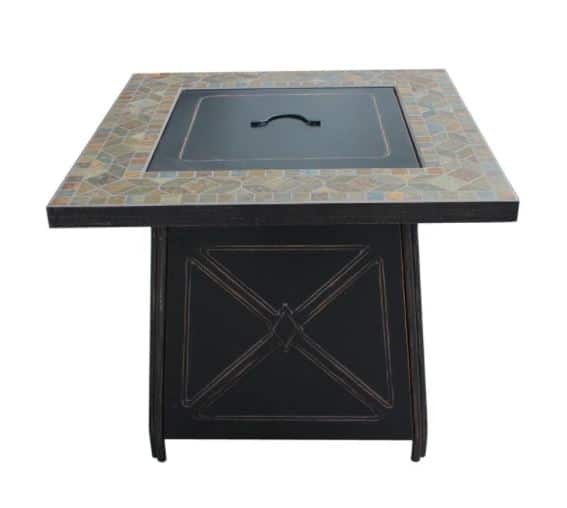 Height: 25 inches
Width: 30 inches
Weight: 89.32 pounds
Materials: Steel and Natural Slate
Fuel: Gas/Propane
If your interests lie with a more sophisticated patio look, this metal gas fire table has you covered.
A stylish design complete with a natural slate tabletop will give your backyard a distinct flair of character.
The colors and materials also work well with most outdoor furniture, so the fire pit will be more likely to match your decor.
As a gas fire pit, there is no need for a spark screen or poker. However, this product does come with lava rocks and a protective screen.
The lava rocks may split on the first use, but the screen will prevent any debris from flying into the air.
After your first test, the rocks will no longer be a danger and you will no longer need the screen.
Propane gas fire pits have many upsides – you don't have to collect or buy firewood, and you don't have to keep stocking the fire!
Fire pit tables are great because you can put your wine or beer down on them. Plus, many of them come with covers that allow them to be used as a complete table when not turned on.
Pros:
Looks great
No danger of sparks
Clean-burning adjustable flame
Cons:
---
6. Redstone Heavy Duty Steel Fire Ring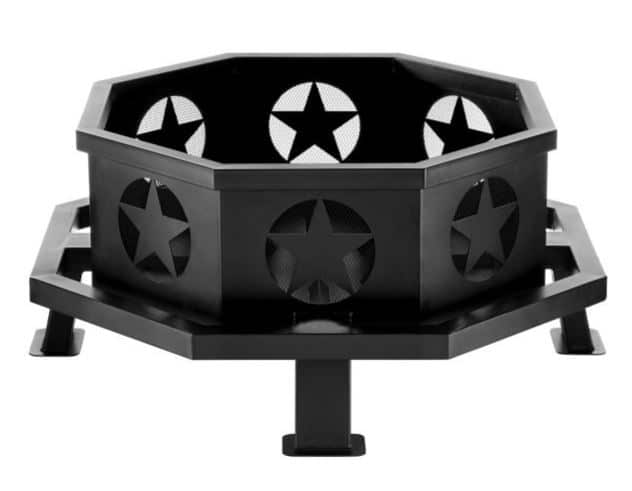 Height: 19.6 inches
Width: 43.3 inches
Weight: 72 pounds
Material: Steel
Fuel: Firewood logs
This heavy gauge steel fire pit is sturdy, well-made, and a joy to look at too.
The star-shaped patterns allow in oxygen while also giving you a view of the fire from every side.
Within the bowl, there are ridges to hoist your firewood for better airflow underneath the logs.
As a single piece of heavy steel, it needs no setup beyond building your fire.
With multiple squat legs, this fire pit is incredibly stable on any surface.
The steel has a high-temperature coating to prevent damage or corrosion, making this a long-lasting and durable addition to any backyard barbecue.
If you like this style, check out these other metal fire pit rings for some other options.
Pros:
Optimal airflow via ridges
Durable material
Appealing appearance
Cons:
---
7. Outland Living Portable Steel Fire Bowl
Height: 11 inches
Width: 19 inches
Weight: 25 pounds
Materials: Alloy Steel, Stainless Steel
Fuel: Gas/Propane
If the fire pit you crave is something you can carry with you to a campsite, this small steel fire pit can do the trick.
Made from powder-coated high-quality alloy and stainless steel, it provides a durable and well-crafted option for ultra-portable units.
With automatic ignition, this fire pit is effortless and safe to start. It also comes with a ten-foot hose, propane tank stabilizer ring, and lava rocks.
The flame is easily adjustable with a chrome valve knob, and the lava rocks provide a spark-free clean burn.
It's one of the best-selling portable propane fire pits out there.
Pros:
Lightweight
Clean burn
One year warranty
Cons:
Can't leave it outside overnight
The valve knob can be finicky at first
---
Different Types of Steel
When you're looking for outdoor steel fire pits, you'll want to find one that lasts.
To do this, you'll have to consider your fire pit metal.
Steel is one of the more common materials for fire pits, but even then, not all of them use the same kind.
You can find steel fire pits that are:
Alloy steel
Stainless steel
100% heavy-duty steel
Corten steel
Galvanized steel
Alloy
Steel itself is technically an alloy, as it is an alteration of iron.
Alloys are mixtures of various metals to make alternate materials that are stronger or less impervious to damage.
Stainless
Stainless steel is another steel alloy with higher resistance to rust or staining.
Most stainless steel products don't need a protective paint coating, unlike other materials.
100% Steel
Steel, as an alloy of iron, is more rust resistant and damage resistant.
It's harder to break or crack a sheet of steel, so many people like to use it in place of iron for items like fire pits.
However, 100% steel is less rust resistant than other steel alloys.
Corten Steel
Corten steel, or weathered steel, is a collection of steel alloys meant to reduce the need for painting.
Painting your steel can help reduce the risk of rust, as a good coating can separate the metal from moisture in the air.
Round metal fire pits that are corten steel might look more like cauldrons than fire pits, but they will last longer than an unpainted pure steel model.
Galvanized Steel
Galvanized steel is steel that has been coated with zinc.
This helps to protect it from rain and moisture and keeps it from rusting.
Pros and Cons of Steel for Fire Pits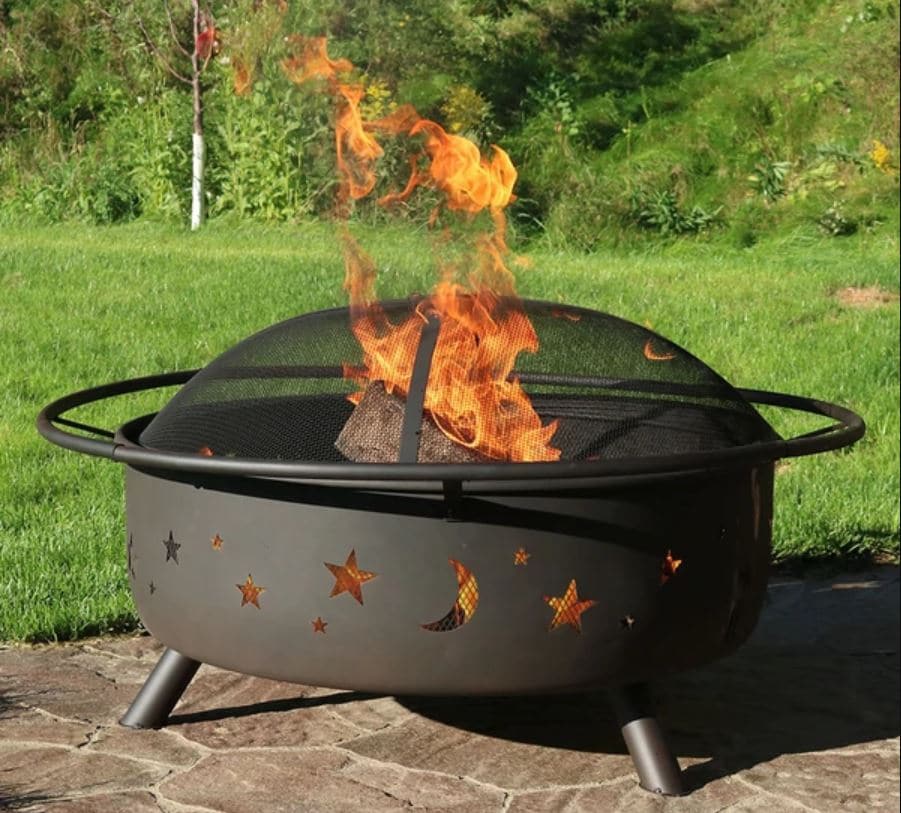 There are advantages and disadvantages to choosing a steel fire pit.
Using these lists, you can decide for yourself if a steel fire pit works for you.
Pros:
More affordable than other options
Weather-resistant
Rust resistant
Lightweight
Durable and long-lasting
Resistance to cracking or dents
Low maintenance
Portable
High melting point (won't warp under high heat)
Comes in a variety of shapes and designs
More convenient than heavy, expensive iron
Cons:
Not everyone likes the look of steel
Not as durable as cast iron
Still needs cleaning for best use
Steel Fire Pit FAQs
Below are some Frequently Asked Questions regarding steel fire pits – you can find more answers in our complete fire pit buyers guide.
Is steel or cast iron better for a fire pit?
Steel and cast iron are both great options for an outdoor metal fire pit.
They both have lots of the same qualities, such as being weather-resistant and durable.
However, a steel outdoor fire pit will be less expensive and more portable.
Generally, the choice between a cast iron or a steel fire pit comes down to affordability and personal taste, as the two metals will have different appearances.
Are steel fire pits safe?
When used correctly, steel fire pits can be quite safe.
They do get very hot when containing a fire, and embers or sparks may try to fly out.
However, if you keep your fire pit a safe distance away from buildings, fences, or grass, and use pokers and spark screens, you will reduce any risk to yourself and your property.
Do steel fire pits last?
Steel fire pits will last as long as they are taken care of, although lesser-quality steel might rust or break more easily than a higher-quality one.
Similarly, a steel alloy or steel using a powder coating will be less susceptible to rust and therefore lower maintenance.
Heavy-duty fire pits that use thicker steel will likewise be less likely to dent or crack from accident or weather.
Does steel rust?
Steel will rust if exposed to moisture and oxygen.
However, higher-quality steel will take longer to rust than lower-quality steel. Similarly, alloys will be less likely to rust.
Stainless steel, as an alloy, will not have the same reaction to moisture and oxygen as regular steel which accounts for its rust resistance.
What is the best steel for fire pits?
The best steel for fire pits is long-lasting, rust-resistant, and impervious to dents or cracks.
Generally speaking, the three top sheets of steel for fire pits are stainless, alloy, or Corten.
All three, alloy, corten, and stainless steel will resist corrosion, resulting in a fire pit that lasts longer than your standard steel.
Thicker steel plates will also provide more strength for your fire pit so it doesn't get bent out of shape.
Are stainless steel fire pits any good?
Stainless steel fire bowls and pits will resist rust and other corrosion.
They also have a very high melting point, making them unlikely to deform or warp.
Because of these qualities, a metal outdoor fire pit of stainless steel will be more durable and long-lasting than another material.
Best Outdoor Steel Fire Pit
The Solo Stove Bonfire fire pit proved to be the overall best out of our list, with the Sunnydaze Cauldron Outdoor fire pit close behind.
Thanks to its double-wall design and 304 stainless steel composition, the Solo Stove Bonfire is the most efficient and low-maintenance metal fire pit for sale.
The stainless steel ensures a lightweight, rust-resistant exterior that's easy to take care of and durable for many years to come. This alloy gives your fire pit the strength and solidity it needs for a sturdy product that can bring the best backyard fire possible.
Let us know if you have any questions in the comment section below, and check out these fire pit landscaping ideas to picture how your new fire pit might look once it's in!