Soapstone is a type of metamorphic rock that has a slightly slippery, soap-like texture.
It has several household applications and is often used to make countertops. However, soapstone is also a popular material for surrounding wood stoves.
While cast iron, steel, or other metal is used for wood stove construction, a soapstone surround insulates the fire. More importantly, it absorbs and then radiates heat once the fire is out.
Soapstone wood stoves tend to be durable, efficient, and attractive heating solutions that can look great in any style home, modern or traditional.
This article will answer this question and many others, helping you select the best possible model for your home!
Best Soapstone Wood Burning Stoves
Hearthstone Castleton Truhybrid

Comes in 3 different colors
1-1/4" soapstone with iron protectors
45,000 BTUs

View On Lehmans

Hearthstone Heritage Truhybrid

Matte black, brown, or seafoam
1-1/4" soapstone with iron protectors
60,000 BTUs

View On Lehmans

Magnum Soapstone Wood Cookstove

Wood and coal burning
Insulated oven
42,000 BTUs

View On Lehmans

Vermont Bun Baker Cookstove

Large range of buying options
1 ¼" OR 2 3/8″ soaptone surround
30,000 - 65,000 BTUs

View On Fire Pit SurplusView On Lehmans

Osburn Matrix Wood Stove

Modern, stylish soapstone stove
Soapstone top and side panels
75,000 BTUs

View On Fire Pit SurplusView On Ebay
If you're looking for an enamel wood-burning stove, any of the options below could be a practical choice.
So, without further ado, let's reveal our top picks for the best soapstone wood stoves. Some have a small amount of the material while others have thick surrounds – which do you like best?
1. Hearthstone Castleton 1 – Best Overall
VIEW ON LEHMANS →
Features and Specifications:
Maximum Heat Output: Up to 45,000 BTU
Heat Output Area: Up to 1,500 sq ft
Fuel Type: Wood
Hearthstone is well-known for producing some of the most durable and efficient wood stoves, including this capable soapstone option.
With a raised design that keeps the firebox off the floor and an included cooking plate for stovetop meals, the Hearthstone Castleton 1 is one of the best and most efficient options for homeowners.
Lehmans are stockists of many different soapstone stoves and have a good range of other wood-burning stoves as well.
Pros:
It can be installed as a freestanding stove or built into a hearth
It comes with a stovetop cooking plate
Meets 2020 EPA clean air standards
Features a burn time of up to 20 hours
Cons:
Not the best option for larger rooms or interior spaces
It doesn't feature an internal cooking chamber
---
2. Hearthstone Heritage TruHybrid – Best for Larger Spaces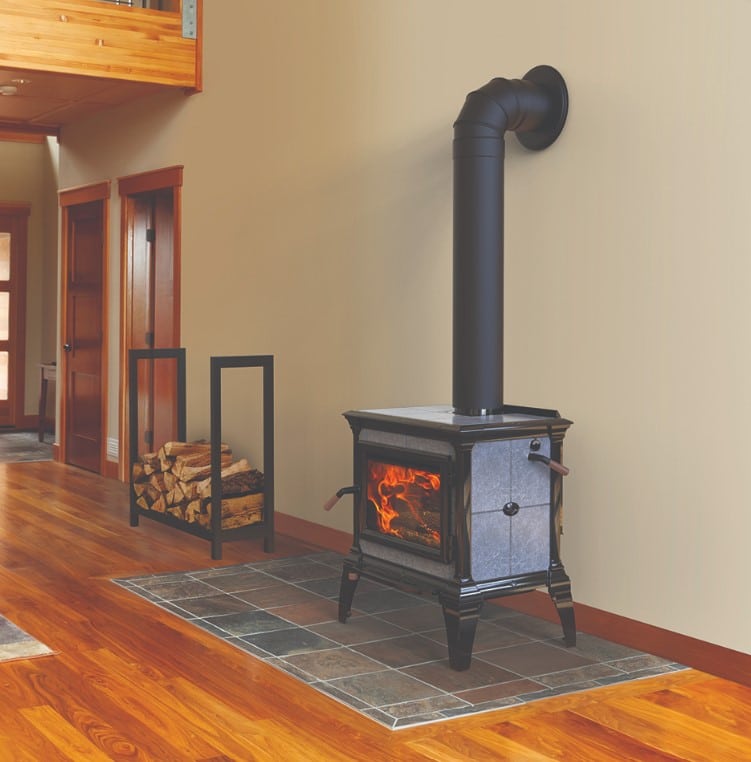 VIEW ON LEHMANS →
Features and Specifications:
Maximum Heat Output: Up to 60,000 BTU
Heat Output Area: Up to 2,100 sq ft
Fuel Type: Wood
Heating larger homes can be challenging, especially when relying on wood stoves.
But Hearthstone Heritage wood stoves can keep up to 2,100 square feet warm and toasty. If you're more familiar with kilowatt ratings, run the number through our BTU to kW calculator.
Like the Hearthstone Castleton 1, this stove is also raised, keeping the high-heat firebox off your home's floor.
Pros:
It provides an impressive heat output that can keep several rooms warm
Features one of the longest burn times of any wood stove; up to 25 hours
The side door makes it easy to access the internal chamber
One of the most efficient options
Cons:
Not the best choice for cooking meals
One of the priciest Hearthstone soapstone stoves
---
3. Magnum Soapstone Wood Cookstove – Best for Cooking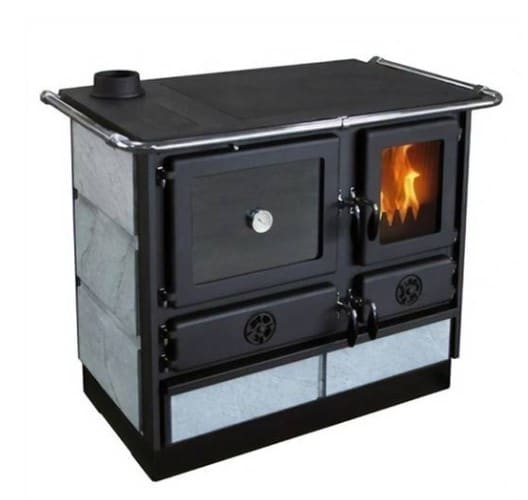 VIEW ON LEHMANS →
Features and Specifications:
Maximum Heat Output: Up to 42,000 BTU
Heat Output Area: Up to 1,500ft²
Fuel Type: Wood, Coal
Those looking to keep their home warm during the winter and cook meals without electricity may find that the Magnum Soapstone Wood Cookstove is the best of both worlds.
It provides more stovetop cook space than smaller-sized stoves and features an internal cooking chamber for baking. This model even comes with a warming drawer!
Wood-burning cook stoves are a good appliance to have if you live in an area that suffers from frequent power outages or if you just want to be more self-sufficient and/or off-grid.
Pros:
Features one of the largest stovetop cooking surfaces of any soapstone wood stove
It has a built-in thermostat in the oven door for tracking baking temperatures
It comes with a warming drawer to keep food toasty
Can heat a home while also cooking meals
Cons:
It sits directly on the floors
The firebox is made of cast iron, which can rust when exposed to moisture
---
4. Vermont Bun Baker By Nectre – Best Multipurpose Option
VIEW ON LEHMANS →
Features and Specifications:
Maximum Heat Output: Up to 37,500 BTU
Heat Output Area: Up to 1,000ft²
Fuel Type: Wood
The Vermont Bun Baker by Nectre is a comparatively small soapstone wood stove best suited for small spaces.
But unlike standard options, this model comes with a windowed baking chamber and a usable cooktop for stovetop meals.
Check out the complete range of Vermont Bun Baker Cookstoves and an explanation of the differences.
Pros:
Capable of cooking food on the stovetop and inside the baking chamber
Glass doors make it easy to supervise cooking food
It comes with a competitive 10-year limited warranty
It features a blend of contemporary and classic designs for a unique look
Cons:
It is almost double the price of other soapstone wood stoves
Heat output is lackluster when compared to other wood stoves
---
5. Osburn Matrix Wood Stove – Best Modern
Features and Specifications
Maximum Heat Output: Up to 75,000 BTU
Heat Output Area: Up to 2,100ft²
Fuel Type: Wood
Most wood stoves have a classic homestead aesthetic that clashes with contemporary interior designs. But the Osburn Matrix Wood Stove with Blower is sleek, with a nifty built-in storage space ideal for storing wood.
This stove also features an impressive heat output, especially when you consider its compact size.
One happy owner shared:
This wood stove has been the perfect addition to our living room.

We have a light, modern style going on, and the Matrix complements the room while being a stunning statement piece on its own.
If you want a more vintage look, go for one of these antique wood stoves on Etsy or Osburn has other more traditional style wood-burning stoves (without soapstone).
Osburn heating appliances are made in Canada and sold through dealers across North America. Our partner Fire Pit Surplus is one such dealer!
Pros:
It offers an impressive heat output area considering its compact size
Features a built-in fuel storage compartment
It has a sleek, contemporary design
Ash collection tray is easy to remove and empty
Cons:
Maximum burn time is only about eight hours
Additional components (like a fire screen) aren't included in the base model
---
What Is Soapstone?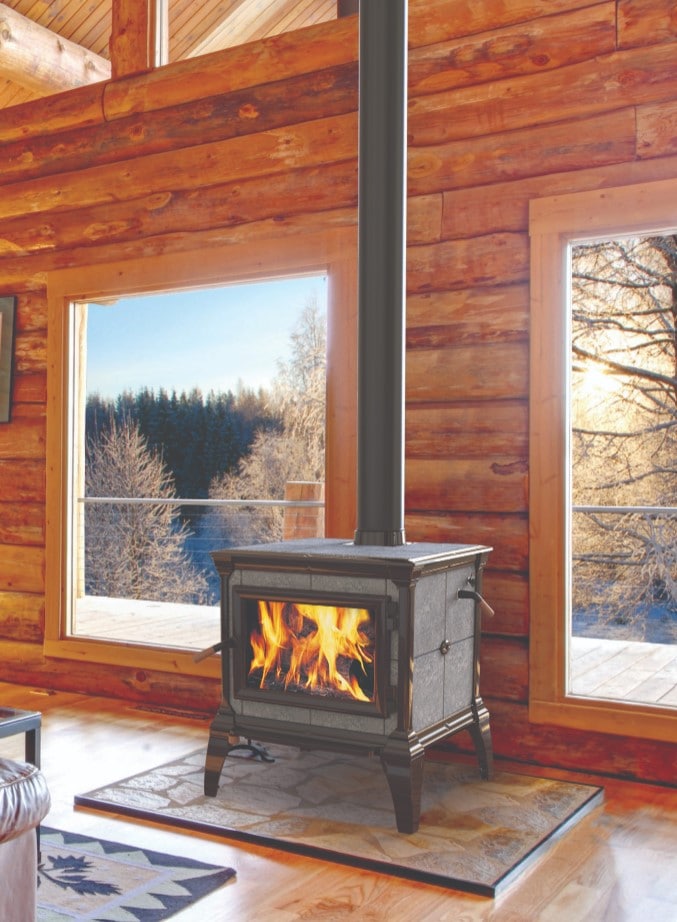 Soapstone is a type of metamorphic rock that's rich in talc.
Metamorphic rock is a type of stone transformed by high-heat and high-pressure environments.
Most metamorphic rock is found along tectonic plates, especially along faultlines where the earth's crust collides. There are several metamorphic rock types, including marble, quartz, and gneiss.
Still, while these other types of stone are often used for decorative purposes or flooring, soapstone has many applications. For example, soapstone is rich in talc, making it an attractive material for companies that produce talcum powder.
Like marble and quartz, soapstone is also used to make household items, including kitchen and bathroom countertops, floor tiles, and sinks.
Though soapstone is quite dense, it's also softer than other types of metamorphic rock. For that reason, soapstone is a popular material for artists, particularly those who enjoy making decorative sculptures.
Modern soapstone wood stoves don't use modern materials. Instead, it's been used for various purposes since ancient times. For example, ancient Egyptians utilized soapstone to produce decorative carvings.
Other ancient civilizations across the globe used this rock for similar purposes, leaving behind durable artifacts that now sit inside notable museums.
In prehistoric Virginia, early humans carved soapstone into simple bowls and cups.
Nowadays, soapstone is primarily used in industrial applications (such as producing talc) and commercial applications (countertops, sinks, flooring). However, its ability to retain heat and withstand high temperatures makes it a top-notch material for wood stoves.
Soapstone Wood Stoves Pros And Cons
If you're looking to install a traditional wood stove in your home, a soapstone model could be an excellent choice.
However, it's always wise to weigh the pros and cons of an appliance before buying.
Pros
Soapstone wood stoves can help you keep your home warm and toasty during the winter season.
They offer several benefits, including:
Heat retention. Soapstone is a dense, non-porous material that can retain heat better than other materials. This quality also allows it to release heat more slowly, resulting in a more comfortable level of warmth that dissipates slowly.
No rusting. Unlike cast iron, soapstone never oxidizes. Therefore, homeowners with soapstone stoves don't need to worry about their stove rusting.
Superior durability. While steel and cast iron can warp when exposed to prolonged periods of high heat, soapstone can withstand incredibly high temperatures without suffering damage.
Resistance to stains. In addition to never rusting, soapstone tends to resist staining, making it an aesthetically-pleasing alternative to rust-prone cast iron and stainable steel.
Cons
While soapstone wood stoves have several notable beneficial features, they aren't without potential drawbacks.
For example:
Soapstone heats up slowly. Compared to other wood stove materials like cast iron or steel, soapstone takes longer to heat up. Its heat output isn't as instantaneous as electric heaters or gas-powered stoves.
They tend to be smaller than other types of wood stoves. While many steel stoves can handle a large load of fuel (10 cords or more), most soapstone stoves have a much smaller fuel capacity. As a result, users may need to fuel more often.
Soapstone Stove FAQs
Below you'll find some of the most frequently asked questions regarding soapstone wood stoves.
How long does a soapstone wood stove last?
Because soapstone doesn't rust (like cast iron) or warp when exposed to long periods of heat (like steel), it can potentially last a lifetime.
But some components, like exhaust vents, may need to be replaced every ten or twenty years.
How long will soapstone retain heat?
Soapstone retains heat for several hours after its fuel is depleted.
Generally, a soapstone wood stove can continue to disperse heat into the surrounding environment up to four hours after its fuel is gone.
Naturally, heating durations vary from model to model. However, the Hearthstone Heritage TruHybrid offers burn times of up to 25 hours, making it one of the best options for those looking for lengthy heating times.
Why is soapstone good for stoves?
Soapstone is one of the best natural materials for wood stoves, as this metamorphic rock is incredibly dense and durable.
In addition, soapstone can retain heat better than most materials, allowing them to heat homes more efficiently than cast iron or steel.
Are Hearthstone stoves good?
Hearthstone stoves are some of the best wood-fuelled soapstone stoves.
Most of these stoves are raised above the floor, incredibly efficient, and built to last. They're attractive, efficient, and comparatively safe alternatives to other types of soapstone stoves.
Are soapstone stoves worth the money?
Winter storms can leave your home without consistent electricity.
When temperatures plummet, a wood stove could mean the difference between shivering through the winter or sitting in comfortable warmth.
Besides, soapstone wood stoves are more efficient than other types of wood stoves, making them a wise investment for those living in areas prone to heavy snowfall or blizzards.
How much does a soapstone wood stove cost?
A soapstone wood stove costs anywhere between $3,000 and $6,000.
Price tends to vary depending on the size of the stove and its applications.
For example, larger stoves capable of heating homes and baking meals tend to be pricier than compact stoves without cooktops or baking chambers.
Is soapstone better than cast iron?
In many ways, soapstone is a better material than cast iron, especially for wood stoves.
It can retain heat better than cast iron, ensuring that it emanates warmth longer than cast iron. It's also less sensitive to moisture, so you'll never have to worry about it rusting.
Cast iron fire pits are excellent though!
How hot does a soapstone wood stove get?
A soapstone wood stove often reaches temperatures exceeding 400℉.
This material is so durable that it can reach temperatures of 2,000℉ without suffering any damage. Of course, this temperature would be far too hot for most purposes, including keeping your home warm.
Can you cook on top of a soapstone wood stove?
Many soapstone wood stoves are explicitly designed for cooking. Their fuel chambers are often located directly beneath a flat surface that's ideal for stovetop cooking.
Some models, like the Magnum Soapstone Wood Stove and Vermont Bun Baker, feature internal cooking chambers that allow you to bake meals!
How do you clean a soapstone grill?
Cleaning a soapstone grill is a straightforward process, though you won't want to use abrasive chemicals that can linger on the grill's surface.
Instead, it's best to use warm water and mild dish soap to scrub away hardened bits of food or charcoal.
What can you cook on a soapstone?
The better question might be, what can't you cook on a soapstone dish!
This material is durable enough to remain stable on stovetops, inside ovens, and over high-heat grill surfaces.
Because soapstone is a natural material, it's also a comparatively safe alternative to enamel-covered pots and pans.
Does soapstone make a good pizza stone?
Soapstone is an excellent material for pizza stones.
After all, it retains heat better than other materials, and it can withstand the high heat of pizza ovens (many of which reach 500℉).
Because this material both resists heat damage and holds onto heat, you can even use it to make pizza on an open-flame grill!
However, if you absolutely love pizza, you've got to check out the Stoke Stove pizza oven – it won't heat your home, but it will make an amazing pizza.
Wood Stoves With Soapstone
We believe the Hearthstone Castleton 1 is the best overall option for those seeking a high-quality soapstone wood stove.
After all, it boasts an impressive maximum burn time, a side lever to reduce smoke during ignition, and a raised design that reduces potential damage to flooring.
Of course, if you're looking for a wood stove to help you cook, the Magnum Soapstone Wood Stove or Vermont Bun Baker may be the better option, as they provide internal chambers and cooking plates explicitly designed for cooking.
Still, you can choose to add a cooking plate to the Hearthstone Castleton 1, which is why we believe it's the best overall option!
A final option, though without soapstone, is the Pioneer Princess Wood Cookstove or the cheaper Vogelzang Wood Stoves – they are a top choice for homesteaders and off-grid lifestylers!