I recently picked up the Stihl FS 45 Weed Eater for trimming the grass around our gardens.
I had been using sprays until about a year ago but came to understand the damage they do and so have completely stopped using them. Instead, I've got my weed eater.
The FS 45 does seem to be a very good line trimmer (see how chuffed I am about it in the pic above)!
It's nowhere near as powerful as the Stihl FS 55 (or the later FS 56 RC-E) which I've previously used, but it has its place for lighter work around the home, for sure!
Stihl FS 45 Weed Eater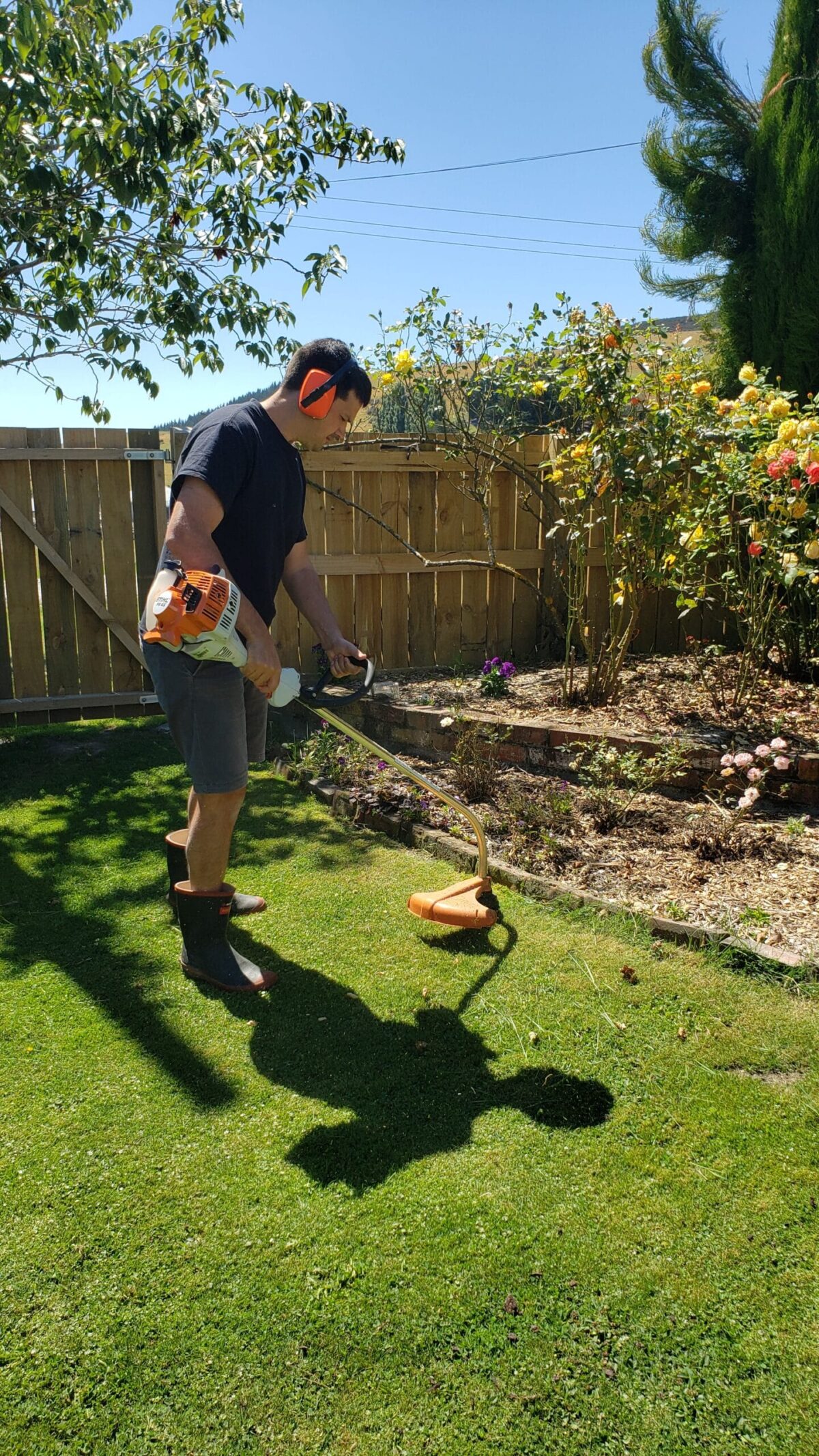 I've been using the FS 45 for a couple of months now and feel like I can write somewhat intelligently about it.
I've mostly been using for:
Short grass around garden and vegetable beds
Longer grass in the paddocks
Weeds and very light brush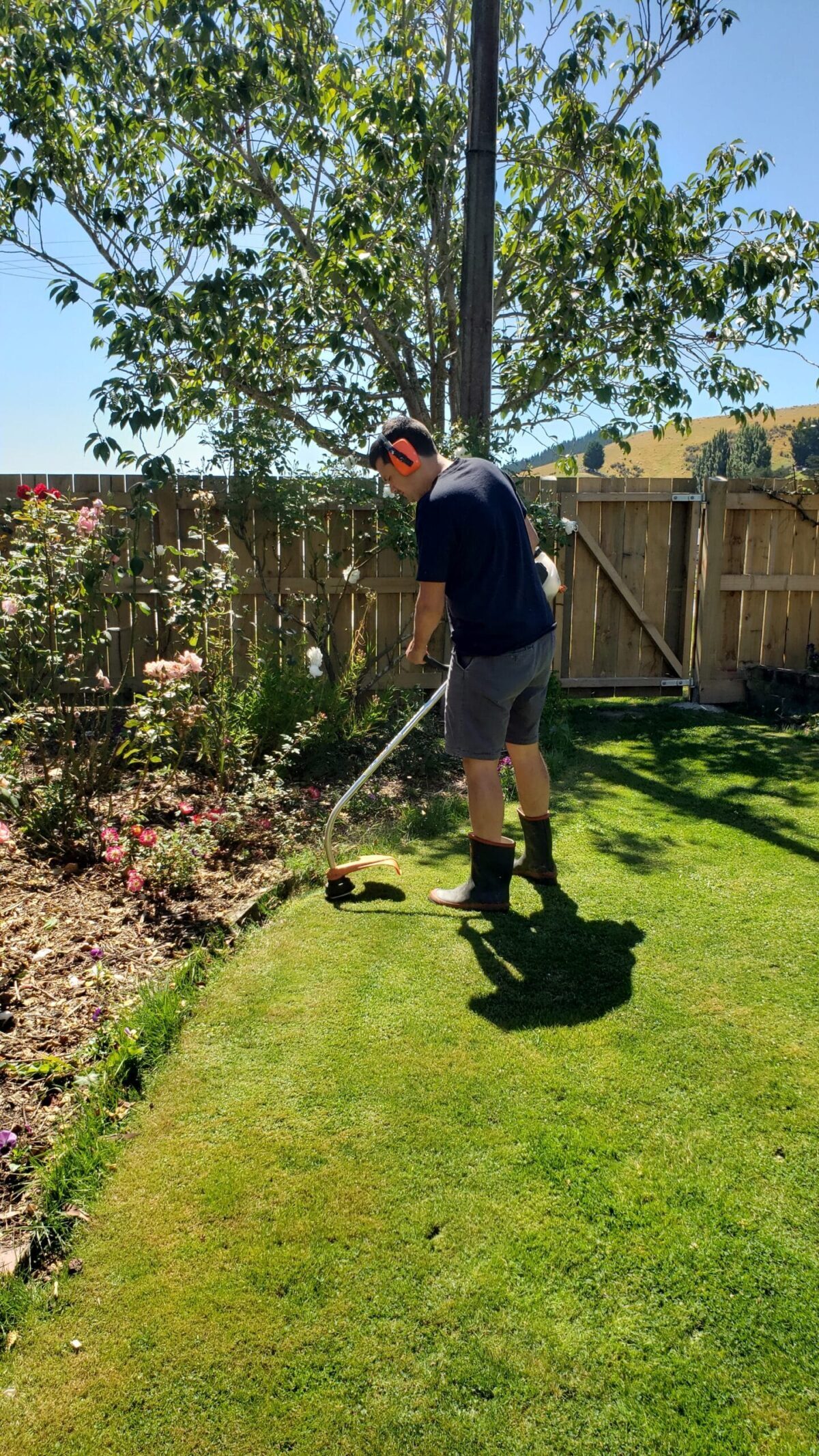 The FS 45 Gas Line Trimmer is not really designed for longer, thicker grass, but I have tested it out on that sort of thing and it does get through it. However, she's a bit slow at that type of stuff.
It's really good, fast, and effective at light trimming around the house but struggles a bit on the thicker grasses. It has a good bit more power than the FS 38, but it's definitely not a brush cutter.
Stihl FS 45 Unboxing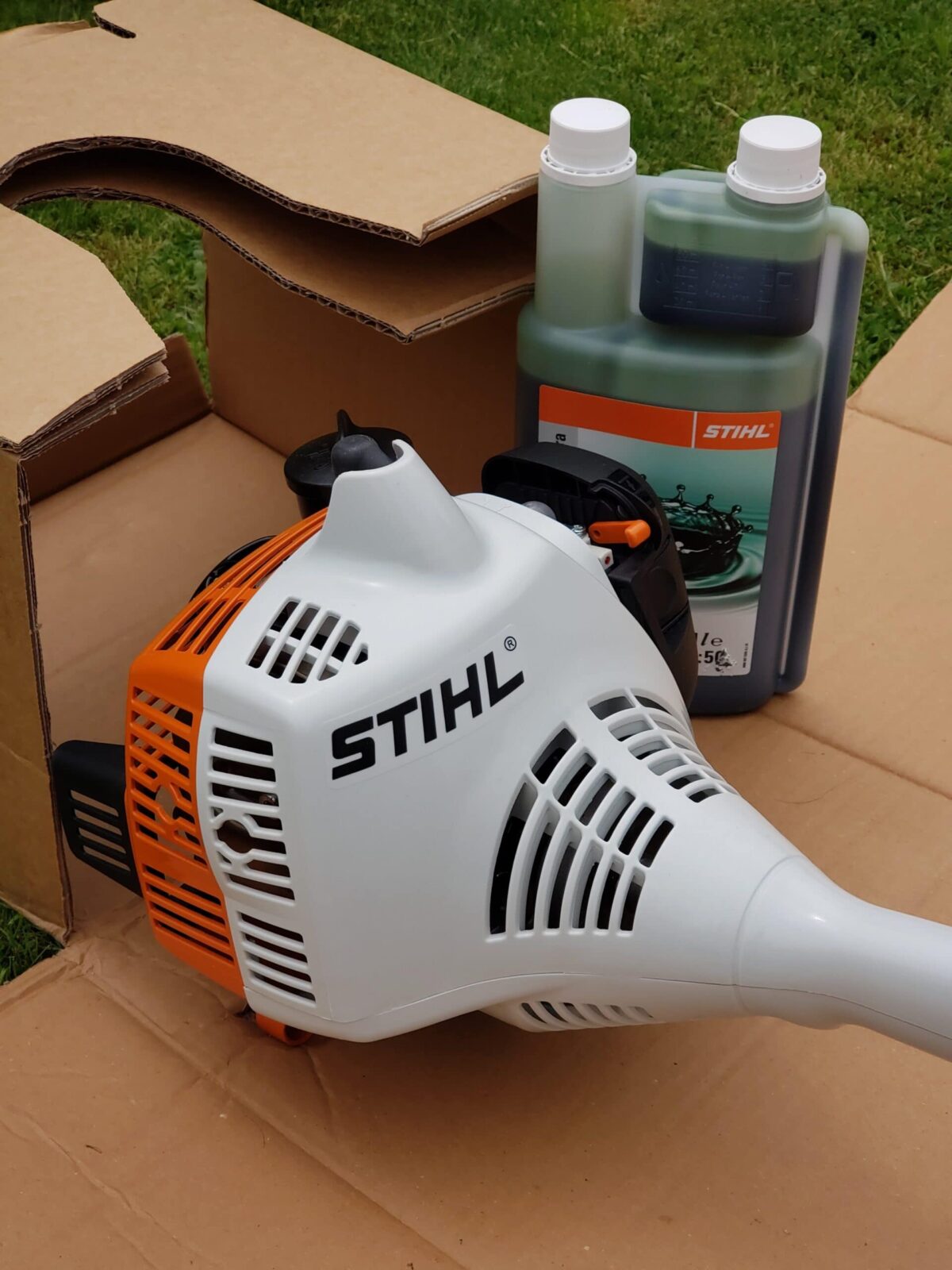 My Stihl FS45 was basically good to go out of the box.
The instructions show how to assemble the head and set up the line, but mine was completely set up. The handle was attached and I only had to click on the deflector and mowing head.
Check out this unboxing and set up video from Stihl for complete instructions.
I did have one problem with my trimmer out of the box – it would only idle, but as soon as I revved the engine, it would die on me.
I didn't want to mess around with it too much as it was brand new, so I took it down to my local Stihl Shop.
That was a bit of a pain because it's half an hour away (I ordered online and had it delivered), but I did enjoy looking at all the Stihl chainsaws out the back, including a bunch of their most powerful models.
The guy at the shop was really good and spent about 20 minutes to half an hour playing with the carb and getting it right. I believe he also trimmed the fuel line. He said the new engines just need a bit of tweaking when new as there was probably not enough fuel getting through (or, perhaps, too much – I forget).
Anyway, he got it going well (as it should be) and said to bring it back after I've put 5 tanks through it for another tune-up.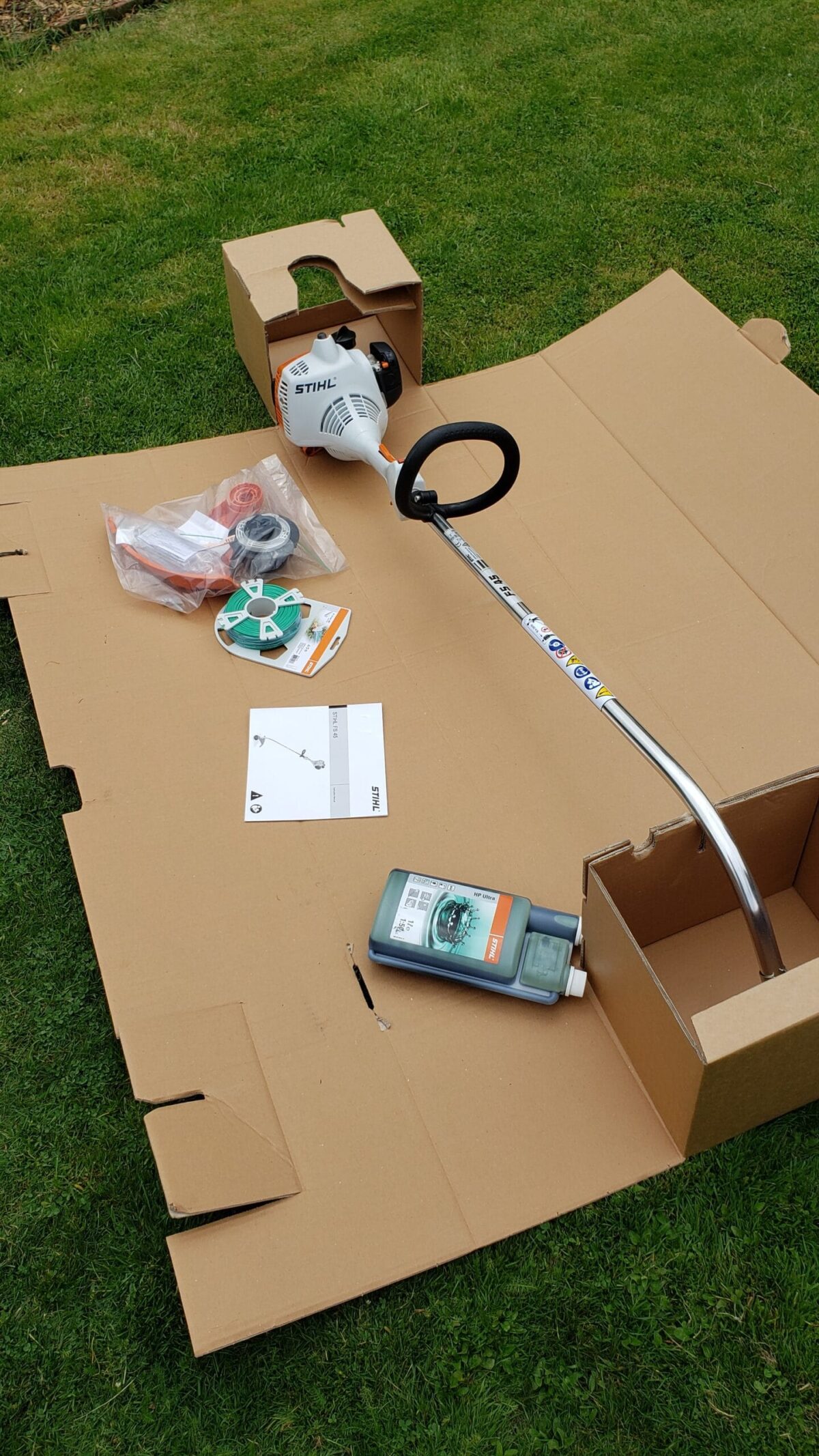 What does the FS 45 come with?
Everything you can see in the image above, minus the Stihl HP Ultra Oil and extra line. I ordered the HP Ultra Oil because doing so extends the warranty out another year – and because it's good!
The head came with a bit of complementary line to get started, but it wasn't a whole lot.
The exact contents of your Stihl FS 45 order may vary depending on the country or state you're in. Stihl Shops will also run different promotions from place to place.
If you buy trimmer line in bulk, this is how to stop it from becoming brittle and breaking.
Specs And Features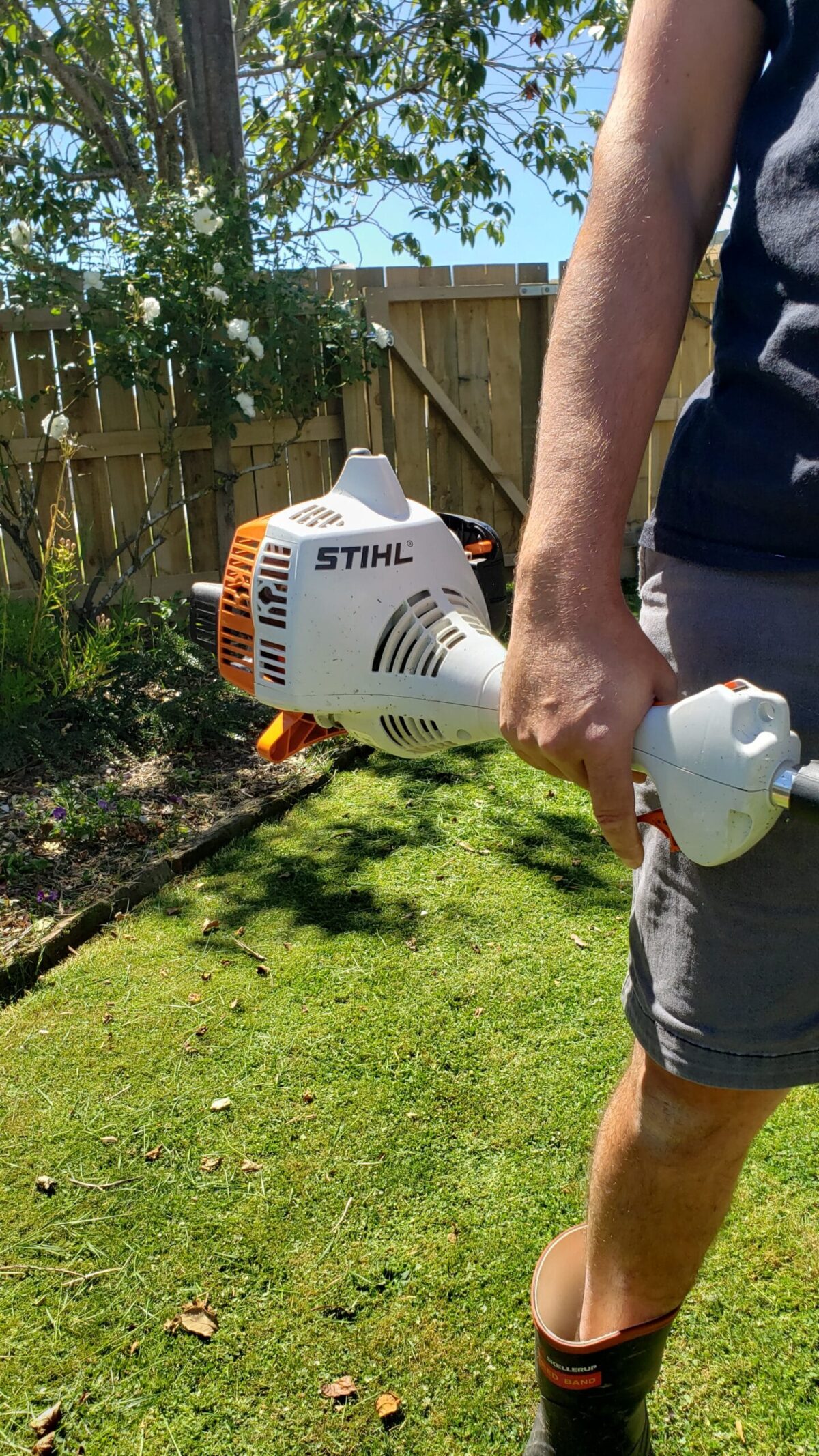 Another benefit of the FS 45 is its weight – only 9 lbs or 4.5 kgs.
This means you can use it for a couple of hours without becoming too tired and sore. There isn't a model that comes with the bike-style handle, it only comes in the loop handle.
There is also a Stihl FS 45 C-E version – the difference between this and the base model is that it has the ErgoStart feature making it easier to start. However, my non-C-E Stihl FS 45 starts so easily, it's hard to imagine that it could be any easier!
Other Stihl FS 45 specifications:
2-stroke gas engine
0.75 kW power
27.2 cc
1.66 cu. in.
1.34 in bore
1.18 in stroke
2800 RPM idle speed
9500 RPM max speed
NGK BPMR 7 A spark plug
9 lbs/4.5 kgs
And the standard line for the FS 45 is the Stihl Green Nylon Line 2 mm. Download the Stihl FS 45 manual here.
One of the main questions that gets asked about the FS 45 is 'Does the line come out automatically?'
The answer is yes and no!
No, not completely automatically, you need to bump it the head against the ground while it's going. It's called the Stihl Bump Feed Head or Bump Feeder Head.
You don't need to manually pull the line out or anything like that, you just give the head a bump on the ground when the line gets short. Ideally, you want to keep the line within an inch or so of the line limiting blade on the deflector.
If you let the line get too short, you can lose the end of the line in the head – then you have to stop the unit and manually get the line out again.
Other Stihl FS 45 features:
Primer bulb
Easy controls
Loop handle
Easy-feed mower head
It's a basic line-trimmer, more on the entry-level zone, so it has everything you'd expect on a reasonably cheap model. While it's not a pro-weed-eater or brush cutter, my opinion is that it is still better than some of the other cheaper line trimmer brands.
It has a flex shaft rather than a solid shaft, which means it can have a curved end rather than a straight shaft, but it also means it's not as durable or able to tackle tough jobs.
Stihl FS 45 Review
I'll put together a video review of the FS 45 in the coming weeks, but overall I'm happy with it.
I will also get a more powerful model for the tougher jobs I need to do around the property, but the FS 45 is great for the work around the yard.
The price was good during a sale, and it gets the job done, so that's all that matters. There was a slight hiccup with it not working straight away and needing somewhat extensive tuning, but that's what you get with gas engines.
All in all, the FS 45 is a good weed eater and I can recommend it.
Pros:
Lightweight
Starts quickly and easily
Doesn't chew through gas
Effective trimmer
Looks great
Cons:
May need some tuning before use
Not for long grass
Stihl FS 45 Trimmer
*The FS 45 may no longer be for sale in the USA/Canada, but is available in Australia, New Zealand, and other locations around the world.
If you have heavy work to get done, I'd get a more powerful line trimmer because the FS 45 isn't 'the ultimate trimmer.'
However, if you just need one for trimming around the home, I think it's worth grabbing. It's pretty cheap, it goes well, and it's worth it.
Please let me know if you have any questions in the comment section below.
Now, you must all be wondering, what does the FS mean on Stihl Line Trimmers?