The crackling and warmth of a fire and the whistling of a teapot often bring up a sense of nostalgia and home.
If you are interested in adding this ambiance to your home, selecting the right wood cookstove is pertinent yet can prove a challenge.
We understand this challenge and have searched the internet and created a list of the five best wood-burning cook stoves. These stoves will add that sense of comfort that you have been looking for.
There are many excellent wood-burning stoves on the market. We have found five excellent stoves through our rigorous search and selection process, including our personal favorite, the Vermont Bun Baker.
Best Wood Cooking Stove Reviews
While we have a lot more info on almost all of these cooking woodstoves below (and more), the Drolet Bistro Wood Burning Cookstove is a late edition.
You can find it for sale here on Fire Pit Surplus or read our Drolet Wood Stove reviews.
It's obviously not a large traditional model like Bun Baker or Pioneer Princess, but it could be perfect for someone wanting something a bit smaller and less obtrusive.
Make sure you take a closer look at the listing for more info.
1. The Vermont Bun Baker Wood Stove
VIEW ON LEHMANS →
Heat Rating: 37,500 BTUs – heats a space of 1,000 square feet
Weight: 419 lbs
Stove Dimensions: 21.5″ x 34″ x 21″
Oven Size: 1.19 square feet
Cooking Surface: 2.6 square feet
The Vermont Bun Baker is our best compact wood-fired cook stove and is perfect for a small cabin or home.
It has a metallic black finish, cast iron, a glass firebox, and oven doors.
This small wood fire cooking stove packs a punch in a small space. In addition to warming your home, you can also use it for cooking meals and baking.
Additionally, the glass firebox door adds some additional light to the room and gives you the visual appeal of the fire. The Bun Baker is an excellent cook stove for a smaller home.
See our complete Vermont Bun Baker review for more info on the different models. For example, it can be bought with or without soapstone veneer and wood storage.
Soapstone on wood stoves is good for insulating the fireplace and providing radiant heat longer.
Personally, I think this is a beautiful cook stove. It can cook anything including bread, stew, soup, roast meat, and everything else like that.
Awesome for winter cooking!
Pros:
A range of sizes
Glass doors allow you to watch the cooking and fire
Solid build and quality construction
Easier than alternatives to control heat
Made to a high standard in Australia
Can be vented through ceiling or wall
Cons:
Expensive with the soapstone surround
The small model can't fit big meals in the oven
---
2. The Vermont Bun Baker XL Wood Stove
ON FIRE PIT SURPLUS →
Heat Rating: 68,000 BTUs – heats a space of 2,500 square feet
Weight: 550 lbs
Stove Dimensions:27.25″ x 33″ x 22.24″
Oven Size: 1.69 square feet
Cooking Surface: 3.4 square feet
The Bun Baker XL is the bigger brother of the Bun Baker and is suitable for larger homes.
It has all the features of the Bun Baker but is bigger.
Also, I should mention that these ovens are sometimes sold under the name Nectre Wood Fire Stoves. They are identical, made by the same company in Australia, but sometimes have different names in different markets.
The XL is a powerful wood-burning cookstove that can warm a relatively large cabin or home and cook for the entire family. Additionally, and unlike traditional cookstoves, the Bun Baker XL adds the fireplace vibe with its glass firebox door.
It can be bought with or without a soapstone surround.
Pros:
Can heat a larger space
Large cooking surface
Large oven with two trays
Great features like a thermometer and spring handle
An adjustable bypass that allows for better temperature control
Cons:
Can't be hooked up to hot water
As expected, even pricier than the smaller model
---
3. Pioneer Princess Wood Cookstove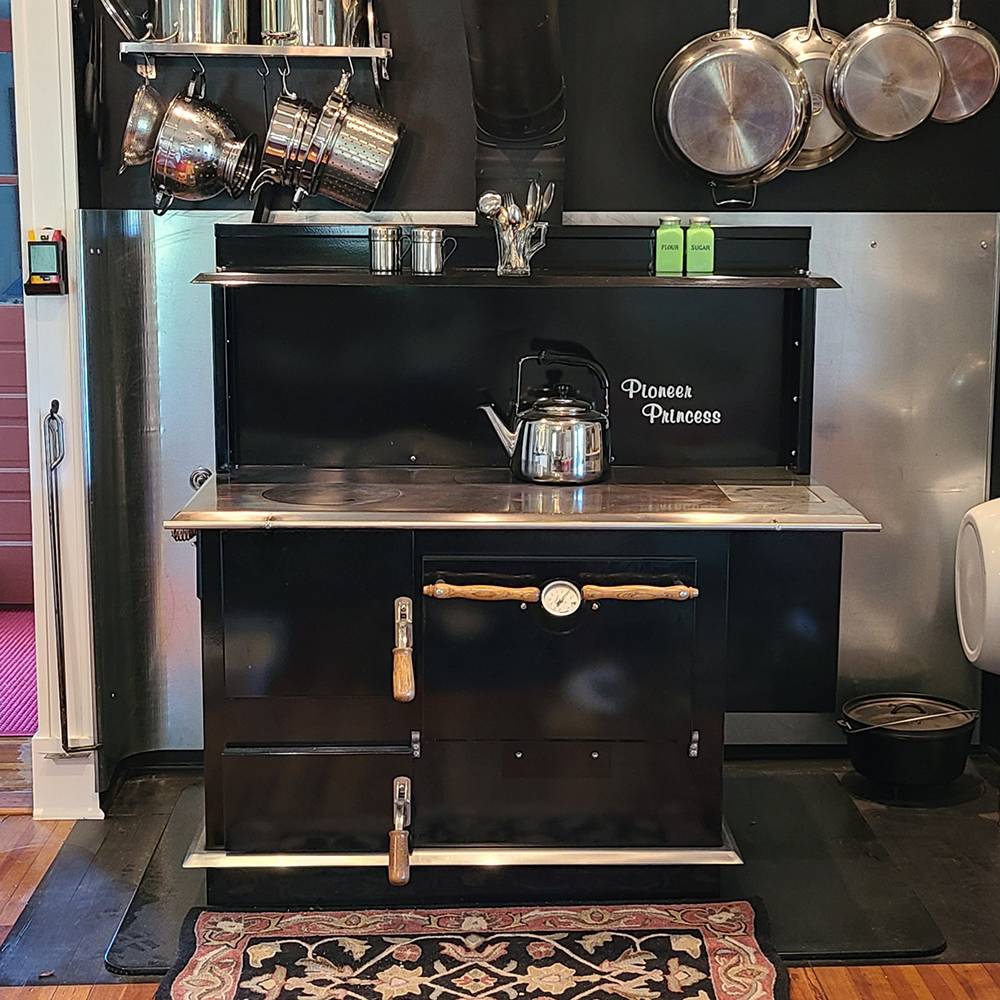 VIEW LATEST PRICE →
Heat Rating: 40,000 BTUs – heats a space of 2000 square feet
Weight: 650 lbs with the optional water reservoir
Stove Dimensions: 54.5″ x 36″ x 45″
Stove Dimensions (with water reservoir): 54.5″ x 36″ x 54″
Oven Dimensions: 13″ x "19.5" x 24″
Cooking Surface Dimension: 53.5″ x 24″
The Pioneer Princess is a large wood-burning stove for cooking.
This Princess is not petite!
Its massive cooking surface and oven will allow you to feed the whole family and the in-laws.
The Princess has the look of a classic woodburning cookstove. The cooktop is gleaming porcelain, and the rest of the stove is black. The stainless steel over also has a porcelain-lined bottom.
The porcelain on the cooking surface and in the oven allows for easy clean-up.
One review said:
This cook stove is bringing the pioneer spirit out of me!!

We have regular power cuts and needed something we could rely on in the dead of winter for heating and cooking. The Pioneer Princess has been a lifesaver – literally!!
Like other stoves on our list, you can easily control the temperature of the Princess. It has a large firebox that will handle different sizes of wood and has shaker grates for easy ash removal.
See our complete Pioneer Princess cook stove review for more info.
Pros:
Large cooking surface and oven
An optional hot water reservoir
Good for an off-grid setup or areas with unreliable electricity
Great for those wanting to lower their energy costs
Easy enough to keep clean and looking good
Cons:
Not really suited for modern homes
Often a long wait period after ordering (often out of stock)
---
4. Baker's Choice Wood Cook Stove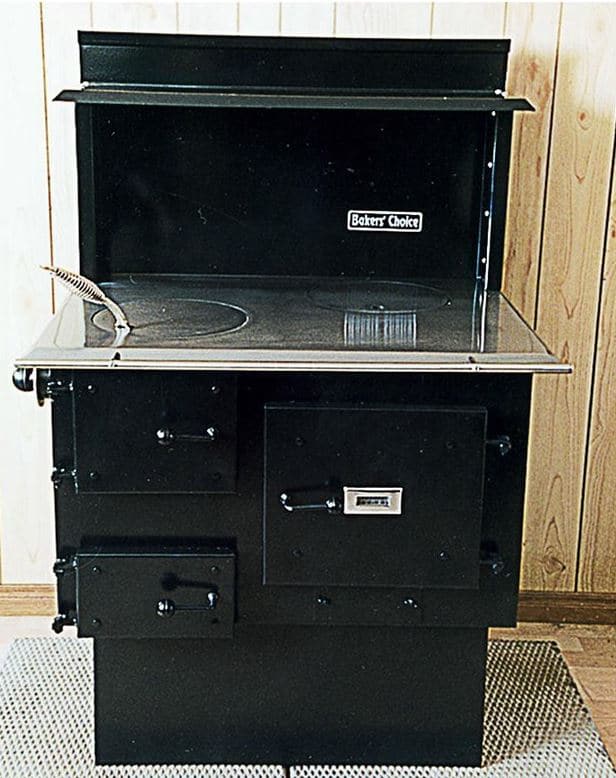 VIEW ON LEHMANS →
Heat Rating: 40,000 BTUs – heats a space of 2,000 square feet
Weight: 380 lbs
Stove Dimensions: 36″ x 24″ x 53.5″
Stove Dimensions (with water reservoir): 45″ x 24″ x 53.5″
Oven Dimensions: 22″ x 14″ x 13″
Cooking Surface Dimension: 36″ x 21.5″
The Baker's Choice Wood Cook Stove has that classic mountain cabin wood fire cooking stove aesthetic.
The cooking surface is polished steel, while the rest of the stove is black. This wood cook stove with an oven can warm your home, cook dinner, and bake dessert.
This model is our choice for the best budget wood-burning kitchen stove.
One happy owner said:
If you are looking for a functional and reliable wood stove that throws great heat and is CSA-approved (for insurance purposes), the Bakers Choice is pretty wonderful.

We're based in Alberta, Canada. We stoke it up at night and it is still going in the morning at 40 below.
It does not have a transparent, fireproof door, so you cannot see the fire as it burns. However, it gives you precise control of the firebox so you can control the temperatures overnight or when baking.
It has an easy-to-load firebox and that can handle oddly shaped or unsplit wood. It also features two shaker grates for easy ash removal. The optional water reservoir can give you hot water on demand.
Pros:
The optional hot water reservoir
Large firebox for all-night burns
Draws really well – easy to keep going
Cons :
The old-fashioned look won't suit modern kitchens
Too small for large homes/families
---
5. Concept 2 Small Wood Cook Stove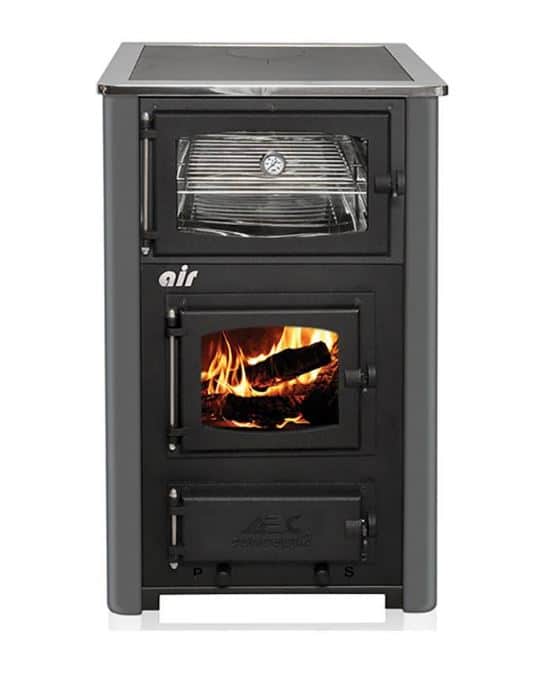 VIEW ON LEHMANS →
Heat Rating: 35,000 British Thermal Units (BTU) and 85% efficiency – can heat space of 1,750 square feet
Weight: 341 lbs
Airflow Requirement: 0048 inches of water column (WC)
Stove Dimensions: 22.25″ x 38.38″ x 20.50″
Oven Dimensions: 13.78″ x 9.10″ x 16.14″
Chimney Pipe: 6"
The Concept 2 Wood Cookstove gives your aesthetic of a fireplace and the functionality of a cook stove in a small space.
The company shared:
Designed for smaller spaces, the convenient and highly efficient wood cook stove from Sopka Inc is now available.

Dual control for primary and secondary air intake, and connection for outside air intake, will provide cleaner and longer burning.
This small wood-burning cook stove is designed to provide heat, cook, and bake.
The stove features a fireproof glass door that allows you to watch the fire as it warms your home and cooks your dinner. You can use dry wood, coal, or briquettes with this stove.
This stove has a classic look but has a modern airflow system. The airflow system allows you to control the fire and its heat quickly and efficiently. It is also easy to stoke the fire.
This wood-fired cook stove has it all, but it might not be the best choice for heating a large home or cabin due to its relatively small size. It takes the prize for the best value.
Pros:
Compact design great for small homes
Clean modern look for new kitchens/living areas
Efficient burning due to dual air control
A glass door on the firebox lets you see the action
Oven above firebox for high-temperature cooking
Cons:
This model is small, but they also have larger versions that are similar
---
Cook Stoves Vs Regular Stoves
A wood cook stove is a stove that provides heat to your home while also providing a cooking surface and oven.
They have almost all the functionality of electric or gas stoves but use wood as a heat source.
This type of stove has a firebox that contains the fire. You can think of the firebox as a fireplace. However, the firebox has a door that traps the heat and transfers it to the oven's cooking surface.
Wood cook stoves are known for their toughness. The lack of electricity or gas makes these stoves simpler and easier to maintain.
Stoves are an excellent choice for homes that are off the grid or if you want to have a backup source of heat. If you properly maintain a wood cook stove, it can last over 50 years.
Woodburning cook stoves take longer to heat up than electric or gas ranges but have several advantages, including ambiance, heat, and sustainability.
It can be easy to confuse a wood cook stove with an oven with a regular wood-burning stove, but several key differences exist.
Both wood cook stoves and woodburning stoves have a firebox. They also have similar boxy designs. However, wood cook stoves have a cooking surface an oven – pretty obvious, but sometimes you've got to spell it out!
We have a PyroClassic Wood Stove in our home – it has a great cooking surface on top, but no ove.
There are some stoves that are good for cooking on top of, like the Dwarf Tiny Stove, but the standard model does not include an oven.
Additionally, wood cook stoves often have the firebox offset to the side of the oven. Wood cook stoves also have a larger footprint than wood burning ones and tend to be larger and heavier than wood ones.
Additional Expenses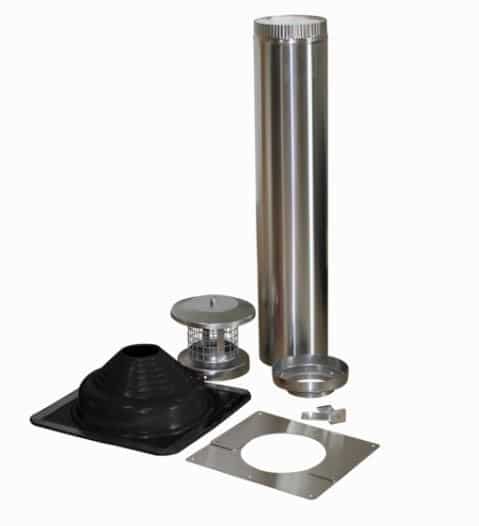 Before purchasing a woodburning cookstove, you should consider some of the additional costs of installing this type of stove.
Wood burning stoves include some installation costs, including safety precautions. Before the furnace is installed, you need to prepare a space for it. All combustibles, including carpet, drywall, and wood flooring, need to be removed or covered up.
Wood cook stoves are often installed on cinderblock or tile. Furthermore, you must connect the chimney pipes to an exterior vent. This can be complicated so it's best to employ a professional.
Installing tiny house wood stoves can be easier than installing them into a house, and this can often be done by the owner, but it's not as easy in a home.
Insurance policies can be affected or even voided by these types of things, so talk to your insurer before doing any work yourself. Often your city council will need to sign off this type of work as well.
Finally, you should consider the cost of firewood.
The cost of wood may be small compared to electricity or gas. However, the wood will either have to be harvested or delivered. Additionally, depending on the size of the stove, you have to split or chop the wood into smaller pieces.
Wood Cook Stove FAQs
What is the most efficient wood cook stove?
There is no such thing as a "perfect" cook stove for everyone – just the perfect one for you!
However, even the most well-designed cook stove will lose some heat during combustion. Most modern wood cook stoves are above 50% efficiency. We recommend finding a stove that is 70%+ efficient.
These stoves may be more expensive, but you will save money on the cost of wood in the long run.
What's the best wood for a wood burning cook stove?
You can use a wide variety of wood for your woodburning cookstove.
However, Oak is widely accepted as the best firewood. Oak firewood is a dense hardwood that provides long, slow, and consistent fires.
How hot do wood cook stoves get?
The temperature of a wood cook stove varies, but they can reach temperatures between 500 and 800 degrees F.
Keep in mind that this is the temperature within the stove. The temperature of the cooking surface or the surrounding air will be significantly less.
Are wood cook stoves safe?
Modern wood cook stoves are designed to be safe. They are generally safer to use than traditional fireplaces. However, no fire will ever be completely secure.
A great deal of engineering has gone into making them safe and easy to use for families. However, all wood cook stoves should be installed and used per the manufacturer's guidelines to ensure maximum safety.
Building regulations should be carefully followed when installing a wood cook stove.
Failure to follow these rules and regulations can lead to injury. Wood cookstoves must be maintained and inspected periodically to ensure safe usage.
Are wood cooking stoves easy to install?
It is easier to install a wood fire cooking stove than ever before.
However, it is recommended that you hire a professional to install your new wood fire cooking stove to maximize safety.
Who are the manufacturers of the best wood cook stoves?
Many wood cook stove manufacturers create quality wood cook stoves.
Some of our favorites are Vermont Stoves, Pioneer Stoves, and Empire Stoves.
Best Wood Stove For Cooking
There is a wide variety of wood cook stoves for sale, and you can find the right stove for your family.
The right wood stove can provide warmth as well as a sustainable way to cook food.
We really like the Vermont Bun Baker, though ultimately it will come down to the size of your space, your budget, and your wood cook stove design preferences.
After reading our list of the five best wood-burning cook stoves, you have all the information you need to go out and buy the right stove for your home or cabin.
We hope you enjoy many nights with your family gathered around the warmth and ambiance of one of the stoves on our list.
If you're looking for an outdoor wood-burning pizza oven, you've got to check out the Ooni Pizza Oven range!