A wood-burning cook stove is a dream for many who like the idea of being less reliant on the grid, want to bring down their expenses, and prefer traditional and more aesthetic cooking methods.
Wood cook stoves are particularly useful for those who live in cold climates and who experience regular or semi-regular power cuts. These appliances can be used to heat the home, heat hot water, and for cooking, both as an oven and a stovetop. Also, you can dry washing indoors if needed, and you're giving the dog a perfect spot to lie down on!
There are many good wood cook stove brands and models out there; the ones we're sharing here are some of the best.
Best Wood Cooking Stove Reviews
Vermont Bun Baker

Comes in two sizes, with the XL being larger. Soapstone surround optional.
BB: 37,500 BTUs – up to 1,000 sq ft; BB XL: 68,000 BTUs – 2,500 up to sq ft
BB: Weight: 419 lbs; BB XL: 550 lbs

View On LehmansView On Ebay

Pioneer Princess Cookstove

A very good all around cookstove
40,000 BTUs – heats a space of 2000 square feet
Weight: 650 lbs

View On LehmansView Smaller Alternative

Drolet Bistro Wood Burning Cookstove

Contemporary design
Heats spaces up to 2100 sq ft
Weight: 500+ lbs

View On Fire Pit SurplusView Larger Alternative

Concept 2 Mini Air Cookstove

An affordable option with modern look
35,000 BTUs - can heat space of 1,750 square feet 
Weight: 341 lbs

View On LehmansView Smaller Alternative

Baker's Choice Cookstove

A smaller option for the kitchen
40,000 BTUs - heats a space of 2,000 square feet 
Weight: 380 lbs

View On LehmansView Smaller Alternative
When purchasing a wood-burning cook stove online, ensure you research the stove's efficiency, safety ratings, and emissions to comply with local environmental and safety standards. Opt for reputable brands and check customer reviews for performance insights.
Consider the size and design to match your kitchen's dimensions and design style. Ascertain the stove's heat output to meet your cooking and space heating needs, and investigate warranty terms and post-sale support. Lastly, factor in the installation process, ensuring you either have the expertise or can hire a professional for setup and chimney installation, ensuring safe and optimal operation.
1. The Vermont Bun Baker Wood Stove
VIEW ON LEHMANS →
Heat Rating: 37,500 BTUs – heats a space of 1,000 square feet
Weight: 419 lbs
Stove Dimensions: 21.5″ x 34″ x 21″
Oven Size: 1.19 square feet
Cooking Surface: 2.6 square feet
The Vermont Bun Baker is a compact wood stove that seamlessly combines the functionality of a classic wood stove and a cookstove.
Designed in Australia, it boasts the capability to effectively heat up areas as large as 1000 sq ft while also serving as an efficient cooking appliance. Its cooktop can manage up to 4 large saucepans or pots and even offers removable rings for wok cooking.
The stove includes a bottom oven with an inbuilt thermometer suitable for various baking endeavors, from bread to roasts. Notably, the cast-iron doors are equipped with stay-cool spring handles and feature substantial ceramic glass viewing areas.
Users have praised its versatility, noting its invaluable performance during power outages, where it not only kept homes warm but also ensured hot meals. While the stove's oven thermometer may have some accuracy issues, as mentioned by a reviewer, users have overcome this with separate oven thermometers.
Many regard it as an essential household item, praising its ability to efficiently heat homes during harsh winters, its ample cooking surface accommodating large pots and pans, and its oven's baking prowess. A frequent sentiment echoes that while mastering baking requires practice, the results and the process are rewarding.
Overall, the Vermont Bun Baker has garnered appreciation for its performance, aesthetic appeal, and reliability. It can be bought with optional soapstone surrounds.
Note: These ovens are sometimes sold under the name 'Nectre Wood Fire Stoves'. They are identical, made by the same company in Australia, but sometimes have different names in different markets.
Pros:
Versatility: Combines heating and cooking capabilities, making it a two-in-one solution.
Efficient Heating: Can effectively heat large areas (up to 700 sq ft).
Cooking Capabilities: The cooktop can handle multiple pots and pans; also offers removable rings for wok cooking.
Baking Oven: Users have successfully baked various foods, from bread to pizza.
Durable Design: Made with cast iron doors and features like stay-cool spring handles.
Viewing Window: Large ceramic glass allows for viewing the fire, adding ambiance to a room.
Emergency Ready: Proves invaluable during power outages, providing both warmth and a means to cook.
Aesthetically Pleasing: Users have praised its design and look.
Cons:
Oven Thermometer Accuracy: Some users noted the built-in oven thermometer might not be very accurate.
Learning Curve: Baking requires practice to get the best results.
Firebox Size: One user mentioned the firebox being a bit small, which could mean more frequent reloading of wood.
Bakeware Size: The oven requires specific bakeware sizes, which might not be readily available.
Time-Intensive Cooking: Cooking on a wood stove can be longer than conventional methods.
2. Pioneer Princess Wood Cookstove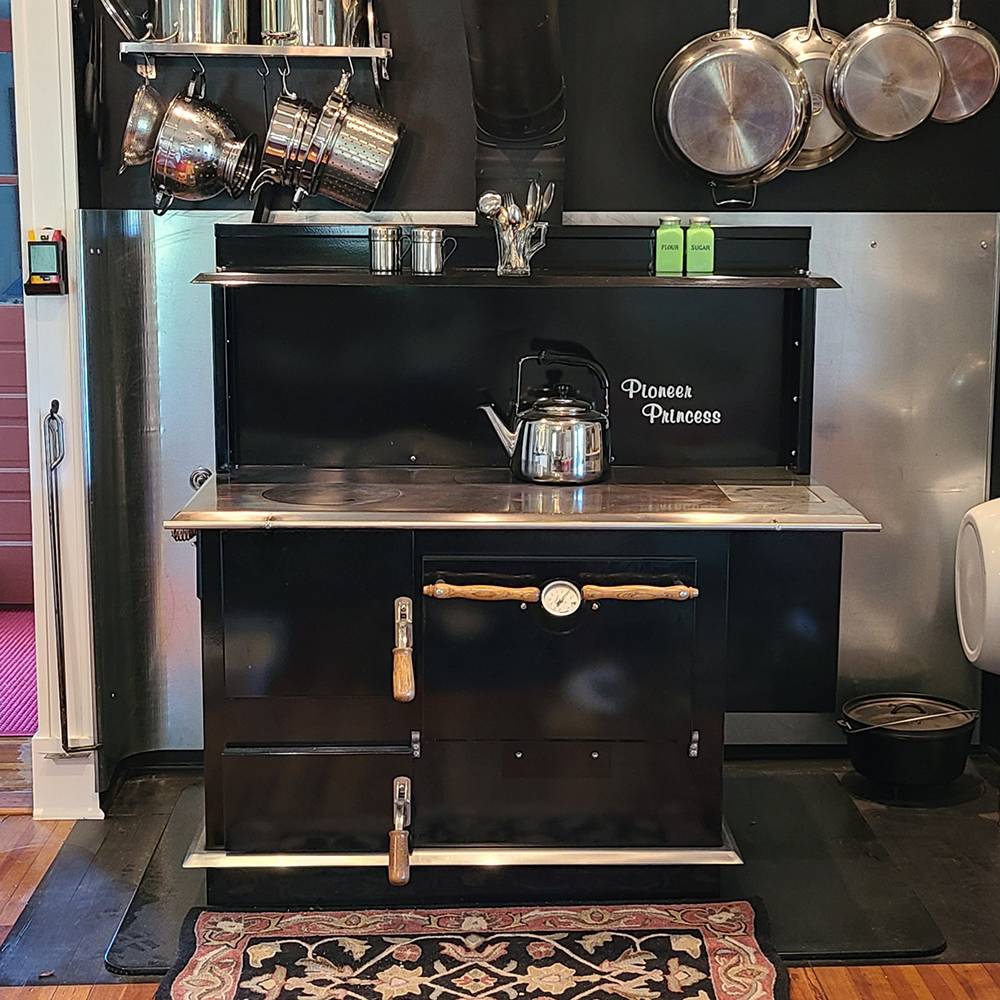 VIEW ON LEHMANS →
Heat Rating: 40,000 BTUs – heats a space of 2000 square feet
Weight: 650 lbs with the optional water reservoir
Stove Dimensions: 54.5″ x 36″ x 45″
Stove Dimensions (with water reservoir): 54.5″ x 36″ x 54″
Oven Dimensions: 13″ x "19.5" x 24″
Cooking Surface Dimension: 53.5″ x 24″
The Pioneer Princess Wood Cookstove boasts an extensive cooktop, oven, and firebox, making it one of the largest in the market. With a sleek porcelain finish, it ensures easy cleaning, while its front-loading door, shaker grates, thermostatic control, and ash door contribute to its efficiency.
The oven, made of stainless steel with a porcelain-lined bottom, promises durability, and the attractive wooden handles are specifically designed to remain cooler than their metal counterparts. An optional stainless steel reservoir can hold up to 9 gallons of water. Designed to heat spaces as large as 2,000 sq ft, its measurements and weight vary depending on the reservoir choice.
User reviews praise its efficient heating capability, ease of use, and baking prowess. Its design closely resembles the Pioneer Maid wood cookstove but features additional benefits like a front-load firebox door, thermostat control, and several user-friendly features. Handcrafted by the Amish, this stove has received certifications aligning with UL 1482 standards, but it's important to note that it's not EPA-approved or suitable for mobile homes.
Pros:
Large Capacity: Features the most expansive cooktop, oven, and firebox in the catalog.
Durable & Easy to Clean: The porcelain finish ensures longevity and effortless cleaning.
Efficient Heating: Capable of heating spaces up to 2,000 sq ft.
Versatile Cooking: Large cooktop and oven with thermostatic control offer diverse cooking options.
Safety Features: Wood handles stay cooler than metal ones, and the stove includes shaker grates and an ash door.
Handcrafted Quality: Made by the Amish, ensuring meticulous craftsmanship.
Positive User Reviews: Users love its baking and heating capabilities, as well as its ease of use and maintenance.
Cons:
Regulation Restrictions: The stove isn't EPA-approved or suitable for mobile homes.
Size and Weight: Given its vast capacity, the stove might be too bulky or heavy for some spaces.
Damper Controls: They are located on the stove's rear, requiring accessibility from the stove's left-hand side.
Specialized Installation: Users need to be aware of certain requirements like the stove's specific clearances for safe installation.
User testimonials emphasize the Pioneer Princess's efficiency in heating, ease of wood cooking transition, and the added bonus of the warming oven. Many applaud its craftsmanship, design, and the convenient features that make cleaning and maintenance a breeze.
3. Drolet Bistro Wood Burning Cookstove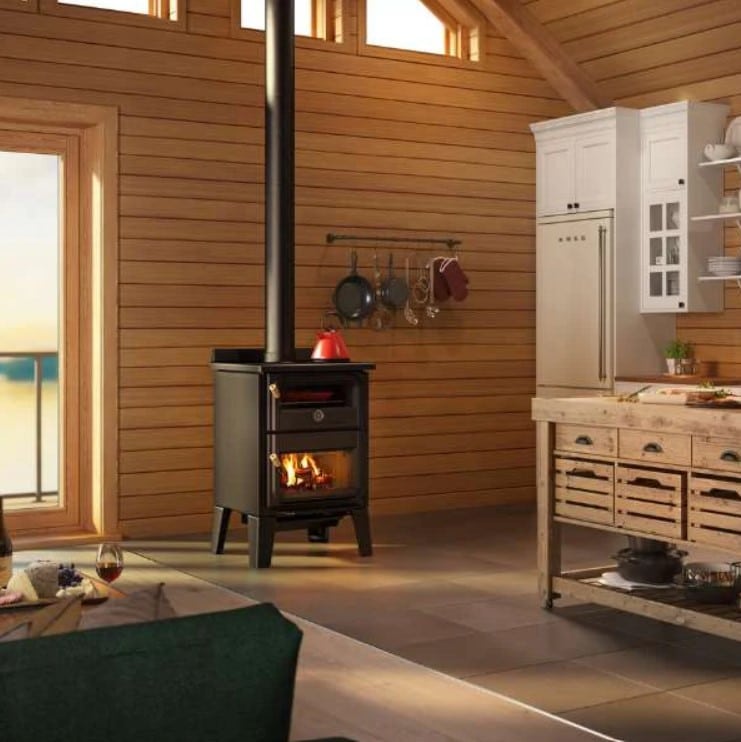 FIRE PIT SURPLUS →
Heat Rating: 75,000 BTUs – heats a space of 500 – 2100 square feet
Weight: 590 lbs
Overall Dimensions: 27″ w x 42″ h x 27″ d
Oven Dimensions: 18″ w x 8″ h x 15″ d
The Drolet Bistro Wood Burning Cookstove is a unique hybrid appliance designed to combine the features of a stove and a cookstove, making it a versatile addition to any home or cottage. Crafted in Canada, this high-quality wood burner flaunts a traditional design, exuding rustic charm reminiscent of classic fireplaces.
The stove boasts a robust cast iron cooking surface, a stainless steel oven designed for even cooking, and a spacious combustion chamber that can accommodate 20″ logs. This model allows users to enjoy long burn times of up to 8 hours. With the inclusion of an air damper, users can easily regulate combustion and cooking temperatures.
The Drolet Bistro comes with several helpful accessories such as a cleaning brush, a stainless cooking grid, a built-in thermometer, and more. EPA/CSA exempt and certified for mobile home installations, it ensures safety and compliance. All Drolet Wood Stoves are well-reviewed.
Pros:
Hybrid Design: Combines the functionalities of a stove and a cookstove, making it versatile for both cooking and heating.
Long Burn Time: With a single wood load, the stove offers up to 8 hours of burn time.
Substantial Combustion Chamber: The 2.4 ft³ chamber can easily accommodate logs up to 20 inches in length.
Even Cooking: The stainless steel oven, complemented with a robust cast iron cooking surface, ensures evenly cooked dishes.
Accessory Inclusions: Comes equipped with a range of handy accessories like a cleaning brush, cooking grid, and thermometer.
Safety and Compliance: This model is EPA/CSA exempt and certified for mobile home installation.
Canadian Craftsmanship: Proudly manufactured in Canada, promising quality and durability.
Cons:
Material Defects: Some users reported defects such as bent handles and latch issues.
Learning Curve: Several customers mentioned that getting the oven to the right temperature can be challenging, indicating a potential learning curve.
Oven Heating Issues: Users have reported the need for a very hot fire to get the oven to a sufficient cooking temperature.
Potential for Expanding Issues: There were mentions of a popping noise in the oven, possibly due to the metal expanding with heat.
Size Misjudgment: Some customers found the stove bigger than expected, suggesting that it might occupy more space than some might anticipate.
4. Concept 2 Small Wood Cook Stove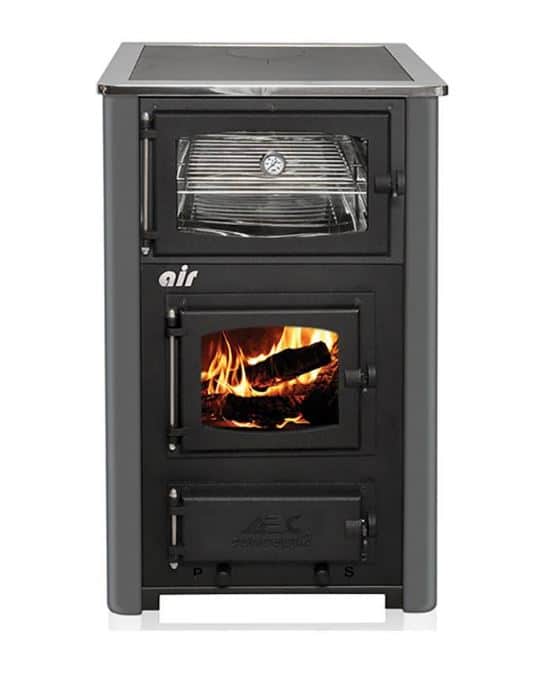 VIEW ON LEHMANS →
Heat Rating: 35,000 British Thermal Units (BTU) and 85% efficiency – can heat space of 1,750 square feet
Weight: 341 lbs
Airflow Requirement: 0048 inches of water column (WC)
Stove Dimensions: 22.25″ x 38.38″ x 20.50″
Oven Dimensions: 13.78″ x 9.10″ x 16.14″
Chimney Pipe: 6"
The Concept 2 Mini Air Wood Cookstove offers an ingenious amalgamation of the rustic aesthetics of a fireplace and the practical functionalities of a cookstove. Designed primarily for space heating, cooking, and baking, this compact cookstove efficiently utilizes various solid fuels such as dry wood, coal, or briquettes.
A distinctive feature of this stove is its fireproof glass on the firebox door, giving users a clear and comforting view of the flames, akin to a traditional fireplace. The stove's structure is engineered to ensure precise temperature regulation, effortless stoking, and easy ash removal.
Equipped with state-of-the-art controls for both primary and secondary airflow, the Concept 2 Mini Air allows for immediate fire intensity modulation. Additionally, secondary airflow openings near the glass door of the firebox prevent soot buildup, keeping the view unobscured.
Pros:
Compact Design: Merges the ambiance of a fireplace with the utility of a cookstove in a space-saving design.
Versatile Fuel Options: Can use dry wood, coal, or briquettes, allowing flexibility in fuel choice.
Clear Viewing: A fireproof glass door offers a clear view of the flames, enhancing the ambiance.
Advanced Airflow Control: The state-of-the-art primary and secondary airflow controls enable efficient fire intensity modulation.
High Efficiency: Boasts an efficiency rate of 85%, ensuring maximum heat output from the fuel consumed.
Convenient Cleaning: Designed for easy ash removal and cleaning, as noted by users who even suggest methods like using a pex tube on a vacuum.
Size Versatility: Ideal for smaller living spaces or for those looking for heating for specific rooms without overwhelming heat output.
Cons:
Limited Oven Size: Oven dimensions might be on the smaller side, which could be restrictive for large cooking or baking projects.
Weight: Weighing 341 lb, its mobility and installation might require additional manpower.
Potential Complexity: Advanced airflow control, while a pro for many, might pose a learning curve for some users unfamiliar with such systems.
Flue Positioning: While the rear opening for the flue is suggested for easy cleaning, this might limit positioning options for some installations.
Pricing Ambiguity: Some users indicated uncertainty regarding its cost, suggesting potential concerns about its value for money.
5. Baker's Choice Wood Cook Stove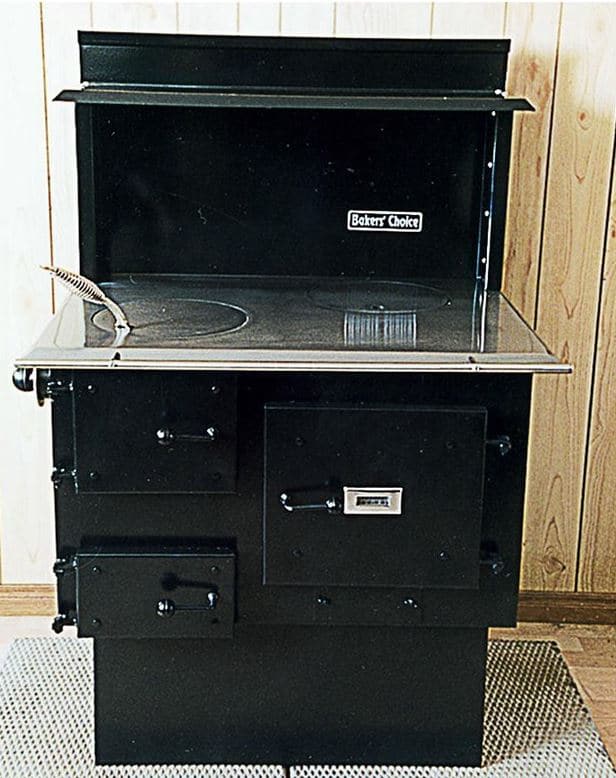 VIEW ON LEHMANS →
Heat Rating: 40,000 BTUs – heats a space of 2,000 square feet
Weight: 380 lbs
Stove Dimensions: 36″ x 24″ x 53.5″
Stove Dimensions (with water reservoir): 45″ x 24″ x 53.5″
Oven Dimensions: 22″ x 14″ x 13″
Cooking Surface Dimension: 36″ x 21.5″
The Baker's Choice Wood Cookstove, an Amish-made masterpiece, is innovatively designed to fit compact spaces without compromising on efficiency. Crafted by Mark Stoll, a seasoned Amish tinkerer, this stove is a product of a lifetime of wood-burning experience and an intent to improve upon traditional designs.
With options to load wood from the top lid or through a gasketed front door, it promises convenience. The stove's heat-resistant painted finish and seamless steel top ensure durability. One of its standout features is the controlled combustion, offering precise firebox temperature control and overnight burns. Its design prioritizes functionality, evident from its reinforced welded steel structure.
An optional 7-gallon reservoir can be added, but only at the factory. Proudly Amish-made, this stove embodies practicality and reliability, hallmarks of Amish farmer values. It's notable for its exemption from EPA regulations, making it legally available for sale in most parts of the USA.
Pros:
Compact Design: Its design ensures it can fit easily even in tight spaces.
Versatile Loading: Wood can be loaded from either the top or the front, offering flexibility based on user preference.
Controlled Combustion: Allows for precise temperature control and extended burns, enhancing fuel efficiency.
Durable Build: Reinforced with welded steel and featuring many stainless steel parts.
Amish Craftsmanship: It's a product of practical design principles and is meant to be functionally efficient more than just aesthetically pleasing.
Large Firebox: Compared to other stoves in its price range, the Baker's Choice boasts a large firebox, enabling it to handle irregularly shaped or unsplit wood with ease.
Positive Reviews: Users have praised its heat output, fuel efficiency, and ability to sustain burns overnight.
Cons:
Aesthetic Concerns: Some users have reported nonaligned seams and rough finishes, which can be off-putting for those wanting perfection.
Optional Reservoir Limitation: The 7-gallon reservoir can only be added at the factory, limiting post-purchase customization.
Functional Over Form: This stove prioritizes how it works over how it looks, which might not resonate with users looking for a more decorative piece.
Narrow Oven: Some users have noted that the oven's width is a bit restrictive, particularly for larger dishes or cookware.
6. Drolet Outback Chef Wood Burning Cook Stove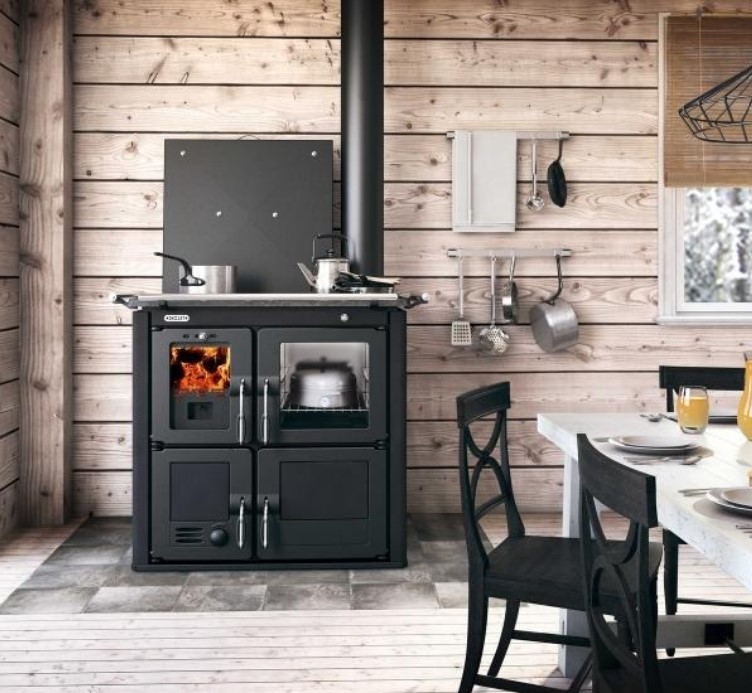 FIRE PIT SURPLUS →
The Drolet Outback Chef is an authentic Italian-inspired wood-burning cook stove designed for both simplicity and style. It is made with anthracite enameled steel side panels and a protective cooktop cover, combined with cast-iron doors.
The stove is equipped with a stainless steel oven (measuring 11 3/8″W x 17 3/4″D x 11 3/4″H) that offers an integrated thermometer in vitroceramic glass. With a total oven volume of 1.38 ft³ and an overall dimension of 40″ (Width) x 33 5/8″ (Height) x 25 7/8″ (Depth), it also includes a firebox that can accommodate logs up to 16″ in length.
The Drolet Outback Chef primarily focuses on cooking, radiating heat to warm the room but not offering slow combustion heat typical of other wood stoves.
Pros:
Quality and Efficiency: Many users appreciate the heat output and overall quality of the stove.
Versatility: The stove offers a combination of oven and stovetop cooking options, with users highlighting its multifunctionality.
Design: The stylish and efficient design of the stove has been a standout feature for several users, with some having used it for several years.
Customer Service: Positive feedback was given regarding the helpfulness of customer service during purchase and decision-making.
Cons:
Oven Rack: A suggestion was made to include a second oven rack, as some users found the need to purchase one separately.
Thermometer Accuracy: Some users recommended the addition of a heat-powered fan to optimize efficiency and suggested improving the accuracy of the oven thermometer.
7. La Nordica Rosa XXL Wood Cook Stove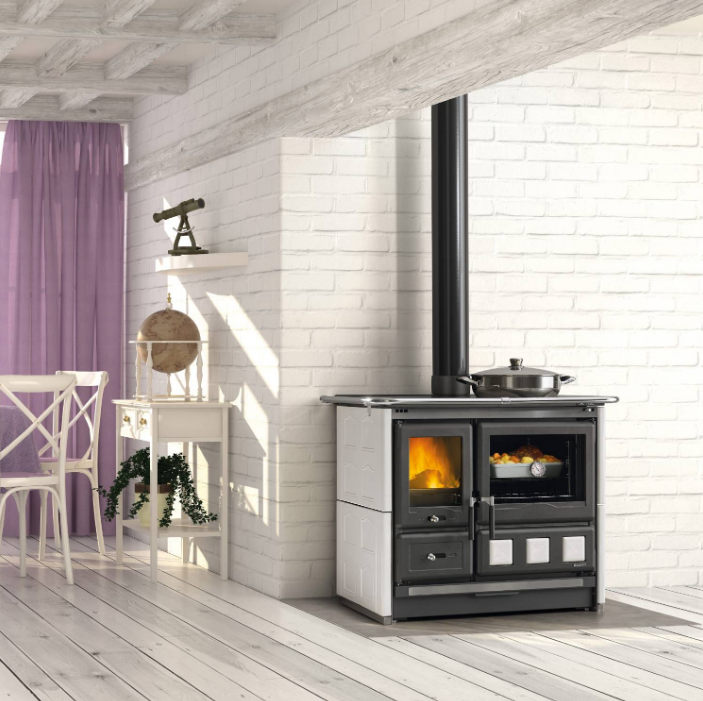 VIEW ON LEHMANS →
The La Nordica Rosa XXL Wood Cook Stove, exquisitely crafted in Italy, offers a harmonious blend of traditional aesthetics and modern utility.
Constructed from porcelain enameled steel, the stove boasts a vast 20.6-gallon oven capacity, making it ideal for large baking endeavors. With its cast iron structure, the Rosa XXL operates with 85% efficiency and has the capability to heat significant spaces.
The stove seamlessly integrates several features for enhanced usability, such as removable hob rings to accommodate diverse cookware and a transparent oven window that not only facilitates cooking but also provides the ambiance of a crackling fire.
While exuding a traditional appeal, the stove is packed with cutting-edge technology that emphasizes emission reduction and efficiency.
Pros:
Large Oven Capacity: With a 20.6-gallon oven, it caters to substantial baking needs.
High Efficiency: Operating at 85%, it ensures optimal utilization of fuel.
Multi-Faceted Design: Porcelain steel exterior, cast-iron doors, and ceramic viewing glass contribute to its aesthetic and functional appeal.
Versatility in Cooking: Removable hob rings allow for a range of cookware sizes.
Innovative Features: Comes equipped with a double air control, storage drawer, extractable ash drawer, and an integrated oven thermometer for convenience.
Emission Reduction: The post-combustion system significantly lowers emissions.
Glass Cleaning System: Pre-heated air mechanism helps in keeping the glass door free of deposits.
Safety: External parts like sides and back remain cool, ensuring safety during operation, as vouched for by user reviews.
Cons:
Modification Void Warranty: Retrofitting warming oven to Rosa XXL can void the manufacturer's warranty.
Heavy Weight: Depending on the model, the stove can weigh from 445.33 lb to 606.27 lb, potentially complicating the installation process.
Oven Thermometer Accuracy: Some users have pointed out discrepancies in the oven thermometer readings.
Investment Concerns: Some potential buyers might find it expensive, though user reviews vouch for its worth.
User Feedback:
Sharon H from North Carolina lauds the stove's material quality, even heat distribution for cooking, and its visual appeal. She also highlights the exemplary customer service she experienced.
Heather praised the stove's easy installation and its superior cooking capabilities, while Mark from Alabama emphasized the product's solid construction and hinted at a minor issue with the oven thermometer. Overall, the user reviews overwhelmingly commend the product for its functionality and quality.
Cook Stoves Vs Regular Stoves
A wood cook stove is a stove that provides heat to your home while also providing a cooking surface and oven. They have almost all the functionality of electric or gas stoves but use wood as a heat source.
This type of stove has a firebox that contains the fire. You can think of the firebox as a fireplace. However, the firebox has a door that traps the heat and transfers it to the oven's cooking surface.
Wood cook stoves are known for their toughness. The lack of electricity or gas makes these stoves simpler and easier to maintain.
Stoves are an excellent choice for homes that are off the grid or if you want to have a backup source of heat. If you properly maintain a wood cook stove, it can last over 50 years.
Woodburning cookstoves take longer to heat up than electric or gas ranges but have several advantages, including ambiance, heat, and sustainability. It can be easy to confuse a wood cook stove with an oven with a regular wood-burning stove, but several key differences exist.
Both wood cook stoves and woodburning stoves have a firebox. They also have similar boxy designs. However, wood cook stoves have a cooking surface and oven.
We have a PyroClassic Wood Stove in our home – it has a great cooking surface on top, but no stove. There are some stoves that are good for cooking on top of, like the Dwarf Tiny Stove, but the standard model does not include an oven.
Additionally, wood cook stoves often have the firebox offset to the side of the oven. Wood cook stoves also have a larger footprint than wood-burning ones and tend to be larger and heavier than wood ones.
Additional Expenses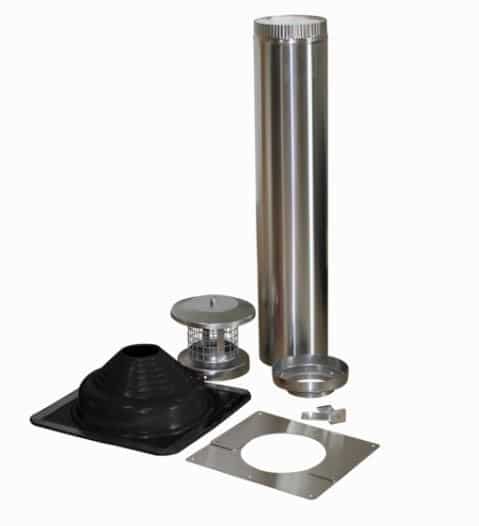 Before purchasing a woodburning cookstove, you should consider some of the additional costs of installing this type of stove.
Wood-burning stoves include some installation costs, including safety precautions. Before the furnace is installed, you need to prepare a space for it. All combustibles, including carpet, drywall, and wood flooring, need to be removed or covered up according to the specified clearances.
Wood cook stoves are often installed on cinderblock or tile. Furthermore, you must connect the chimney pipes to an exterior vent. This can be complicated so it's best to employ a professional.
Installing tiny house wood stoves can be easier than installing them into a house, and this can often be done by the owner, but it's not as easy in a home.
Insurance policies can be affected or even voided by these types of things, so talk to your insurer before doing any work yourself. Often your city council will need to sign off this type of work as well.
Finally, you should consider the cost of firewood. The cost of wood may be small compared to electricity or gas. However, the wood will either have to be harvested or delivered. Additionally, depending on the size of the stove, you have to split or chop the wood into smaller pieces.
Wood Cook Stove FAQs
What is the most efficient wood cook stove?
There is no such thing as a "perfect" cook stove for everyone – just the perfect one for you!
However, even the most well-designed cook stove will lose some heat during combustion. Most modern wood cook stoves are above 50% efficiency. We recommend finding a stove that is 70%+ efficient.
These stoves may be more expensive, but you will save money on the cost of wood in the long run.
What's the best wood for a wood burning cook stove?
You can use a wide variety of wood for your woodburning cookstove.
However, Oak is widely accepted as the best firewood. Oak firewood is a dense hardwood that provides long, slow, and consistent fires.
How hot do wood cook stoves get?
The temperature of a wood cook stove varies, but they can reach temperatures between 500 and 800 degrees F.
Keep in mind that this is the temperature within the stove. The temperature of the cooking surface or the surrounding air will be significantly less.
Are wood cook stoves safe?
Modern wood cook stoves are designed to be safe. They are generally safer to use than traditional fireplaces. However, no fire will ever be completely secure.
A great deal of engineering has gone into making them safe and easy to use for families. However, all wood cook stoves should be installed and used per the manufacturer's guidelines to ensure maximum safety.
Building regulations should be carefully followed when installing a wood cook stove.
Failure to follow these rules and regulations can lead to injury. Wood cookstoves must be maintained and inspected periodically to ensure safe usage.
Are wood cooking stoves easy to install?
It is easier to install a wood fire cooking stove than ever before.
However, it is recommended that you hire a professional to install your new wood fire cooking stove to maximize safety.
Who are the manufacturers of the best wood cook stoves?
Many wood cook stove manufacturers create quality wood cook stoves.
Some of our favorites are Vermont Stoves, Pioneer Stoves, and Empire Stoves.
Best Wood Stove For Cooking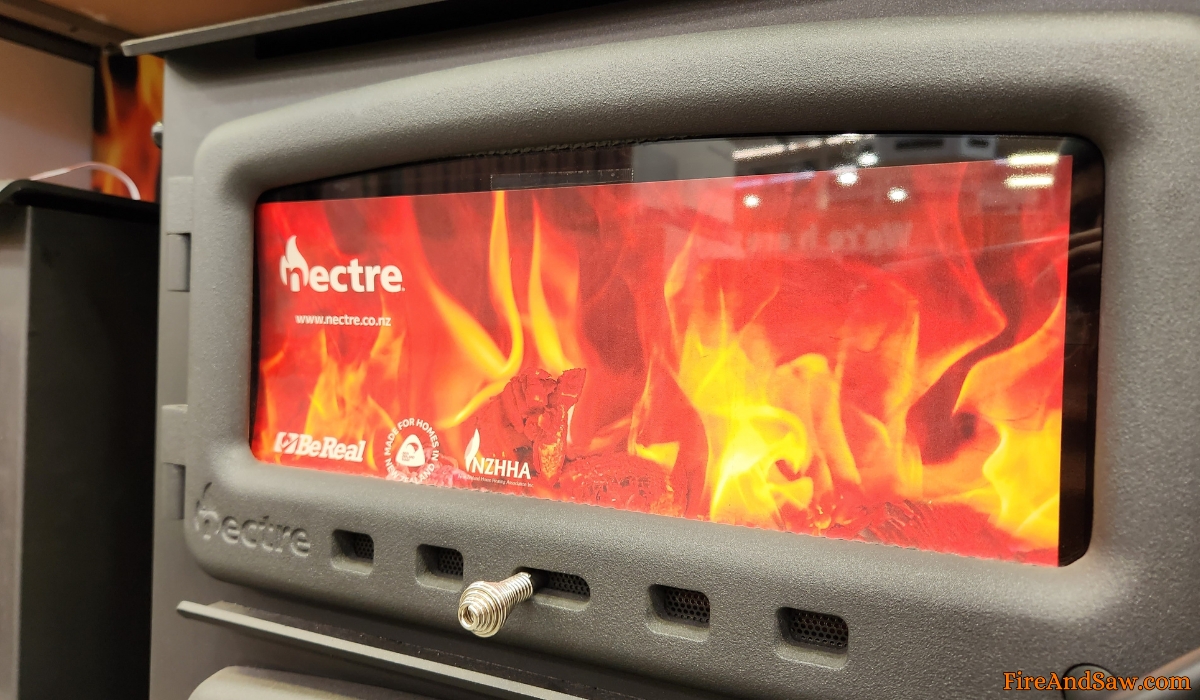 There is a wide variety of wood cook stoves for sale, and you can find the right stove for your family. The right wood stove can provide warmth as well as a sustainable way to cook food.
We really like the Vermont Bun Baker, though ultimately it will come down to the size of your space, your budget, and your wood cook stove design preferences.
After reading our list of the five best wood-burning cook stoves, you have all the information you need to go out and buy the right stove for your home or cabin.
We hope you enjoy many nights with your family gathered around the warmth and ambiance of one of the stoves on our list. If you're looking for an outdoor wood-burning pizza oven, you've got to check out the Ooni Pizza Oven range!