Looking for unused empty fireplace ideas?
There are many reasons your fireplace might be empty. Maybe it doesn't work, maybe you have better alternative heating options, or maybe it's a temporary thing for summer. Whatever the case, we've got some great tips on how to decorate an unused fireplace.
Empty Fireplace Ideas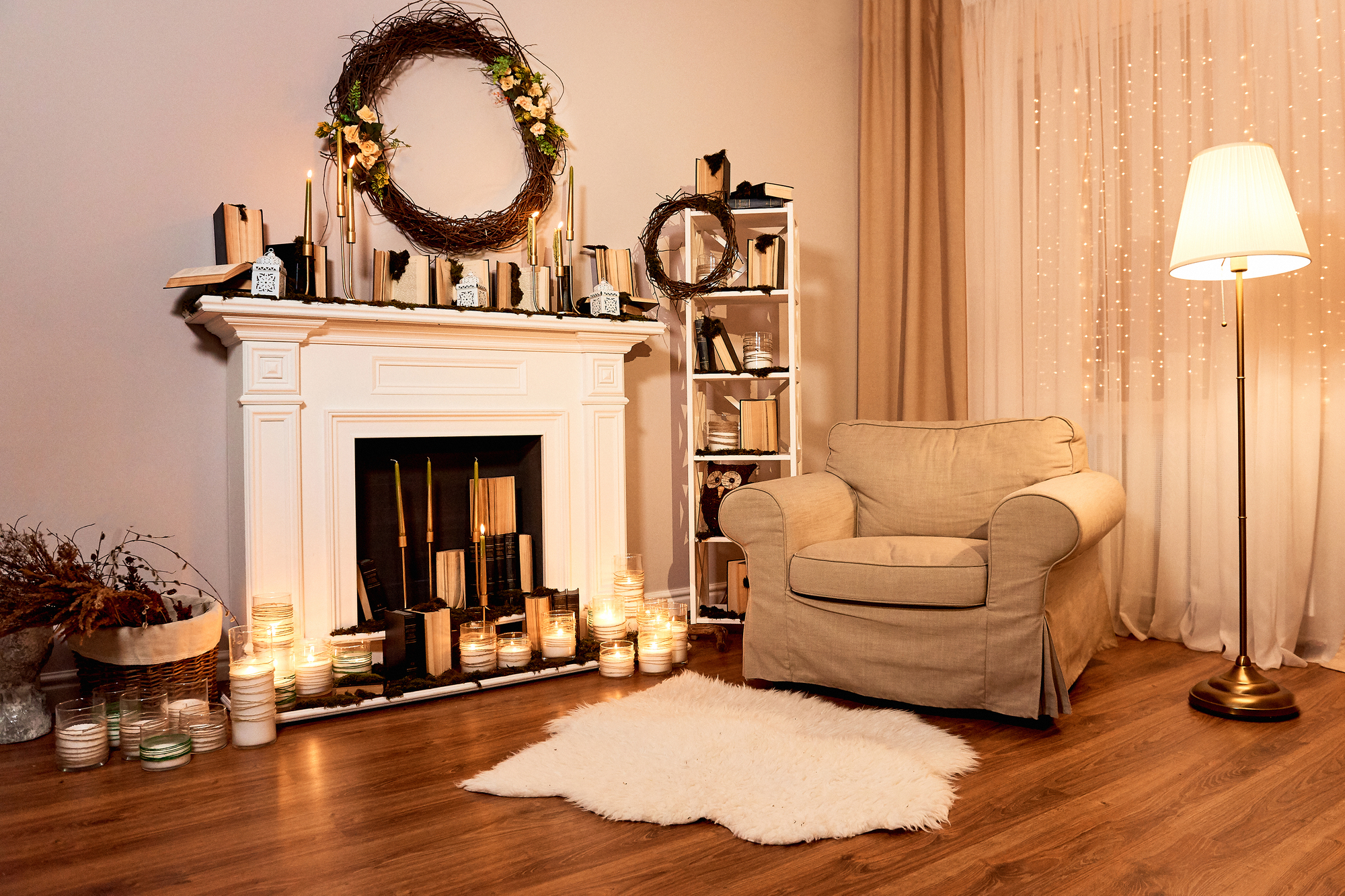 Don't get us wrong – fireplaces are nice, but sometimes, they're more trouble than they're worth. Ongoing maintenance like cleaning the chimney, emptying the ash bucket, and the smokey smells in the house can get a bit tiresome.
Perhaps you're having other issues with your fireplace? Maybe it's no longer functional, or you want to hide the fireplace? Or maybe, as we do in our home, you are just putting it to bed for the winter…
Regardless of why you don't use your fireplace for its intended purpose, we can help you learn how to decorate an unused fireplace. Whether you're looking for fireplace cover ideas or ideas to decorate inside a fireplace, we have you covered.
1. Add Some Jars Or Vases
Almost anything can be used for inside fireplace decor. You may choose something showy or something simple, depending on the look you are going for.
Nothing beats the timeless simplicity and elegance of painted jars and vases. You can use the vases by themselves or add plants to them. Add some string lights to the vases for a bit of a glow to make your fireplace feel alive.
Experiment with different options and see what you like. There are so many different shapes and sizes of vases that you can even change them out from time to time.
2. Stacked Wood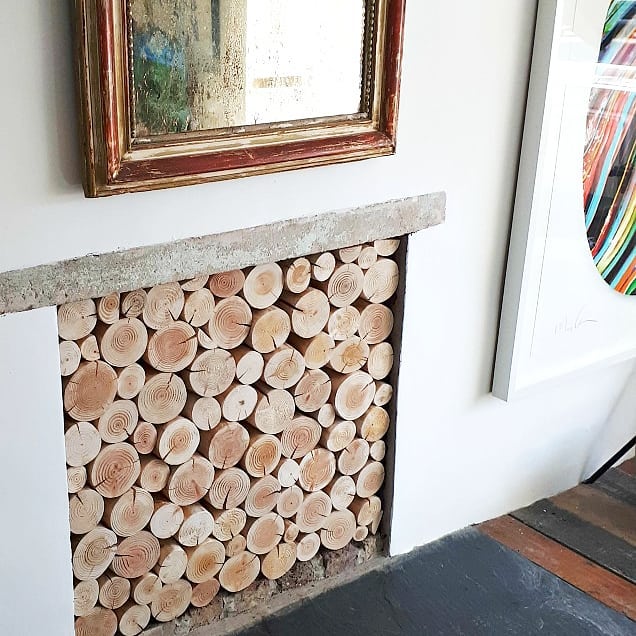 Just because there is wood in the nonworking fireplace, it doesn't mean you have to light it on fire.
Stacking cut logs in your unused fireplace can create a visually appealing display. You can even paint the ends of some of the logs to add color for a more festive look.
Before putting the logs in your fireplace, make sure they are clean. You don't want to bring insects and other pests into your home. There are many different types of wood you could use, including oak or birch.
3. Bookshelf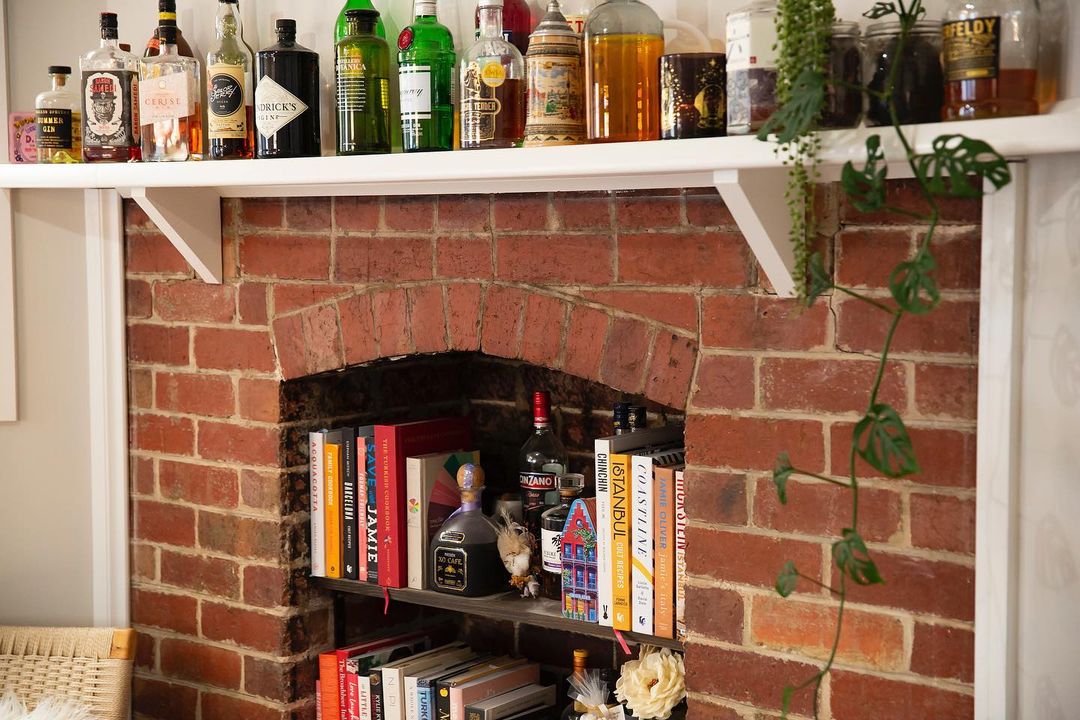 Just because you don't have a warm fire roaring, it doesn't mean there is no reason not to cuddle up in front of the old fireplace and read. You can repurpose an empty fireplace for book storage. You can stack the books inside the fireplace, or you can add shelves.
Adding shelves gives you more freedom to put other things inside the old fireplace. You may want to show off your antique doll collection or kid's sports trophies. Either way, it's a great use of space.
4. Pot Plants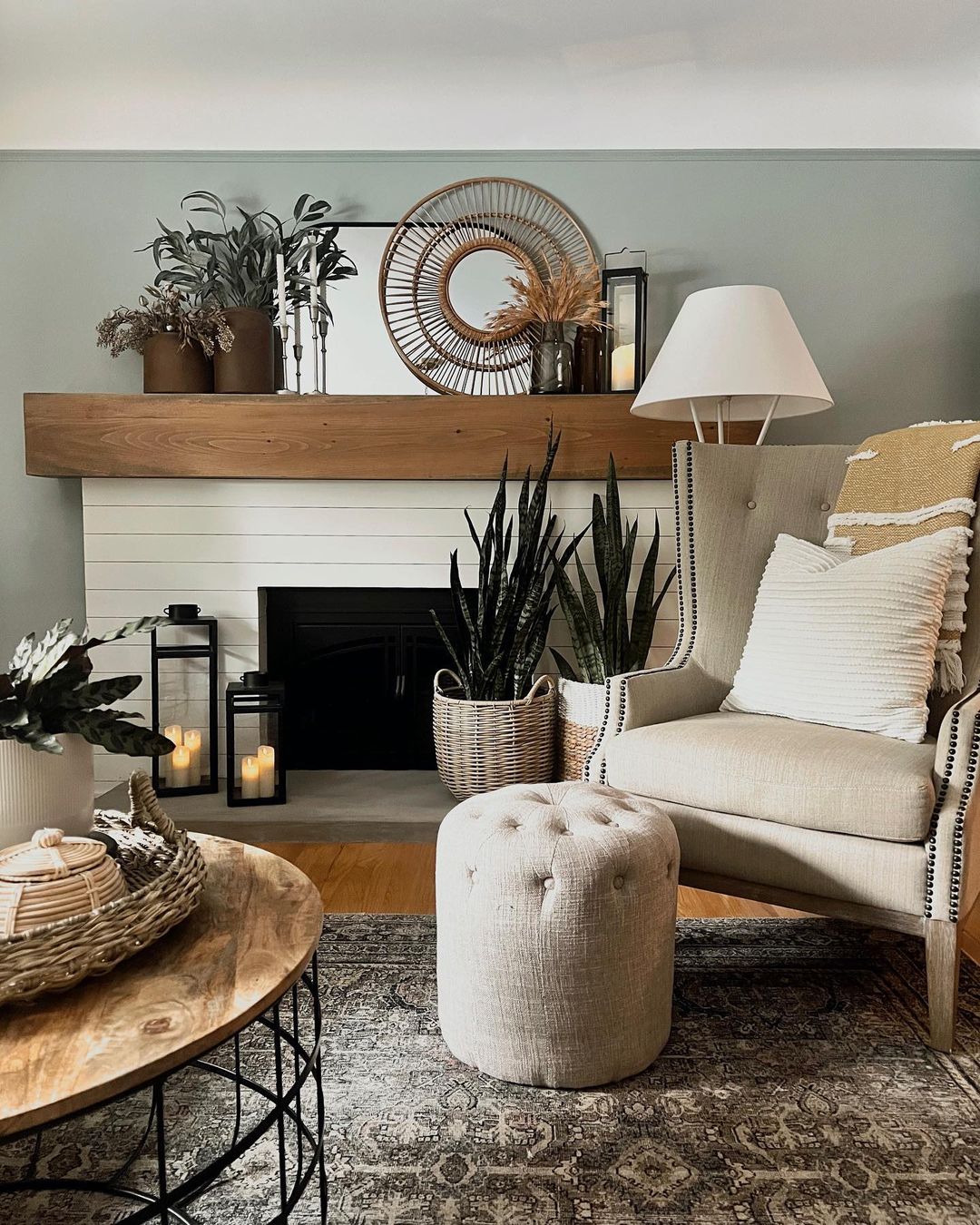 Here are some fall fireplace styling ideas – while it's still too warm to have the fire going.
Add pot plants, candles, and other decor items that conceal the fireplace in part. These modern shiplap fireplace examples are perfect as well making the fireplace itself isn't the main feature year-round.
5. Succulent Garden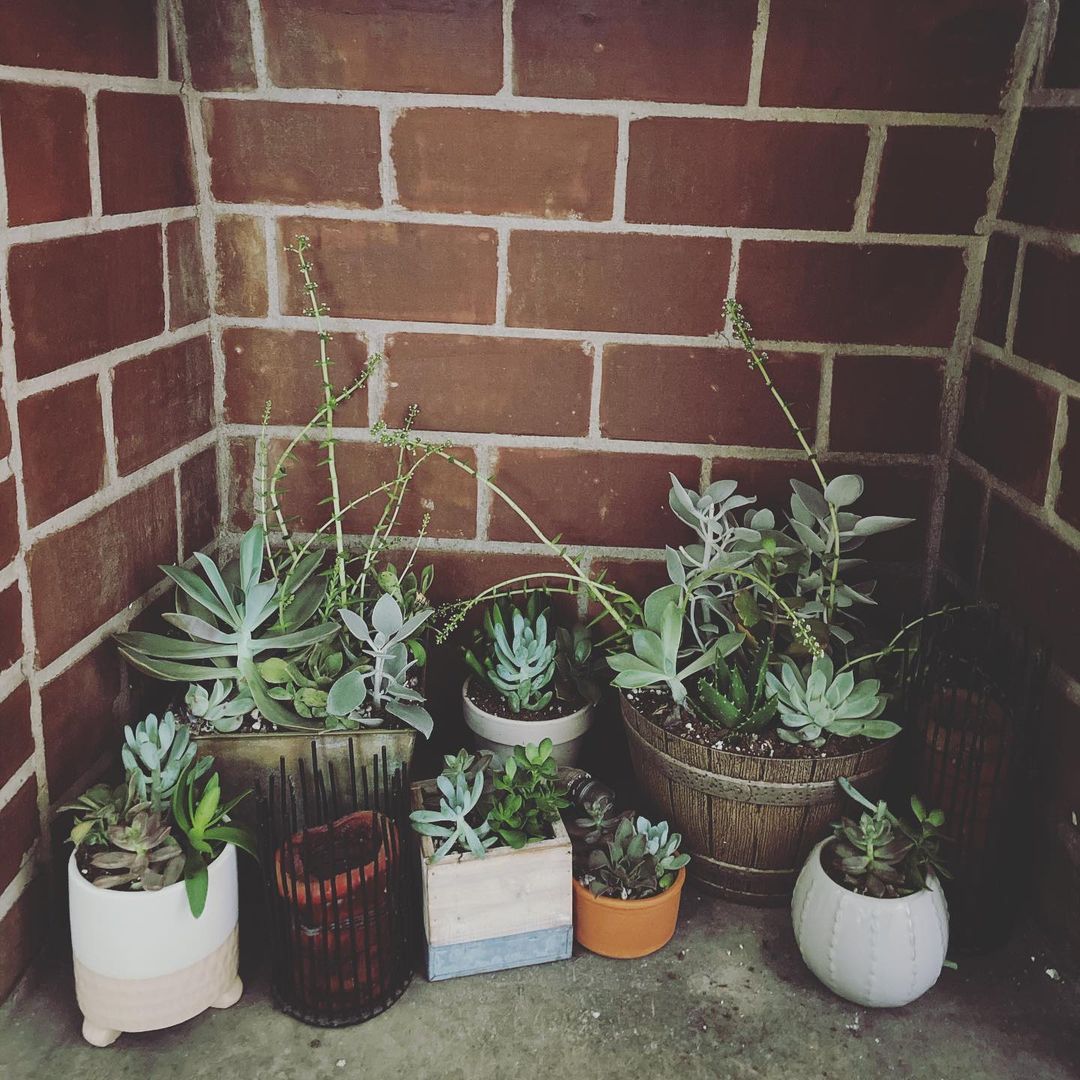 One of our favorite empty fireplace ideas is using the space for a succulent garden.
This idea works regardless of the size of the old fireplace. You can use different containers and add as many succulents as you like. You don't even have to limit the idea to succulent plants. Any of your houseplants will liven up an old fireplace.
6. Decorate For The Seasons
When thinking about decorating inside a fireplace, the decision doesn't have to be permanent. Old fireplaces make a great space for showing off your seasonal decor.
You can add flowers in the spring or seashells in the summer. Stacking pumpkins in the fall makes a beautiful display. Whatever the reason or season, be it Halloween, Valentine's Day, or Christmas, you can change the decorations and keep your living space looking fresh.
7. Make It Glow Again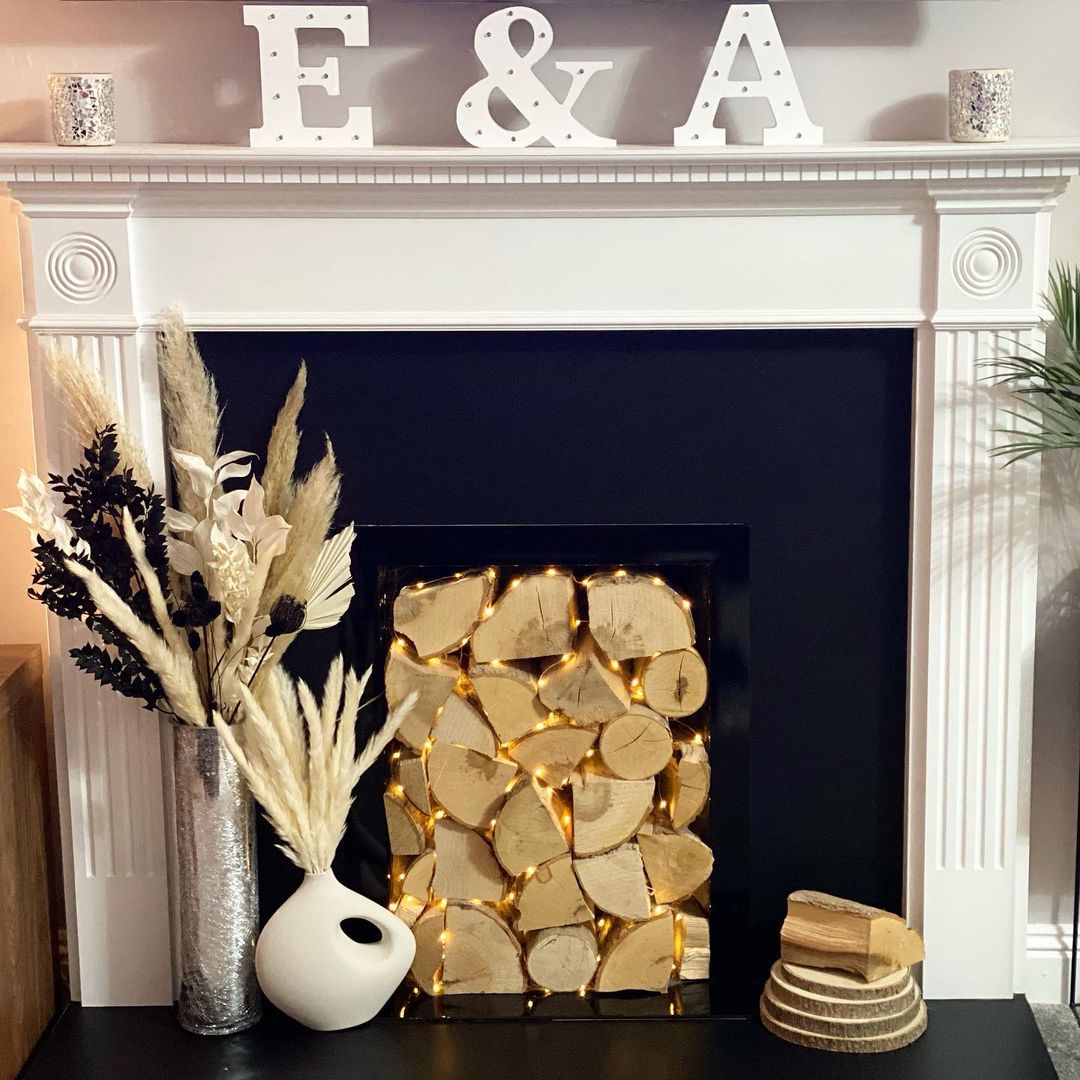 Adding lights to vases isn't the only way you can add a glow to your unused fireplace. There are several nonworking fireplace ideas to add the feel of live fire without striking a match. Adding a bundle of branches or driftwood to the fireplace with a string of lights around them is a simple way to give the effect of fire.
If you have a large log, you can drill holes in it and add flameless battery-powered candles. Glowing lights always work well as empty fireplace decor. If you want actual warmth from your old fireplace, there are several options for fake fire.
Many places offer electric fireplaces that provide heat and that old familiar glow. These can be set in your non-functional fireplace to bring it back to life.
8. Light It Up With Candles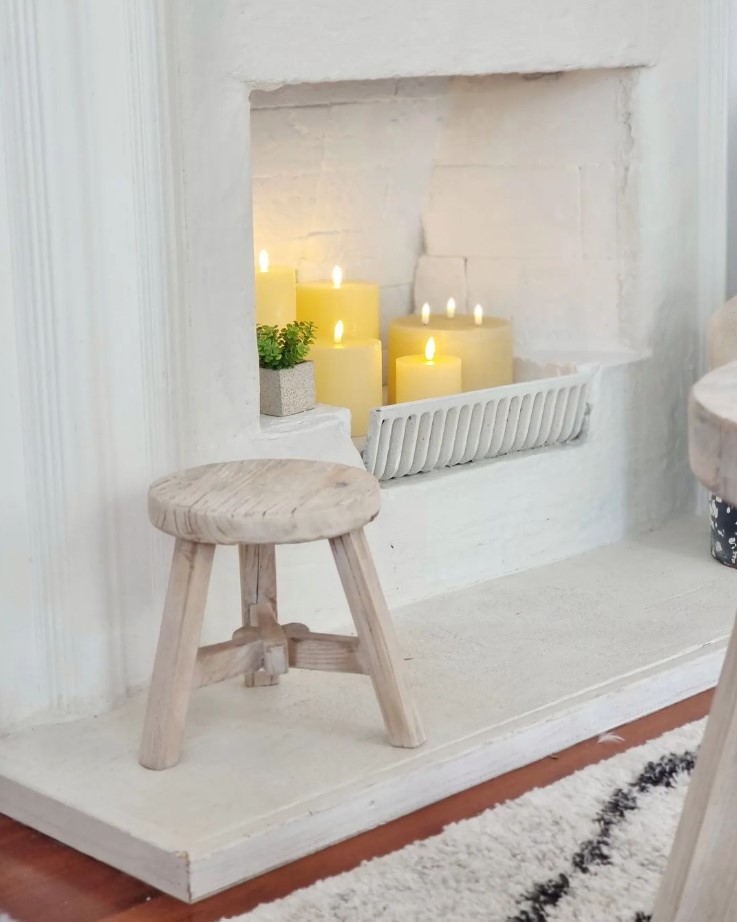 Many people love the smell of a fragrant candle filling the room. However, there's always the fear that candles may cause a fire.
The great thing about putting candles in your old fireplace is that you don't have to worry about it. The fireplace was built to contain a fire already!
However, you don't have to use real candles if you don't want to. Battery-powered candles work, as well. Both give off a romantic glow even though you can't have a real fire.
9. Add A Wine Rack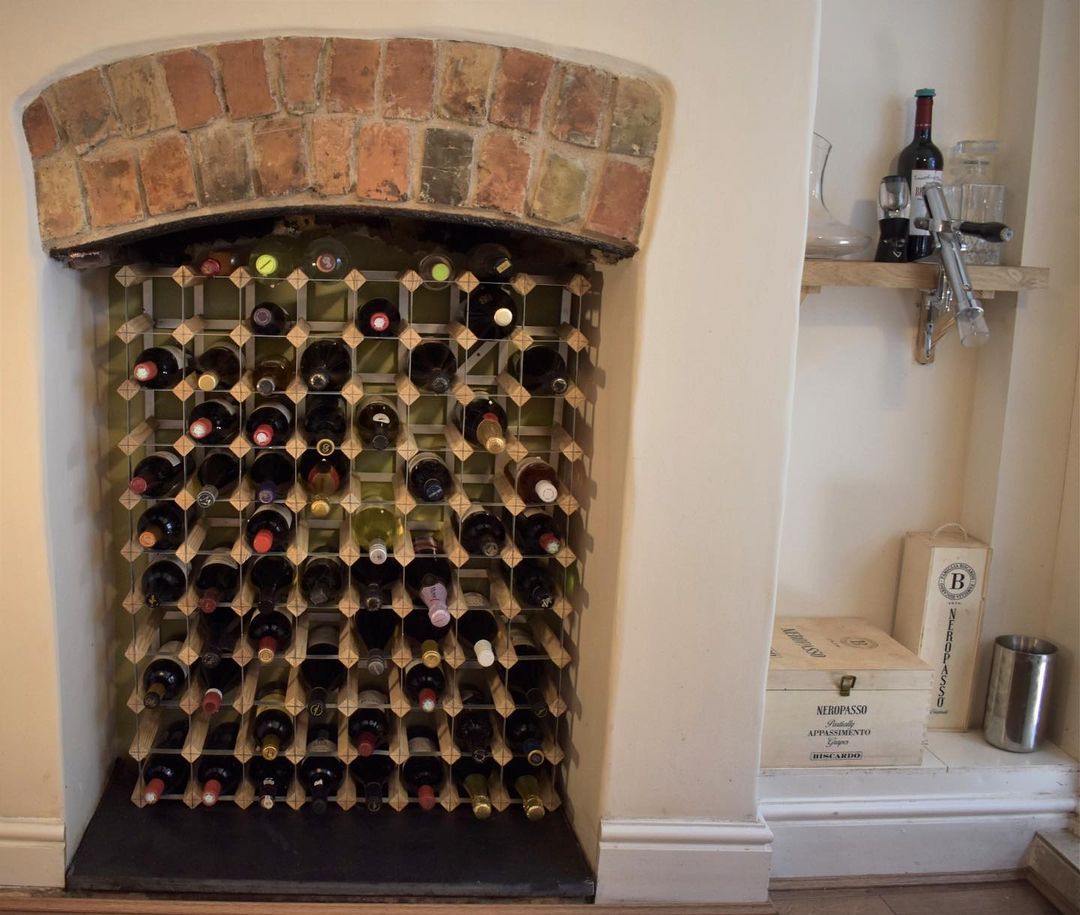 With a little carpentry, you can add stylish storage space for your wine collection.
Nothing warms you up like a nice glass of your favorite vino. Even if you aren't the handy type, you can add a pre-built rack into the space. Or even store a few bottles with other decors.
10. Use It As A Shadowbox
Old fireplaces are great for displaying most anything. Whatever you collect, you can use your old fireplace to highlight it and provide a built-in display. You can do this with or without shelves. You can add paintings or artwork.
As one of the most creative fireplace ideas, the options here are unlimited. The fun thing with this idea is that you can change it out from time to time and highlight different collections.
11. Display Antlers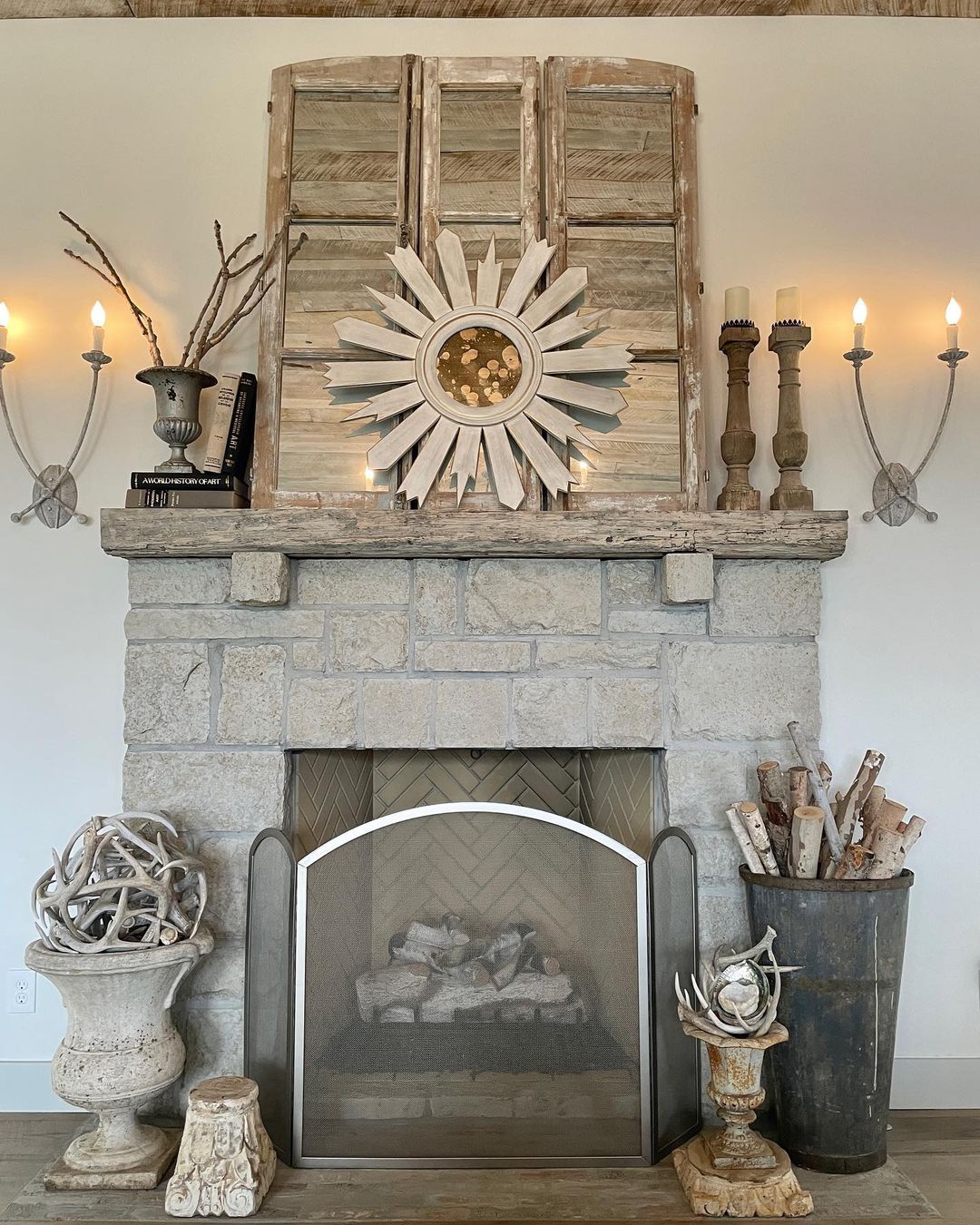 Ok, so not every fireplace will work with this idea. It will work best with a fireplace made of stone or brick in a rustic cabin in the woods.
Filling your unused fireplace with antlers makes a striking display. You can arrange them in artistic ways and even add string lights to highlight them and give the feel of fire.
You don't even have to hunt the animals to collect the antlers for your display. Deer shed their antlers annually, so there's no need to worry about harming wildlife. However, if you don't want animal parts around, you can always purchase faux antlers that look realistic.
12. Paint And Decorate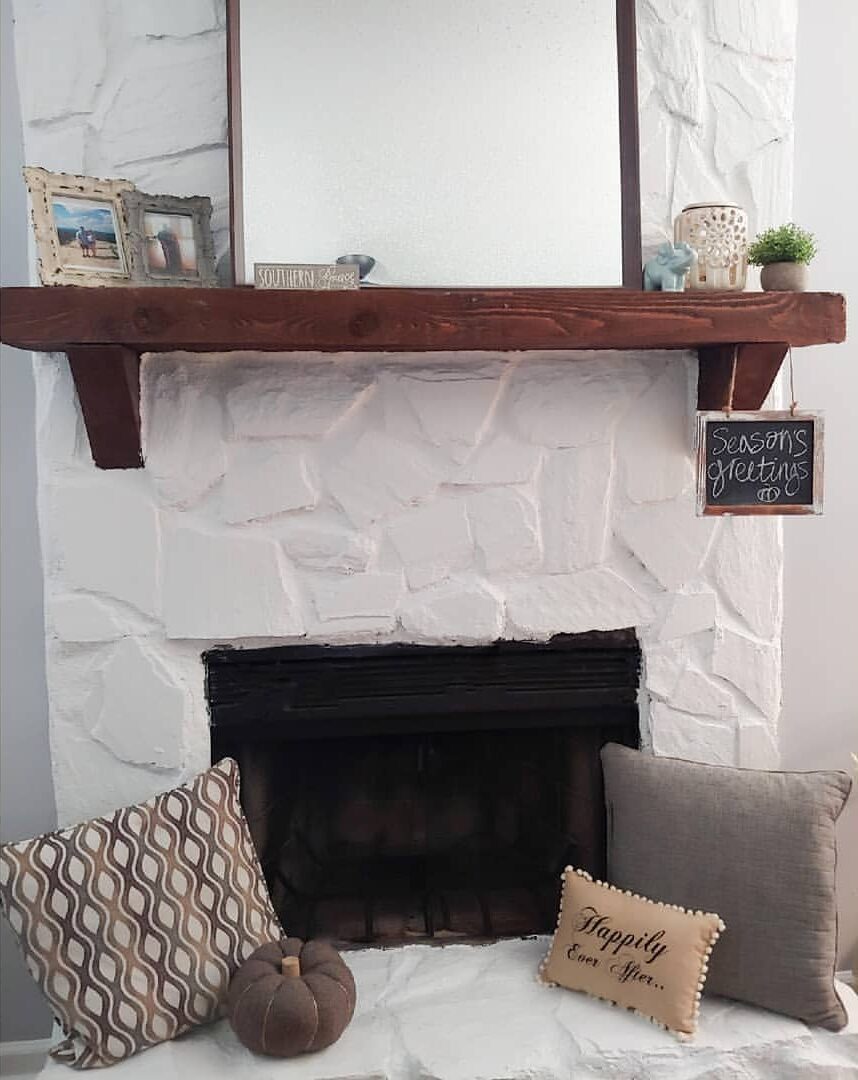 Yes, this sounds very basic, but painting your old fireplace can add new life to it.
You can paint over the bricks or stones in any color you like. Also, cleaning the old fireplace and painting it should be your first step before attempting any other unused fireplace ideas below.
You can do something colorful or a classic black and white for a more elegant look. There are limitless options left only to your imagination. Paint is the first step for all creative fireplace cover up ideas.
13. Home Decor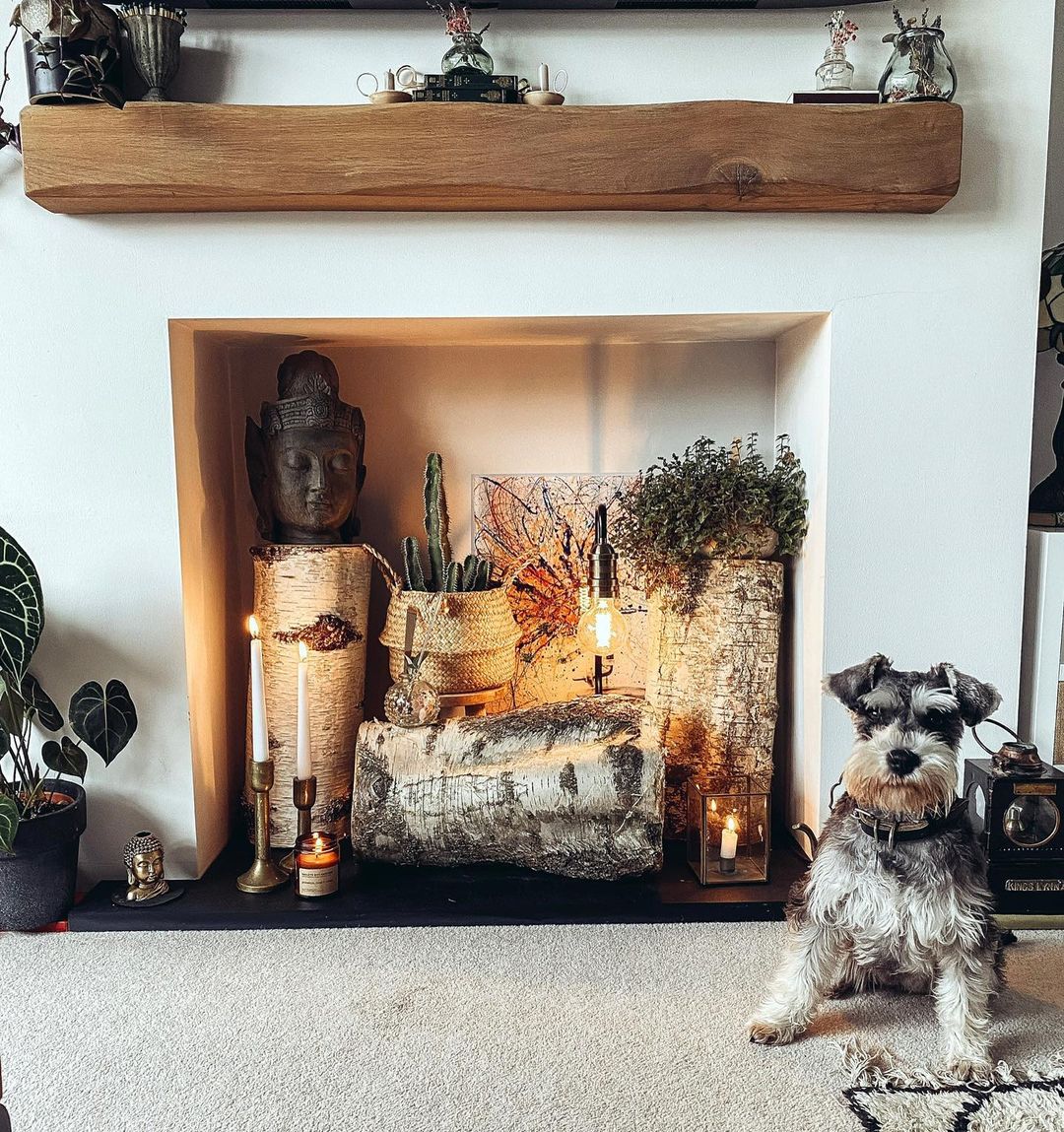 The best decor for an empty fireplace really depends on your personal taste and the overall style of your room.
If you are inclined towards a modern aesthetic, clean lines, sleek shapes, and minimalist arrangements work well. Consider a collection of geometric candle holders or sculptural pieces in materials like chrome or glass. A large, round mirror or a piece of modern metal wall art could be another interesting addition. For a more minimalist approach, a single, large-scale object, like an oversized ceramic vase or abstract sculpture, can create a striking statement.
Alternatively, if your style leans more towards rustic or farmhouse, consider options like a stack of chopped logs, an arrangement of birch branches, or a display of candles on a distressed wooden board. Vintage lanterns or old milk crates can also lend a warm, rustic charm. For a romantic, shabby-chic look, a floral arrangement, an ornate candelabra, or a collection of vintage books or ceramics could be a lovely choice. In both of these styles, using warm, natural materials can help to make the space feel inviting and homely.
14. Add A Pet Nook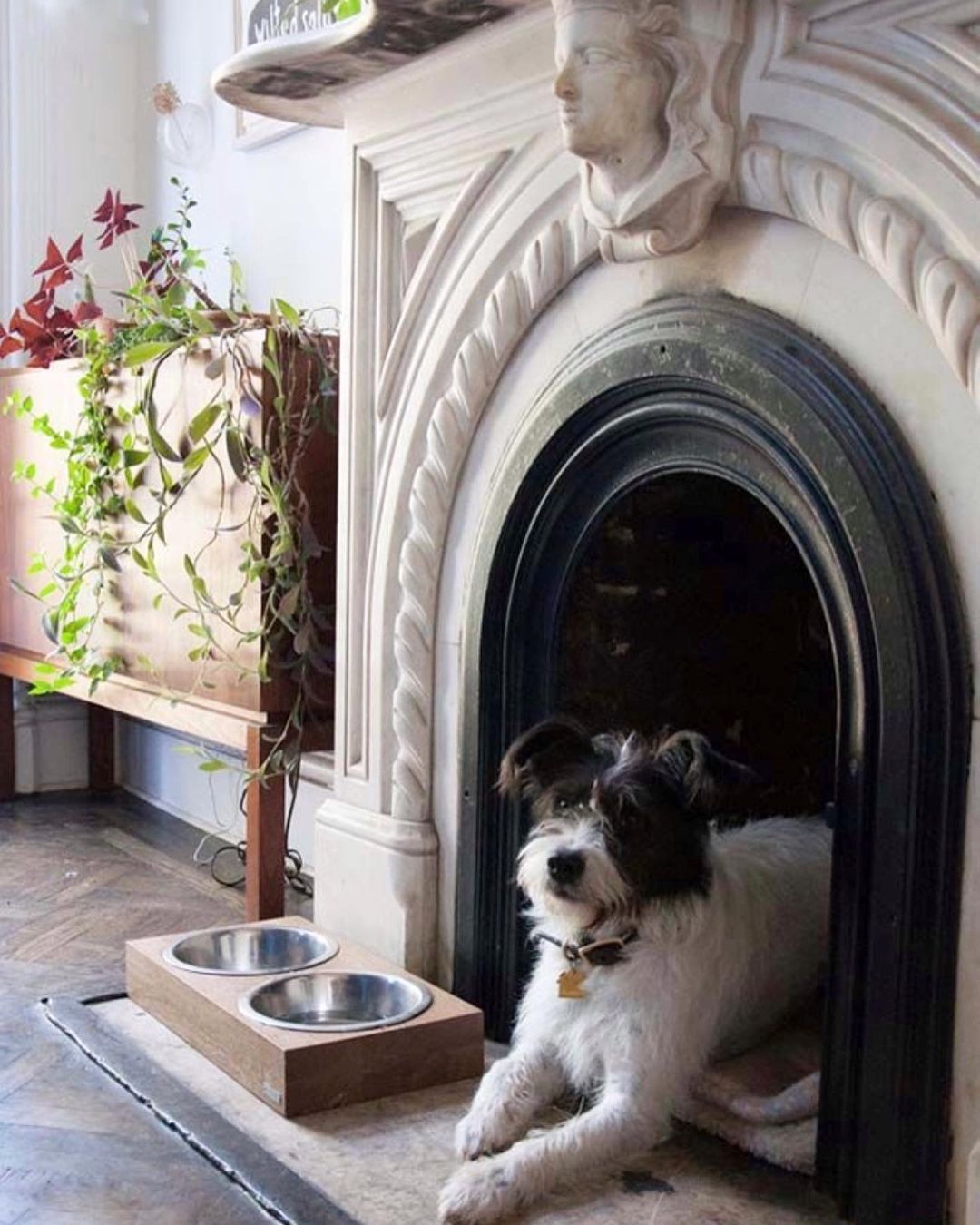 When you're thinking about what to put in a fireplace, don't only think of inanimate objects. If your old fireplace is big enough, you may want to consider turning it into a living space.
Adding a pet bed and some food bowls can make your old fireplace into an inviting space for your cat or dog. While some people are wondering how to keep cats out of the fireplace, others are turning them into cat havens.
The enclosed space helps pets feel comfortable and gives them a place to get away. You could even modify the opening to make a kennel if the area is large enough.
15. Install An Aquarium
Furry pets aren't the only things that can find refuge inside your old fireplace. Adding an aquarium to your old fireplace is an excellent use of space.
You can put a small stand and a store-bought aquarium in the fireplace. But if you want to go all out, there are custom designers that can build an aquarium to fit your fireplace. Either way, an aquarium is a fun way to repurpose your unused fireplace, or you could consider putting a fish tank above your fireplace.
16. Feature The Materials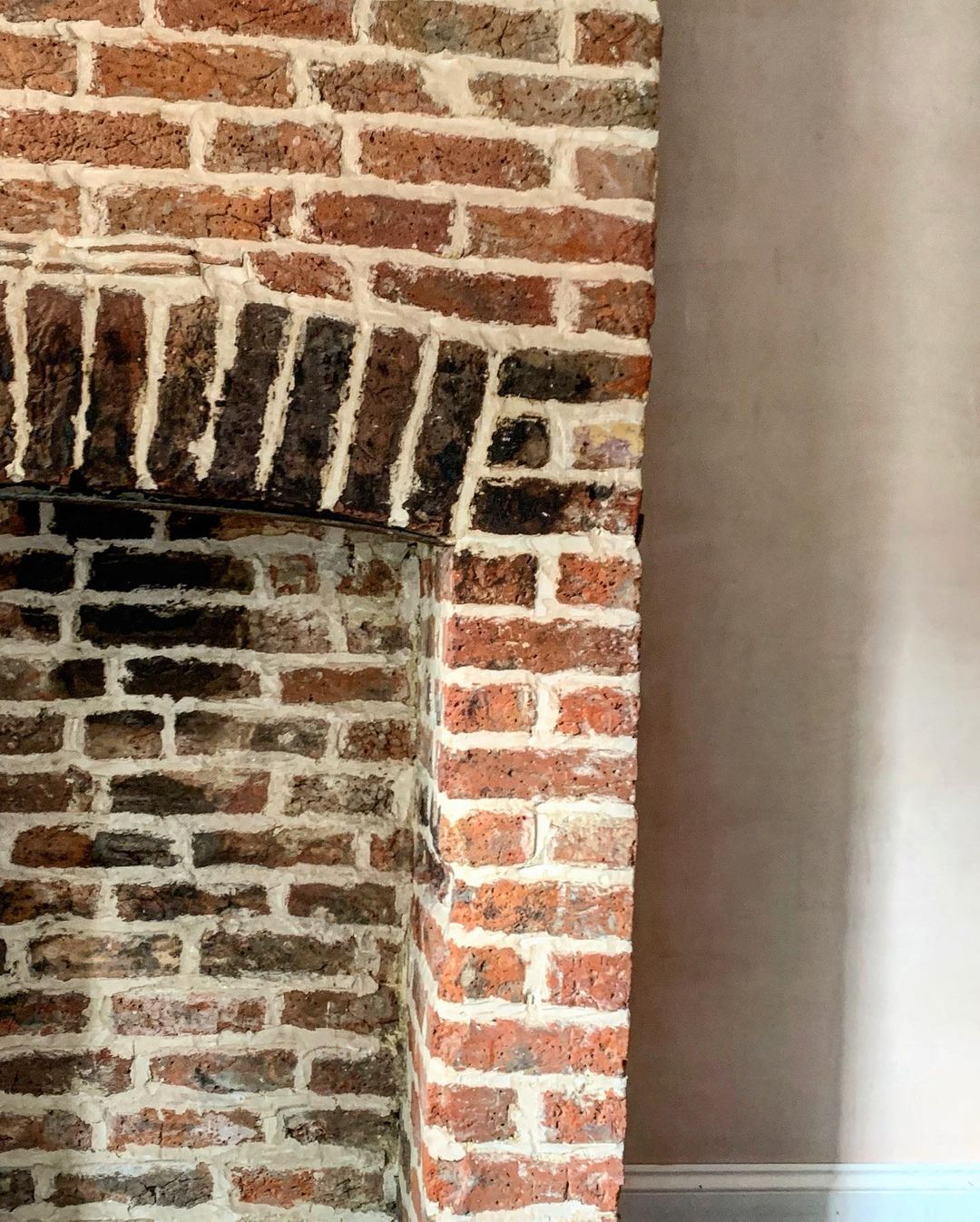 If you have an old fireplace made of brick, as in this example, why not make it look as good as possible?
Old brick is such a nice material, so much so that many people are putting reclaimed bricks into new builds. You can put some home decor items inside once the brick has been tidied up, but making sure it looks good first is a must. Quick N Brite Fireplace Cleaner is one really good product that is great at removing old ash, soot, and creosote staining.
17. Cover It Up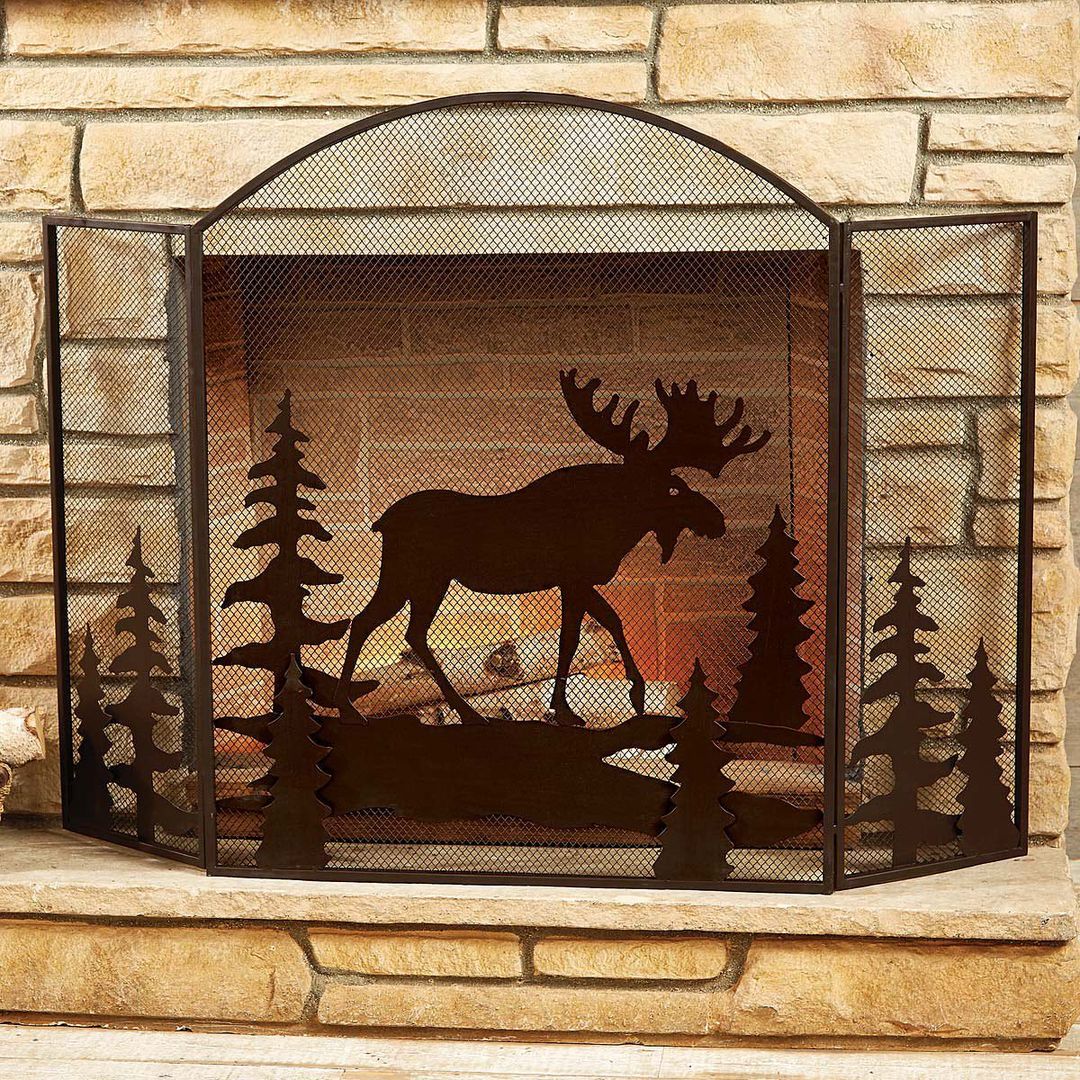 If all of these great ideas aren't enough for you, there is always the option to hide the fireplace. Artwork or fireplace screens are great unused fireplace cover ideas. Fireplaces make fantastic areas to display paintings or other art.
You can create a frame that fits the fireplace opening or prop a painting upon the hearth. If you don't have a painting you like, several places sell fireplace screens. You can purchase these screens pre-manufactured, or if you know a metal worker, you can have them custom design one for you.
The options for how to hide a fireplace are almost limitless – just grab your ash vac and clean it out first. Covering the fireplace always gives you the option of using it again – if the fireplace is still functional.
Unused Fireplace Ideas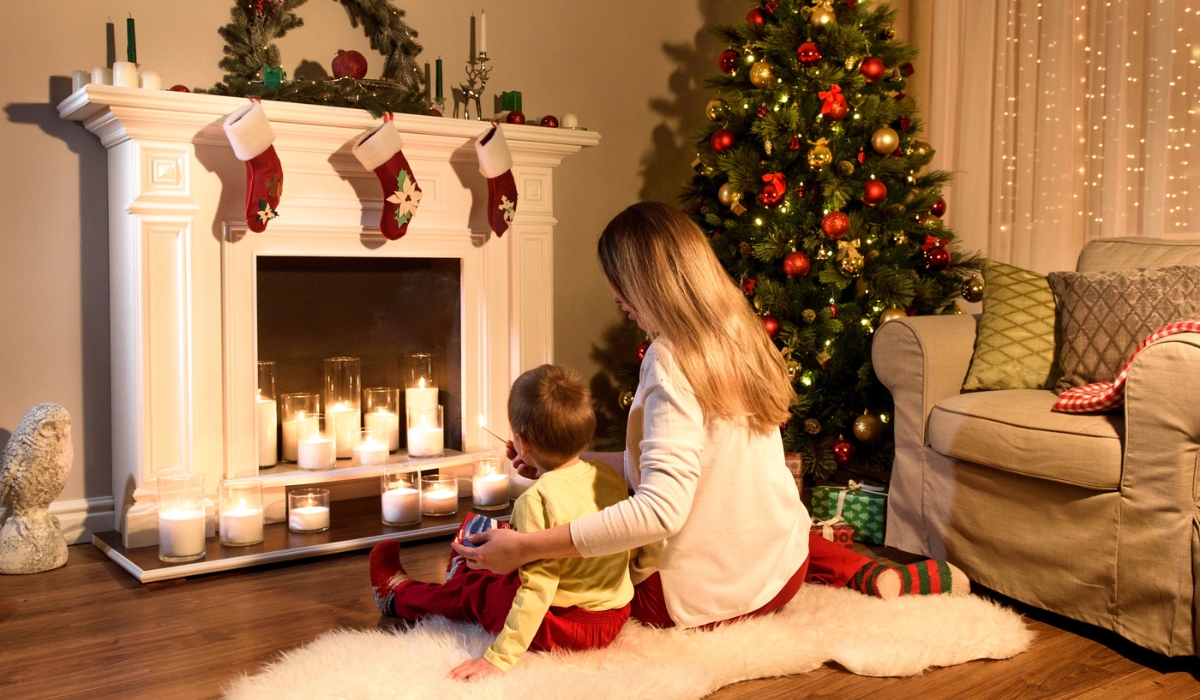 The options for how to decorate an unused fireplace are limited only by your imagination. The fun part of having an old fireplace is using your creativity to make it new again. Keep in mind that before you repurpose a fireplace, you may want to seal it off.
Sealing off the unused fireplace helps conserve energy and keeps your home warmer in the winter. We recommend getting a local professional to help you with this.
You can also simply insert some insulation up there as an easy way to temporarily seal up a fireplace as demonstrated in the video above. While it's nice getting warm in front of the fire, during the warmer months it's also good to do something fun and creative with your unused fireplace.
Hopefully, these empty fireplace ideas have helped you to determine the best type of decoration for your home. One final empty fireplace idea for a fireplace you never want to light again: you could install a good electric fireplace insert – these are generally unvented units that look great and perform well.