Is the Pipsqueak Wood Stove any good, and how does it compare to other tiny multi-fuel stoves?
With a name like 'Pipsqueak,' no one is ever too surprised when they see just how small it is. It is specially designed for heating small spaces, such as boats and small cabins, with an area under 300 square feet.
It's available for sale on Amazon in the UK here with free delivery within the UK to Prime members. Or you can get it here on eBay in the US (new models approx US$400+).
However, having it shipped to the US from the UK (where it is assembled) does cost a significant amount.
For many people, it will likely be better to go with something like the Dwarf wood stove instead. More on that below!
Pipsqueak Stove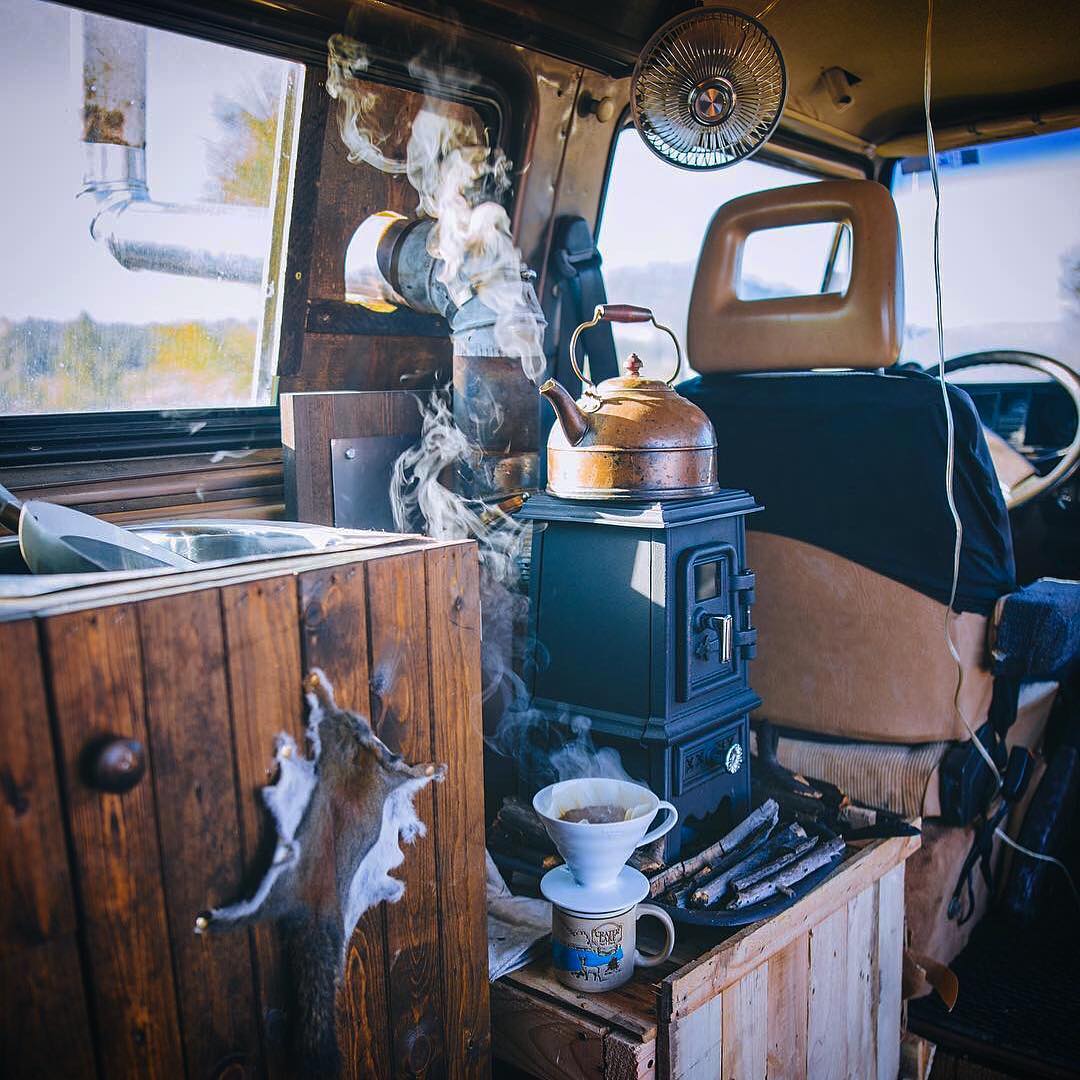 The Pipsqueak stove is a great little wood burner for a range of tiny structures.
I've seen it fitted in vans (as above), small cabins, boats (including canal boats), RVs, mobile homes, school bus conversions, and as a wood stove for tiny houses. I've even seen someone using it as a heater for their home office that is separate from the main house!
In the UK, it's also a popular wood stove for sheds and other small outbuildings.
Not only is it a good heater for spaces under 300 sq. ft., but it can also be used for cooking or boiling water. Because it is vented from the back of the stove, this means you're able to make use of the entire stove top.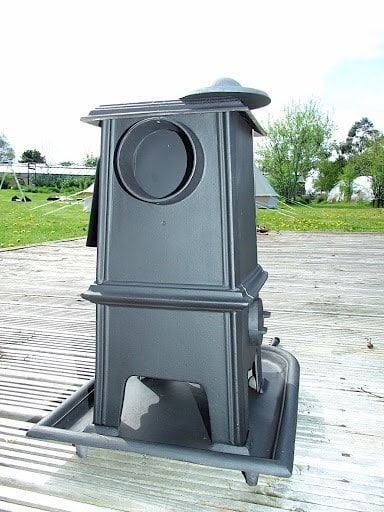 This is an excellent feature that you do not get with all mini wood and coal-burning stoves. For example, the Cubic Mini CUB (also 3kw) only vents from the top, while the Dwarf Stoves have the option of top OR back venting.
Most people looking to buy a stove for their boat or camper want to also be able to cook on it, so it's definitely a benefit of the Pipsqueak.
Generally speaking, it's easy enough to install, and you can pick up flue/chimney kits easily enough in the US and in the UK.
For example, in the US, use the flue kit builder at Tiny Wood Homes here to get what you need. For the record, it requires a 3-inch stove pipe. These can also be picked up on Amazon in the UK.
If in any doubt at all, definitely speak with a professional about the precise requirements for your structure. Also consider local ordinances and regulations which sometimes limit, restrict, or require licenses for these types of things.
Pipsqueak Wood Stove Specs
10,000 BTUs
2 – 3 kw output
17″ tall x 12″ wide x 15″ deep (44cm tall x 31cm wide x 38cm deep)
The Pipsqueak wood-burning stove is made from cast iron and can be used with both wood and coal.
It has a unique classic look and perhaps isn't as suited to extremely modern fit-outs. It has a tiny glass window through which you can view the fire and a removable ash pan for easy cleanout.
As already mentioned, it has a rear vent that makes it great for cooking, but you can also remove a cap off the top in order for the flames to have direct contact with your pot or pan.
Other important specs and features include:
Air controls
3″ stove pipe (80mm)
Comes with a cast iron base
Weighs 55 lbs (25 kgs)
Made in China, assembled in the UK
Coal bar
Comes with fire utensils (usually)
Because it's made of cast iron, it will rust if it gets wet or water/liquid is left on it. If you have a pot that boils over while you're cooking, make sure you dry down the stove once it's gone out and cooled down (if any moisture hasn't already evaporated).
Pipsqueak Wood Stove Review
Check out Pipsqueak stove unboxing and review in this video!
The Pipsqueak is a good little wood stove for and RV or other tiny space.
It's cheaper than a lot of other mini wood stoves (not factoring shipping into the equation), but it is fairly no-frills. Newer models from other brands do have a lot more bells and whistles.
It's easy to use, but some people do have trouble maximizing the amount of heat they get out of it without it chewing through a lot of wood. That also becomes annoying simply because you're feeding wood into it constantly.
However, the fact that it has the rear flue exit, and because of its heavy-duty construction, the Pipsqueak overall gets a very good rating.
Pros:
Rear vent
Affordable
Looks great
Removable ash pan
Comes with a good base
Cons:
Cast iron can rust
No top vent option if that was wanted
Difficult to find in the US
The biggest pro is that the Pipsqueak does the job – it will heat your small space and be useful for cooking!
The biggest con is just that it lacks some of those nice features that some stoves have. Things like extra air flow controls, air inlets, space for fire bricks, and that sort of thing.
That, and the fact it's difficult to find for a reasonable price in North America!
Pipsqueak Stove For Sale
Where can you buy a Pipsqueak wood stove?
Here are some retailers that offer it:
Other retailers used to import the Pipsqueak into the US, but I don't think anyone does anymore (let me know in the comments below if they do).
For example, Tiny Wood Stoves used to sell it (as you can see in the video above), but I think that was before they began manufacturing their own Dwaft wood stoves.
Now there are a lot of great US brands selling small and tiny wood stoves, so it's probably not economical to be bringing over heavy items like the Pipsqueak anymore.
Pipsqueak Stoves
So that is what the Pipsqueak stoves are all about.
They're a great little stove for the right person or people, and they're known as being durable over time. They'll stand up to a lot use over many years and continually perform well.
However, if it doesn't sound quite right for you, also consider the Cubic GRIZZLY mini wood stove. It puts out a bit more heat but isn't ultra expensive either!