The Husqvarna 346XP Chainsaw was made between 1999 and 2011. It is significant in Husqvarna chainsaw history as "the first chainsaw with a snap-lock cylinder cover" – not a major milestone, but it's worth noting.
The 346 is a small 50.1 cc, 3.7 hp professional chainsaw that Husqvarna described like this:
Ideal professional saw where users demand rapid acceleration, maximum power, and maneuverability. An excellent saw for high-speed limbing and cross-cutting applications. Also perfect for felling small-diameter trees. Includes features like the side-mounted chain tensioner, fuel pump and Smart Start® for easier starts, quick-release cylinder cover and rubber-mounted carburettor.
It was also very popular with users, with some describing it as the best small chainsaw they've ever run. Here are the different versions, user reviews, specs, features, and pricing details (check eBay here).
Husqvarna 346 XP Versions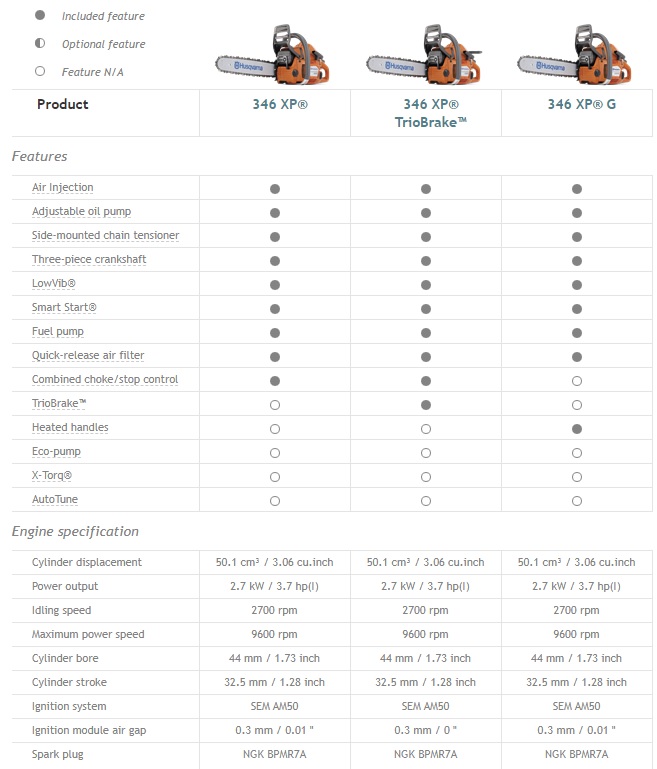 Versions of the 346 XP:
346 XP – the base model
346 XP TrioBrake – with TrioBrake feature
346 XP E-Tech TrioBrake – E-Tech engine and TrioBrake feature
346 XP G – with heated handles
The TrioBrake feature allows the chain brake to be activated either automatically by the inertia release mechanism or mechanically by your left or right hand. We've covered this feature to a greater extent in our Husqvarna 550 XP review (most guys don't like the feature).
The E-Tech feature is an engine that "combines reduced exhaust emissions with a superior power/weight ratio." It's often confused with Husqvarna E-Series Chainsaws, but it's completely different. E-Tech is simply a feature/engine that's designed to meet emissions requirements.
Other than these slight feature differences, these models are mostly the same and are all considered good chainsaws that are worth holding onto or buying (if you can find one these days).
Husqvarna 346 XP Review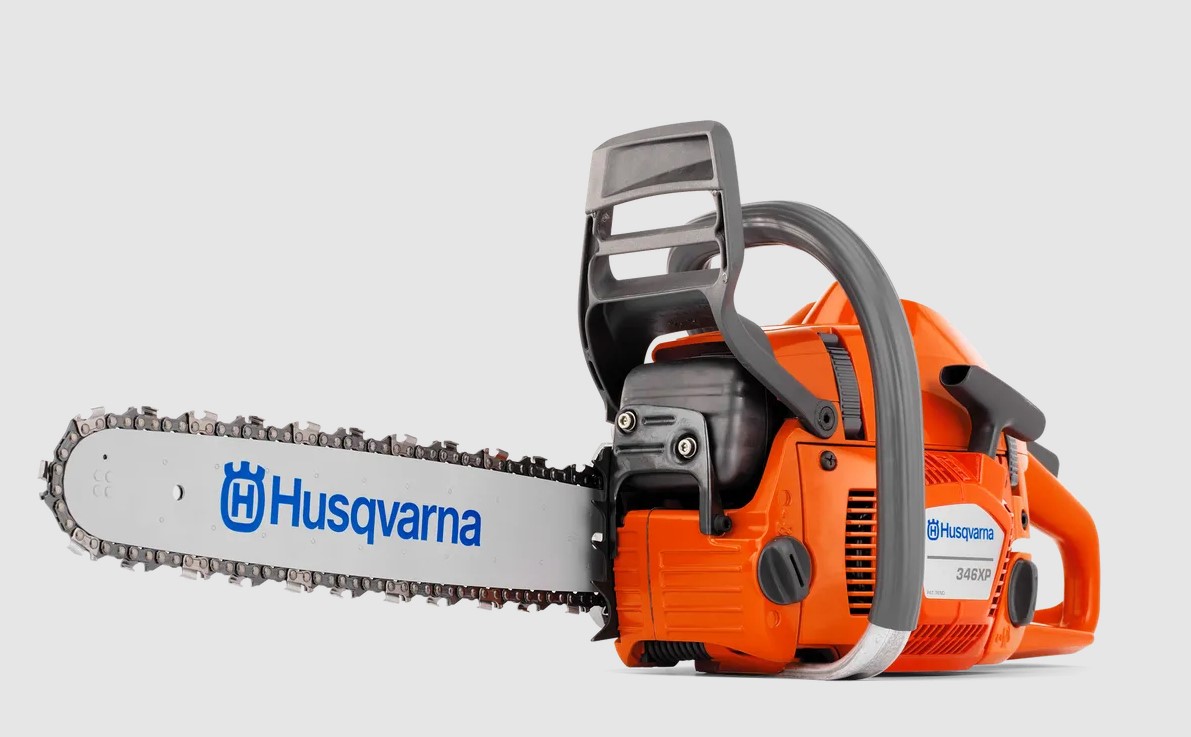 The Husqvarna 346 XP is a popular saw but there are fewer and fewer available these days. The saw has been replaced in Husqvarna's line-up by the 545 Mark II and 550 XP – both good saws in their own right.
Old-school folk will say you can beat a 346 XP and that these replacement saws don't compare, but those who have used both the 346, 545, and 550 say the newer models are far better – at least, most of them do.
Here are some 346 XP user reviews:
You'll struggle to beat a 346xp
I've had a 346 for 15 years still runs like a dream use it for trim or put a 20 on and cut wood
346s are as good as it gets in the 45/50cc range. I have three.
Love my 346 just switched to a 3/8" chain on a fresh rebuild top end. Saw is a monster.
I've had my 346xp for 15 years and absolutely love it.
One of the best Huskys ever. Tough and reliable!
I have 4 of them like new I use them all the time and clean them after every carving job.
Awesome saws, I still run mine regularly.
Great little saws but they have a tendency to vibrate the piston ring groove pin loose.
I own 6 that are running and a couple that aren't, one of the best power-to-weight ratio!
Best saw I have ever owned and would love to get at least a couple more.
Jim said:
The 346 XP is a legendary saw and it's super light but the 545 is so well balanced, smooth, and powerful it's no comparison. A 346 is for old dudes who want to put it on a shelf use it once in a while and talk about the good old days. I still use a 372xp for felling but I'm not going to tell you it's better than a 572xp – it's not, I just haven't upgraded. The only 3 series saw that isn't obsolete is a 3120.
Gary said:
I put a big bore kit in my 346xp and it screams. Pound for pound one of the best saws Husqvarna has ever made. It's incredible how much power these 50cc saws have . Just keep the chain sharp and let the chips fly!
Nick said:
I have a 346 and it came with a 16inch bar but I put a 15 inch I had lying around on it. It increased its performance so much just dropping the size by 1 inch (2 drive links). Mind you our hardwood is very hard here in Australia so you might be able to run a longer bar but a shorter one will put less stress on the powerhead.
Brad said:
Such a great little saw. My 346xp NE is on its third oem slug and cylinder, second set of bearings. I'll keep throwing those at it for as long as I can get them.
Caleb said:
If you pay 2 times what the 550 is priced at for a 346 you still did well, because that's how long a 346 will last, maybe even 3-4xs as long as a 550…
Matt said:
346 is a better saw compared to the 550 imo. I have multiple of both. Yes, I like the 550 but it will not live near as long as a 346.
Specs And Features
| Specification | Husqvarna 346 XP |
| --- | --- |
| Cylinder displacement | 50.1 cc / 3 cu in |
| Power output | 3.7 hp / 2.75 kW |
| Idling speed | 2700 rpm |
| Maximum power speed | 9600 rpm |
| Maximum recommended engine speed | 14700 rpm |
| Cylinder bore | 1.73 inch / 44 mm |
| Cylinder stroke | 1.28 inch / 36 mm |
| Ignition system | SEM AM50 |
| Ignition module air gap | 0.01 " |
| Spark plug | NGK BPMR7A |
| Electrode gap | 0.02 " |
| Carburetor model name | C3-EL32 |
| Fuel tank volume | 1.06 US pint |
| Oil tank volume | 0.59 US pint |
| Oil pump type | Adjustable flow |
| Oil pump capacity | 6-10 ml/min |
| Chain pitch | .325″ |
| Recommended bar length, min-max | 13″-20″ |
| Chain speed at max power | 60.7 fts |
| Guaranteed sound power level, LWA | 113 dB(A) |
| Weight (excl. cutting equipment) | 11.2 lbs |
346 XP features:
Magnesium crankcase – withstands high RPMs and pro use
Snap-lock cylinder cover – saves time opening the saw up
Three-piece crankshaft – for maximum durability
LowVib® – improved anti-vibration system
Smart Start® – engine designed for the easiest starting
Ergonomic grip – more natural grip and posture
Fuel pump – for easier starting
Inertia chain brake – safety mechanism
Adjustable oil pump – change to suit the temperature
Side-mounted chain tensioner – easy to tighten/loosen the chain
Combined choke/stop control – reduces the risk of flooding
Quick-release air filter – easier access
Plus there were the versions with optional E-TECH engine, heated handles (designated with a G), and/or TrioBrake.
Price And Parts
How much are 346 XPs worth?
The Husqvarna 346XP is no longer for sale new but tidy examples can be found in FB groups, on Marketplace, and on eBay. Prices vary depending on condition and location but tend to go for between US$300 and $600.
Those that sell on the higher end are either in excellent condition or they've had work done to them. Ported chainsaws can sell for more if they've been done by a recognized name, for example, Jason Egan.
The Husqvarna 545 (Northern Tool OR Amazon) and Husqvarna 550 XP (Northern Tool OR ACME TOOLS) are the closest saws to the 346 that can be bought new today.
Parts, such as the Meteor Big Bore cylinder piston kit, are best found on eBay, Amazon, or HL Supply.
Husqvarna 346XP Chainsaw
The Husqvarna 346XP is a very good chainsaw that most guys treasure forever. It's just one of those saws that they get attached to.
Don't be afraid to try the newer Husqvarna models if you get the opportunity. As we've shared, those who have given them a go have mostly been impressed and retired their 346s. Sometimes it's time to move on, right?
Let us know your thoughts and experiences of the 346 in the comments below!