The Cubic Mini Wood Stoves are popular Canadian-made wood-burning stoves.
We've been working as partners of Cubic Mini Wood Stoves for a few years now, and, on our site at least, the Cubic Mini Stoves get the most attention. We research and compare a lot of tiny wood stoves, but the GRIZZLY and CUB are probably the most popular.
1. The Cub: The smaller of the two models, The Cub, is capable of heating spaces from 100 to 200 square feet. This makes it suitable for the smallest of spaces. Its compact size makes it easy to fit in a variety of spaces, yet it is robust enough to heat efficiently in Spring and Fall.

2. The Grizzly: The Grizzly is the larger model and is capable of heating spaces from 200 to 400 square feet. Despite being larger than The Cub, it is still compact enough for use in smaller homes or other spaces. It can be used through Winter.
Other than the difference in size and output, both models are efficient wood-burning stoves primarily designed for small spaces such as tiny homes, boats, vans, skoolies, or small cabins. These stoves have been praised for their minimalistic design, efficiency, and affordability – especially when they're on sale.
Cubic Mini Wood Stove Versions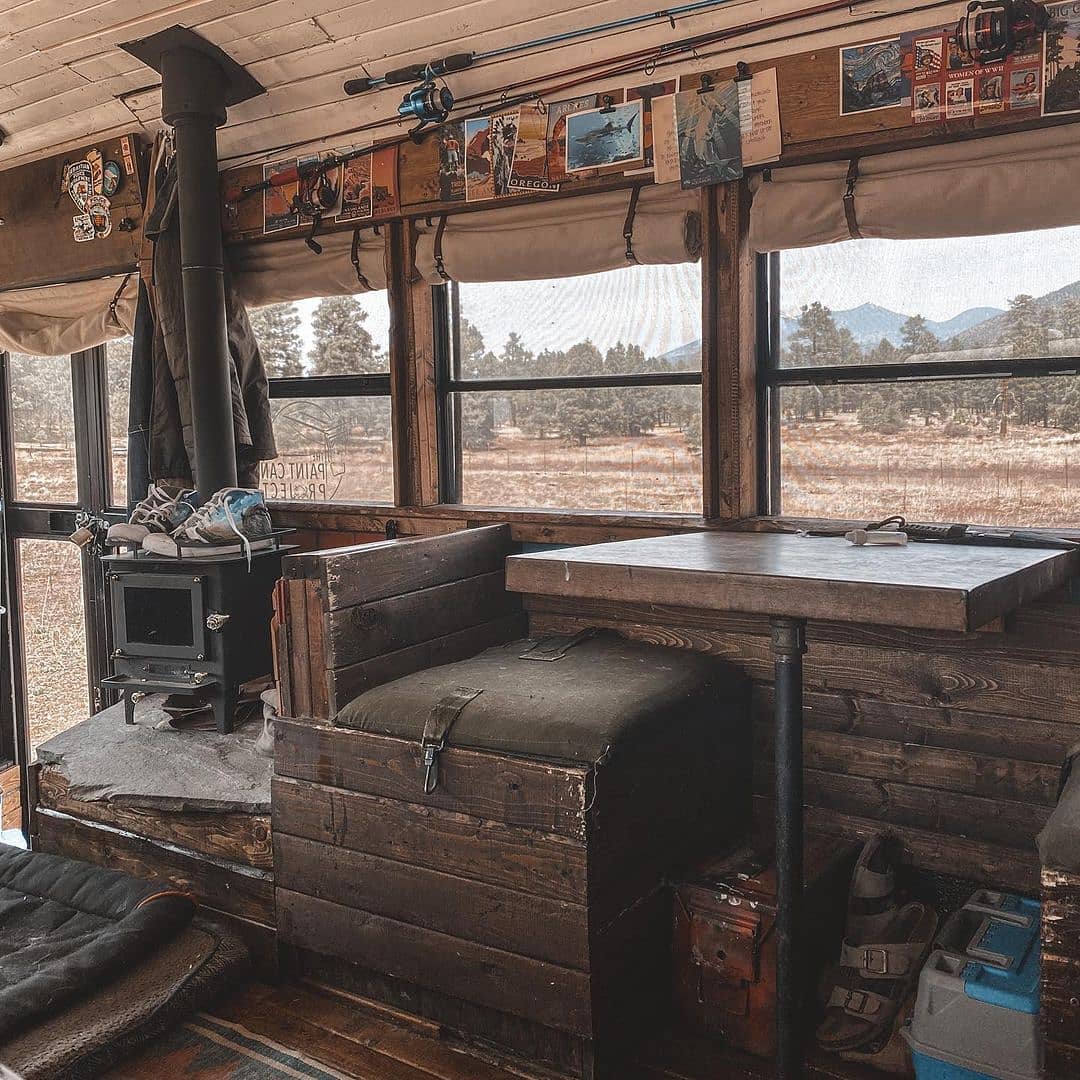 Both the CUB and GRIZZLY are made from durable steel and feature a glass window for viewing the fire. They also have a secondary combustion system that helps to ensure efficient burning and minimizes smoke and other emissions. The stoves also include a rail around the top to secure a kettle or pan for cooking or heating water. The rail can be removed for additional space on the cooktop.
Both models have the same construction materials:
3/16″ laser cut steel top plate: provides a robust and durable surface that can withstand high temperatures and heavy use.
1/8″ laser-cut steel body: Offers structural integrity to the stove, making it resilient and long-lasting.
1/2″ thick vermiculite firebrick insulation: Enhances the stove's heat retention and efficiency, ensuring that less heat escapes.
3/16″ thick self-cleaning ROBAX glass: Allows for a clear, self-cleaning view of the fire while adding an extra layer of safety. ROBAX glass is known for its high heat resistance.
Brass-plated coil handles: These add a touch of elegance to the stove's design while remaining cool to the touch for safe handling.
And the only real differences are in the dimensions and heat output, as shown in the following table.
| | | |
| --- | --- | --- |
| | Cubic Mini CUB | Cubic Mini GRIZZLY |
| | | |
| Size | 11″ w x 12″ h x 10.5″ d | 13″ W x 15″ H x 12″ D |
| BTU | 6000 – 14,000 BTU | 8,000 – 18,000 BTU |
| kW | 1.75 – 4.1 kWh | 2.3 – 5.2 kWh |
| Weight | 25 lbs/11 kgs | 39 lbs/17.7 kgs |
| Heats up to | 100 – 200 feet² | 200 – 400 feet² |
| Cook Top | 5 x 11 inches with rail removed | 6.5 x 13 inches with rail removed |
If you have settled on the Cubic Mini Wood Stove brand then it's mostly the size of your space that will determine which is best for you. Other factors that need to be considered are the level of insulation of your space and the location's climate.
We recommend most people opt for the GRIZZLY because it's better to be safe than sorry. No one likes freezing in the winter, and the CUB isn't rated for winter use other than in the warmest climates. The Grizzly Wood Stove has been tried in tested in the coldest climates and the majority of users are happy.
Without shielding, both the Cub and the Grizzly need a 20-inch clearance in all directions. With proper shielding and mounting the clearance requirements are reduced to 3 inches. Both appliances use a 3-inch stove pipe as part of a complete flue system.
Cubic Mini Burn Times
One of the burning questions people have when it comes to small wood stoves is "How long can it burn for?" Along with whether or not overnight burns are possible, which, if they are, certainly beats waking up to put wood on the fire.
Most people find it very difficult or impossible to get all-night burn times with the Grizzly or Cub Wood Stoves, but there are a few tricks that can help you get close.
Best results come from burning dry, seasoned hardwoods that are cut to just the right size.
Using compressed or densified logs will also grant longer burn times.
Fill the firebox as much as possible with good wood or "stack it like Tetris" as one man said
There are plenty of other things you can do to ensure a Grizzly wood stove heats a home to the best of its ability, like using heat fans and heat reclaiming bands. Check out our round-up of Cubic Mini tips for more ideas. We also shared about the "upside down fire" method in our review of the Dwarf Tiny Wood Stove which can potentially be used to get an all-night burn.
Here are a couple of comments on fuel and burn times from the Cubic Mini FB Group…
Myranda said:
I've been really enjoying eco logs or other compressed hardwood logs that are additive free. I ended up using about 3 a day. I bought a face cord of them, highly recommend! They burn cleaner and hotter.
Tim said:
It took a little time to figure out the draft, some times I leave the door slightly opened to increase airflow, once it gets going I latch it closed . The dryer the wood the hotter and faster the burn.
And Tina said:
I have found it takes a bit of time to learn what works best. It also depends on the size of the space you have it in. A magnetic thermometer helps me determine how hot I need it to be comfortable. Tonight it will be 13° and I know it won't be as warm as I would like, but I still want to make adjustments before I get it over 650°. (I want some extra heat pipe insulation around the exit hole as the 5″ pipe still gets too hot for my liking) Other than that, it's all about the wood, good seasoned wood or those pressed logs burn hotter.
The US-made Mini Me Wood Stove gets up to 12 hour burn times but that only burns compressed logs rather than firewood that you can collect yourself.
Grizzly And Cub Wood Stove Reviews
For up-to-date reviews, check out the Cubic Mini Wood Stove Users FB Group. It's not an official Cubic Mini group, so users can share the good and the bad. It is a place where people share what's working for them along with pics of their wood stoves. It's also a place where you can ask questions of users of the stoves.
People are commonly asking things like:
Building out a cargo trailer. I want to put my cubic mini cub on the kitchen counter kinda like in this picture from Pinterest. I'm just curious if it would be too hot to prep food on the counter right next to the stove while it's got a fire going. Have people noticed a distance that's too close for comfort?
Or:
Creosote builds up fast at the top of the chimney (which isn't a surprise I suppose – it's a long pipe). The gap between the top of chimney and cap is very small. Anyone else have this issue? Thinking of cutting the top of the chimney by an inch or two to allow more space for smoke to escape and less frequent cleanings. Anyone else have this issue?
So it's a great source of info for those who are looking to buy a Cubic Mini Wood Stove and those who already have one and need tips to get it running better. Plus, of course, just for community around a great wood stove, right!?
Here are some POSITIVE Cub and Grizzly reviews from the group:
Love love love this stove [GRIZZLY], heats my small cabin just fine and has for the past 5 years.
Best purchase! We did for our RV as propane is inefficient.
Cubic Grizzly in Alaska!! Working great!! (Camper) Even in negative Temps.
Marcie said:
Other than the flue is only 3″ and has to be cleaned a lot and of course you have to cut your wood to size it's been a really great stove for us. It's already saved us money and that's a plus. More positive then problems with our experience ????

Our RV was brand new so when we punched a hole in the roof for the flue it was a bit nerve wracking for me ???? but it fits perfectly in its location etc. Get the heat shield system with it. You won't regret it. It's small and compact all the way around.
Robin said:
I am glad I got the Grizzly and not the smaller one. I can get a full sleep getting up only once to add wood. I'm usually getting over 5 hours burning without adding wood when damped down.
Frederic said:
We installed a Grizzly in our boat and we absolutely love it.

Waking up on Sunday morning in the middle of nowhere, starting the fire, and enjoying the first coffee in this warm ambiance is priceless!
And John said:
I'm very happy with my Cubic Mini. In a well insulated van it stays warm most of the night. I use a bag over the chimney when not in use to keep rain out and to stop ash from coming in while on the road. Much easier than putting the cap on.
I've very hard to find negative reviews about the Cubic Mini Grizzly or Cub. Those who comment online are overwhelmingly happy with their purchases. The main downsides that are mentioned are that it's not possible to get an overnight burn and that the chimney needs cleaned often.
The chimney cleaning frequency will depend on the type of wood you're burning and whether it's well-seasoned or not. And it will depend on how often you have your fire burning, of course. Some people need to clean the flue every 2 weeks, while others only do it once a month. This is unfortunately just part of the maintenance required with any wood-burning stove, not just the Cubic Minis.
Overall Pros:
Suitable for up to 400 sq ft in winter
Able to be used for heating, cooking, and demoisturing
Wood burning is often much cheaper than alternative heating options
The Cubic Mini is well built and reports are that it's durable
Well reviewed with many happy and warm customers
DIY installation is possible, but get a pro in if in doubt
Heat control levers allow you to control the burn
Overall Cons:
Not suitable for more than 400 sq ft
The build isn't as robust as other models like the Dwarf or Hobbit
It simply may not heat your space to a temperature you desire if you like things hot, hot, hot
On that final point, one user asked:
Is there a good way to get more heat out of it? I just feel like it's not preforming as well as expected in my bus.
The ensuing conversation pins down the likely problems as not enough insulation and being in a very cold climate. Another slightly larger wood stove like the Flame Innovation Caboose or 5 kW Dwarf might have been better.
When you compare the Dwarf Stoves with Cubic Mini Stoves the former are more robust and have extra features, but they are significantly more expensive.
Cubic Mini Wood Stove Features
If you are an environmentally conscious consumer, Cubic Mini wood stoves are a good choice. The wood-burning stove offers you a low-carbon alternative to heating your space. If you end up using locally available wood or pellets, the woodstove ends up being virtually carbon neutral.
A great feature of the cubic mini wood stove is that it has secondary combustion capabilities.
The system works by pulling oxygen from the secondary air intake, which then mixes with the gas produced by the fuel burning, which ends up reigniting the wood.
This feature is particularly useful because it ensures that energy that would have otherwise been lost still gets utilized.
If you've bought a tiny house wood stove without insulation, you have probably noticed that the air around it gets heated up, but the room stays cold. The Grizzly mini wood stoves are insulated to ensure a lot of the heat they produce is reflected back into the stove.
As a user, you get improved functionality as the stove ends up holding more heat and radiating it for a longer period. That's a neat feature as it means you end up having your space heated for longer without having to reignite the stove.
If you have used a small stove before, you understand the headache that is constantly having to clean the creosote. The latter is initially not a concern as it builds up soon as the flue gases get in contact with cold air and cold surfaces.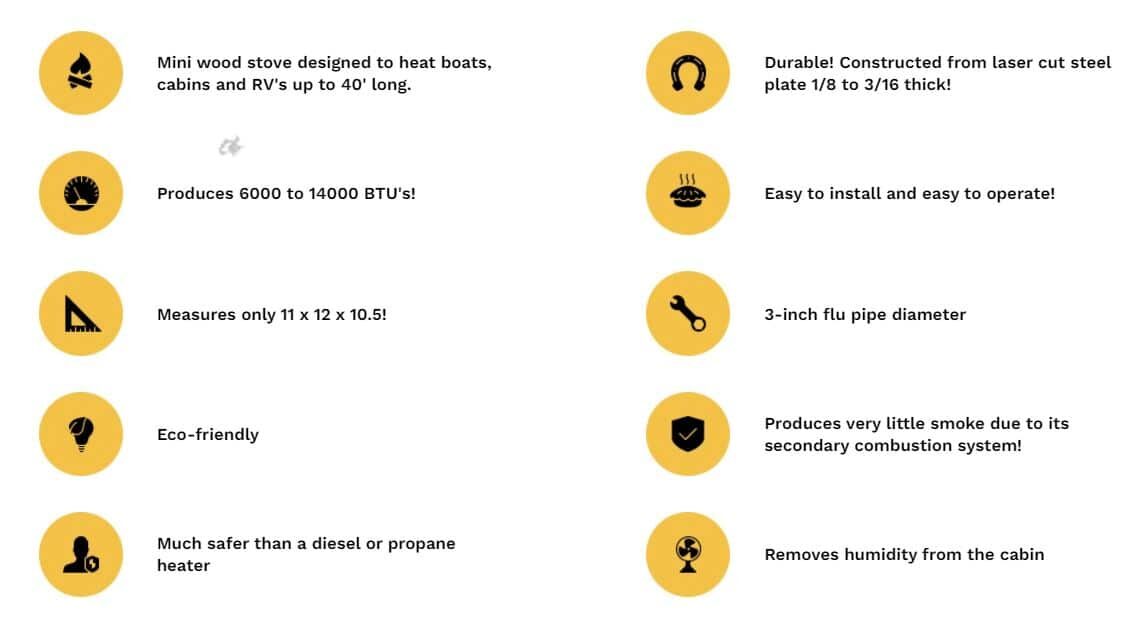 Fortunately, this tiny house wood-burning stove comes with a flue pipe that reduces the overall build-up. Besides, this flue pipe has a sufficiently insulated double wall, which means it will not be as prone to creosote build-up.
An additional concern closely related to the one described above are drafts. The latter builds up within the flue pipe, which is detrimental as this pipe actually works like the engine of the entire setup.
As such, the Cubic Grizzly and Cub wood stoves comes with an adjustable flue pipe that you can raise enough to go past the highest point within the room where the stove will be installed.
Installation of the Cubic Mini Stoves is fairly easy and straightforward and you can install it yourself with just a few basic tools. If you are as clueless as I can be with these sorts of things, you can simply visit the website, where you will see several videos explaining the different elements and their setup.
The insulation that allows the stove to reflect back heat is a neat feature that makes the stove heat longer and radiates into your space longer. You should get a burn time of 2-4 hours on the Grizzly while using 6-inch logs. The Cub will be slightly shorter.
The maximum BTU you get with the Grizzly mini stove is 18,000, better than the 14,000 BTUs you would get from the Cub.
The number of accessories available to you makes it possible to customize your Cubic Grizzly wood stove to fit your needs. Whether you want to have it as a floor mount or have it mounted on the wall, you get different kits that should facilitate any preferences you might have.
Cubic Mini also sells everything you need for installation as well, including wall and/or floor mounts, heat shields for the fire and flue, stainless steel flue pipes, and so on.
Accessories And Customizations
Mini Tool Kit
Why invest in the Grizzly and not have an elegant tool kit to help you tend to your winter wood fires?
The Miniature tool kit is designed to give you an easier time while manipulating the wood or scooping out the ash. Made of mild steel and brass fittings, the tool kit is both attractive and functional.
As it is small in size, you can manipulate it to meet your needs as it pertains to giving your miniature wood stove the treat it deserves.
Fire Bricks
Your Grizzly stove comes with half -inch vermiculture bricks.
These work like a protective barrier without which the combustible elements around your stove would go up in flames. It's normal for this barrier that protects your walls and floors to wear out over time and need replacing.
Cubic Mini Roaster
The Mini Roaster allows you to bake or roast your meals on top of your Grizzly Wood Stove (not the CUB). It has air vents, a thermometer, and handle. It's a great way to save on fuel for your oven.
Self Cleaning Window
When you buy the mini stove, it comes installed with a self-cleaning window.
If your household is anything like mine, you have to make room for the possibility that this window will crack or even break. Cubic made provisions for this eventuality by providing a Robux glass replacement window that is 3/16" thick.
Water Heater And Dispenser
If you want to heat water with your Cubic Mini Wood Stove but don't want to be limited to only using a pot on top, you can get the water heater and dispenser.
This can be used with both the Cub and Grizzly, but the Cub needs to be raised rather than standing only on its factory legs. The dispenser holds 2.5 liters of water and takes about 30 – 40 minutes to heat up.
Baffles
The Cubic Mini Grizzly comes with a pair of stainless steel baffles already installed.
These baffles are meant to improve secondary combustion within your mini wood stove. With continued use, you will notice that these baffles will become warped, and the screws might just seize up due to the intense heat within the system.
Stove Pipe
Cleaning your pipe on the regular means that you stand to get better use of your small wood-burning stove.
As you invest in the tiny wood stove, consider also getting the 3" pipe brush made from quality nylon bristles. The brush comes with heavy-duty ball tips, which makes it possible for you to clean the narrow offsets and bends within the pipes.
Note that you will need to buy this accessory together with the 25P-5 OR PSR-20 rod kit as the brush and the handle are sold separately.
EcoFan
The EcoFan can be used with both the Grizzly and Cub.
It helps to heat the room faster as it helps to circulate the warm air through the space up to 20% faster than if you didn't have it. Definitely a worthwhile addition. Wood stove heat fans are a lot of fun just to have, even if they don't do a huge amount.
Cubic Mini Wood Burning Stove FAQs
Where are Cubic Mini Wood Stoves Made?
The Cubic Mini Wood Stoves are made in Saint-Laurent, Quebec, Canada.
Can you cook on a Cubic Mini Wood Stove?
The mini wood stove is dual-purpose. You can use it for cooking on top of and by moving the rail you will have larger space.
How do you install it?
After purchasing the mini wood stove, you select the mounting method that you want, either the floor mount or wall mount.
After that, you need to figure out which shielding options you want around the stove. Note that with the wall mount, the stove will only shield the surface where it has been mounted.
If you choose to have it mounted on the floor, you should consider getting shielding for anything that is 20" from the stove.
What are the potential Cubic Mini Wood Stove problems?
Some of the problems you will encounter with the Cubic mini wood stove include a problematic flue pipe, smoking issues, foul smell coming from the stove, and accumulation of debris within the firebox.
Where can you use the Cubic Mini Wood Burning Stoves?
We've seen the Grizzly used in all kinds of spaces and places, including:
Tiny houses, yurts, cabins, and boats
Home offices that are separate from the main house
Fishing sheds, hunting shacks, and hiking cabins
Mobile art studios and other traveling businesses
Can I order from Europe or the UK?
Cubic Mini does ship to Europe and the UK, but costs can make it very expensive to do so. Alternative stoves like the Hobbit and Pipsqueak are sold in this region and may be the better choice.
Cubic Mini Wood Stove Price
Small And Tiny Wood Stoves
Both the Grizzly and Cub Wood Stoves offer good value for money. They are one of the cheapest small wood stoves on the market.
With the Grizzly, you get a slightly larger firebox than the Cub, but the Cub is still a solid little stove that is perfect for tight spaces, including sailboats and RVs. Overall, I love the compact size of both these stoves, the large front display window, and the sturdy steel construction. It looks great, as you can see in the Insta photos throughout the post (please follow those accounts!), and users are happy.
For more info, get in touch with the team at cubicminiwoodstoves.com, ask a question in the Cubic Mini Users group on FB, or share your comments and questions in the section below!