Is the Cubic Grizzly Wood Stove any good?
Before winter comes upon us, it's important to have your heating sorted out. The Grizzy is a tiny wood stove that's suitable for tiny homes, small cabins, boats, RVs, mobile homes, and other small spaces.
It is the big brother to the Cub and it comes with a slightly larger firebox that puts out a bit more have and has extra functionality.
The Grizzly is designed to heat up to 200-400 sq ft during winter, while the smaller CUB wood stove is best for spaces up to 100-200 sq ft during spring and fall.
Many thousands of happy customers state that the Grizzly Wood Stove is a good small wood burner. It does what it says it's going to do: warm your space and create a wonderful atmosphere.
Cubic Grizzly Mini Wood Stove
I've been researching tiny wood stoves like Cubic Mini Wood Stove's Grizzy and Cub for a while now.
I've got neighbors with multiple tiny houses that are fitted with small wood-burning stoves and had some interesting conversations with them about what to look for and which are best.
The market is somewhat saturated with countless models, all promising reliability, durability, and power. This makes the otherwise simple task of buying a wood stove for your small space tricky.
You need to consider if it is freestanding or an insert, especially since the former means you might be able to move the mini wood stove around a space (depending on the position flexibility of your stovepipe).
What's more, check whether it is steel, cast iron, or something else.
The size and heat output are quite important as well as this helps to determine how effective and efficient the woodstove will be in your space.
Cubic Grizzly Specs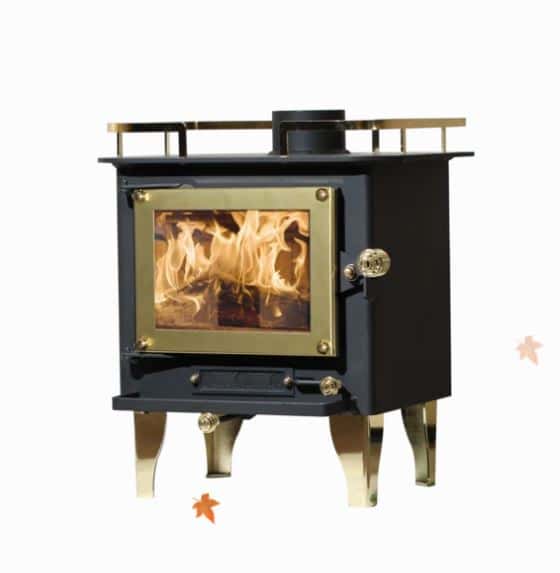 The Cubic Grizzly wood stove ticks a lot of boxes.
The thing that stands out the most about it is that it really is so small. Those who have never seen a tiny house wood-burning stove before always laugh the first time they see one.
They are ridiculously small!
Specs for the Grizzly include:
Measures 13" wide by 15" by 12" long
Without the rail, the cooking area measures 6.5 inches by 13 inches from the flue to the edge of the plate
The heat output is 8000 BTU-18,000 BTU
The door opening is 7" by 5"
The combustible clearance is 30' at the top, 20' on the sides, 30" at the front, and 20" at the bottom
Perforated vent tubes facilitate secondary combustion
Cubic Mini also sells everything you need for installation as well, including wall and/or floor mounts, heat shields for the fire and flue, stainless steel flue pipes, and so on.
Cubic Mini Wood Stove Features
If you are an environmentally conscious consumer, the Cubic Grizzly wood stove is a great option for you.
The wood-burning stove offers you a low-carbon alternative to heating your space. If you end up using locally available wood or pellets, the woodstove ends up being virtually carbon neutral.
A great feature of the cubic mini wood stove is that it has secondary combustion capabilities.
The system works by pulling oxygen from the secondary air intake, which then mixes with the gas produced by the fuel burning, which ends up reigniting the wood. This feature is particularly useful because it ensures that energy that would have otherwise been lost still gets utilized.
If you've bought a tiny house wood-burning stove without insulation, you have probably noticed that the air around it gets heated up, but the room stays cold.
The Grizzly mini wood stoves are insulated to ensure a lot of the heat they produce is reflected back into the stove.
As a user, you get improved functionality as the stove ends up holding more heat and radiating it for a longer period. That's a neat feature as it means you end up having your space heated for longer without having to reignite the stove.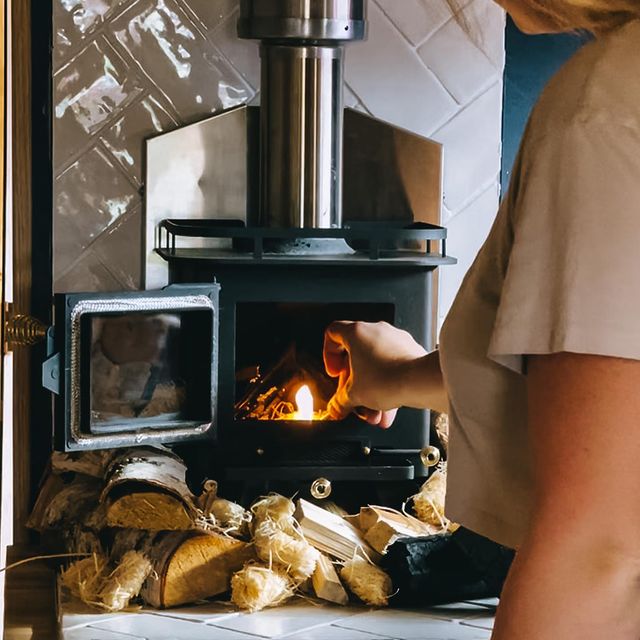 Chances are you have used small wood stoves for cabins or sheds before.
As such, you understand the headache that is constantly having to clean the creosote. The latter is initially not a concern as it builds up soon as the flue gases get in contact with cold air and cold surfaces.
Fortunately, the tiny house wood-burning stove comes with a flue pipe that reduces the overall build-up. Besides, this flue pipe has a sufficiently insulated double wall, which means it will not be as prone to creosote build-up.
An additional concern closely related to the one described above is drafts.
The latter builds up within the flue pipe, which is detrimental as this pipe actually works like the engine of the entire setup.
As such, the Cubic Grizzly wood stove comes with an adjustable flue pipe that you can raise enough to go past the highest point within the room where the stove will be installed.
The benefit is that you end up with Grizzly wood stoves with optimal performance and safety levels that are simply enviable.
GRIZZLY Mini Stove Price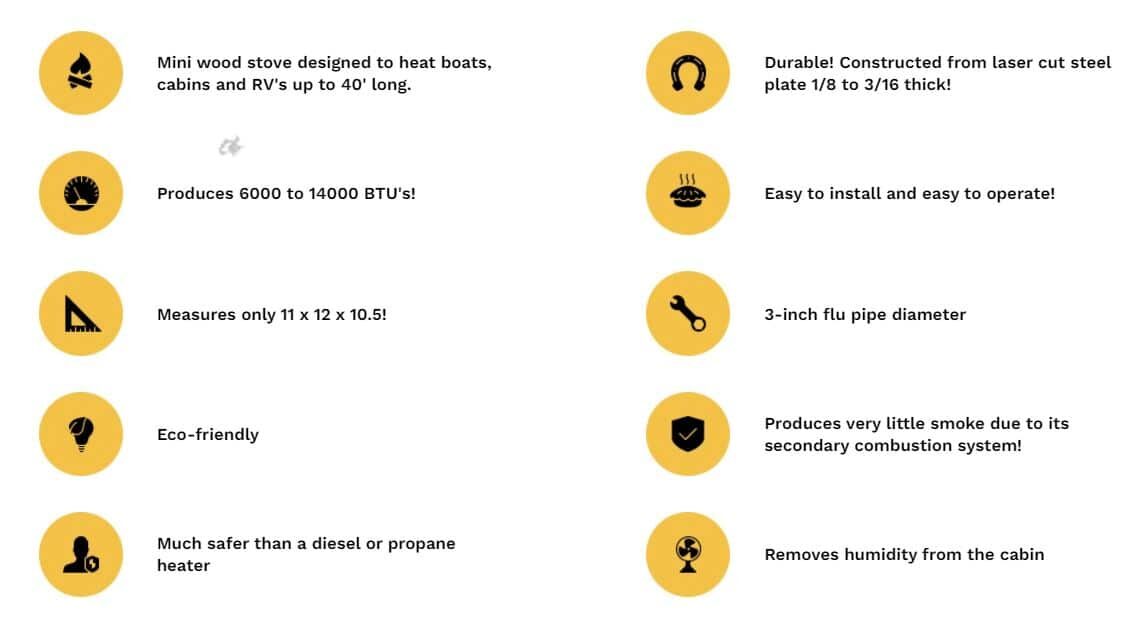 For the CB-1210 Grizzly Cubic mini wood stove, you will have to part with $800, although at the time of writing, the stove is on sale for $699 – check the current price here.
If you consider the specs and functionality that the stove offers, it would NOT be presumptuous to claim that the stove is fairly priced.
Note that this price is for the bare-bones stove. It does not include the price of the chimney, roof vent, or other installation parts that you might need to be added.
Onelight Fire Starter that is made up of 20 wooden sticks is $24.95
CB-PS-3 pipe brush costs $14.49
CB-1205-SS stainless steel replacement baffles will cost you $41.22
The miniature tool kit is $77.42
For complete pricing on all of the parts required to set up and install the Grizzy wood-burning stove, head to the product page here.
Cubic Grizzly Wood Stove Review
Installation of the Cubic Mini stove is fairly easy and straightforward, which means you can install it yourself with just a few basic tools.
If you are as clueless as I was with some of the accessories, you can simply visit the website here, where you will see several videos explaining the different elements and their setup.
The insulation that allows the stove to reflect back heat is a neat feature that makes the stove heat longer and radiates into your space longer. You should get a burn time of 2-4 hours on the Grizzly while using 6-inch logs.
The maximum BTU you get with the Grizzly mini stove is 18,000, better than the 14,000 BTUs you would get from the Cub.
The number of accessories available to you makes it possible to customize your Cubic Grizzly wood stove to fit your needs. Whether you want to have it as a floor mount or have it mounted on the wall, you get different kits that should facilitate any preferences you might have.
Pros:
Suitable for up to 400 sq ft in winter
Able to be used for cooking
Safer than alternative heating options
A quality constructed product
Well reviewed with many happy customers
DIY installation (get a pro in if in doubt)
Heat control levers
Cons:
Not suitable for more than 400 sq ft
The cost of everything adds up!
Mini Wood Stove Accessories
Mini Tool Kit
Why invest in the Grizzly and not have an elegant tool kit to help you tend to your winter wood fires?
The Miniature tool kit is designed to give you an easier time while manipulating the wood or scooping out the ash. Made of mild steel and brass fittings, the tool kit is both attractive and functional. As it is small in size, you can manipulate it to meet your needs as it pertains to giving your miniature wood stove the treat it deserves.
Fire Bricks
Your Grizzly stove comes with bottom vermiculture bricks.
These work like a protective barrier without which the combustible elements around your stove would go up in flames.
Unfortunately, this barrier that protects your walls and floors will most likely wear out. The half-inch vermiculture bricks, which you can buy on the side as accessories, means that you take on a preemptive approach to ensuring you are heated up enough but do not end up bursting in flames.
Self Cleaning Window
When you buy the mini stove, it comes installed with a self-cleaning window.
If your household is anything like mine, you have to make room for the possibility that this window will crack or even break. Cubic made provisions for this eventuality by providing a Robux glass replacement window that is 3/16" thick.
Baffles
The Cubic Mini Grizzly comes with a pair of stainless steel baffles already installed.
These baffles are meant to improve secondary combustion within your mini wood stove. With continued use, you will notice that these baffles will become warped, and the screws might just seize up due to the intense heat within the system.
Stove Pipe
Cleaning your pipe on the regular means that you stand to get better use of your small wood-burning stove.
As you invest in the tiny wood stove, consider also getting the 3" pipe brush made from quality nylon bristles. The brush comes with heavy-duty ball tips, which makes it possible for you to clean the narrow offsets and bends within the pipes.
Note that you will need to buy this accessory together with the 25P-5 OR PSR-20 rod kit as the brush and the handle are sold separately.
EcoFan
The EcoFan can be used with both the Grizzly and Cub.
It helps to heat the room faster as it helps to circulate the warm air through the space up to 20% faster than if you didn't have it. Definitely a worthwhile addition.
Fire Starters
Who wants to kindle a fire in winter?
Fortunately, you can get the Onelight fire starter pack that should help you light easy fires. These burn for up to 15 minutes, which should come in handy when dealing with wood that might be damp or cold from being outdoors.
Best Cubic Mini Wood Stove Alternatives

Here are 3 good alternatives to the Grizzly – see our round-up of the best wood-burning stoves for larger options.
1. CUB Cubic Mini Wood Stove
The CB-1008 Cub is a smaller version of the Grizzly, which is part of the Cubic Spring and Fall model.
Measuring only 11" wide, 12" high, and 10.5" long, the stove is made of a 3/16" laser cut steel top plate and a 1/8" laser cut steel body that uses well-seasoned hardware and pressed logs.
It makes for the best alternative for the Cubic Grizzly Wood Stove CB-1210 as the latter is best for spaces that are under 200 square feet with tall ceilings.
2. Dickinson Marine Solid Fuel Heater
This marine wood stove is a small stainless steel solid fuel heater that is best for tight spaces including boats.
You can use wood, charcoal briquettes, or coal for this heater with a minimum heat output of 3000 BTUs and a maximum of 8000 BTUs.
3. The Dwarf 3kw Lite
The $625 Dwaft lite stove is simple, lightweight, and perfectly suited for tight spaces and users with a limited budget.
Other than the aforementioned, you get a clean-burning stove as it has primary, secondary, and tertiary air supplies.
See the full range of Dwarf stoves from Tiny Wood Stove for more info on their larger models, or check out this post: Cubic Mini Stoves vs Dwarf Tiny Stoves.
Cubic Grizzly Wood Stove FAQs
Where are Cubic Mini Wood Stoves Made?
The Cubic Mini Wood Stoves are made in Saint-Laurent, Quebec, Canada.
Can you cook on a Cubic Mini Wood Stove?
The mini wood stove is dual-purpose. You can use it for cooking other than just it being a heat source.
How much does the Cubic Grizzly weigh?
The Grizzly weighs 39lbs.
How do you install it?
After purchasing the mini wood stove, you select the mounting method that you want, either the floor mount or wall mount.
After that, you need to figure out which shielding options you want around the stove. Note that with the wall mount, the stove will only shield the surface where it has been mounted.
If you choose to have it mounted on the floor, you should consider getting shielding for anything that is 20" from the stove.
How much room do you need for a small wood stove?
The small wood stove needs a minimum of 150mm around it on the rear and sides.
What are the potential Cubic Mini Wood Stove problems?
Some of the problems you will encounter with the Cubic mini wood stove include a problematic flue pipe, smoking issues, foul smell coming from the stove, and accumulation of debris within the firebox.
Grizzly Wood Stoves
The CB-1210 Grizzly Cubic Mini wood stove offers good value for money.
You get a slightly larger firebox than the Cub, but it's still a solid little stove that is perfect for tight spaces, including sailboats and RVs. See our round-up of RV wood stoves for more ideas.
Overall, I love the compact size, the large front display window, the sturdy steel construction. Other than looking simply great, you get the wall mount option while still benefiting from the good heat output.
Let us know if you have any comments or questions in the comments below!