The Dwarf Wood Stove, produced by the Idaho-based company Tiny Wood Stove, is designed specifically for compact living spaces such as RVs, tiny homes, vans, yurts, and cabins. The stoves are named after their kilowatt (kW) heat output, with models available in 3kW, 4kW, and 5kW, allowing customers to choose a stove that best suits their needs based on the size of their living area.
In their manual, Tiny Wood Stove states:
Our Dwarf stoves are designed specifically for small recreational and temporary spaces less than 500 square feet like tents, yurts, RVs, buses, vans, boats, and tiny homes on wheels. The Dwarf stove is not certified (UL/CSA) or approved (EPA) for residential or commercial heating and is intended for recreational, portable, or temporary use only.
The phrase "recreational, portable, or temporary use only" can put some people off, and while it is worth thinking about, most users are successfully using their Dwarf Stoves every day. Brian, who has the 4kW Dwarf, said, "It is very well made, simple, and effective for everyday use."
*For questions, support, and community, join our NEW Dwarf Tiny Wood Stove FB Group.
What Makes The Dwarf Stove Special?
The Dwarf Wood Stove has many features that set it apart from alternative stoves, though it is very similar to the Hobbit Wood Stove (which is made in the UK and must be imported to North America). However, it's quite different from the Canadian-made Cubic Mini Wood Stove (full comparison of the Dwarf and Cubic Mini) and other mini wood stoves that are readily available in the USA and Canada.
Some of the Dwarf's standout features include:
Multi-Fuel – Dwarf stoves are designed to burn wood, coal, and compressed logs, providing flexibility depending on fuel availability and user preference.
Top or Rear Flue Exit – This feature provides flexibility in installation based on the layout of your living space. A rear exit makes for a larger cooking space on top.
Thick Steel – The Dwarf Stoves are made of thicker steel than most other alternatives. For example, compared to the Cubic Mini Stoves, they're said to have twice the steel thickness. This makes them heavier, but also more durable and able to withstand hotter fires. The Dwarf Stoves will also radiate more heat for this reason.
Direct Air Intake – The Direct-Air box, when attached to Dwarf stoves, channels external air into the stove for combustion, conserving the room's warm air by reducing its escape through the chimney. In highly airtight spaces, this feature may be crucial to guarantee adequate fresh air supply for the stove's operation.
Airwash – The stoves have a glass window on the door, allowing users to enjoy the view of the fire. Preheated air "washes down over the surface of the glass keeping the glass clean" and helps the fire to burn better.
Air Controls – Dwarf stoves have separate primary and secondary air controls for precise adjustment of your fire. The primary air blows directly on the hot coals while the secondary air enters the firebox at the bottom of the rear air plate.
Riddling Grate and Ash Pan – These features make cleaning out the ashes from your stove a simple task. The riddling grate shakes ash down into the pan for removal.
Upgradable – The stoves can be customized with different types of doors, legs, storage stands, and heat shields. Some models even offer optional add-ons like a baking oven or a water heating system.
Dwarf Stove Burn Time
And the Dwarf Stoves are said to have up to a 5 – 10 hour burn time, though most people struggle to keep them going for longer than 3 hours. Under the ideal conditions (the best hardwood properly cured or using compressed logs), and perhaps by using the Upside Down Fire method it's possible to get longer burns, but for everyday practical usage, you can expect 2 – 3 hour burn times with the larger Dwarf stoves.
Answering the burn time question in a YouTube comment, Tiny Wood Stove said:
That depends on the type of wood you're using. High BTU compressed logs (available at your local hardware store) will get you through the night. If you build an upside down fire you'll get even longer burn times. White fir for example is a low BTU firewood and won't burn as hot and long.
The Mini Me Tiny Stove is another option if you are serious about long burn times. This unique US-made tiny wood stove can burn up to 12 hours, but there's a catch. It only achieves those burn times when fueled by compressed logs rather than regular wood. But still, it's worth considering!
Dwarf Wood Burning Stove Versions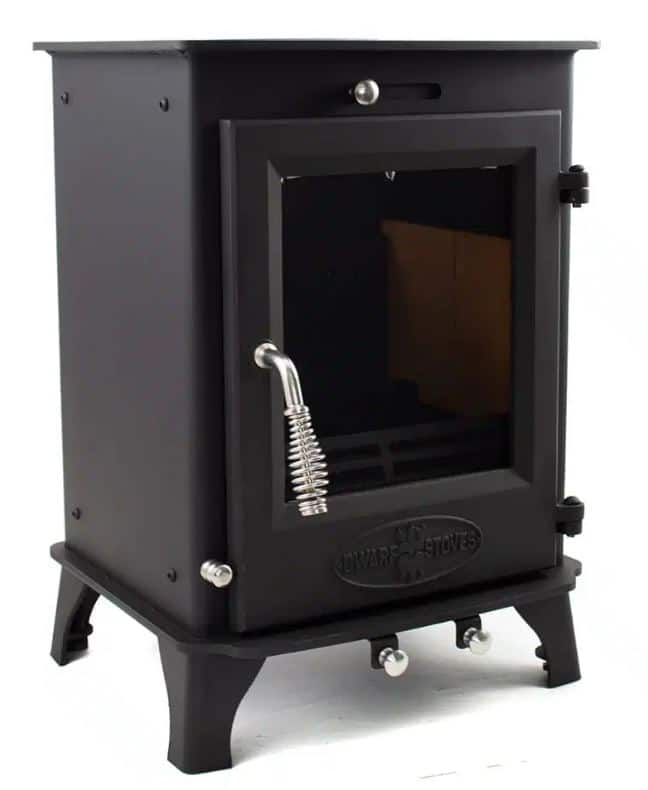 The different standard models of Dwarf stoves vary mainly in their size, weight, and heat output, but are otherwise the same. They all have identical features and appearances (other than the Lite) and just differ in their dimensions and output.
The three main Dwarf stoves are:
The 5 kW – 17,060 BTU/hr for heating 500 sq. ft. and under
The 4 kW – 13,648 BTU/hr for heating 500 sq. ft. and under
The 3 kW – 10,236 BTU/hr for heating 300 sq. ft. and under
There is also a 3 kW Lite version, which is 20 lbs lighter than the Standard 3 kW and comes without the "bells and whistles". Also, there was once a 5 kW Cookstove Combo version (the 5 kW Dwarf with the Baking Oven), but this has not been available in the store for some time and may have been discontinued.
The 3 kW Lite does NOT have:
A back venting option – allows for a larger cook space
A cast-iron firebox – it's slightly less durable
Riddling grate – helps with airflow in the embers
Separate primary and secondary air control – it's a single combined control
You save over $150 on the Lite version, but you are missing out on some helpful features. The Lite is best for light use rather than everyday use, and is not ideal for a primary place of residence unless you're in a very warm climate.
It's always important to remember the other costs associated with installing a tiny wood stove, including chimney pipes, exit kits, and so on. Tiny Wood Stove has an excellent calculator to help you determine exactly what you need and how much it will cost.
3 kW/4 kW/5 kW Specs Comparison
| | | | |
| --- | --- | --- | --- |
| | Dwarf 3kw | Dwarf 4kw | Dwarf 5kw |
| Measurements | 17" H x 10.25" W x 8.5" D | 19.5" x 12" W x 9" D | 22" H x 11" D x 14" W |
| Fuel | Wood and coal | Wood and coal | Wood and coal |
| Output | 7500 – 11500 BTU | 11000-15000 BTU | 14500 – 20000 BTU |
| Heat Capacity | Less than 300 sq. ft. | Less than 500 sq. ft. | Less than 500 sq. ft. |
| Weight | 75lbs | 100lbs | 150lbs |
| Material | Cast iron and steel | Cast iron and steel | Cast iron and steel |
| Ideal for | Vans, RVs, Campers | RVs, travel trailers, skoolies, yurts, tents, tiny homes | RVs, travel trailers, skoolies, yurts, tents, tiny homes |
Compare the differences between the three Dwarf wood stoves in this table. The output of the 5 kW is significantly higher than the output of the 3 kW or 4 kW.
The best model for you will come down to the size of your space and your climate. One other big factor for determining the right size mini wood stove is the level of insulation in your space. Some very well-insulated homes could get away with the 4 kW stove, while the same size space that is poorly insulated might need a 5 kW.
You may need to think about the height of your home if you have a loft or two, but generally speaking, the heat is going to rise up there anyway. If anything, you'll need a fan up top to help send the heat back towards the floor!
Talk to the team at tinywoodstoves.com about your specific situation and they will be able to help you settle on the most suitable tiny wood stove for your yurt, bus, Skoolie, cabin, tiny house, RV, or camper.
Dwarf Tiny Wood Stove Features
The Dwarf stoves have been specially designed for small spaces including tiny homes, school bus conversions, and travel trailers. If you have a larger cabin, you might want to consider these small wood stoves instead of a mini. Though the 5kw Dwarf may be sufficient.
Check out the video above for a good rundown and visual of all the features of the Dwarf wood stoves.
The features mentioned in the video:
These wood fires provide dry heat and ambiance
Tri-burn technology makes them more eco-friendly
Ceramic fire bricks for increased radiant heat for longer
Glass cleaning feature so you can watch your fire
Outside air inlet to allow for better burning
Choose to vent from the top or the back
Ashpan for easy cleaning
Riddling grate for sifting ash
You can also install soapstone or other heat shields to the sides of your stove in order to reduce the required clearance and saves space in your small home.
Where Are Dwarf Stoves Made?
People often ask, 'Where is the Dwarf Tiny Wood Stove made?'
That question isn't answered on tinywoodstove.com and specific information about where Dwarf Stoves are manufactured is not readily available. Tiny Wood Stove, the company behind Dwarf Stoves, is based in Idaho in the United States, but it's unclear if the manufacturing process also takes place there. Many companies often source materials or have their products manufactured in various locations worldwide.
We've messaged Tiny Wood Stoves to find out and will update this section when we receive a definitive answer. If you are especially looking for a tiny wood stove made in the USA you can consider the Caboose Wood Stove from Flame Innovation which is definitely made "from start to finish" in the USA, in Post Falls, Idaho.
UPDATE: We found this question in a YouTube video and Tiny Wood Stove responded (in 2021):
We're based in Hayden, Idaho, where we have a warehouse and a workshop for product development and fabrication. We contract the majority of the Dwarf stove production to a custom fabricator in China. The design of the stove and the specifications of the components are ours, but we don't yet have the resources to complete all of our manufacturing in-house.

We fabricate a few of our accessories in-house like our hand-forged fire pokers, and we contract manufacture of a few other things locally like t-shirts and (soon) heat shields. We're working to launch more locally manufactured products like the Throne Composting Toilet, and to bring more manufacturing home as we grow. But since we're such a small company, importing parts is the only way we're able to be in business and provide opportunities for the employees we have.
So there you have it, designed in America, made in China. However, Tiny Wood Stove obviously has a solid quality control system in place, because of the hundreds of Dwarf Stove reviews I've read, not one of them has mentioned problems with the production or manufacturing.
Dwarf Tiny Wood Stove Reviews
The Dwarf Wood Stove is an excellent heating appliance for tiny homes, RVs, cabins, and buses, but those statements are best when they come from users. In the YouTube review above, Homesteading Millennial shares her thoughts after using her 4 kW Dwarf.
It's worth watching the video as she explains in depth why she chose the Dwarf over the Hobbit (it was available much sooner), what the service was like from TWS (hint: A+), and the main problems she has with it (can't get an overnight burn).
Ultimately, she says:
I do think it was a really really good purchase for us and I'm looking forward to cooking on the cooktop a lot more.
She has a couple of other videos about the Dwarf stoves on her YouTube channel that are helpful if you're looking at buying a Dwarf stove.
More examples of happy Tiny Wood Stove customers are the folk at Gas Creek Glamping Tents. Rich and Shannon own a boutique vacation rental company and have installed Dwarf stoves into two of their canvas-walled tents in Montana. They use the fires in Spring and Fall when the weather is cold and say "It adds the perfect cozy vibe to our tents!' I'm guessing it's far too cold in the winter to stay in canvas tents, even with a small wood-burning stove.
The couple also shared on TinyWoodStove.com:
We love the product! It's very well made, looks fantastic, puts out some good heat and we thought the customer service was great!

We were very impressed with how heavy and well-made the stoves are! Job well done!
It's impressive how many different types of homes or "shelters" these mini wood-burning stoves can be used in. From tents, yurts, and cabins to RVs, buses, and tiny houses, people are using these appliances to heat their homes or spaces.
The Dwarf Stove is a high-quality product that has been built to perform well, and it is a great source of heat for small spaces often much more affordable than electric heating. Plus, the fact that it can be used for multiple purposes – heating and cooking – is great.
Dwarf Pros:
An effective appliance for heating spaces up to 500 square feet
With some experimenting and practice, it can achieve decent burn times
For the price, you're getting a well-built, feature-rich small wood stove
Installation is said to be straightforward and can be DIYd or done by a pro
A range of customization options and accessories
User reviews and testimonies are overwhelmingly positive
It stands out next to alternative tiny wood stoves
Dwarf Cons:
Difficult to achieve complete overnight burns
There can be short delays before your wood stove ships
They don't output heat like a large wood stove (if that's what you're expecting)
And some will say that the price is another drawback, but really, we think it's a very fairly priced mini wood stove. This is a robust stove with a greater steel thickness and more features than the likes of the Cubic Mini Wood Burning Stoves, or the Pipsqueak wood stove. All else considered, the Dwarf stoves are worth the higher price if they make sense for your space.
Customizations And Accessories
The Dwarf stoves from Tiny Wood Stove can also be customized or upgraded in a number of different ways:
Different colored enamel doors
Wood storage stands
Cast iron legs
A top baking oven
Different types of heat shields
Check out the full range of stove upgrades here.
Also, Tiny Wood Stove also sells accessories:
Heat powered stove fans
Chimney cleaning systems
Infrared heat guns
Dustpan and brush
Fire poker tools
Hoodies and t-shirts
Check out all the Dwarf stove accessories here.
Lastly, they sell replacement parts for their stoves like doors, door kits, gasket kits, handles, fire bricks, heat shield kits, and so on. If you need it, they've likely got it.
Flue Parts Selector
The flue parts calculator is a really helpful tool that helps you to work out exactly what you need for venting your tiny home. However, as you'll see, some of the kinks are still being worked out so you need to double-check that the results are accurate.
Here's how it works:
Choose your stove
Answer whether you want it to exit the top or rear
State your structure – tiny house, cabin, RV, etc
Decide if you want the flue to exit the wall or roof
And then, lastly, give the dimensions of your structure. For example, you'll need to know the distance from the top (or back) of your stove to the wall, then the distance between the ceiling and roof, and then the distance from the exit point to the highest point of your structure.
Once you've done all that, you'll get a result something like this.
It tells me everything I need to order alongside the wood stove, including chimney pipes, exit kits, pipe clamps, and so on. The installation kit contains a lot of parts, such as a telescoping stove pipe, stove pipe elbows, pipe adapters, and roof vents.
All of these parts do add up, and can cost as much or more than the stoves themselves. You'll also need to think about what you're doing for a hearth, heat shields, and fireplace utensils.
It's a real investment, but it does make you more self-sufficient and less dependent on electric fireplaces or other types of heating. If everything else goes dark, at least you'll still be able to cook and stay warm!
Small And Tiny Wood Stoves
As far as small and mini wood-burning stoves go, the Dwarf range is very good. It receives overall extremely positive feedback, and most of the negative reviews are around fulfillment delays that occurred over the Covid era when Tiny Wood Stoves received an influx of orders.
You can't compare a mini wood stove with a regular-sized wood stove on burn times and heat output, so some people can be disappointed when they do compare the two. However, compared to other small wood stoves, the Dwarf comes out at the top. It's well-built, durable, feature-rich, and worth the price. Most users are agreed on these points.
There are cheaper tiny house wood stoves out there, but they're also built cheaper and don't have the same options which improve the usability of the Dwarf wood stoves. Ultimately, if the Dwarfs meet your requirements in terms of size and price budget, they come highly recommended and are bound to be an invaluable asset in your tiny home.
Contact Tiny Wood Stoves with questions regarding shipping times, installation, or final pricing, or drop us a question in the comment section below and we'll find out the answer for you.