Tiny Wood Stove makes the popular Dwarf Wood Burning Stove.
However, the name of the company makes it difficult to talk or write about them – just check out the title of this post, for example. Their name is Tiny Wood Stove and they make tiny wood stoves!
Anyway, at least the name of their product isn't 'tiny wood stove' – that would make things really difficult. It hurts to even think about it. Their stove is called the Dwarf wood stove, and that's what we're taking a look at today.
The Dwarf Wood Stove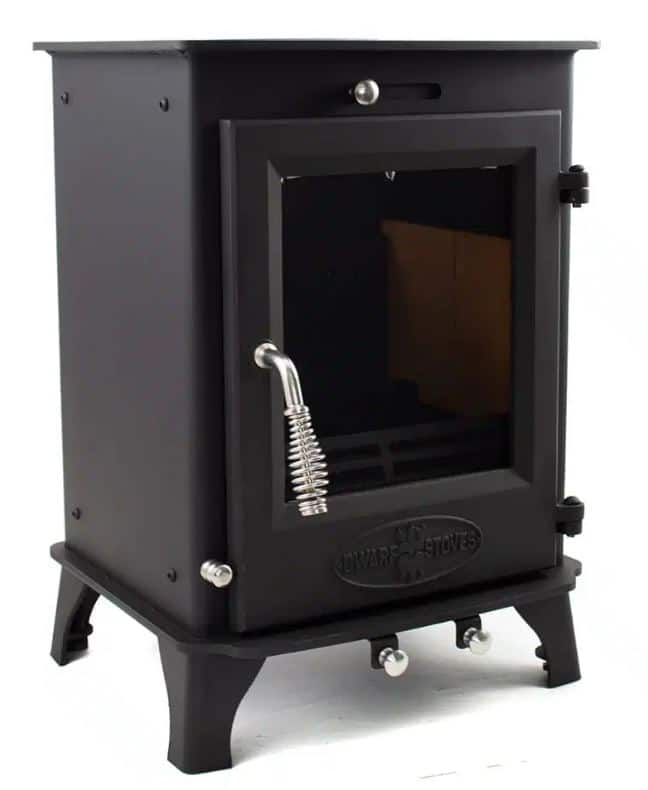 There are 4 or 5 different Dwarf wood stoves, plus a range of accessories and customization products.
The stoves are:
5kw
5kw Cookstove
4kw
3kw
3kw Lite
The standard 3, 4, and 5kw models are the same, they just differ in their dimensions and output.
However, the cookstove is different, obviously, as it has an additional cookstove (and is currently out of stock). The 3kw Lite model is also different as it's missing some of the 'bells and whistles,' making it cheaper and, literally, 20 pounds lighter.
Features the standard 3, 4, and 5kw Dwarf stoves have that the Lite does NOT have:
A back venting option – allows for a larger cook space
A cast-iron firebox – slightly less durable
Riddling grate – helps with airflow in the embers
Separate primary and secondary air control – it's a combined control
So while you're saving over $150 on the Lite, you are missing out on a lot of great features as well. Something to weigh up while thinking about your budget.
It's always important to remember the other costs associated with installing a tiny wood stove, including chimney pipes, exit kits, and so on. Tiny Wood Stove has an excellent calculator to help you work out exactly what you need.
Dwarf Wood Burning Stove Specs
| | | | |
| --- | --- | --- | --- |
| | Dwarf 3kw | Dwarf 4kw | Dwarf 5kw |
| Measurements | 17" H x 10.25" W x 8.5" D | 19.5" x 12" W x 9" D | 22" H x 11" D x 14" W |
| Fuel | Wood and coal | Wood and coal | Wood and coal |
| Output | 7500 – 11500 BTU | 11000-15000 BTU | 14500 – 20000 BTU |
| Heat Capacity | Less than 300 sq. ft. | Less than 500 sq. ft. | Less than 500 sq. ft. |
| Weight | 75lbs | 100lbs | 150lbs |
| Material | Cast iron and steel | Cast iron and steel | Cast iron and steel |
| Ideal for | Vans, RVs, Campers | RVs, travel trailers, skoolies, yurts, tents, tiny homes | RVs, travel trailers, skoolies, yurts, tents, tiny homes |
You can see the major differences between the 3 different sizes of Dwarf wood stoves in this table.
The best model for you really comes down to the size of your space. Obviously, the smallest model is best for spaces under 300 square feet, while the largest model is best for up to 500 square foot spaces.
It doesn't matter so much about whether you're heating a tiny home or a yurt, and they're a perfect wood stove for an RV or camper, just figure out the square footage and go from there.
You may need to think about the height if you have a number of lofts, but generally speaking, the heat is going to rise up there anyway. If anything, you'll need a fan up top to help send the heat back towards the floor.
Tiny Wood Stove Stove Features
The Dwarf stoves have been specially designed for small spaces including tiny homes, school bus conversions, and travel trailers. If you have a larger cabin, you might want to consider these small wood stoves instead of a mini. Though the 5kw Dwarf may be sufficient.
Check out the video above for a good rundown and visual of all the features of the Dwarf wood stoves.
The features mentioned in the video:
These wood fires provide dry heat and ambiance
Tri-burn technology makes them more eco-friendly
Ceramic fire bricks for increased radiant heat for longer
Glass cleaning feature so you can watch your fire
Outside air inlet to allow for better burning
Choose to vent from the top or the back
Ashpan for easy cleaning
Riddling grate for sifting ash
You can also install soapstone or other heat shields to the sides of your stove in order to reduce the required clearance and saves space in your small home.
Dwarf Flue Parts Selector
The flue parts calculator is a really helpful tool that helps you to work out exactly what you need for venting your tiny home. However, as you'll see, the kinks are still being worked out so you need to double-check the results are accurate.
Give it a go yourself, but here's how it works:
Choose your stove
Answer whether you want it to exit the top or rear
State your structure – tiny house, cabin, RV, etc
Decide if you want the flue to exit the wall or roof
And then, lastly, give the dimensions of your structure. For example, you'll need to know the distance from the top (or back) of your stove to the wall, then the distance between the ceiling and roof, and then the distance from the exit point to the highest point of your structure.
Once you've done all that, you'll get a result something like this.
It tells me everything I need to order alongside the wood stove, including chimney pipes, exit kits, pipe clamps, and so on.
The installation kit contains a lot of parts, such as a telescoping stove pipe, stove pipe elbows, pipe adapters, and roof vents.
All of these parts do add up, and can cost as much or more than the stoves themselves. You'll also need to think about what you're doing for a hearth, heat shields, and fireplace utensils.
At the end of the day, it's a real investment, but it does make you more self-sufficient and less dependant on electricity or other types of fuel. If everything else goes dark, at least you'll still be able to cook and stay warm!
Dwarf Stove Customizations
The Dwarf stoves from Tiny Wood Stove can also be customized or upgraded in a number of different ways.
This includes:
Different colored enamel doors
Wood storage stands
Cast iron legs
A top baking oven
Different types of heat shields
You can see the full range of stove upgrades here.
Also, Tiny Wood Stove also sell accessories, such as:
Heat powered stove fans
Chimney cleaning systems
Infrared heat guns
Dustpan and brush
Fire poker tools
Hoodies and t-shirts
Check out all the Dwarf stove accessories here.
Lastly, they sell replacement parts for their stoves like doors, door kits, gasket kits, handles, fire bricks, heat shield kits, and so on. If you need it, they've likely got it.
Dwarf Stove Review
We think the Tiny Wood Stove Dwarf Wood Stove is an excellent small stove (but a bit of a mouthful to get out)!
It's a high-quality product that has been built to perform well, and it is a great source of heat for small spaces. The rear venting option is very good if you want to also be able to cook on it.
Pros:
Performs very well
Looks great in a range of settings
Very small footprint
Easy to use and keep burning
Great features all round
Cons:
Price for everything adds up
The only real drawback is the cost, but you're paying for what you get. This is a robust stove with a greater steel thickness and more features than the likes of the Cubic Grizzly or the Cubic CUB wood stove.
See our comparison article here: Cubic Mini Stoves vs the Dwarf Tiny Wood Stoves.
The Dwarf stoves are worth the higher price if they make sense for your space when all else is considered.
Let us know what you think below, or check out the Vermont Bun Baker for larger cabins and homes.