Pot belly stoves have come a long way since they were introduced in the 1800s.
Today, people adore these stoves for their unique look and efficient heating. While they may not be as efficient as a central heating system, potbelly stoves have several advantages. For one, they can be used to heat a single room or smaller area, which can save on energy costs.
Pot belly stoves radiate heat in all directions, making them ideal for small spaces. They also add a touch of charm and nostalgia to any home. Because of their many benefits, potbelly stoves are a popular choice for new construction and remodeling projects.
If you're looking for the best pot belly stove to keep you warm this winter, you've come to the right place. Whether you're looking for an old pot belly stove or a more modern electric model, we've got you covered with all of the information you need below.
Pot Belly Stove Reviews
Railroad Pot Belly Coal Stove

NEW cast iron pot belly modelled after old railroad stoves
8" lift out cook lid for adding coal
Easy access ash door for removal

View On Tractor SupplyView On Amazon

Antique Pot Belly Stoves

Large variety of vintage and antique stoves
Coal and wood burning stoves
Ensure it's a complete pot belly before buying

View On EbayView On Etsy

Small Pot Belly Stove

Not a traditional pot belly, but a modern take
3 kw, 4 kw, and 5 kw versions
Great for cabins, tiny houses, RVs, etc.

View On Tiny Wood StovesView On Cubic Mini
There are a lot of different options when it comes to choosing a pot belly stove.
You have to consider the use, location, size, and other features you want before making a decision on which one to bring into your home.
How do you decide which one is the best for you?
We've done the research and reviewed some of the top pot belly stoves on the market. Check out our findings below and get ready to bring home the stove of your dreams.
1. Railroad Potbelly Coal Stove 1869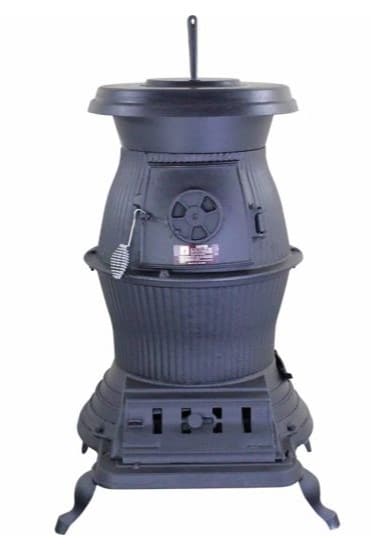 The US Stove Railroad Potbelly Coal Stove is a replica of the classic potbelly stoves that were once in almost every home, school, and business in the United States.
These stoves were iconic symbols of the American industrial revolution and played a vital role in keeping people warm during winter.
The Railroad Potbelly Coal Stove is a tribute to these classic stoves, and it features all of the same design elements that made the originals so popular. The stove is made from cast iron for durability, and it has a large firebox that can hold up to 60 pounds of coal.
It also features an ash pan for easy cleaning, and it comes with a blower to circulate the heat.
Not everyone wants a coal-burning stove, but for those who do, this option is worth investigating.
---
2. Antique Cast Iron Pot Belly Stoves
Looking for a unique addition to your home?
Check out antique pot belly wood-burning stoves on eBay. These stoves were once common in homes across America, and they offer a touch of history and charm.
Many of the antique pot belly stoves on eBay are over 100 years old, and they come in a variety of styles and sizes.
Whether you're looking for a small stove to use as a decoration or a larger one that you can cook on, you're sure to find what you're looking for on eBay. And because these stoves are made of cast iron, they're built to last.
So if you're looking for a piece of history that will add character to your home, be sure to check out the antique cast iron pot belly stoves on eBay.
The wood stoves on Etsy are also well worth checking out.
---
3. Small Stove: The Dwarf 5kw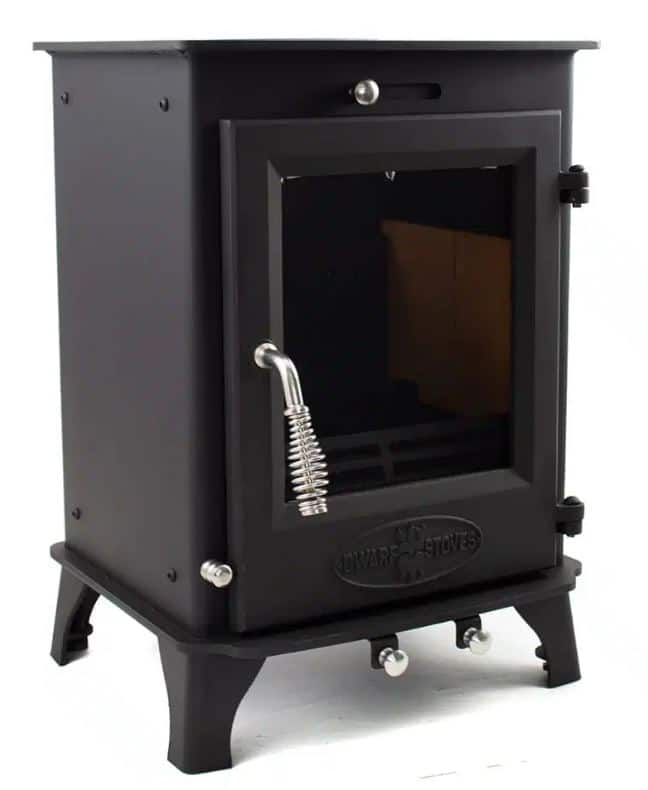 When it comes to wood stoves, the bigger the better, right?
Not necessarily.
The Dwarf 5kw from Tiny Wood Stove is a small but mighty stove that is perfect for those who want to enjoy the benefits of a wood stove without taking up too much space.
This little stove packs a punch, with a 5kw output that is perfect for heating a small, non-residential space, like a cabin or RV.
The stove's large firebox and simple construction make it easy to operate, and its large glass door ensures that you get a clear view of the fire.
The Dwarf 5kw also features an efficient heat exchange system that maximizes heat output without compromising on safety and has a cast-iron door and firebox that aids durability and heat retention.
Check out our complete review of the Dwarf wood-burning stoves for more info.
---
History
A pot belly stove is a type of free-standing wood-burning stove that is typically used for heating.
These stoves are usually oval or round in shape, with a bulbous belly that sticks out from the rest of the stove. Because of their unique shape and design, pot belly stoves have become quite popular as both decorative and functional pieces in homes across the country.
Pot belly stoves were first introduced in the early 1800s and quickly became popular thanks to their efficiency and affordability.
The design of pot belly stoves allowed them to burn fuel more slowly and evenly than other types of stoves, which made them ideal for use in homes and businesses.
By the mid-19th century, pot belly stoves were being manufactured by dozens of companies and could be found in homes and businesses across the country.
Despite their popularity, pot belly stoves began to fall out of favor in the early 20th century as new wood stove technologies emerged. Central heating became increasingly common, and pot belly stoves were gradually replaced by more modern versions.
Today, pot belly stoves are mostly relegated to the status of nostalgic curio, although they still have a devoted group of fans.
Pros And Cons
Today, pot belly stoves are making a comeback.
People are looking for more efficient and environmentally-friendly ways to heat their homes, and also want off-grid heating and cooking options. But is a pot belly right for you?
Let's take a look at some of the pros and cons.
Pros:
Cozy ambiance: There's something about a pot belly stove that just makes a room feel cozy and inviting. If you're looking for a way to add some extra warmth and rustic charm to your home, a pot belly stove is worth considering.
Efficient heating: Pot belly stoves are very efficient when it comes to heating a room. Because they radiate heat in all directions, they can quickly and easily take the chill out of any space. This may help you save on your heating bills.
Easy to Use: Pot belly stoves are also easy to use. To get started, all you need is some wood and kindling or coal (depending on your model). Once you have those things, simply build a small fire in the stove and let it go.
Some wood stoves and fireplaces can burn both coal and wood, but for most, it's not a good idea.
Cons:
Maintenance: There's no denying that pot belly stoves are messy. They're notorious for leaving soot and ashes everywhere, and they can be difficult to keep clean. If you're not prepared to deal with the extra mess, then a pot belly stove is probably not right for you.
Potentially Dangerous: Potbelly stoves can also be dangerous if they're not used properly. Make sure you read all the instructions carefully before using one of these stoves and never leave it unattended when it's on.
Energy Efficiency: Another downside of pot belly stoves is that they're not very energy-efficient. Because they emit heat in all directions, much of it goes right out the chimney instead of staying in the room where it's needed. If you're looking for an energy-efficient way to heat your home, then a pot belly stove is probably not your best option.
There are plenty of modern alternatives to a pot belly, whether you want to heat a shed or an RV/camper.
Examples
Pot belly stoves come in all different shapes, sizes, and ages.
Here are a few examples you can check out to see the variety.
Pot Belly Wood Stove
View this post on Instagram

This indoor pot belly stove is wood burning with an industrial charm, perfect for anyone looking to heat their home and get some antique decor.
Wood Burning Parlor Stove
View this post on Instagram

This example is one of the more modern pot belly stoves with a redesigned chimney and shape but maintains the classic character of a pot belly heater.
Antique Pot Belly Stove
View this post on Instagram

In robin's egg blue, this antique pot belly stove adds a bit of eclectic charm to its space.
Small Pot Belly Stove
View this post on Instagram

This cast iron pot belly stove is ideal for use outdoors to heat your patio or deck on a cold night – a good alternative to a chiminea or propane fire pit.
Cabin Pot Belly Stove
View this post on Instagram

Set up in a wintery cabin, this pot belly stove makes for an ideal pot belly fireplace.
Rustic Pot Belly Stove
View this post on Instagram

While pot belly stoves make for great fireplaces and sources of warmth, this example shows how you can use them to cook as well, using their top surface as a stove.
Compact Pot Belly Stove
View this post on Instagram

Keep your furry friends warm with a pot belly stove.
The compact stove is ideal for small spaces and putting out ample heat.
Pot Belly Stove FAQs
If you're thinking of buying a pot belly stove, or if you've already bought one and have questions about how to use it, this section is for you.
We'll answer some of the most common questions about pot belly stoves and provide tips on how to get the most out of your stove below.
Are pot belly stoves any good?
When it comes to heating efficiency, pot belly stoves are unfortunately not very efficient.
That's because a lot of the heat produced by the fire goes up the chimney instead of into the room. However, there are ways to improve the efficiency of your pot belly stove.
For example, you could install a catalytic converter, which helps to reduce emissions and increase the amount of heat that stays in the room. You could also invest in a good set of fireplace doors, which can help to prevent heat from escaping up the chimney.
So if you're considering a pot belly stove for your home, there are a few things to keep in mind. But overall, these stoves can be a great addition to any home.
Do they still make potbelly stoves?
Yes, potbelly stoves are still manufactured today.
Although they are not as popular as they once were, you can still find these iconic stoves in many homes. Potbelly stoves are known for their round shape and wood-burning design.
People often use a pot belly stove for decoration, as well as for providing warmth on cold nights. While potbelly stoves are no longer the primary source of heat for many homes, they remain a popular choice for those who appreciate their rustic charm.
Check out these heating and cooking stoves as well for more great ideas.
What is a pot belly stove worth?
There are many factors to consider when determining the value of a stove, including age, condition, and brand.
A vintage stove in good condition can fetch a high price, especially if it is a rare or desirable model.
However, even an older stove that needs some repair can be worth a significant amount of money. The key is to research and find out as much as you can about the potential value of your pot belly stove.
Can you burn wood in a pot belly stove?
Yes, you can burn wood in most pot belly stoves.
This is one of the most popular ways to use these stoves. Pot belly stoves are well-known for their ability to produce a lot of heat, and burning wood is an excellent way to take advantage of this.
How many square feet will a pot belly stove heat?
A pot belly stove's heating space depends on several factors, including the size of the stove, the type of fuel being used, and the room's insulation. In general, a pot belly stove can comfortably heat an area of around 300 square feet.
However, if the room has poor insulation or if the stove is not properly vented, that number can go down significantly. Additionally, using a higher quality fuel, such as hardwood, will help increase the stove's heating efficiency.
Are old stoves worth money?
While people are looking to buy old stoves, the value depends on several factors, including the make and model, its condition, and its provenance.
In general, older stoves are more valuable than newer ones, and stoves in good condition will fetch a higher price than those that need repair.
Wood And Coal Pot Belly Stoves
While pot belly stoves fell out of favor in the 20th century, they are now making a comeback as people look for ways to add character to their homes. These stoves are now available in various materials, including cast iron, steel, and ceramic.
Thanks to technological advances, today's pot belly stoves are much more efficient than their predecessors. If you're looking for a unique way to heat your home or something to put in an empty fireplace, a pot belly stove may be just what you're looking for.
They sure beat electric fireplaces in my opinion!