How can you get the most out of your Cubic Mini Wood Stove?
There are a few things you need to get right when using one of these tiny wood-burning stoves, just as there are for any other wood burner.
From installation and setup of the Cubic Mini, to what kind of wood to use and how to maintain it, here are 13 tips and tricks for getting the most out of your wood stove.
*For answers to questions, support, and community, join our Cubic Mini Wood Stove Users FB Group or Dwarf Tiny Wood Stove FB Group (NEW).
Cubic Mini Tips
View this post on Instagram
A lot of the ideas below come from the Cubic Mini Wood Stove Users Facebook group – join the group for more ideas.
The Cubic Mini website also has a lot of helpful advice on how to best run a Cubic Mini Wood Stove. See our Cubic Mini GRIZZLY and CUB review if you are yet to install one of these heating appliances into your small home.
This is how to best use your mini wood stove!
1. Keep The Fire Burning Overnight
View this post on Instagram
One of the things most folk want to know about these burners is how to keep them going overnight.
It is difficult to get an alright burn with the GRIZZLY, and basically impossible with the SUB.
This user said:
I've found that getting in the biggest pieces of well seasoned oak and filling all the voids like a game of Tetris gets me the longest burns.
Someone else shared:
I used hardwood or pressed wood at night because it burns hotter and longer.
Yet another Cubic Mini user said:
Alder burns fairly quick but super clean. I use it to build up the temp quick and get a good bed of coals. Then I switch to the energy logs for a long burn. 2-3 hours/quarter log.
But even with the best hardwoods to burn, it's difficult to get it to burn all night. Most people need to get up at least once in the night to reload the fire.
However, for the best results:
Add hardwood to a good ember bed
Get as much wood as you can into the chamber
Make that the last thing you do at night a first thing in the morning
The only downside is that you'll likely be roasting as you go to bed and still wake up freezing.
The best size wood/logs tend to be between 6 and 6.5 inches long.
The Mini Me Tiny Stove is another option altogether – this burner can burn for up to 12 hours. That's because it burns compressed/densified logs rather than wood.
---
2. Bricks As A Thermal Conductor
View this post on Instagram
By surrounding your wood stove with materials that act as thermal conductors you can radiate heat into your space long after the fire has gone out.
Many people use bricks, tiles, or even concrete around (or under) their fire as a way to capture some of the heat for later. Cubic Mini recommends using heat shields which are certainly necessary if your stove is near flammable materials.
---
3. Wood Stove Heat Fan
A wood stove heat fan pushes heat from the fire throughout your space and keeps the air circulating. They sit on top of your wood stove and create their own energy from the heat of the fire to run as long as the stove is on.
We've been using one on my wood stove for the past year, and it really does seem to make a difference. The smaller the area that's being heated, the more effective, I think.
Cubic Mini sells the CB-800CAXBX EcoFan on their website here. It is suitable for both the Cub and Grizzly stoves. Alternatively, check out our round-up of the best wood stove heat fans for some cheaper options. My heat fan only cost $30 or $40 and, in my opinion, is basically the same.
Other people use a little USB fan like this one on Amazon. You can run them off a battery bank and many come with a fairly long cord. That way you can move it around to deal with both condensation and heat transfer.
---
4. Heat Reclaiming Bands
Heat reclaiming bands are designed to draw off heat from the chimney.
It's stated that "they make close contact with your stove pipe and conduct more usable heat from the hot pipe to be released into the room."
One Cubic Mini user stated:
Trying these out. They are supposed to help wick heat off your chimney and into the surrounding air to get more heat off your stove… maybe the work, doubt it will be enough to notice if they do.
I agree – I don't think they would make a huge difference, but sometimes every little bit helps.
If you wanted to try them out they are usually sold in 6-band sets:
The Cubic Mini has a 3-inch flue system so make sure you are getting this size. The bands that fit a 3-inch stove pipe have a total diameter of around 9 1/2 inches.
---
5. Stove Top Kettle

Make the most of your stovetop heat by boiling your water.
The GSI Outdoors Glacier Stainless Steel Tea Kettle pictured above is a popular option among other Cubic Mini users. However, this option may not work unless you remove the guards from around the top of the stove.
Stovetop Espresso and Moka Pots are great for the Minis as well, though you do need to have the fire cranked up. Another option is the 9Barista – a "stovetop espresso machine that can produce authentic espresso."
It's recommended by our friends at The Coffee Folk as being compact and able to consistently produce great espresso.
---
6. Mini Chainsaw
I have a lot of small and mini chainsaws that I use all the time.
When it comes to collecting and cutting firewood for a mini wood stove, these battery-powered tools are great for the job.
They don't take up a lot of space, they are efficient little cutters, and it's so much easier than using a manual hand saw. They don't require a lot of power to charge, and the batteries last a surprisingly long while.
However, they can't cut wood very efficiently beyond a couple of inches in thickness, and you will need to sharpen or buy new chains from time to time.
I also highly recommend a good pair of chainsaw gloves – I had a minor accident with one of my mini saws and now won't use them without gloves.
---
7. Remove The Guard
View this post on Instagram
You can remove the guard around the top of the Cubic Mini Wood Stoves.
The company states on the website that this is fine to do:
You can [remove the rail on top of the stove]; simply use a pair of pliers to align the tabs under the top plate and the holes on top and it will slide out with ease.
One Cubic Mini user said:
I took it off mine and never regretted it. I can have a fan, a small frying pan, and a teapot on it at once.

The rail is more for marine and automotive use where you are moving. Its not needed in the least for home or cabin use.
It would be hard (if not impossible) to fit a frying pan on top with the guard in place.
In the comment section of the Instagram post embedded above, Jessica asked, "Is that a specific top that you can buy to cook things like this on??"
Cubic Mini replied, "The Grizzly offers a roaster! This is a DIY cast iron built plate!?"
So if you're reasonably handy, you can even fashion your own stove top accessories.
You can check out the GRIZZY Roaster here, but you don't need it to cook well on these mini stoves. Just remove the guard and there's room for small pots and pans.
About the CB-7200 Roaster, they say:
"You can regulate the temperature with the 2 air vents and check for accuracy with the in-built thermometer. Simply place the Mini Roaster on top of your Grizzly stove and prepare your meals while heating your space.
By using this roaster, you are saving energy and reducing condensation output. Made exclusively for the Grizzly Stove CB-1210."
You can't use this accessory on the CUB.
---
8. Stop Rain Down The Chimney
Take steps to prevent rain from coming down your chimney.
The exit kit comes with a chimney cap or you can buy the cap separately, but when the wind and rain are coming in sideways it will still get down the flue.
For example, this Cubic Mini user said:
I had rain come down mine this summer whenever it was slanted. Wind + rain = rain in chimney.

Not much you can do, but when I'm not at my cabin with the fire on I put a canvas bag over the chimney. Just dont forget to take it off.
Someone else said:
I'm very happy with my Cubic Mini. In a well-insulated van it stays warm most of the night.

I use a bag over the chimney when not in use to keep the rain out and to stop ash from coming in while on the road. Much easier than putting the cap on.
If your fire is going to be out of action for a while, there is also the flexible rubber pipe plug.
As Cubic Mini states, "The plug is used when the stove is not in use and you are to drive down the road. It will cap the pipe preventing air from being forced down it when driving at speed."
---
9. Sweep Chimney Regularly

In order for your wood stove to function efficiently, it's important to clean the chimney semi-regularly.
How often really depends on:
How often you are using the fire
The type of wood you are burning
Whether the wood is fully seasoned or not.
Wet wood, for example, will require more frequent cleaning.
Some users sweep my chimney every 2 weeks, with one person saying it takes them about 15 minutes. Other people do it far less frequently, maybe only a few times a year.
Check out the video above to see how to clean the 3″ Cubic Mini Flue – you can buy the official brush here or a cheaper version here on Amazon.
---
10. Vent To Outside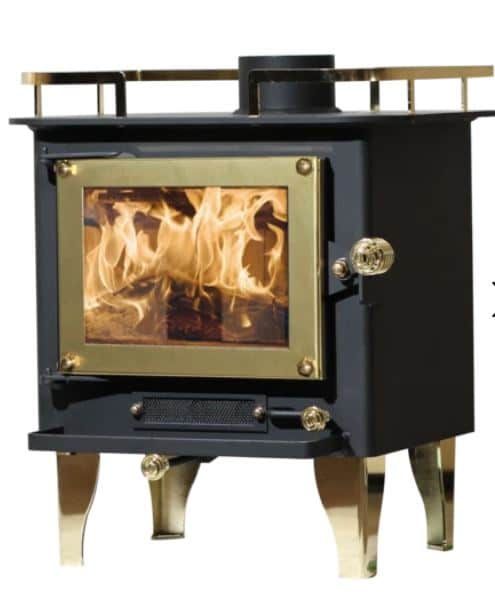 If you don't want to leave a window open you will need to use the wall mount with fresh air intake.
There is a different mount for each burner:
On the FAQ page, Cubic Mini states:
The air must be replaced since the stove is constantly consuming oxygen. The stove will draw air from the room. In most cases you can open a window or a hatch and that should be enough to replace the air.

For spaces that do not have a window, or if you do not want to have a window open, you can use our wall mount with fresh air intake. This will bring air from outside into the area where the stove draws its air from.
If your space is sealed too tightly without an air vent, you will have draft issues due to the negative pressure created in the cabin.
---
11. Do A Pre-Burn Before Installation
View this post on Instagram
Curing or doing a pre-burn before installing a Cubic Mini Wood Stove is a must in order to avoid a persistent toxic smell throughout your cabin, tiny house, or RV.
On their FAQ page, Cubic Mini state:
The curing of the paint will require you to burn the stove at high heat for several hours. It can take 1-3 hours for the paint to stop smoking. It can then take 20-30 hours for the smell to stop being produced.

This can be done outdoors to prevent the space from being filled with smoke. Bring the stove outdoors and attach 2-3 sections of pipe. Run it hot and this will evacuate the moisture from the paint.

If no pipe is used, the stove will not get hot enough to adequately evacuate the moisture. Once this process is done the stove will not need to be cured again.
It's a simple process but it obviously takes a while.
One Cubic Mini user stated:
If you don't [cure your wood stove], your first few hours of having a wood-burning stove in your bus conversion won't be a happy experience. Doing an initial burn-off will prevent toxic smoke from the paint they use in manufacturing from filling your living space. Don't skip this step!
While someone else said:
I didn't pre burn mine and regret it lol, about 5 burns through the evening it started to not smell.

Do it outside and let it go all day and night!
It's important to run a hot fire for 20 – 30 hours, as specified.
If you don't do it hot enough for long enough you'll be in the same situation as this user:
We have had our Grizzly stove in our small cabin (10 X 10) since March 2021.

I would guess we have had about 20 fires in it, each lasting for several hours. My question is when does that toxic smell go away? We need to have the windows open when we put a fire on.

We did have several fires in it before the stove was installed as per manual.
Someone responded:
It took us probably 10 hot fires before the smell went away. We did two fires before we installed it too.
But others reiterated the importance of a couple of long hot burns outside before installation to remove the smell.
---
12. The Right Chimney Height
View this post on Instagram
Having the right size chimney is vital to ensuring your wood stove runs correctly.
Cubic Mini state:
You need enough 3" Double Wall Flue Pipe to go from the top of the stove to one foot above the highest point of the roof. You can consult the pipe calculation page to determine what is needed for your setup.
If your chimney is not high enough above your roof line the fire will not be able to draft properly. This will make the fire both unsafe and inefficient. For those who have their stove installed in a bus or other moving houses, you can set up your chimney to remove the outermost sections for travel.
The 3″ pipe comes from the wood stove and up into a 5″ insulated pipe. The insulated section should start about 2 inches below the ceiling and finish at the cap with the 3″ pipe passing through it.
---
13. Monitor Results With A Thermometer

Get a wood stove thermometer to monitor the heat of your burn.
Burning to cool will lead to excess creosote build-up, while too hot will damage your wood stove. Keep your burn at the ideal temperature by using something like the Midwest Hearth Wood Stove Thermometer which will attach safely to the side of your stove.
They also have a thermometer for measuring your stove pipe temperature as well on the same listing.
---
Cubic Mini Wood Stove Users
I hope these Cubic Mini Wood Stove tips will help you to use your unit more efficiently.
They are fantastic little burners and the more you know about them the better you'll be able to use them.
Let me know if you have any questions down below, and check out this article on the differences between Cubic Mini Stoves and Dwarf mini wood stoves.