What is the best ash bucket for both hot and cold fireplace and wood stove ashes?
It definitely needs to be metal to withstand the heat of hot embers and ash – many house fires have been started through people putting hot ashes into plastic buckets which rapidly melt of catch fire.
The best ash buckets are made from steel, cast iron, copper, or other heat-resistant metal, and I've got a bunch to share with you!
Best Ash Buckets
There are many different styles of ash buckets, but at the end of the day, they're just metal containers for carrying hot, warm, or cold ashes from one place to another.
You can use them for cleaning ash out of fireplaces, wood stoves, or fire pits, or for bringing coal or wood to your burner (and make sure you put your fireplace ashes to use).
The main choice you need to make before buying one is whether you want one with or without a lid – after that, it's mostly just deciding on the look, style, and color.
However, another important feature to look out for is whether or not the ash bucket has a double bottom or not. A double bottom pail is much more durable and can handle warm and hot ashes for a lot longer.
They cost a bit more but are worth it if it's within your budget.
Here are our 7 top picks for best ash bucket in a range of styles, metals, and different price points.
1. Panacea Ash Bucket With Lid And Shovel
This basic ash bucket is great for those wanting an affordable no-frills option.
Although, in saying that, there are a couple of frills: a lid and a shovel!
The Panacea Ash Can is the best-selling option on a number of platforms such as Amazon. It's a good size, looks tidy, and does the job.
It's a steel container that is 13 inches high by 12.5 inches wide at the top. It's powder-coated and comes in black.
The other cool thing about it is the pocket on the side of the bucket for holding the shovel – it means you don't have to find a new home for it!
Pros:
One of the cheaper options
Comes with lid and shovel
Looks good and has a strong handle
Cons:
Not double bottomed
Not as durable as some other options
---
2. Plow & Hearth Metal Fireplace Ash Bucket
This stunning black or copper-colored ash bucket with lid will sit nicely beside your wood burner all year round.
It's a double-bottomed galvanized iron pail that means it's extra tough and will last for many, many years.
You can put warm to hot ashes in it without worrying about whether or not you'll damage it. Hot ashes will burn through some types of metals, but you'll be fine with this one.
It's a 3-gallon ash bucket, so it's not huge (check out the pictures on the listing to see it in scale next to other items). It has a wooden handle that won't conduct heat and makes it easy to move.
Pros:
Looks great
Solid, durable, and heat resistant
Tight-fitting lid
Choose black or copper
Cons:
Not the cheapest
The black should really be called grey
---
3. Amagabeli Fireplace Ash Can
For those wanting a more traditional shaped ash can, this one from Amagabeli is a top pick.
No, you don't get a lid on a bucket like this, but not everyone needs or wants one.
My ash bucket doesn't have a lid, and I only use it once a month or so through winter.
I empty out the ashes and then my bucket stays outside, so I don't need a lid. I'm not going to leave ashes inside once they've been put in the bucket.
This model has some nice design features, a solid handle, and is made from durable steel. Use it for cleaning up ash after you've put out the fire pit, wood stove, or fireplace.
Pros:
Nice design and shape
Solid construction
Tough handle
Cons:
No lid
Not double-bottomed
---
4. Smedley & York Coal And Ash Bucket
The Smedley & York Ash Bucket is unique because it comes with both a brush and a shovel.
The overall design is similar to others we've listed, but the brush is an added benefit.
This model is a 2-gallon bucket – so it's quite small – and has a classic matte black finish. The lid fits on tight to keep any smokey odors inside the can and to prevent ash from blowing around when you're emptying it.
It's made from galvanized iron and can be used to carry ashes, coal, wood pellets, charcoal, or small bits of firewood.
Pros:
Good accessories
Tight-fitting lid
Stylish design
Cons:
Quite small
Not double-bottomed
---
5. Minuteman Copper Ash Bucket
Despite the name 'copper ash bucket' this product is only copper-colored – the metal is iron.
It does look great, with a nice hammered finish, but again, the metal is not copper. And not because copper can't be a good container for hot stuff – check out these copper fire pits, for example – but it is an expensive metal, so sometimes just getting 'Hammered galvanized steel with Antique Copper plated finish' is something!
It's available in two different sizes – the small is 14.5″ tall while the large is 18″ tall.
Pros:
Double bottomed
Looks fantastic
Powder-coated steel handles
Cons:
---
6. Snow Joe Ash Vacuum
The Snow Joe Ash Vac is the best-selling vacuum for cleaning fireplaces, wood stoves, of fire pits.
If you have a tiny wood stove, like the Cubic Mini or Dwarf Tiny Stoves, for example, it's possible you can just do the entire clean with the vac and not worry about a preliminary shovel out first.
It's designed only for sucking up cold ashes, so make sure your fire has been out for at least a day before using this to clean up.
It has fine dust cartridges and filters, and a strong 4 amp motor that gives great suction. Also, the over 8-foot long hose makes cleaning much easier.
There is also a 5 amp version of the ash vac if you want something even stronger, but check out our Snow Joe Ash Vac review for all the details.
Pros:
Long hose with aluminum wand
Great filtration
Stong motor
Cons:
Not for warm or hot ashes
You have to clean filters etc
---
7. US Stove Ash Vacuum
The AshVac AV15 from US Stove is a more interesting way to clean out your fireplace or log burner.
It has about a 4-foot reach between the hose and wand and is totally fine for use on both warm and cold ashes. Personally, I'd wait and only suck up cold ashes.
It also has a plastic crevice tool that can be used for getting cold ashes out of the really hard-to-reach places.
See all the best ash vacuum cleaners to help determine which might be best for you if you're considering going down this route.
Pros:
Easy and fast to clean up all ashes
An effective method for a full clean
Powerful suction
Cons:
More expensive than a bucket and shovel
Not for hot ashes (and not best for warm either)
Could do with a longer hose
---
Metal Ash Bucket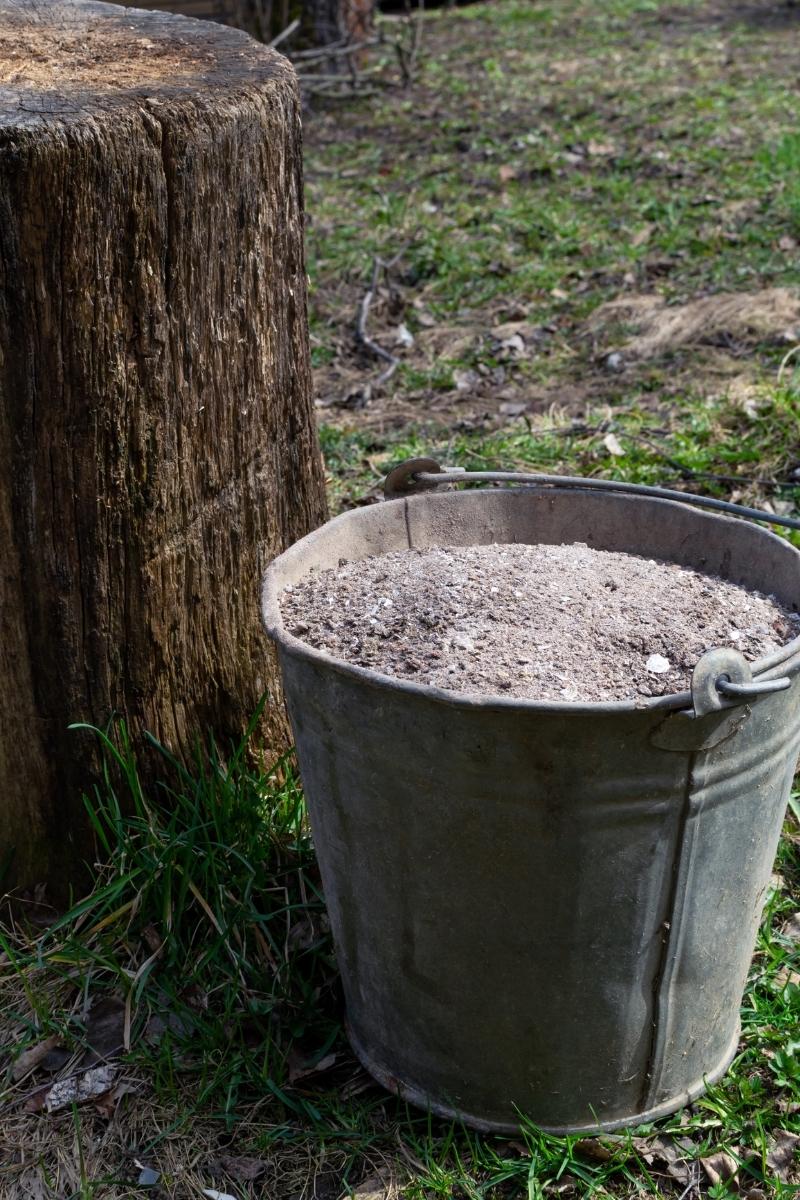 It probably goes without saying, but an ash bucket should be made of metal – not plastic.
If you were only ever emptying completely cold ashes then an old paint bucket or something would suffice, but it is a fire risk, and ashes do stay warm for up to 2 or 3 days after you put the fire out.
The best metals for ash buckets:
Galvanized iron
Iron
Galvanized steel
Steel
Cast iron
Cast iron ash buckets are few and far between, and they are very heavy as well, so they're not ideal. However, iron and/or steel ash buckets are the most common metal you'll find for holding warm and hot ashes.
Best Ash Bucket Features
You can just get a standard basic metal bucket for ashes, but there are some features that can make them more helpful or functional.
Double-Bottomed
A double-bottom ash can has two layers of metal lining the bottom of the bucket.
This is the area that receives the bulk of the heat and which can deteriorate fastest if you are emptying hot ashes. This type will last a lot longer than a single layer of metal.
Ash Bucket With Lid
An ash bucket with a lid isn't essential but it can be really good.
If you store your bucket inside after emptying the ashes, a lid will keep the smells in the bucket. An open pail will smell a bit.
Also, if it's windy while you're taking out the ashes, a lid will stop them from blowing all over the place while in transit.
Shovel And Brush
Some ash buckets can be bought with a shovel and brush.
If you don't already have these tools, this can be a good way to kill a few birds with one stone. However, don't let that be the only reason you buy a particular bucket.
You can buy plenty of excellent fireplace tool sets separately from a bucket, so it's best just to get the bucket you like most.
Ash Bucket Review
I think the best overall ash bucket for sale right now is the Plow & Hearth Double-Bottomed option.
It looks really good, can be purchased in either copper or black color, and it's tough and durable – it's not only going to last a couple of seasons.
Plus, it has a lid that fits snugly leaving the bucket looking really tidy on the hearth, beside the wood stove, or outside in a safe spot.
The cheaper Panacea Ash Bucket is also really good for those who want something a bit cheaper and more basic.
That option is the best-seller for a reason – it does the job and comes with a shovel.
Let us know if you have any questions in the comment section down below, and while you're cleaning out your fireplace have you considered cleaning the fireplace brick?