What is the best wood-burning stove?
Nothing can heat the home like a good wood stove – an electric or gas heater doesn't compare. We've had a wood stove in our home ever since we bought it and it runs for 8 months of the year.
It heats the entire home very well (our visitors can find it uncomfortable), is a focal point of the room, and also is on a wet-back heating our hot water.
To top it off, it's perfect for boiling water or cooking. When the power goes out, as seems to be happening more and more regularly, we are kept warm and we have a way to cook food and heat water.
Getting a wood stove is an important step in being self-sufficient and less reliant on the grid.
Here are some of our top picks if you're ready to take that step today.
Best Wood Stoves
Ashley Hearth Wood Stove

A range of different sizes
For 1200, 2000, 2500, 3200 sq ft homes
Basic affordable wood stoves that perfrom well

View On AmazonView On Home Depot

Englander Wood Burning Stove

A solid affordable wood stove
For 2000 or 2400 sq ft homes
A popular model to buy online

View On AmazonView On Tractor Supply

Drolet Wood Stove

Good for heating small homes and cabins
75000 BTU heat output
Max log length 20", includes air deflector

View On Fire Pit SurplusView On Lehman's

GRIZZLY Cubic Mini Wood Stove

Best mini wood stove
Output: 8,000-18,000 BTU
Dimensions: 13" W x 15" H x 12" D

View On Cubic Mini Wood StovesView Other Sizes

Dwarf Mini Wood Stove

High quality stove for tiny homes, RVs, etc
Output: 75,00 - 20,000 BTU (across all sizes)
Dimensions: 17" H X 10.25"W X 8.5" D (smallest)

View On Tiny Wood StovesView Other Sizes
Another of the best options is a high-efficiency wood-burning stove by Timberwolf that we'll start off with below.
The EPA2100 can heat a 1,500 square foot room, and the firebox can hold a piece of wood up to 16 inches long. Timberwolf is undoubtedly one of the most popular brands and a commonly found brand of stove.
Timberwolf has been operational since 1976 and was initially founded in Canada but has grown in availability in the United States.
What's more, Timberwolf has various models, and each has different benefits.
1. Timberwolf EPA2100: Best Overall Affordable Wood Stove
Specs:
Heating BTU: 52,000
Heating area: 500 – 1500 square feet
Efficiency: 85%
Fuel: wood burning
Dimensions: 32″ high x 26″ wide x 22″ deep
Meets EPA 2020 standards: yes
As previously stated, the Timberwolf Wood Burning Stove EPA2100 is the best overall option for an affordable, basic wood stove.
With one of the best prices in the market, the EPA2100 will meet all of your wood-burning stove needs.
The stove boasts 52,000 max BTUs and has a heating capacity of about 1,500 square feet. What's great is that this wood-burning stove can keep your home heated even in the most frigid temperatures.
The Timberwolf Wood Burning Stove EPA2100 offers one of the highest efficiency ratings at over eighty-five percent, which means that this stove helps you get the most warmth from your wood.
Furthermore, Timberwolf offers stoves in varying sizes that make selecting the best option for your space easy. Additionally, you can fit the stove with both legs or a pedestal, which best suits your previously established home decor.
Other additions to this stove include an ash pan or blower so that you can customize this stove to your liking. As an aside, wood stove ash has many uses.
Pros:
One of the cheapest wood stoves
Looks good in most settings
Really high user reviews
5-year firebox warranty
Great for heating efficiently
Cons:
It's cheap, so it doesn't have the best of the best componentry
Door latch is a bit flimsy
---
2. Nova Wood Burning Stove Tower: Best For Built-In Wood Storage
Specs:
Heating BTU: 50,000 max
Heating area: 500 – 1400 square feet
Fuel: wood burning stove
Dimensions: 43″ high x 20″ wide x 22.5″ deep
Meets EPA 2020 standards: yes
The Nova Wood Burning Stove Tower is the best option for built-in wood storage.
With an opening under the firebox for wood stacking, this stove offers not only exceptional wood-burning efficiency but also provides a readily available stash of wood.
The stove is more vertical than others on the list and offers a sleek design that allows firewood to be close at hand while the furnace is in use.
If your home tends to be more modern in design, this contemporary modern wood-burning stove will be an excellent accent piece because of its simplicity.
Furthermore, it appeals to modern homeowners because of the sensors it uses to work with the Catalyst Smart App, which provides heat level information and safety updates directly to your smartphone.
The Nova Tower is 43 inches in height, with the actual firebox comprising 24 inches of that total, demonstrating the amount of available storage space.
Additionally, the Nova 2 Tower is slightly smaller but offers the same percentage of storage compared to the stove.
What's interesting for homeowners is that this stove is a qualified appliance for a federal tax credit of approximately twenty-five percent!
Pros:
A stylish, unique look
Rear venting
Fits standard 6″ chimney connector
Exceeds 2020 EPA standards
Don't have to bend down to load wood
Cons:
Not cheap
Not for large areas
Bonus Find: Nova Wood Stove
The Nova Wood Stove is a high-quality option for wood burning.
This version does not include the built-in storage but offers all of the other highlights and benefits of the Nova brand. The Nova Wood Stove produces the most heat for the comparable use of wood that is burning within the box.
---
3. Ashley Hearth AW3200E-P
Specs:
Heating BTU: 89,000 max
Heating area: up to 2000 square feet
Dimensions: 43″ high x 20″ wide x 22.5″ deep
Meets EPA 2020 standards: yes
The Ashley Hearth AW3200E-P offers a heavy, traditional look and is an excellent option for wood-burning stoves at the $2500 price point.
Specifically, the Ashley Hearth Pedestal Wood Burning Stove is exceedingly sturdy and can hold up to thirty pounds of wood!
While it has the traditional look and feel of an old-fashioned stove, it weighs about 375 pounds, so ways to move the furnace should be considered when purchasing this wood-burning stove.
Notably, this stove can heat up to 3,200 square feet and emit warmth in the space for several hours.
The Ashley Hearth Pedestal Wood Burning Stove is also a beautiful addition to any home or living room, but more importantly, it is an effective heating source.
The ceramic glass window consolidated within the firebox allows you to enjoy viewing the burning logs while protected behind the safety glass.
Cleanup from a fire is easy since the stove has a large ash pan with a smooth brushed nickel handle, adding a bit of aesthetic flair to the product.
If you are most interested in adding that certain je ne sais quoi to your home via a wood-burning stove, then the Ashley Hearth product is your best option, specifically the Pedestal Wood Burning Stove.
Check out the entire Ashley Stove range here.
Pros:
Great for larger areas
Takes larger logs
Easy to use and work with
Suitable for mobile homes
Cons:
Wood capacity isn't great
Ash falls out when opening the door
Not the most efficient
---
4. Drolet Austral: For 90,000 BTUs
Specs:
Heating BTU: 90,000 max
Heating area: up to 2300 square feet
Dimensions: 41″ high x 29″ wide x 34″ deep (double-check if important as dimensions vary from retailer to retailer)
Meets EPA 2020 standards: yes
Drolet products are high quality for a variety of wood-burning stove needs.
Specifically, the Drolet Austral is an excellent value and can be delivered without charge. In combustion quality, warming efficiency, and construction, very few other Drolet stoves can defeat them.
The Austral III wood stove is a medium-sized stove perfect for warming areas up to 2,300 square feet.
Furthermore, this small but mighty stove offers a maximum heat output of 90,000 BTU.
The Austral III is outfitted with side panels to lessen clearings to flammable materials and an air deflector to increase air movement within the space.
This stove comes with cast iron legs, an ash drawer, ceramic glass, side panels, and an air damper. If this is your first wood-burning stove, this is a good choice for novices.
Rated for use in mobile homes and alcoves.
Pros:
Made in Canada
Lifetime warranty (limited)
Puts out a ton of heat
Tough steel construction
Cons:
Not ultra-unique or stylish
Bonus Find: Drolet Columbia Wood Stove
The Drolet Columbia Wood Stove is another dynamic model of the family because it has a 77 percent optimal efficiency.
Furthermore, it requires fewer logs to produce a sustainable and lasting amount of heat for your space. Finally, the particulate and CO emission rates are comparatively low.
---
5. Ventis HES240 Wood Burning Stove: Best for Energy Savings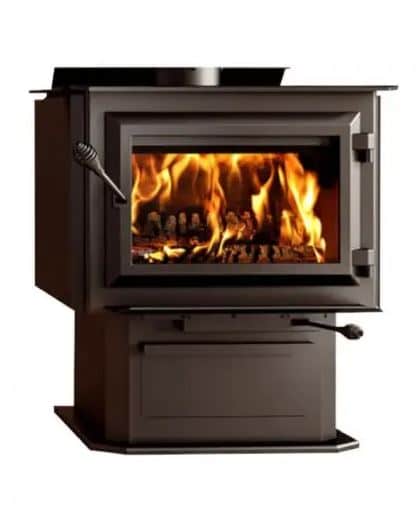 Specs:
Heating BTU: 75,000 max
Heating area: up to 2100 square feet
Dimensions: 32″ high x 26″ wide x 26″ deep
Meets EPA 2020 standards: yes
*Also for sale on Ebay
The Ventis HES240 Wood Burning Stove is produced in one of the USA's largest wood stove manufacturing facilities and is a great wood burner.
It also is covered by a limited lifetime warranty.
Its simple design makes it a perfect addition to any home, no matter the decor.
The Ventis HES240 Wood Burning Stove will decrease your gas and electric bills because you will derive heat from a fire rather than an outlet.
You can watch the fire as it burns through a large ceramic glass window in the front of the stove.
This wood-burning stove heats up to 2,100 square feet of a home and is 77 percent efficient in wood burning. The maximum burn time for this stove is about eight hours and can hold logs up to twenty inches in length.
Pros:
Large firebox volume
Mobile home approved
Made in the US
Cons:
---
6. Buck Stove Model 21: Best For Heating Smaller Homes
Specs:
Heating BTU: 41,000 max
Heating area: up to 1800 square feet
Dimensions: 20″ high x 22″ wide x 18″ deep
Meets EPA 2020 standards: yes
The Buck Stove Model 21 is an economic region heating stove insert exceedingly apt at heating smaller homes.
What's more, the Model 21 is easily fitted into an existing fireplace with an available face-plate kit. Furthermore, it can be used as a stand-alone stove by purchasing a leg kit from the manufacturer.
The Buck Stove Model 21 produces 41,200 BTUs and warms up to 1,800 square feet. If choosing to use this stove as a freestanding warming source, its dimensions are 29 1/4 inches in height, 23 3/8 inches wide, and 18 1/2 inches in depth.
It is a cube shape, so to ensure your space has enough room to fit comfortably, you will need a hearth that is at least 48 inches by 48 inches.
Not only is this stove great for small homes, but it is also approved for usage inside mobile homes!
If you live in a mobile home, installing this stove requires an outside air pedestal or outside air kit.
The stove manufacturer, Buck Stove, has been in the business for forty-four years and is considered by many to be an elite stove manufacturing company.
Buck Stove is located near the mountains in North Carolina, so that weather has affected their design and desire to keep homes comfortable and warm.
Check out our best small wood burning stove round-up for more options for tiny homes, mobile homes, boats, and other small spaces.
Pros:
Great for small areas
Mobile and prefab home approved
Includes blower kit
Made in the USA
Reasonably priced
Simple design
Cons:
---
7. Vermont Bun Baker 750 Wood Cook Stove: Best for Cooking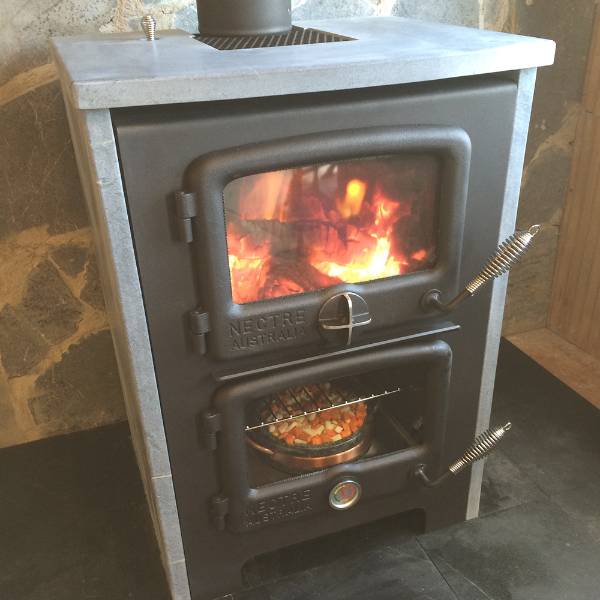 Specs:
Heating BTU: 30,000 max
Heating area: under 1,500 square feet
Dimensions: 34″ high x 24″ wide x 21″ deep
Efficiency rating: 78%
The Vermont Bun Baker 750 Wood Stove is an unprecedented and valuable addition to any home.
The Bun Baker is versatile and naturally elegant because of the soapstone that surrounds the stove. This feature is lovely but also is effective at holding heat for a more extended period (more about soapstone wood stoves here).
What's more, you can use this wood-burning stove for baking, broiling, or cooking.
Logs up to 14 inches long can fit into this charming stove.
The Vermont Bun Baker 750 Wood Cook Stove effectively provides warmth throughout a given space. Still, it is also a visually appealing unit that allows its owner to bake bread buns and much more!
This stove is easy to use and great for those looking to add some rustic atmosphere to their home or kitchen.
Furthermore, this wood stove is cast iron, so it is long-lasting. Cast iron is a great material for all sorts of fire and cooking equipment – one of our favorite uses is in these top-quality cast iron fire bowls.
The Bun Baker provides up to 30,000 BTUs per hour in addition to being an effective cooktop. This version is about 13x11x15, but check out our bonus find!
Pros:
Great for cooking
Oven and cooktop
Looks awesome
Cons:
Doesn't put out a lot of heat
Bonus Find: Offered in Various Sizes
Depending on your needs and budget, the Bun Baker stoves come in various sizes, from the Bun Baker XL to the Bun Baker 1200.
If a functional wood-burning stove is your ultimate aim, then looking at some different sizes might be an excellent option for you!
What's more, the manufacturer also offers a soapstone baking deck and a matching hearth so that you can streamline the appearance of your Bun Baker and its effectiveness as a warming mechanism.
Check out our complete Vermont Bun Baker Wood Stove review here for all the info, or the Pioneer Princess Cookstove review for another option altogether.
---
8. Guide Gear Outdoor Wood Stove: Best for Outdoors
Specs:
Heating BTU: No BTU rating
Heating area: outside wood stove
Dimensions: 20″ high x 11″ wide x 13″ deep
If you enjoy camping and backyard parties or you have a recreational or living vehicle that traverses the county, then this Guide Gear Outdoor Wood Stove will be a great fit for all of your needs.
That is, if you wouldn't prefer something like a portable propane fire pit.
All users need to add to this stove is the wood fuel to start the fire.
The stove is built from cast iron and has a high-temperature finish to protect the furnace from everyday use and wear and tear. The external hinged door is composed of cast iron, and it includes vents that help to regular and control the fire.
The Guide Gear Outdoor Wood Stove is built to last for years to come and to provide warmth to friends and family.
Additionally, this outdoor wood stove functions as both a heater and a cooking stove. It is ideal for a camping set-up because it keeps coffee pots or cooking pans hot – it can even bring water to a boil!
While traveling or moving, this type of wood-burning stove might logistically seem impractical; the Guide Gear stove is exceedingly portable. Not as portable as the Firebox Stove or a small charcoal grill, mind you.
The legs detach, and the pipes fold so the entire stove fits inside for comfortable storage and smooth transportation.
At 12 inches wide and weighs in at 47 pounds, this relatively small yet affordable outdoor wood-burning stove will keep you cozy while camping, lounging, or traveling.
Pros:
Strong cast iron wood stove
Easy to transport
Creates an atmosphere while outside
Works well
Cons:
Can be difficult to put together and take apart
Reports of dangerous defects
---
9. Cast-Iron Logwood Stove: Best for Vintage Vibes
Specs:
Heating BTU: 54,000 BTUs
Heating area: 900 square feet
Dimensions: 33″ high x 22″ wide x 25″ deep
If you are interested in the vintage, farmhouse, or cottage-core look, then this is the best wood-burning stove for you.
This cast-iron wood-burning stove blends perfectly with the vibe of a log cabin.
Notably, the Cast-Iron Logwood Stove by the US Stove Company is intended for smaller spaces; the stove can heat about 900 square feet.
Whether you have spotted this type of wood-burning stove on Pinterest or have always dreamed of creating a cabin-style escape in your own home, this Cast-Iron Logwood Stove is an excellent option for you!
The stove is a rustic, built-to-last, cast-iron-formed wood stove perfect for those who enjoy the outdoors or simply those who have a more nostalgic identity.
Mainly, if you want to purchase a reliable, cost-efficient method of heating a small space or cavern, this is the best option for your heating needs.
The interior of this traditionally rugged exterior is a contemporary EPA-certified stove affording a clean-burning heating solution. It is ideal for garages and workmans' shops. The durability of this wood-burning stove is unmatched.
Additionally, the top can be used as a cooking surface!
Cooking atop a wood-burning stove can be an exciting adventure and can take you back in time. Using conducted heat to cook breakfast, lunch, or dinner is fun to use a wood-burning stove and engage with the entire family.
Especially if you are vacationing in a cabin away from the amenities of a traditional kitchen, this stove can function as a heating and cooking source.
Pros:
Cooktop
Unique style
Heavy duty cast iron
Very affordable
Good for cabins
Cons:
Bad for back drafts
Door design isn't great
---
10. Pleasant Hearth Stove: Home Depot Wood Stove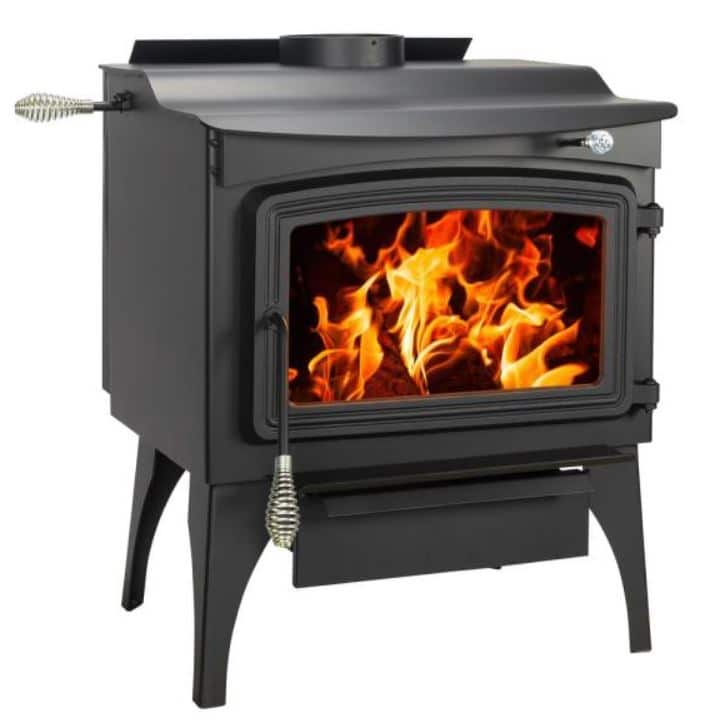 Specs:
Heating BTU: 65,000 max
Heating area: 1800 square feet
Meets EPA 2020 standards: yes
The Pleasant Hearth Wood-Burning Stove is certified by the Environmental Protection Agency and offers a more than 85 percent efficiency rating.
Furthermore, because the stove is available in various sizes, customers can select which size best fits their home and heating needs.
Pleasant Hearth's non-catalytic wood-burning stoves heat homes by a highly effective and valuable method. Every wood stove in the Pleasant Hearth line is EPA certified and boasts an over eighty percent efficiency score.
The wood stoves are stylish, high efficiency, and comparatively more environmentally friendly than the traditional catalytic wood-burning stoves.
From smaller-sized rooms of 1,200 square feet to larger rooms up to 2,200 square feet, one of the Pleasant Hearth stove options will fit your needs.
With the massive visual appeal, these wood stoves stand out in any room and can add to the room's decor, meaning that gathering around the fire becomes a favorite place for family and friends.
Pros:
Range of sizes
Very affordable
Plenty of good reviews
Cons:
---
Purchasing The Best Wood Stoves
Purchasing a new wood-burning stove is a significant expense.
A desirable system can vary from hundreds to thousands of dollars. With various diverse makes, models, and manufacturers to pick from, the homeowner may not know which stove will best fit your budget and needs.
Wood-burning stoves have developed considerably over the last few years. The stoves are incredibly distinctive from the old-fashioned sorts, which contributed to lots of smoke and emitted unsafe levels of carbon.
Contemporary wood stoves are significantly more efficient, economical, and environmentally sound.
The Environmental Protection Agency (EPA) has stringent guidance on wood stoves that improve emissions to help decrease energy costs and enhance air quality.
While these innovative and ever-changing laws can result in a cleaner atmosphere and more practical stoves, it is also very taxing on wood stove manufacturers to keep up.
They come in a range of styles as you'll have seen in this guide, and have just as much variation as fireplaces and inserts. I'm yet to come across a see-through wood-burning stove similar to the two-sided fireplaces.
Selecting A Wood-burning Stove
Contemporary wood-burning stoves are created with a catalytic mechanism or secondary combustion container that lights unburnt gasses before releasing the gas up a chimney and into the atmosphere.
The additional combustion method deters creosote (which can be very smelly) from forming inside your furnace walls, and it supports an energy-efficient hearth.
A catalytic system has a honeycomb-style device located far inside the stove that lights unburned gasses.
Since the catalytic units can deteriorate in the long run, many stove companies presently use a non-catalytic or secondary combustion configuration.
Variations Of Efficiency And Heat Output
It can be confusing to purchase a new wood-burning stove because there are various aspects to consider.
This includes:
Efficiency
Heat output
Desired features
Design
Cost/ease of installation
For instance, current stoves are about thirty-five percent more effective than an older-style, conventional stove used decades ago.
Nevertheless, as a potential buyer reads and researches manufacturer's brochures, it becomes apparent that each type of wood-burning stove has different ratings on heat production, the area, measured in square footage, of the heating space, and the length of the burn time.
Ratings can help a buyer decide which stove is the best fit for their needs. Still, because there is no consistency between manufacturers on the definition of ratings, it is impossible to standardize the process for comparison.
The Cubic Grizzly Wood Stove is one of the best options for RVs, tiny homes, and other small spaces.
Finalizing Your Selection
When hunting for the most desirable wood-burning stoves, consumers should study the primary options and evaluation procedures.
Buying a new stove should undoubtedly work within a delineable budget, but monetary limits do not have to dictate your ultimate selection.
Many of the most popular brands have different options and various sizes to make sure you can find exactly what you may be looking for to purchase.
As you review ratings to finalize your decision, be sure to compare and understand what each number might mean across different manufacturers.
Generally, it is a good practice to base your determination on numbers as a combination, alongside overall appearance, personal choice, guidance by a reputable dealer, and reviews submitted by other users.
A wood-burning stove dealer can help you consider all available options and help navigate the giant sphere of particular products.
Choosing the best wood stove can change based on your precise requirements and expectations.
However, after reviewing rating and overlaying with needs and budgets, installing and enjoying your wood-burning stove will make all of the hassle of selection worthwhile.
How Efficient Are Wood Burning Stoves?
Contemporary wood-burning stoves perform much more efficiently than traditional fireplaces.
Environmental Protection Agency-approved wood stoves have wonderfully low emissions and are incredibly energy-efficient, resulting in a nearly twice as efficient stove as a conventional fireplace.
These agency models are at about sixty percent effective; however, some models have up to an eighty percent efficiency rate, a noteworthy development over years of past unsophisticated, non-certified models, usually having only a fifty percent or lower efficiency rate.
In short, for the most efficient stove, seek out an EPA-approved choice.
Find out how hot a wood stove gets here.
Is Wood A Sustainable Fuel Resource?
Wood is an entirely renewable resource.
Fossil fuels, like natural gas, are limited in supply and are substantial resources. Consuming fossil fuels at a rapid rate will expedite depletion.
The same goes for coal-burning stoves.
Wood is a renewable resource, so it will never run out if appropriate forestry systems are positioned.
Notably, in the United States, sustainable forestry work is at an all-time high because the United States Forestry Service requires that those who harvest wood plant more trees than they remove.
Therefore, even if you plan to spend money to purchase wood rather than harvest natural fuel yourself, you can take comfort in knowing that your home heating method does not contribute to environmental harm.
But, if you choose to purchase wood rather than harvest it, consider purchasing it from a local timber mill, farm, or grocery store. Local lumber purveyors have a stake in the environment around them.
They are more motivated to use eco-friendly harvesting and milling efforts to ensure the success of future growing seasons.
Can Wood-Burning Stoves Help Conserve Energy?
Wood-burning stoves assist in conserving energy because heating the wood and creating fire is less expensive than relying on electricity, oil, fossil fuels, or other natural gases.
A stove can reduce energy costs by up to forty percent even if you choose a hybrid method of heating that would utilize a wood-burning stove in select rooms.
Meaning that if your traditional heating bill via electricity is around $100, using heating from a wood-burning stove could reduce your cost by nearly half!
Again, look to those wood-burning stoves that are EPA approved for more information regarding environmental energy concerns, but also take comfort in knowing that if a furnace is certified, it has met rigorous quality standards.
Outdoor fireplaces are another story, of course.
Wood Burning Stove Review
Wood-burning stoves are built in different styles that span traditional to contemporary.
Most are made of cast iron, steel, metal, tile, or a combination of those materials. Lots of the newer models prioritize viewing the burning logs and having windows for protection and aesthetic needs.
The best one for you will also depend on your space.
A small option like the Dwarf wood stove or Pipsqueak stove might suit those in cabins, RVs, or tiny homes, but not for those in regular-sized homes.
Other conveniences with modern models include removable ash disposal pans, insulated handles, thermostats, and air circulators.
Today's wood-burning stoves combine vintage comfort with modern technology to deliver an efficient, aesthetically pleasing, and cozy experience for homeowners, party hosts, and vacationers.
Researching which wood-burning stove is now made easy by this extensive review of which types of wood-burning stoves are best for every kind of whim and fancy.
Warming your home and incorporating exciting decor can both be accomplished by purchasing a new stove. Add some fiery flare to your home, and consider installing a wood-burning stove.
Alternatively, consider a corner electric fireplace (though they don't compare, do they?).