Is there such a thing as an EGO sale?
Do EGO Power Tools ever go on sale?
The good news is that, yes, EGO yard equipment is often discounted and marked down from its regular price.
Even right now, if you check out the range of EGO products on Amazon you will see that there are multiple products reduced in price.
You can compare the prices of the same products over at Ace Hardware, on Walmart.com, or Acme Tools. You'll see that different retailers often have slightly different prices.
Usually, the difference isn't a lot – maybe $10 or $20 – but sometimes the price can vary by up to $50, depending on what product you're looking at.
Do EGO Products Ever GO On Sale?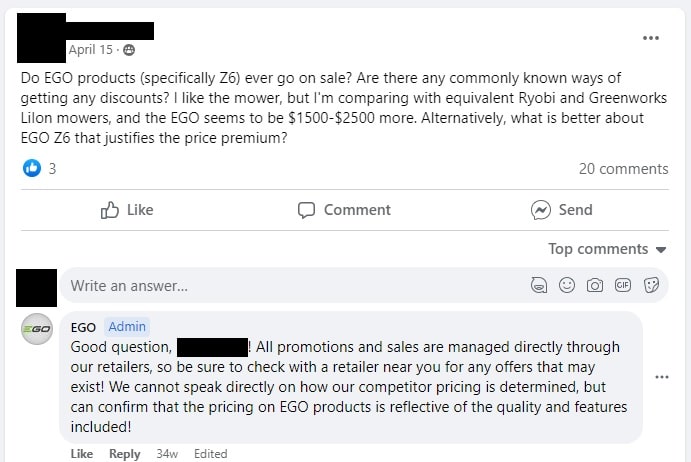 Someone asked this very question not too long ago in the EGO User's Facebook group.
In case you can't read the text in the image above, EGO answered and said:
Good question! All promotions and sales are managed directly through our retailers, so be sure to check with a retailer near you for any offers that may exist!

We cannot speak directly on how our competitor pricing is determined, but can confirm that the pricing on EGO products is reflective of the quality and features included!
You can find out more about EGO vs Greenworks here.
However, there's plenty more evidence of EGO sales in this same group.
Examples include Andrew, who said:
Ordered the Nexus Power Station the other day when it was on sale for $80 off at Lowe's. It arrived a little scuffed up, and it had been manufactured way back in May 2019, but so far it's performing where it counts.
Chris, who said:
I bought all my Ego Tool on sale. But Home Depot seemed to have more sales than Lowe's.
However, Home Depot doesn't sell EGO tools anymore (I'll share the rumored reason why not at the end).
And Dan shared:
Just got the mower yesterday $100 off at Lowes, and Ace Hardware has the same $100 off sale.
John shared the following images: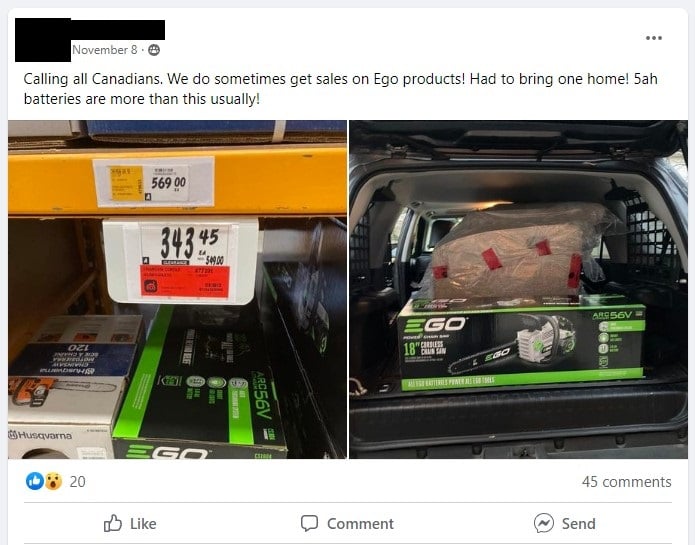 Looks like he passed over the Husky and went with the cheap EGO tools – an EGO chainsaw to be precise.
Good to see that EGO tools sometimes go on sale in Canada as well as the US.
EGO Power Tools Sale Dates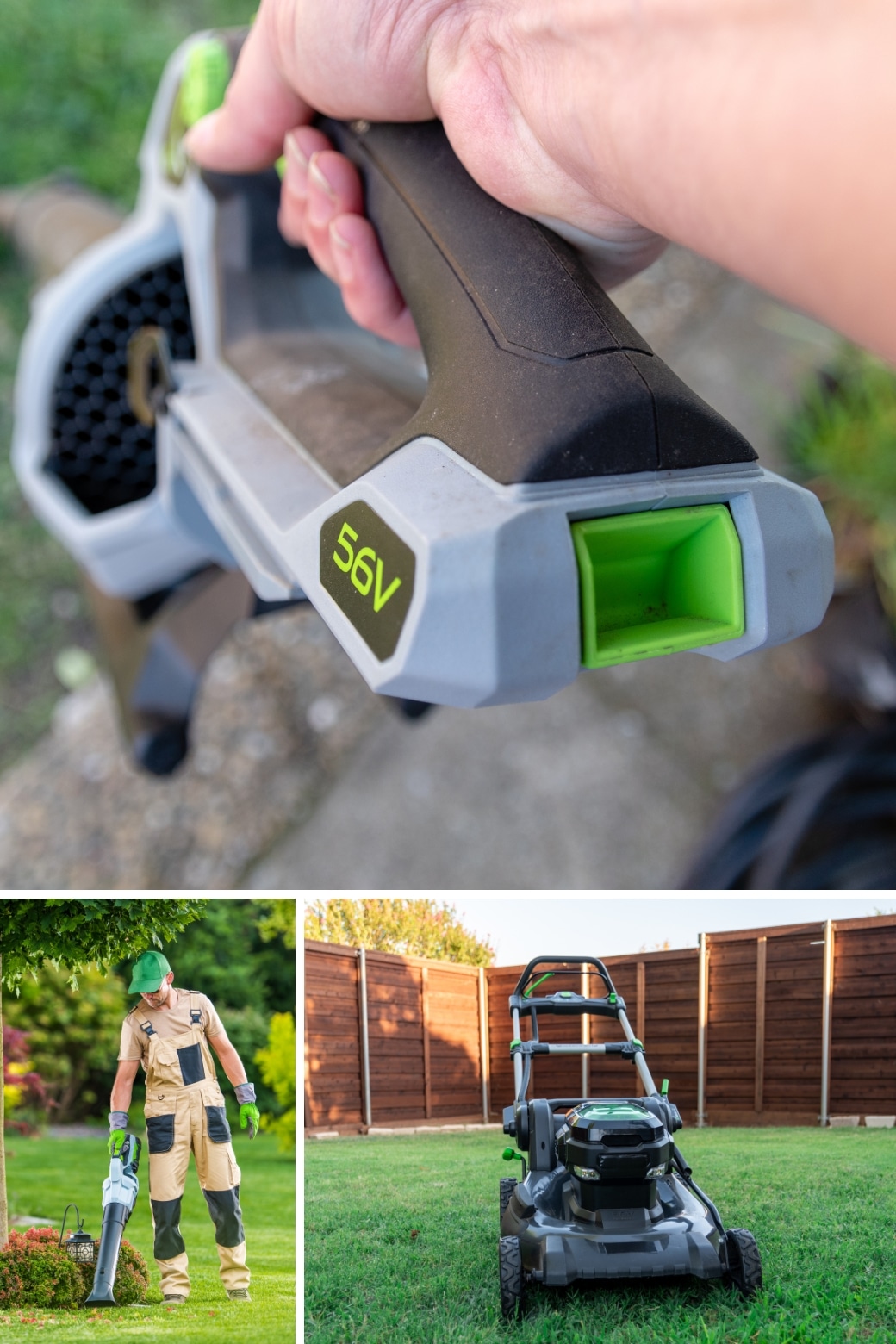 It probably goes without saying, but there are specific days, dates, holidays, and seasons that are best for scoring deals on EGO products.
This includes:
Memorial Day, Labor Day, Fourth of July
The lead-up to Father's Day
Amazon Prime Day
Black Friday – Cyber Week
New Years Day
Change of season sales can also be a good time to pick up a deal.
As we head into winter, lawnmowers, leaf blowers, and line trimmers, for example, will often be discounted.
Generally speaking, the worst time to buy outdoor power equipment is when you really need it. Leaf blowers are unlikely to go on sale while the leaves are falling, you've got to get them off-season for a discount.
There are some products that tend to never go on sale, like the 2-stage snow blower. Also, brand-new product releases, like the new EGO PS1001 Pole Saw, tend not to be discounted right away. However the old model, the MPS1000/1001 Pole Saw in this case, may then go on sale.
Other Ways To Get A Discount On EGO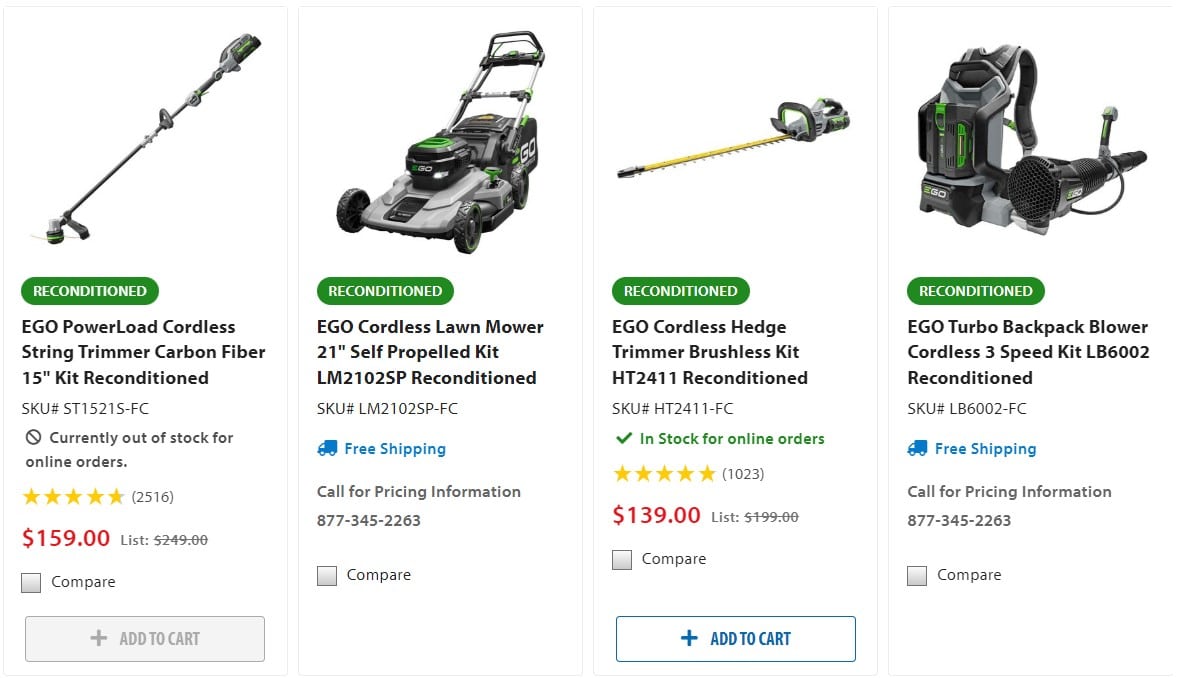 If you aren't able to wait for an EGO sale, here are a few more ideas on how to score a discount at any time.
Amazon
If you add an EGO product to your cart on Amazon, it will still be reduced if it goes on sale. It's an easy way to monitor prices.
However, if you buy from Amazon, make sure it is sold by Amazon.com and not a third-party dealer. Full warranties on EGO items may not be honored for purchases from unauthorized sellers.
Buy Used Or Second Hand
Check out what's available on Ebay here – at the time of writing, there are plenty of cheap EGO products, many of which have never been used.
Alternatively, visit the Ego Power Tool Owners FB Group. There are often many different items listed for sale.
Reconditioned Items
For whatever reason, Acme Tools often has reconditioned EGO tools for sale cheaply.
See the range here. At the time of writing, there are deals on string trimmers, cordless mowers, backpack blowers, hedge trimmers, chainsaws, snow blowers, leaf blowers, and more.
Ace Hardware Rewards Program
Ace Rewards is a way to "shop, earn, save."
It's a roundabout way of saving money or getting bonus items, but if you really need an item and there aren't any current sales, it's better than nothing!
Lowes Military Discount
Lowes offers a 10% discount to active duty, retired and military veterans and their spouses.
There are some exclusions, but as far as I'm aware, EGO tools are not one of them. In order to claim the discount you will need to verify your status as a military member or spouse.
Lowes Advantage Card
The Lowes Credit Card gives a discount on many products.
There are lots of terms and conditions that you need to verify before signing up or purchasing, but you can generally get 5% off every day, and 10% off during cardholder events.
Floor Models
Cheap floor stock is another way to get a discount on EGO products.
This is more of a random affair – you just turn up at your local Lowes and check for any such discounts. The best time for this is usually around the change of seasons.
Rakuten Cash Back
Rakuten is a cash-back program that works with EGO dealers like Ace, Walmart, Acme Tools, and Lowes.
It's an affiliate arrangement whereby they earn a commission for sending you to make a purchase, and then they give a portion of that back to you.
Honey Browser App
The Honey App may also have coupons or promo codes for these EGO dealers.
Similar to Rakuten, it's a matter of adding an extension to your browser and it will test different codes as you're checking out.
EGO Sales
Hopefully, that helps to answer the questions as to whether or not EGO tools ever go on sale.
They do, and while the discounts aren't always huge, there's usually a way to save something!
Now finally, as promised, why doesn't Home Depot sell EGO tools anymore?
It's not a big secret, but apparently, unconfirmed sources state that it was because Home Depot wanted to be the exclusive retailer of EGO products.
EGO didn't want to go ahead with this, so the relationship was ended.
Or, as one commenter put it:
Maybe [Home Depot] saw the coming product lineup of yet another blower and an LED light and said "meh…we'll let Lowes have it for a year…" 😃
Let us know what kind of EGO sale deals you've picked up over the years down below!
Next up, have you ever considered the DEWALT tool line? I really like my DEWALT hedge trimmer and 20v chainsaw. They're comparable to EGO!