The Husqvarna 445 chainsaw is a small, lightweight homeowner saw.
Usually, the back of the Husqvarna model number corresponds with the engine ccs, but in some cases, the 445 is a bit of an anomaly being a 45cc OR 50cc saw. It depends on the version, which I'll get into below.
To put this saw into perspective with other chainsaws, a 30 – 40cc saw is good for pruning, while the 50 – 60cc saws are usually good for home firewood duties.
This Husqvarna chainsaw is in that sweet spot where it's good for both pruning and limbing trees, but also for light firewood work. Many people use it for cutting up small logs and branches for firewood.
Here are the specs, features, and everything else you need to know about this saw.
The Husqvarna 445 Chainsaw
Who is the Husqvarna 445 chainsaw best for?
The 445 is part of the Husqvarna homeowner range.
It is a 2.8 hp 45 – 50cc chainsaw that is suitable for light to medium clean-up around the home and farm. It's different from other saws in this range in that it has a lower horsepower. This results in less power and less guts.
The 445 can be used for processing logs for firewood, but only the thinner, lighter stuff. While it is usually sold with a 16 or 18-inch bar, it performs best with either a 14 or 16-inch bar.
The Husqvarna 445 is good for those who need a small chainsaw for infrequent jobs, rather than those who plan to use it all the time.
Not everyone needs a top-of-the-range chainsaw, especially if it's just for pruning the odd branch or cutting up firewood for the fire pit.
The Husqvarna 445 is also suitable for those who don't want to spend too much on a chainsaw. It's one of the cheapest Husqvarna chainsaws.
When comparing Husqvarna chainsaws I find the following chart helpful.
You can see that the 445 is positioned at the top end of the homeowner range.

The Husqvarna 440 is one step down in power from the 445, while the Husqvarna 450 is one step above.
The 450 is also a 50cc chainsaw, like the 445, but the difference is that it has a higher horsepower, giving it a lot more guts.
The 455 Rancher is an entry-level Farm and Ranch range saw and is 5cc more powerful than the 445 we're looking at in this post.
The 445 is NOT the best chainsaw for processing firewood, but it is suitable for branches and light clean-up tasks around the yard. It can also make for a really good backup saw.
There are at least three versions of this saw:
The e is to do with lower emissions, while the II is a later version.
This saw has been out since around 2006, so it has gone through some changes over the years and the model number changes reflect this.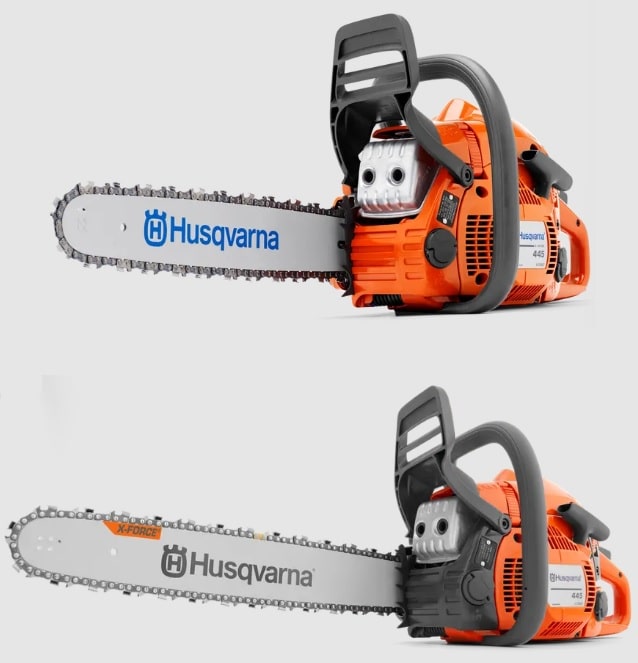 Also, the saw can look quite different depending on what part of the world you're in or what store you're buying it from.
For example, the two different 445 saws pictured above. The top one is being sold in New Zealand and on platforms like Amazon, while the lower one is listed on the Husqvarna website.
The version on Amazon is listed as 50cc while the version on the Husqvarna site is 45.7cc.
To be honest, it doesn't really matter what you end up with in terms of performance and power. They are about the same.
Husqvarna 445 Specs And Features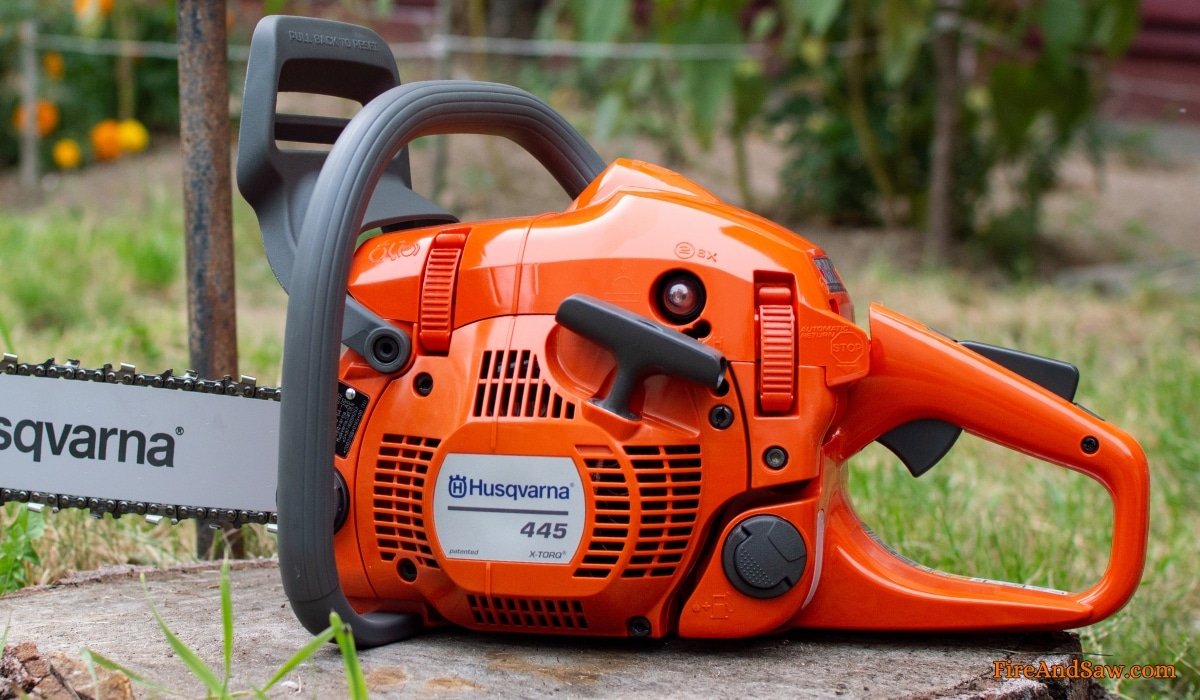 Keep in mind that features can vary depending on the year and/or place of manufacture.
If you pick up an old/used Husky 445 from eBay or Facebook Marketplace, it may not have all of the features of a new 445.
An interesting point about the 445 is that it was made in other brands as well.

Husqvarna owns Jonsered and McCulloch, and they released this same saw under those names as well.
Standard features include:
Automatic oiler
Side-mounted chain tensioning system
LowVib anti-vibration system
Good fuel consumption and emissions ratings
Air injection air cleaning system
Flip-up fuel tank lid
Quick-release air filter
Felling marks
Smart start
Combined choke/stop control
Chain brake
Visible fuel level
Generally speaking, the overall quality of the 445 will be better than cheaper chainsaw brands like Jon Cutter, for example. But it's still one of Husqvarna's cheapest saws and isn't built for performance over the long haul.
I personally have some cheap Husqvarna chainsaws that have served me well, but compared to playing with a pro saw like the 560 XP or 562 XP, there's no competition. The 500 series saws are another beast altogether.
And the Husqvarna 445 specs:
2.8 hp X-Torq engine
50.02cc
Weighs 11.2 pounds (without fuel, oil, bar, and chain)
114 decibels
10.8 lb dry weight
It's usually sold with an 18-inch bar, which I don't think is the optimal size.
A 16″ bar is better, in my opinion, as you'll get better performance from the saw.
Husqvarna 445 Review
Watch this Husqvarna 445 X-Torq video review to hear more about this chainsaw and see it in action.
You will see it with the side cover and top casing removed and hear a good rundown on the saw.
You can also see it in action from the side and from above and then hear the video creator's thoughts ("pretty sweet machine").
Other points from the video:
A mid-range chainsaw
13 – 20 inch bar (though 16 would be best)
It does well at what it is made to do
Metal side cover
Good anti-vibration setup
Small dog spikes
No adjustable oiler
Primer bulb
Quick-release top cover
Chain catcher in case chain breaks
Side cover-mounted tensioner
Decompression button
Some people find that the 445 is a little small for what they want to do with a chainsaw and end up going with something slightly larger (like the Husky saws I mentioned above).
For those wanting a lot more power without going into the professional range of saws, the 460 Rancher is a good choice.
Here are some other comments from a Husqvarna chainsaw group about the 445…
Pros/positive commments:
I have the 445 with an 18" bar. I love it. The only issue I've had is the filter isn't the best sealing for super dusty conditions. I fixed that issue by using gasket maker for an air-tight seal.
I have a 445. Did have an 18" when I got it. Seemed a bit sluggish. Put a 16" on and it's a way different saw. Awesome now.
I ran one for 4 years when I first started in firewood. Never let me down and always cut what I wanted. Handed down to my brother when I upgraded. Still running to this day with out issue.
Good saws no complaints at all.
They're a great little saw. Easy on fuel and plenty of power for a 16″ bar.
They're a great little saw and go better than you would expect.
Cons/negative comments:
The 445 is like a disposable razor.
I am getting older and find the 445 hard to start. Have decided to start using battery saws.
445s are junk! Mine broke down after 3 or 4 uses.
Husqvarna 445 Vs 440 Vs 450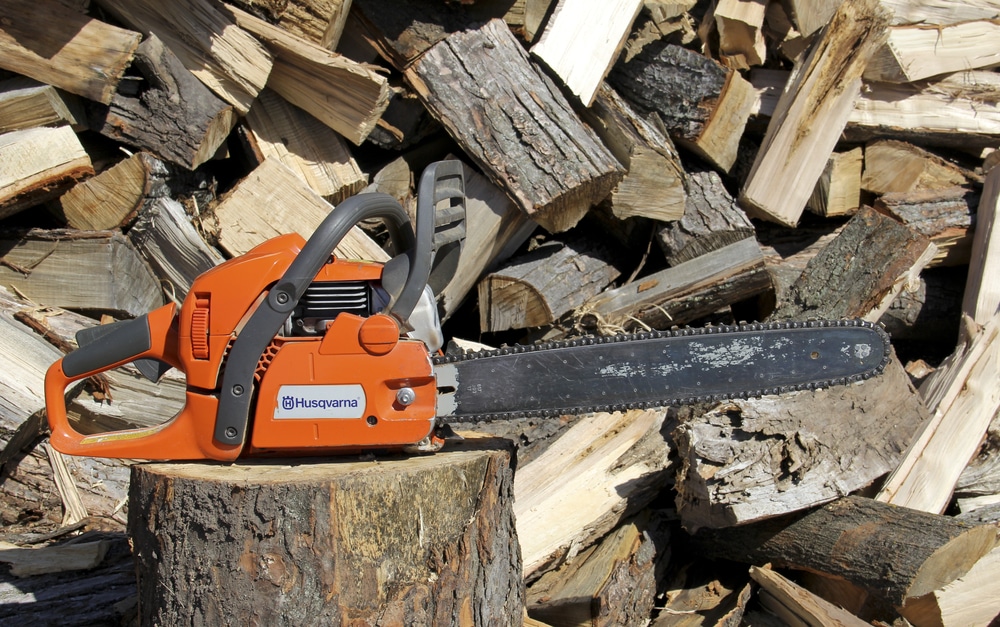 The Husqvarna 440, 445, and 450 are all very similar chainsaws.
Here's a quick chart comparing the difference in specs across these three saws.
| | | | |
| --- | --- | --- | --- |
| Husqvarna | 440 | 445 | 450 |
| CCs | 40cc | 45 – 50cc | 50cc |
| Horsepower | 2.4 hp | 2.8 hp | 3.2 hp |
| Weight | 9.7 lbs | 10.8 lbs | 11.2 lbs |
| Bar Length | 12 – 16″ | 12 – 18″ | 14 -20″ |
If money wasn't a problem, I think it's best to go with more power – in this case, the 450.
This just means you'll be able to do more with it. You may only think you're going to be using it for a bit of light pruning, but a lot of people find that they want to go bigger once they start.
This doesn't mean you need to splash out on a Husqvarna 585, but go for the biggest saw within your budget (unless you especially need a small chainsaw).
Husqvarna 445 Parts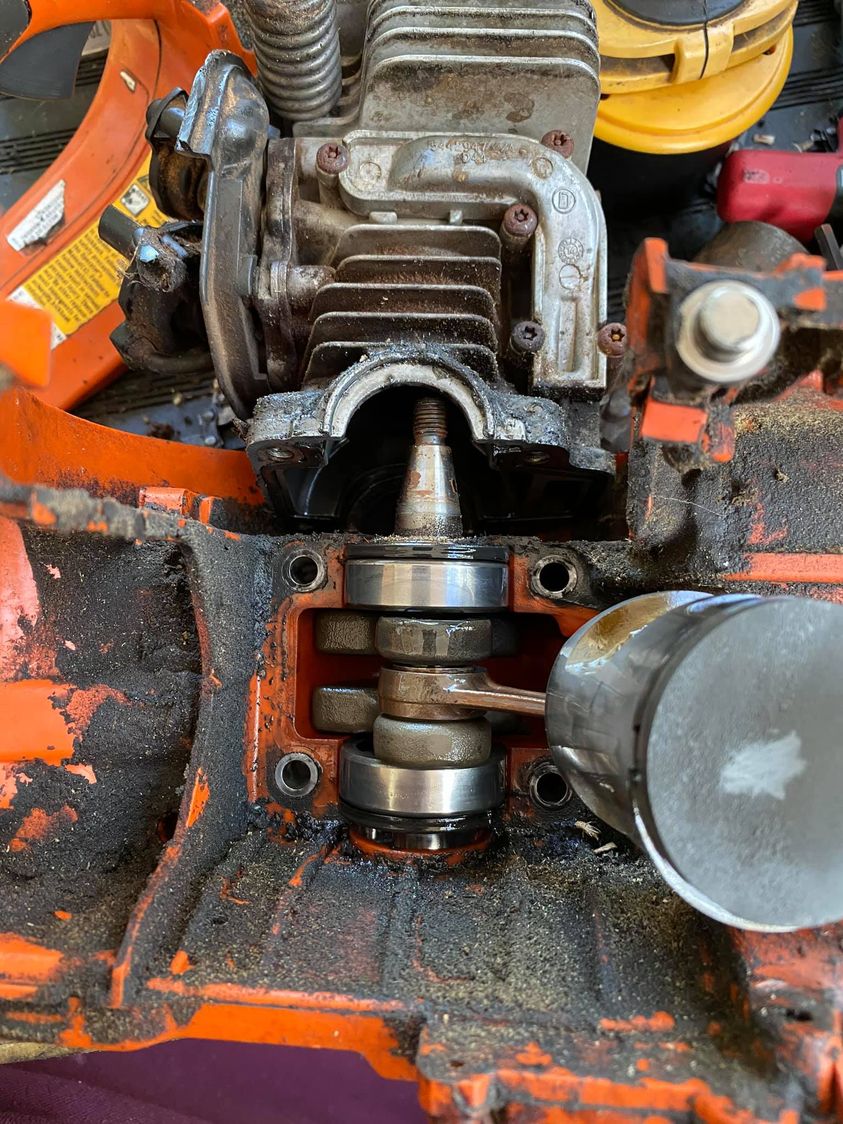 HL Supply is where I first check for OEM and aftermarket chainsaw parts – no matter what saw I'm working on.
Alternatively, head over to eBay where you'll find both new and used 445s for sale, along with parts and accessories.
It's important to know what year your saw was manufactured as the parts on the saw have changed through the different versions. Each saw has a tag with the year on it.
Also, ask around for parts in the Husqvarna Facebook groups. I find there's always someone nearby with what I need.
Husqvarna 445
That's the Husky 445!
It receives mostly positive reviews, especially when people buy it knowing its limitations. If you're in doubt, go bigger!
Always remember to wear a pair of chaps (at least) and some good gloves.
Let us know if you have any questions, thoughts, concerns, or updates about the Husqvarna 445 chainsaw in the comment section below.
Thanks for visiting!