What are the Stihl electric chainsaws like?
There are currently 4 corded electric Stihl chainsaws on the market. Often people use the term 'electric' to refer to both battery and corded chainsaws, but we'll just be covering the corded here.
While corded chainsaws are not the best bet for most people, they do work well for some. On the upside, you get a constant power supply that's not going to run out, unlike with batteries, but on the downside, you're more limited as to where you can use them.
Let's check out each of the Stihl electric saws to find out if they're right for you.
Best Stihl Electric Chainsaw
Those are the 4 Stihl electric chainsaws, from least powerful to most, plus a link to their battery models as well (in case you decide to go down that line).
While you can't buy these Stihl electric saws online (unless you find any on eBay here), you'll be able to compare prices and find out some more general details about them.
The Stihl brand is sold from the likes of Acme Tools and Ace Hardware in-store, and not online. They also sell their full range through their dealers which can be found in local communities worldwide.
If you needed to buy a Stihl electric chainsaw and have it shipped, it would be best to call your nearest dealer over the phone. Try to arrange and pay for it that way.
Stihl Electric Vs Stihl Battery
What's better… a Stihl electric or battery?
They both have their pros and cons, but overall I'd have to say the battery is better. Particularly because the modern battery chainsaws do last a lot longer than they use to.
To start with, these saws are not made for full time use – get a gas chainsaw for that – but they're designed for light work around the home (for the most part). In saying that, some of the Stihl battery saws, such as the MSA 161 T, can be good for climbing trees and working with professionally.
Here are the pros and cons of Stihl electric chainsaws (and corded electric chainsaws in general).
Pros:
Constant power
Very lightweight
Good for light work
Good feature set
Heavy duty
Easy to maintain
Easy to store
Cons:
Restricted with a power cord
16″ longest bar
Not for big jobs
Short cords on chainsaw
Another pro is that they are easier to store than gas chainsaws. If you don't plan on using your Stihl MS180 for 6 months, for example, you need to winterize the chainsaw appropriately. If you don't, they'll be much harder to start when you get back to them.
Electric chainsaws are easy to put away and then pick up and use again, even if it's been a year or so – though remember to check the chain and oil before starting.
As far as what they can be used for, despite the video above showing a Stihl MSE 170 electric bringing down a 70 ft tree, that's not their ideal work.
Stihl electrics are best used for light firewood processing, pruning bushes/trees around the home, clearing/dropping small trees, or cutting lumber.
Here's a little bit more about each of these saws.
Stihl MSE 141 Electric Chainsaw

The Stihl MSE 141 chainsaw is the lightest and cheapest in the range, and at 11.6 amps, it's also the least powerful.
It weighs under 7 pounds and usually sells for well under $300. Put it next to Stihl's biggest chainsaw and it looks like a toy!
It has a very short 12″ bar, so it really is only for pruning around the home. You wouldn't be bucking firewood for the year with it, nor should you be dropping any trees.
Here's a Stihl MSE 141 review: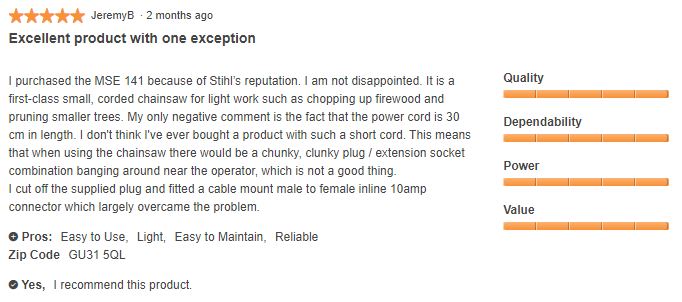 Other MSE 141 specs and features include:
Wide throttle trigger makes it simple to use
Chain brake to reduce the potential harm of kickback
Reduced emission technology
1/4″ PM3 chain
Overload feature
Auto oiler
All in all, it's a good little saw for the right person.
Stihl MSE 170 C-B Electric Chainsaw

Next up, is the Stihl MSE 170 electric saw.
This is a slightly more powerful chainsaw at 13.1 amps and it comes with a 14″ bar. It also weighs a bit more at 8.4 pounds, but it is still very light compared to your average gas homeowner's chainsaw.
With the slightly longer bar you'll be able to do a bit more with it than the previous saw, but again it's best for the same types of light tasks.
Here's a Stihl MSE 170 review:

Other MSE 170 specs and features include:
Auto oiler
Bumper spikes
Quick chain adjuster
Wide trigger switch
Ergonomic design easy to wield
Again, for the right person seeking an electric saw in this size and power range, it's better than many of the cheaper alternatives.
Stihl MSE 210 C-B Electric Chainsaw

The Stihl MSE 210 chainsaw is a bit more powerful again (at 15 amps) but has the same size bar.
This means it will be able to cut through logs, branches, or lumber a bit faster and with greater ease than the MSE 170. If time is important, for example, if you're using it for work, then it's better to go with the higher power.
It's still very light at 9.4 pounds, so it's very maneuverable for those who don't want a heavy logging chainsaw!
Here is a Stihl MSE 210 review:
Other Stihl MSE 210 specs and features include:
3/8″ PM3 chain
Chain and coast down brake
Overload button
Easy chain tensioner
Wide throttle switch
Good for those with harder wood to get through.
Stihl MSE 250 Electric Chainsaw
Lastly, the most powerful Stihl corded electric chainsaw is the MSE 250.
It's a 15 amp chainsaw as well, but it's said to offer professional-grade cutting, and its 16″ bar means it can get through thicker logs (though it's not the world's longest chainsaw bar by any means)!
As with the other corded Stihl chainsaws, it's suitable for pruning, cutting up thin lengths of wood for the woodstove or fireplace, and clearing brush.
Here's a Stihl MSE 250 review: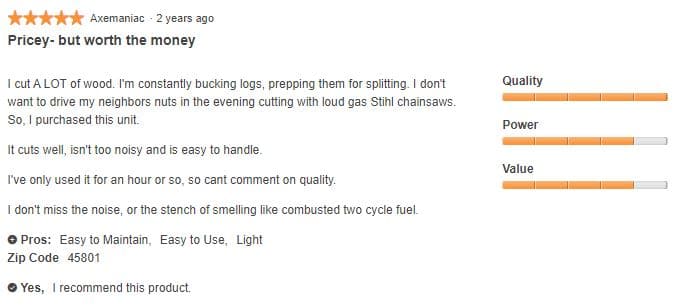 Other Stihl MSE 250 specs and features include:
Weighs 9.4 pounds
3/8″ RS3 chain
Temperature LED
Very quiet and no gas emissions
Stihl Quickstop Plus chain brake
The Quickstop Plus feature is simply another way to activate the chain brake when your hand is released from the back handle, as well as with the handguard.
If you need the most powerful Stihl corded electric chainsaw, this is the model for you.
Stihl Electric Chainsaws
That's the Stihl electric chainsaw range – 4 great saws that will all be perfect for the right people.
In my opinion, it's always best to get something slightly more powerful than you think you might need. That way you're not going to be disappointed when it's time to get cutting.
There's nothing worse than having a slow sluggish saw, and that's what it's like when you are trying to cut through something too hard or too wide for your chainsaw to handle.
You can see the entire range of Stihl chainsaws here, including gas, battery, and electric. We even cover the various older models and share their years made.
And if you're unsure whether or not Stihl is for you, consider the much more affordable Worx chainsaws or Oregon chainsaws – both brands also sell corded chainsaws for homeowners.