The Husqvarna 550 XP is a 50.1 cc pro-level chainsaw that was first released in 2011.
It's still available for sale new today, though it can be bought in a number of different versions.
Is it any good?
Yes, for those wanting a tough 50 cc saw, it's excellent and rates well with owners.
It's often compared with the 560/562 XP, as they are similar saws but with a bit more power. A lot of people choose to upgrade to these higher-powered chainsaws, but for those who don't need anything bigger, you can't go wrong with the 550.
Husqvarna 550 XP Chainsaw Versions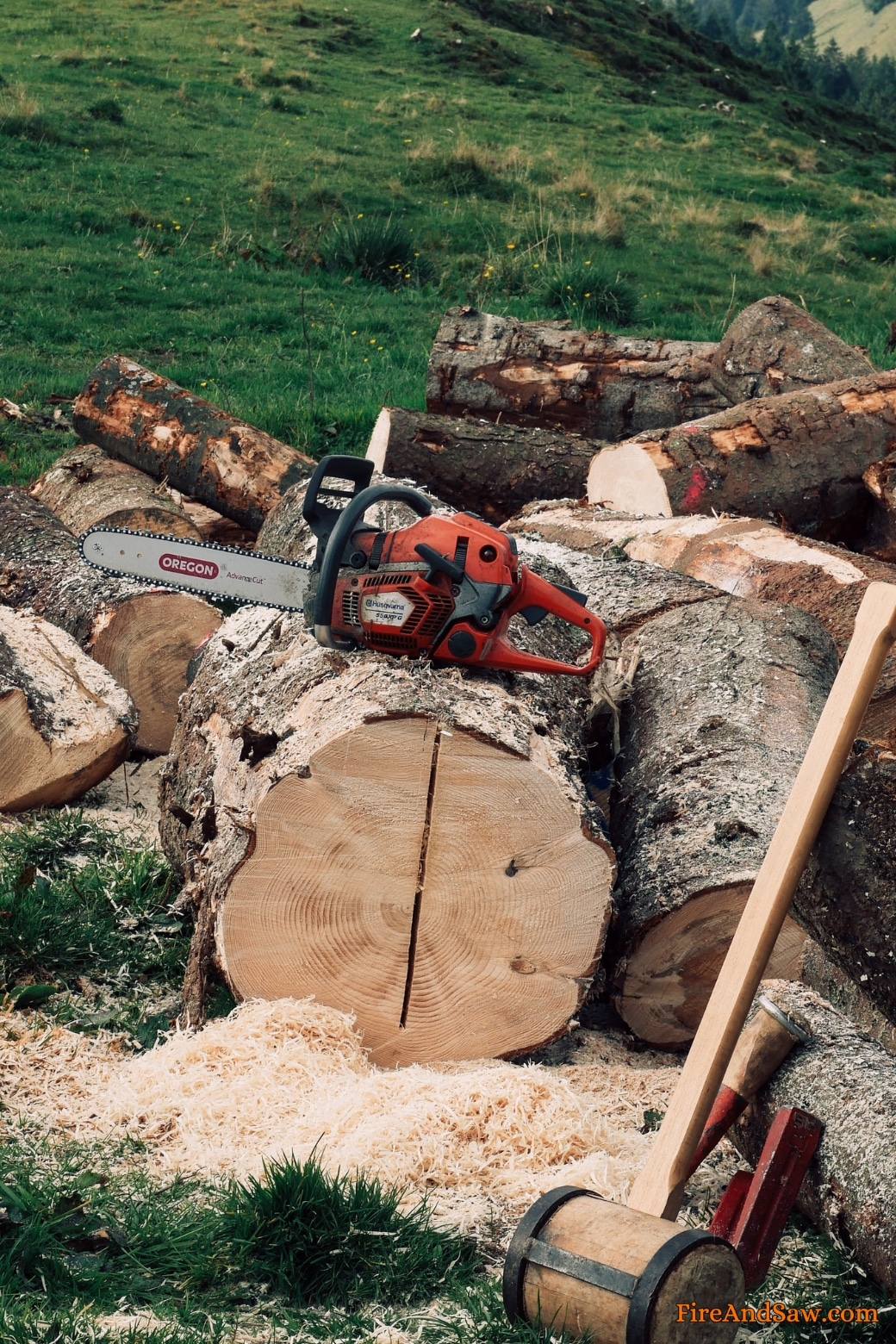 There are at least 6 different versions of the 550:
Husqvarna 550 XP – first model/version
Husqvarna 550 XP TRIO – first model/version with TrioBrake
Husqvarna 550 XP G – first model/version with heated handles
Husqvarna 550 XP Mark II – second model/version
Husqvarna 550 XP Mark II TRIO – second model/version with TrioBrake
Husqvarna 550 XP G Mark II – second model/version with heated handles
It essentially just boils down to two versions: the first model and the second.
There isn't a lot of difference between base models and those with heated handles, it's just an extra feature for those in cold climates. However, there are massive differences between the first and second models (more on this below).
A saw designated with TrioBrake means it has an additional braking mechanism. There's the regular chain brake hand guard that is set off with the left wrist and the inertia-activated chain brake, and then there's TrioBrake.
The TrioBrake brake is activated with your right hand on the back handle.
Husqvarna explains it like this:
TrioBrake™ also helps you work in a more ergonomic, safe and comfortable way.

The guard on the rear handle will let you know if you bend and strain your back instead of bending your knees when crosscutting. TrioBrake™ is also activated if you use the saw above shoulder height incorrectly, for example when limbing.

TrioBrake™ also makes it easier to intentionally activate the chain brake when starting and moving.
Most people find that the feature "gets in the way" and is not worth having.
Also, dealers will sell the saw in different bar lengths. You'll usually be able to choose between 16, 18, or 20″ bars. Different chain gauge options may also be on offer.
Husqvarna 550 XP Vs 550 XP Mark II
What's the difference between the 550 XP and the 550 XP Mark II?
From a mechanical standpoint, everything is new.
Everything including cosmetics was changed and there are little to no parts that interchange – it was essentially a clean-slate redesign.
Darren, one of the mods of the Husqvarna Chainsaw FB group said in a post in the group:
The Mark II is a completely new saw, not just a facelift on the old one.

It shares some common components with the "old" 550, but it's a totally different saw.

Improved air flow for better cooling.
Improved heat shielding for the carb (which both = better hot starting).
New air filter and housing, with rubber seals similar to the 572.
Upgraded bearings.
Upgraded AutoTune.
New gaskets on the now larger muffler for increased heat shielding.
Increased power and a wider peak power range.
It's slightly heavier, but the position of the handles (both top and rear) are moved slightly and the saw actually feels lighter when you run it.

Personally I'd go with the Mark II, although later years of the original were good.
Which is best?
Basically, everyone who has tried and compared both the new and old versions says "stay away from model 1 and go with model II."
Here are a few comments from users:
"I have a 550 mk1 and haven't tried a mk2 but no complaints about the Mk1, although I don't use it professionally."
"The filter design on MK1 is junk. I'd buy an mk2 for that reason alone. I had an MK1 and now have an mk2, much better."
"Better designed? Well I should think so, as the old version was simply a piece of garbage released to the public before it had all the bugs worked out. So, yeah, ANY saw would be a better design than the first 550XP. But thanks for this video."
There was a lot of fanfare when the new Mark II was released, and coupled with the complete redesign shows that Husqvarna realized there were some major problems with the original 550 XP.
The new 550 is a very popular limbing saw over in Europe, especially the G version.
Forestry workers love it because of the sustained power it offers and the good power-to-weight ratio. It's an easy enough saw to throw around while still being able to chew wood fast.
If you'd like to compare the 550 with its more powerful brothers, check out our Husqvarna 560 XP review or our 562 XP review.
Husqvarna 550 XP Mark II Specs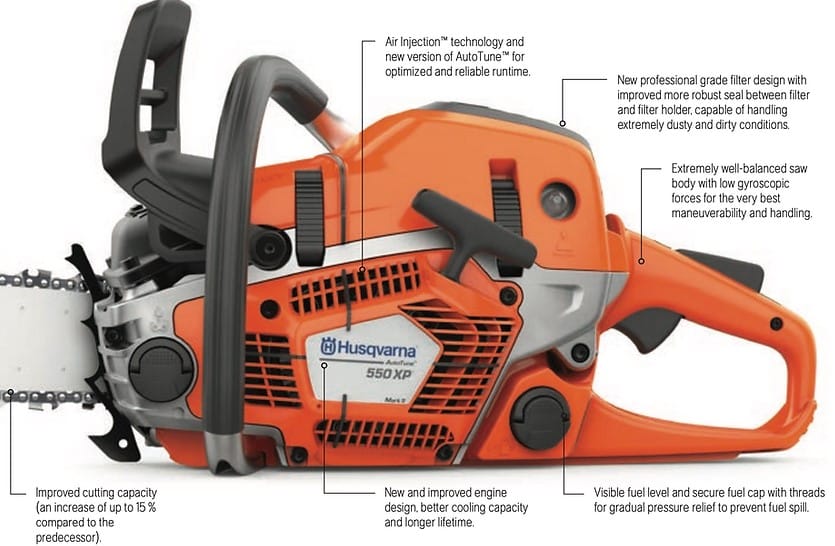 The 550 XP Mark II is a felling, limbing, and bucking saw.
It was designed for professional forestry operations, tree care crews, arborists, and loggers. Many homeowners and/or landowners also buy, use, and love the Mark II as well.
Farmers are another group of people who tend to use this saw a lot for a range of tasks on the land. It's easy to put on the ATV or tractor (with a SawHaul chainsaw carrier, of course) and take it around the place.
Specs:
50.1 cc, 4 hp
11.7 lbs (5.3 kgs) dry weight
10,200 max rpm, 2,800 idle rpm
S35G .325 pitch chain
16 – 20″ bar recommended
13″ bar minimum
Adjustable oil flow
NGK CMR6H spark
And the saw has all of the features other modern XP saws have, including retained bar nuts, felling sights, LowVib, flip-up fuel caps, magnesium crankcase, and so on.
The saw is built to work and built to last.
Husqvarna 550 XP Review
View this post on Instagram

While the first version of the Husky 550 XP reviews very poor, the Mark II does well.
It's what arborist Olivia Eggen uses regularly, though I think she might be paid to as she's also in the official 550 promo pics.
But after reading hundreds of comments about the 550 Mark II in the Husqvarna FB group and on YouTube videos, it's safe to say the new saw is liked and well-respected.
The only complaints I've seen are people that wish they'd gone for something slightly more powerful, like the 562, as they want to work on trees that are a bit bigger.
Here are a few of those comments from users who are very happy with the 550:
Dont have the trio break but have the 550 XPG Mark ii and honestly has become one of my favorite Husqvarna chainsaws. The power to weight is incredible and it's all around a great saw!

—

The Mark 2 is the better saw. Heated handles are nice but not needed honestly.

The Mark 2 has a better Autotune on it, and let me tell you that sucker RIPS. You wanna talk about a chainsaw, I bring up the 550XP Mark 2.

Fantastic speed and cutting capability. The anti vibe system is amazing to say the least. You'll change your fleet over after running a 5 series Husky. I am a dealer btw.

—

Very close power wise between the 254 XP at 2.9kw vs 3.0kw of the 550mkii, however the 550 has superior antivibe and fuel economy, and autotune is brilliant.

You can go from sea level with a clean filter to 1500m above sea level with a dirty filter and not have to do a thing.

—

I like the 550 mark 2. Different auto tune generation. But go with your gut when it comes to size chain and bar you want to run. That will help you decide unit to purchase.
Those comments are all very typical, and as I said, I haven't seen any negative ones other than those saying "get a Stihl"!
Husqvarna 550 XP Mark II
The Husqvarna 550 XP Mark II is certainly one of the best 50cc chainsaws out there.
It's on a completely different level to the Husqvarna 550 Rancher and 50 Rancher and it stands up to other pro-level 50cc saws like the Stihl MS261.
If you're a Husqvarna guy or gal looking for this size saw, I wouldn't hesitate to get one and start using it. Just go bigger if you want to do more!