I bought the Dewalt Hedge Trimmer for pruning a variety of plants, trees, and bushes on our property.
I tested it for the first time yesterday and was really impressed. The 5 amp hour battery never ran out after 3 hours of pruning!
The types of foliage I was pruning included pittosporum, rhododendrons, camellias, honeysuckle, ivy, and much more (pictures throughout the post).
If you just want to know if the Dewalt Trimmer is any good, then yes, I'm really happy with it. I've used many other hedge trimmers in the past, but this is my favorite.
Here are all the details.
DEWALT Battery Hedge Trimmer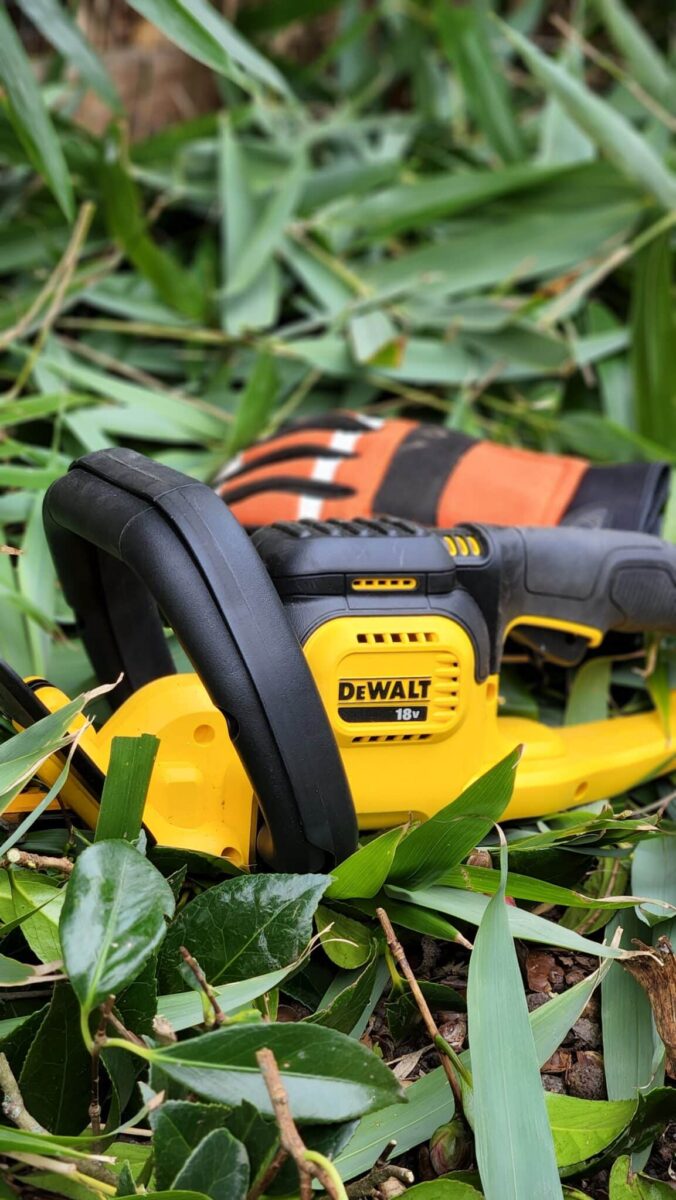 So you'll notice that my trimmer says '18v' rather than '20v.'
That's because I bought this product in New Zealand rather than the US. However, it's exactly the same as the North American 20v version. The batteries are interchangeable.
You can buy all DEWALT tools with or without batteries. I grabbed this trimmer as a bare tool because I already have DEWALT 5 amp hour batteries for my DEWALT chainsaw.
Here is the video review that I put together for the Dewalt Hedge Trimmer.
You can check out the short unboxing and then watch how the trimmer performs (video on YouTube here).
These videos were taken over the course of a few hours of pruning and, as I've already stated, the battery was still going strong.
You'll notice that I like to use this trimmer in tandem with my mini chainsaws – they're great for the thicker branches.
I think it's a great cordless hedge trimmer because:
It's very light and easy to use – though my shoulders were a bit sore the next day!
Powerful and fast cutting – you don't need to apply pressure to the trees or plants, the blades do the work
Good safety features – requires two hands to be in operation
Interchangeable batteries with other Dewalt tools – 5 amp hour is my recommendation
I do like the DEWALT 18v/20v series of tools and have been impressed by all of them (I also have an orbital sander).
Dewalt Cordless Trimmer Specs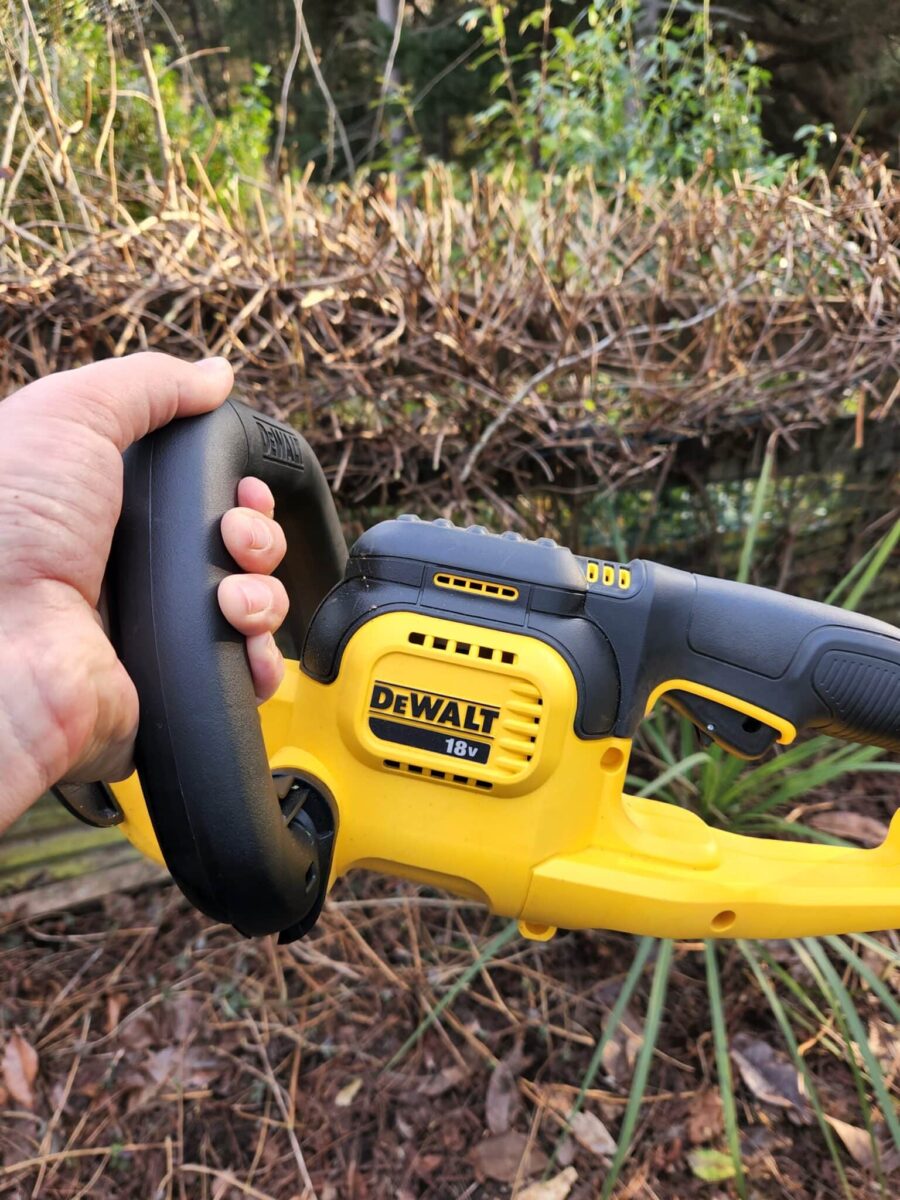 In this image, you can see the trigger that needs to be held down on the back handle with (usually) your right hand.
Once that is down, you squeeze the trigger on the front handle with your left hand to make the tool go.
Without the battery, the tool is very light. The listing says 8 lbs, but I think this includes the weight of the 5 Ah battery. The bare tools is lighter.
While I think the 5 Ah battery is the best choice, if you wanted the tools to be lighter, go for the 2 Ah option.
Usually, when you're pruning hedges etc, you do want the battery to last longer, but if you get multiple smaller batteries then you can simply charge one while using the other.
You can use any of the Dewalt 20v Max XR batteries with this tool, even if they have come from a drill, driver, pole saw, or reciprocating saw.
Other specs of the Dewalt DCHT820P1 Trimmer include:
22-inch laser cut, hooked-tooth design – it's been designed to cut very effectively
Hardened steel blades for clean fast cuts – best for the health of the plant
High output motor that allows it to do comparatively thicker cuts up to 3/4″
2800 strokes per minute (SPM)
Lightweight making it easier to use for longer
Can be used with Dewalt 18v or 20v batteries
There are a number of different buying options including with or without battery and charger, and whether you want a 5 or 2 Ah battery.
At the end of the day, this is a very simple tool that gets the job done.
Dewalt Bush Trimmer Review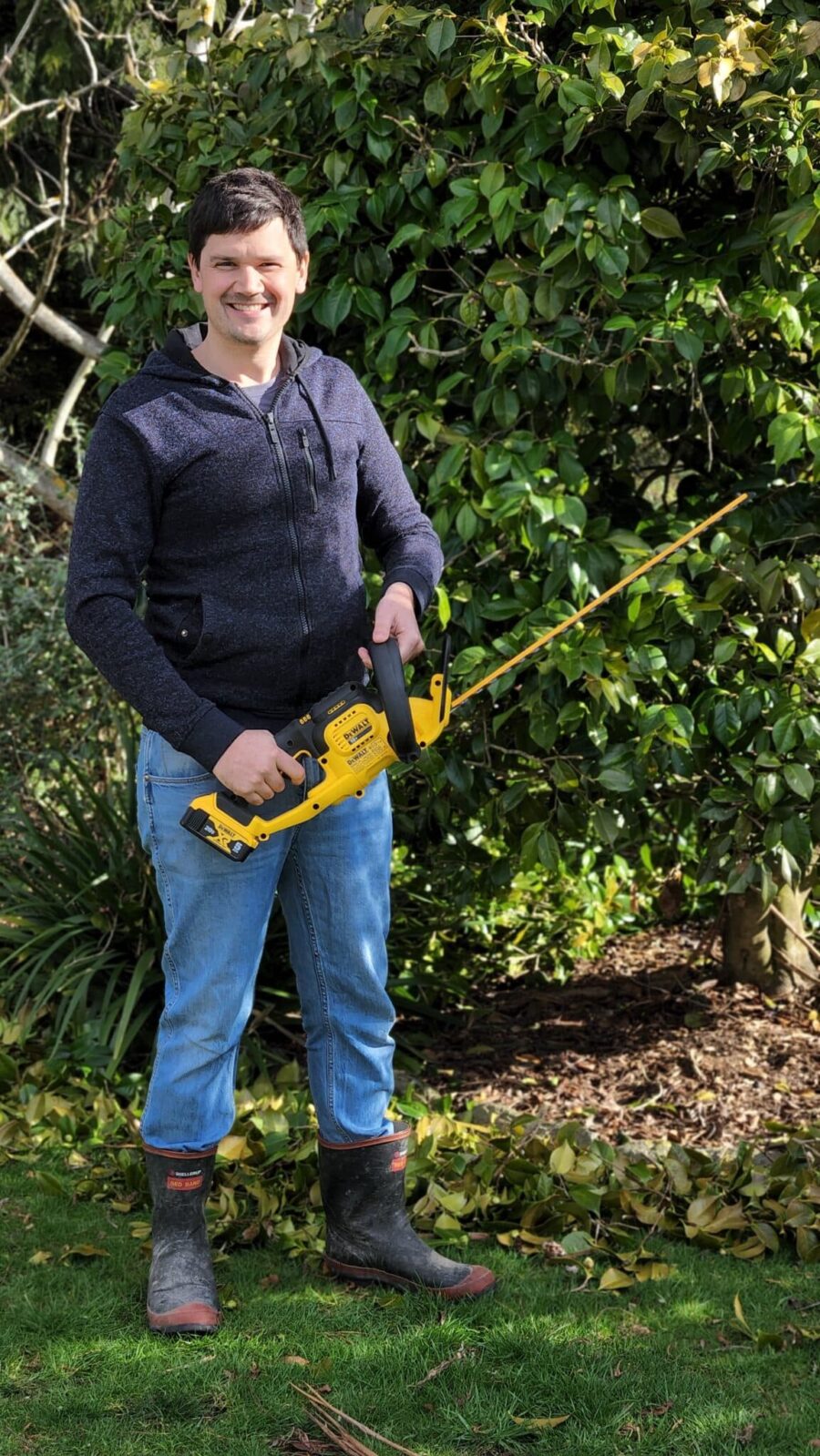 I've already shared my video review of this hedge trimmer above but just to summarize it again… I like this tool!
It's a fantastic trimmer that can do some reasonably demanding tasks on both heavy and light trees, bushes, shrubs, and other plants.
I've been using it on such a variety of plants from lavender bushes and honeysuckle bushes, to rhododendrons and pittosporum, and it's been great on everything.
If you already have Dewalt tools in the 18v/20v line and you need a hedge trimmer, why wouldn't you get this!?
If you're sick of using a corded pruner, or, even worse, you've been manually pruning with loppers, I can't recommend this enough. It really does make light work of pruning and clipping tasks.
The only downside is that you're going to have A LOT to clean up once you get started!
Pros:
Sharp effective blades make light work of hedges, bushes, and other foliage
Lightweight and maneuverable design means you can work for hours
Use batteries from your existing 20v Dewalt tool collection
Safety features mean it would be almost impossible to cut yourself
Long 22-inch pruning bar means you can get more done in a shorter amount of time
Cons:
Creates a lot of mess that takes longer to clean up than it does to create
But other than that token con, I really don't have any complaints about this battery trimmer. I think the price is fair and you get good value for the money.
Dewalt Cordless Shrub Trimmer
I'm going to continue putting the Dewalt shrub/hedge/bush trimmer to the test and will update this post as I learn more.
I'll also be comparing it to other trimmers and alternative tools. For example, this hedge trimmer could take on some of the tasks I've been using my Stihl FS45 line trimmer for – like pruning like the brush in our paddocks.
However, when it comes to heavier, thicker brushes (like broom), a hedge trimmer isn't going to compare to a proper brush cutter like the Stihl FS55 and models above that.
Let me know if you have any questions about the Dewalt Trimmer in the comments below and I'll answer them asap. Also, If you have used this tool, let me know your thoughts as well.
Thanks for visiting!