The Husqvarna 130 is a great small saw that is good for work around the home.
You can pick one up new from a number of different online retailers, and you will also often find it for sale second-hand online. I've seen a number of them pop up on FB marketplace and eBay, for example.
Check out the hundreds of Husqvarna 130 reviews on the Amazon listing here.
There have been a lot of Husky 130s produced, so it's not overly difficult to find parts for them in the future if needed.
And, if you don't feel comfortable working on a saw yourself if it needs attention, Husqvarna servicemen are easy to find. That's one of the huge benefits of buying a Husqvarna chainsaw – you won't ever have a problem getting it serviced and maintained.
Husqvarna 130 Chainsaw
The Husqvarna 130 Chainsaw is a 38cc, 2hp chainsaw.
It's an entry-level homeowner chainsaw, and it's one of Husqvarna's cheapest options.
It's a good chainsaw for light work such as pruning and limbing trees, but it's not the best option for bucking firewood or felling trees.
It's usually sold with a 16-inch chainsaw bar, but is suitable and tends to perform better with a 14-inch bar.
The 130 isn't a premium Husky chainsaw, and it shouldn't be considered a mid-range saw either. It's a small starter saw which is just what some people need and want.
What type of work is the 130 Husqvarna chainsaw best for?
Because it only has a 2-horsepower engine, it's best used for easy backyard work, not for sectioning up thicker logs or dropping trees.
You would be able to use it for those things, it's just not best for that.
While you can process wood with the 230, it will just be very slow compared to a higher-powered chainsaw like the Husky 455. Also, if you are using it for heavy-duty work, you shouldn't expect it to have a very long overall life.
Ideally, you should use the Husqvarna 130 for:
pruning and limbing branches
as a camping chainsaw
a small saw to keep in the car if you come across small downed trees
cutting up 4 – 10 inch branches for firewood
It's not a chainsaw for cutting up 10 cords of wood per year or anything like that.
It's a good small chainsaw for light work. Think 'yard projects' rather than 'clearing land.'
Husqvarna 130 Vs Husqvarna 135 Mark 11
We have a complete Husqvarna 135 Mark II review here if you want all the details on that saw, however, it is very comparable to the 130.
The 135 Mark II (here on Amazon) is a more powerful and slightly better chainsaw (in terms of specs).
Here is a summary of the most important differences, though if you watch the video above you'll see there are many other design differences.
The Husqvarna 130 – 38cc, 2 horsepower, 10.36 lbs
The Husqvarna 135 – 40.9cc, 2.02 horsepower, 9.7 lbs
So you can see, the 135 Mark II is more powerful, and has a better power-to-weight ratio than the 130.
The price variation will depend on exactly what country or state you are in.
However, on the official Husky site, the 135 is actually listed as being cheaper than the 130.
On Amazon at the time of writing, the 130 is slightly cheaper than the 135 Mark II, but not by much.
Personally, I would be going with the 135 Mark II given that you're getting more for not a whole lot less.
Other alternatives that I cover in depth here are the 40cc Husky 435 or the 40cc Husky 440. These two chainsaws are slightly higher powered again, and could better be described as mid-ranged chainsaws rather than entry-level or beginner chainsaws.
Husqvarna 130 Specs And Features
The Husqvarna 130 X Torq is a 38cc chainsaw with 2hp engine.
It's best run on a 50:1 fuel oil mix, and your dealer can probably get you on a 5-year warranty if you buy it from them.
Here are the other 130 specs:
14 – 16 inch recommended bar length (usually sold with a 14 or 16)
3/8″ mini chain pitch
Weighs 10.3 lbs (without fuel and oil)
9,000 rpm max running speed
116 dB(A) sound power
Fixed flow oil pump (automatic)
NGK BPMR7A spark plug
What is the Huskvarna X Torq engine all about?
The 130 X-Torq delivers lower fuel consumption and reduced exhaust emission levels in accordance with the world´s most stringent environmental regulations.
It's the standard engine on most (if not all) new Husqvarna chainsaws, though there are some changes with the likes of the new Husqvarna 585 chainsaw.
Other features of the 130 chainsaw not already mentioned above, include:
Husqvarna centrifugal air cleaning system – fewer cleans and longer life
Combined choke/stop lever – easy to use once you're used to it
A very good anti-vibration system – allows you to work longer and harder
Air purge bulb – for easier starting
Inertia activated chain brake system – helps prevent injuries from kickback
It has all of the standard Husqvarna chainsaw features without having the best of the best componentry.
For example, the more expensive chainsaws like the Husqvarna 562XP have magnesium casings, rather than plastic.
They have captive nuts rather than nuts that come right off. Not everyone needs a top-spec chainsaw though!
Husqvarna 130 Chainsaw Review
The Husqvarna 130 is a good little chainsaw when it's used how it was designed – for light work!
If you try to use it for cutting up hardwood all day, it won't last. Also, it's just going to be slow getting through that type of stuff.
It's a decent pruning chainsaw and you won't go wrong with it if that's what you need.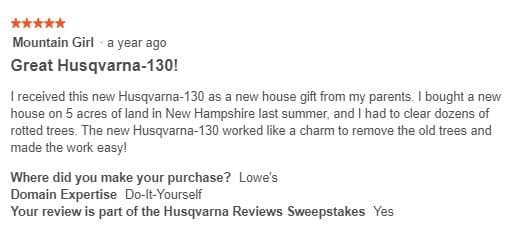 As Mountain Girl says, it's a great saw if you have light work. She bought it to clear dozens of trees, which I don't think is the best use for it, but it got the job done.
I also have about a 4-acre block of land, but I wouldn't want the 130 for it. I personally prefer my Rancher and XP series saws.
Husqvarna 130 Pros:
Better than the cheap Amazon chainsaws
One of the cheapest Husky chainsaws
Reliable and durable when looked after
Easy to find parts and service
Husqvarna 130 Cons:
Low powered
Better options in its price range
The 135 Mark II is the saw I would go with at this price point.
You're getting a little bit more chainsaw for about the same price.
Husqvarna 130 Price
How much does the Husqvarna 130 cost?
Here is where you can compare prices for the 130 and find out more:
It's not uncommon for people to find nearly new 130s for sale online through local Facebook Groups, either.
Before buying new, have a search on Marketplace and see what comes up!
Husqvarna 130 Problems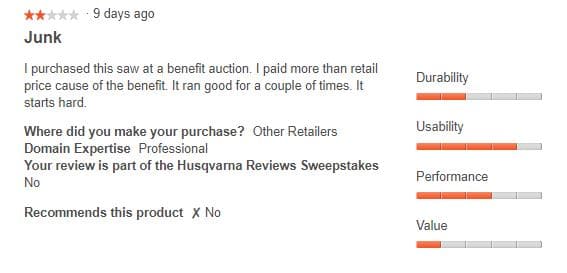 If you read the Amazon reviews, and reviews for the 130 chainsaw elsewhere, you'll notice that not everyone is happy.
The review above is titled 'Junk,' and one wonders why he even gave it two stars if this was his experience?
If you are having problems starting the Husqvarna 130, here are some suggestions:
The carburetor needs to be adjusted (tool here) – if you're not good at this type of thing, ask a friend or take it to a local small engine mechanic
You've flooded the engine – find out how to start a flooded chainsaw engine (it works well)
You are using the wrong fuel oil ratio – should be 50:1, or at least nothing lower than 40:1
May need a new spark plug – this is what you need for the 130
Just because you can't start your chainsaw, it doesn't mean it's a dud.
Often it just needs a minor adjustment to get it going well again. As already stated, before sending it back or giving up on it, ask a friend who knows more than you if you are out of your depth.
Lastly, check out this non-Husky alternative to the 130, the ECHO CS310. It's only a 30cc saw, but it packs a lot of punch!
Let us know if you have any questions or comments down below!