What is the best outdoor fireplace?
Outdoor fireplaces are excellent additions for keeping your patio, deck, or backyard space warm during cooler months and enhancing your property's atmosphere.
They also provide more controlled safety than creating a campfire-style fire with whatever materials you can find. There are both permanent outdoor fireplaces and other more portable options available.
We have compiled a list of the best outdoor fireplaces for backyards, patios, and decks to help you narrow down the options.
*For a new, modern outdoor fireplace, we recommend visiting Modern Blaze first, then compare with Pizza & Patio – both retailers have the latest models.
Outdoor Fireplace Reviews
Sunjoy Outdoor Fireplaces

Quality outdoor fireplaces and fire pits
Wide range of sizes from small to very large
Wood burning models

View On AmazonView On Sunjoy Shop

See Through Outdoor Fireplaces

Some exception quality fireplaces - even art pieces
Wood burning and propane fireplaces
Some are even indoor/outdoor fireplaces

View On AmazonView On Patio & Pizza

Outdoor Fireplace Conversation Sets

Awesome fireplace and fire pit sets with furniture
Mostly sold with propane fire tables
Huge range of styles for every taste

View On AmazonView On Home Depot

Outdoor Propane Fire Table

Propane fire tables are less work than wood burning
Small and large fire pit tables
Great for atmosphere and warmth

View On AmazonView On Walmart

Portable Outdoor Fireplaces

For something small and portable, try Solo Stove
3 different sizes or a specific stove model
An awesome solution for the backyard or beach

View On AmazonView On Solo Stove
Those are 5 of our top picks!
Next up, we'll review our 13 favorite outdoor fireplaces. Then we'll share the pros and cons of different types of outdoor fireplace.
Each of our options has its share of advantages and disadvantages, so it would be wise to consider them while narrowing down your top choices.
1. Sunjoy Outdoor Fireplace With Chimney
Specs:
Small and large fireplaces with chimneys
Some include storage for wood/accessories
Come with door spark screens
Great for heat and creating a lovely atmosphere
Easy to use and maintain the fire
The Sunjoy range of wood-burning outdoor fireplaces with chimneys is well worth investigating.
They can also be purchased here on Amazon (if that's your preferred retailer) and have many positive 5-star reviews and ratings.
One reviewer wrote:
We've used a number of outdoor fireplaces in our different homes over the years, and this is probably my favorite for the price.

It burns well and puts out a lot of heat. The stone retains and radiates heat as well. The chimney is great at directing the smoke away from the party.
Sunjoy Fireplaces are made of manufactured stone, have steel chimneys (sometimes with bronze highlights), and are made to be kept in a permanent position.
Almost all of their options are wood-burning, though they do also sell a couple of propane models.
Pros:
They look great
Function really well
Many top features and functions
Easy to light and keep fires going
Chimney directs smoke away from the gathering
Cons:
They aren't cheap
Not for transporting (if that's what you're after)
Not for those who want a modern outdoor fireplace
---
2. Majestic Villawood Outdoor Wood Burning Fireplace
Specs:
Weight: 190 pounds
Fuel Type: Wood
Framing Dimensions: 42″W x 39 3/4″H x 21 1/2″D
Viewing Area Dimensions: 36″W x 20 7/8″H
We consider this model a good outdoor wood-burning fireplace due to its large size, durable steel gate and firescreen, and traditional or herringbone brick interior.
One review stated:
We have a brick home and wanted an outdoor brick fireplace to match.

The Majestic Villawood fits in perfectly and we are very happy. It kind of looks like it should be inside, but we've grown large shrubs around the sides and it now looks good in the garden.
It weighs less than 200 pounds which will be a benefit to many.
The brickwork meshes with most patio designs and fits on most surfaces. It also comes in a larger, 42-inch size for homes that need extra heat coverage during the winter or cooler nights.
Pros:
Dual gas knockouts
Stainless steel safety firescreen for enhanced protection
Customizable interior options
Available in two sizes
10-year warranty on firebox
Cons:
Optional Bi-Fold Glass Door costs extra
---
3. Firegear Kalea Bay Outdoor Gas Fireplace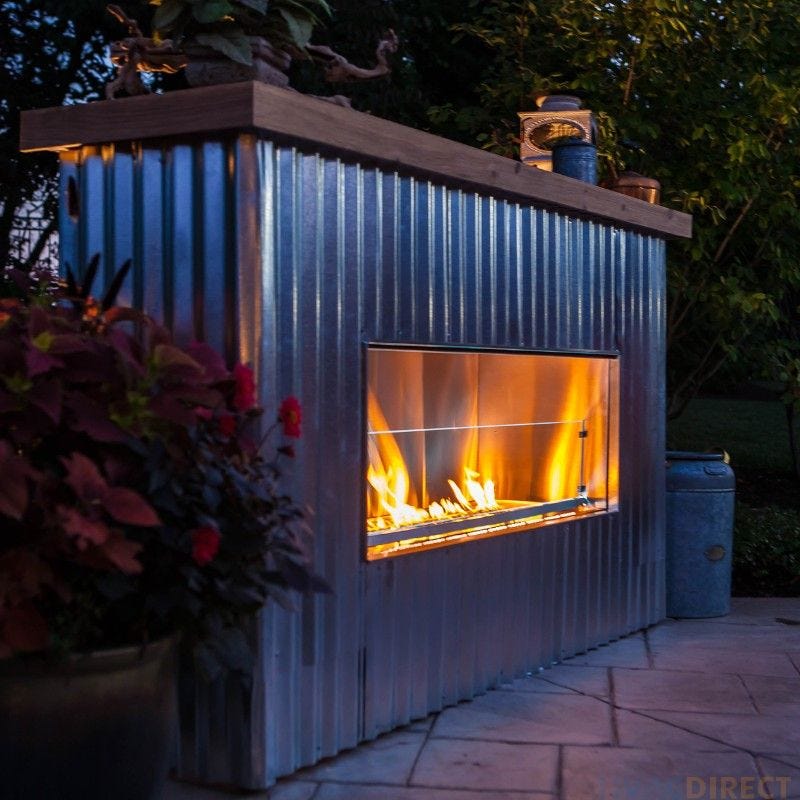 Specs:
Weight: 138 pounds
Material: Stainless Steel
Fuel Type: Natural Gas or Propane
Framing Dimensions: 40 1/2″W x 37 3/4″H x 16″D
Viewing Area Dimensions: 46 3/4″W x 16 1/2″H
Ignition Type: Gas-Saving Electronic Ignition With Battery Backup
Maximum Heat Output: 55,000 BTU
This outdoor propane fireplace is an ideal option for homeowners who prefer having customizable control over their flames.
One reviewer said:
We love this industrial-look outdoor fireplace, and so do our guests.

It cost a bit more than we were wanting to spend but now that it's installed and working well I'm glad we did.
You can adjust its built-in LED lights and flame height with its control box. Its stainless steel surface and tempered glass windshield can also withstand harsh outdoor elements.
Pros:
Rust and weather-resistant exterior
Doesn't require outdoor venting
Adjustable flame height
Cons:
Expensive for some budgets
---
4. Natural Gas Outdoor Fireplace Sets
Specs:
Includes both outdoor gas fireplace and furniture
Huge range of styles/colors/arrangments
Mostly sold with a propane fireplace for outdoors
These sets allow you to kill a few birds with one stone – you can buy your fireplace, furniture, and tables in one go!
Check out the Home Depot range here as well, as they have many excellent options including 5 – 7 piece sets, comfortable seating, and small or large fire tables.
These are also known as conversation sets with firepits, and while they can cost a lot more, you'll likely end up saving money compared with buying everything separately.
The option pictured above is one of the best-selling sets on Amazon, and, overall, it gets positive reviews.
People say assembly is easy, the seating is comfortable, and it's much cheaper than comparable alternatives.
Pros:
All-in-one fireplace and furniture
Many small models are available
Tables can hold drinks as well
Cons:
Mostly only propane gas options
Fire pits/tables, not so many fireplaces
---
5. Napoleon Vent Free Propane Fireplace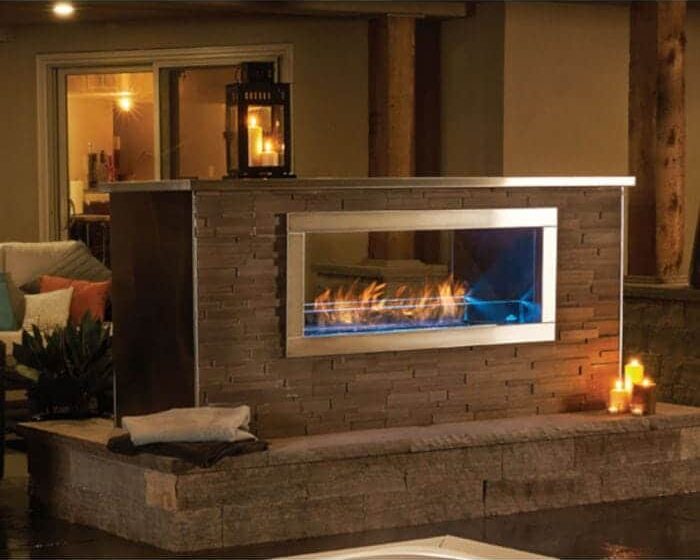 Specs:
Weight: 166 pounds
Material: Stainless Steel
Fuel Type: Natural Gas or Propane
Framing Dimensions: 40 1/2″W x 37 3/4″H x 16″D
Viewing Area Dimensions: 36″ W x 16″ H
Ignition Type: Electronic Switch
Maximum Heat Output: 55,000 BTU
We chose this as our runner-up outdoor gas fireplace option because of its sleek and durable design, easy-start electronic ignition, and gas safety valve.
It has the same maximum heat output of 55,000 BTU, providing maximum comfort on chilly nights. This model also uses LED lights to change the flames' colors.
Napoleon has many different gas fireplaces and the company is known for producing a quality product that can be trusted.
One review said:
Compared to the cheap outdoor fireplaces I've used in the past, my Napoleon Fireplace is on another level.

The finish is far nicer and the user experience is so much better. It's not as clunky and awkward to use – it just does what I want it to do without fault.
You've got to spend more for better brands and better products, but it's worth doing if you can stretch the budget that far.
Pros:
Five LED flame color option kits
Limited 3-year warranty
Premium stainless steel construction for enhanced
A safety valve that turns off gas if flames extinguish
Cons:
---
6. Guide Gear Outdoor Deck Wood Stove
Specs:
Material: Galvanized Steel,
Dimensions: 12.5″W. x 19″D. x 7.75'H
Fuel Type: Wood
Weight: 42.8 pounds
This affordable patio wood stove weighs less than 50 pounds, making it an ideal option to take on the go and easily store.
Its outdoor chimney provides excellent ventilation, and its metal construction retains and radiates heat well. You can cook or boil water on the top plate.
It's not a permanent wood-burning patio fireplace but rather one that can be set up, used, and then packed away again easily, perhaps for cooking during a power cut (though an indoor wood cook stove would be better).
It's not so much for enjoying a beer around with friends because it is too small – it's a more practical outdoor burner.
Pros:
Portable and easy to store
Compact size
Good for emergencies like power cuts
Cons:
It may burn wood too fast for some users
Small and doesn't put out a lot of heat
Not going to impress anybody
---
7. Sunnydaze Cauldron Outdoor Patio Fireplace
Specs:
Dimensions: 34 x 34 x 23 inches
Weight: 28 pounds
Fuel Source: Wood
Material: Alloy Steel
Don't have enough space or resources for a large outdoor fireplace?
This round outdoor fire pit is excellent for homeowners who want to reserve their patio space for a lighter and smaller heat source. Its alloy steel material lets it burn wood evenly and is easy to assemble.
It comes with a spark screen and a fire poker – the former stops sparks from leaving the fire and the latter makes rearranging and stoking the fire easy.
It's not a large outdoor fireplace by any means, but you can still fit 6 – 8 people around it comfortably. Wood-burning fire pits like this do put out a lot of heat, so they're great for cold evenings year-round.
Copper fire pits are another good choice if you like the look of this one.
Pros:
The tight top mesh protects against stray sparks or embers
Curved legs for enhanced stability and support
Even wood-burning
Easy assembly
Lasts for years
Cons:
Prone to rusting
No drainage holes
---
8. Giantex Outdoor Propane Gas Fire Table
Specs:
Dimensions: 48 x 27.25 x 13.5 inches
Weight: 100.85 pounds
Fuel Source: Wood, Liquified Petroleum Gas
Material: Stainless Steel
Maximum Heat Output: 50,000 BTU
The Best Choice BTU Fire Pit Table is another outdoor fireplace powered with propane or wood.
This rustic fire pit table has a stainless steel heating unit and a wooden finish to give it a natural look. It also comes with a side table for storing your belongings or protecting its propane tank.
One review said:
For the most part, I like this fire pit.

We're in California so heat output wasn't a major factor in purchasing, but rather it gives us a focal point to sit around outside. It's good for this!

I wouldn't buy it if you were in a cold state and wanted it for outdoor heating. It's probably not hot enough for that.
Its moderate size makes it an excellent centerpiece for your backyard patio or deck.
If you like this style, check out who made our selection for the best fire pit table – there's a range of fantastic options out there!
Pros:
Looks great aesthetically
The side table holds/conceals the fuel tank
Easy-to-use knob control panel
Comes with a weather-resistant tarp cover
Cons:
Coating chips off
The ignitor can malfunction
Doesn't put out a lot of heat
---
9. Kotulas Outdoor Cooking Chiminea Fireplace
Specs:
Dimensions: 20 x 25 x 43 inches
Weight: 28.5 pounds
Fuel Source: Wood, Artificial Logs, Charcoal
Material: 0.8mm–1mm Gauge Steel
This cooking chiminea is an excellent addition for any homeowner who enjoys a weekend barbeque.
It comes with a removable cooking grate to enhance your cooking experience. It also acts as a nice fire pit with a chimney that gives it a great cabin-style feel. It works best when it's dry and when placed on non-flammable surfaces.
A chiminea makes for a delightful outdoor wood fireplace in cottage gardens and other small gardens.

They settle into their spot and add a touch of charm and magic, all the while keeping you warm on cold nights.
Check out our round-up of the best chimineas for a wide range of options in this style.
Pros:
Removable cooking grate
Attachable legs
Long-lasting heat retention
A built-in smokestack for efficient ventilation
Cons:
Prone to rusting and warping
---
10. Empire Outdoor Two-Sided Fireplace
Specs:
Weight: 198 pounds
Fuel Type: Natural Gas
Dimensions: 22.31 x 51.75 x 24.31 inches
Viewing Area Dimensions: 48″W x 16.25″H
Material: Stainless Steel
Maximum Heat Output: 55,000 BTU
This large outdoor fireplace is ideal if you want a model that doesn't block the view of your yard or garden.
Two-sided fireplaces are excellent in a range of settings and bring a totally different feel to them compared with a regular out fireplace. There are super popular in LA, not so much for heat (obviously), but for the look.
In addition, its glass deflector shield lets you watch the flames without letting the wind pass through, ensuring safety when used. You can also adjust its flame height and color transitions at the press of a button or turn of a dial.
Empire have a really good range of indoor and outdoor fireplaces from – view them all on Patio & Pizza here.
Pros:
Ignition button and flame control dials are protected by a tilt-up cover
Consistent, high-power heating
Built-in customizable LED color options
Cons:
Heavy
Installation is a more involved thing
---
11. Masonry Wood Burning Stone Outdoor Fireplace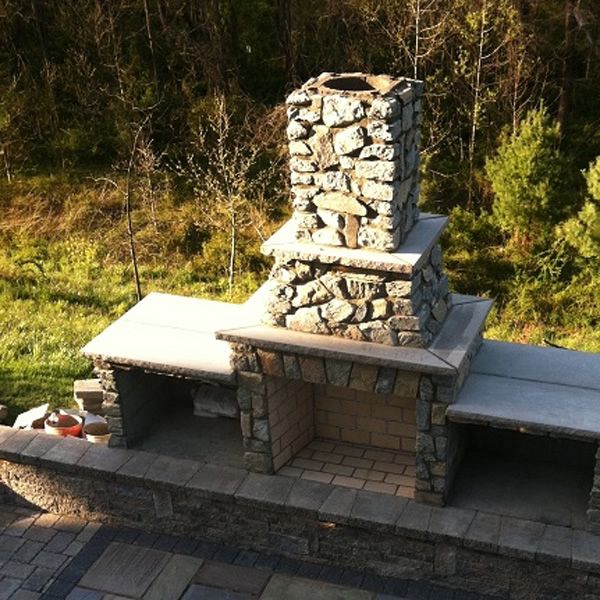 Specs:
Weight: 2,100 pounds
Fuel Type: Natural Gas, Propane, Coal, Wood
Dimensions: 84 ¾"H x 28 ½"D x 44"W
Firebox Dimensions: 38 1/2″W x 22 1/2″D x 38"H
Material: Module Concrete
This outdoor fireplace kit is an ideal option if you want to spend half the time and resources building one from scratch.
When ordering your installation kit online, you can choose between red or buff firebrick, based on how you want it to match with your deck or patio, whether or not you want a height extension kit or chimney blocks.
Another notable feature of this masonry outdoor fireplace is its compatibility with different fuels, including natural gas, wood, and propane, giving users the freedom of how they want to use their unit.
See these fire pit ideas for inspiration on how to set up your outdoor fireplace. We also have this article with lots of outdoor fireplace paver ideas.
Pros:
Extendable firebox and chimney heights
Compatible with different fuel types
20-year warranty
Pre-made blocks for fast setup
Cons:
You'll need to use more mortar if you want to add more chimney blocks
---
12. Kingsman Outdoor Gas Stainless Steel Fireplace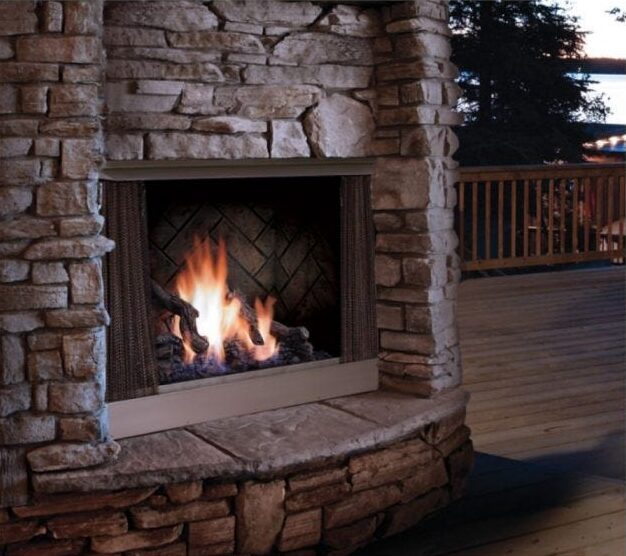 Specs:
Weight: 113 pounds
Material: Stainless Steel
Fuel Type: Natural Gas or Propane
Framing Dimensions: 42 1/8″W x 38 1/4″H x 18 1/2″ D
Ignition Type: Standing Pilot Ignition
Maximum Heat Output: 55,000 BTU
This Kingsman gas fireplace is made with durable stainless steel that gives it a sleek and contemporary look.
The other benefit is that it's weather-resistant and won't rust like cast iron. However, they also offer ones constructed with satin coat steel, pretreated with a zinc coating to enhance rust resistance.
This model has enhanced safety features, including a flame sensor that monitors your pilot light and a 100% turn-off feature that activates when it senses no flames.
If you like stone-style fireplaces, check out these Titan fire pits for smaller options.
Pros:
Flame sensor ensures pilot flame monitoring and shuts off when it senses nothing
It can be equipped with a full line of remotes and wall switches
Resistance against weather and rusting
Cons:
---
13. Solo Stove Outdoor Fireplace For Camping
Specs:
3 sizes: 15″, 19″, or 27″ diameter
Only wood burning
Less smoke, more fire/heat
The Solo Stove range of outdoor fireplaces are super popular and you likely already know someone with one (also for sale on the Solo Stove website).
They are not permanent fireplaces for the backyard, but they are a good portable option that you can take anywhere or store when not in use.
They are known as a type of smokeless fire pit, however, the amount of smoke a fire puts out is mostly determined by how dry it is. Dry, well-seasoned wood will smoke far less than wet, unseasoned wood.
The Solo Stove range does have a double-wall design that improves airflow and creates less smoke, but at the end of the day, there will always be a least a little bit.
See these quality portable propane fire pits for even easier options for travel and storage – especially if you're in an RV or something like that.
Pros:
Less smoke, more heat
Very portable and easy to store
Good size options
Lightweight for camping
Cons:
Have to wait for it to cool before moving
Not huge
---
Outdoor Fireplace Buying Guide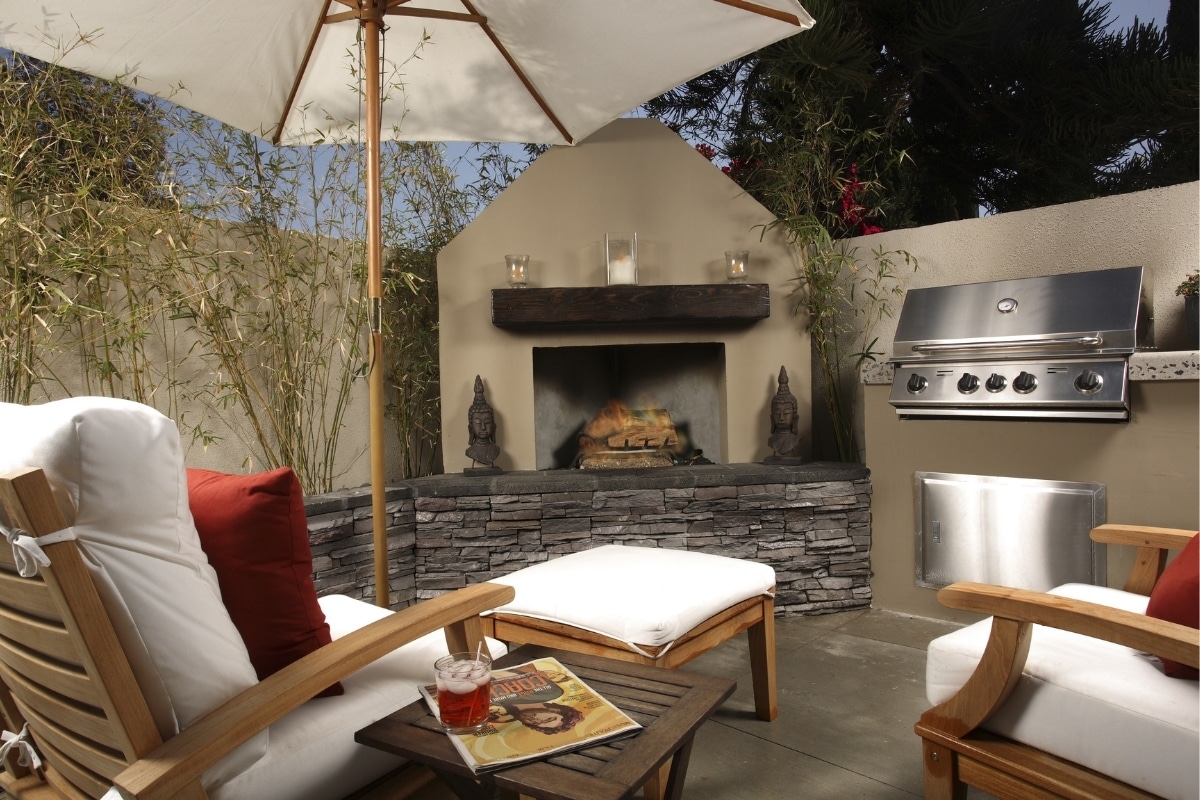 There are several factors you should consider before you decide on the best outdoor fireplace for your home.
After all, the type of fireplace you want might differ from the one someone else's choice.
The best outdoor fireplace should reflect how often you want to use it and how you want to arrange it for your yard, patio, or deck space.
Gas Vs Wood-Burning Vs Propane Fireplace
One aspect to consider when selecting an outdoor fireplace is what fuel you'll need to power it.
Some models are compatible with at least two fuel sources, while others only use one. Additionally, each fuel has its share of advantages and disadvantages.
Wood-Burning Fireplace
Wood-burning fireplaces don't require a connection to a gas line and create a rustic atmosphere as smoke rises from their chimneys.
You can really burn any type of wood, including birch, oak, pine, ashwood, and elm, though hardwoods are best for heat.
Wood-burning fireplaces are also more prone to becoming fire hazards if left unattended. On top of that, not everyone enjoys the smoke they create.
Also, collecting, buying, or splitting wood can also be repetitive and too time-consuming for some people (though personally, I enjoy getting out with my chainsaws).
Natural Gas Fireplace
Fireplaces run with natural gas provide turn on instantly and can incorporate heat and flame height adjustability.
However, it connects to your home's gas line, which prohibits portability and can increase your carbon footprint if used frequently.
Unlike wood-burning fireplaces, it might be hard to tell if it's off when the flames go out, but the gas keeps running.
Propane Fireplace
Propane outdoor fireplaces ignite instantly, are easy to maintain, and don't emit smoke or sparks.
However, they give off less heat than wood-burning fireplaces and can be expensive to refuel.
Some people might worry about forgetting to turn off their propane if the flames go out, so it might be wise to find models incorporating flame-sensing shutdown features.
Large propane fire pits are good because you can usually hide the gas bottles inside the unit rather than having a line running elsewhere.
Different Styles Of Patio Fireplaces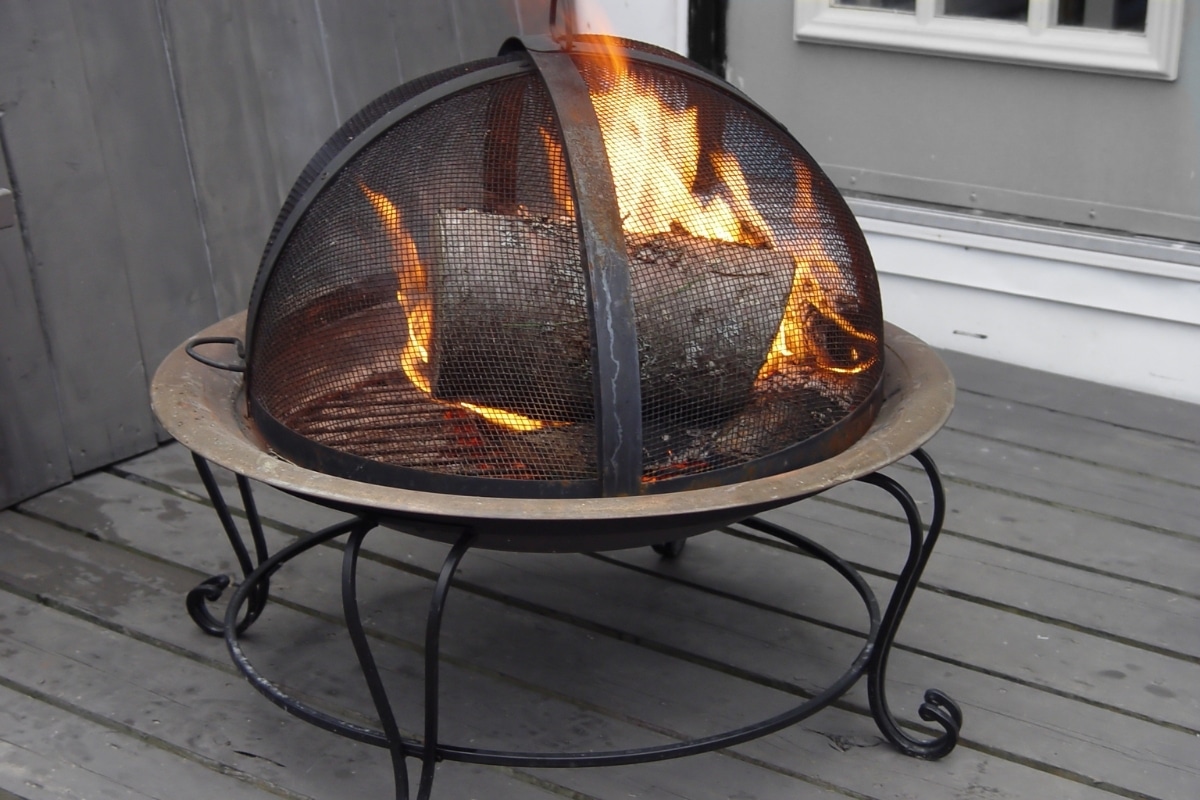 Another factor you should consider before buying or installing an outdoor fireplace is what styles they're available in.
They come in:
Different sizes
Construction materials
Designs
So it is best to evaluate which ones match your needs or preferences.
Permanent Vs Portable
A portable deck fireplace can be easily stored when not in use.
This type of outdoor fireplace might be ideal for people who want to move it freely around their yard or when traveling.
Additionally, most portable models are wood-burning, excellent for cooking, and weigh less than their permanent counterparts.
In contrast, permanent outdoor fireplaces can be installed with DIY instructions or through a professional contractor. They're typically incorporated into deck or patio landscaping and can be placed in existing structures.
Permanent structures usually get connected with a home's existing gas lines, which can be convenient for some users, but a hindrance to others. Additionally, due to their size, permanent outdoor fireplaces can be more expensive than portable ones.
For a temporary outdoor fire solution, check out these great fire pit rings.
Steel Vs Block Vs Cast Iron
Outdoor fireplaces made with steel can withstand intense weather for extended periods and are considered lightweight.
They're an ideal pick for homeowners looking for a model that gives their deck or patio a modernized and sleek aesthetic. However, some models can be more prone to rust, and their durability may vary.
Block outdoor fireplaces use heat-resistant masonry, such as concrete to create a durable and long-lasting exterior and interior chamber for the fireplace's flames.
Many people consider using this material for their patio or deck fireplace because they want the unit to blend or contrast with the scenery.
Depending on the type of stone blocks you choose, their quality can vary, affecting how well it retains heat and resists outdoor elements or blunt damage.
Cast iron outdoor fireplaces retain heat better than steel, have more robust durability, and heat up faster, making them one of the best outdoor fireplaces for heat.
However, they're heavier than steel, making them ideal for withstanding stronger winds but are challenging to move.
Best Backyard Fireplace Features
Before narrowing down your top options, consider other technical and decorative features that enhance your time by the fire.
Heat Range
The higher a fireplace's BTU range, the more heat it can produce.
Although the heat range is higher for gas-powered fireplaces than wood-burning ones, some models have adjustable heat settings to match your comfort preferences.
Customization
Some kits or manufactured fireplaces let you choose their exterior color or the type of brickwork in the flame chamber.
Safety Features
Many gas outdoor fireplace models incorporate a flame sensor that keeps its fuel running as long as it tracks fire.
If the fuel runs out or the flame dies out, the system automatically shuts down the gas. Other safety features the best outdoor fireplaces have also include wind guards.
Wood-burning fireplaces or fire pits incorporate fire screens to control the flames.
Outdoor Fireplace Kits
Outdoor fireplace kits are excellent alternatives for people who don't want to spend countless hours constructing their fireplace brick by brick.
Most kits come with pre-engineered component blocks used for constructing the:
Fireplace and chimney
Firebox
Hearth
Fireplace body
And mortar to piece the slabs together.
Depending on the model you want to build and purchase, the size and shape of the pillars and blocks can differ. For example, you'll need to add an exhaust chimney if you want to build an outdoor wood-burning fireplace with these kits.
The best range of sets with furniture that I've come across is here at Home Depot – they have great options for buying a fireplace or fire pit with furniture.
Best Position for Outdoor Fireplaces
Before placing your outdoor fireplace on any surface, it would be best to check your state or community's property guidelines.
Ideally, you should place an outdoor fireplace or fire pit up to ten feet away from your home to ensure safety – use a spark screen for wood fires.
It would also be wise to place it facing away from the windiest parts of your yard. Be sure to place it on stone surfaces that don't scorch from stray sparks or embers.
You might be using your fireplace on the deck, patio, porch, lawn, or another spot in the backyard. Either way, consider the risks before settling on a spot. If you're using a portable fireplace/pit, consider using a heat protection mat.
Outdoor Fireplace FAQs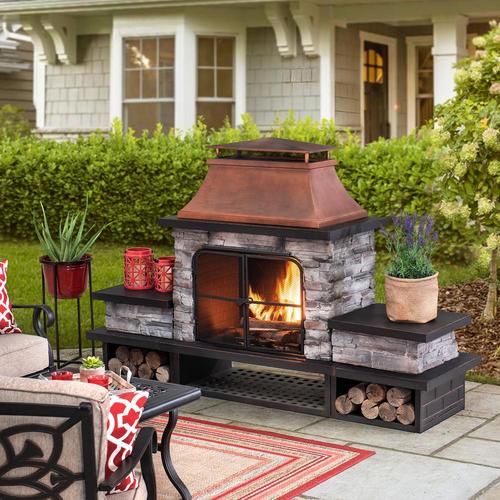 What is the best type of outdoor fireplace?
The best type of outdoor fireplace depends on your preferences.
For example, if you prefer models with a quick control interface, a gas outdoor fireplace is the best option for you.
Regardless of their size or power, they all share the same task: providing warmth and creating a relaxing environment that enhances your home's value.
Ideally, the best type of outdoor fireplace should have the following features:
A weather-resistant exterior for the most intense environmental conditions
An easy-to-use control interface and fast ignition for gas or propane models
Easy setup and dismantling for portable fireplaces
Safety features that ensure a secure shutoff
A size that matches the amount of space you have on your backyard lawn, patio, or deck
Easy and efficient cleaning or maintenance
A heating capacity suitable for staying warm as the temperature drops
Are outdoor fireplaces worth it?
Although many outdoor fireplaces are expensive and, depending on the type of fuel you use, require you to pay more to keep them running through the colder months or customize them to your liking, they make attractive additions to your home.
Whether you choose one with a sleek metallic shell or masonry build, they create an ambiance that you and your guests can enjoy. Additionally, you can use some models for cooking and set up a lounge around them larger than spaces for portable fire pits.
Several models are also easy to maintain or clean, letting you spend more time on what you want to do.
Do outdoor fireplaces keep you warm?
Yes, outdoor fireplaces can keep you warm, but it depends on the type of model you have.
For example, the maximum heat output for gas or propane outdoor fireplaces differs; some models let you adjust the heat settings to help keep warm on cooler nights.
Wood-burning outdoor fireplaces require more wood for long-lasting warmth, so it would be wise to use birch, maple, or oak to fuel these types of fireplaces.
The size of your outdoor fireplace also affects how much heat it can provide to an area. Positioning the fireplace in a direction that blocks wind from blowing out open flames can also keep it from losing heat.
Can you cook on outdoor fireplaces?
Although most people install outdoor fireplaces to enhance their property or keep them warm, several models can let you cook specific foods.
For instance, you can place a cooking grill on one portion of a large wood-burning fireplace and grill meat to your liking.
Smaller models, such as the Kotulas Cooking, have a convenient smoke stack for efficient ventilation.
Roasting marshmallows is another activity people like to do near a fireplace or fire pit (you can see my family roasting marshmallows over our small fire pit here).
Other people opt for a fire pit with grill that allows them to easily cook over a hot fire or embers.
Best Patio Fireplace
Outdoor fireplaces are an excellent way to enhance your patio or yard and create a relaxing environment for you and your guests.
The top pick on our list for the best outdoor fireplace is one of the Sunjoy Outdoor Fireplaces. We love the great features like storage for firewood, a chimney for less smoke in your face, and the stylish look.
If you prefer getting something smaller, you should try the Sunnydaze Cauldron Outdoor Fire Pit for its even wood-burning, tight top mesh that conceals stray sparks and lightweight size.
The Empire Comfort Systems See-Through Fireplace is our other runner-up for people who prefer a propane gas fireplace that blends into their structures without blocking the view.
It has three consistent high-level heat settings, a protected control panel, and a durable stainless steel build.
Outdoor fires are one of life's great joys and they always result in memorable evenings with friends and family. Now you've just got to decide which is best for your home!
Once you've made that decision, have you thought about a wood-burning stove for inside your home? Or even a mini wood stove for your RV, tiny house, or cabin?