What is the best fire pit grill?
There's nothing quite like adding a fire pit grill to your backyard space.
They're perfect for gathering around during the colder days of the year and can even be functional too. If you're thinking s'mores, you'd be correct. Well, s'mores and much more than that.
When looking for the perfect fire pit grill to add to your backyard, you've probably noticed there are a lot of them to choose from. A grill and fire pit are the perfect combination you need for your backyard space.
How do you know which one to go with?
We've rounded up some of the best fire pit grills so you can spend more time outdoors and less time choosing the right one for you.
Best Fire Pits For Grilling
Let's take a look at the best fire pit grills you can purchase.
Not included below is the Solo Stove Grill as it's a newer release, but check out this complete review for all the info you'll need.
1. Bali Outdoors Wood Burning Fire Pit
Size: 32 x 24 inches
Material: Steel
Fuel: Wood
Weight: 27 pounds
Additional Features: Log rack, 360 swivels, poker, and 24-inch cooking grate
If you're looking for a fire pit with a grill that's not only going to be functional but aesthetically pleasing in your backyard, the Bali Outdoors Wood Burning Fire Pit is one of the best.
You'll be able to cook a variety of food on the fire pit grill while maintaining a beautiful backyard.
The fire pit grill has four sturdy legs to support the circular grill. The grill rotates a full 360 degrees to make cooking even. It's easy to remove this grate so you can keep it clean for future cooking.
This steel fire pit grill is durable, allowing it to last you for years to come. Something we love about this fire pit is how easy it is to use.
Once you've loaded the wood into the grill, all you have to do is press a button to ignite the wood and let it heat up before cooking.
It's one of the best-selling options for reason!
Pros:
It's portable at only 27 pounds
It comes with a poker and cooking grate
It's durable
Cons:
The assembly isn't the easiest
---
2. Lehman's Heavy Duty Fire Pit Grill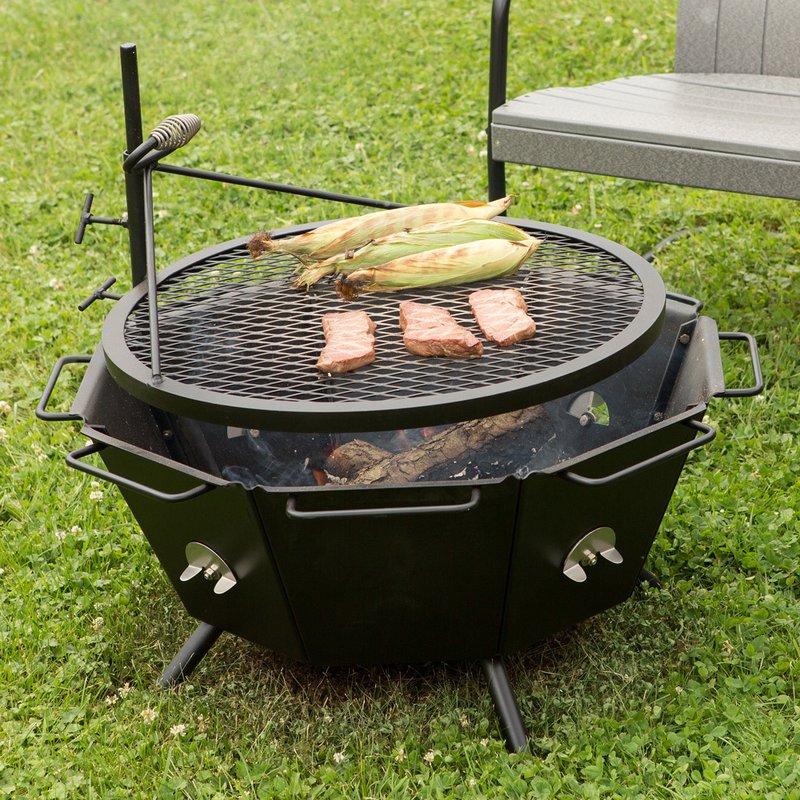 VIEW LATEST PRICE →
Size: 15 x 33.5 inches
Material: Steel
Fuel: Wood
Weight: 62 pounds
Additional Features: Large cooking grate
The Lehman's Backyard Fire Pit Grill is the runner-up to the Bali option.
They're close in size and have many of the same features. This large fire pit grill is made of steel making it incredibly durable.
You shouldn't have to worry about it breaking or falling over at all or at least for many years.
There are eight sides to this Amish fire pit and four side panels. Each of the four side panels has an air vent to ensure smoke doesn't build up within the pit. Plus, there are several air controls to handle better how much air reaches the fire.
The Lehman's Backyard Fire Pit Grill comes with a five-year warranty should anything happen to it.
This is the perfect addition to your backyard or patio. You can even bring it to a campsite with you, but it does weigh over 60 pounds, so while it is portable, it's not the easiest for everyone to transport.
Pros:
It has four side panels with air vents
It has a five-year warranty
Cons:
It may not be the easiest to take with you camping or tailgating
---
3. ASKG Grill Fire Pit With Screen
Size: 30″ diameter
Material: Alloy steel
Fuel: Wood
Weight: Unknown
Additional Features: Spark screen, cooking poker, and cooking grate
If you're looking for a heavy-duty fire pit grill to add to your backyard, the MCKE Outdoor Burning Fire Pit is one of the best options for you.
The large fire pit grill is made with alloy steel and requires wood to burn. It has an oil and paint finish which makes it very appealing to look at.
Something we love about this fire pit is that it comes with a spark screen. This is the perfect feature to use when you want to prevent any ash or sparks from getting out of the fire pit.
In addition to the spark screen, it comes with a poker and cooking grate so you can grill while gathering around the fire.
While this fire pit is wonderful, some people believe its main downside is that you can't take it with you easily. Most people don't have an issue with this, but if you're looking for a portable one, you may want to pass on this.
Pros:
It comes with a spark screen
It can hold a lot of fuel
Cons:
The paint tends to chip off easily
---
4. Titan Great Outdoors Swivel BBQ Grill
Size: Mesh grate 24 x 24, griddle 18 x 18
Material: Steel and mesh
Fuel: N/A
Weight: 50 pounds
Additional Features: 5-inch long spiral handles and a 60-inch stake
If you already have a fire pit you love but are looking to add a grill to it, the Titan Great Outdoors Swivel Grill is fantastic.
This adjustable grill for fire pit is easy to add to almost any fire pit (see the Titan fire pit range here). You can even build a new fire pit around it if you like.
When using this grill on your fire pit, you can rest assured that your hands will stay safe. While the grill is made with steel, the handles are designed with safety in mind and will remain cool throughout the cooking process.
Users report that they can leave it out throughout the year, regardless of the weather, and there isn't any damage to the grill, which is a nice bonus.
Pros:
It's easy to add to your existing fire pit
The long stake allows you to adjust the height to your preference
Cons:
Installation can be challenging depending on where you're placing it
---
5. Sunnydaze Fire Pit With Cooking Grate
Size: 36 x 27 x 25
Material: Alloy steel
Fuel: Wood
Weight: 30 pounds
Additional Features: Waterproof cover, spark screen, poker, and a barbecue grill grate
The best contemporary outdoor fire pit grill is by Sunnydaze. Their Northland Outdoor Fire Pit is stunning and functional.
This rectangular fire pit has plenty of space for several pieces of wood, which can keep you warm while outside and grill some delicious food.
It comes with almost everything you need to grill, besides the fuel. There's a built-in wood grate, a fire poker, and a grilling grate with purchase. Keep in mind that the warranty for this grill fire pit is only one year. It's better than nothing, but other products have a longer one.
Pros:
It comes with a waterproof cover
It's lightweight
Cons:
The warranty is only for one year
---
6. Sunnydaze X-Marks Fire Pit Cooking Grate
Size: 19 to 40 inches
Material: Steel
Fuel: N/A
Weight: 14 pounds
Additional Features: The mesh creates natural black lines on the meat
Sunnydaze offers the best circular cooking grate if you need to add one to your already installed fire pit.
The best thing about this mesh cooking grate is that it comes in four size options. You can get it as small as 19 inches or as large as 40 inches. It also comes in a 20 and 36-inch choice.
This is a great option because there is no assembly required. For those who love cooking meat over a fire pit, the mesh will give you meat those desirable black lines. Depending on the size of the grate you purchase, it can hold around 25 pounds of food at one time.
Pros:
There are multiple size options
There's no assembly required
Cons:
It may start to warp over time
---
7. House of Bamboo Chiminea Fire Pit
VIEW LATEST PRICE →
Size: 14 x 14 x 35
Material: Clay
Fuel: Wood or charcoal
Weight: 46 pounds
Additional Features: Metal stand and a cooking grate
Chiminea fire pits are beautiful and a unique fire pit to add to your patio or backyard.
The House of Bamboo Chiminea Clay Fire Pit is a work of art, and you can cook a variety of things in it. It's a little smaller than some other fire pits but well worth it if you want this style.
It's made with clay that's two inches thick on every side, making it durable and keeping the heat trapped inside. Something different about this grill is that you can use firewood or charcoal as fuel. Most people opt for wood, though.
It's a little on the heavy side for its size, but this compact grill still makes a great addition to your backyard.
Discover more chiminea information here.
Pros:
You can use wood or charcoal
It's made with clay
Cons:
---
What To Cook On Fire Pit Grills
You can cook a variety of things on a fire pit.
The most obvious thing to cook with a fire pit is s'mores, but many other possibilities exist.
Some of the other things you can cook on a fire pit grill are:
Hotdogs
Hamburgers
Sausages
Other meat
Veggies
Grilled fruits
Pizza is another meal that can be popular to cook over a fire pit or in a chiminea, though there is more of a technique to do this over a fire.
A wood-burning pizza oven like the Ooni or Stoke Stove Pizza Oven would probably be better if you wanted to make it a frequent meal.
Chiminea cooking is also a bit easier when it comes to pizza or roasting a chicken. More of the heat is directed to a specific zone rather than being dispersed over a wider area as with an open grill on a fire pit.
Fire Pit Grill FAQs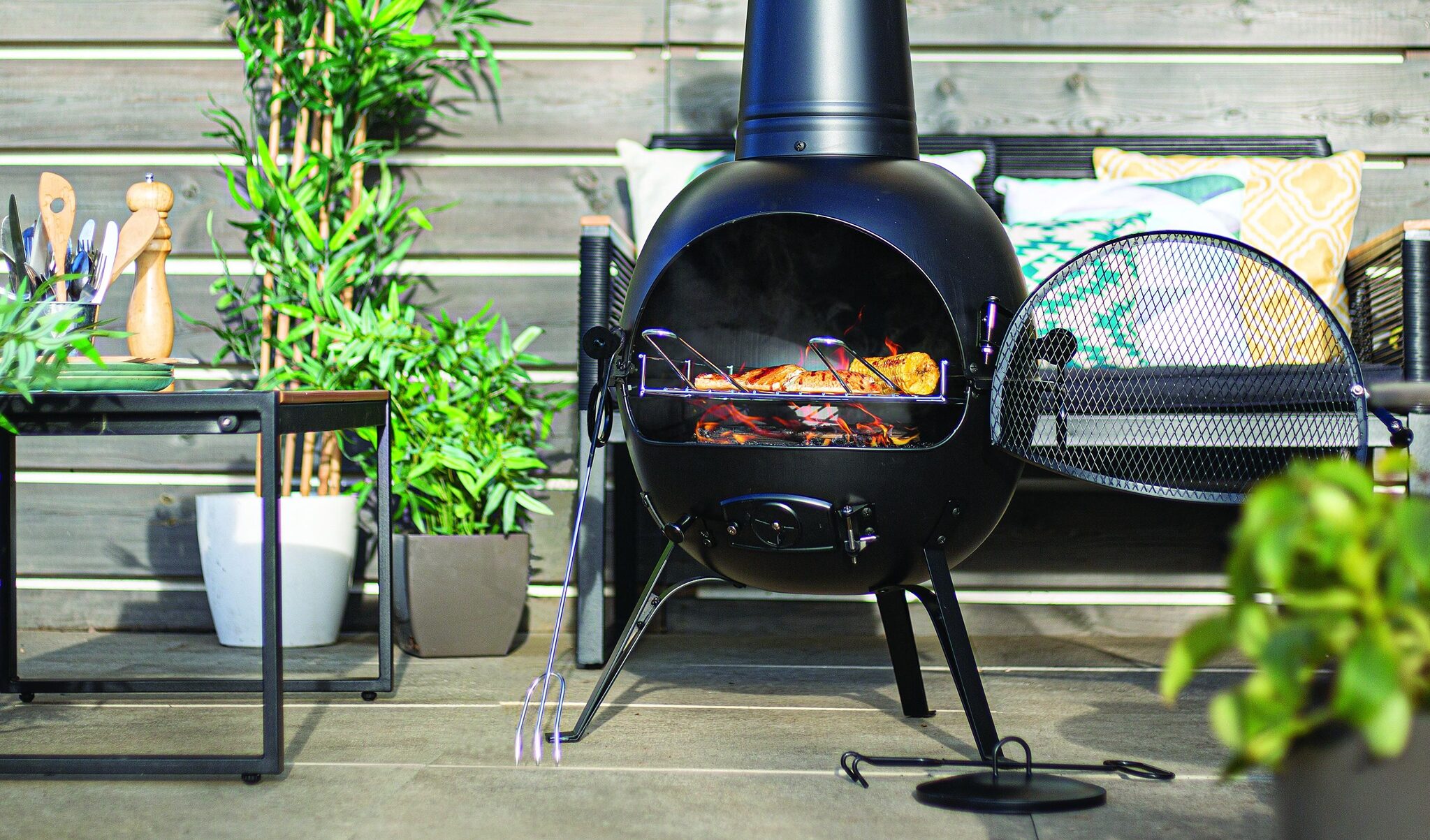 If you're still unsure about whether a fire pit grill is the best thing for you, here are some answers to the most frequently asked questions regarding them.
Can You Grill on a Fire Pit?
Yes, you can!
The main difference is that most grills require charcoal or propane to function, while a fire pit uses firewood. This may affect cooking time since you can't control the temperature as well as you would with a traditional grill.
Can You Cook Food Over a Fire Pit?
Anything that you can cook on a grill can be cooked on bbq fire pits.
Just keep in mind that any food cooked over a fire pit may take on a smokey flavor.
Is it Safe to Cook Over a Fire Pit?
It is safe. When cooking with a fire pit cooking grill, you'll want to choose a wood that doesn't smoke too much.
Using wood that smokes too much may cause the food to taste differently and not in a good way.
You should only cook food over a wood-burning fire pit, not a propane gas fire pit.
What is a Chiminea Fire Pit?
A chiminea fire pit is a front-loading fire pit. It also has a vertical chimney or smoke vent.
These fire pits bring in fresh air while releasing the smokey air via the vent or chimney.
Here are some more of the best chimineas for sale – I personally just got a terracotta one that I've cooked a couple of meals on and it's great!
How Do You Grill Over a Fire Pit?
It depends on your fuel source.
You'll need to light it with wood and let the cooking grate warm up before cooking or grilling anything. If your fire pit uses charcoal as fuel, you'll need to light them and then let them burn for 20 to 30 minutes before cooking.
From there, you'll grill your food how you usually would.
You'll need to monitor the food closely to ensure you're cooking it thoroughly and not burning it since you won't have nearly as much control over the temperature.
What Wood Should You Not Burn for Cooking?
Burning the proper wood will enhance your fire pit experience.
If you're going to use your fire pit grill for cooking, you won't want to use any pine, fir, redwood, cedar, or cypress.
All of these woods are known for having sap and terpenes, which can negatively affect cooking.
Heavy-Duty Backyard Fire Pit Grill
There are plenty of outdoor fire pits available for you to add to your backyard.
Whether you're looking for something entirely new or a grill to add to your existing fire pit, you'll be able to find the perfect match.
If you're looking for the absolute best fire pit grill, you can't go wrong with the Bali Outdoor Wood Burning Fire Pit. This metal fire pit grill looks great in every backyard, cooks well, and is light enough that you can take it wherever you need to.
Lastly, you can't cook on them, but check out these awesome fire pit tables for more ideas as to what's out there. Remember though, if you're wanting to cook over the fire pit, it's best to get a wood-burning model.