What is a see-through fireplace?
It's a fireplace that has two or more different sides facing different areas of a room, two rooms at the same time, or indoors and outdoors. You can see through the fireplace from one space or room to another. They're also sometimes called two-sided or three-sided fireplaces and they make excellent focal points and conversation pieces.
These double-sided fireplace ideas will show you the different types and styles that are available for purchase today.
Best Two-Sided Fireplace Reviews
Superior Ventless See Through Fireplace

A ventless gas (natural or propane) two sided fireplace
Comes in aged copper, silver, or black
Has a remote control and fire glass

View On AmazonView On Modern Blaze

Modern Flames Multi Sided Fireplace

A multisided electric see through fireplace
Only comes in black
Includes remote, fire logs, glass stones, and other decorations

View on AmazonView On Walmart

Empire Boulevard Two Sided Fireplace

Another ventless gas fireplace
Looks amazing in black
One of the more premium options

View On Modern BlazeView On Fire Pit Surplus

Touchstone 3 Sided Fireplace

A wall-hanging electric fireplace
View it from three sides (slightly)
1500 or 750 watt modes

View On AmazonView On Home Depot

See Through Outdoor Fireplace

Some exception quality fireplaces - even art pieces
Wood burning and propane fireplaces
Some are even indoor/outdoor fireplaces

View On AmazonView On patioandpizza.com
In this table are our top picks for the best see-through fireplaces. But we have many more listed down below.
There are three main types of fuel used with two-sided fireplaces:
Electric
Gas (natural gas or propane)
Wood burning
We like electric ones because they are usually the most energy-efficient and you can use them year-round no matter your climate – and they take a lot less work to install, run, and maintain.
Gas can provide heat during a power outage with fewer negatives than a wood fireplace. And ventless gas fireplaces can be very energy efficient since less heat escapes outside.
While they're not as energy-efficient, wood fireplaces provide more intense heat that you can't get from gas or electric fireplaces.
Wood-burning fireplaces are the nicest for creating a warm and cozy atmosphere. It's much nicer to sit beside a wood fire than a gas or electric one. But then there is more work involved with firewood and maintenance.
Nevertheless, here are 10 double-sided fireplace options in a range of styles, fuel-types, and positioning (indoor/outdoor, etc.).
1. Superior Ventless See-Through Gas Fireplace:
Specifications:
Type: ventless gas (natural or propane)
Size: 55" wide x 17.5" deep x 29.75" high
Color: aged copper, aged silver, or black
Heat: up to 39,000 BTUs with natural gas and up to 37,000 BTUs with propane
Controls: remote control
Display: fire glass with three glass stone color choices
Flame: Yellow flames with six illumination settings
The gas fireplace I ultimately chose was a see-through ventless fireplace (also on Amazon here). This two-sided gas fireplace insert stands out because it's see-through from back to front with classic fire-colored flames.
This is the best gas see-through fireplace and the best overall because it has a 99.9% heating efficiency. I also like that it has a battery backup ignition in case you have no power.
Linda reviewed the product and said:
Purchased this product and was completely satisfied. Delivery went well (outdoor deliver) and once it was installed it provided an excellent addition to my home.
See it in action here: Superior DRL4543 Direct Vent See Through Linear Gas Fireplace.
Pros
Energy efficient
Battery backup to electronic ignition
Ventless
Classic look
See-through from front to back
Low cost
Cons
The flames may look blue natural gas
---
2. Modern Flames Two-Sided Electric Fireplace Insert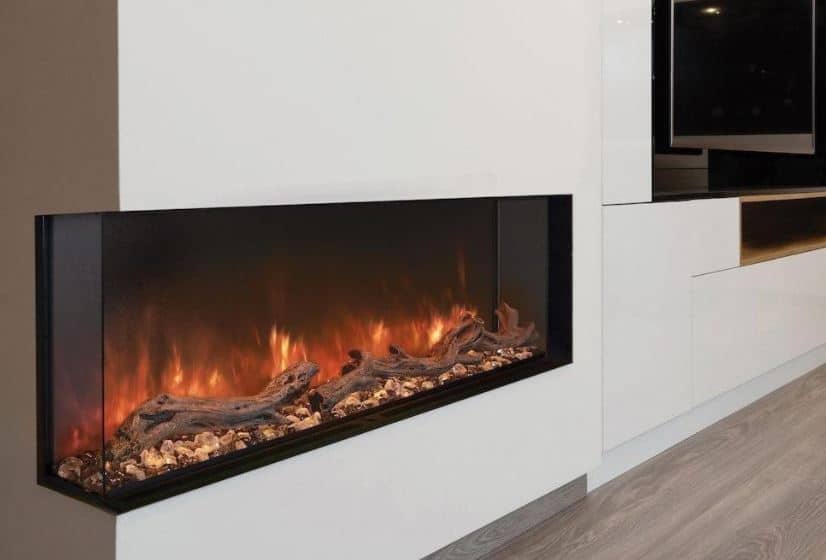 Technical Specifications:
Type: electric
Size: 56" wide x 24.9" high x 11.5" long (eight different customizable sizes available up to 96 wide")
Color: black
Heat: 15,000-BTU and 10,000-BTU options
Controls: comes with a remote control and wireless tether controls (wall control available separately)
Display: comes with a driftwood log, clear stones, and black smoke crystals, with other decorative rocks and crystals available for further customization
Flame: uses Hybrid-FX flame technology with realistic random flame images
Colors: 12 flame and ember bed color options with independent flame and ember color control
This multi-sided fireplace does have a back, but you can configure it to look through the front and one or both short ends. Even when log flames are off, the pulsating effect and downlighting provide ambiance.
What makes this fireplace one of the best electric see-through fireplaces? It is whisper-quiet.
There are three installation options: built-in, partially recessed, or mounted. It also has three installation configurations: single-sided, two-sided corner, and three-sided.
Jessica reviewed it and said:
Fireplace came in as described. It did come without a remote but I reached out the the seller and they put in a warranty request right away and got us a remote sent directly to us. Great customer service.
See it in action here: Review of Modern Flames Landscape Pro Multi Electric Fireplace.
Pros:
Several flame and color choices
Able to change up Display choices
Remote control
Low cost
Cons:
Cannot see through the back
Low heat
---
3. Empire Boulevard See-Through Gas Fireplace Insert: Best Ventless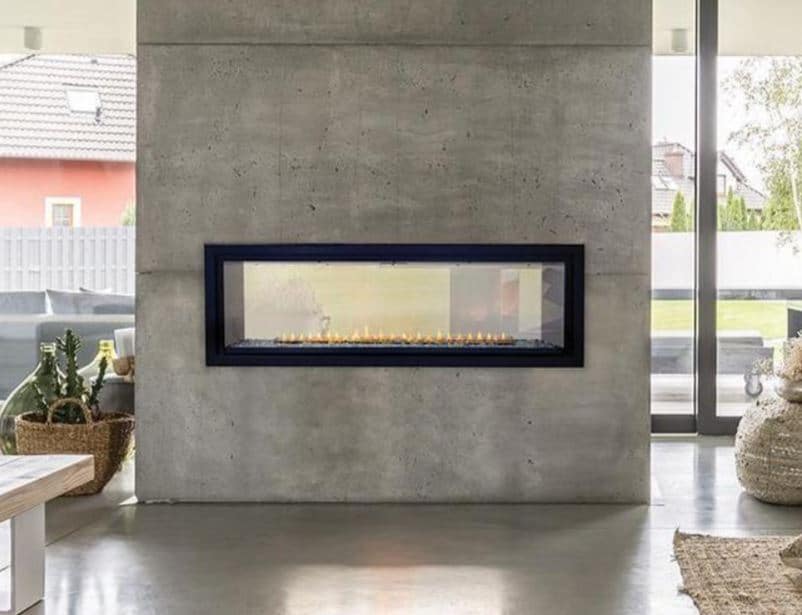 Specifications:
Type: Ventless gas
Size: 54.2" wide x 12.75" deep x 41.5" high
Color: black
Heat: 36,000 BTUs
Controls: multi-function thermostatic remote control
Display: Includes a choice of black porcelain liner, trims, and stones
Flame: fire-colored flame with six settings
Colors: optional multi-color LED lighting
The Empire Boulevard stands out because it has a protective mesh to prevent touching the hot glass. It's also highly customizable at an extra cost.
It is the best ventless see-through fireplace because you can simply turn it on or off or use the SmartThermostat to keep your room at a predetermined temperature for consistent warmth.
Peter said:
The fireplace is very nice and the installation instructions were relatively easy to follow.
See it in action here: Empire Boulevard Ventless See-Through Gas Fireplace.
Pros
Battery-backup pilot
Has a fine mesh barrier screen to prevent touching hot glass
Has a lot of extra options you can add on, including an indoor/outdoor kit
Cons
High cost
An optional LED lighting kit is available at extra cost for more ambiance
Not available for propane
---
4. Majestic Echelon II Double Sided Fireplace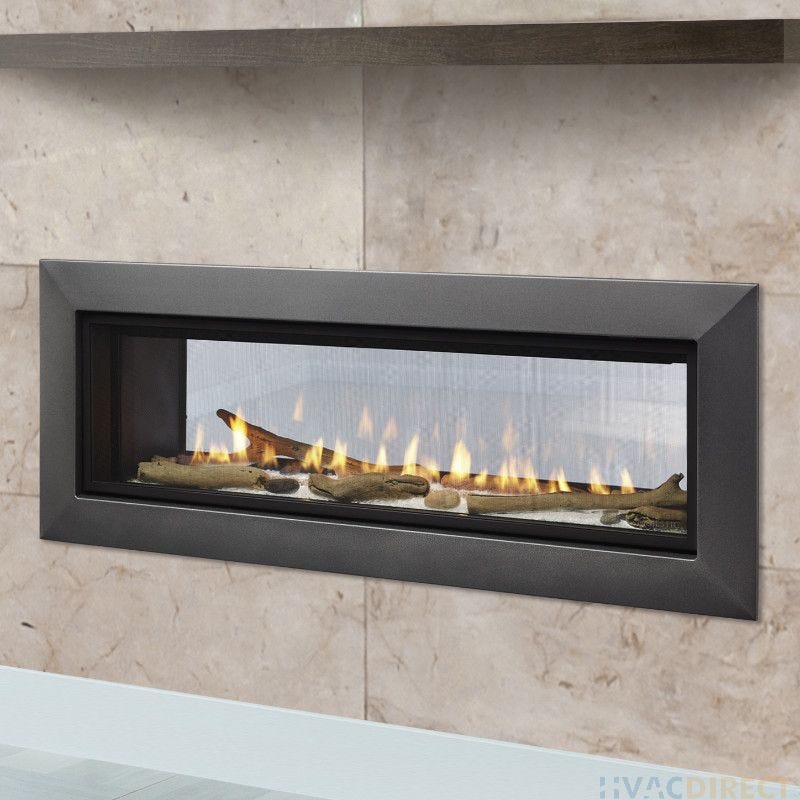 Specifications:
Type: vented gas
Size: 47.5" wide x 12.5" high viewing area
Color: black, bronze, pewter, charcoal
Heat: up to 40,000 BTUs with natural gas or 34,000 BTUs with propane
Controls: remote control
Display: driftwood and clear glass with natural stone or glass as add-on options
Flame: realistic fire color
Some people feel more comfortable with a gas fireplace that vents to the outdoors, like this one. Majestic's Echelon II series stands out because of its contemporary look and realistic flames. The clear glass medium gives it a fire-and-ice look.
It's the best premium see-through fireplace because the premium price also comes with premium 40,000 BTU heating, which can effectively heat a large space.
See it in action here: Majestic® Echelon II Series Gas Fireplace Video.
Pros
Up to 40,000 BTUs of heat output
Heats up to 1300 square feet
Realistic flame
Battery backup ignition
Cons
62% efficiency
Requires external venting installation
High cost
---
5. Majestic Designer Pass-Through Wood Fireplace
Specifications:
Type: wood
Size: 47" wide x 24" deep by 58.9" high or 40" wide x 28" deep x 41.25" high
Color: black
Heat: 20,000 to 40,000 BTUs
Controls: none
Display: you provide the firewood
Flame: natural fire
The Majestic Designer fireplace stands out because it has a low cost for its features.
It includes a heavy-duty grate, access for lighting the logs, and a standard refractory-lined firebox. It's the best wood-burning fireplace because the glass viewing area gives you a wood-burning fireplace with no indoor smoke.
Pros
No smoke
Natural fire
Has extra door options
Cons
Requires a chimney
Cannot install as an indoor/outdoor fireplace
---
6. Majestic Fortress Indoor Outdoor Fireplace
Specifications:
Type: indoor/outdoor vented gas
Size: 49.4" wide x 25.6" deep x 44.4" high
Color: stainless steel
Heat: 56,000 BTUs
Controls: touch-screen remote control
Display: ceramic logs and realistic embers
Flame: fire-colored
Why does this fireplace stand out?
It has accent lights, multiple interior brick options, and realistic-looking embers. Accent lights enhance the flames and illuminate the interior.
The Majestic Fortress is the best indoor/outdoor fortress fireplace because it includes rust-resistant 316 marine-grade stainless steel to withstand harsh weather conditions.
Richard said:
Everything went perfect! Modern Blaze had a great price on our fireplace. Our fireplace arrived promptly and Modern Blaze kept us in the loop the entire time.
See it in action here: The Fortress See-Through Gas Fireplace by Majestic.
Pros
Realistic log fire and embers
Multiple interior brick options
Indoor/outdoor use
High heat
Cons
Most expensive fireplace on our list
Requires external venting installation
---
7. Empire Comfort Systems Outdoor Fireplace
Specifications:
Type: outdoor gas
Size: 51.7" wide x 24.3" inches high x 22.3" long
Color: stainless steel
Heat: 55,000 BTUs
Controls: concealed under a weather-proof, tilt-up cover
Display: Flames
Flame: Fire-colored
This see through gas fireplace stands out because it has seven colors of lights to illuminate crushed glass beneath high, medium, or low flames. You can set the controls to stay on one color or to cycle through them all.
The Empire Comfort Systems fireplace is the best fireplace for outdoors because, instead of depending on a remote control, controls are under a weather-proof cover. The weatherproof deflector shield also protects flames from wind.
See it in action here: Carol Rose Outdoor Linear Gas Fireplace by Empire.
Pros
Multi-colored lights illuminate the glass and flames
Electronic ignition has a battery backup
Weather-deflector glass panels
Cons
Does not come with glass stones
---
See Through Fireplace Pros And Cons
The pros largely outweigh the cons with see-through fireplaces, but it's all going to depend on your home's space and style.
For some, they will be the best thing to achieve the look you want. For other homes, they just won't work. However, because of the great range of 'see thru fireplaces,' it's likely there's one out there for you somewhere.
See-Through Fireplace Pros
Design: Interesting design element
Statement: Statement furnishing that not everyone has
Centerpiece: Can become the centerpiece of the room
Warmth: Provides even and efficient distribution of warmth between two rooms or when radiating from the center of one room
Transition: Creates a seamless transition between rooms and can break up larger rooms
Views: Can allow you to see interesting viewpoints between them
Style and Size: Available in various styles and sizes to fit your design tastes
Locational Versatility: Can use them indoors, outdoors, or both indoors and outdoors at the same time
Safety: Can be safer than open fireplaces because of its glass enclosure
See-Through Fireplaces Cons
Needs Wall Supports: Floor-to-ceiling fireplaces need the correct wall supports to avoid collapse
Style: May need to browse a wide variety to fit your home style or redecorate around them
Privacy: Can remove privacy between two rooms
Expense: Are more expensive than traditional fireplaces
Buying A Fireplace For Heat Vs Aesthetic
Some people buy a see-through fireplace for heat, while others buy it for aesthetics.
There's no reason you can't use a two sided fireplace insert for both heat and aesthetics if you have reasonable expectations. Otherwise, it really depends on what you're trying to achieve in your space.
For example, we've seen many great double and triple sided fireplaces in large entryways. These are really just there for looks and are not going to do much for heating. They are popular in the likes of grand homes in LA.
You certainly shouldn't expect a two-sided fireplace to heat your entire house or be your only source of heat. However, fireplaces are great for zone heating.
Zone heating allows you to heat just the room that you're using, which can save on energy bills. When you close the doors of all the other rooms, you'll have no problem warming up the living area which contains a Superior Ventless see-through fireplace.
Installing a double-sided fireplace insert in the middle of a room will definitely give you more heat than a fireplace on one side of a room.
If your climate requires you to look for a fireplace that will provide more heat, you should check the BTU rating. A fireplace with a higher BTU rating, like the Majestic Fortress fireplace, provides more heat.
If you want a fireplace for aesthetics, keep in mind that you can only use an electric one year-round. During every other day, your fireplace would just be a piece of useless furniture.
While you can operate a see through electric fireplace like the Modern Flames Landscape Pro without heat, gas and wood fireplaces will always generate heat when you use them.
Gas Vs Electric Vs Wood-Burning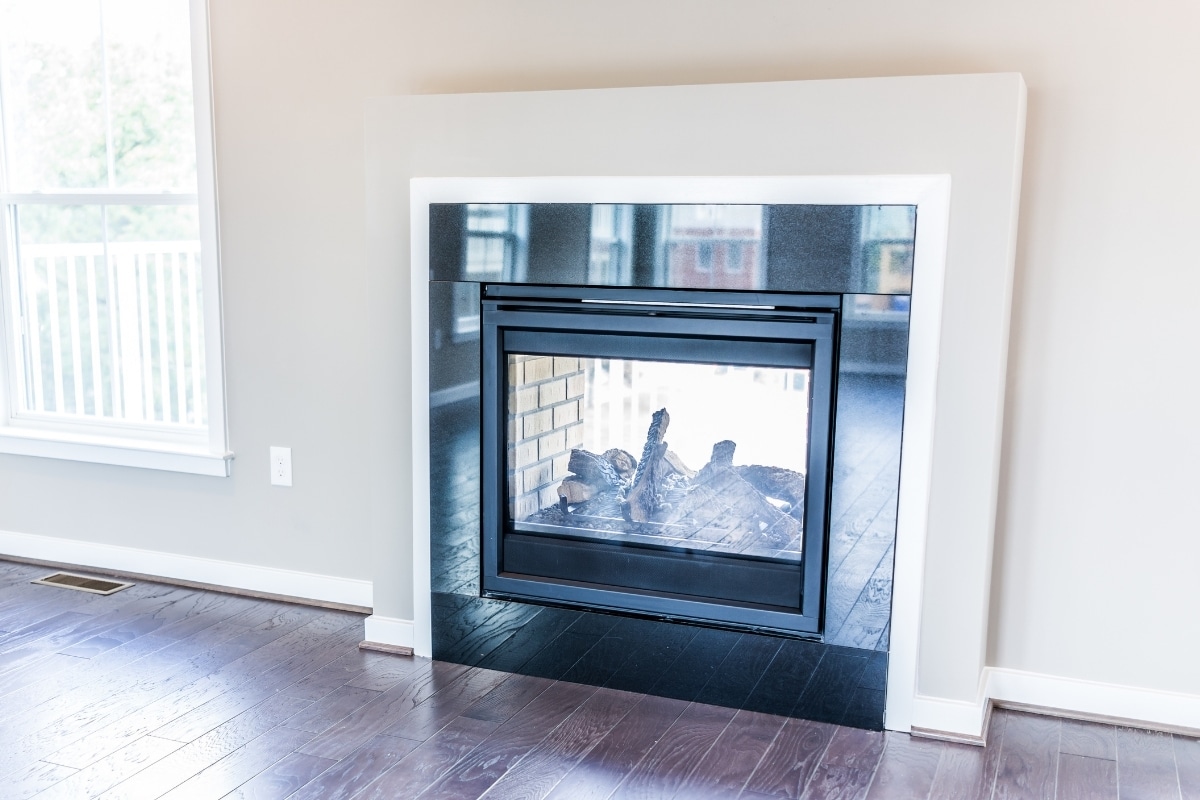 When I decided which see-through fireplace to buy, I made a checklist of features and rated how important each one was to me.
Is a gas, electric, or wood-burning see-through fireplace best?
Electric fireplaces have more pros, and wood fireplaces have more cons, while gas fireplaces are somewhere in the middle.
Gas
If heat is important to you, a gas fireplace can generate the most heat. It can also generate continuous heat, unlike wood fireplaces.
Gas is also usually a cheaper heating alternative than electricity. Ventless gas fireplaces like the Empire Boulevard are more energy-efficient than vented ones because they don't lose any heat to the outdoors.
Keep in mind that the gas line installation process can be complicated and expensive, and you have things like pilot lights to deal with.
Gas fireplaces also require professional yearly maintenance, especially if they are your primary source of heat. Plus, you may need to replace ceramic logs in 3-5 years with heavy use.
Gas fireplace pros:
No smoke
No mess
Safe
Energy efficient
Thermostat
Useable during burn bans
Works during a power outage
Generate the most heat
Usually cheaper than electricity
Gas fireplace cons:
Fumes
High-maintenance:
Expensive installation
No pleasant smell
No Pleasant sounds
Not usable year-round
Requires a gas line connection
Electric
Electric fireplaces are the most energy-efficient option. Since electric fireplaces do not vent outdoors, all heat stays indoors.
Electric fireplaces give off no pollutants like gas and wood fireplaces do. Thus, they are safer.
Electric fireplaces do not require yearly maintenance like gas and wood fireplaces do.
You can also operate an electric fireplace year-round. It is possible to operate an electric fireplace without heat for the ambiance alone.
You could easily have one between your living room and an outdoor beach as easily as a snowy mountain patio.
The main downside to having an electric fireplace is that it will not work during a power outage.
Electric fireplace pros:
No fumes
No smoke
No mess
Doesn't require yearly maintenance
The safest option
The most energy-efficient option
Thermostat
Inexpensive installation
The only fireplace that is usable year-round
Useable during burn bans
Electric fireplace cons:
No pleasant smell
No pleasant sounds
Doesn't work during a power outage
Wood Burning
If you love the smoky smell of burning wood and peaceful crackling sounds, you might feel a sense of letdown with other options.
Unfortunately, there are more negatives than positives related to wood fireplaces like the Majestic Designer.
They are messy, and when you want to use your wood fireplace, you will have to locate a place that sells firewood. Wood fireplaces also require yearly maintenance such as cleaning fire brick or dealing with fireplace smells.
While they are less energy-efficient, some newer wood fireplaces promise energy-efficiency ratings of 75% or more. Glass doors on two-sided fireplaces also help conserve energy.
Wood fireplace pros:
Pleasant smell
Pleasant sounds
Works during a power outage
Wood fireplace cons:
Fumes
Smoke
High-maintenance
Lower safety
Least energy efficient
No thermostat
Expensive installation
Not usable year-round
Not useable during burn bans
Can't use without firewood
See Through Fire FAQs
If you still have a few questions about two-sided fireplaces, I have some answers.
Is a Double-Sided Fireplace More Expensive?
Double-sided fireplaces are more expensive than regular fireplaces.
However, if you have two rooms that share a wall, one double-sided fireplace is less expensive than buying and installing two fireplaces along with two flues and chimneys.
Are Double-Sided Fireplaces Efficient?
Some double-sided fireplaces are efficient at heating, while others are mainly decorative. It depends on the size of the space you need to heat and the type of fireplace you get.
The areas farthest away from a regular fireplace will probably be cooler. However, a two-sided fireplace in the middle of the room can radiate heat everywhere.
Double-sided fireplaces between two rooms save on the normal cost of heating two rooms.
Can You Have an Inside Outside Fireplace?
A two-sided indoor outdoor fireplace can add an exciting design element between indoor and outdoor living spaces. Also, consider these top outdoor fireplaces (not dual-sided).
Are Double-Sided Fireplaces Good?
Double-sided fireplaces are more than just a nice design option for a room. They're also a more energy-efficient way to heat two rooms or more uniformly heat a large room.
Are See-Through Fireplaces Difficult to Install?
You should hire a professional to install your see-through fireplace because they are complicated to install and require specific installation know-how and inspections.
What Types of Properties Best Suit See-Through Fireplaces?
The clean lines and modern styles of see-through fireplaces look best in modern homes.
However, adding bricks, stones, molding, or mantles that match your older home can help a modern fireplace look at home anywhere.
Properties with the following attributes are excellent candidates for a see-through fireplace:
Modern homes2-sided
Cabins, vacation homes, or regular homes with beautiful outdoor views
Top-floor studio apartments with an open living space
Businesses that want a focal statement piece for a large room, lobby, or other common space
Homes that use large windows, open views, and glass as design elements
Homes with a large, open living space
Homes that have outdoor entertainment spaces
Or even your choice of furniture can help your new fireplace find a place in your home.
Choosing A Dual Sided Fireplace
The Superior Ventless See-Through Linear Gas Fireplace is the best overall see through fireplace because gas fireplaces have many advantages over electric and wood.
The ventless option makes installation cheaper, and its 99.9% heating efficiency makes an already inexpensive heating option even more cost-efficient. It also has a classic look that will keep it from eventually becoming dated.
These are some of the most reputable brands of two-sided fireplaces:
There are lots of features to consider when deciding on a see-through fireplace. Hopefully, we've been able to address this enough for you to make a better-educated buying choice.
Finally, if you've decided these options aren't for you, check out these great corner electric fireplaces – they're not as fun as a see-through model, but they're a lot more affordable.