If you want to relax in the backyard by a fire, a metal fire pit ring could be the easy answer.
Not only can fire rings be used on their own but many can also be used to line a stone, concrete, or brick fire pit. Most rings and inserts are made of steel, cast iron, or copper, each with its own pros and cons that we'll get into below.
Here are our top recommendations for fire pit liners and metal fire pit rings.
Fire Pit Ring Reviews
Here is a brief roundup of seven of the most popular fire rings available.
The steel CountyLine Fire Ring came out as the clear winner due to its versatility, appearance, and size. It's basic but functional, strong but not overpriced.
1. Tractor Supply CountyLine Fire Ring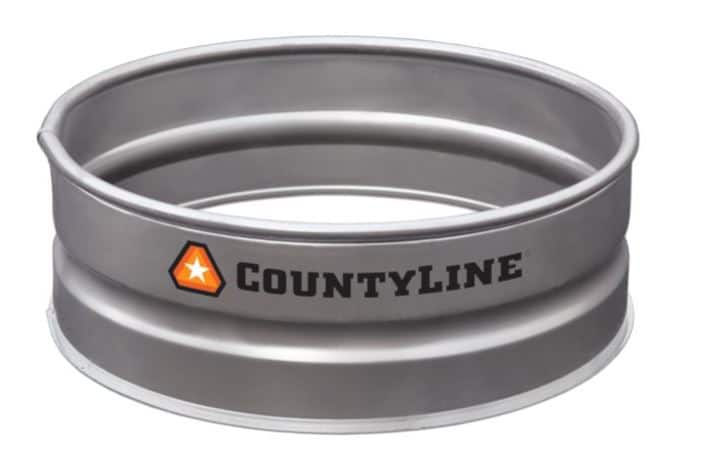 VIEW LATEST PRICE →
Size: 36″ x12″
Weight: 31 pounds
Fuel type: wood only
Material: Steel
Assembly required? No
The CountyLine fire ring and raised bed planter are as multipurpose as it sounds.
With its simple design, this 36″ galvanized steel fire pit ring is the perfect addition to your backyard.
Not only can it serve its function as a fire ring or pit liner, but you can also use it as a raised garden bed, which is an excellent option if you don't have a lot of outdoor space but would still like to have a garden.
In fact, in the reviews, you'll hear of people using this for all sorts of things from a peach tree planter to a base for a fountain, though it's primary purpose is for containing campfires.
It's not a beautifully manufactured cast iron fire pit, but it's a lot cheaper, more portable, and easy to set up and use.
This ring's size, versatility, and durability make it an excellent choice for a backyard bonfire. In addition, this ring is one of the best value options on this list due to its dual uses.
Pros
Durable steel construction
Can double as a flower bed or other outdoor storage device when not being used as a fire pit
Minimal setup required, just unpack it and use it
Cons
The design is a bit plain
Some people think it's too expensive for the size (especially after a recent price increase)
---
2. Pleasant Hearth Wilderness Decorative Fire Ring
Size: 36″ x12″
Weight: 11 pounds
Fuel type: wood only
Material: Steel
Assembly required? Yes
The Pleasant Hearth Wilderness metal fire ring is not only functional, but it's also fun to look at.
With its mesh screen featuring cutouts of wolves, deer, bears, and trees, this ring is just as much a statement piece as a means to contain a fire. The mesh also lets you see into the fire, unlike other inserts and liners.
This Wilderness is 36″ in diameter, which means it has plenty of space to stack logs and kindling. The Wilderness fire ring ranks near the top of the list for fire rings because of its sturdiness, ease of assembly, and the best value for the money.
This is almost as decorative as some of the Blue Rooster fire pits (which do cost more, unfortunately).
Pros
Easy to assemble and can be broken down for transport
Great design elements which let you see the fire from the sides
Thousands of units sold lets you learn from others in the reviews
Very affordable and often on sale/discount
Cons
Will eventually rust (and it's not super thick steel)
Metal bending, especially if used roughly with heavy wood
Paint can burn off or be damaged easily (though also easy to re-spray)
---
3. Pleasant Hearth Cheap Fire Pit Ring
Size: 36″ x12″
Weight: 10.12 pounds
Fuel type: Wood only
Material: Steel
Assembly required? Yes
The classic arts-and-crafts design of this outdoor fire ring makes it the perfect complement to any style of home or backyard.
This 36″ wood-burning steel fire ring is an ideal size for giving your backyard parties or family evenings that extra boost they need to continue on into the evening.
The Classic fire ring combines value, sturdiness, and easy assembly.
At only 10 pounds, it's also lightweight enough that you can move it to the garage or shed when you aren't using it.
It won't contain every piece of your fire, but that's not always necessary. Only get this one if you don't mind the odd escaping ember (despite the mesh)!
Pros
Classic design that lets you see into the fire
Lightweight and easy to assemble
Reasonably cheap for what you're getting
Cons
Has the potential to rust fairly quickly
Flexible metal keeps it from maintaining its shape
Thin metal that's not as strong or sturdy as other fire rings
Some find it a little too short
Won't last as long as a solid metal fire pit ring
---
4. Pleasant Hearth Solid Steel Fire Ring
Size: 33.5"x10" (top ring) 28.5"x10" (inner ring)
Weight: 36.08 pounds
Fuel type: Wood only
Material: Steel
Assembly required? Yes
Pleasant Hearth's Solid Steel fire ring can stand on its own, but it's the perfect choice as a liner for a fire pit due to its shape.
Its wide lip makes it easy to construct a frame to create a permanent fixture in your yard, making this ring one of the best choices when building a brick or stone fire pit.
The inner ring measures 28″ in diameter, while the wide upper ring is 33.5″ across. As the smallest ring on the list, it's the perfect option if you have a slightly smaller area of your yard to work with.
This ring's simple black style allows it to blend in with your yard decor easily if you choose to use it on its own, and the smooth walls will enable you to build an outer wall of bricks seamlessly.
If you like this style, also consider these cast concrete fire pits.
Pros
Stylish alloy steel with a black finish
Perfect for use as a fire pit insert or liner
Great with brick or block surrounds
Without mesh or holes, it's much tougher
Cons
Can get rusty quickly, especially if the coating is damaged
Some people have trouble with assembly
Not as strong as an insert made from a single piece of metal
Welds can be a weak spot
---
5. Heavy Duty Outdoor Fire Ring
VIEW LATEST PRICE →
Size: 36″ x 13.19″
Weight: 22.44 pounds
Fuel type: Wood only
Material: Galvanized steel
Assembly required? Yes
Pleasant Hearth's Round Infinity fire ring has a rustic look that makes this ring great as a regular fire ring or as a raised flower bed.
In addition, the industrial-style galvanized steel is excellent at preventing rust, which makes this ring ideal for leaving outdoors permanantly.
This ring has many uses:
Use it on its own
As a liner for a stone fire pit
Partially bury it
As a garden bed or other non-fire pit use
For this reason, the Infinity ring is one of the more versatile rings that made this list.
Pros
Can be used alone, as part of a pit, or as a raised flower bed
Galvanized steel resists rust but could
Cons
Thin material
Lower quality compared to comparable brands
Heated galvanized steel may put off toxic fumes
---
6. Sunnydaze Square Fire Pit Insert
VIEW LATEST PRICE →
Size: 42" x 10" (top ring) 36" x 10" (inner ring)
Weight: 36.08 pounds
Fuel type: Wood only
Material: Steel
Assembly required? Yes
The Sunnydaze Heavy-Duty square fire ring also has a wide top lip and is designed as a heavy-duty fire pit liner.
It has a solid construction of thick steel with high-temperature paint that resists rust. These features make it one of the most durable rings on this list.
You can use this ring in-ground, above ground, or framed with bricks to create a permanent place for bonfires. The large upper ring lets you create a more expansive fire pit without sacrificing any of the 3-foot burning area.
This ring is one of the best options if you'd like to build a permanent fire pit. It's great not only for private backyards, but for function centers, campgrounds, and other event centers that hold summer retreats, youth group meetings, church camps, and those sorts of things.
It's easy to assemble, sturdy, and looks great.
Pros
Smooth design
Can be used alone or to construct a pit
High-temperature paint that resists rust
Sunnydaze is a known and popular brand in the fire pit market
Cons
Higher priced than alternatives (though you get the quality and size in return)
Will rust when paint is damaged
---
7. Stanbroil Propane Gas Fire Pit Burner Ring
VIEW LATEST PRICE →
Size: 12″
Weight: 5.3 pounds
Fuel type: Liquefied petroleum gas
Material: Steel
Assembly required? Yes
The Stanbroil burning ring installation kit allows you to turn your fire ring into a gas-fueled fire pit.
A burner like this is a good choice if you cannot or would prefer not to use wood as fuel.
This burner ring is the perfect option if you live in an area where you might not find firewood easily, or you would like to have control over how long and how hot your fire burns.
Pros
Easy assembly
Great value
Doesn't need wood to burn
Cons
Whistling sound from the flex line
Insufficient gas pressure
---
Fire Ring Vs Fire Ring Insert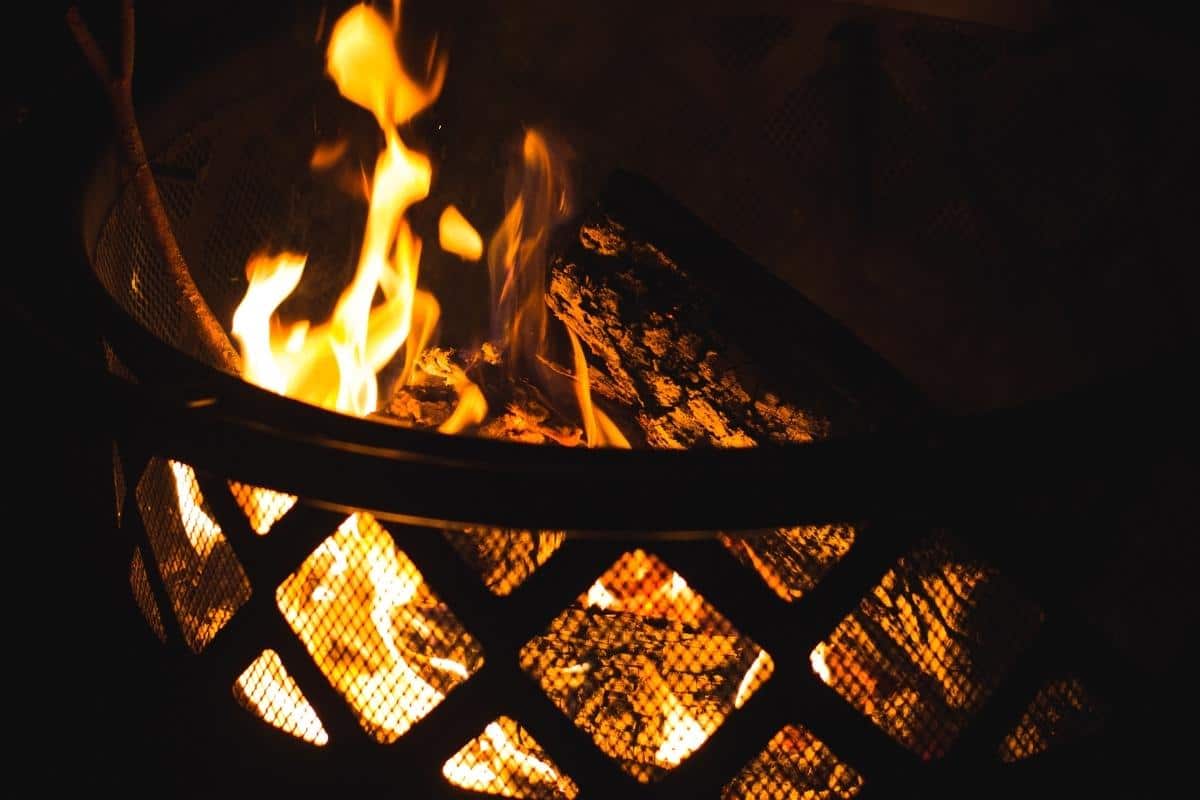 A fire ring and fire pit ring insert serve the same purpose – to contain a bonfire in a small area. The main difference lies in their ability to act as a good liner for a fire pit.
Fire ring inserts are meant to act as liners for stone fire pits. These inserts act as a barrier that helps to maintain the integrity of the stonework. Because they separate the stone from the flame, inserts include solid steel, such as the Sunnydaze Square Insert.
Another aspect of fire ring inserts that is not present in regular fire rings is that they can be dual-purpose. For example, two of the inserts listed above, the CountyLine and the Pleasant Hearth Infinity, can both be used as raised flower beds, too.
A fire ring can stand independently but won't necessarily act as an appropriate liner for a fire pit.
For example, the Pleasant Hearth Wilderness and the Classic fire rings with decorative cutouts have a great aesthetic. Still, they are not as practical as an insert for a pit because the mesh on these rings does not provide a sufficient barrier between flame and stone.
Fire Ring FAQs
If you're still unsure whether a fire ring is right for you, here are a few common questions about fire rings to give you a bit more information. Read our fire pit guide for more info.
What Is the Purpose of a Fire Ring?
A fire ring is a piece of metal, typically round or square, intended to contain a small bonfire.
Most fire rings are for wood-burning fire pits, and you can use them as an insert for stone fire pits. When used as a liner for a stone fire pit, the ring helps maintain the pit's structure.
Can you cook over a fire pit ring?
Yes, you can set up your own grill or buy a fire pit grill that can be added to most existing setups.
Do You Need a Fire Ring for an Outdoor Fire Pit?
If you are planning to build a stone fire pit that you intend to leave standing, experts highly recommend installing a fire ring as a liner. It will hold the pit together, prevent damage to the stones and mortar, and help fires burn safely.
Do Firepits Need a Metal Ring?
Although you don't need a fire ring in your fire pit, experts recommend you use one to maintain the integrity of your fire pit.
More fire pit ideas here.
What Can I Use As a Fire Pit Ring?
A store-bought ring is your best option for an insert for your fire pit. However, you should avoid using anything that isn't explicitly designed for high-heat environments.
Why Are Fire Rings So Expensive?
Steel fire rings come in a variety of sizes, which can affect the price.
For example, a large fire pit ring, such as the 72″ galvanized fire ring, will be significantly higher in price than a 30″ ring. A large one, such as a 60 inch galvanized fire ring, will likely cost more, as well, but there are plenty of budget-friendly fire rings for sale.
They are a lot cheaper than other fire pit options – fire pit tables, for example, tend to cost even more.
Why Are Most Fire Rings Made of Steel?
Steel is non-combustible, does not release toxins when burned, and manufacturers can easily weld it into different shapes. Check out the Blue Rooster Chimineas to see some more variations.
Best Fire Pit Ring
The winner of this roundup is the heavy-duty CountyLine Fire Pit Ring.
Not only is this fire ring versatile in that you can use it as a fire ring or planter, but it is also an attractive option that can go well in any yard.
The runner-up here would be the Pleasant Hearth Classic Fire Ring. This fire ring mixes an attractive design with functionality. The arts-and-crafts style will match most designs, and it's also portable, which means it will work well for any size yard.
For more ready to go fire pits, check out the range from Pottery Works or Elementi – these are mostly propane gas fire pits, but sometimes that's the better option.