A good fire pit table makes a big impact on any outdoor space.
Bringing light, warmth, and a social aspect to your backyard or deck. It also increases both the aesthetics and entertainment value of your home.
With so many fire tables to choose from, it can be overwhelming trying to find the right one.
Some things to consider as you choose a patio fireplace table include:
Size
Function
Style
Safety
BTUs
Here you'll learn more about fire pit tables, including the distinction between a table and bowl fire pit, the best level of BTUs, and some fire table FAQs.
Fire Pit Table Reviews
*We also have a round-up of the best propane gas fire pits that includes fire tables. The difference with this round-up is that we also include wood-burning fire pit tables.
Before buying an outdoor table with a firepit, it helps to read about the top models on the market.
Reading reviews by other homeowners may also help you learn the pros and cons of each style and table type.
Check out these 51 fire pit ideas to get some great landscaping and seating design ideas.
1. Bali Outdoors Gas Fire Pit Table
Designed in a neutral antique brown and faux black finish, the Bali Outdoors Gas Fire Pit Table goes with any decor style.
This deck fire pit table features:
50,000 BTU heat output
Easy assembly instructions
28" square tabletop
Removable lid
Blue glass bead filler
Electric ignition
The decorative glass adds a pop of color and sophistication to the square tabletop. You can also switch out the included beads for a glass filler of your own choosing.
With a 25" height, the Bali Outdoors Gas Fire Pit Table can be used as a side table during the day and a fire pit when the sun goes down.
---
2. Outland Living Series Fire Table
The Outland Living Series 403-Espresso Brown Fire Table is suitable as a full-sized coffee table in your outdoor seating area.
Longer than the Bali tabletop fire pit above, this fire table measures 44" in length. The unit can conceal up to a 20lb propane tank inside and has previously won an IDA silver design award.
Wrapped in a deep brown resin base crafted to look like real wicker, the Outland table is an excellent addition to any country chic living space.
It includes features such as:
Push button spark ignition
50,000 BTU burner
Powder coated aluminum frame
Chrome manual control valve
Glass tabletop
Arctic glass filler beads
This unit offers 100% smoke-free fire time fun with control over flame height and heat level.
For a more premium product, take a look at Elementi Fire Tables – they cost more but are on another level.
---
3. U-MAX Outdoor Propane Gas Fire Pit Table
With a built-in wind guard, the U-MAX Outdoor Propane Gas Fire Pit Table can be used year-round.
As far as outdoor fire pit tables go, this one has a lot to offer in looks and functionality. It measures 44" x 28" x 25".
Built for durability with an all-weather-resistant exterior, the U-MAX fire pit still wows with an elegant faux wicker finish in your choice of black or brown.
Some features of the table include:
50,000 BTU burner
Powder coated aluminum frame
Stainless steel control panel
Push button spark ignition
Glass tabletop
Wind guard
Glass lid
Clear glass filler beads
Another smoke-free ashless fire table experience, the U-MAX Outdoor Propane Gas Fire Pit Table, makes a great talking piece, BBQ pit, or winter warm-up area.
---
4. Brown Square Wicker Fire Pit Table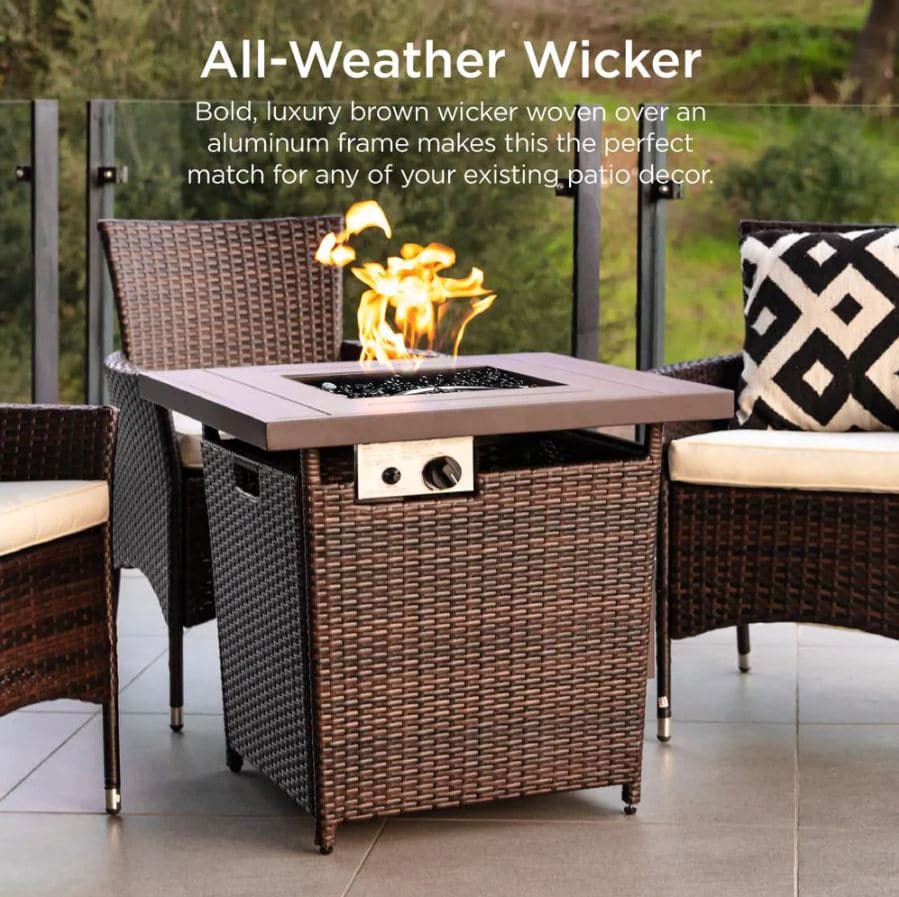 The Brown Square Wicker Fire Pit Table from Home Depot is just as the name suggests.
Perfect for smaller outdoor living spaces while still providing an element of warmth and sophistication.
This gas fire pit table seats four people comfortably and includes a cover to switch between fire and table with ease.
Some features of this model include:
Removable weather-resistant cover
50,000 BTU burner
Glass bead filler
All-weather exterior
Removable lid
24.75" in height makes the Brown Square Wicker Fire Pit Table a decent centerpiece for conversation or casual dining.
Measuring only 28" x 28", it is suitable for many apartment patios as well.
---
5. The Outdoor Greatroom Gas Fire Pit Dining Table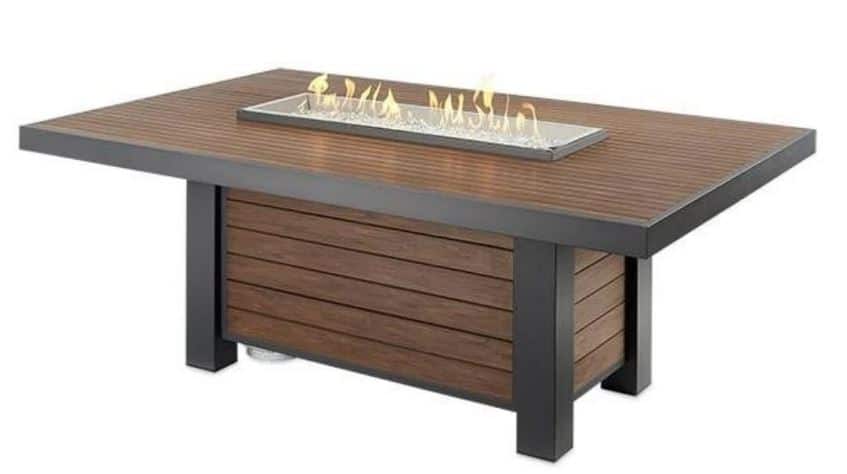 If you're looking for a propane fire pit table that really suits the purpose of a table, the Outdoor Greatroom Company Kenwood is for you.
This large 81" patio table fire seats eight and operates with either propane or natural gas.
Crafted of composite decking, made to look like dark wood, this is a great piece to feature on a stone or wood patio surface.
The table comes propane ready and includes features such as:
42″ crystal burner
Access door to hide 20lb propane tank
Natural gas conversion kit
80,000 BTU burner
Grey glass burner cover
Manual ignition
Battery operated sparker
A powder-coated aluminum frame in graphite gray offers durability and a neutral color scheme.
Use it for dining or to lounge around in the evening with friends.
---
6. Athena Olympus Concrete Gas Fire Table
For the design enthusiast with minimalism on the mind, the Athena Olympus Concrete Gas Fire Pit Table is one for the books.
Trapezoid in shape and made to order, this modern piece comes in five colors, including:
Charcoal
Gray
White
Bone
Rust
The reflective fire glass can be chosen to match your accessories as well, with colors such as:
Krystallo diamond
Apollo bronze
Poseiden blue
Adriatic topaz
Terra copper
Vesper black
Amber diamond
Order these propane fire tables in 60" or 72" lengths to suit different-sized patios.
They can be operated using propane or natural gas and feature a linear drop-in pan with a burner and stainless steel pan for reflective fire glass. This unit is match lit.
Also, consider these fire pit sets with furniture if you'd like to get everything you need at once.
---
7. Hamilton Wood-Burning Fire Pit Table
The largest and most intricate outdoor fire table is the Hamilton Rectangle Steel and Slate Natural Wood-Burning Fire Pit.
As the name suggests, this unit burns seasoned firewood and is outfitted with natural slate tile and heat resistant steel frame.
Some of the features of this geometric dream table include:
44" length tabletop
Spark screen
Log grate
Storage cover
Log poker
Hamilton fire tables for sale at Home Depot use earth-toned slate, black frame, and brown base.
A linear design on the sides of the table draws the eye and increases the outdoor aesthetic.
All you need to go with this is some comfy and cool fire pit seating.
---
Fire Pit Table Vs Bowl: Which Is Best?
The argument between the patio fire pit table and fire bowl is a personal one.
While there are pros and cons to each, it generally comes down to personal taste and preferred function.
Some benefits of an outdoor gas fire pit table compared to a fire bowl are:
Gas fire produces no ash or smoke
Table edge provides a safe distance between you and flame
Patio fire tables serve as table and fire
Outdoor fire table door your unsightly propane tanks
Opting for a fire table feature over a basic fire bowl can also improve the look of your property.
Most fire tables include some decorative features such as glass beads or lava rocks. These add to your outdoor living space, making it just as beautiful as your indoor living space.
Check out our complete fire pit buyers guide for more info on the different styles, sizes, and shapes of fire pit.
Choosing Fire Pit Tables By BTUs
The BTU reading on your fire pit table stands for British thermal unit, a measurement of energy: the higher your BTU, the hotter your flame.
While you don't need to go crazy with the BTUs, a great starting point for an average fire table would be 50,000 BTUs.
If you're not interested in the heat but are looking for the aesthetic of a fire on your patio, 30,000 BTUs will give you fire without too much warmth.
Gas fire pits can be as extreme as 100,000 BTUs, although this is generally more than a typical home requires to warm your family around the fire.
Learn more about BTUs and Kilowatts here.
Fire Table FAQs
Here are some answers to your most burning questions about fire tables:
Do Fire Pit Tables Keep You Warm?
This question was answered a little bit in our BTU section. The simple answer is yes.
A fire pit table can keep you warm if your burner has a high enough BTU reading and if you turn your flame up high enough to feel the heat. We recommend going with 50,000 or more BTUs if you want to use an outdoor gas fire for heat.
Are Table Top Fire Pits Safe?
Like any fire feature, a tabletop fire pit needs to be properly maintained and used with caution.
Some safety tips to keep in mind are:
Always turn your fuel and flame off when you're finished for the evening
Cover your table when it's not in use
Keep a fire extinguisher nearby
Know where the emergency shut off is
Keep alcohol away from the fire table
Go over fire safety rules with children
Can You Put a Fire Pit Table on a Deck?
Absolutely!
The key is to choose a fire table that uses gas, not wood or charcoal. Ensure the flame is enclosed and high enough away from your deck that it won't overheat or become a fire safety issue.
You should always use a fire pit mat for protection.
Are Propane Fire Tables Safe on Wooden Decks?
This is a great question. Fire tables can be placed on wooden decks, but it's recommended a tray be used beneath it.
You can purchase metal fire pit trays from many home furnishing and home hardware stores. Your fire pit patio table may even come with one.
This tray separates the hot exterior of your table from the wood below.
Can You Cook on a Fire Pit Table?
You can cook over your fire pit table, but remember to clean it afterward.
Unlike the campfire you light at a local campsite, your fire table can't just be scraped clear and tossed in the compost or landfill when you're done.
Use a cooking tray and a grate to grill over so grease and food debris doesn't wind up inside your fire table. There are plenty of tips and recipes for cooking on a fire pit table, just as for cooking in an outdoor chiminea.
Depending on your pit and BTU level, you may be able to try some at home.
Are Propane Fire Tables Better Than Wood Burning?
Propane and wood fire pits both have their benefits.
When considering health, allergens, and leftover debris, propane wins over wood.
However, you lose that cozy smoky wood fire smell when you cook with propane. It really depends on what's important to you.
Using a spark cover with wood fire pits is a good idea – they prevent ash and sparks from landing anywhere they shouldn't.
Fire Pit Table Ideas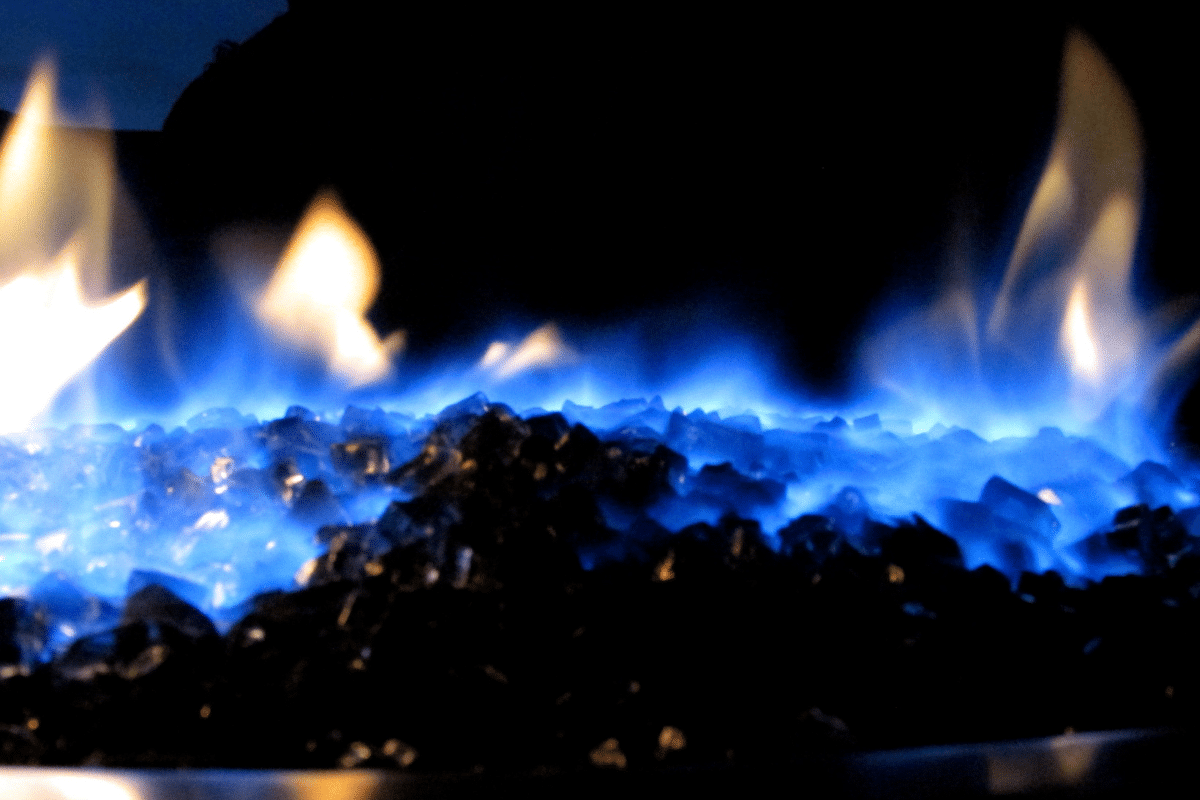 Like buying any new appliance or decorative piece, your gas fire pit table is a personal choice.
There are so many to choose from. The best thing you can do is make a list of qualities you want in your fire pit and search based on those features.
Think about elements like:
Personal taste
Use
Size of outdoor space
Preferred fuel source
BTUs
Materials
Automatic or manual starters
When in doubt, read online reviews and see what other homeowners are saying about the best new fire pit tables on the market.
The best thing about gas is that you get a smokeless fire pit, but you also lose a lot of the great things about wood-burning fire tables as well.