What is the Harbour Housewares Cast Iron Garden Fire Pit like?
I've just bought it to try it out and to summarize the whole article here: it's good!
The exact same fire pit is sold under a range of different names or brands and can be found throughout the world. I'll list the different names it goes by below, along with where you can pick them up.
Check out our best cast iron fire pit reviews for more options if you don't like the look of the style I chose.
Sunnydaze Cast Iron Fire Pit Review
This is the '75cm Cast Iron Fire Pit' that I picked up from my local big box store – 75cm is 30 inches.
This model isn't branded at all, which I don't know if I've come across before. There's no distinguishable name associated with it. However, it is the identical model to many branded fire pits listed next.
Before I get into the review, here's where you can buy this fire pit:
This same firepit is sold under the Sunnydaze brand on many sites, including their own website here.
So as you'll see by checking out those listings, this fire pit comes in two different sizes, 30 or 34 inches. It is also available in two different colors, steel or rust.
Obviously, by looking at the box above, you'll see I got the 30-inch (75cm) model in steel color. I would have got the larger size if it was available on the day I bought it, but I personally only had that one option.
This fire pit is for burning wood, it's not designed for propane, coal, or other alternative fuels. Check out our fire pit buyers guide for more info on the other options.
Cast Iron Fire Pit Specs And Features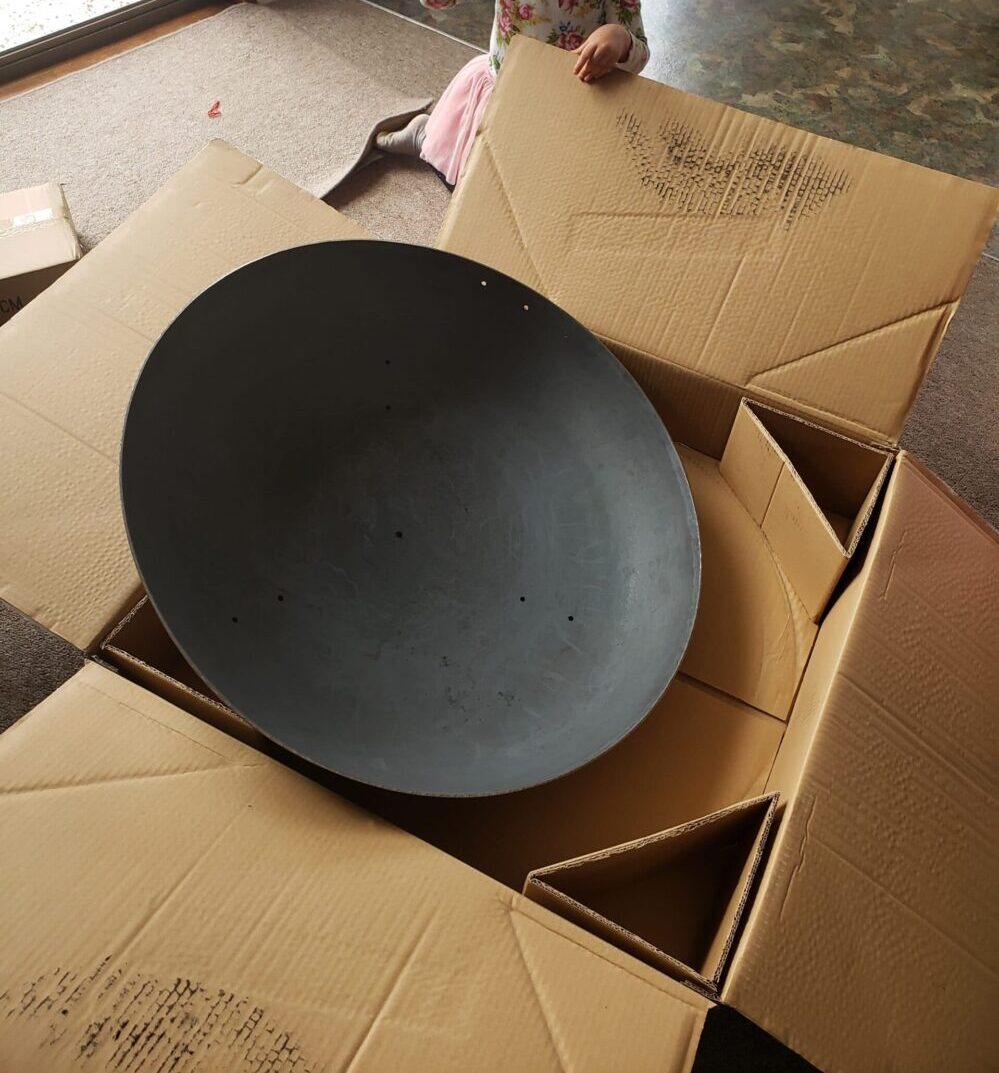 This fire pit is very easy to put together – it only took me and the kids about 5 minutes.
It's just a matter of screwing on the legs and handles.
One warning, it is very filthy, for lack of a better word. See the stuff on the top of the box? You end up with that black coating all over your hands and it does not come off easily, but that's all good!
It's not too heavy, weighing 33 pounds or 15 kgs. Because of the handles, it is easy to carry about and maneuver into position.
I often think of cast iron as a particularly heavy material because my cast iron pans are indeed so heavy, but this is a thinner construction so it's not bad at all.
Other features include:
If left outside will go rusty (this isn't necessarily a bad thing- use a fire pit cover to prevent this)
Hole at the bottom of the bowl for water to drain out
Sturdy legs – just ensure bolts are well tightened
Easy to transport
Allows for radiant heat from the metal
Durable, heavy-duty design
Made of 'oxidized cast iron metal'
If you have any questions about this fire pit then please leave them in the comments below and we'll get back to you asap.
Cast Iron Fire Pit Review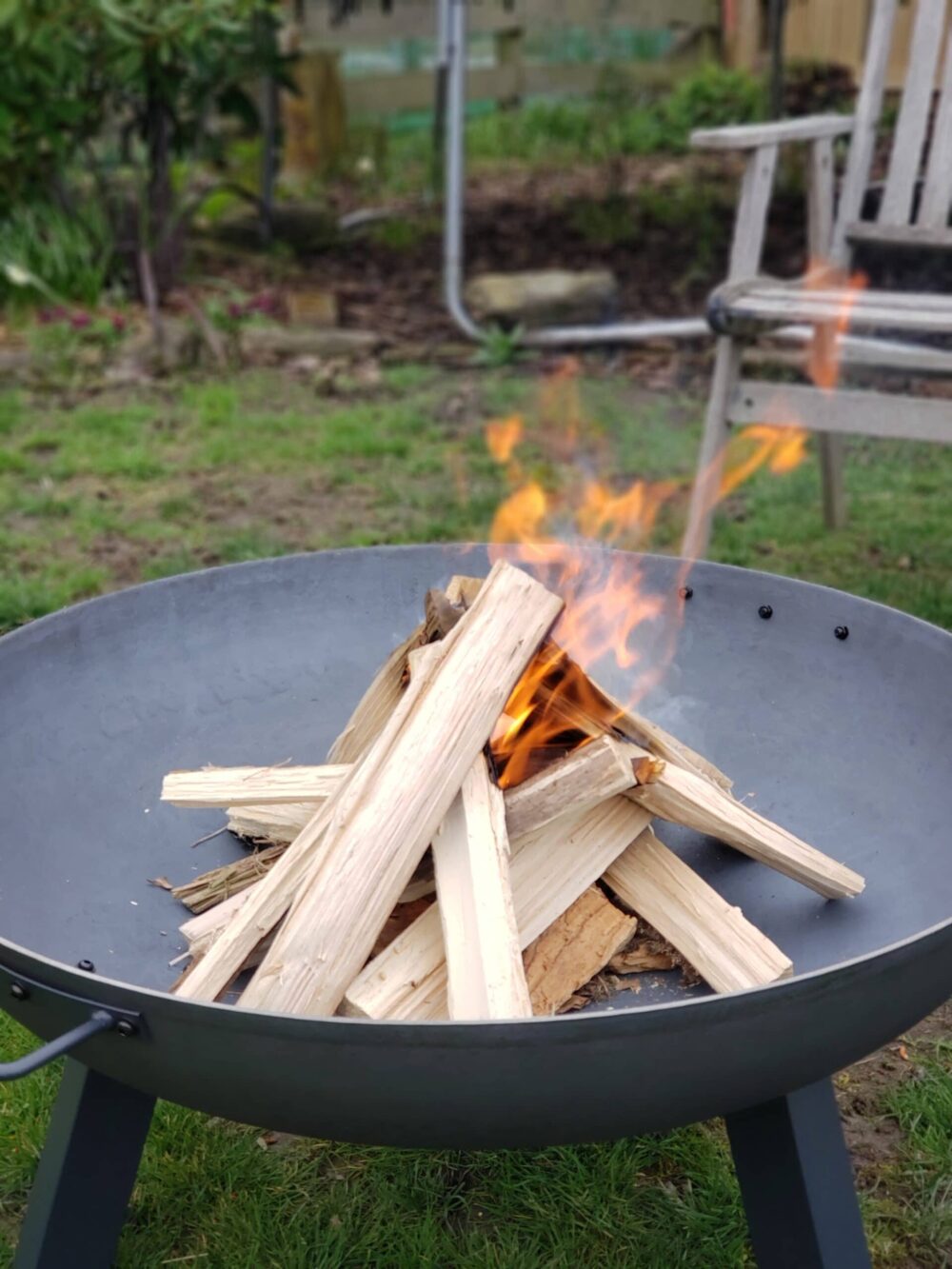 Here is the Harbour Housewares fire pit all set up with the fire going.
You can see more pics of this product in our post 'how to start a fire in a fire pit.'
It's a good-sized fire pit for sitting around with 6 – 8 people, but you'd want the bigger size for a larger audience. It's certainly large enough to have a very decent-sized fire going, and because the sides are reasonably low it puts out a good amount of heat. I had to put my seat back on a couple of occasions when the fire was really roaring.
The entire metal structure does heat up as well, so you can't move it while it's hot or cooling. The fact that it retains heat in the metal is good as it is a course of radiant heat on cool nights.
Overall, I really like this fire pit – I think it's great for the price and it does the job. It's very simple, but that's how fire pits should be in my opinion. It's doesn't need any more bells and whistles than it has – legs, handles, and a durable, heavy-duty fire bowl.
Pros:
Easy to move
Simple design
Looks good
Very cheap
Not too big
Legs and handles are not flimsy
Long-lasting (many have had and used it for years)
Cons:
The coating gets a bit messy
Max 34-inches (some might want larger)
Harbour Housewares Cast Iron Fire Pit
The Harbour Housewares Cast Iron Fire Pit listing on Amazon definitely has the highest number of sales compared to the listings on Home Depot and the Sunnydaze website. Check it out to read many more reviews and the current star rating.
If this fire pit is in your budget and you like how it looks, I can definitely recommend it. I'll update this post as we get more use out of it and as it ages to show how it holds up over time.
If cast iron isn't really your thing and you prefer something a bit more 'polished,' check out these top copper fire pits for a different feel – they're generally a bit more expensive, but there are some really great options there too!
Lastly, check out these outdoor fire pit ideas for more examples of fire pit design and landscaping options.