Is an electric fire pit any good?
You might also ask, 'are there even any electric fire pits for sale?'
That last one is an important question because when you search for an outdoor electric fire pit, the search results are overwhelmingly NOT electric! I'm mostly seeing propane fire pits that have an electric start, or other forms of gas fire pits.
Check out the search results for 'electric fire pit' on Amazon here – not a single electric model that I can see at the time of writing.
To be honest, I can't find anything that fits the description of 'outdoor electric fire pit' – or fireplace for that matter. Not on Amazon, Target, Wayfair, Home Depot, Lowes, or anywhere else. But here are the best alternatives.
*Check out our round-up of the best see-through fireplaces for some good outdoor heating options.
Best Electric Fire Pit
Amazon Fire Pits

Amazon has one of the largest ranges of outdoor fire pits
Wood burning, propane/LPG, ethanol, or natural gas options
Also, a huge range of outdoor electric patio heaters

VIEW FIRE PTISVIEW PATIO HEATERS

Home Depot Fire Pits

Home Depot is one of the top fire pit retailers
Every type of fire pit shape and size
Many other outdoor heating solutions

VIEW FIRE PTISVIEW PATIO HEATERS

Ace Hardware Fire Pits

Ace Hardware have many outdoor heating options
Fire pits, fire pit tables, patio heaters, etc
Also stockists of the popular Solo Stove firepit

VIEW FIRE PTISVIEW PATIO HEATERS

Sunnydaze Fire Pits

A wide range of propane gas and wood burning fire pits
Many different shapes and sizes
Fast & free shipping in the contiguous U.S.

VIEW FIRE PTIS

Sunjoy Fire Pits

Many wood burning and propane fire pits
Also many large outdoor fireplaces
Free shipping for all products (some conditions)

VIEW FIRE PTIS
Are There Any Electric Fire Pits?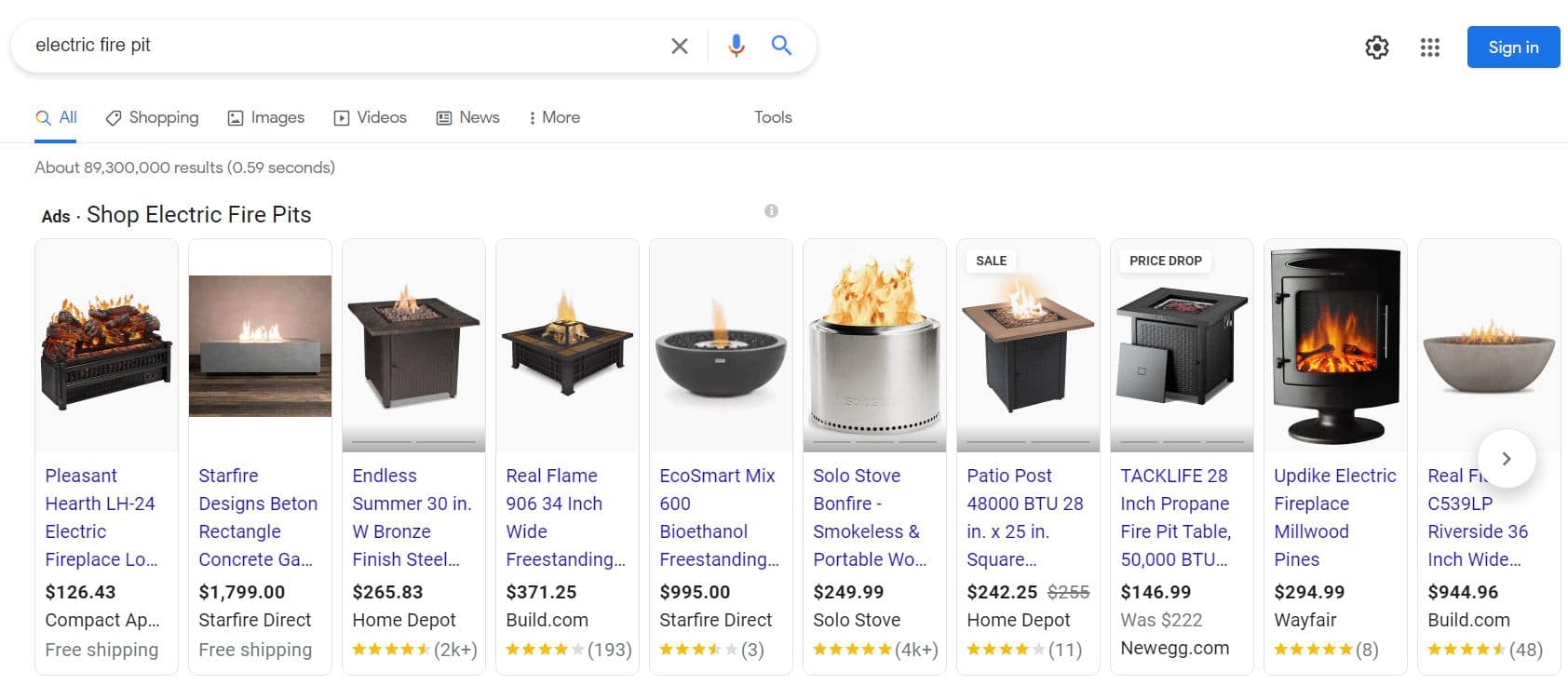 Here are the shopping results for 'electric fire pit.'
None of these results show one though. There are a couple of indoor electric heaters, like the first result, but then the rest are either propane or ethanol fire pits.
There are a lot of people searching for things like:
Electric fire table
Portable electric fire pit
Small electric fire pits
Electric bonfire
Electric tabletop fire pit
And so on…
But I really don't think there is such a thing – please let me know in the comment section below if I'm wrong, and I'll happily re-write this whole article.
All of the search results for these queries come back with decidedly non-electric firepits, and I'm yet to find a single one that could be called this.
The closest I've come is the UKIAH Fire Pit which has a battery for playing music as well. The fire is gas, but it's a fire pit and Bluetooth speaker so requires power for the speaker part!
Why There Are No Electric Fire Pits
This image is of an indoor electric fireplace (you can also see our list of the best corner electric fireplaces for more).
Electric fireplaces always look a bit tacky, even the most realistic of them.
How could one be designed for the patio or backyard?
It would just be this fake-looking rock or log set-up in a fire bowl. I imagine a fan could be installed to direct heat out from the device, but would it really be worth it.
There are outdoor electric heaters, like this infrared patio heater on Amazon, but this is quite different from what you would imagine an electric fire pit as being.
To sum up, here are some reasons why I think outdoor electric firepits are a non-thing:
They wouldn't actually look good
They wouldn't be able to put out much heat (and if they did, it would be noisy)
Having electrics outdoor like this could be dangerous in the weather
And lastly, simply because there are so many other much BETTER options with propane, ethanol, and wood-burning fire pits.
Best Electric Fire Pit (Alternatives)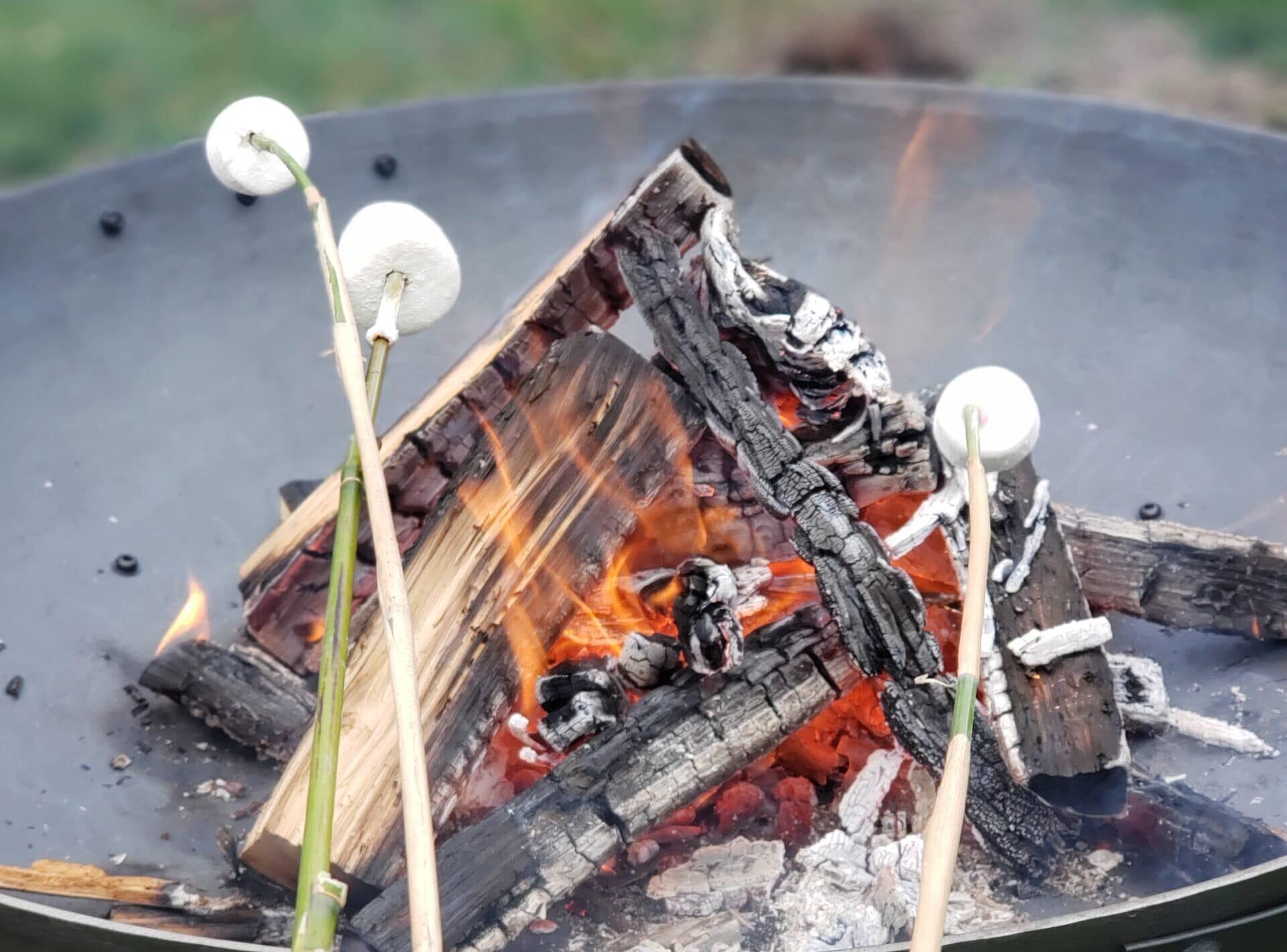 So while I don't think you're going to be able to get an electric fire pit table, there are many other very good options out there.
I recently got this Sunnydaze Cast Iron Fire Pit and it's been great.
It's a wood-burning fire pit, so that means you can also use it for roasting marshmallows!
However, here are 5 of the bestsellers in a range of styles and fuels.
1. Outland Living Fire Table
Dimensions: 44 x 32 x 24 inches
Weight: 96 lbs
BTUs: 50,000
Fuel: propane
This Outland Living Fire Pit Table is a very popular option.
It's a propane gas (not electric) fire pit that has a push-button spark ignition.
It's more expensive than many of the alternatives, but it looks fantastic and is of much higher quality. It's also larger than most, being rectangular rather than square.
This alternative electric fire pit puts out a lot of heat at 50,000 BTUs, so it's great for cooler climates as well.
The U-MAX Fire Pit Table is a similar model worth comparing prices with.
---
2. Titan Great Outdoors Fire Pit
Dimensions: 40 inches
Weight: 94 lbs
Fuel: wood
The Titan Outdoors Copper Fire Pit is a large round wood-burning fire bowl.
It's super solid as it has a good stand, and the grill for building the fire on top of is a good feature. It helps a lot of air get in to fuel the fire so that it burns nice and hot.
Copper is a really nice material as well (more copper fire pits here) and it won't rust if left out in the weather – though it can get a green patina. It's a tough and impressive option, unlike a faux electric fire pit.
Titan Outdoors Fire Pits are popular because they're large and durable.
---
3. BALI Electric Fire Pit Alternative
Dimensions: 28 x 28 x 25 inches
Weight: 50 lbs
BTUs: 50,000
Fuel: Propane gas
The BALI OUTDOORS Fire Pit Table is a smaller and cheaper option than the previous electric tabletop fire pit alternative.
However, it still puts out the same levels of heat, looks really good, and is a strong, sturdy solution. It's a propane gas (LPG) fire pit that also doubles as a table.
You can cover the fire hole when it's not in use (obviously, I hope), and voila, it's a helpful table. It comes with blue fire glass, a hose regulator valve set, and hardware. You need to supply the propane tank.
---
4. AMAGABELI Cast Iron Fire Pit
Dimensions: 28″, 30″, 36″, or 39″
Weight: 19 lbs
Fuel: wood burning
The AMAGABELI GARDEN & HOME Fire Pit is another good alternative to an electric fire pit heater.
Being wood burning, it's definitely more work than flicking the switch on an electric heater, but I'd argue that work is worth it!
Cast iron is also a good material for these types of products (more cast iron fire pits here) as it puts out a lot of radiant heat. The downside is that it rusts easily and quickly, though some people like this effect.
---
5. Solo Stove Fire Pit
Dimensions: 19.5 x 19.5 x 14 inches
Weight: 20 pounds
Fuel: wood burning
The Solo Stove range of small portable grills and fire pits could be another good choice for those looking for small portable electric fire pits.
This brand is very well known, and they've sold a lot of these units.
Because of their design, they create less smoke than other models. The double-wall design allows for secondary combustion, meaning it's not so unpleasant to be around if this wind picks up.
These portable propane fire pits are also good options for those wanting something small.
---
Outdoor Fire Pit Electronic Ignition
There are also plenty of fire pits with electronic ignition.
This just basically means 'push button start' and is used on most propane fire pits.
Here are some of the best-looking fire pits automatic ignition:
All Elementi Fire Pits are propane or natural gas burning, and they all have electronic ignition.
Propane fire pits with electronic ignition are certainly less work to get started and keep going, and this suits some people much better.
Not everyone wants to collect firewood and continuously tend to the fire – and that's cool!
Also, a gas or electric fire pit is much easier to put out – putting out a wood fire pit takes some time.
Outdoor Electric Fire Pit
So while there are no electric fire pits that I've been able to find, there are plenty of extremely good alternatives – and I would say better alternatives.
The idea of an electric fire pit table or a portable electric fire pit might sound good, but the reality would be underwhelming. You'd be much better off getting something that both looks good and can warm you up.
Whatever type of outdoor fire you end up settling on, consider getting one of the best fire pit mats to protect the grass or your patio underneath. A fire pit can do a lot of damage when it's too close to the ground without protection.
And lastly, check out this Firebox Stove review for a final product that might meet your needs.