No matter the season, a wood-burning fire pit is a great addition to any family home. It provides warmth on cool, or even chilly, nights. Kids can roast marshmallows, hot dogs, and s'mores. You can even cook an outdoor meal with the right tools.
A wood-burning fire pit can also serve as the centerpiece of an outdoor living space. Surround it with patio chairs, chaise lounges, and a small table for books and let the conversations commence.
Below is our list of the seven best wood-burning fire pits in the market today.
Some are good for keeping families warm at night. And some are good for outdoor grill masters who want to char up some steaks or ribs.
The one we recommend is the Bali Outdoors Wood Burning Fire Pit because, besides warming you up in the cold nights, it allows you to cook mouth-watering dishes for friends and family to enjoy.
Wood Burning Fire Pit Reviews
1. Bali Outdoors Wood Burning Fire Pit Grill
Not only will your fire rage in this deep, circular wood fire pit, but families and serious outdoor chefs will enjoy how steaks, hamburgers, and chicken breasts cook to perfection.
More than 5,000 cubic inches is available for large wood chunks or charcoal. The lattice framing around this backyard wood fire pit provides a decorative touch.
The company has added a circular brace attached to the four bottom legs for more wood burning fire bowl stability. But the best part is the included swiveling grill attachment that allows outdoor cooks to infuse meals with hickory or mesquite flavoring.
Check out these other very good fire pits with grills if you like this style.
Pros:
Included grill attachment
Deep pit
Circular stability arm
Cons:
Poker seems short for the size of the pit
No cover included
---
2. Solo Stove Portable Wood Burning Fire Pit
Flames dance out of this unique, patented backyard fire pit.
The people at Solo Stove originally developed fire technology for backpacking adventures. Now they have branched out with one of the best portable outdoor fire pits available.
Hipsters, techies, and environmentalists like how the round wood-burning fire pit provides an avenue for outside air to flow up into the cylinder and create a cleaner, hotter burn. All this with little smoke and limited ash (more about smokeless fire pits here).
Plus, the stainless-steel design gives the bonfire pit a space-age look.
Pros:
Stainless steel design
Patented technology
Lightweight for ease of travel and use
Cons:
Not huge
Not the ideal permanent option (better as a portable model)
---
3. Yaheetech Square Wood Burning Fire Table
In six easy steps, young families with small kids can smell the backyard barbecue in the afternoon as well as hear the crackling fire at night with this square wood-burning fire pit.
It features a brick design around the heating and cooking surface and sturdy four-poster construction. The pot size includes more than 2,000 cubic inches to fill with wood or briquettes. Or fill it with ice and use the pit for sodas and beer during a summer picnic.
Most fire pit tables tend to be gas burning, so it's good to have some options as wood-burning.
Pros:
Size
Easy assembly
Brick design
Can be used for cold drinks as well
Cons:
Grilling gate is an extra charge
Paint peels quickly
---
4. Hampton Bay Wood Fire Pit With Screen

VIEW LATEST PRICE →
Fire won't be the only thing popping in the backyard if you decide to get one of these wood fire pits at Home Depot. The look will pop, too.
Many fire pits come in a black finish, but Hampton Bay has created a burnished bronze look for stylish families that meshes with almost any outdoor décor.
The bowl is plenty big enough for a nice, warm fire. And the lattice design around the large wood-burning fire pit allows people to see the flames from every angle.
Pros:
Bronze finish is eye-catching
Sturdy cover ring makes lowering and raising a breeze
Cons:
Cover not included
On the heavy side
---
5. Hamilton Large Wood-Burning Fire Pit Table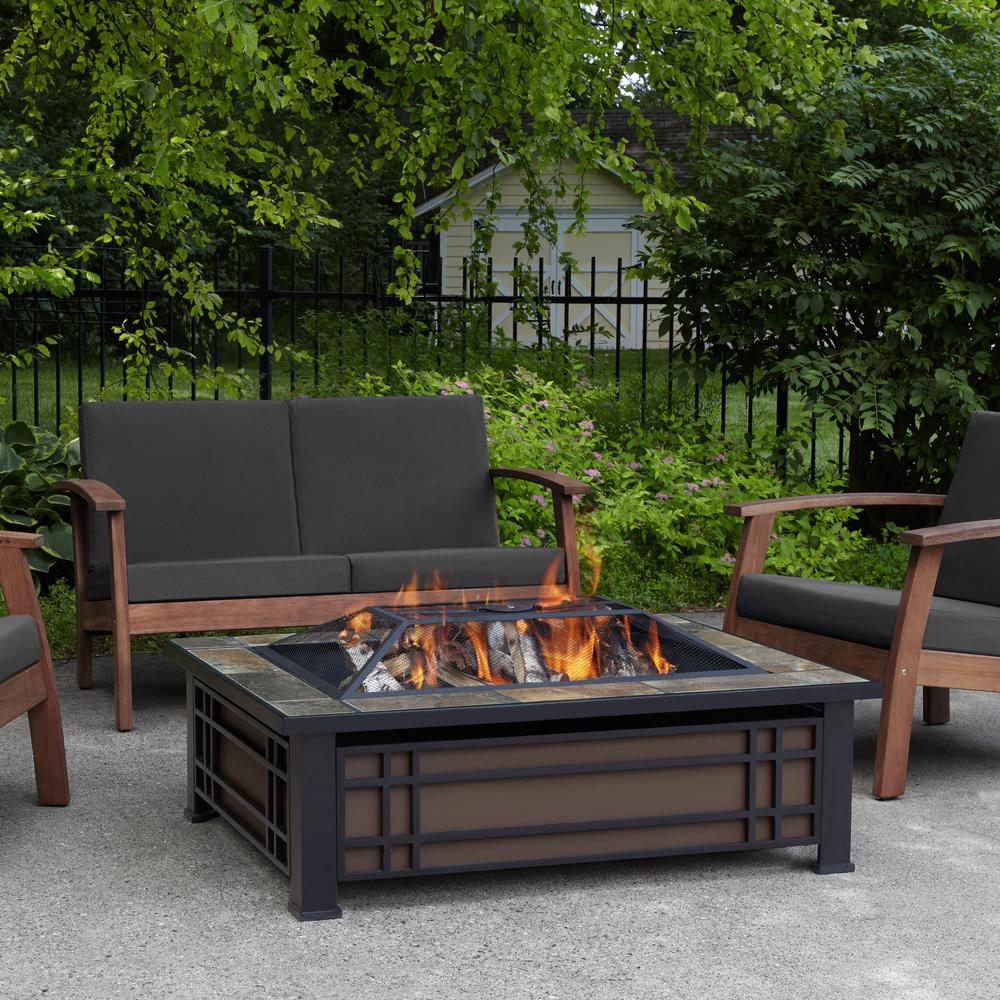 VIEW LATEST PRICE →
At 572 square inches, this is a Home Depot fire pit that's one of the largest on the market. And this large wood-burning fire pit has a bold design that will make a statement in any backyard.
Established, multigenerational families appreciate how this wood-burning fire pit table is more like a piece of furniture, with tile design and unique bracing elements.
Sit around this patio fire pit in a comfy chaise or padded chair, and the conversation will last well into the night.
There tends to be more large models like this in the propane fire pit range.
Pros:
Large fire area
Upscale design elements
Cons:
Heavy construction makes it difficult to maneuver
Pricey
Cover not included
---
6. Sunnydaze Round Wood Burning Fire Bowl
VIEW LATEST PRICE →
Here's an open-flame wood fire pit bowl that would fit in nicely behind anyone's hacienda.
The rustic look and feel of this small cast iron fire pit fits into a range of backyard settings. Beneath that exterior is heavy-duty oxidized iron, so it's safe and durable.
This pit is great for young couples. It comes with easy-to-use handles, so it can be enjoyed anywhere in the courtyard. Find out more about this product in our cast iron Sunnydaze fire pit review.
Pros:
Sturdy legs support the pit on various surfaces
Cast iron construction
Rustic patina gives the appearance of old-world charm
Cons:
---
7. Lehman's Backyard Fire Pit Wood Grill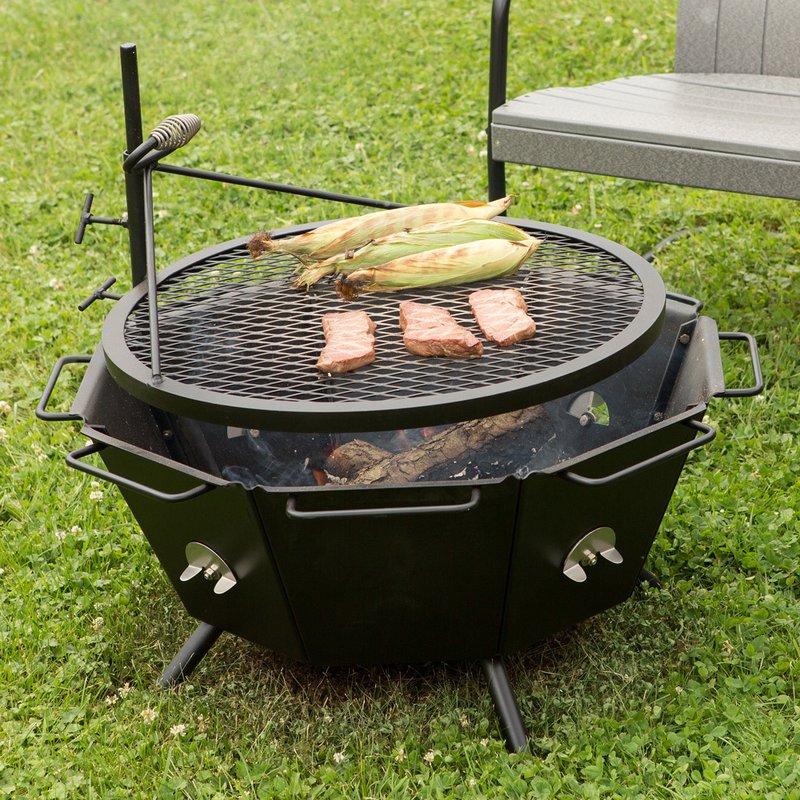 VIEW LATEST PRICE →
If any outdoor wood-burning fire pit were meant to evoke the Old West, this would be it.
Lehman's has created a brawny, octagonal grill that looks like chuck wagons would have used one back during the westward expansion. The attached grill is big enough to feed a small crowd, and the deep pit can hold enough lumber to keep the fire burning way past bedtime.
Outdoor chefs will enjoy everything about this fire pit grill. Friends will have to wait for the cook to ring the triangle to announce that dinner is served.
Pros:
Large, attached grill
Heavy base
Cons:
Pricey
DIYers might find it difficult to assemble
---
Propane Vs Wood Burning Fire Pits
Whatever reason you decide to purchase a wood fire pit for sale, you'll also be tasked with choosing which fuel to use.
Gas or wood?
Several factors go into the decision-making process.
First, do you have the storage space to hide a 15-gallon (or more) propane tank while using the pit? Your guests want to watch the fire, not an ugly propane tank.
Wood will need to be stacked, but the logs can usually be stored away from the pit.
Next, how available is the fuel source? If you live in a rural area with lots of trees, you can chop your own wood. City dwellers may find it easier to call a propane gas company or exchange their tanks at a home improvement store.
Then think about the overall cost. Wood is typically cheaper than gas and may be easier to find during difficult times.
You may want to consider ease of use. Gas fires start at the flick of a switch (electric ignition). Voila! Wood fires need kindling, other fuel sources, and a bit of work to get going.
Finally, think about safety issues. Gas pits can develop a rare leak. Using firewood requires the use of basic safety measures, such as properly storing the wood, dousing the fire, and disposing of the ashes when finished.
And remember, you can outfit almost all fire pits to use either type of fuel.
Wood Fire Pit BTUs
The British Thermal Unit (BTU) is defined as the amount of heat required to raise a pound of water's temperature by one degree on the Fahrenheit scale. In effect, it measures how much heat (or thermal) energy an appliance is giving off.
Fire pits need to transfer enough thermal energy to keep you and your family warm by the fire or cook any food that you might want to eat. But fire pits don't need to produce so much heat that you get a sunburn standing next to them.
Fire pits ratings come from the number of BTUs they produce. They range between 30,000 BTUs and 150,000 BTUs. Pits with higher BTUs will create higher flames and hotter temperatures.
If you think you'll use your pit for a lot of grilling, you may want to opt for one with a higher BTU rating. Otherwise, one with a low rating or somewhere in the middle should do just fine for general warmth and glow.
Wood Burning Fire Pit FAQs
Here are some of the most requested questions concerning wood-burning fire pits.
Can I Burn Wood in My Backyard Fire Pit?
Absolutely, yes.
This is the most common fuel for outdoor fire pits based on its prevalence in nature. Plus, there's something about a good old-fashioned wood fire that stokes people's imaginations (get your campfire songs ready). Oh, and s'mores taste better over an open wood flame.
Are Wood-Burning Fire Pits Good?
We think most people agree that keeping warm on cool spring, summer, or autumn evenings is a good thing.
Plus, some of the pits can be used in other ways, such as a large ice chest for summer picnics. And they add a decorative touch to any backyard. We believe, given all those factors, that fire pits are a positive addition to a family home.
What Do You Put in the Bottom of a Wood-Burning Fire Pit?
If you're considering building a permanent fire pit, then we recommend starting with a layer of sand on the bottom, followed by some soil, paver stones, gravel, lava rock, fire glass, and concrete.
But if you're content to use one of the portable fire grills mentioned in this article, you might lay some aluminum foil across the bottom. Otherwise, simply build your fire triangles with kindling and some paper, and you should be all set.
You don't necessarily need anything at the bottom, see our 'lighting a fire pit' post for example.
What's Best to Burn in a Fire Pit?
Hardwood is the best type of wood to maintain a long-lasting and clean fire.
That includes oak, hickory, birch, ash, and dogwood. Softwoods are good to help get a fire started because they catch quickly and burn hot. They also provide a pleasing aroma.
Of course, you can use treated wood products and charcoal briquettes as well.
Do Wood-Burning Fire Pits Give Off Heat?
Yes, and sometimes a lot of it.
If you are interested in using your fire pit mostly for its warming ability, then we suggest you buy one that is lower to the ground. Hot air rises quickly, so a taller fire pit may miss the desired areas of your body that need warmth.
If you're using it on your lawn, deck, or patio, be sure to put a fire pit mat underneath.
Best Backyard Wood Fire Pit
As you can see, there are some great wood-burning fire pits out there just waiting for you to decide which is the best one for you, your partner, or your family.
We believe that the Bali Outdoors Wood Burning Fire Pit is the Best Overall because it's good-looking, has a deep bowl that can handle lots of wood, and includes a grill for those who want to use it for cooking. It's also inexpensive compared to some of the brands on this list.
Others are more decorative in nature, and others may be bigger. Some are more for cooking than standing or sitting next to the fire on a cool night. The Bali Outdoor Fire Pit checks all the boxes.
We also like the innovation of the Solo Stove Bonfire Fire Pit and the retro look of the Sunnydaze Cast Iron Fire Pit Bowl with Stand.
Truly, you won't go wrong with any of the choices on our list.
But if you want to use your wood-burning fire pit for both comfort and cooking and at a good price point, then we think you ought to consider the Bali Outdoor Fire Pit.
If you like these wood fire pits, you also might be interested in these indoor wood-burning cookstoves.