The best chiminea for your home will depend on your individual taste, space, and budget.
Personally, I think all chimineas are great, but there are a few models that are especially fancy and worth extra attention. Everyone needs some type of outdoor fire pit at their home, and a chiminea is an excellent choice.
You can read our post 'what is a chiminea?' to learn more about their history and function. In this post, we're just going to be looking at some of the best chiminea fire pit examples to help show what your options are!
Chiminea Fire Pit Reviews
When deciding on the best chiminea fire pit for you there are a few ways you can break down the options.
Consider:
Size – small, medium, or large
Material – clay, cast iron, cast aluminum, steel, etc
Fuel – wood-burning, charcoal, or propane gas
Style – modern or traditional
Cooking – some are better for cooking on/in than others
Features – handles, chimney tops, pokers, etc
Budget – they range in price from $30 – $1000
So you can see, there are a few decisions to make and plenty of options out there.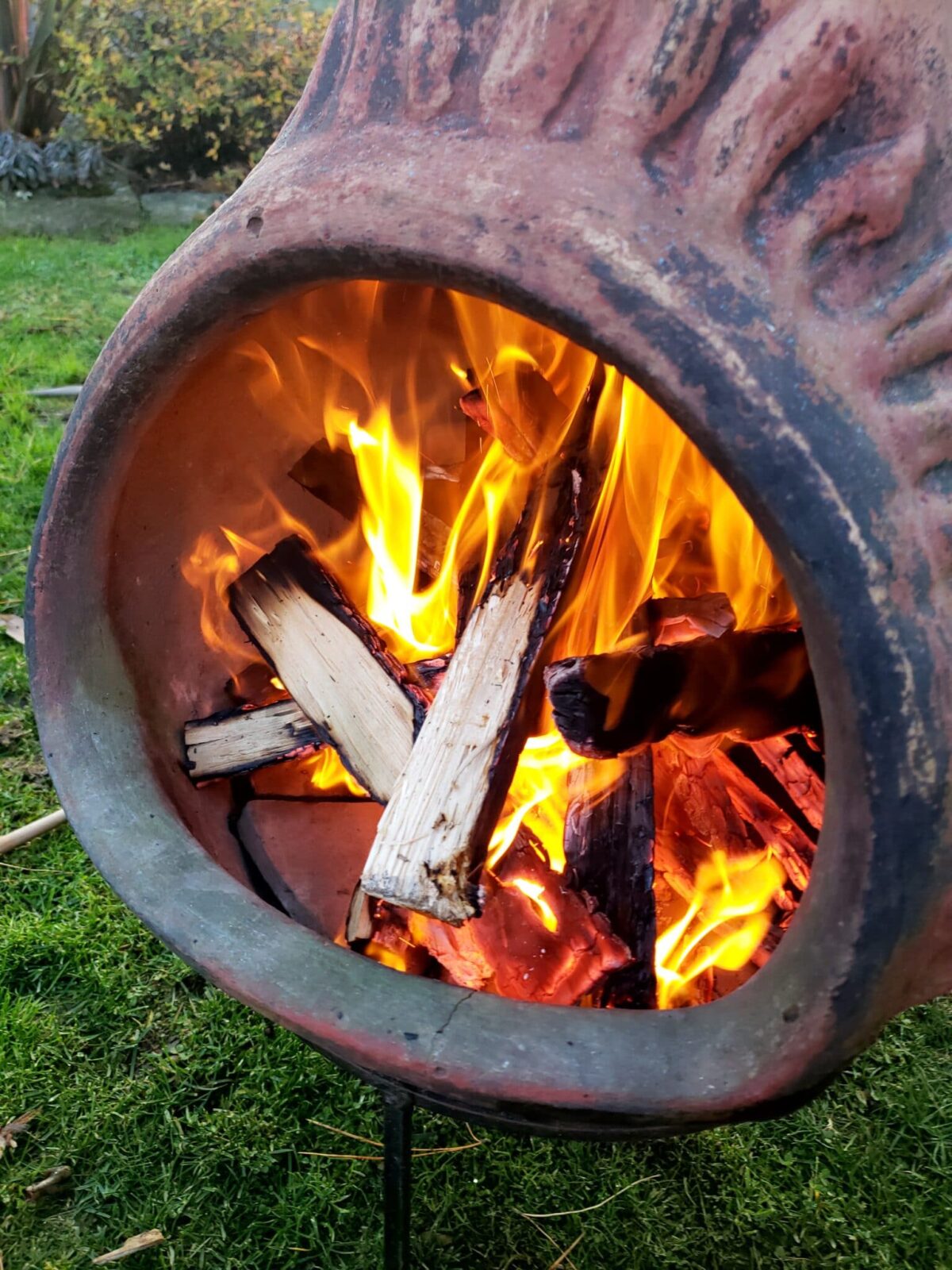 This is my clay chiminea – you can learn more about it in this post on how to use a chiminea, but it's similar to this model on Amazon.
We'll share a bit more about how to choose a chiminea at the end of this post, but first here is a lot more info about the chimineas in the table above, plus a couple more.
Check out this guide to learn more about the different types of fire pits out there.
1. Bali Outdoors Cast Iron Chiminea
Cast iron
Mid-sized
53 lbs
This cast iron chiminea is one of the best-selling models on the market.
It's definitely a more modern chiminea that can be enjoyed by everyone sitting in a circle. Unlike a clay chiminea, it can be viewed from 360 degrees because of the wire mesh body.
This means everyone will feel the warmth – it's a better option for those who want a centerpiece.
The downside of the mesh sides is that it won't act so much as an oven for chiminea cooking, but you can certainly still grill and cook on it.
Pros:
Sliding door
Easy to empty the ashtray
Viewable from all sides
Chimney cap and grill included
Cons:
Won't get as hot as a clay oven
Not the thickest metal
---
2. Lakeside Terracotta Clay Chiminea
Terracotta clay
Mid-sized
29 lbs
This type of traditional clay chiminea is more like what was originally used in Mexico.
A clay fire pit does not tend to be as durable as metal alternatives and can be damaged by the weather. Rain, in particular, is really bad for them and so it's best to get a good chiminea cover at the same time you buy it.
My brother and his family have a clay chiminea like this and they get a lot of use out of it. It's great for cooking in or on, doesn't go through as much wood as a model with mesh, and looks great in the garden.
This model comes with a metal stand to keep it off the ground and should last for years with the right care. It's a good idea to put sand in the bottom of a clay chiminea in order to prevent heat from cracking the bottom.
Pros:
Rustic style
Looks great in the garden
Can reach higher temps due to being more closed off
Cons:
Needs to be covered
Won't last as long as metal chimineas
Easier to damage during transportation
---
3. Sonora Chiminea Fire Pit
This cast iron metal chiminea is very similar to the Bali Outdoors model, but it's quite a bit larger (and heavier).
It's also made from cast iron, which is a great metal for this type of outdoor fire pit. It heats up quickly and radiates warmth outwards.
This chiminea looks excellent with its embossed designs and it has been finished in high-temperature bronze paint.
It also has a sliding mesh door that allows you to fill it up with wood and then close it up.
Again, this type isn't the absolute best for cooking, but you certainly still can do so, both inside the firebox (once you've got embers and the fire has died down) or on top of the chimney.
Check out these other great cast iron fire pits in a range of styles if you like this metal.
Pros:
Nice design
Large
Comes with a log grate and poker
Ashtray
Durable metal
Cons:
---
4. Home Depot Cheap Clay Chiminea
Natural clay
Small
72 lbs
This is a really cheap clay chemenia – at least compared to the previous clay model – but it is a bit smaller.
It is handcrafted and comes with a durable iron stand. Its color will fit into most garden settings and will last for years if protected from the worst weather.
This type can be best for cooking in, but if you're big into cooking pizza you have to check out the Ooni Outdoor Pizza Oven range.
Pros:
Very cheap
Simple traditional style
Easy to set up and maintain
Cons:
---
5. Blue Rooster Cast Aluminium Chiminea
Cast aluminum
Large
80 lbs
Blue Rooster produces beautifully designed chimineas that can be fueled with wood, propane, or natural gas.
The model above is the Dragonfly, made of thick cast aluminum. It's a lot more durable than cheaper alternatives, but you do have to pay for it.
Cast aluminum won't rust and is ultra-durable so it can be expected to last for years and years. This type of product can also be relied upon as a source of emergency heating and spot to cook.
Blue Rooster is an American company, but their chimineas are manufactured in China. See the complete range of The Blue Rooster Chiminea for all their stunning options.
Pros:
Wonderful designs
Extremely durable
Rust resistant
Carry handles
Limited lifetime warranty
Cons:
One of the most expensive chimineas
---
6. Endless Summer Modern Steel Chimenea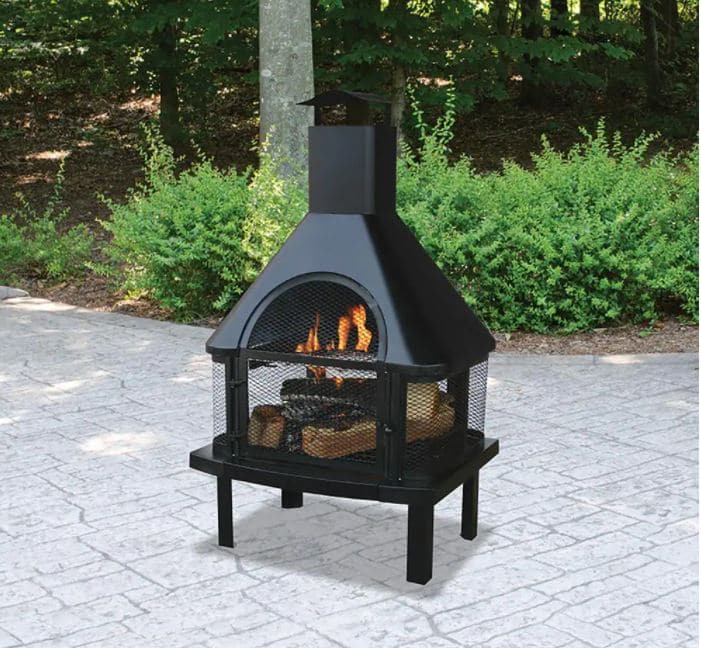 The Endless Summer wood-burning chiminea is a popular model from Home Depot.
As you'll have noticed, it's not a rotund chiminea as our other options, and you can fit a lot more wood in here, including some decent-sized logs.
It also has mesh metal sides making it the type of fire pit you can sit around and everyone can enjoy watching the flames.
It has a larger chimney that can better draw smoke away from the campsite and has a cool slide-out cooking surface.
If outdoor cooking is an important feature for you, check out these fire pits with grills that are designed in large part for this purpose.
Pros:
Good for cooking
Durable steel
Easy to clean
Cons:
Not super sturdy
Can be prone to rust
---
7. Sunjoy Outdoor Fireplace
Rust resistant steel and ceramic tile
Very large
113 lbs
And as a bit of a 'mystery chiminea' – or something else you might like to think about – an outdoor fireplace.
Like a chiminea, this is something of a fire pit with chimney, but it's nothing like a traditional Mexican chiminea.
The Sunjoy Heirloom Wood Burning Steel Fireplace will be perfect for certain patios, decks, and outdoor areas.
Chimneys are great because they direct smoke from the fire pit away from those sitting around the fire, one of the only annoyances of regular wood-burning fire pits.
This option is mostly constructed of steel, is very heavy, and is designed to be put in a permanent position and not shifted around.
If you like the look of it, check out the range of other Sunjoy Outdoor Fireplaces as they have some much bigger options alongside other fire pits.
Pros:
A big outdoor fireplace
Can put out a decent amount of heat
High chimney directs heat away
Cons:
Cannot be moved
Expensive
Not everybody's style
---
Clay Or Metal Chiminea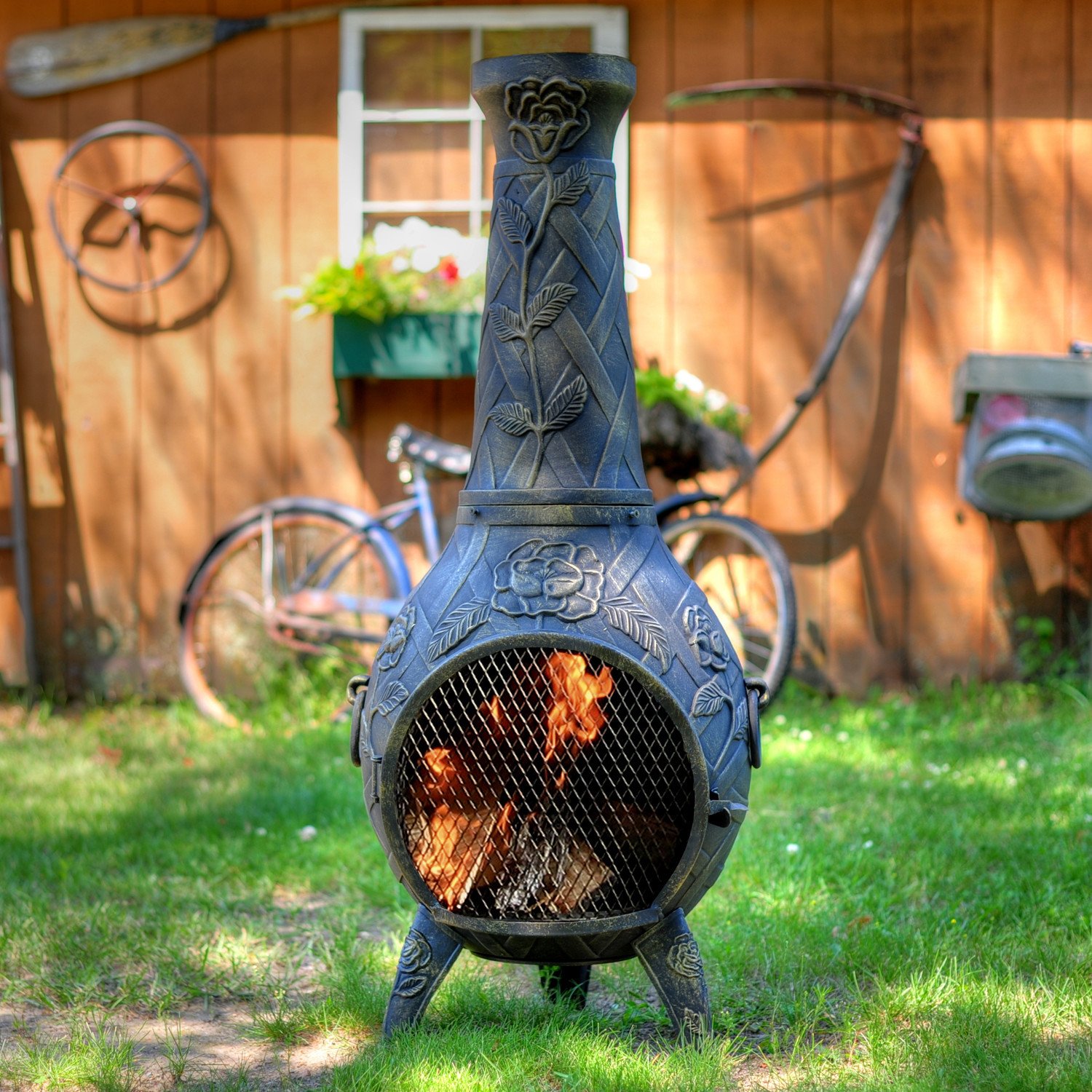 Is it best to get a metal or clay chiminea?
It really depends on what you want.
Metal chiminea tend to last longer (as long as you choose one that is well constructed) but clay chiminea has a certain aesthetic that many are looking for.
Clay chiminea looks really nice hidden away in the garden, but if there's rain on the horizon, they need to be covered anyway. Some of them do last a decent amount of time without being covered, but you'll certainly get a longer life out of them if you do.
One downside of some metals is that they rust.
Cast iron, for example, will rust if it gets and remains wet. I leave my Harbour Housewares cast iron pit out in the weather, and it has rusted. However, I don't mind the rusty look at all.
Cast aluminum, which many of The Blue Rooster Chimineas are made from, does not rust. Neither do stainless steel fire pits, such as the Solo Stove.
Steel fire pits (non-stainless) will rust if left in the weather uncovered.
When you want to buy a metal chiminea for sale, find out the thickness of the metal. The thinner ones are usually not as good.
Gas Or Wood-Burning Chiminea
While the major majority of chimineas are wood-burning, there are some that can also be used with propane or natural gas.
Here is the range of Blue Rooster products that can be converted for use or bought with gas lines so that you can choose your fuel. They can get 20,000 – 32,000 BTUs.
Personally, I prefer wood-burning chiminea, but there are pros and cons for both.
Pros and cons of wood-burning:
Collect wood
Keep adding wood
Clean up ashes
Can't be used as close to structures
You get smoke
But you just can't compete with the wood fire aesthetic. Yes, it's more work, but it's worth it.
Pros and cons of gas:
You need to put in a line or hide the gas tank
Doesn't put out as much heat (generally speaking)
Often not as big and bright a fire
The cool thing is that they are maybe a bit better on patios, porches, and decks because they can be considered less of a fire risk. You don't need to worry about sparks and that sort of thing.
However, if you want a chiminea, you really should go wood-burning.
If you like the benefits of gas, check out these awesome propane fire pits – it includes fire pit tables and fire pit conversation pieces.
Small, Medium, Or Large Chiminea
Chiminea comes in all shapes in styles, BUT the common feature I think we can all agree on is that they are 'fire pits with a chimney.'
And, as you will have seen in the table at the start of this post, they come in many sizes and weights – some are very little while others are really large.
The smallest chiminea I've seen is this one on Amazon – only 15″ tall and weighing 10 lbs!
It's actually not for wood-burning use but as an insect repellant sort of thing, so we shouldn't really consider it as a chiminea.
The Blue Rooster Chiminea are all quite large and heavy as they are made from thicker metal and are more durable.
The best option for you simply depends on your space, budget, and style. Bigger chiminea will allow you to have larger, hotter fires, but not everyone needs that.
Titan Fire Pits aren't chiminea, but they're BIG if that's what you're looking for!
If you want something super portable, consider these portable gas fire pits designed to be chucked in the car and used at the beach, park, or a friend's place.
Best Features For Chimineas
There is a range of different features you can choose or not choose to have with your fire pit.
Some of them are really good to have, such as a grill, while others are not as important, like handles.
Here they are so you can think about them:
Chimney cap – can help with smoking food or keeping the rain out
Grill – makes it easier to cook but can be bought separately
Ashtray – can make it easier to clean out the ashes
Handles – helps with shifting it around the garden
Portability – smaller can be transported
Stands – the strength of the feet or stand
Fuel – only wood or gas and wood
Of course, the better the features, the more you're going to end up spending.
Best Outdoor Chimineas
The Bali Outdoors Chiminea is a great all-rounder for the price, and it makes sense for it to be the best-seller.
The cheap clay chiminea from Home Depot is another good option if you prefer that material – at that price, it doesn't matter too much if it only last for a couple of years.
However, some people prefer to go and buy clay models instore as they are susceptible to cracking during shipping.
I hope this helps, but let me know if you have any more questions in the comment section below.
Lastly, just for fun, if you ever want to heat a small area you've got to check out the Cubic GRIZZLY Mini Wood Stove – is there anything cooler?!