Warning: these rustic fire pit ideas will make it much harder for you to make a decision.
That's because there are so many amazing designs out there. The rusted metal look will fit into many rustic settings, but there are other styles as well.
Most rustic fire pits are wood-burning, but I've found a few ideas that are propane gas as well (for those wanting the easier way out).
Let's get into them!
Rustic Backyard Fire Pit Ideas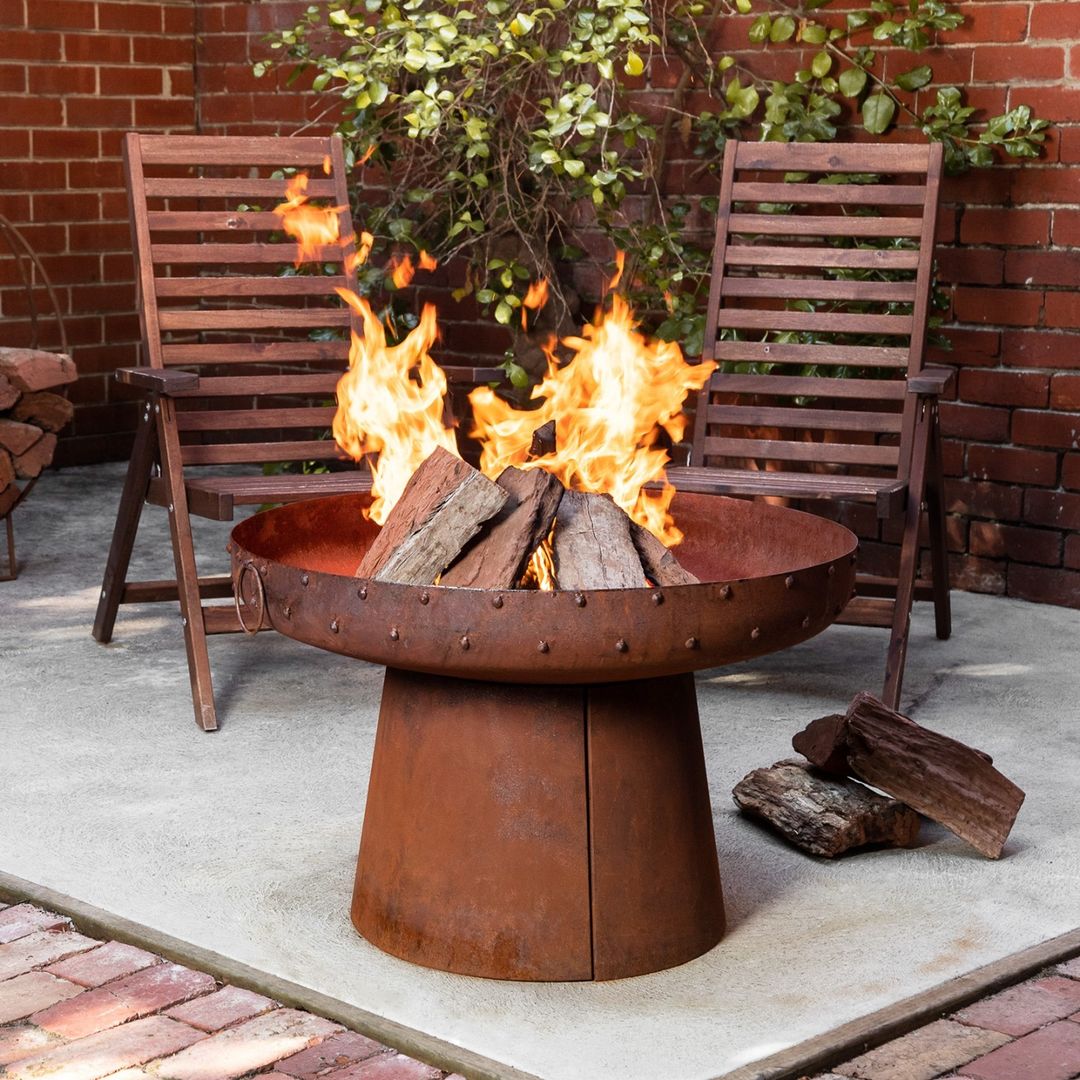 First up is the Kali Fire Pit.
It is "inspired by a rusted traditional Indian fire bowl" and said to be a "sculptural centerpiece, even when not in use!"
I totally agree, and I love how the fire bowl is raised up to knee height, rather than being close to the ground.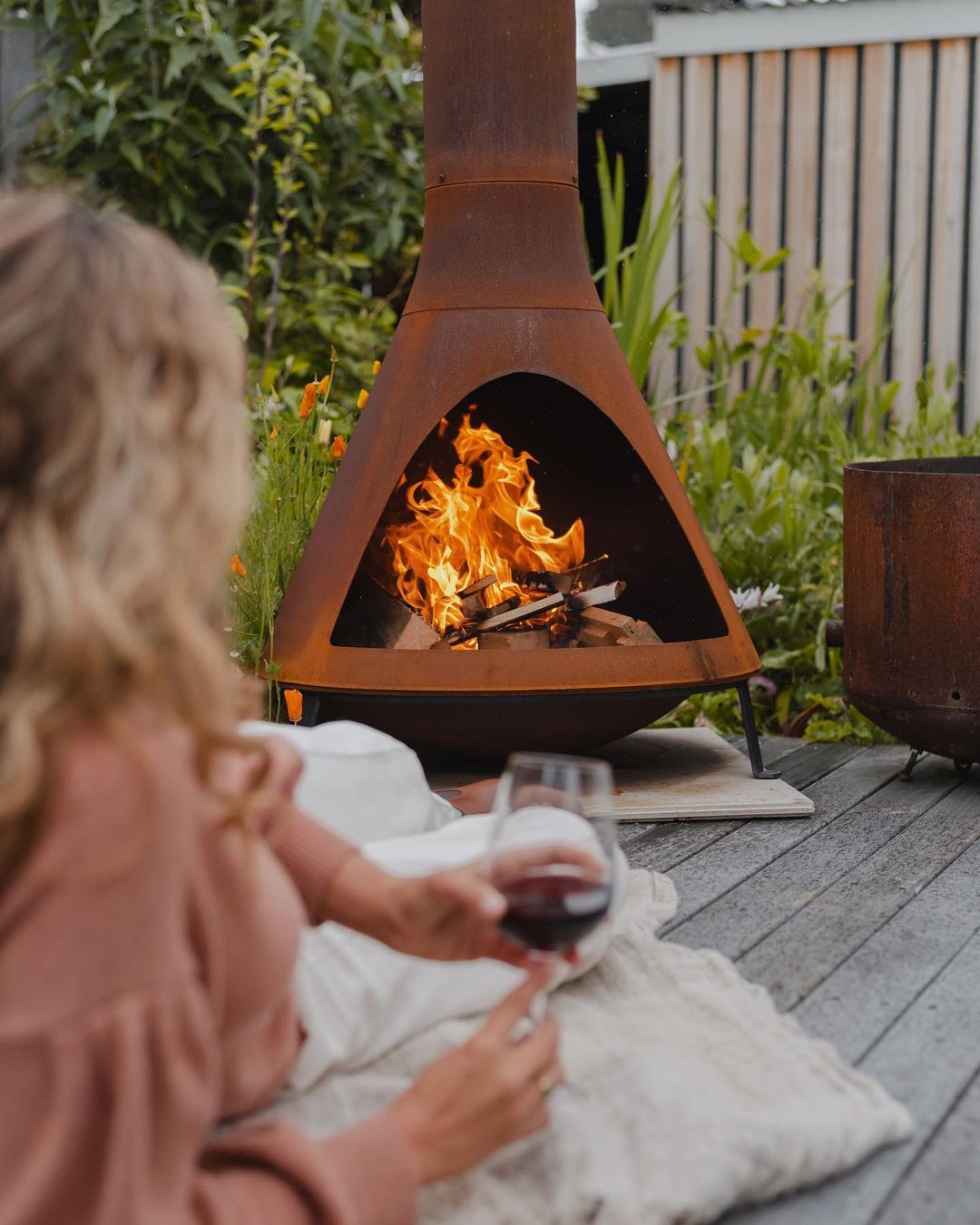 Next up is this rustic chiminea-style fire pit.
This type of fire pit is good because the chimney directs the smoke from the fire up and away. It doesn't blow in your face as much.
The downside, however, is that it's only putting out heat in one direction. This makes it good for the corners of the garden.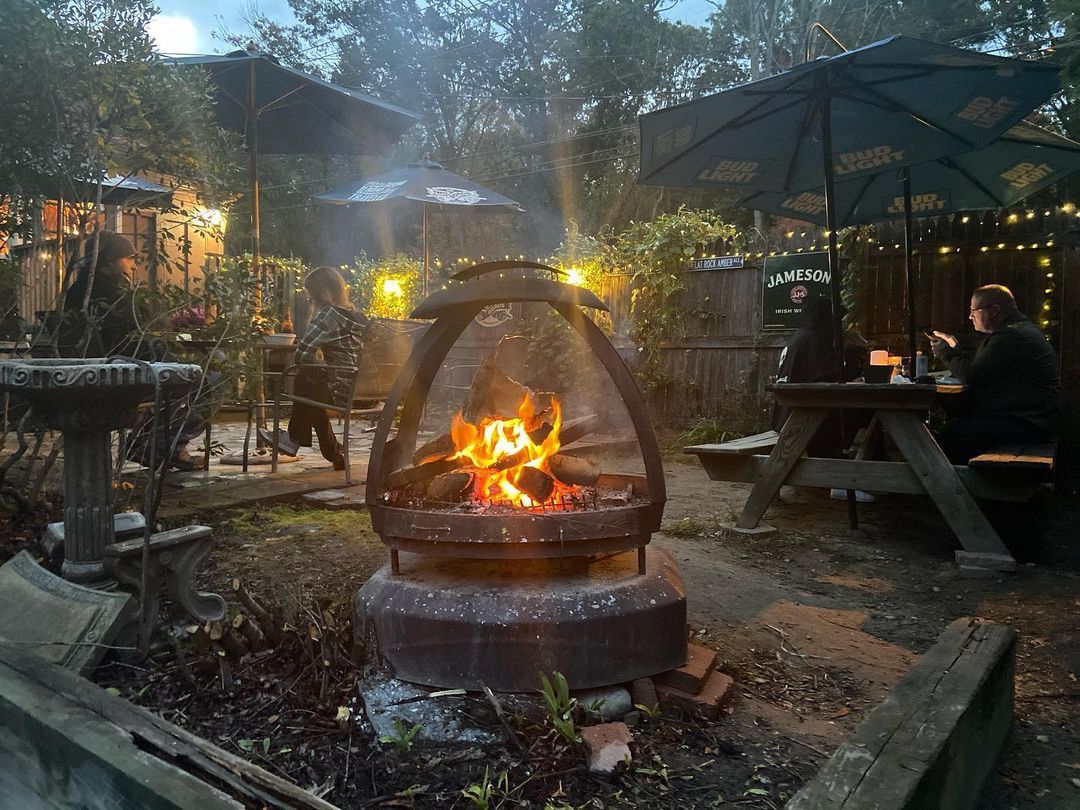 Another cool rustic fire pit, this time it's in a garden cafe.
'What makes a fire pit rustic?' – you might be asking…
For me, in order to be rustic, it has almost always got to be a cast iron metal fire pit. Cast iron is good because that will rust and really have that rustic vibe.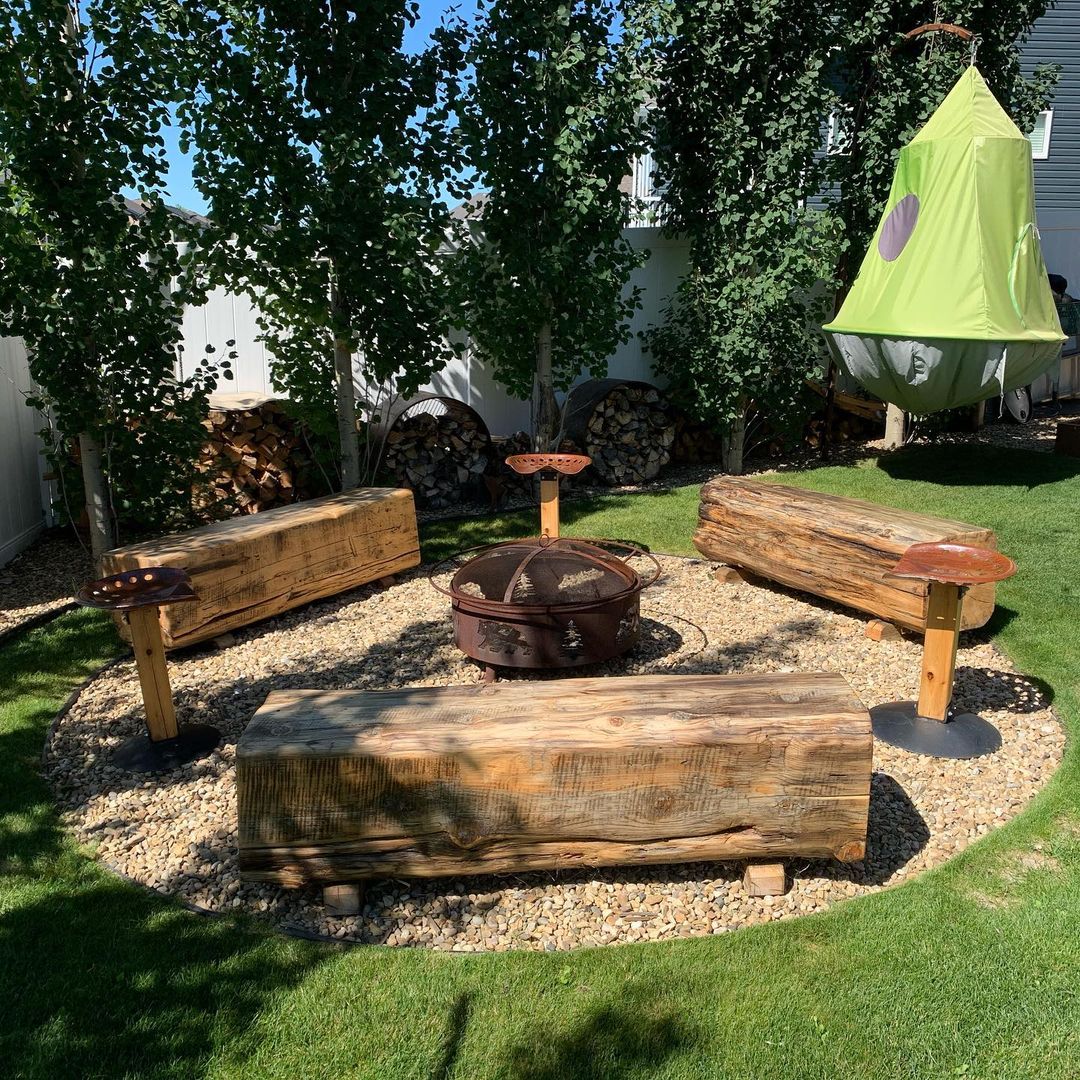 Here's what Darcie posted about her fire pit seating area:
"I wanted to create a rustic fire pit area that could be enjoyed all year round. The benches are made from a 16" across and 20' long piece of timber I found that I cut into 5' lengths, The stools are tractor seats that I rusted and clear coated. The bases are a cedar 4×4 on old salvaged tiller discs."
I think it looks fantastic.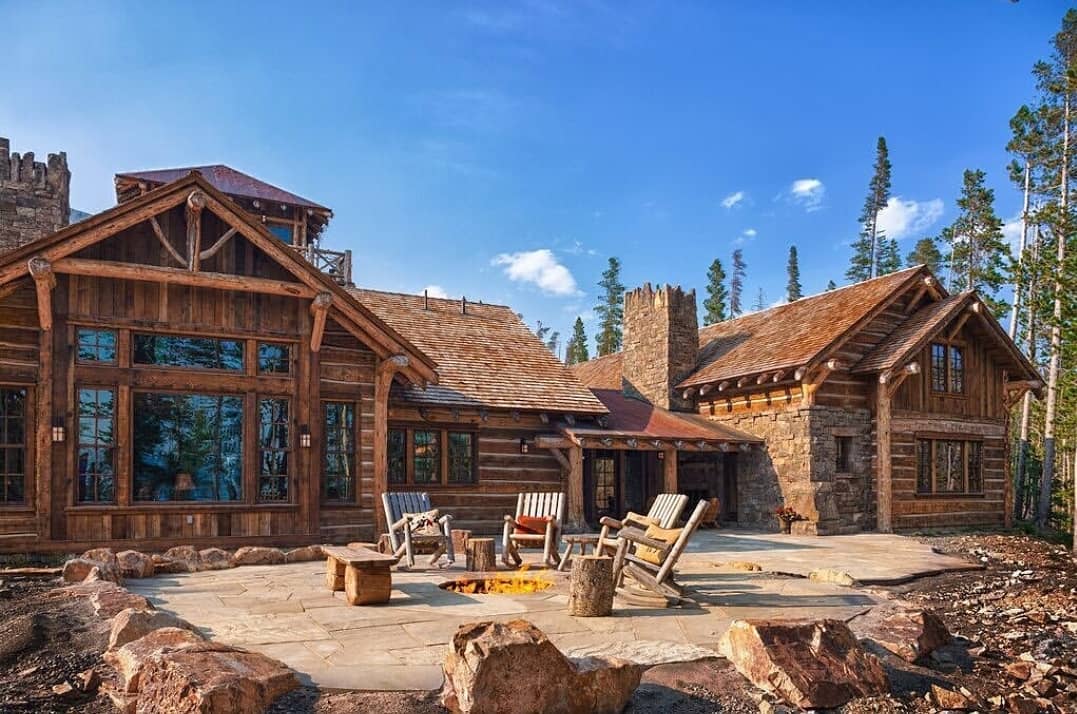 It's not just the fire pit that can give an area a rustic feel, it's the whole setting.
This fire pit is basically just a hole in the ground, but the seating, the home, the landscaping, and the scenery all come together to give the whole patio area an authentic rustic vibe.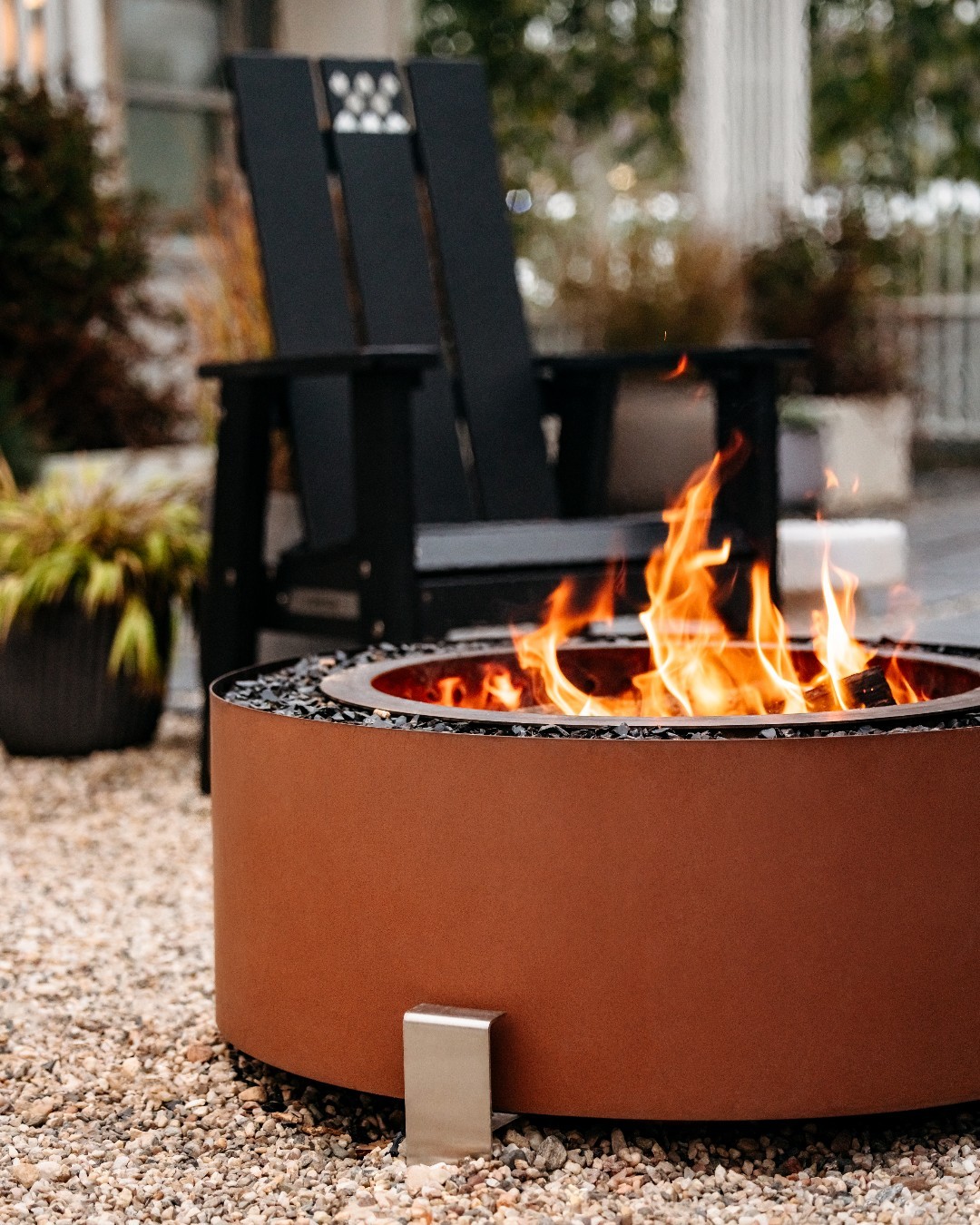 Another beautiful rustic fire pit idea.
This is a corton steel fire pit. Breeo Fire Pits are high quality, portable, wood burning fire pits that have a smokeless burning design.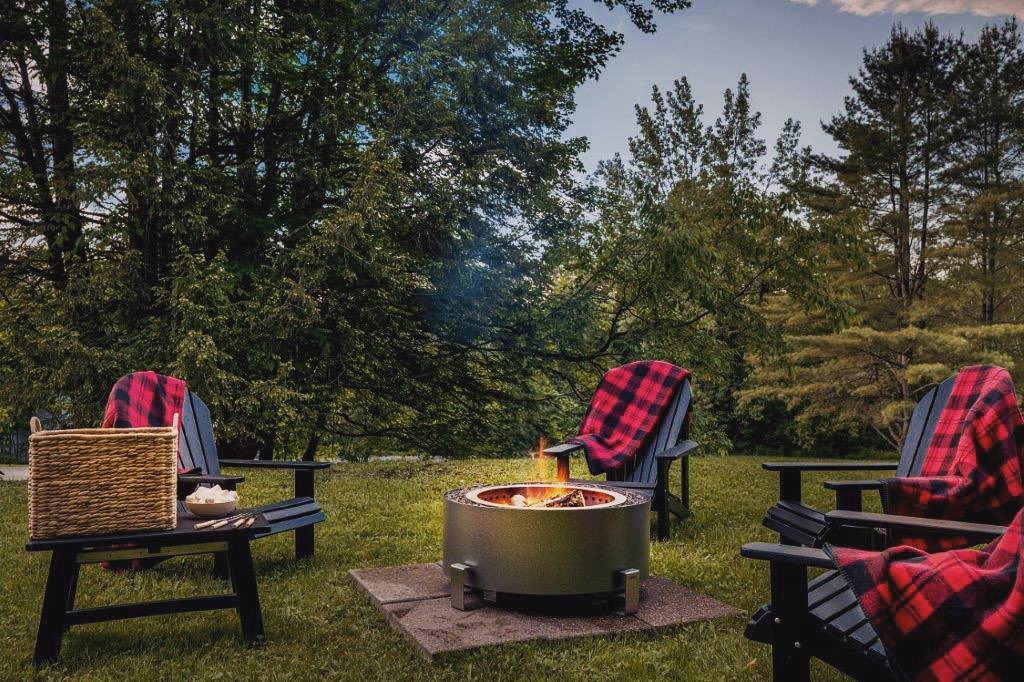 This Breeo Smokeless Fire Pit which can be easily transported from backyard to campsite.
The setup in this image looks semi-permanent with the pavers down and the heavier chairs in place, but it could be shifted quickly if needed.
I think it's the fire pit Acapulco chairs that give this set a rustic feeling, along with the tartan blankets of course!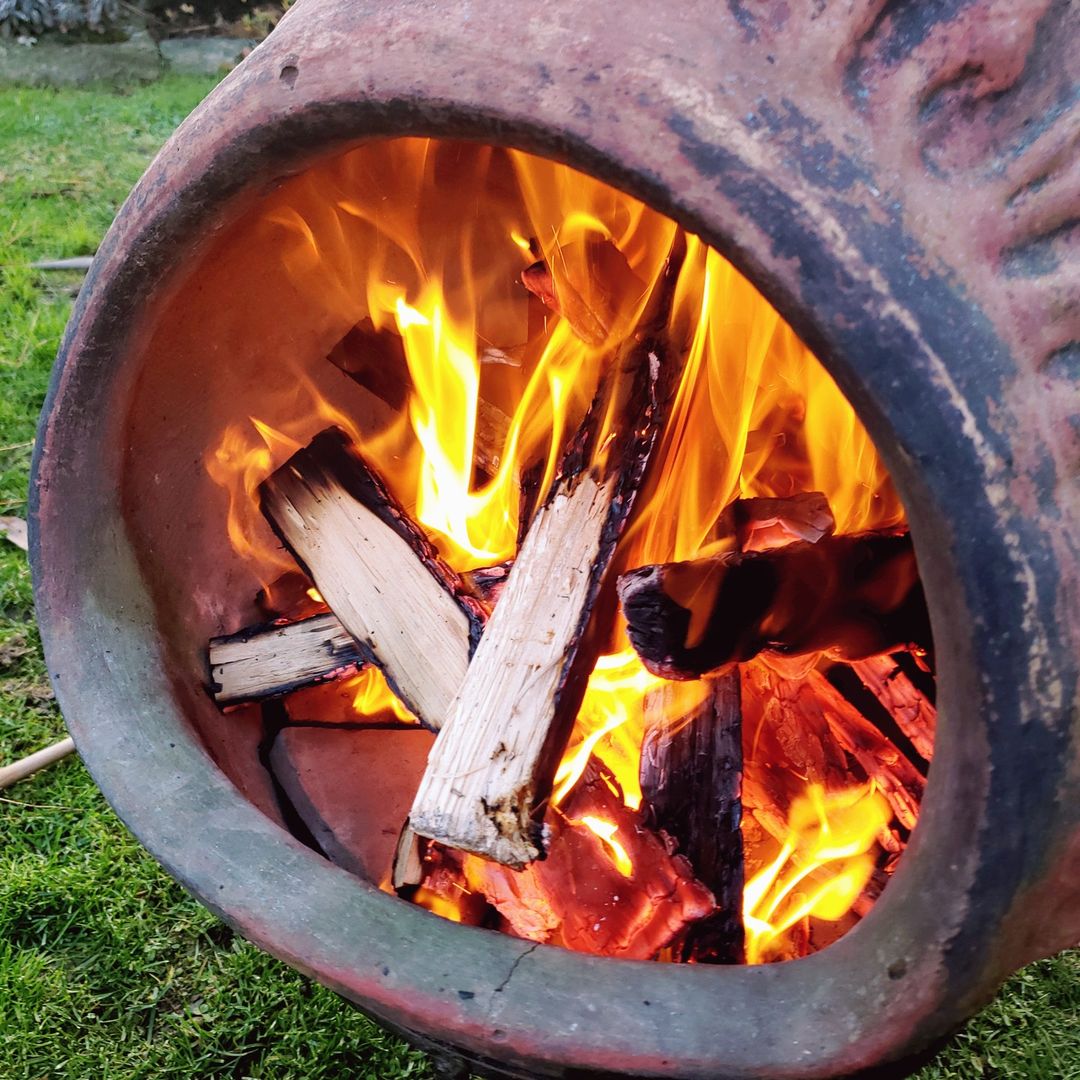 This is our family backyard chiminea – excuse the lawn it's the middle of winter and I had just got it.
You can learn more about this one in my post on how to set up a chiminea.
It's made of clay and it looks good in a rustic country setting. We love sitting around it on cool days or evenings.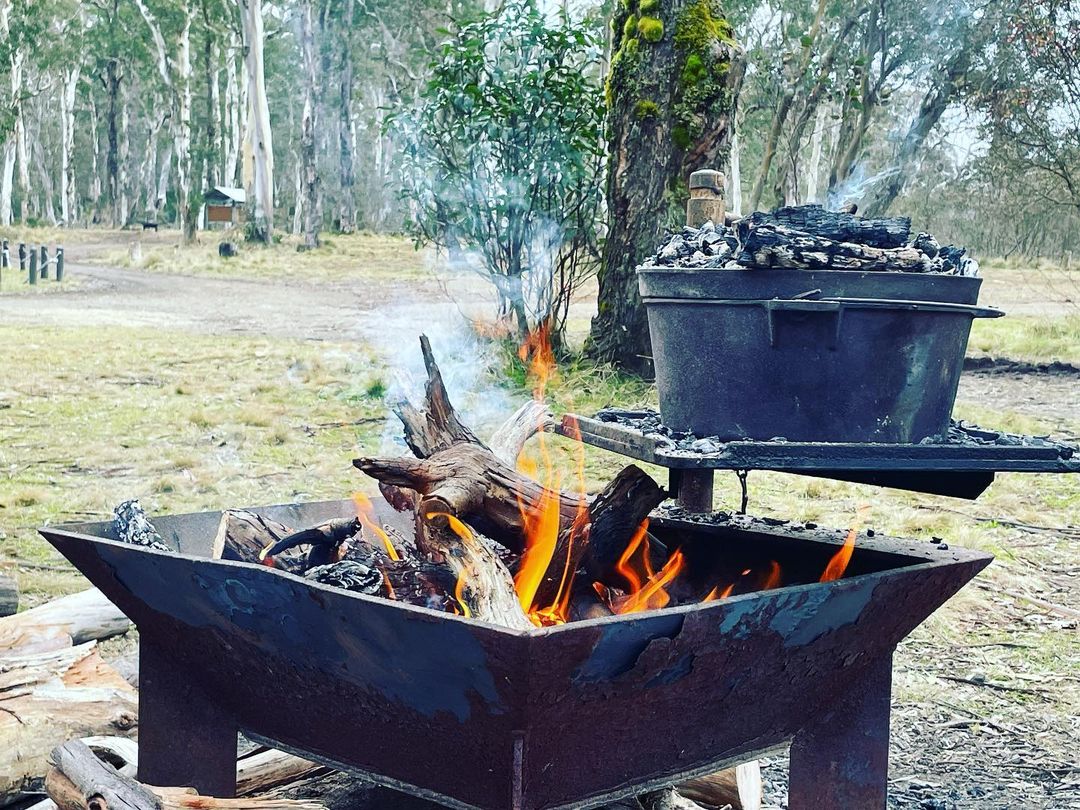 Next up is this bush-cooking fire pit.
Whenever a fire pit has been well loved and used it gets an appearance that could be considered rustic. Simply by letting them weather they grow in character.
If you're ever using a fire pit out in the bush like this, especially in dry parts known for bush fires like Australia, consider using a fire pit spark guard.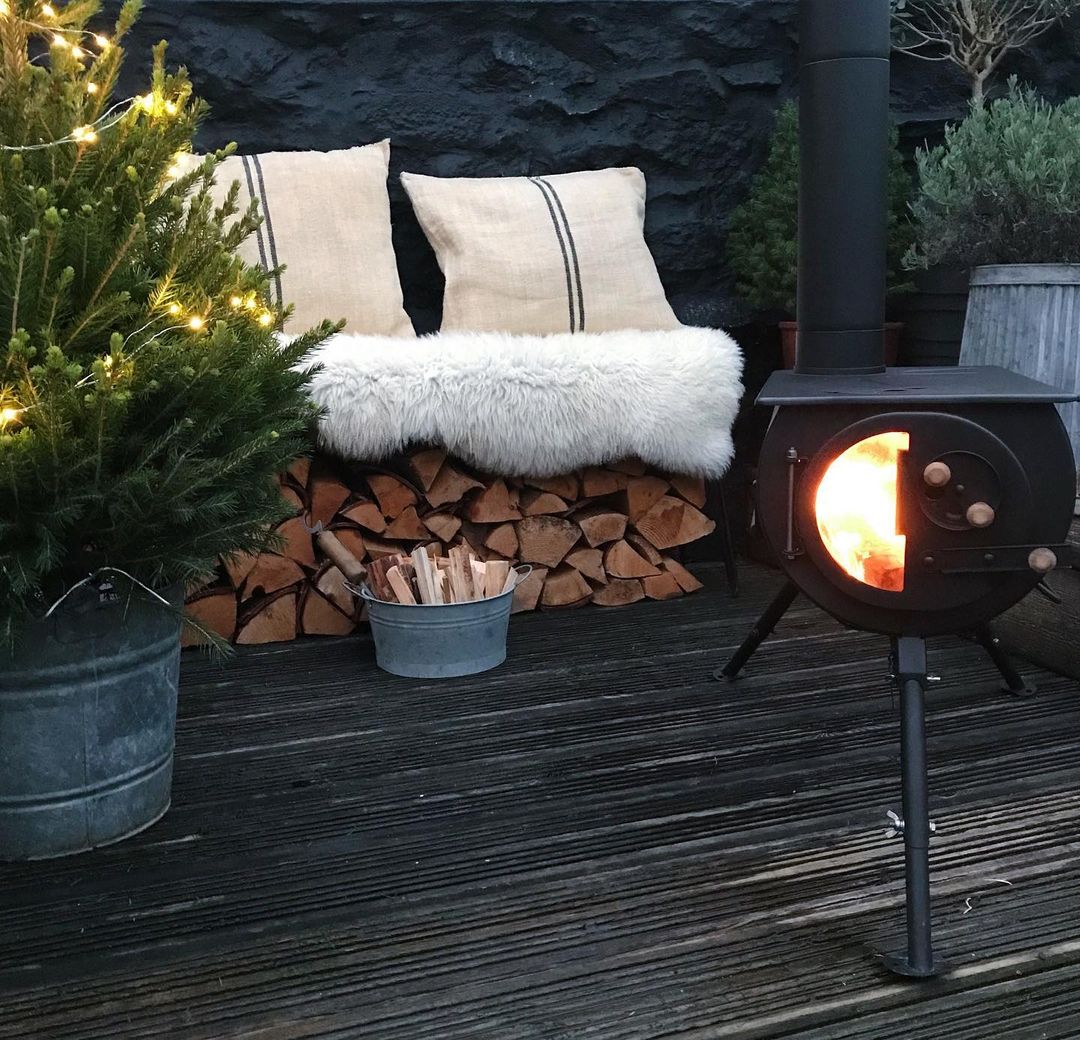 Isn't this little outdoor stove great?
It's not really a fire pit, but more like an outdoor woodstove. It reminds me a bit of the Pipsqueak Wood Stove.
These types of appliances are great for cooking and boiling water, and some can be used to heat tents, sheds, and cabins.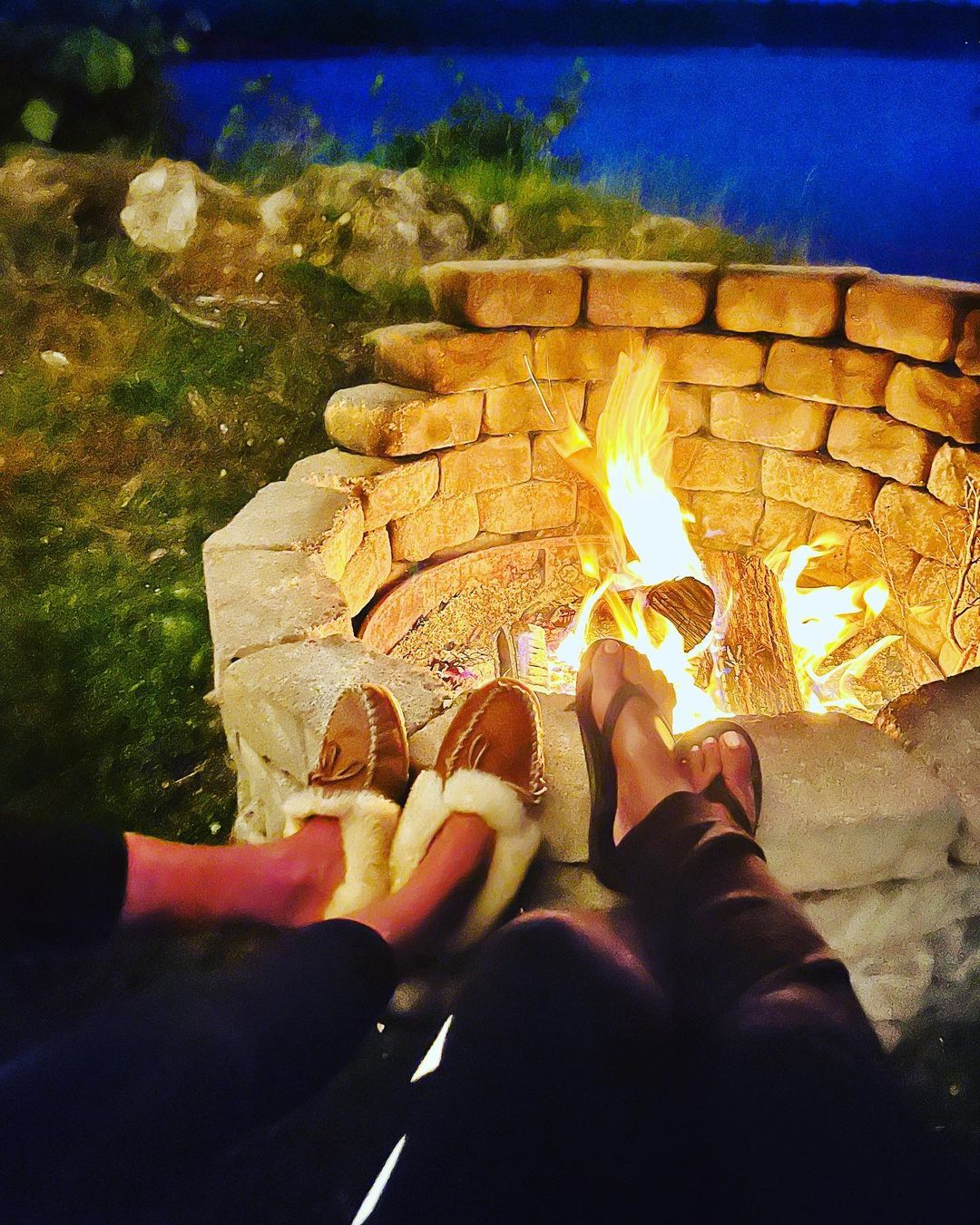 What's more rustic than a DIY concrete block fire pit?
This is a great way to build a rustic fire pit, especially if you have a bunch of spare bricks lying around.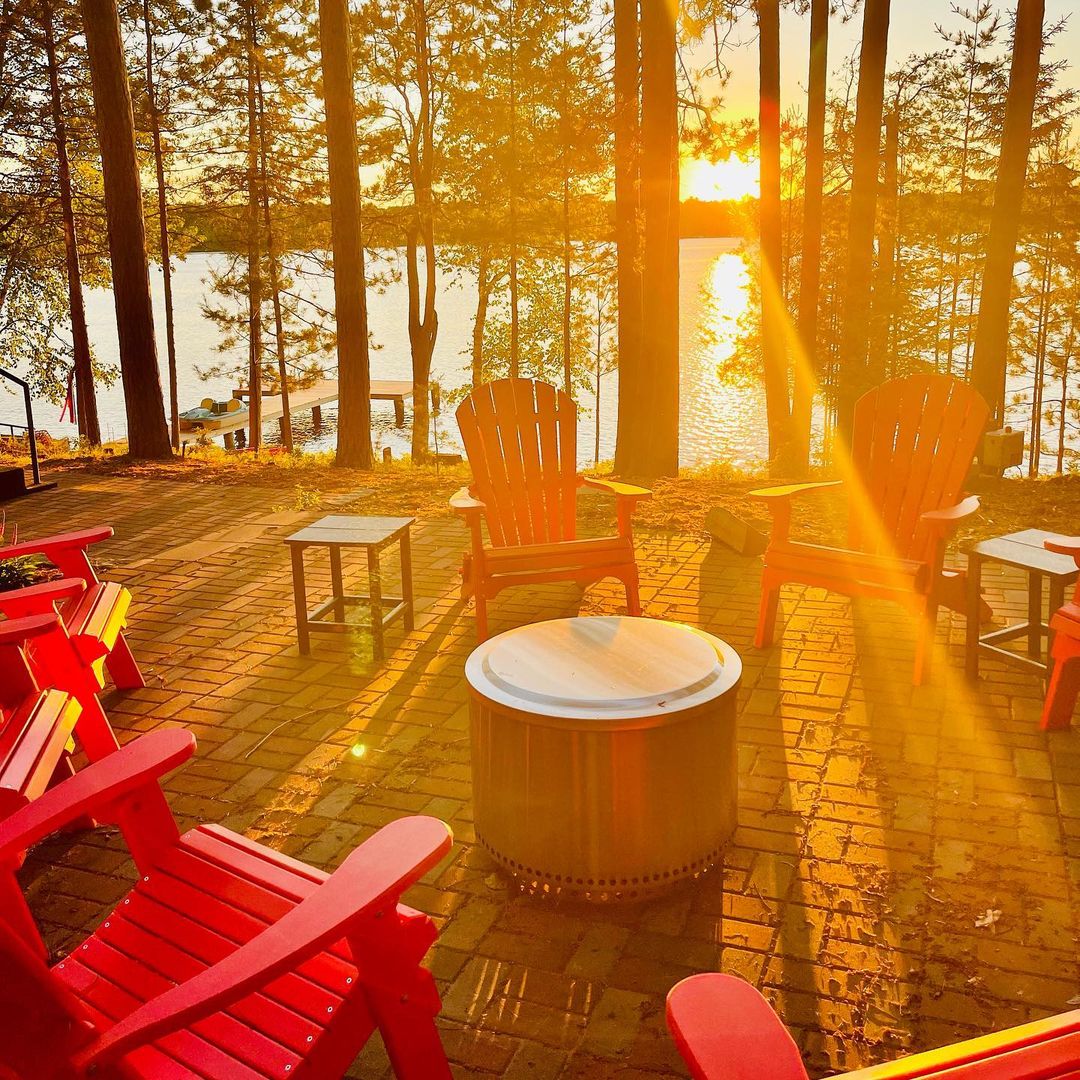 This is the Solo Stove Yukon Fire Pit – another excellent portable model.
There is also a Solo Stove Grill which is worth checking out as it can make outdoor cooking a breeze.
Even though this is a sleek stainless steel fire pit, it can still be used in a rustic setting – it fits right in.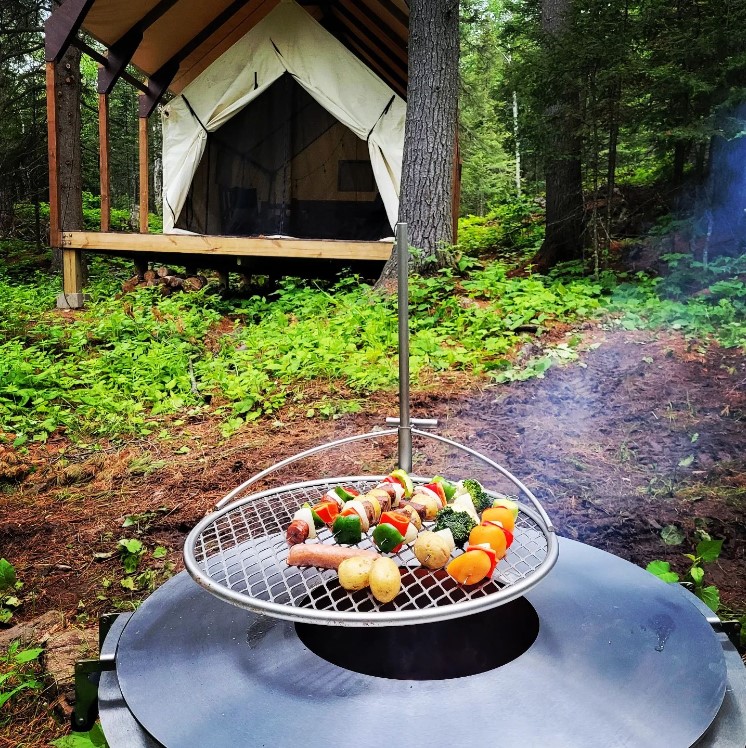 Whenever you have a fire pit with a grill, you have rustic – at least that's my opinion.
Outdoor cooking over a wood-burning fire is the best way to get in touch with nature, enjoy good food, and create memories with friends.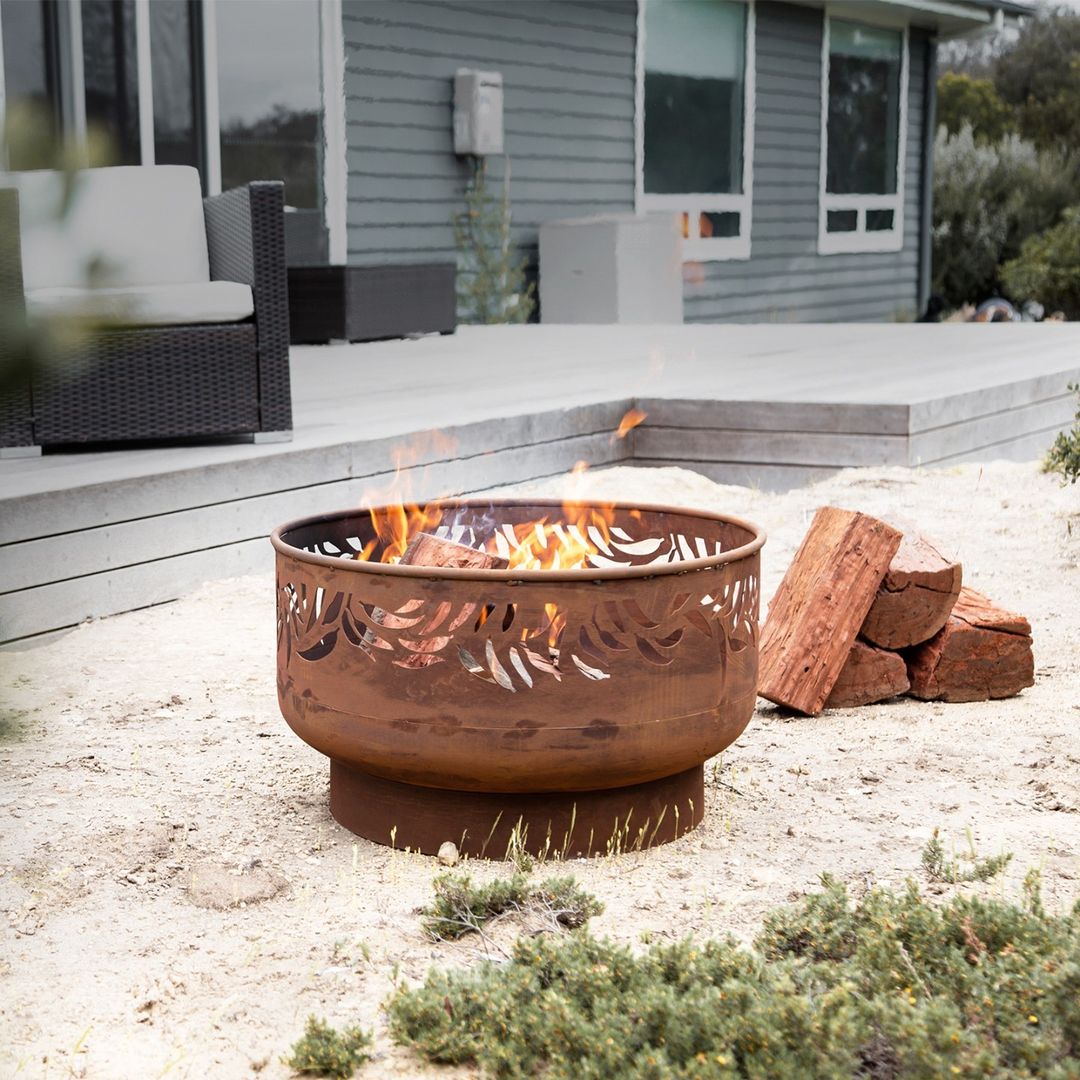 This is another fire pit by Glow Fire Pits.
They say, "Complete your outside space with one of our Glow firepits. Our Ironbark firepit was built with an intricate pattern that bursts to life when the flames are crackling."
Good-looking fire pits like these can be used for all sorts of functions as well. Birthdays, large family get-togethers, or anniversaries. And, if you're putting together some fall wedding ideas on a budget, definitely put a fire pit on the list!
A real wood-burning fire pit will help guests stay warm and have something to congregate around.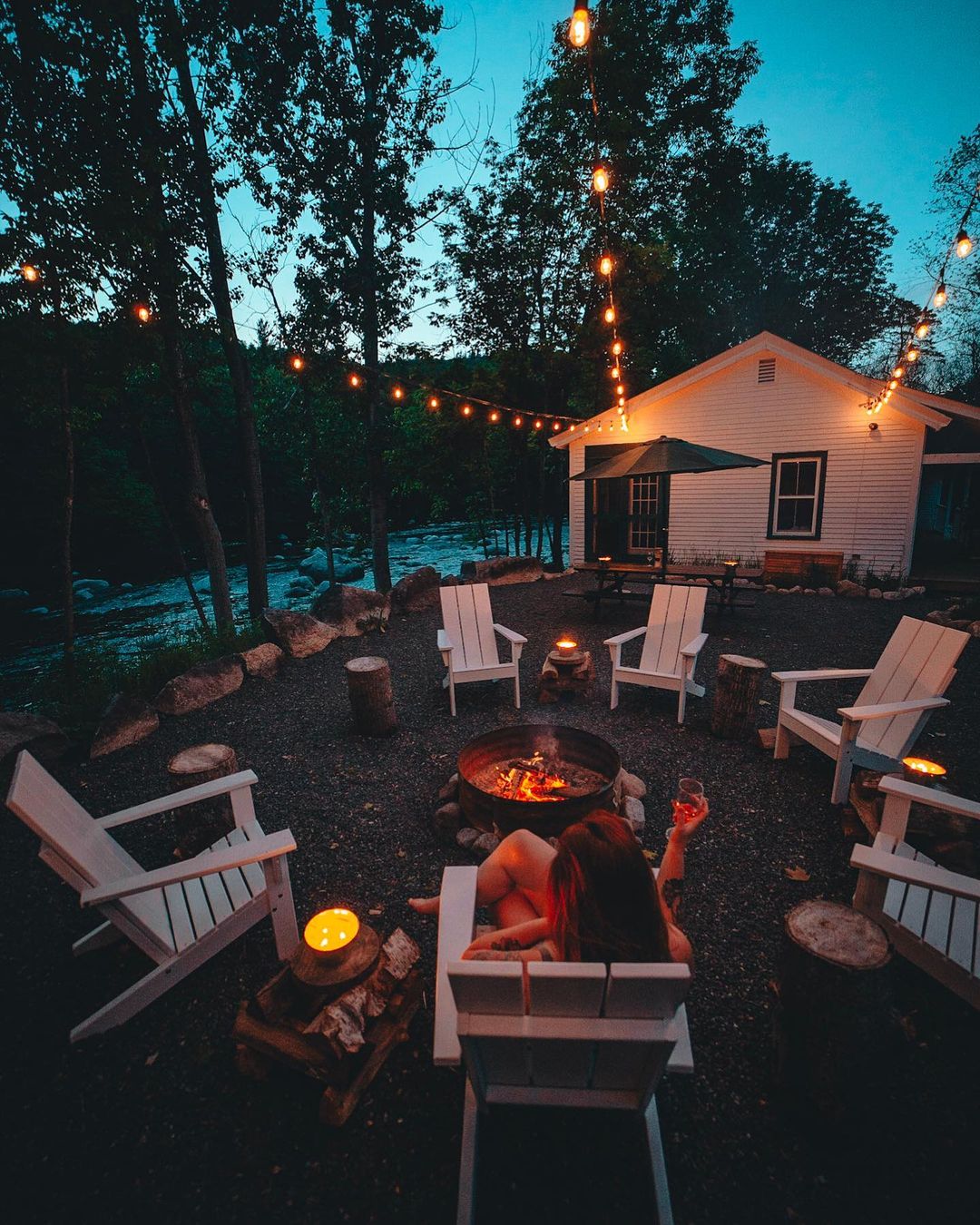 A fire pit ring on the ground surrounded by chairs is all you really need.
Finish off the rustic look by stringing lights overhead and you're in for a great evening.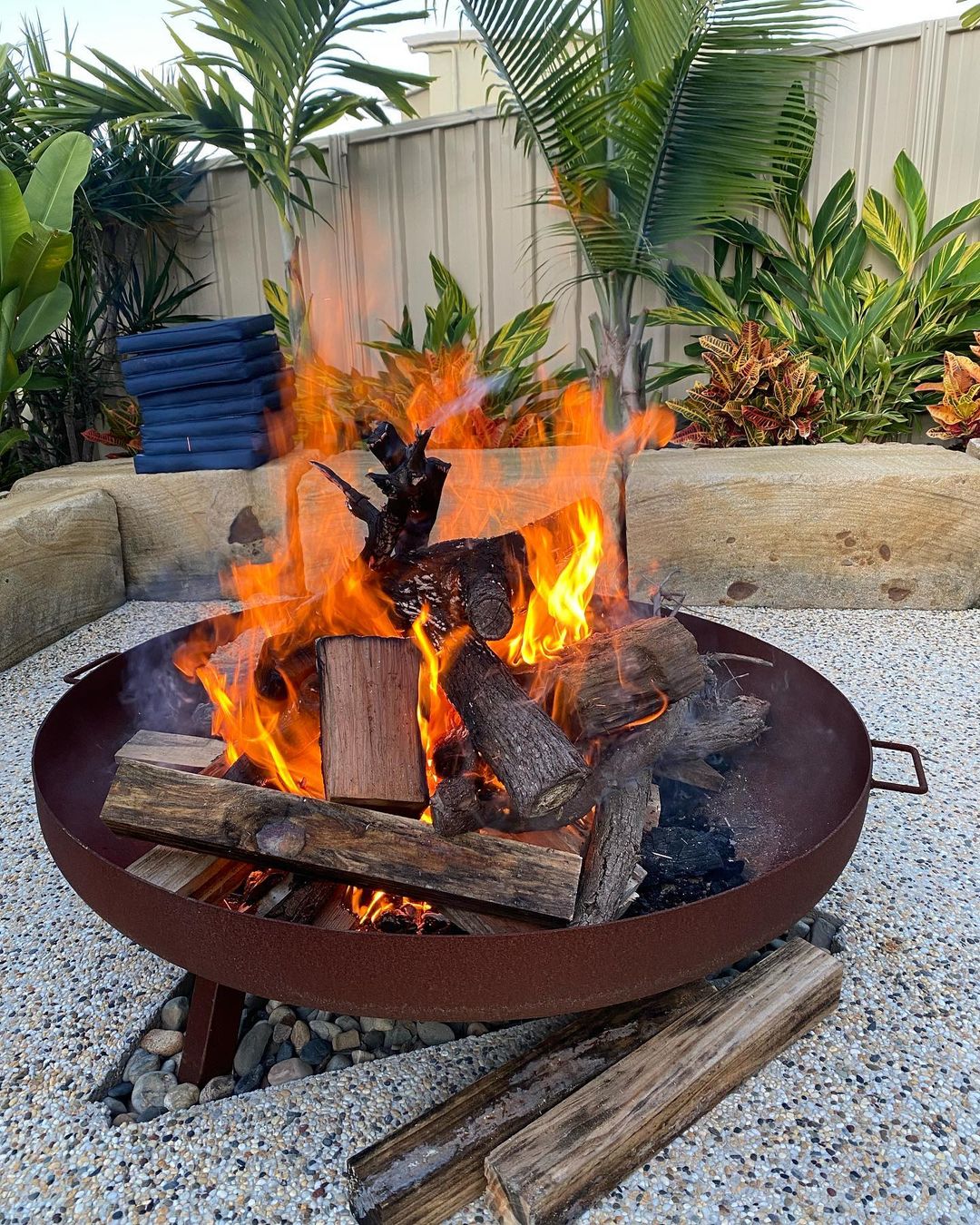 The caption reads, "First fire for the season #firepit #friends #winter #warmup"
It's another cast iron fire pit that will rust if left out in the weather and looks cool either way.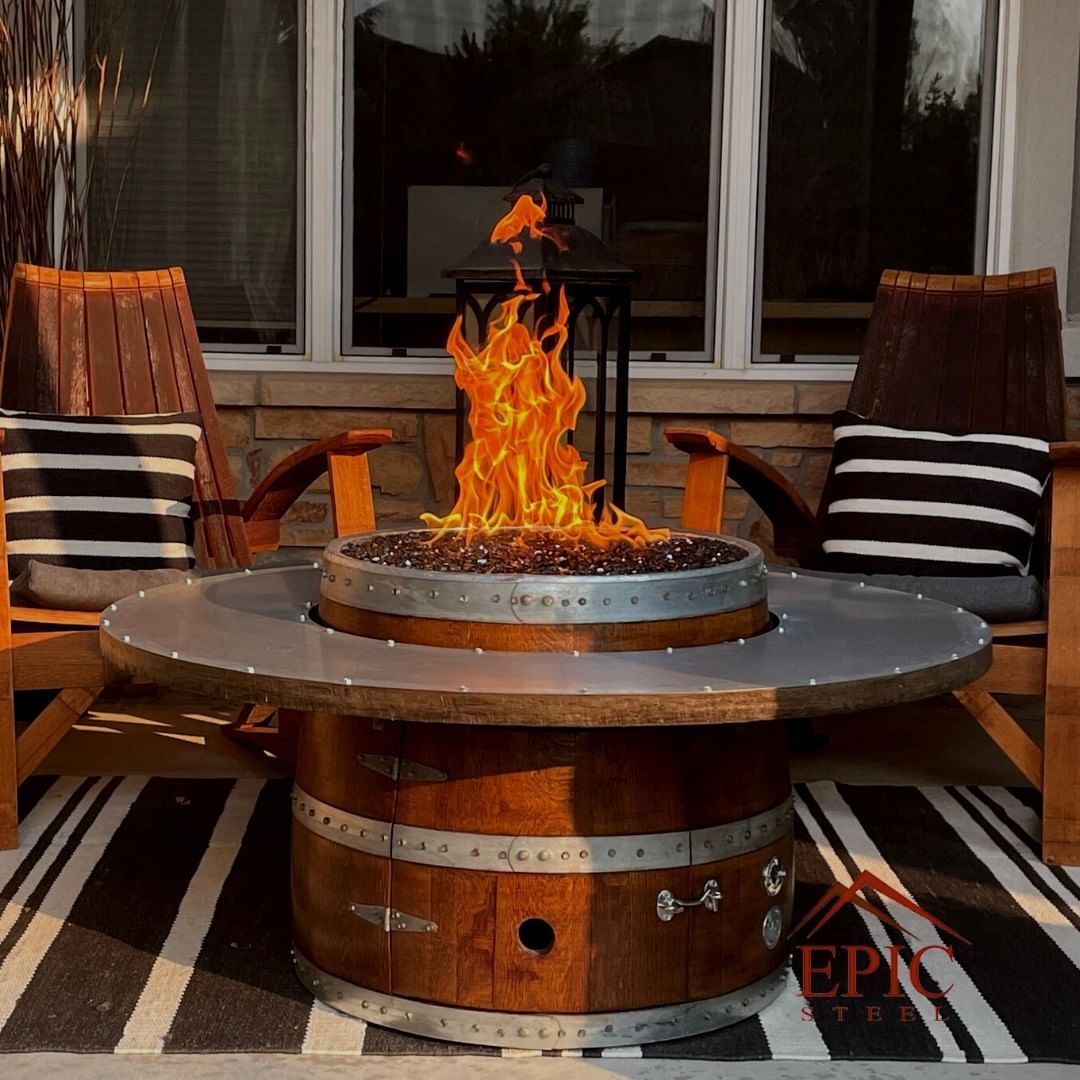 The caption on this one reads:
Don't you want to be sitting around this fire tonight?

Sometimes our steel is used not on someone's building but on something unique. We think this was such a cool idea and a great application of our client using our steel to make their own barrel fire pit.

What do you think?
Good food, a beautiful outlook, and a cracking fire is my idea for a great afternoon.
You can see these folk have a paver underneath the fire pit to protect the earth. You can also use a good fire pit mat as well.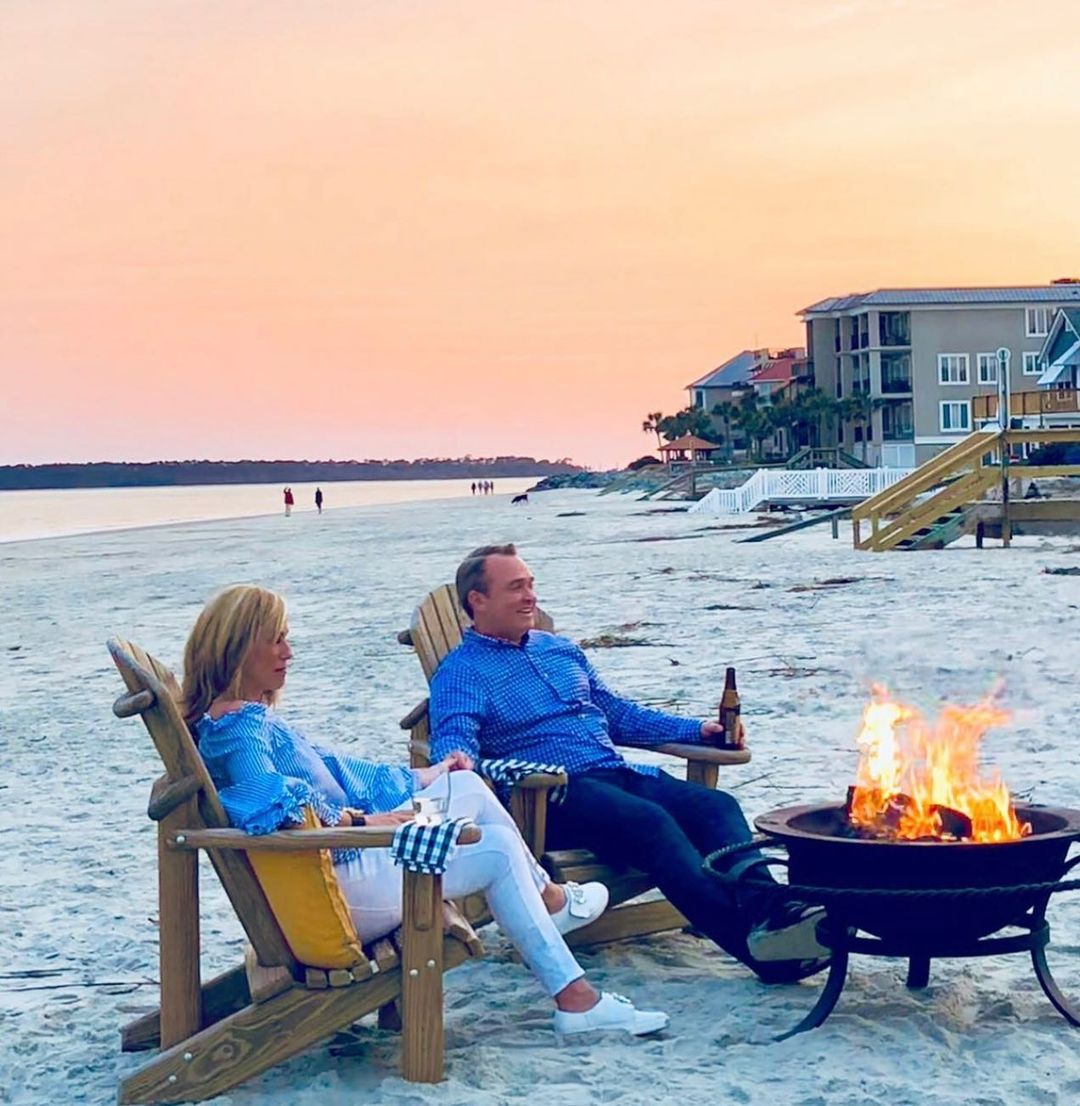 Fire pit on the beach with a beer – ultimate relaxation!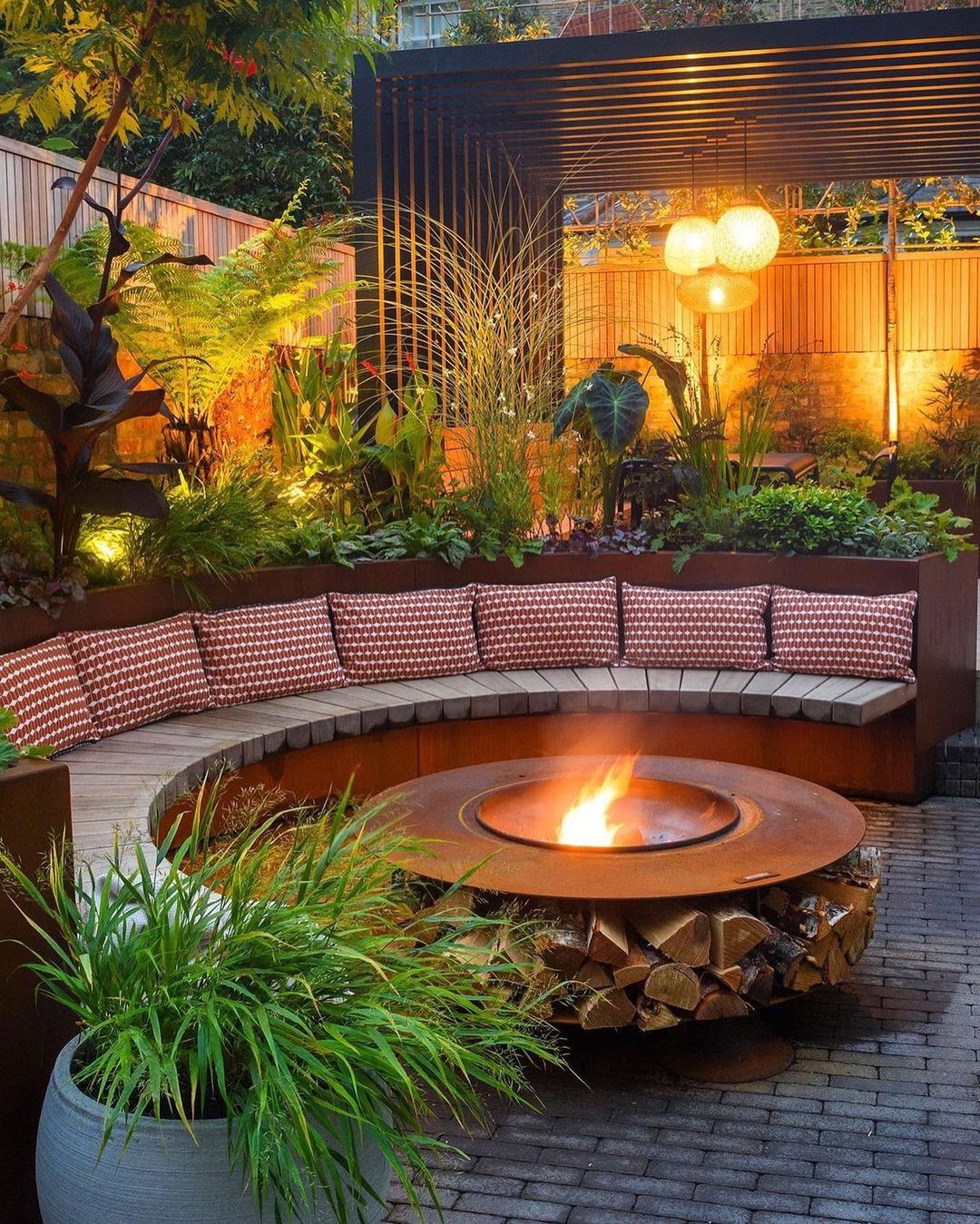 A unique design, but very rustic.
This is verging on being an outdoor fireplace!
This is the "JH-Mech Best Sunshine Large Stars and Moons Fire Pit Ring for Camping, and Outdoor Fireplace Wood Burning Fire Place" – one of the longest fire pit names I've come across!
I like the fire pits with metal cut-outs though, it really adds something.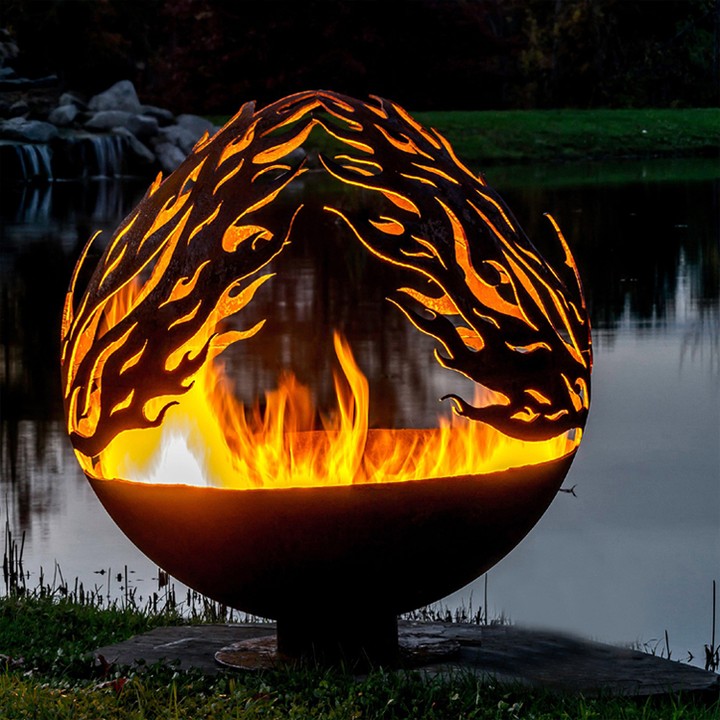 This is an epic fire pit sphere from the same company.
The extra decoration makes a big statement.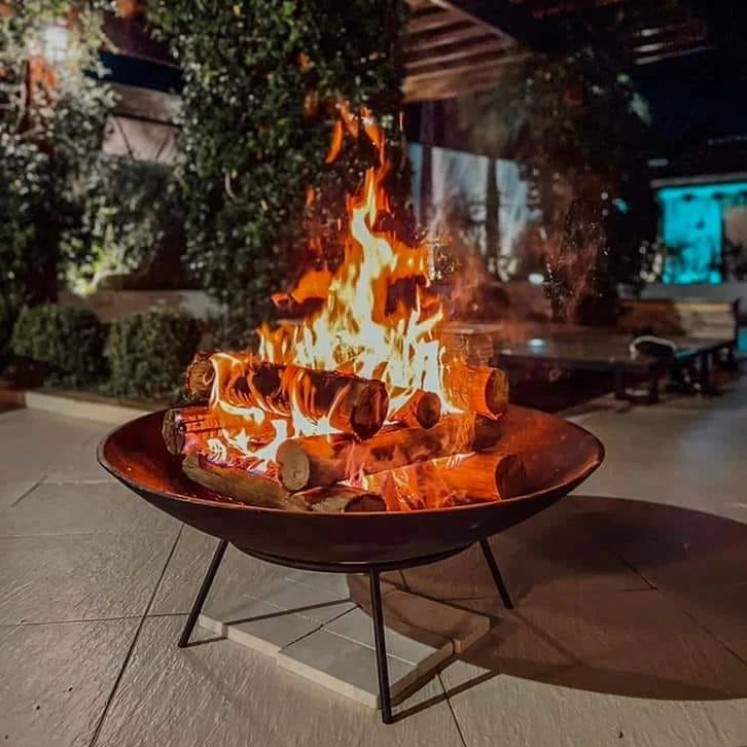 Fire pits don't have to be huge, but they can be small like this one.
Portable fire pits are best when you don't have a permanent fire pit paver area for them.
This is another cast iron fire pit – great for roasting marshmallows.
I think it's identical to our cast iron Sunnydaze fire pit.
Another rustic fire pit with a chimney.
If you like this style, make sure you check out The Blue Rooster Chimineas.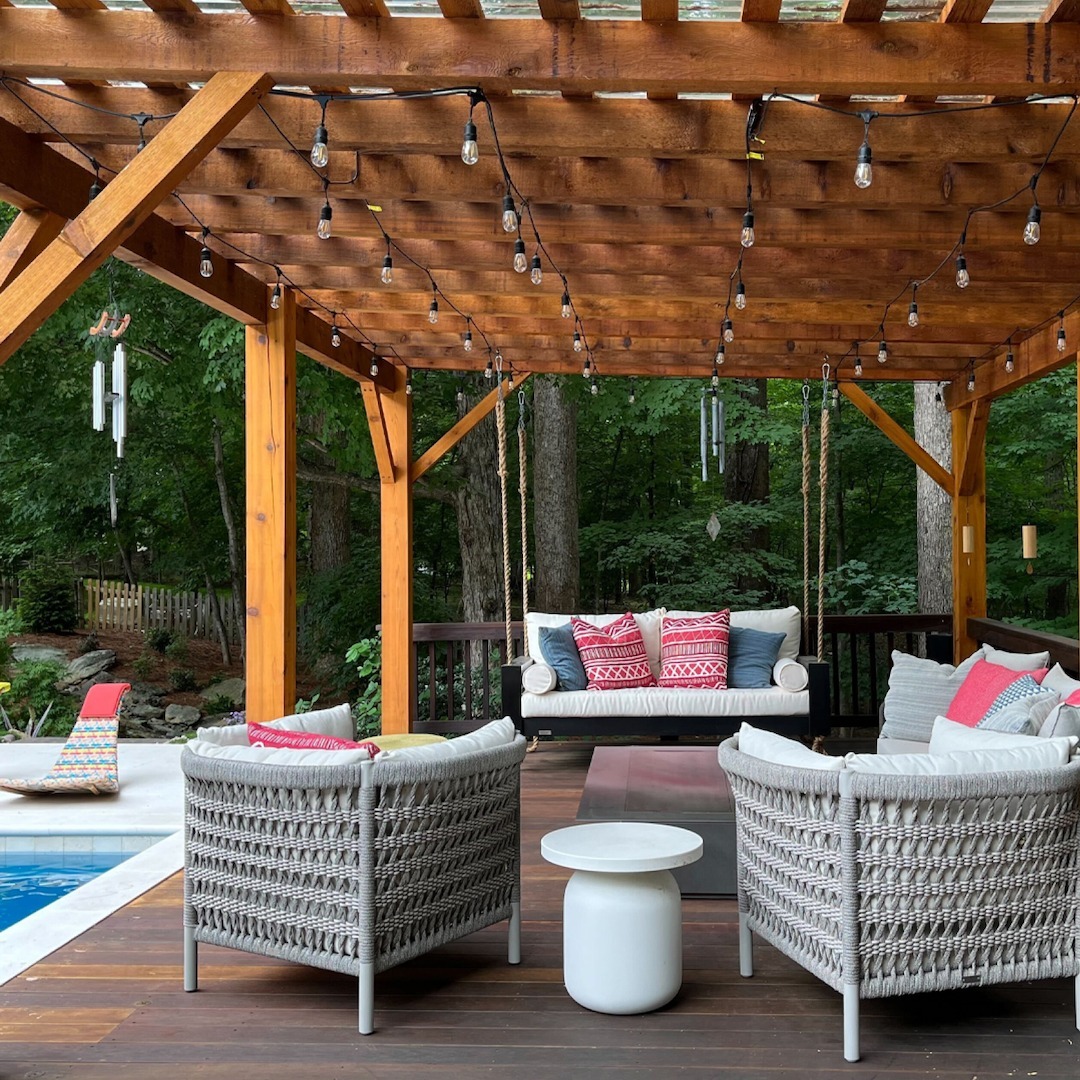 This is a propane fire pit with an excellent patio fire pit furniture set.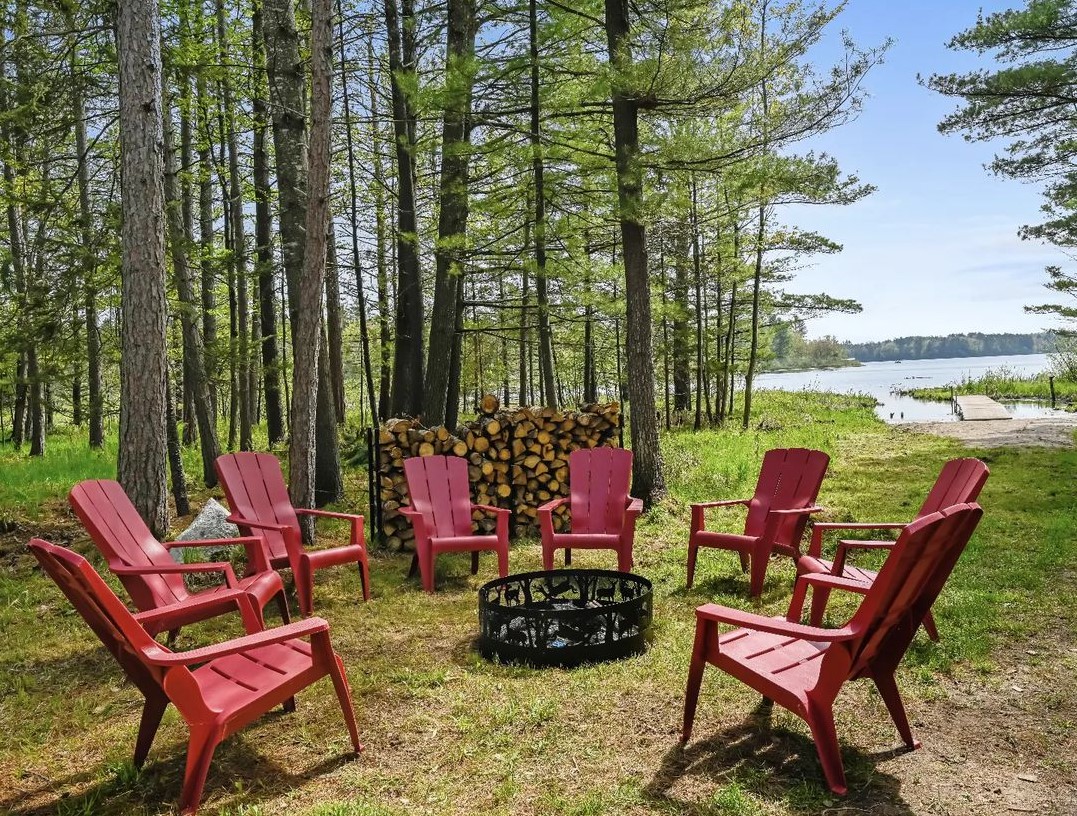 I love wood-burning fire pits like this – so simple and easy.
A fun design. And it looks very small and light.
The famous Solo Stove Fire Pit again.
And despite being made of stainless steel, I still think it gives off rustic vibes in the right surroundings.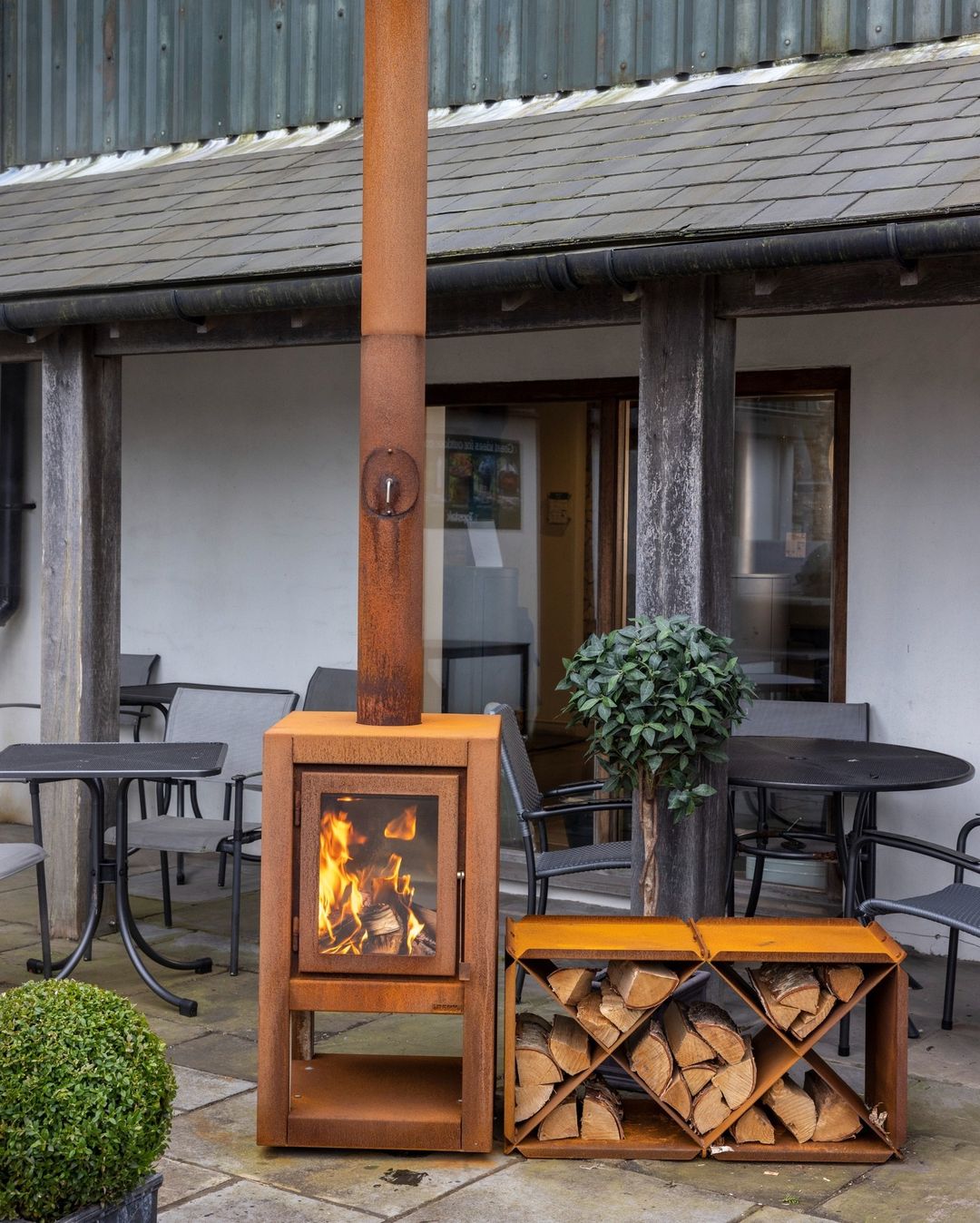 It's the rust color (or is it just rust?) that screams rustic here.
Love the firewood storage shelf as well.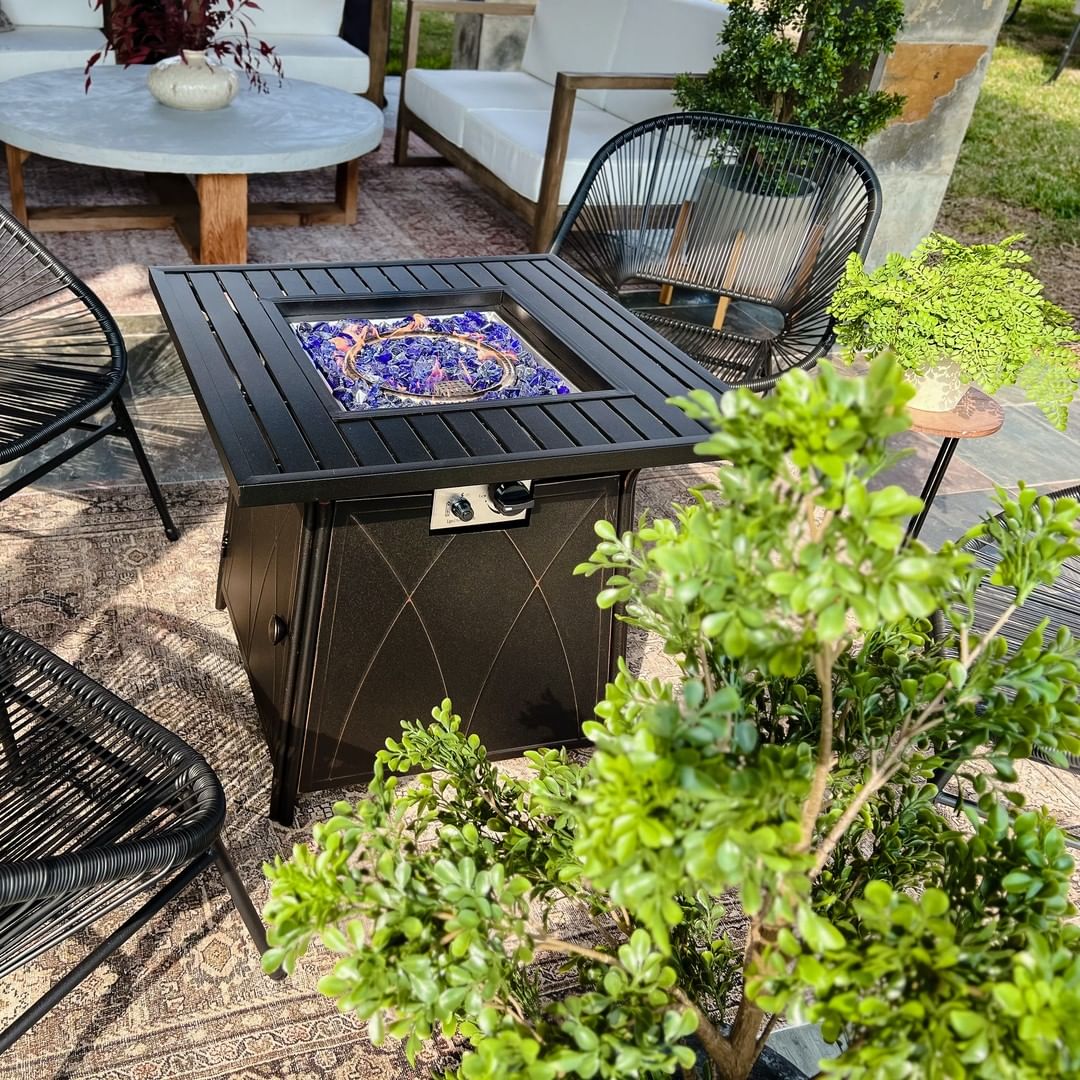 A good propane fire pit table is a fantastic way to spruce up the porch.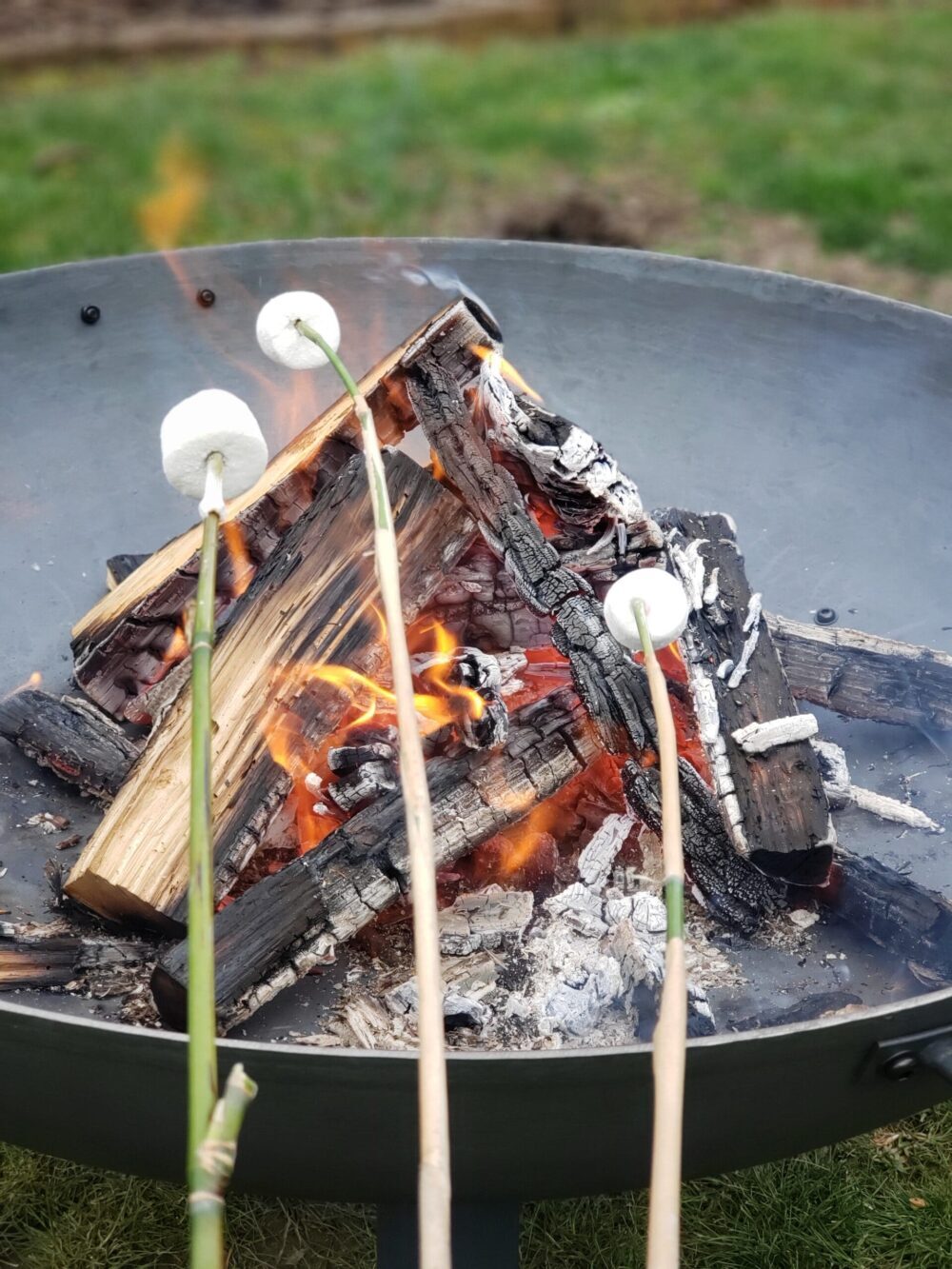 And lastly, this is another one of our fire pits.
It's a cast iron fire bowl and I really like it. We shift it around the garden depending on where we want to enjoy it.
You can see more pics of it in these posts:
How To Make It Feel Rustic
Creating a rustic outdoor aesthetic, including a fire pit, requires attention to materials, design, and overall atmosphere. The goal of rustic design is to evoke a natural, organic, and slightly aged or weathered feel, often harking back to rural life and nature.
Here are a few ideas to achieve a rustic fire pit and surrounding area:
Materials: Choose materials that have a raw, organic feel to them. Natural stone, reclaimed wood, and wrought iron are great choices for a rustic look. For the fire pit itself, a stone or brick construction is more rustic than modern materials like stainless steel or concrete.
Design: Your fire pit doesn't need to be a perfect circle or square. An irregular, hand-built shape can add to the rustic aesthetic. The size should also be considered – a grand, large fire pit could be fitting if you have a spacious area, but a smaller, cozier pit might work better in a smaller space.
Seating: Around the fire pit, use rustic materials for seating as well. This could be wooden benches, log seats, or even large stones. Consider weather-resistant throw pillows or blankets with earthy tones and natural textures to enhance the comfortable, rustic atmosphere.
Accessories: Hang a cast-iron pot or kettle over the fire pit, even if you don't plan to use it. Use wrought iron tools for the fire pit, and consider a wood storage area made from rough timber.
Lighting: Skip the bright, modern outdoor lighting and opt for soft, warm lighting. This could come from the fire pit itself, or from lanterns, string lights, or even candles.
Landscaping: Complement the fire pit area with landscaping that enhances the rustic aesthetic. This could include a gravel path leading to the pit, plantings of native species, or the inclusion of elements like a wooden arbor or trellis.
Details: Small touches can go a long way in achieving a rustic aesthetic. Use a wooden wheelbarrow for wood storage, or old milk cans to hold blankets. Choose dishes and cutlery with a vintage or aged look to them.
Natural elements: Incorporate natural elements like water or wind. This could be a small pond or stream nearby, or wind chimes made from natural materials.
Remember, a rustic aesthetic is all about creating a space that feels cozy, inviting, and connected to nature, so choose elements that appeal to you and create a space where you'll enjoy spending time.
Country Backyard Rustic Fire Pit Ideas
I hope these rustic fire pit ideas help you to decide which would be best for you.
Most wood-burning fire pits can be inserted into rustic backyard design and landscaping, but it's a bit harder to find the perfect gas fire pit.
We've covered stone, metal, and even clay ideas, but check out our fire pit buying guide to see the full range of shapes, sizes, and materials used for fire pits.
Leave us any comments or questions down below. Thanks!