So, you've got your eye on a Sunjoy outdoor fireplace?
Sunjoy has at least 5 different outdoor fireplaces and fire pits for sale, ranging in price from around $500 for the AmberCove fire pit, all the way up to the $2000 Copper Outdoor Wood Burner.
Any outdoor fireplace, no matter the price, can be great for creating atmosphere, warmth, and lighting up an area.
Having a fire going outdoors will add a bit of something special to your event, or simply help you to relax and enjoy it alone.
Best Sunjoy Outdoor Fireplace
Sunjoy Atticus Wood Burning Fireplace

The largest Sunjoy fireplace
Chimney, storage, fireplace doors
385.81 lbs

View On SunjoyView On Amazon

Sunjoy Smith Outdoor Fireplace

A smaller outdoor fireplace with chimney
Rust-resistant, powder-coated steel
113.5 lbs

View On SunjoyView On Walmart

Sunjoy Fire Pits

A wide range of fire pit shapes, sizes, styles
Concrete, stone, copper, steel, cast iron, and more
From small to large

View On SunjoyView On Home Depot
The Sunjoy brand has been selling great outdoor heating products for years and they have a ton of happy customers out there.
They started selling outdoor furniture and other goods from metal, stone, wicker, and wood, all the way back in 2001.
They are known as one of the largest suppliers of gazebos, and so products like these outdoor fireplaces are a natural progression for them.
Whatever outdoor furniture you might be looking for along with a fireplace, head on over to their website to see the selection.
They might not have exactly what you need, but then again, they just might!
PRO TIP: Sign up to their email list here to get 10% OFF your first purchase from their site.

Alternatively, view their range of outdoor heating options on Amazon.
Here is everything you need to know about their 5 outdoor fireplace offerings.
1. Sunjoy Atticus Wood Burner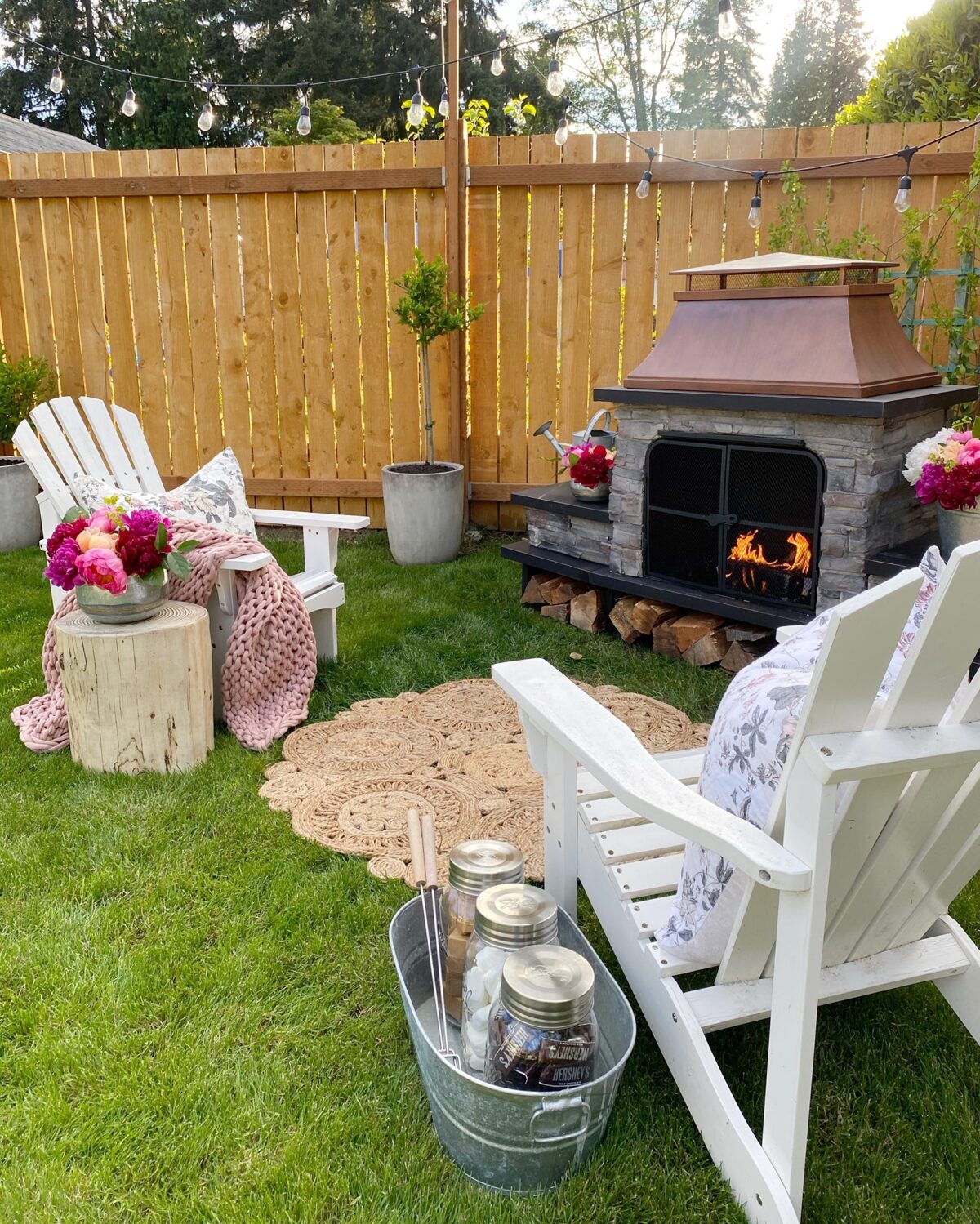 VIEW ON AMAZON →
The Sunjoy Atticus Wood Burning Fireplace is Sunjoy's largest and most feature-rich outdoor fire – it's also the priciest!
You can buy it on Amazon or on Sunjoy's website here – compare the two to grab the best price (you might also be able to get an additional 10% OFF by signing up to Sunjoy's email list).
Here are the features of the Atticus Fireplace:
Manufactured stone surround
Copper and black steel chimney with bronze highlights
Dimensions: 81.5″ long x 24.02″ wide x 48.03″ high
The doors have a screen for spark protection
Has a removable grate
Easy access to tend to the fire
Weighs 385 pounds
Fireplace tool included
One of the best things about this type of fire compared to fire pits is that the smoke is directed upwards. It can't just go in whatever direction it wants (which is often into your face)!
The storage areas to the sides are good for holding wood for the fire and other decorative items.
I love the large area for lighting a fire – you are not limited to a tiny insignificant fire with this unit as you are with some. You can build a generous fire that will really set a scene.
This fire also looks great from all sides, so you won't need to install it with its back against a wall or anything like that.
Here are some Sunjoy outdoor fireplace reviews.
This person's Sunjoy fireplace looks amazing. Great spot for it!
The fact that it looks good from every angle means there's no problem putting it in a position like this.
Great to hear that assembly is easy and that most of the work of setup can be done by a single person.
Ron also mentions the benefit of a fireplace over a firepit – the smoke is directed up and away while the heat is directed outward.
Another happy camper with their Sunjoy Atticus Outdoor Fireplace, though it comes with a word of warning about the weight.
The Sunjoy 48″ Copper Outdoor Wood Burning Fireplace is our top pick.
The surround is manufactured stone, and it has a rust-resistant, powder-coated chimney top.
This Sunjoy outdoor fireplace looks great, helps keep things tidy, and can put out a decent amount of heat. It's functional and practical.
This Sunjoy Fireplace is definitely worth finding out more about – check out other reviews on Amazon here.
---
2. Sunjoy Heirloom Slate Copper Outdoor Fireplace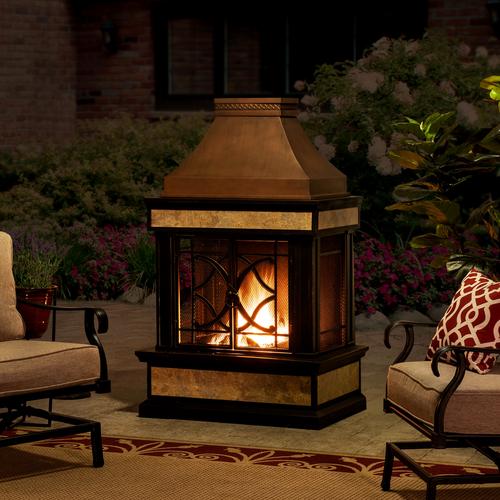 VIEW ON AMAZON →
The so-called 'Heirloom Slate Copper Outdoor Fireplace' is another fantastic option from Sunjoy.
Features of this Sunjoy Fireplace include:
In the natural stone style ceramic tile
As before, also has a rust-resistant powder-coated steel chimney
Dimensions: 35.43″ by 23.62″ by 56.69″
Two doors with screen for spark protection
Removable grate for easy cleaning
Weighs 113.54 pounds
It's a smaller option for those with a little less space, or for those wanting a more subtle fireplace.
There is a decent amount of room to build a significant fire that will put out a decent amount of heat and light.
This fireplace is cheaper than the previous model and has been well-reviewed by buyers!
---
3. AmberCove Fire Pit Table
VIEW ON AMAZON →
The Sunjoy fire pit table is less well-reviewed on Amazon, but it's a pretty cool option if you want to take the risk.
The main issue from one of the negative reviews was relating to delivery, which is hardly Sunjoy's fault. While the other is relating to an inaccurate description.
While the listing says 'it is constructed of a lightweight fiber concrete,' a buyer believes that it's actually made from sheet metal.
So, if you don't have an issue with what it's made from, and you think delivery will go better for you, there's no reason not to give it a go if you like the look.
It can also be purchased on Sunjoy's site here but consider these other propane fire tables for more options.
It's a propane fire pit and the propane tank is not included. Lava rocks and a protective cover are included.
Specs:
Weighs 67 pounds
Dimensions are 41.73″ long x 20″ wide x 17.72″ high
Grey color blends in well with most settings
The propane tank does not fit inside the table
It's a great-looking fire feature for those who love the look!
---
4. Sunjoy Edwin Stone Round Wood Burning Firepit
VIEW ON AMAZON →
The Edwin Stone Firepit is a wood-burning fire pit made of manufactured stone.
What is manufactured stone, you might ask?
It's molded concrete that has been colored and shaped to appear like natural stone.
It's generally pretty heavy (as concrete is) and this fire pit may require a couple of people to move around.
Here are the details:
Brown and gray manufactured stone
Black mesh screen for safety
Dimensions: 26.18″ diameter x 18.11″ high
Weighs: 28.66 pounds
Fireplace tool included
This model has been the most popular in the Sunjoy outdoor fireplace range.
It's straightforward to use, does what it's meant to, and lasts well in the elements.
Check out these other backyard fire pit design ideas along with other stone and concrete fire pits for sale.
---
5. AmberCove Wood-Burning Firepit
VIEW ON AMAZON →
The AmberCove Wood Burning Fire Pit is a really cool style firepit – it's like a great bowl!
You can read the reviews on Sunjoy's site here.
Features include:
Copper color on a rust-resistant powder-coated steel frame
Extra-large 40-inch diameter firepit
Mesh spark screen for safety
Fire poker included
Dimensions: 39.57″ diameter x 22.83″ high
Weighs 72.75 lbs.
The spark cover is a great feature that not many fire pits have, but it makes it safer around children and pets as well.
Beware, however, as the cover gets very hot when the fire is going.
More copper fire bowls here!
Sunjoy Fireplace
These Sunjoy Fireplaces would make an excellent addition to any courtyard or other outdoor space (do not use indoors, obviously)!
Keep warm and toasty on any evening, be it winter, spring, summer, or fall.
The great thing is that it's never inappropriate to light up an outdoor fireplace.
If none of these fireplaces is your style – which they won't be for some people – have you heard of Chimeneas?
They are a traditional Mexican/Spanish type of fireplace that is worth looking into as well.
Alternatively, check out our complete review of the best outdoor fireplaces!