There are plenty of ways to keep warm on cool evenings, but a propane fire pit has to be one of the best.
It's low-cost to run, decorative, and cozy, providing warmth and relaxation with minimum setup and effort.
Many have come to prefer propane as fuel for a gas fire over natural gas, though some have trouble telling the difference. Propane is a more energy-efficient gas, seen as a green fuel. This feature makes it more economically and environmentally friendly to use propane over natural gas.
If you've been looking at purchasing a gas fire pit, we're here to help. There are a lot of great options to choose from.
Propane Fire Pit Table And Bowl Reviews
BALI OUTDOORS Propane Fire Pit

A small 28 x 28" square propane fire table
50,000 BTU heat output
Includes lid for use as table when not on

View On Amazon

U-MAX Outdoor Gas Fire Pit Table

44 x 28 x 25 inch gas fire table
50,000 BTU heat output
Comes with fire glass

View On Amazon

Elementi Lunar Fire Bowl

A stylish gas fire pit bowl
Propane or natural gas, 45,000 BTUs
Overall: 42" L x 42" W x 16" H, weighing 147 lbs

View On Amazon
Ultimately, the best gas firepit is the one that matches your tastes and uses.
Some of these burn hotter than others or are pretty large. Others may fit a specific decorative aesthetic. Weigh your needs before you pick a propane fire pit blindly!
That said, there's a high chance that the best propane fire pit is waiting for you on this list!
1. BALI OUTDOORS Small Gas Fire Pit Table
Our first example is the Bali Outdoors gas fire pit table. This table is a 28-inch square table with a fire pit in the center.
It provides a small area around the fire where you can rest your supplies and have warm drinks and is one of the best sellers.
People like the easy setup, the strong build, and the fire glass that comes with it.
Another BIG positive is that the gas tank goes inside the table and is hidden away – there will be no gas lines or ugly tank visible.
One thing that people do not like is that it doesn't come with a wind guard. This needs to be bought separately but is worth getting.
The BTU of this table is at a solid 50,000 average. Assembly is simple to let you get your outdoor heating system set up and functional as quickly as possible.
It's a unique, multifunctional design that provides warmth and a beautiful aesthetic for your outdoor areas.
Pros
Easy to assemble with clear instructions
Good heat output for mild climates
The gas tank hides in the table
Cons
Relatively small
It may not fit some aesthetics
No wind guard included
---
2. U-MAXX Large Outdoor Propane Fire Table
If you want a more prominent option, the 44-inch U-MAXX is bigger and arguably better.
It still puts out the same 50,000 BTUs as other smaller options on our list do, but there's a larger area to sit around. The top is sizable and can have its sturdy lid inserted over the fire pit for a great table.
As with the previous fire pit, this one stores the propane tank inside so it doesn't need to be viewed. Without this feature, you need to think about getting a propane tank cover.
Tempered glass wind guards help make sure the fire stays lit and visible without obstructing the heat terribly. Available in black or brown rattan designs, this fire pit is excellent for a more extensive backyard setup around your fire pit.
People say that this fire pit feels "extremely solid" and that the heat output is fantastic. While some people struggle with assembly, most find it very straightforward.
The best thing is that the company is said to be very easy to deal with and fair in the event something goes wrong.
Find out more about this model in our complete U-MAX fire pit table review.
Pros
Excellent wind protection with the guard
Sizable surface area
Great for a number of people to sit around
Easy to assemble, use, and maintain
Cons
Rattan can prove challenging to clean
The basic design is not very unique (for those who like to be different!)
---
3. Modeno Roca Round Gas Fire Table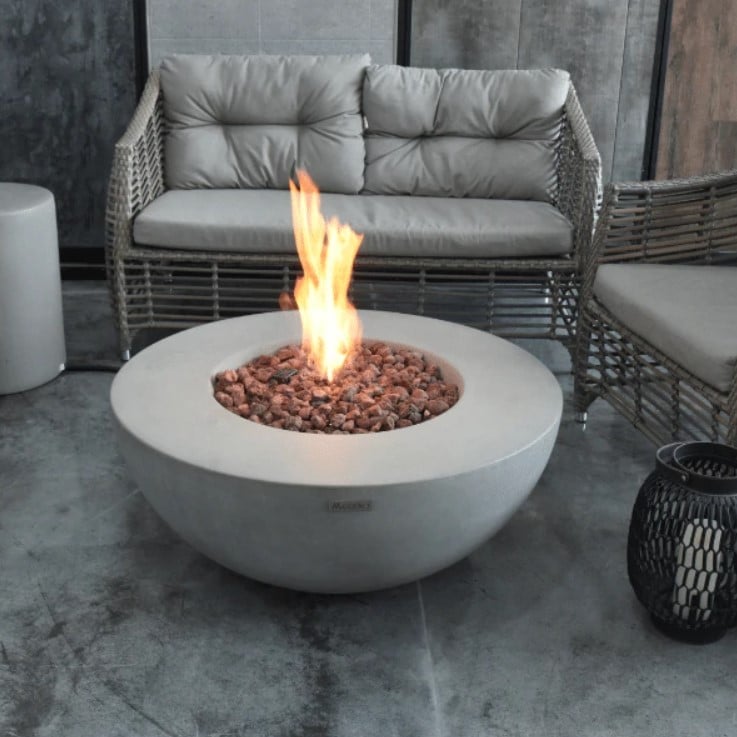 ON FIRE PIT SURPLUS →
Fire Pit Surplus has a great range of higher-priced premium propane fire pits.
Not only do they have fantastic fire pit tables such as the popular Elementi Granville Fire Pit Table, but they also have these round propane gas fire bowls.
This style is harder to find on Amazon and other big-box retailers like Home Depot and Walmart so Fire Pit Surplus is a great place to shop.
The gas fire bowl pictured is 34″ wide and 15″ high, so it's reasonably compact. However, it weighs about 88 lbs so will require a couple of people to shift it into position.
It comes with all the required valves and connectors, batteries for the electronic ignition switch, a 10 ft long gas hose, lava rocks, and a strong canvas cover.
The only downside of this style is that you can't hide your gas tank inside the fire pit, but the 10-foot hose that comes included should be long enough to get it out of sight.
It's worthwhile checking out the entire range of Elementi Fire Pits and Tables – the faux boulder and tree stump fire pits are really stunning as well.
Pros
Unique design and style
Comes with basically everything you need (just supply your own propane gas tank)
Good size for small areas
Cons
Can't hide propane tank inside fire table
Costs a lot more than the cheap fire pits
---
4. Outland Living Classy Propane Fire Table
Style and functionality are core features of this best-selling Outland Living Series table.
Made of aluminum and stainless steel, this fire pit has a surface of 44 inches, giving you plenty of room to use this pit as a centerpiece.
Along the outside of this fire table is ultraviolet light high-density polyethylene wicker – or UV HDPE for short. This sturdy material resists the elements and sun bleaching to remain a beautiful decorative piece with excellent functionality for years.
With a heat output of 50,000 BTU, you'll stay nice and toasty with this gorgeous table.

While it's very similar to the U-MAX model we listed above, and it's worth comparing the prices, this one does not come with a windshield.
You can also find similar models to this one that are part of these fire pit patio furniture sets. If you need furniture as well, that can be a cheaper way to do it.
Pros
Resistant to weathering
Rustic aesthetic
Hide gas bottle inside
Cons
Low color selection
Heavy for its size
No windshield
---
5. Hampton Bay Stylish Gas Fire Pit
VIEW HOME DEPOT →
Coming in with a toasty 50,000 BTU is the Hampton Bay Crossridge model – one of Home Depot's most popular gas fire table.
At 30 inches in width, the bronze finish is a cozy decor that can match most aesthetics. The tabletop is made of natural slate, which helps to keep it from getting too hot as the fire roars.
This pit is an excellent focal point for your outdoor setup, especially in the wintertime.

Don't think that you need only to use it when the weather is cold out, though. Turn the gas on low and simply use it for the aesthetic, even in summer.
When not in use, you can place the included metal plate over the fire to turn the pit into a usable table for your outdoor areas as well. This really makes it useful all year round.
Some stylish fire pit chairs will really finish off the look.
Pros
Good heat output
Fits most aesthetics
Very well reviewed
Cons
Stone may wear down
Stone tops may require more cleaning
Quite small and would not look great in large areas
---
6. Blue Rhino Gas Fire Pit With Fire Glass
If you want to add a splash of color to your yard, the Blue Rhino outdoor gas fire pit is an excellent choice.
The green fire glass provides a gorgeous centerpiece to your fire pit, making the dancing flames even more attractive. And, if green isn't your color, you can switch to white glass for your fire pit instead (they have both options).
The listing points out the helpful facts that propane fire pits are great because there's no ash, fumes, or smoke, as with wood-burning fire pits.
The Blue Rhino is easy to use as well, lighting with a single button push. The tabletop fire pit is made of tempered glass to stay a bit cooler and sturdy as well.
It's an excellent fire pit to wrap yourself up next to and enjoy the evening, and it works well in a rustic setting.
Pros
Choose from two fire glass colors
Strong tempered glass table top with burning cover
Easy to use
Cons
Heavy for its size
People have had problems with rust
The glass top is more prone to getting damaged compared to other materials like metal
---
7. Endless Summer Gas Burning Fire Pit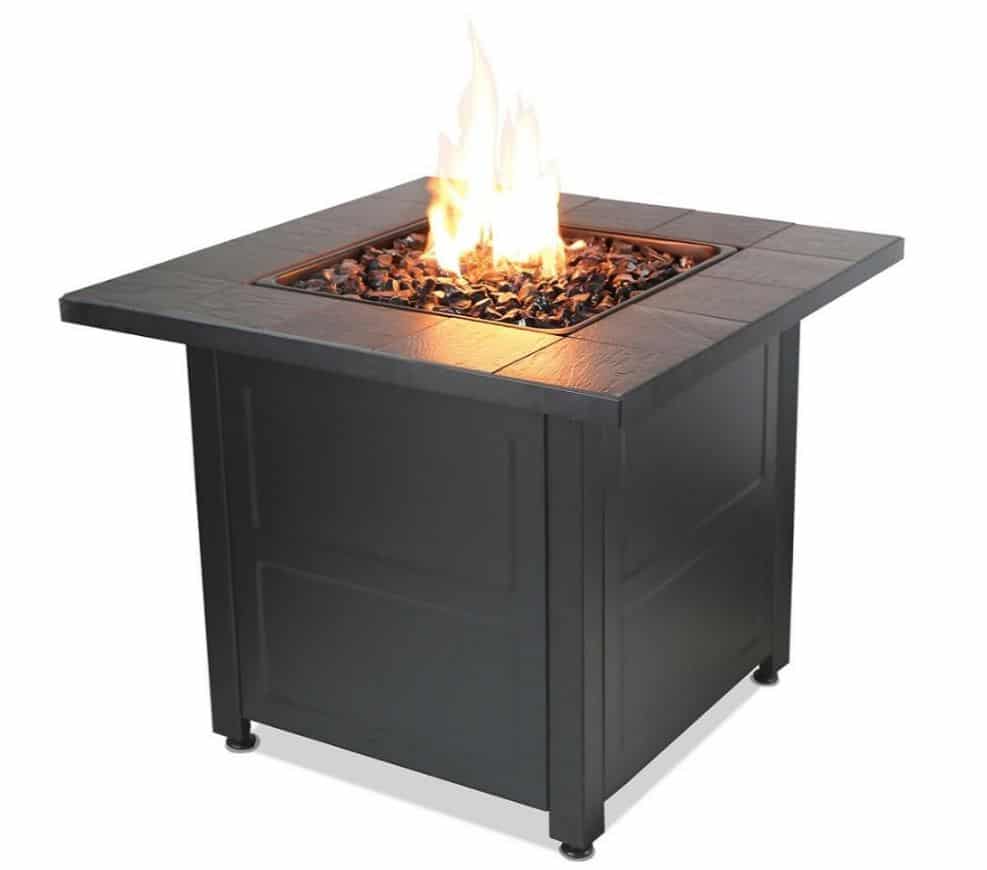 VIEW ON MODERN BLAZE →
Next on our list is a bit smaller than the previous entry, making it great for a snug and cozy backyard setting.
The Endless Summer 30-inch firepit is a square-shaped pit with a modest table. Controls for this heater are also hidden to help keep the aesthetic as clean as possible.
A black ceramic tile top helps ward off the heat to make sure you don't burn yourself. Adjustable flames and a protective cover will keep everything safe and clean as well.
Though it's on the lower end power-wise with 30,000 BTUs, it's an excellent addition to any outdoor space.
Modern Blaze has a wide range of premium gas fire pits. These are the types you find in nice homes in California, Florida, and other already warm locations like that.
Pros
Easy to start and control
Smooth, clean aesthetic
Cons
The small surface area with the fire burning
Lower BTU output
Can break down faster in harsh conditions
---
8. AZ Patio Propane Patio Heater
ON FIRE PIT SURPLUS →
If you've been looking for a gorgeous round fire pit, the AZ Patio heater might be the one for you.
You can pick from a selection of fire glass in different colors. Smooth fire glasses, reflective, and recycled options are available in as many as twelve colors to choose from.
Elegant patterns along the firepit's side help with a rustic look in combination with the bronze construction of the fire pit. Cast aluminum construction helps to ward off the harsher elements as well.
A stainless steel burner pan helps ensure that everything on this fire pit is as sturdy as it could be to keep your time outdoors going as long as possible.
If you're looking for a rustic fire pit idea, this could be the one for you.
Pros
Unique aesthetic
Wide variety of fire glass colors
Flame failure device for safety
Comes with fire glass
Cons
Difficult to use as a table
It only fits a specific aesthetic
Much pricer costing over $1000
---
9. Sunnydaze Tall Gas Fire Pit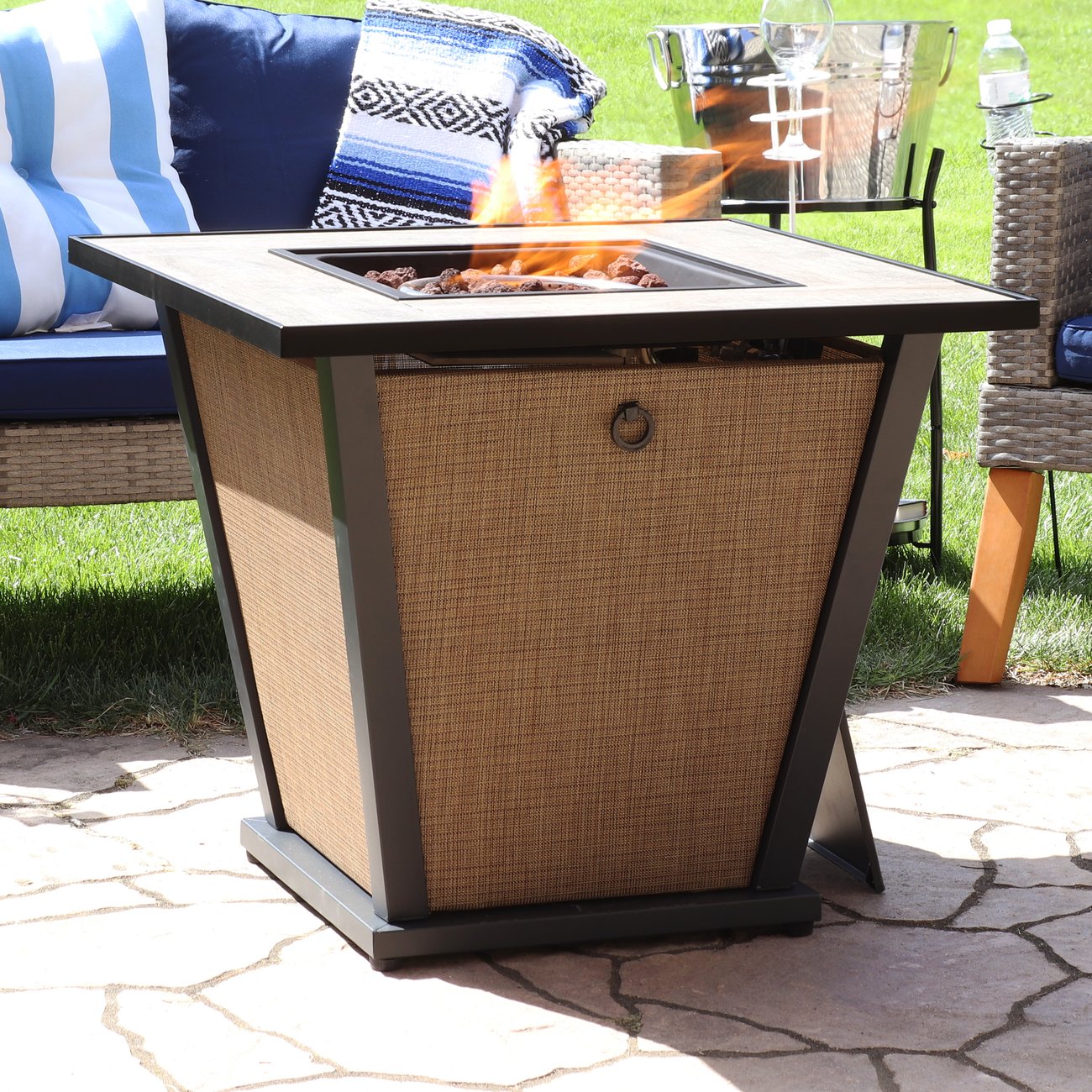 VIEW ON SUNNYDAZE →
Keeping with the rustic look, it may surprise you to know that some fire pits come with fabric sides.
The Sunnydaze Reykir fire pit is an example, complete with metal beneath to ensure that nothing catches fire. Though fire glass isn't included, the decorative rocks help bring a natural feel to the fire all the same.
With a heat output of 40,000 BTUs, you'll enjoy curling up next to the Reykir fire pit. While it's smaller than many other options at 28 inches in width, it's an excellent warming accessory.
One happy reviewer, named Katherine, said:
The fire pit itself is a great size for 4 to sit around.

My neighbors now all bring their drinks over to my yard and we light this up every weekend. We are all excited to use it this fall and winter too. It really does provide a fun ambiance.

Changing the propane tank is super easy. I never have any issues and it's foolproof.
And someone else shared that they like how it was reasonably portable too. They were easily able to move it from one part of the yard to another.
If you have a larger outdoor area, you may consider having more than one to spread the warmth and ambiance.
Pros
Decorative lava rocks rarely need cleaning
Resistant to fire (as you'd expect)
Reasonably lightweight
Slightly different design than the standard square fire pit table
Cons
Fabric can get dirty easily
Needs to be covered when not in use
Lower BTU output
---
10. Kenwood Extra Large Gas Fire Pit Table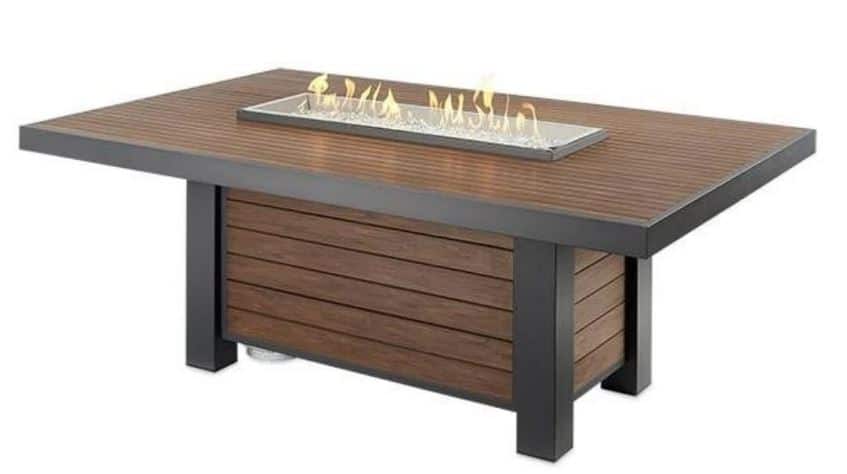 ON MODERN BLAZE →
Speaking of large, the Greatroom Company Kenwood comes in at a whopping 81 inches.
This titanic fire pit has a 42-inch fire pit with a battery-operated sparker. Easy to light and simple to use, you can also opt for a glass fire cover to ensure the wind doesn't knock the fire away.
This table is extremely sturdy and capable of withstanding years of outdoor use. It's another premium model that you'll need to spend a bit more on, but you get that back in quality.
The brown composite exterior and powder-coated aluminum construction help fend away the elements. It's a sturdy, enormous centerpiece for your outdoor areas.
This firepit has a BTU output of 80,000 making it one of the hottest propane fire pits on the market.
Pros
Massive surface
Burns at a high BTU
Very well built with quality components and hardware
Cons
Too big for some areas
Difficult to move
---
11. Outland Living Portable Propane Fire Pit
Closing out our list is another Outland Living option, the Firebowl Deluxe.
If you're looking for some portable propane fire pit warmth, the Firebowl is a fantastic option. At 19 inches with a round, easily-carried shape, you can bring this wherever you need heat.
This fire bowl is made of alloy steel and stainless steel and operates at 58,000 BTUs. It's exceptionally useful for camping to cut down the hassle of a campfire and opt for a propane fire pit instead.
People like to keep these in their RV, camper, tiny house, or other small living space. They're great for taking to the beach or park and can be packed away quite nicely.
The downside is that you have a gas line and tank nearby, but there are small tanks out there. If you're using it regularly in the same area check out these tips on how to hide a fire pit propane tank.
It's also excellent for a cheap gas fire pit.
Pros
Portable and easy to store
Comes with lava rocks
High BTU output
Cons
Too small for many people to use or enjoy at once
Need to transport fuel as well when camping with it
---
Propane Fire Pit Buying Guide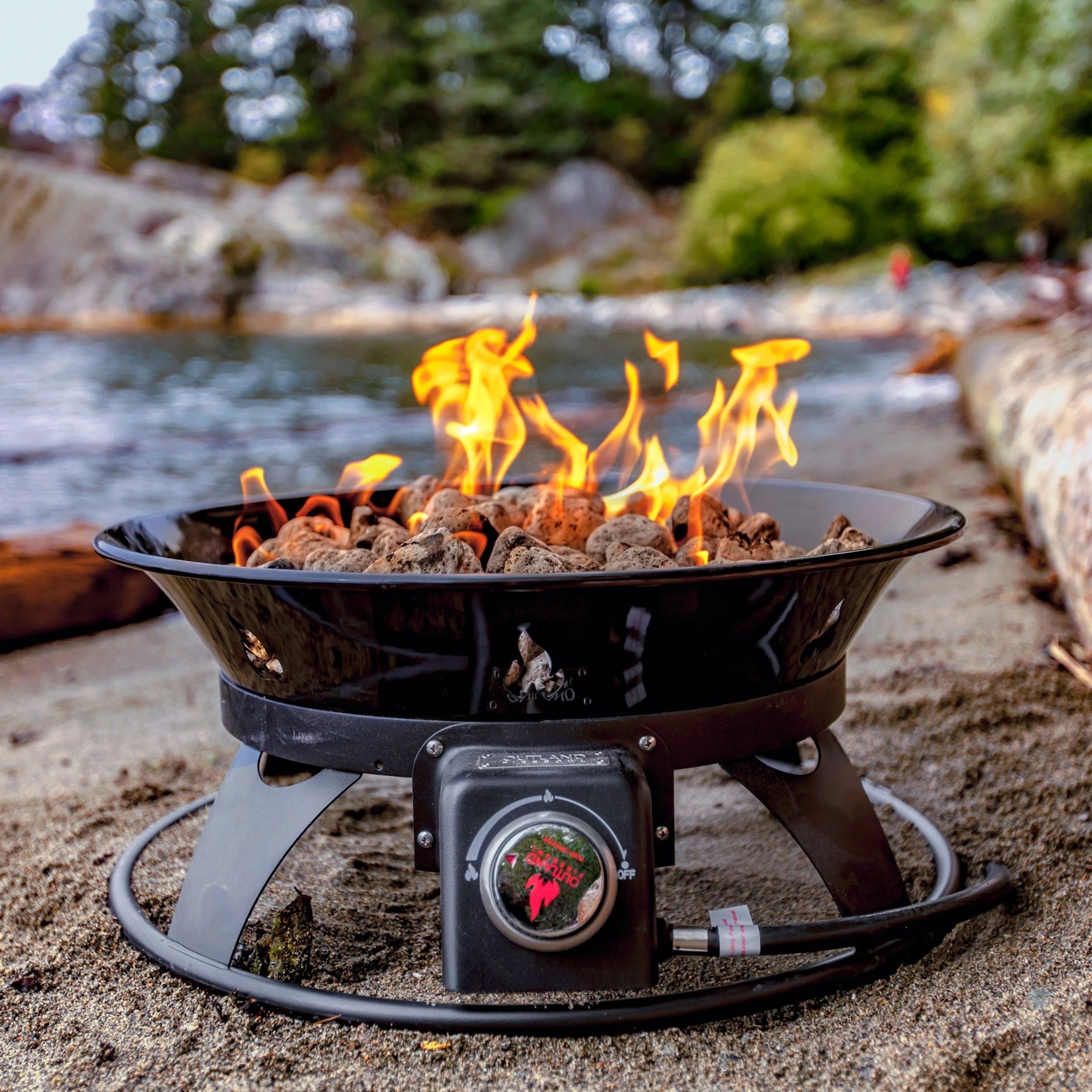 So, what should you look for when choosing a propane fire pit?
You'll notice that most of these are fire pit tables rather than fire bowls or pits – the combination just seems to work with gas as you can hide the propane tank away a lot easier.
First, let's look at why propane is an excellent choice for a firepit and how it compares to other types of firepits.
Propane Vs Wood Burning Vs Natural Gas
Propane is more efficient than natural gas.
This efficiency means that it's cheaper in the long run and an economical choice. Propane is also a green gas, whereas natural gas is not as good for the environment.
Wood isn't as bad for the environment as natural gas, but it's much less effective at heating and holding a flame than propane. You'll have less control over your fire, which can make some situations bothersome or dangerous.
Wood burns hotter but also quicker. You'll need to constantly maintain your fire by moving around coals, adding more wood, and cleaning away ashes after use. You also will need a larger fire pit to accommodate the wood.
Propane Gas Fire Pit BTUs
Propane gas fires are usually rated in BTUs – British Thermal Units. This unit is a measure of energy and not heat.
When buying, search for your preferred BTU. You may want a higher BTU in cold weather or a lower BTU if you want to enjoy your fire pit on warm summer nights.
50,000 and 100,000 is the general average.
Propane Fire Pit Buying Tips
When searching for a fire pit, consider the following:
Your available space
Your access to propane
How much time do you spend outside
Whether you will cover the fire pit
If you like colossal gas fire pits to serve as the center of your backyard and want a high BTU, the Kenwood 81-inch table is absolutely the choice for you.
Conversely, if you intend to frequently travel with your fire pit or camp, the Outland Living Firebowl is undoubtedly your best option.
You may also want to search for gas fire pits on sale to find a great deal on a fire pit you might not usually choose.
Propane Gas Fire Pit FAQs
Many users still have plenty of questions about propane gas outdoor fire pits.
These are some of the most frequently asked questions gas firepits.
Is a propane fire pit worth it?
Propane fire pits are absolutely worth the cost.
You'll save a great deal of money in comparison to always buying firewood. They're decorative, functional, easy to operate, and may cost less than running a wood-burning fire pit.
Simply getting a fire pit ring or insert is the cheapest option (for wood burning), but they're not on the same level of quality.
Do propane fire pits give off heat?
Yes, a propane tank fire pit will give as much heat as fire from any other source.
Make sure that you're cautious around them, as the metal parts of the fire pit will heat up.
Can I roast marshmallows on a propane fire pit?
Yes, marshmallows from a gas fire are perfectly safe to eat.
It's often easier to roast a marshmallow on a propane fire, as the flame is easier to control.
Can a propane fire pit be used under a covered patio?
With proper safety procedures, yes.
Ensure that there's nothing that your fire pit will catch on fire, and they're safe to use anywhere.
Adequate air ventilation can help if you're worried about propane fumes as well, but if you smell propane, you should ensure you've hooked up your propane tank properly.
Are propane fire pits safe on wooden decks?
Yes, propane fire pits are safe to use on wooden decks.
The heat shouldn't be close enough to the wood to cause any problems but always practice fire safety just in case. Ensure that no nearby wood is combustible and that you've taken proper precautions against any fires.
You can use a heat resistant mat as an added precaution or lay down some good fire pit pavers to act as a heat shield.
Can you use a propane fire pit in a garage?
An outdoor propane fire pit table is not safe for indoor use.
They burn fuel at a higher rate and can cause a fire hazard. Indoor fire pits are safe to use but always practice proper safety.
How long does a 20lb propane tank last on a fire pit?
If a gas-burning fire pit is at maximum output, a 20lb tank will last an average of four hours.
This timing can vary depending on the fire pit and its settings.
What gas fire pit gives off the most heat?
The Greatroom Company Kenwood 81-inch fire pit gives off the most heat at 80,000 BTUs in this list.
The average for most fire pits in this list is around 50,000.
Check out our BTU to kW calculator for more info on these heat measurements.
Best Gas Fire Pit
You can find a propane fire pit that matches any use you can think of.
While all of these are excellent choices, our pick for best propane fire pits is the U-MAXX 44-inch fire table and the Outland Living Series 44-inch table, which have many of the same benefits.
Both pits provide excellent space, excellent heat output and fit most aesthetics without needing to decorate around them.
Though the 81-inch Kenwood table provides more room and heat, it's too large for many users and dominates an outdoor space. Others may prove too small and need to be used in pairs for full use.
If none of these gas fire pits suit, check out this round-up of the best outdoor fireplaces for more ideas!