Cast iron fire pits tend to be durable, reliable, easy to use, and easy to maintain. And, most important, they look great!
Cast iron is fantastic for all things fire and cooking-related because it is such a heavy-duty material. It can withstand a beating and will hold up well in high temperatures.
This metal is also heavy, of course, and it can cost a little more than alternative fire pit construction materials, but for those who love cast iron, there's nothing better.
These are all wood-burning fire pits, which tends to be the only option for cast iron – you won't find many (or any) cast iron propane fire pits!
Best Cast Iron Fire Pit
We like the Amagabeli Cast Iron Fire Pit because it is so simple.
It's reasonably large so you can fit a good number of people around it. The fire bowl is pretty shallow so the heat can travel out to the sides, rather than all going up into the air.
This fire pit is made of 2.28mm thick cast iron, weighs 19 pounds (so it's quite light compared to others), and has a 2-inch thick base. It's coated in black rust-proof paint that helps to protect it against rust.
It won't be the perfect option for everyone (which is why we've got more options down below), but it's a great all-rounder!
Here are our 10 favorite cast iron fire bowls that you can get on Amazon.
I haven't mentioned The Blue Rooster Chimineas in the round-up because I'm mostly sticking to the traditional fire pit style, but head on over to that post to see their fantastic range of cast iron outdoor fires.
These next 10 fire pits made from cast iron are mostly listed in order from least expensive to most expensive. Read the reviews to hear how those who have tested the products have found them.
Many of these already come with spark screens, but if you like one that doesn't, check out our best fire pit spark screen round-up.
---
1. Amagabeli Large Cast Iron Firepit
Cast iron fire bowls are great because they're so simple, and this one from Amagabeli delivers.
It has sturdy legs to lift the pit off of the ground, and two handles so you can move it around your yard.
The bowl itself has a 30-inch diameter that gives plenty of room for a nice fire. It comes pre-treated with heat-resistant paint to ensure it lasts for a long time and looks good all the while.
There a reports of the paint flaking off after use, which is to be expected eventually. Cast iron does rust when left wet, but no everyone minds this – it's part of the joy of cast iron.
To prevent rust, keep it under cover and dry when not in use.
It has a nice deep bowl that you can fit a lot of wood into when you want a large raging fire. This will help to keep a large group of people warm when cold!
Pros
30-inch diameter ensures the bowl holds a large fire
Handles let you move the pit without a struggle
Easy to assemble by adding three legs
East to stabilize on the ground
Durable design will last for many years
Cons
Doesn't include a spark screen or fire poker
Reviewers say the paint flakes off and leaves rust
---
2. Sunnydaze Small Cast Iron Fire Pit Bowl
Sunnydaze offers an affordable cast iron fire pit bowl in this listing here.
It's a simple design, but with a 22-inch bowl, you'll be able to have a nice fire going. The bowl sits on tripod-style legs that keep it stable regardless of the terrain.
Because this model from Sunnydaze is so small and lightweight at 7 pounds, you can move it around the yard or take it with you when you camp or go to the beach. However, a good portable propane fire pit could be better for this purpose.
Pros
No assembly required—place the bowl on the legs
16-millimeter cast iron legs keep the fire bowl steady
The manufacturer provides a one-year warranty
Cons
Doesn't come with a spark screen or fire poker
Reviewers say it rusts easily
---
3. Hampton Bay Cast Iron Fire Bowl
This option is one of the most affordable cast iron fire pits you can find, but that doesn't mean you have to expect lower quality.
Hampton Bay has designed an attractive fire pit with a bronze finish, giving it a stylish antique look.
The bowl has a 26-inch diameter and comes with a fitted spark screen. There are four short legs to elevate this pit from the ground. A decorative element on the legs adds to the interest of this cast iron fire pit.
Four legs sometimes make it a bit harder to stabilize than 3 legs, but just chuck some wood under the areas that are uneven.
Pros
A bronze finish gives it a unique look
Strong, durable bowl with a 26-inch diameter
Includes a spark screen and fire poker
Cons
Legs might be uneven on certain terrain
Mesh spark screen burns away with the use
---
4. Amagabeli Outdoor Cast Iron Fire Place
Though this decorative fire pit's diameter is 23 inches, it's almost 18 inches deep. That's tall enough to stack a lot of wood at once so you can still keep the fire going for a long time.
A bronze, heat-resistant finish makes the pit look stylish, but also keeps the cast iron from rusting. If you add a grate to the top of the pit, you can also use this model to grill food.
Pros
Pre-treated with a bronze, heat-resistant finish
Easy to move, as it weighs less than 15 pounds
Comes with a poker and has a built-in spark screen
Cons
Feels a little flimsy for cast iron
Some reviewers don't like that there's no top spark screen
The height vs width ratio could make it susceptible to wind
---
5. HEMBOR XL Wrought Iron Fire Pit Grill
This multi-metal fire pit is also made with steel because it includes a cooking grill.
There are not many cast iron fire pit grills out there, as most are made with steel for this application. I recently got the Biolite Fire Pit which has a cast iron griddle for cooking and is a good alternative (especially for camping).
The grill plate on the fire pit pictured above has an adjustable height and can rotate 360 degrees for easy cooking. There's an additional mesh grate surrounding the pit where you can put things while you grill.
The pit itself looks stylish with a crosshatch design. Four legs lift it off the ground and keep it sturdy in the yard.
Check out this round-up of the best fire pits with grills as we have some other options with cast iron grilling plates.
Pros
Innovative grill plates for easy outdoor cooking
Comes with a fire poker and log rack
Includes a rain cover to protect it from the elements
Cons
Not solid cast iron; includes steel components
Doesn't include a spark screen
---
6. BALI OUTDOORS Cast Iron Chiminea
This outdoor fireplace will be a statement piece in your yard, and it's a bit different from the others. That's because it's actually a Chiminea fireplace!
It has mesh sides so you can watch the fire and be sure it gets enough air. There's an ashtray that makes it simple for you to clean it out after each fire.
Because sturdy legs lift the pit off of the ground, you have space at the bottom to store logs. Bali Outdoors also includes a fire poker with this fireplace.
Pros
Unique fireplace design
Mesh sides protect from sparks and provide air to the fire
Has a bottom shelf to store extra logs
Cons
Install it on a fireproof base before use
Rusts with even minor moisture exposure
---
7. Sunnydaze Round Cast Iron Fire Pit Bowl
This option is a step up from the other cast iron fire bowls because it has a built-in log rack.
The extra cast iron for the rack makes it heavier and also makes it more expensive compared to other Sunnydaze models, but it's worth it.
Store extra wood right below the fire pit so you can keep the fire going all night. The log rack lets wood dry out before use.
Pros
Convenient storage keeps logs right below the pit
Weighs only 40 pounds, so it's not too cumbersome to move
Comes with a one-year warranty
Cons
One of the more expensive fire pits on the list
Doesn't come with a spark screen cover
---
8. Esschert Low Metal Fire Pit
The bowl of this cast iron fire pit is large, with a 30.5-inch diameter.
This Esschert model is what you'd call a cast iron cauldron fire pit, and the way it's designed is optimal for large gatherings.
Because the sides are low and it's situated close to the ground, the heat disperses more broadly. This means your guests can pull up chairs around the cauldron fire pit and be comfortable without having to get too close to the fire.
Pros
Open design disperses heat for a large gathering
30.5-inch diameter allows for plenty of wood to burn at once
Sits low to the ground so it won't accidentally turn over
Cons
One of the most expensive fire pits on the list
You'll have to buy a separate spark screen
---
9. WeCooper Heavy Duty Cast Iron Fire Pit
This option has a nice wrought iron fire pit look that is worth the cost if you want a showstopper.
It's a heavy-duty cast iron fire pit that already has a heat-protectant coating applied.
Delicately curved legs hold the pit seven inches off the ground, but the total height of this model is 27 inches. The fire pit bowl's diameter is 29 inches, so you'll have plenty of room to get a good fire going.
Pros
Beautiful design will make your outdoor area look elegant
The 29-inch diameter will allow for a thriving fire
Includes a spark screen and fire poker
Stylish breathing holes cut into the pit
Cons
One of the more expensive cast iron fire pits on the list
Can be too heavy for one person to assemble
---
10. TITAN Extra Large Cast Iron Fire Pit
This fire pit isn't called "Titan" for nothing—it has a 42-inch diameter, making it the largest on the list.
It's also the most expensive and the heaviest. It's made of raw cast iron that gives it a rustic look, so even though the design is simple, it's interesting to look at.
Also, check out the other TITAN Great Outdoors Fire Pits as they have many good models for sale.
Pros
A simple fire pit bowl keeps a large fire burning for hours
Raw cast iron gives it a stylish, rustic look
Includes a hole to drain water that accumulates
Cons
Most expensive fire pit on the list
Weighs more than 100 pounds so it's not too portable
---
Cast Iron Fire Pit Pros And Cons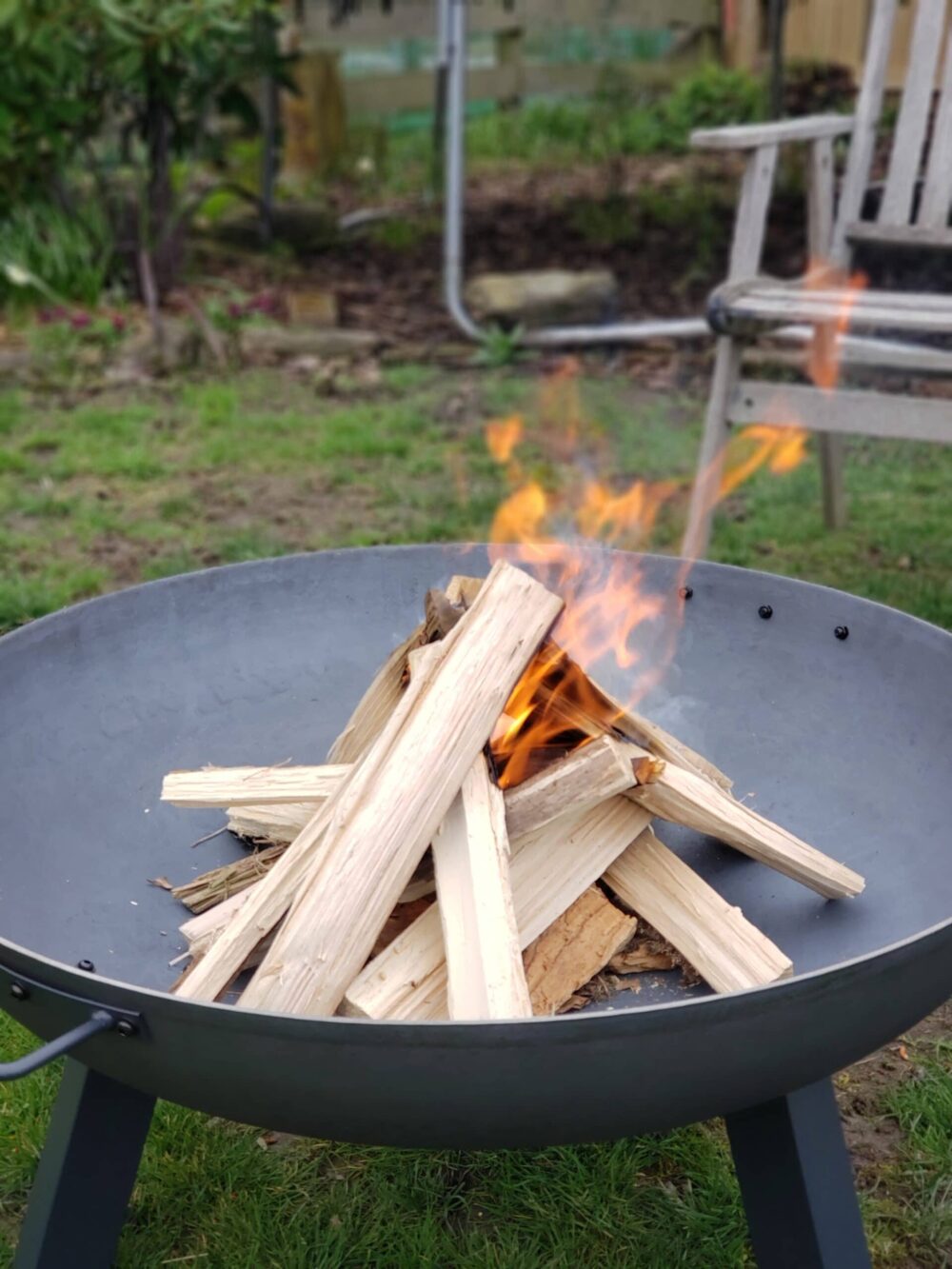 Cast iron is one of the best materials for fire pits because it's so durable and it radiates heat.
In fact, we like it so much that we just bought this popular fire pit on Amazon (also pictured above).
They come with many different names or styles, including (but not limited to):
cast iron fire bowl or pit
cast iron outdoor fireplace
cast iron fire pit grill
cast iron chiminea
and more
Here are some pros and cons for getting and using a cast iron fire pit such as we're listing here:
Cast Iron Fire Pit Pros:
Cast iron heats up reasonably quickly
It retains and radiates heat so you get more warmth from the fire
It's a durable material that can last for years
You can find different design styles to suit your outdoor area
Cast iron can be protected from rust
You can cook on a cast iron fire pit grill
Cast Iron Fire Pit Cons:
Cast iron is heavier than steel and other materials, so it's harder to move and is not very portable
It's more expensive than fire pits made of other materials like steel, for example
When exposed to moisture and rain, cast iron will rust and become discolored
Many people choose to leave their cast iron fires out in the elements and to live with rusty discoloration.
There's nothing wrong with doing this if you're just using it for a fire. If you wanted to cook over it then it's better to protect it from the weather with a good cover.
You can find really great fire pit covers here on Covers & All. Cast iron is heavy so it's usually easiest to get a cover rather than shift your pit every time you want to use it.
Cast Iron Fire Pit FAQs
Hopefully, this list helped you decide on the right fire pit.
Here are some of the most frequently asked questions about these products.
The video above has some good tips on how to set up a cast iron bowl, including ensuring it is level and locating it on a solid foundation.
Remember, you don't want to be shifting it so it's important to find a suitable permanent position and to purchase a good fire pit cover.
Is Cast Iron or Steel Better for a Fire Pit?
Cast iron can be a better choice for a fire pit because it gets hotter faster than steel.
Iron also retains more heat compared to steel, so you'll stay warmer from the fire. Steel rusts faster than iron (there are stainless steel fire pits), so an iron fire pit can also be more durable than steel.
Will a Cast Iron Fire Pit Rust?
If you leave your iron fire pit out in the rain, it will rust over time.
You can prevent this by painting it with high-temperature paint. Also, make sure to keep it covered whenever you're not using it.
Your cast iron fire pit might already be rusty, and that's okay too. You can still paint it to protect it for the future. Clean it well with an all-purpose degreaser and then paint it.
Is Rust on a Cast Iron Fire Pit Dangerous?
No, having rust on your cast iron fire pit doesn't make it dangerous or unsafe to have a fire.
The only reason you might want to remove the rust from the cast iron is that it affects the way your fire pit looks. If you have a cool design on yours, you don't want rust to spoil it.
How Do You Clean a Cast Iron Fire Pit?
Cast iron fire pits don't need much maintenance.
You can pour out the ashes and any wood debris after each fire. If you want to remove rust, you can use steel wool or grill scrubbers to scrape it off.
You can also clean it like you would a cast iron pan. Adding vinegar to the abrasive scrubber will ensure your cast iron will look as good as new when you're done.
Iron Wood Burning Fire Pit

Before we finish up, I'll mention that you can also get an iron fire pit like the one pictured above.
Iron is different from cast iron in that it is a pure metal rather than an alloy (mixed with another element like cast iron).
Iron can be stronger and hold coatings better than cast iron, but it's more labor-intensive to work with (ie. costs more to make products with) and can be dinged and dented.
Cast iron is certainly a more popular product to use for fire pits and these types of applications as it will last longer and stay truer to form.
If you are still unsure of what type of fire pit you want to get, let me confuse the matter further by mentioning copper fire pits. Copper is another wonderful material you can choose for your outdoor fire!
For those who are totally fresh to fire pits, check out our article on the best way to light a fire pit.
If you have any further questions, please leave them down below in the comment section and we'll get back to you asap.