The great thing about patio fire pit furniture sets is that you can get everything you need in one go.
They come with a fire pit, chairs, and sometimes even a table!
There is a wide range of different fire pit and chair sets available depending on whether you want a gas or wood-burning fire pit, the style of chair, and so on.
If all already have a fire pit, you might prefer checking out these awesome fire pit chairs, but otherwise enjoy considering these excellent fire pit conversation sets.
Best Patio Set With Fire Pit
These conversation sets allow you, your family, and your friends to feel warm, cozy, and comfortable under the stars or during the day.
Crank up the heat, open a bottle of wine, sit around the fire pit table with chairs, and talk, talk, talk.
Conversation patio sets sold with a fire pit can help bring the cost down and are a great addition to any backyard. They look great by a pool or spa and work as a focal point of outdoor decor.
Below we have listed our favorite patio fire pit furniture sets.
Any of these would look great in your backyard, patio, or deck.
1. Noble House Valentina 7-Piece Aluminum Patio Fire Pit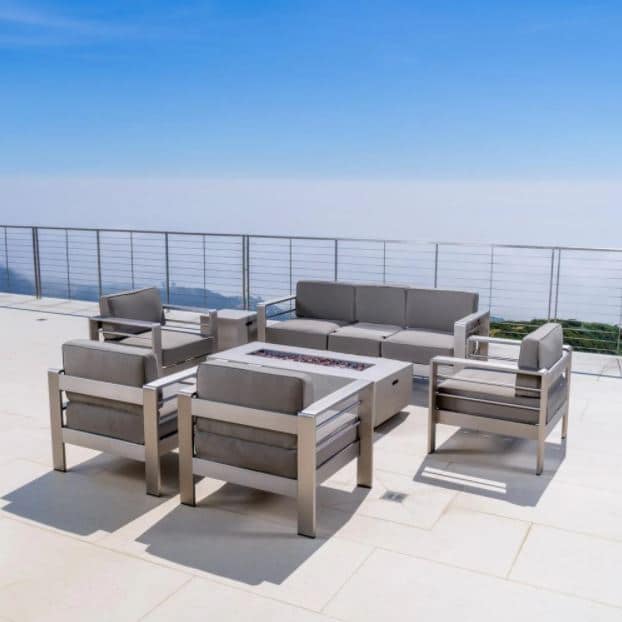 Noble House has created one of the best outdoor conversation sets with fire pit on the market with this seven-piece modern beauty.
Not only can families sit around this fire table, with four club chairs and a couch, but businesses can install one on their patios for brainstorming sessions or coffee breaks.
The Valentina propane fire pit table set straddles an industrial and ultra-modern look and feel. Use accent pillows to add some whimsy to this fire pit table set and start solving the world's problems.
Pros:
7 pieces including full couch
Slate grey looks great for home or office
Low platform fire table doesn't impede conversation
Cons:
Pricey
Short warranty period
---
2. Hampton Bay Summerhaven 5-Piece Wicker Patio Firepit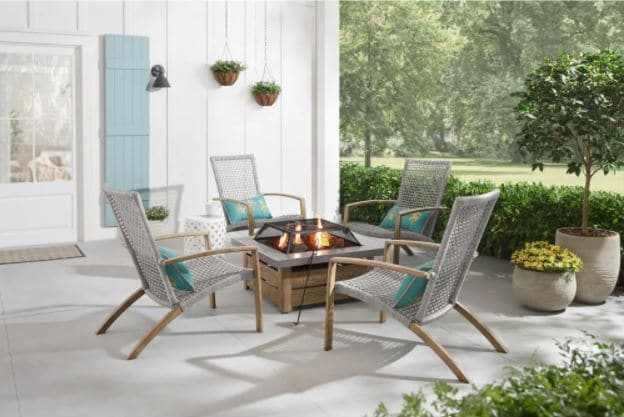 Wicker patio furniture with fire pit sets doesn't come much better for new homeowners or those just starting out than this firepit table with chairs.
The wooden chairs are in the Adirondack style with all-weather gray synthetic wicker.
The wood grains of the chairs match the fire pit to create a united farmhouse look and feel. When the weather turns chilly, simply stack and cover the chairs and wait for the warm months to return.
Pros:
Low price point good for young couples and new homeowners
Galvanized steel construction provides rust resistance
Has the look and feel of summer
Cons:
Assembly required on seats and fire pit
---
3. Noble House Cape Coral 5-Piece Fire Pit Conversation Set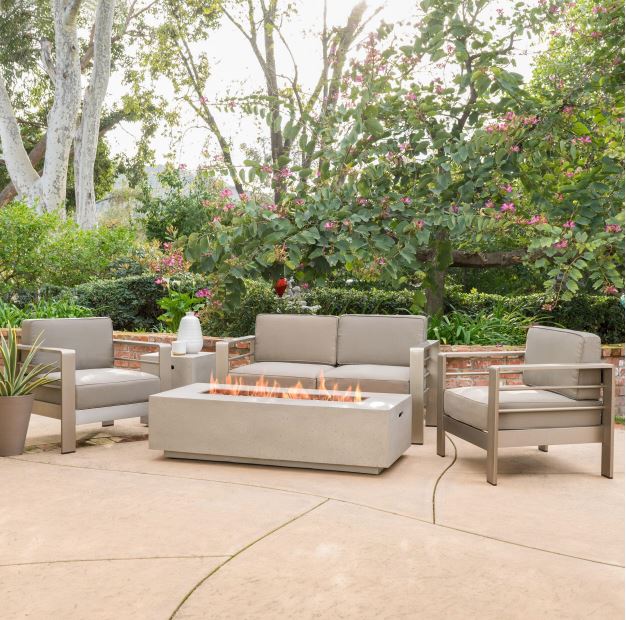 Noble House has replaced a simple patio set with fire pit with an elongated fire pit table with chairs and a loveseat.
The propane fire table sets provide warmth and glows from a lower angle.
Your guests can lounge by the inviting fire for conversation or reading. So, the first one to the loveseat can lay out next to the propane fire pit with a good book. Or a couple can cozy up to it together under a blanket.
The chairs and loveseat are aluminum, while the cushion pieces are made of water-resistant polyester and come in an elegant khaki.
Pros:
Modern and elegant
Fire table has plenty of room for drinks or plates
Loveseat allows for lounging
Cons:
Expensive
Fabric warranty is just 90 days
---
4. Harbor Bay Highland Point Black 5-Piece Fire Pit Set
Home Depot's house brand has developed an attractive, relaxing gas fire pit patio set that comes with a 50,000 BTU gas fire pit and four chairs.
It's a casually elegant approach to outdoor living. The chairs are made of high-quality aluminum. They come in slate gray that matches the color of the fire pit.
Each buyer is given the choice of 16 slipcover options to go over the seat and back cushions to further accent any backyard décor. Each slipcover contains fade and stain-resistant acrylic materials and comes with a three-year warranty.
The fire pit is built from eco-friendly materials engineered to withstand even the harshest outdoor environments. It's crafted to look like stone, without needing to be maintained like stone.
Pros:
Large and deep fire pit will provide warmth for several feet
Aluminum chairs will last for years
Seats and back cushions provide comfort and support
3-year warranty protects against cushion stains and fades
Cons:
Slipcovers sold separately
---
5. Hampton Bay Bowbridge 5-Piece Outdoor Fire Pit Seating Set
Hampton Bay created this two-way outdoor dining table with a fire pit, which makes it great for almost any occasion.
When not using the fire assembly, simply use the fire pit lid to create a full-size circular table for meals or snacks.
In addition, this fire pit table set comes with four swivel chairs that add a level of fun to the proceedings.
As with other patio fire pit furniture in this line, Hampton Bay allows its customers to select from various slipcovers for its cushions. And they resist water, stains, and the sun.
Pros:
Comfortable swivel chairs
Fire pit lid creates a full table
2-year frame warranty and 3-year cushion warranty
Cons:
Black frame absorbs summer heat
---
Types Of Fire Pit Conversation Sets
The set you buy will likely go with the fire pit you buy.
They can be circular, square, or rectangular. The fire pit can stand two to four feet tall and should allow each person to see everyone else around the table. If you bought them as a unit, they should look cohesive.
A patio table with fire pit should provide a 360-degree view of the fire and allow everyone around it to get some warmth from the flames.
The chairs, loveseats, and couches should be lightweight and portable to take advantage of natural light as it moves.
The cushions should be made of material that will dry quickly and resist fading.
Types Of Fire Tables, Pits, And Bowls
When you choose to buy outdoor furniture with a fire pit, you'll also be asked which fuel you'll want to use.
Gas or wood?
Think through several factors before deciding.
First, can you store and hide a 15-gallon (or more) propane tank while using the fire pit chat set?
Your friends will want to watch the fire, not the tank.
Meanwhile, firewood needs stacking, but it can be kept away from the fire pit conversation set.
Propane fire pits are good because you don't have to keep loading them up, but they tend to not put out as much heat.
Second, how available is your source of fuel?
If you live in rural areas with lots of trees, you might cut down your fuel.
City dwellers probably find it easier to engage with a propane gas company or trade-in their tanks at a home improvement store.
Next, consider the overall cost.
Wood is often cheaper and more available, especially during difficult economic times.
Finally, it's important to weigh up safety issues.
Gas pits can leak, although it's rare. Firewood needs basic safety measures, including proper storage and the ability to discard the ashes.
Once you've thought all that through, you'll be ready to make your decision (or check out our fire pit guide for more ideas).
How To Protect Outdoor Fire Pit Furniture
Clean It Regularly
Take some time to wipe down your outdoor furniture with warm water and mild dish soap. Since they are water-resistant, don't be afraid to use your garden hose to wash away grime and any leftover soap.
Use A Fabric Protectant
Cushions and pillows will get dirty outside, so make sure they have a protector that will allow you to wash them with soap and water to get off any dirt and dust.
Use Velcro Or Ties
You don't want your pillows or cushions to fly into the yard on a breezy summer afternoon. To avoid this, create ways to keep them attached to the furniture. A hidden piece of Velcro works wonders. Or tie them in a bow to the back of the chair/couch.
Keep In The shade
The longer your patio furniture is in the sun, the more likely it will fade. Try to locate your furniture in a space that gets at least some shade during the hot afternoons.
How Much Space Do You Need?
Fire pits are usually about four to five feet across, although fire tables can be seven or eight feet long.
Manufacturers say it is required to give your fire pit another cushion of four to five feet on all sides to be completely safe. That should be plenty for the setup of your chairs and couches as well.
Best Patio Fire Pit Furniture
When spring and summer hit, there are some great fire pit patio sets to choose from to create an inviting outdoor conversation space.
We think the Valentina Patio Fire Pit Conversation Set is one of the best one on the market.
It functions as a fire table. It crosses over for both home and workspace. And it sports an ultra-modern look.
The Valentina set is a little pricier than the others on this list, but we believe the extra cost is worth it. It wins all the categories.
We also recommend the Summerhaven Patio Firepit Chat Set for new homeowners, and the Bowbridge Steel Fire Pit Seating Set because of its adaptability as a fire pit and outdoor dining table.
In any case, you would do well with any of the five choices above.
But if you want to truly make a statement with your outdoor décor, then take a closer look at the Valentina 7-piece patio fire pit set by Noble House. You'll be glad you did.
Lastly, check out these fantastic smokeless fire pits for something a little more portable and less permanent.